This big Peach and Apricot SLAB pie will feed a crowd, using fresh apricots and the most abundant, flakiest crust everrr. The best part? You douse your whole slice in a healthy splash of cold cream!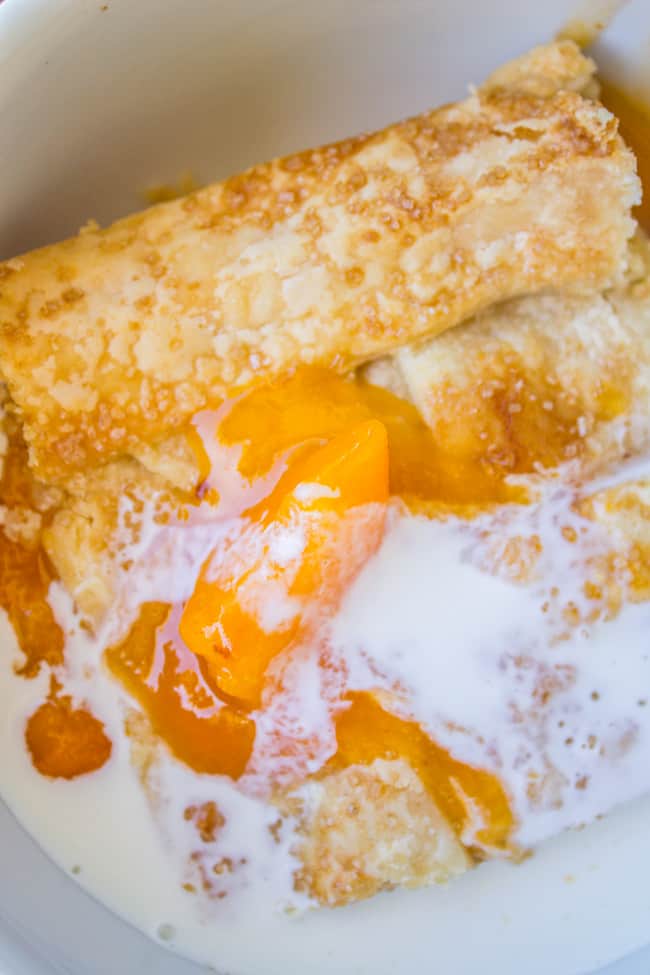 Originally Posted June 21, 2017
The other night Eric and I went to a new restaurant for our weekly date. It was supposedly Italian. The first thing we ordered was a "Not so Crudite" appetizer plate that was described as grilled stone fruit paired with some grilled vegetables and ranch (why did we order this??)
As we're eating, Eric takes one of the grilled half-peaches, tastes it, and thoughtfully says, "I think…Yeah, I think it's a peach!" And I stare at him, because of COURSE it's a peach. And that's when I found out that he thought "stone fruit" was a new special kind of fruit that he'd never heard of.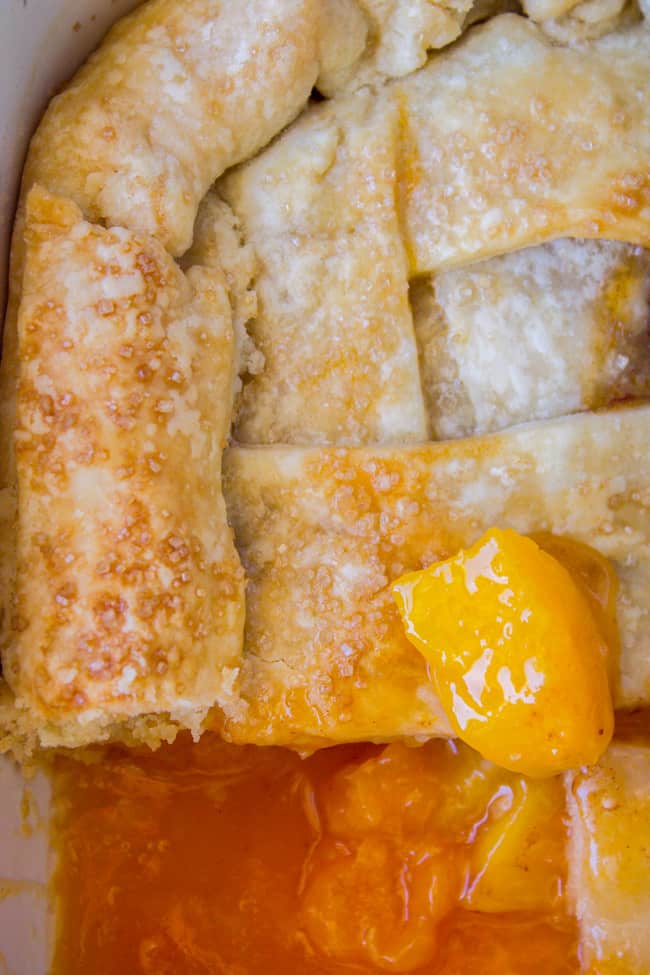 This totally reminds me of Eric and the Nutella incident, in which he thought Nutella was spelled Gnutella. Once again: he will never live it down. (I have to take advantage of my blog for stuff like this, because the number of stupid things I say compared to Eric is like 10 to 1, so I have to dig in when he thinks stone fruit is magical and can't spell Gnutella.
Peach & Apricot Slab Pie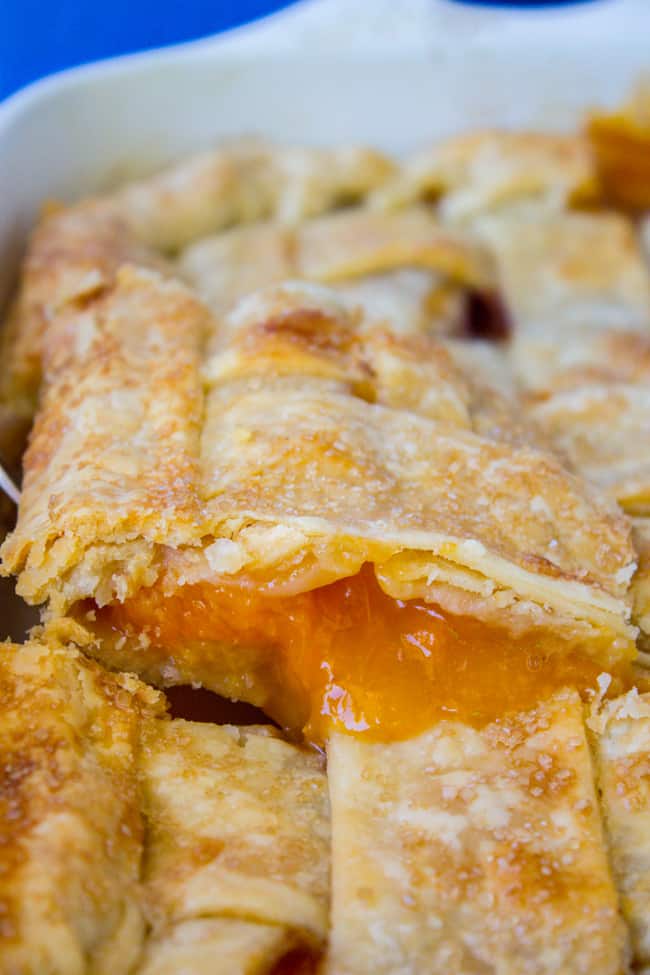 This recipe is a staple in my sister-in-law Sandi's family. She grew up with an apricot tree in the backyard, just like I did, but somehow my parents didn't realize that apricots are God's gift to Slab Pie, because I definitely didn't have this recipe before last summer, when I begged it off Sandi. If you don't have a tree full of ripe apricots to choose from, sometimes it's cheaper or more convenient to throw a couple peaches in with it–or use all peaches. You really can't go wrong with any combo. I didn't count the first time, but on my second pie I used about 14 medium/large apricots, and 3 large peaches.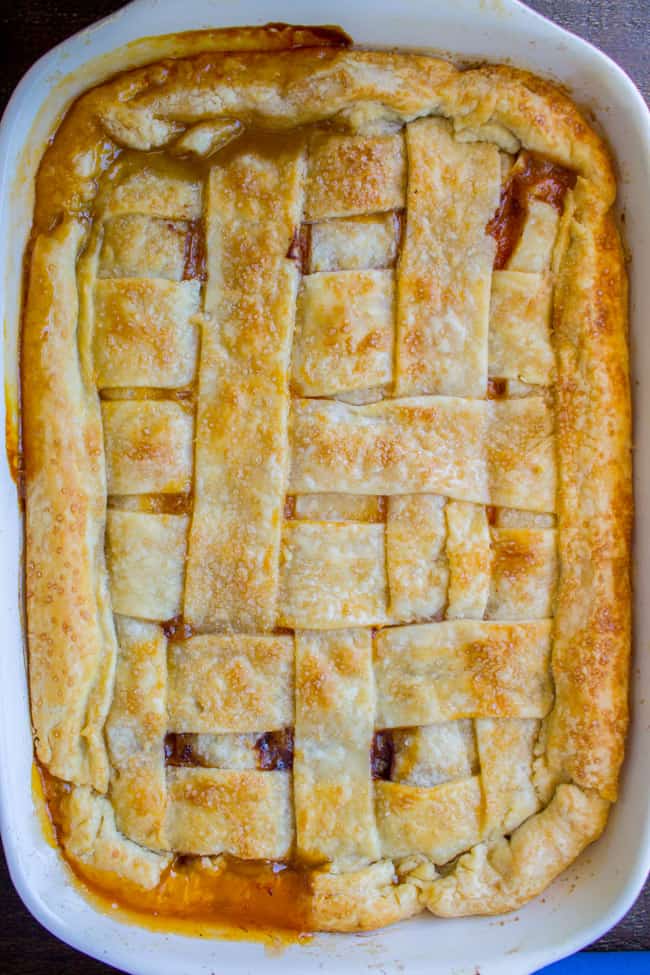 (Don't hate me for my newbie lattice crust guys. First time for everything. At the end of the day I still got to eat PIE!)
The first time we had it (I made it twice in one week), my BFF Sarah requested only a tablespoon of cream on top. She changed her mind halfway through her slice of pie. More cream! More cream! Let this be your mantra.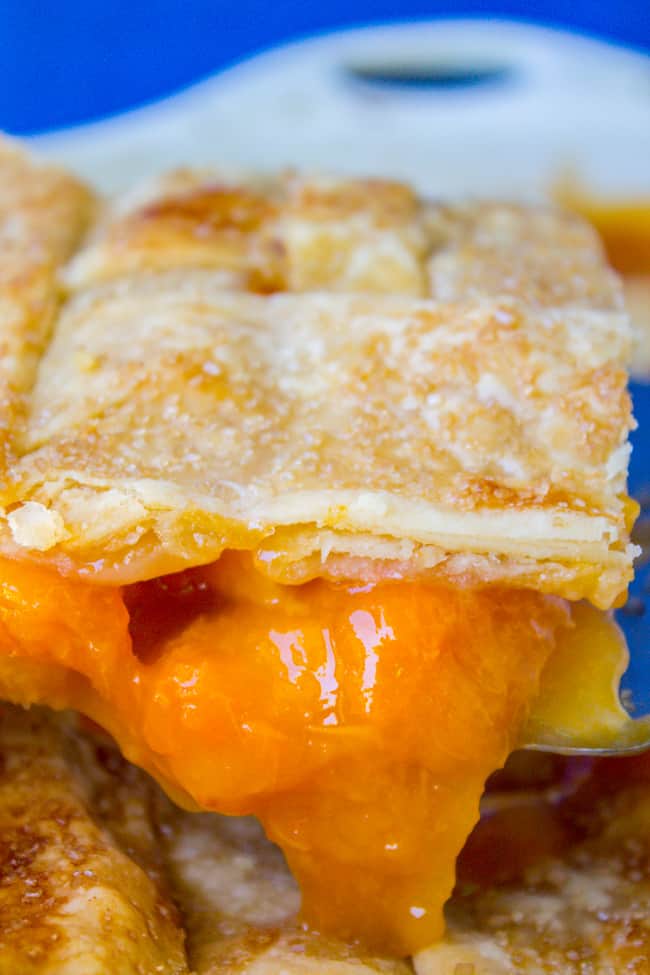 How to prepare your apricots and peaches
A note on the amount of sugar called for in the recipe: I literally JUST wrote a blog post where I complain about "real" cooks who are incapable of giving me a real recipe and instead tell me to add stuff until it looks right. I'm not that kind of cook. So you may be raising your eyebrows at my sugar amounts.
Here's the thing: not all apricots are created equal. Sometimes you have super ripe fresh-from-the-tree apricots. And sometimes you have week-old apricots from the grocery store that you were waiting to ripen but instead the skin is shriveling while the inside remains hard and begins to rot. (The worst, right?)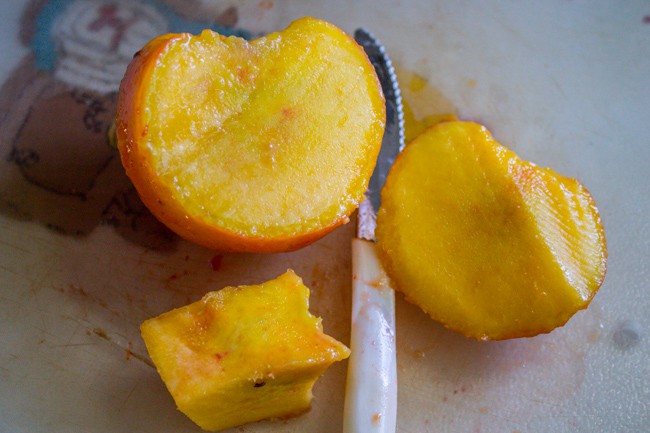 Here's a peach I used in this pie. Not even ripe enough to get to the pit.
You want to end up with a pie that is not overly sweet; too much sugar covers up the beautiful tartness of the apricots. So the general rule is this: if you have ripe apricots, use 1 and 1/2 cups sugar. If you have stubborn not-quite-ripe fruit, use 2 cups, or meet somewhere in the middle. The nice thing is that it's not going to make or break your pie. If you're pie is too sweet, or a little too sour, guess what, people are still going to ask for seconds, especially when you show them the cream trick.
Making the crust and assembling the slab pie

Here's how I often transfer pie dough: just roll it right up on the rolling pin, then unroll into a large casserole dish.
Aaaand here's the part where I made my semi-acceptable lattice crust and then realized I forgot to add the butter and spices. So I folded back my lattice, because I would rather have butter in my pie then a pretty crust. I mean, priorities.
Final touch: Pour cream on your pie!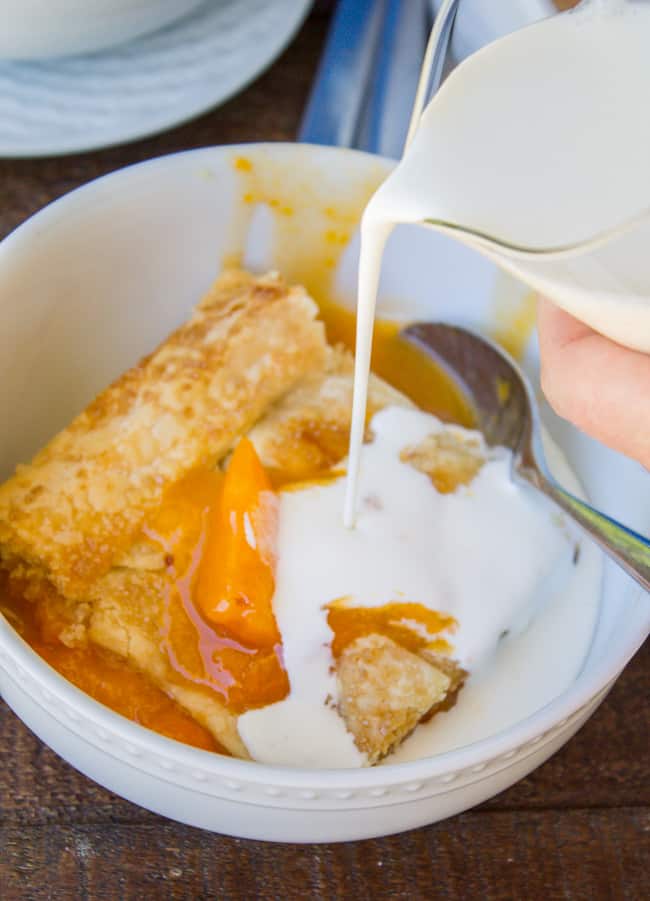 You haven't lived until you have drizzled an obscene amount of heavy cream all over your slab pie. I didn't think I would like it at first, when Sandi told me that her family eats most summer-fruit-cobbler-ish anything in a bowl, with a small puddle of cream. I'm not that into whipped cream. (I think I got burned one too many times as a kid by thinking a cake was frosted in buttercream and it turned out to be whipped cream) And isn't cream a step down from whipped cream?
No. No it is not. We've been complicating our lives too much guys. Put down that mixer. Just pour on the cream: no vanilla, no sugar, just straight up cream. (Or half and half will do.)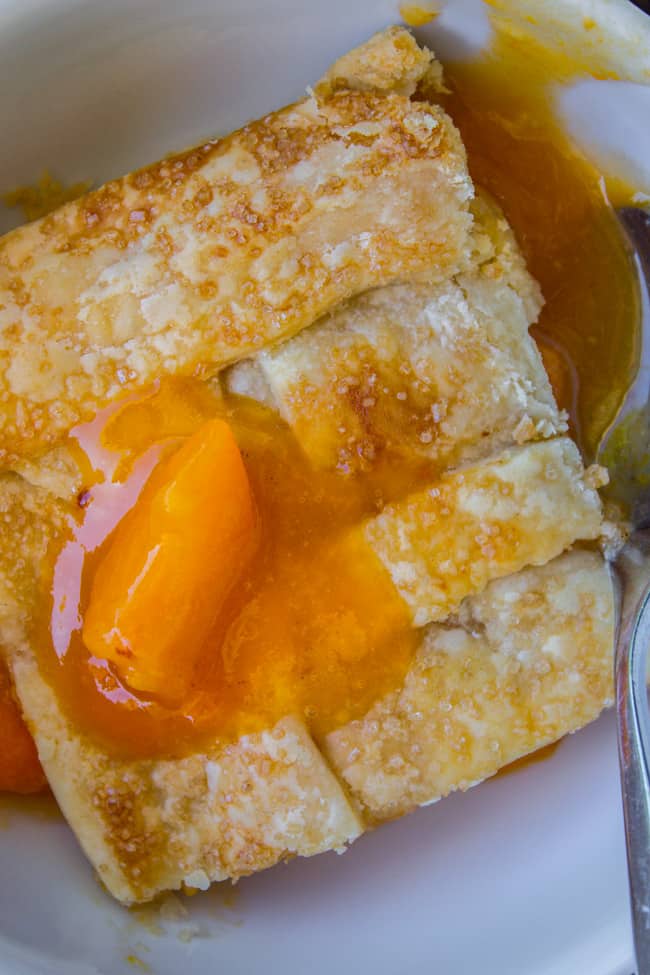 Here's the original recipe, it's always fun to see old recipes like this I think: (don't worry the printable is below)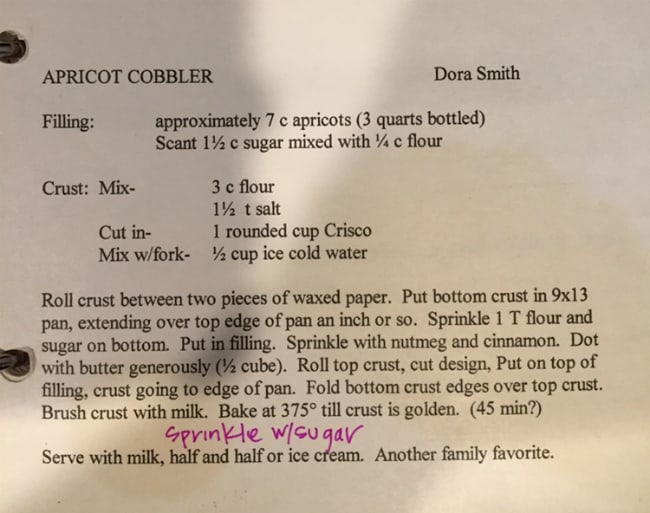 (They all call it a cobbler, but a double crust?? It's a pie, right?)
If you make this recipe, share it on Instagram using the hashtag #TheFoodCharlatan so I can see it! I love that.
More great desserts with peach and apricot!
Peach Cake with Brown Sugar Frosting << this cake is super sweet and so delicious! Also click over to read about my sister and the novel she wrote! Dang she's awesome.
No Bake Dulce de Leche Cheesecake with Caramelized Peaches:
Peach Custard Pie << the ONLY way I will eat peach pie. I mean except today's slab pie.
Peach Pull Apart Bread with Caramel Sauce:
Blushing Apricot Pie from All Roads Lead to The Kitchen
Apricot Turnovers from The View from Great Island
Apricot Pie. Girl knows how to work those apricot recipes.
Apricot Crisp Bars from Barefeet in the Kitchen
Facebook | Pinterest | Instagram

Peach Apricot Slab Pie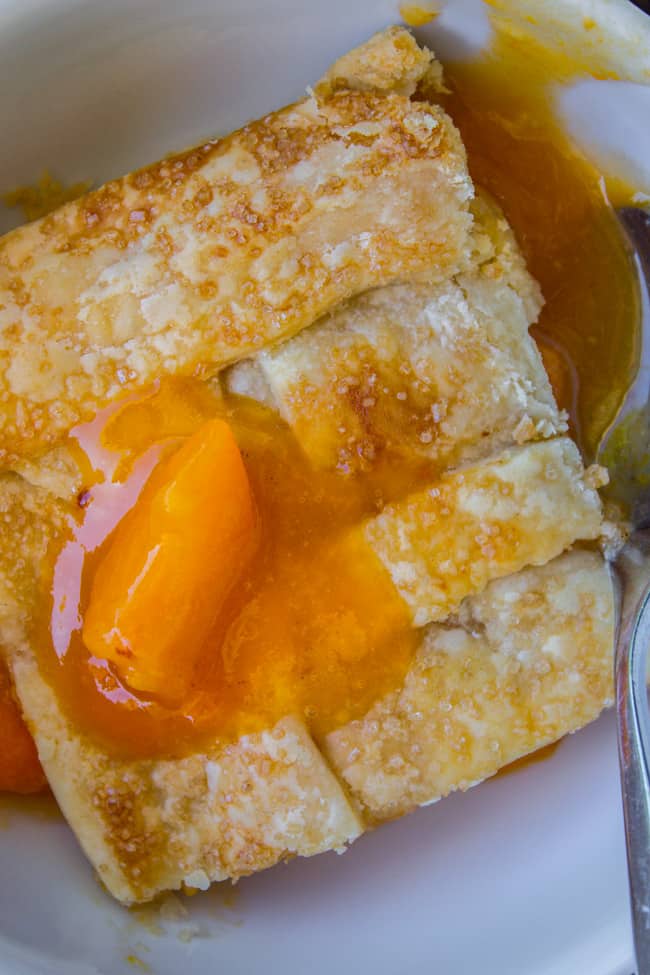 This big Peach and Apricot SLAB pie will feed a crowd, using fresh apricots and the most abundant, flakiest crust everrr. The best part? You douse your whole slice in a healthy splash of cold cream!
Ingredients
For the filling:
7

cups

ripe apricots

,

peeled and sliced*

1 & 1/2

cups

sugar

1/4

cup

flour

1

tablespoon

sugar

1

tablespoon

flour

dash

cinnamon

dash

nutmeg

1/4

cup

salted butter

,

cut into chunks (1/2 stick)
For the crust:
3

cups

flour

,

spooned and leveled

1 & 1/2

teaspoons

salt

1/2

cup

cold salted butter

,

cut into chunks (1 stick)

1/2

cup

butter-flavored Crisco

,

+ 1 tablespoon

1/2

cup

ice cold water

1

tablespoon

milk

1-2

tablespoons

coarse sugar

heavy cream

,

for serving
Instructions
Peel the fruit. If it is not quite ripe and you are having trouble, blanch it: bring a pot of water to a rolling boil, add the apricots and/or peaches (make sure they are submerged), and boil for 30 seconds to 1 minute. Immediately remove to a bowl of cold water, and then peel after they have cooled a minute. The skins should slide right off.

Slice the fruit and add to a medium bowl.

Add 1 and 1/2 to 2 cups sugar. The original recipe says 1 and 1/2 cups, but when I made it, half of my apricots were pretty under ripe, so I upped the sugar to 2 cups. The next time I used 1 and 3/4 cup, because some were unripe but not as many. If your apricots are very ripe and ready to eat, then use 1 and 1/2 cups sugar.

Add 1/4 cup flour and stir all the fruit together.

Preheat your oven to 375 degrees F.

Measure out 1/2 cup of cold water (for the crust) and stick it in the freezer.

In a large bowl, combine the flour and salt.

Use a pastry cutter

to cut in the stick of butter and the Crisco. You want pea-size pieces of butter.

Add half of the water from the freezer. Use a wooden spoon or your hands to moisten the dough. Add the rest of the water and use your hands (dust them in flour first) to knead the dough just a few times to make it come together in a ball. Don't knead more than necessary.

Dust a work surface with plenty of flour. (I love to use my

pastry cloth

for rolling out any kind of dough.)

Divide the dough in half. Use a rolling pin to roll out half of the dough into a large rectangle, about 13 inches by 17 inches (or enough to cover the bottom and go up the sides of a 9x13 inch dish.) Use the rolling pin to transfer the dough to the dish. (see photos)

Sprinkle the bottom of the crust with 1 tablespoon flour and 1 tablespoon sugar.

Add the fruit filling to the crust.

Sprinkle with cinnamon and nutmeg.

Sprinkle 1/4 cup of butter over the top of the filling,

Roll out the other half of the dough. You can either do a simple rectangle (about 9x13 inches) or you could divide the remaining dough in half and roll each into a rectangle for a lattice crust. Use a pizza cutter to slice the dough into strips (Half into long strips, half into short strips), then place the strips over the filling, interlocking them, hopefully better than I did. (Lattice newbie here.)

Fold the bottom crust that went up the sides of the dish over the top crust on the edges, and gently press to seal with your fingers.

If you don't do a lattice, be sure to use a fork or knife to poke holes in the top for venting.

Sprinkle the crust with sugar.

Bake at 375 for about 45-50 minutes, until nice and golden brown on top.

Let stand for at least 20 minutes before serving.

Serve in a bowl with a generous amount of cream. Don't be stingy!
Notes
*You can use all apricots, or part apricot/part peach. I used about 14 medium-ish apricots and 3 large peaches for my second batch.
Nutrition
Serving:
1
g
|
Calories:
621
kcal
|
Carbohydrates:
85
g
|
Protein:
7
g
|
Fat:
30
g
|
Saturated Fat:
13
g
|
Polyunsaturated Fat:
4
g
|
Monounsaturated Fat:
10
g
|
Trans Fat:
2
g
|
Cholesterol:
43
mg
|
Sodium:
528
mg
|
Potassium:
371
mg
|
Fiber:
4
g
|
Sugar:
47
g
|
Vitamin A:
2822
IU
|
Vitamin C:
12
mg
|
Calcium:
33
mg
|
Iron:
3
mg