Southern Pecan Cheese Wafers (Perfect Holiday Appetizer)
If you have never had Southern Pecan Cheese Wafers you are missing out! This cheese crackers recipe is nothing like you have ever bought at the store. It is a really fun cocktail appetizer and goes great with drinks and a cheese plate!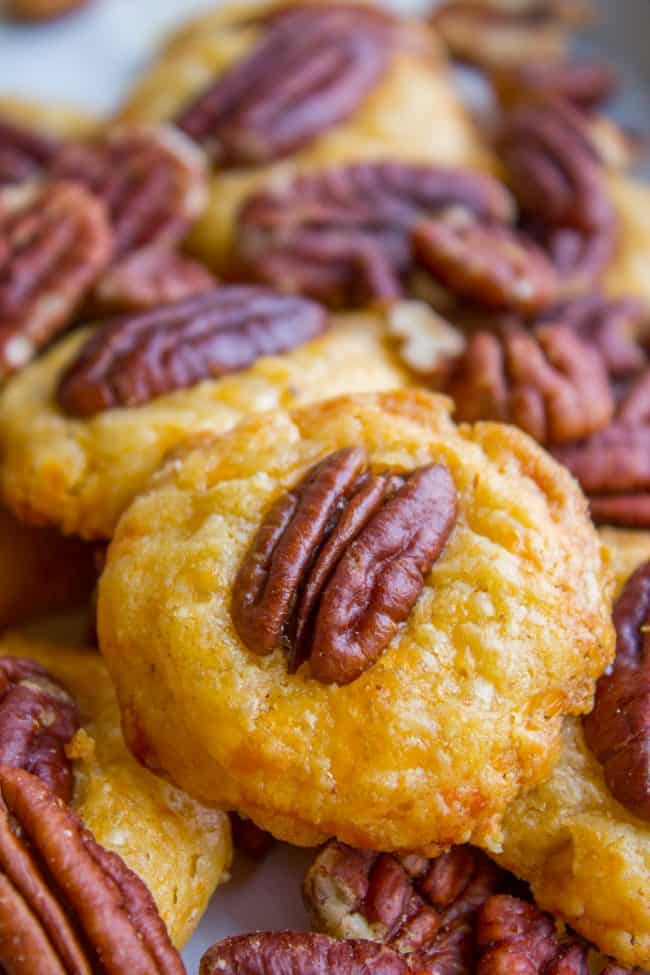 Guys, I think I was meant to be born in Louisiana. Or maybe Georgia. Mississippi? Should the first word of this post been ya'll?? Maybe not. I think I'm spelling it wrong.
It's turning into a very Southern Thanksgiving around here. My best friend Sarah, who is also not Southern, texted me a couple days ago and said she was making my Cornbread Stuffing with Bacon and Sage and Literally the Best Mac and Cheese I've Ever Had for Thanksgiving, and that I'm making them more Southern than they've ever been. (Mac and cheese is not on the Thanksgiving menu where I'm from)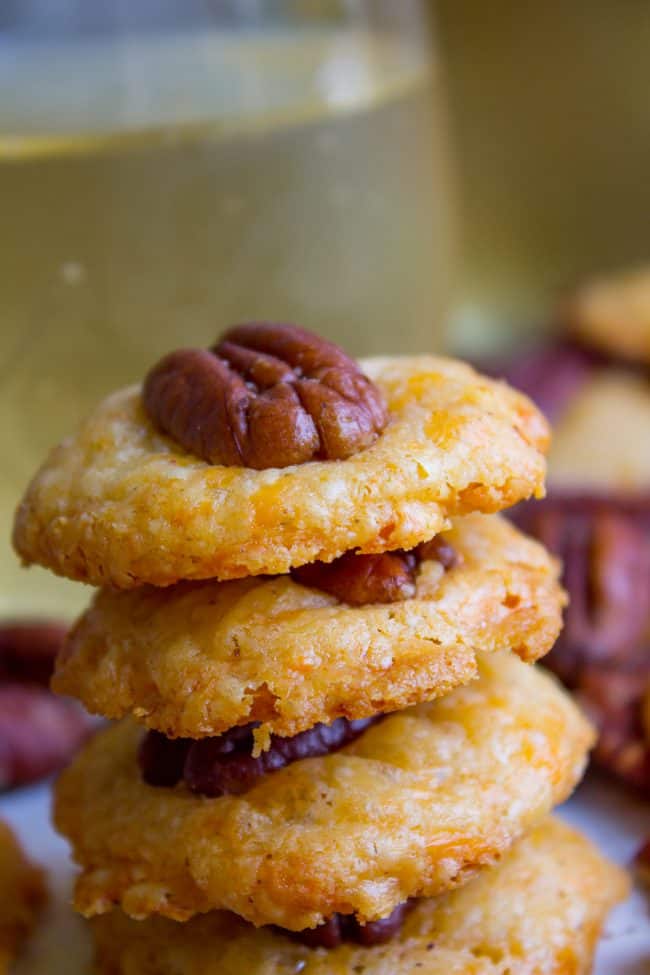 (Wait a second, she's from West Virginia. Is that Southern?? Sarah, are you really Southern and I didn't know? Come on, where is your accent??)
Also while we are on the topic of Sarah's home state, let's take a moment to remember that time in college when Sarah and I were introducing ourselves to a new friend, and Sarah said she was from West Virginia, and New Friend said, oh, you mean western Virginia? Like, you're from the western side of the state? Sarah's like, "no… West Virginia IS a state." Oh dear. We still laugh about that one.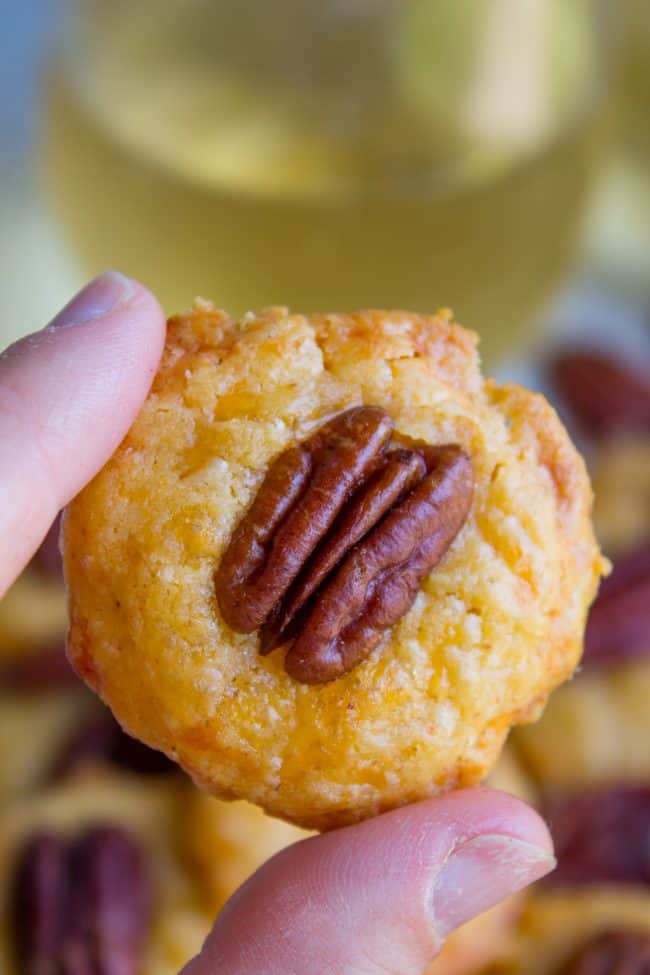 So on to today's very Southern recipe, and if you want to make it as an appetizer for Thanksgiving, I don't care where you are from, EVERYONE WILL LOVE YOU. Cheese Wafers are absolutely addictive.
I'll be honest, I'm not much one for making my own crackers. I see all kinds of recipes these days for homemade goldfish, homemade graham crackers, etc. It's just not my thing. Graham crackers are already delicious, and my kids don't care whether their goldfish came from a box or from my kitchen.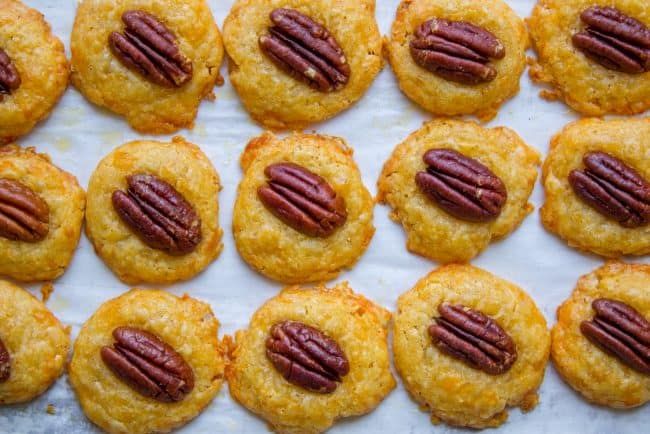 But I'm here to tell you that these Cheese Wafers are in an ENTIRELY different category. Like, okay, technically these are glorified cheese crackers, but I'm telling you, they do NOT compare to anything you can get at the store. They are ultra cheesy (hello sharp cheddar!) and have a little bit of cayenne pepper for a bit of spice. (They are not really that spicy, they just have tons of great flavor. You can adjust the cayenne to your taste.)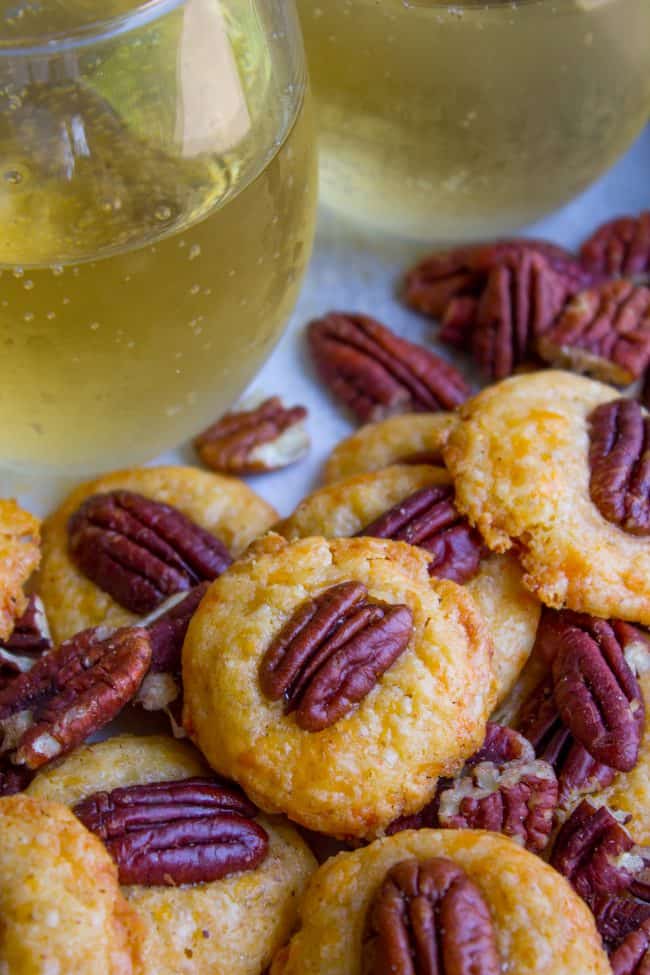 Fun fact, these cheese wafers look almost identical to one of my favorite Christmas cookies of all time, Butter Pecan Cookies. The first time I tried one I was very confused that it was not sweet.
You could definitely try chopping up the pecans, adding them to the dough, and baking them flat so that they look more like crackers. Either way will work. But I love the look and taste of having a whole pecan on top of the cheese wafer.
How to make cheese wafers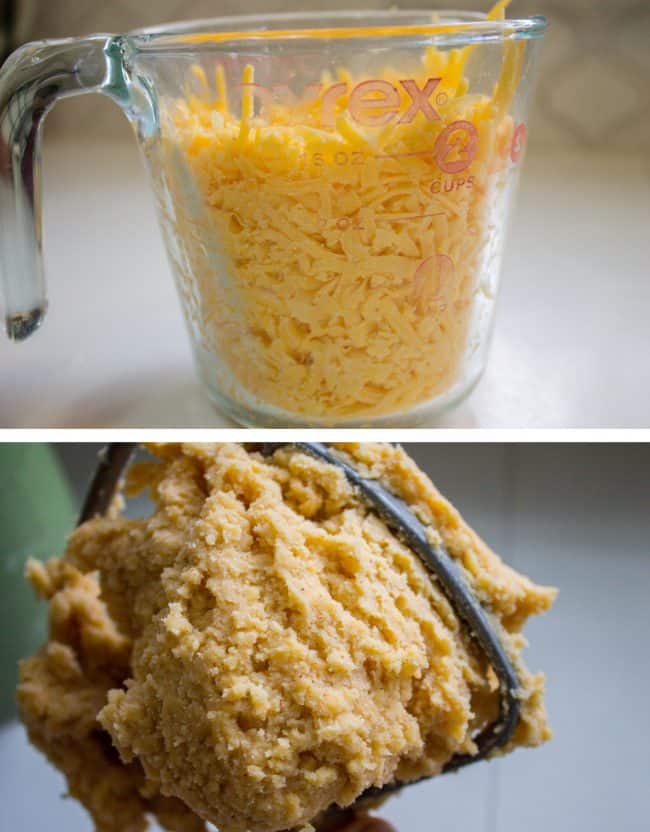 You really have to pack the cheese in if you are measuring it and not weighing it.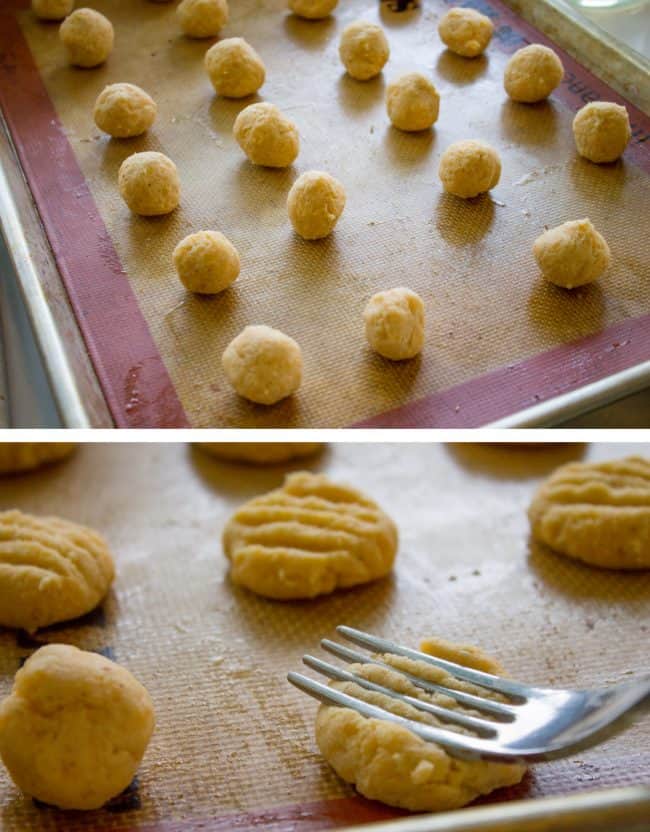 I tried cheese wafers for the first time when I was in Richmond, Virginia (which, by the way, is not on the western side of the state). We were visiting my brother Nathan when he was a resident there. We tried out this fun lunch spot called Sally Bell's Kitchen. We ordered their box lunch and took them on a hike with us. It came with a sandwich, potato salad, deviled eggs, cheese wafer, and a cupcake. Now THAT is what I call a box lunch. It was all so good and I even recreated the Upside Down Almond Crunch Cupcakes that we had. But I couldn't stop thinking about that tiny cheese wafer. I knew I needed to try it at home!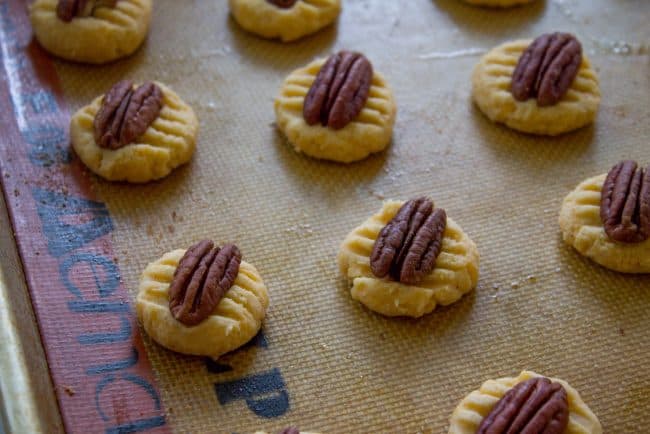 The recipe is super quick to put together. The dough needs some time to chill in the fridge, and you can make it days in advance. You can even bake the cheese wafers the day before you plan to serve them. They would be really fun to have at any holiday parties you have coming up. They are perfect for nibbling on with drinks.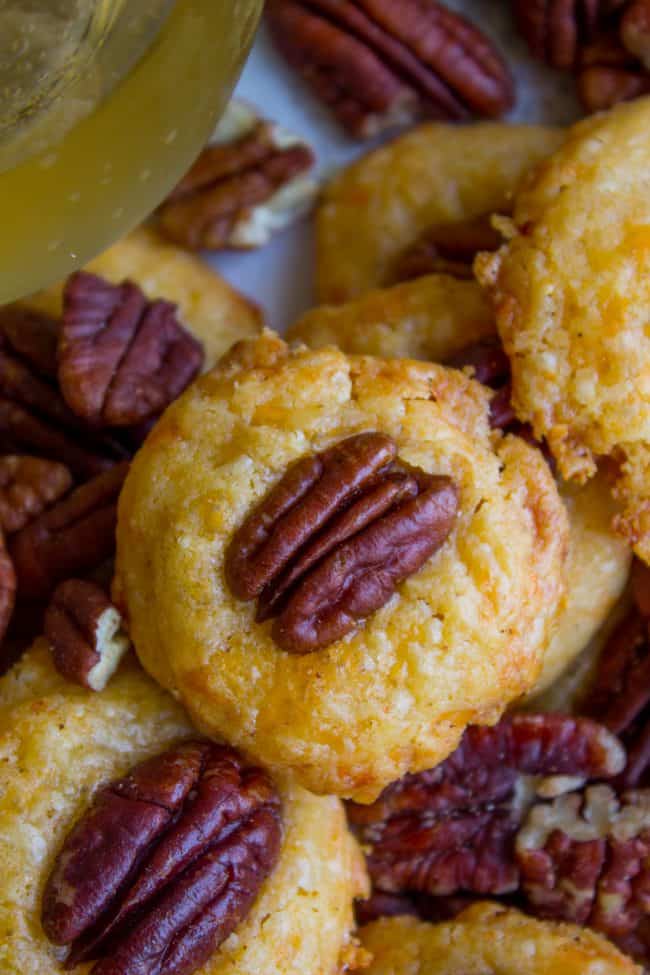 You can also make these cookies as slice-and-bakes. It would be fun to package up a roll of chilled dough and gift it to someone with a bag of pecans and instructions to go with it. A nice holiday gift that is not so sugary.
Facebook | Pinterest | Instagram
One year ago: Cranberry Cherry Pie with Almond Glaze
Three years ago: Roasted Sweet Potatoes and Brussels Sprouts << one of the top visited recipes on the blog
Seven years ago: Sausage Potato and Kale Soup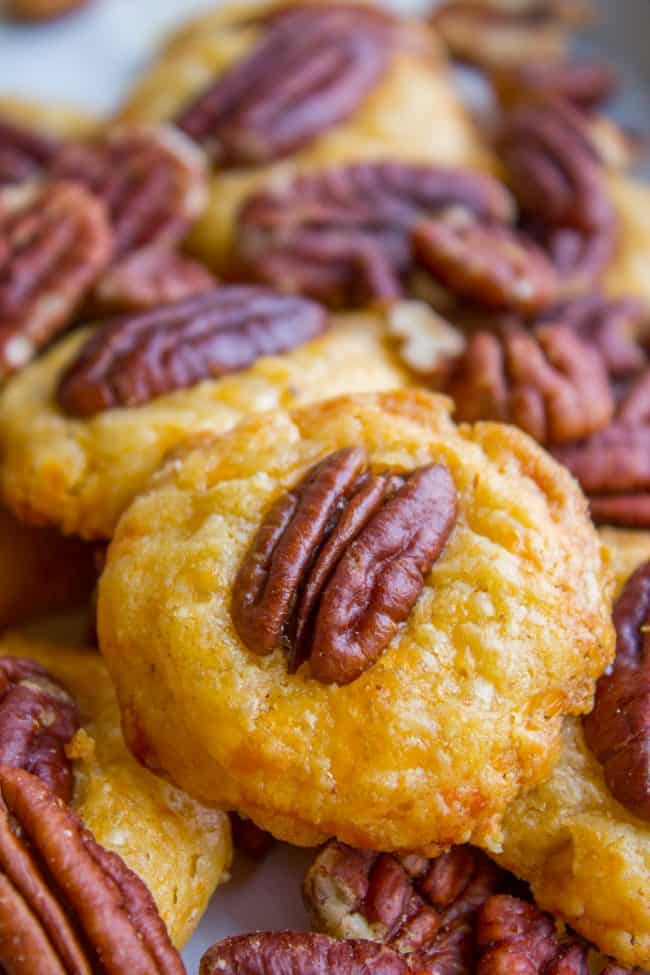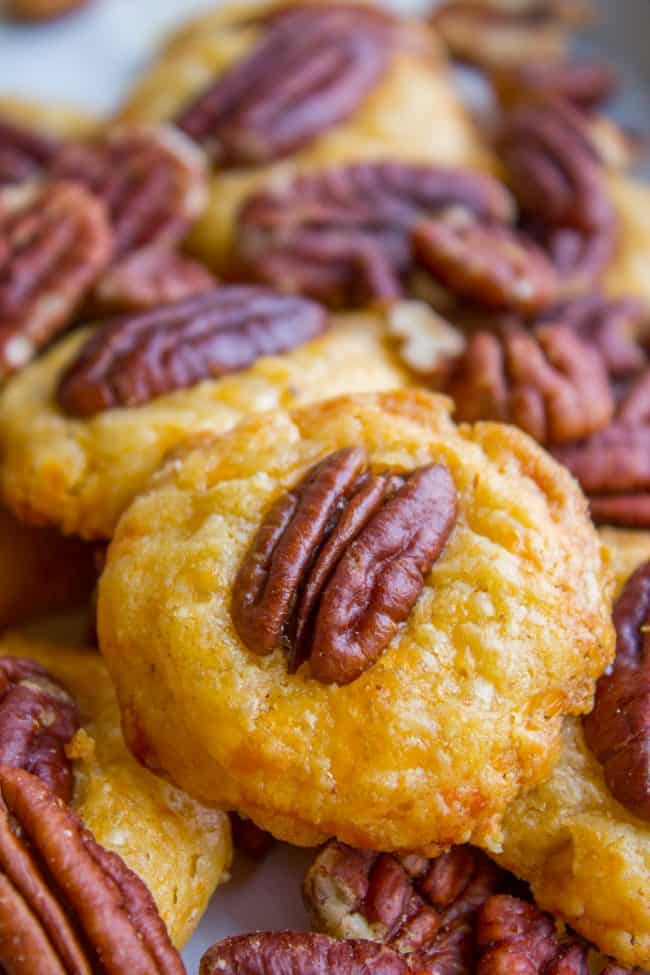 print
Did you make this recipe?
Leave a review »
Southern Pecan Cheese Wafers
60-70 wafers
adjust servings
If you have never had Southern Pecan Cheese Wafers you are missing out! This cheese crackers recipe is nothing like you have ever bought at the store. It is a really fun cocktail appetizer and goes great with drinks and a cheese plate!
Ingredients
1

cup butter (2 sticks), softened

1

teaspoon Worcestershire sauce

2

cups flour, spooned and leveled

1/2

teaspoon salt

1/2

to 3/4 teaspoon cayenne pepper

1/4

teaspoon smoked paprika, optional

1

pound sharp cheddar cheese, freshly shredded*

60-70

pecan halves
Instructions
In a large bowl or stand mixer, beat the butter and 1 teaspoon Worcestershire sauce until smooth and creamy.
Add 2 cups flour, 1/2 teaspoon salt, cayenne pepper, and smoked paprika, if you're using it. Beat well, scraping the sides.
Add the cheddar cheese and beat well, scraping the sides and bottom of the bowl.
Cover the dough and chill well, at least 2 or 3 hours or up to 3 days.
Preheat your oven to 350 degrees F. Line a baking sheet with parchment paper or a silicone baking mat.
Roll the dough into 1-inch balls and place on the baking sheet 1 inch apart. Press the top of each ball with a fork (if the fork sticks, coat with flour).
Place a pecan half on top of each wafer.
Bake at 350 degrees for 18-20 minutes, until the edges are quite brown.
Let cool on the pan for 5 minutes, then transfer to a wire rack to cool completely. Store covered on the counter. Best served within 2 days.
Re-heating: I made these a day in advance as Thanksgiving appetizers. They lose a bit of their crunch by day 2, so I spread them out on baking sheets and baked at 350 for about 5 minutes until they got crispy again. Worked great!
by The Food Charlatan

If you make this recipe,
share it on Instagram
 using the hashtag
#TheFoodCharlatan
so I can see it!
More cheesy appetizers you will love!
Pimiento Cheese Dip << another Southern favorite!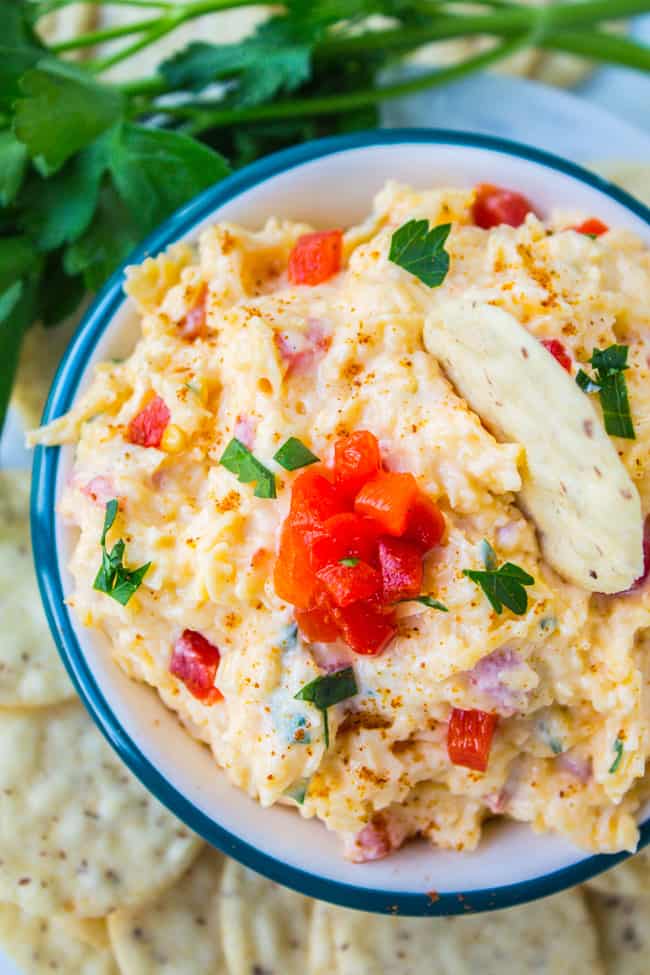 Bacon Ricotta Crostini << one of my favorite holiday appetizers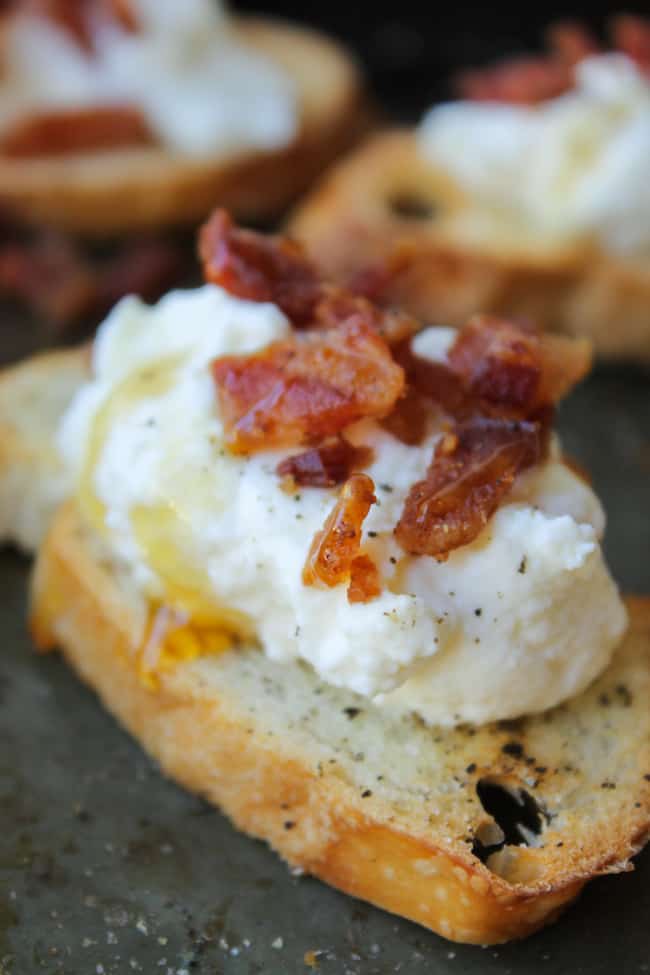 Goat Cheese, Pesto, and Sun-Dried Tomato Terrine <<this one is so good.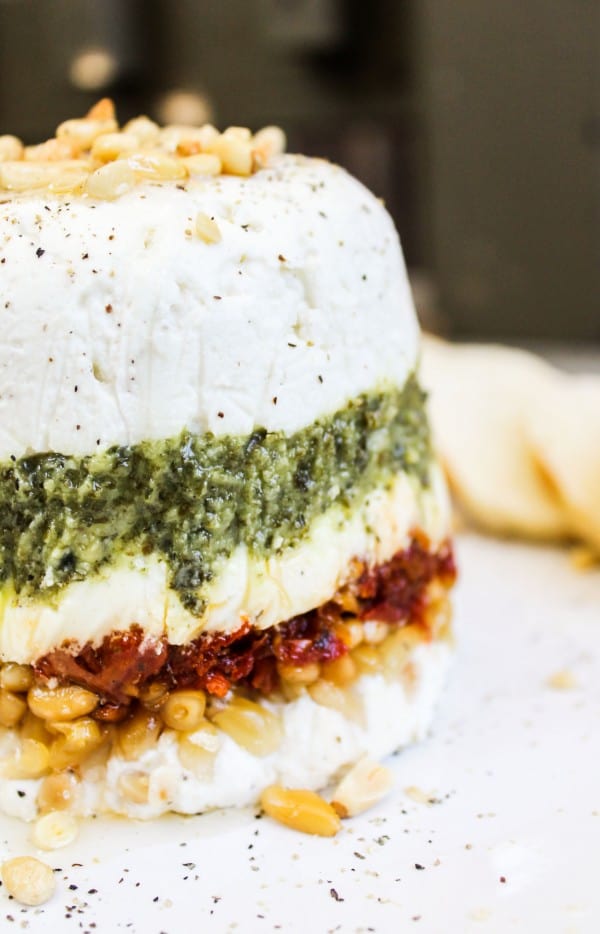 More cheesy appetizers you are going to love!
Cranberry Pecan Goat Cheese Appetizer Roll from Boulder Locavore
Baked Ricotta Appetizer from Foodie with Family
Easy Feta Cheese Ball Appetizer from Reluctant Entertainer
We are a participant in the Amazon Services LLC Associates Program, an affiliate advertising program designed to provide a means for us to earn fees by linking to Amazon.com and affiliated sites.