Curried Chicken Salad Sandwiches with Naan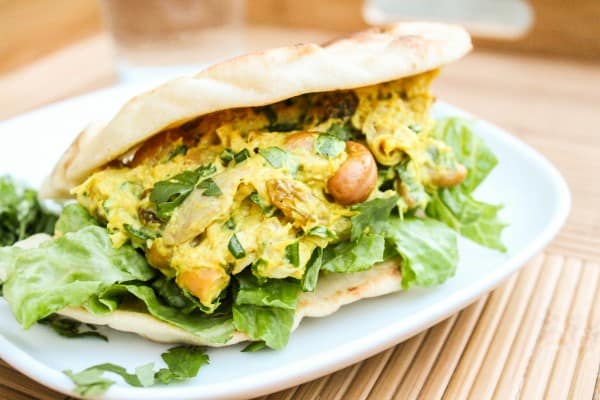 I just asked Eric what I should write about tonight, and instead of being like, "Oh ummmmm I dunno…" like he usually is, he answered rapid-fire: "You should write about how ALL the boxes in the spare room are gone, the books are on the shelf, curtains are up, there are even fall decorations everywhere. Oh, and the water pitcher is full."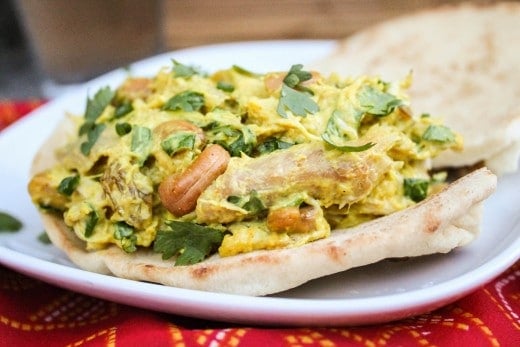 Sudden burst of energy, you ask? Yes, actually, in the form of my mother-in-law. She has been in the house less than 24 hours and has already gotten more done than I have in the past week.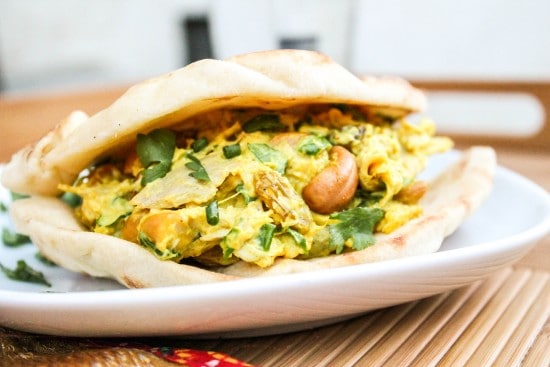 I just love that Eric's idea of a truly well-put-together home is a full water pitcher in the fridge.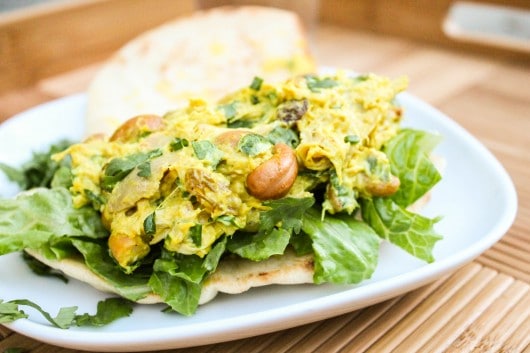 Curried Chicken Salad. I'm always so impressed with other people's awesome ideas. Ingrid over at The Cozy Apron is the genius behind these bad boys. They are SO good. Tender chicken, flavorful sauce (with the tiniest bit of a kick), sweet raisins and crunchy cashews. Yum. Also, why don't I use naan for every chicken salad sandwich ever? It was awesome. And done in 15 minutes, tops. Throw in a fruit salad or a green salad and this makes for a fabulous weeknight meal.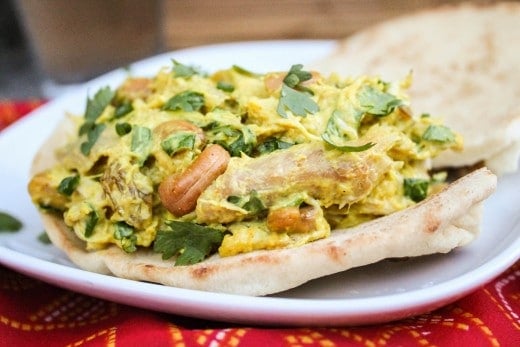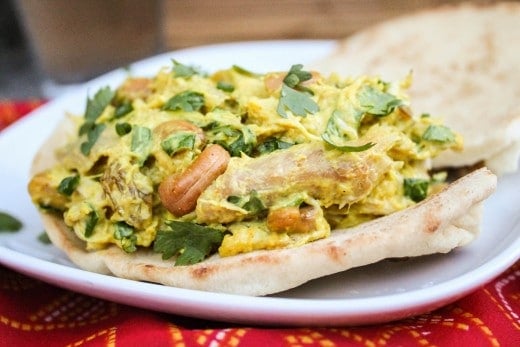 print
Did you make this recipe?
Leave a review »
Curried Chicken Salad Sandwiches with Naan
Makes about 4 not-overly-large sandwiches
adjust servings
Ingredients
1/2

cup mayonnaise

1

tablespoon honey

1

1/2 teaspoons curry powder

1/2

teaspoon turmeric powder

1/8

teaspoon cayenne pepper, or to taste

2

cups chicken, cooked and chopped (rotisserie works great!)

1/4

cup roasted cashews, roughly chopped

1/4

cup golden raisins

1/4

cup green onion, chopped

2

tablespoons fresh cilantro, chopped

salt and pepper to taste

2

pieces of tandoori naan, toasted

chopped greens: romaine, green leaf, red leaf, arugula, whatevs
Instructions
To make the salad, combine the mayonnaise, honey, curry, turmeric, and cayenne pepper in a medium bowl. When it is all mixed together, add the chicken, cashews, raisins, green onions, and cilantro and stir. Salt and pepper to taste.
Each naan will make 2 sandwiches, so cut it into quarters and use 2 pieces to make one sandwich. Toast the pieces until they are nice and warm and starting to crisp. Layer the greens over one of the pieces of naan. Add the curried chicken salad on top of the greens and cover with the other half of the naan.
by The Food Charlatan

If you make this recipe,
share it on Instagram
 using the hashtag
#TheFoodCharlatan
so I can see it!
Source: adapted from
The Cozy Apron
We are a participant in the Amazon Services LLC Associates Program, an affiliate advertising program designed to provide a means for us to earn fees by linking to Amazon.com and affiliated sites.