Kale, Chicken & White Bean Soup with Parmesan Shavings
This hearty, healthy soup is full of flavor from the Parmesan rind that you add while cooking. Plus, eating kale makes you feel like a Super Human.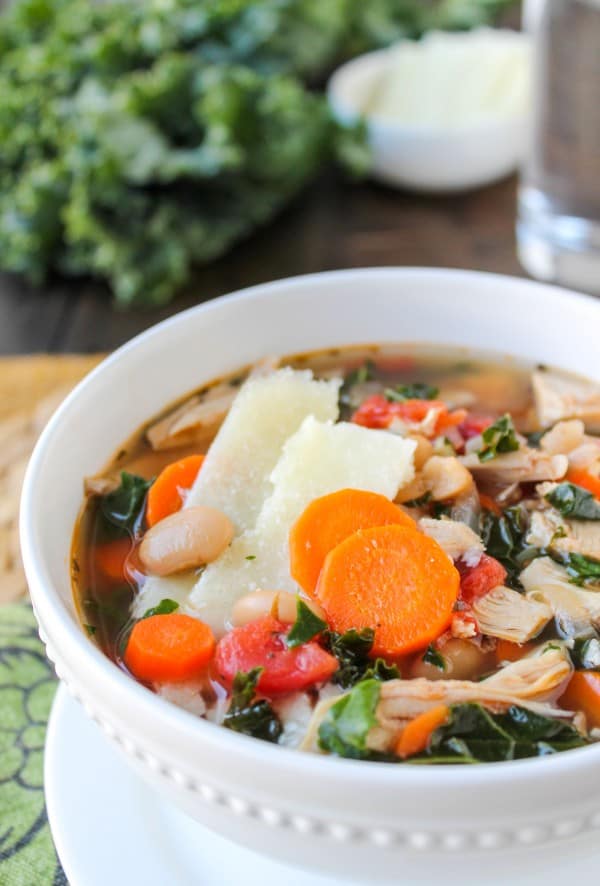 Nothing cheers me up faster than soul music. Seriously, I can be in the worst mood ever, having a sniffle session while googling "how to get my toddler to not hate me" and "how to enjoy reading Harold and the Purple Crayon 78 times in a row," but then I'll turn on some soul music and suddenly it's all making cookies and dancing in the kitchen.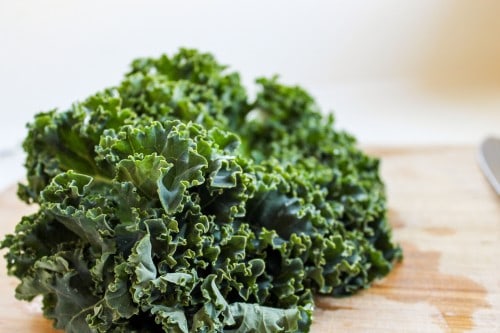 Okay, that last part was Eric's idea. I called him at work freaking out about being a crappy mom and he said "make cookies with Charlotte and let her eat as much of the dough as she wants." It turns out letting go of all discipline really helps when you're having a hard time playing nice with your kids. (I have no delusions: this funk is all on me. Sometimes I wonder which one of us is 2 years old.)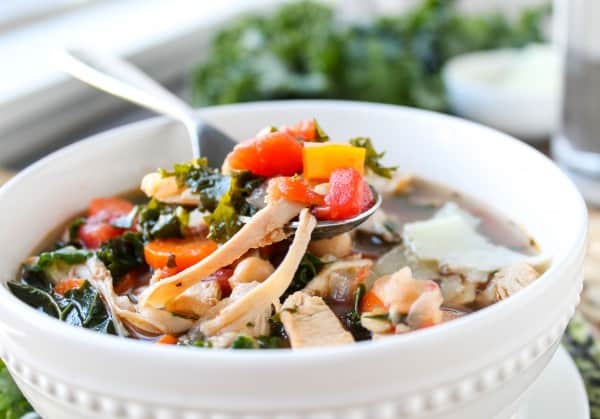 Also, no, Charlotte did not eat her dinner last night because she had just consumed half a pound of cookie dough (full of salmonella-infected eggs, I'm sure) and when she refused dinner I didn't even have the fight left in me to argue.
But Ain't No Mountain High Enough was playing in the background, so it's all good. My Girl, R-E-S-P-E-C-T, Please Mr. Postman. They make me feel nostalgic for Saturday mornings as a kid, cranking up the tunes while mowing the lawn and heading to soccer games.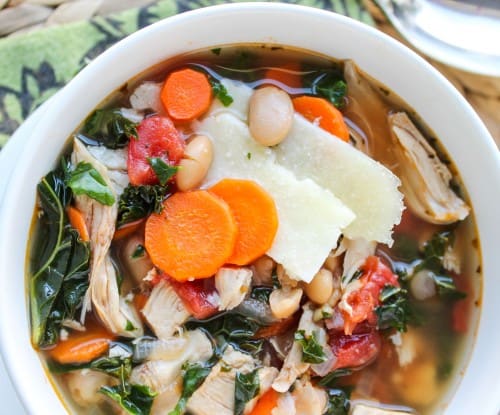 Side note, do you guys ever read the comments on Youtube videos? Why are they always so ridiculous?? Ridiculous, but sometimes hilarious. This is from the video for Al Green's Let's Stay Together: "Al, you didn't know it but you got me a hell of a lot of action back in the day." Okay I need to stop hitting repeat on this song or Eric's going to get the wrong idea.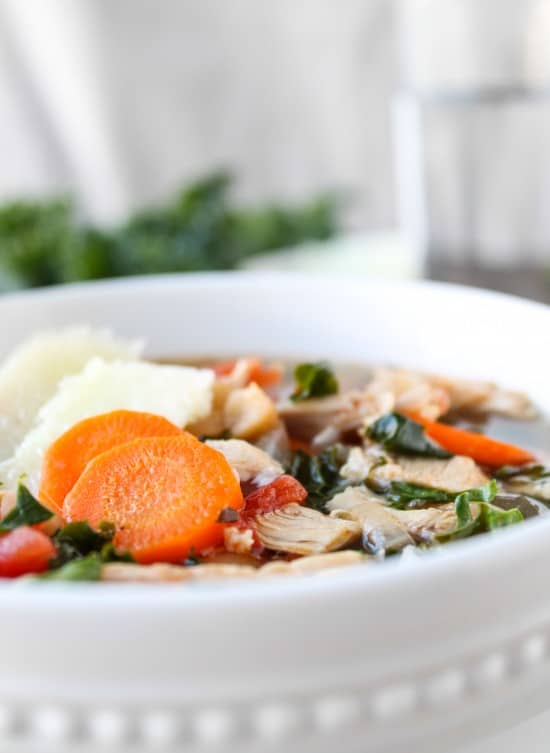 We had dinner at our friend's the other night and they served us this soup. I loved it so much that I made it the next day, and we've been slowly chipping away at it all week. It's hearty. It's healthy. It totally hits the spot. Are you a kale hater? Don't be like that. This kale is magical.
It's easy to throw together. Not too much chopping, especially if you already have the chicken ready to go. I used a rotisserie, which was an excellent choice.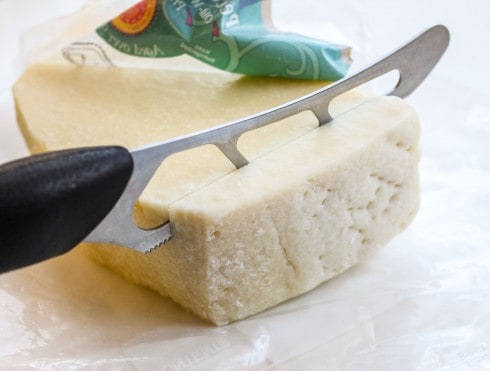 The thing that really sets this soup apart is the Parmesan. It calls for a rind of Parmesan in the soup, which is my new favorite trick for adding a crazy amount of flavor. And of course the Parmesan shavings that go on top. Skimp on this if you are really watching your calories, but please, don't skip it. (Also, just go ahead and be jealous of my Cutco cheese knife.)
Do you guys give up? Or are you thirsty for more?
Facebook | Pinterest | Instagram | Twitter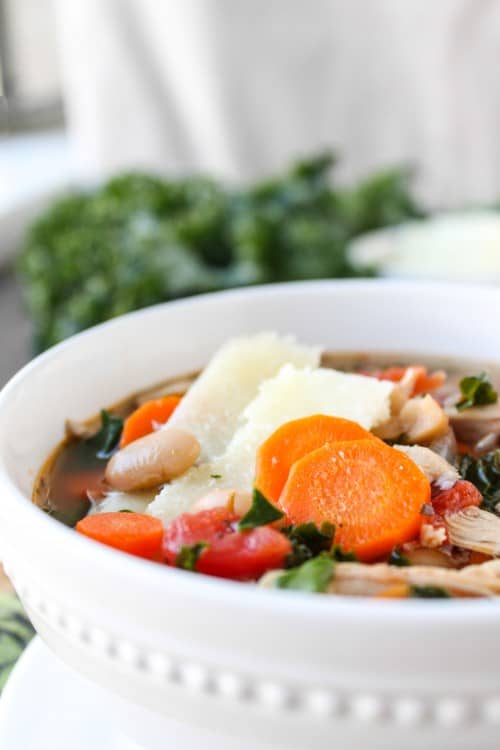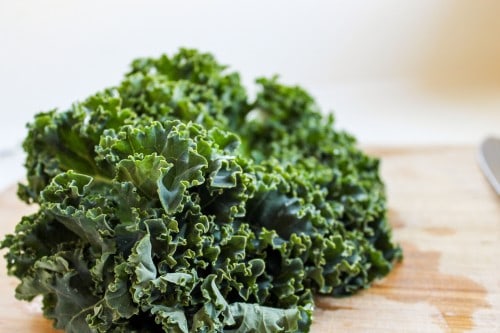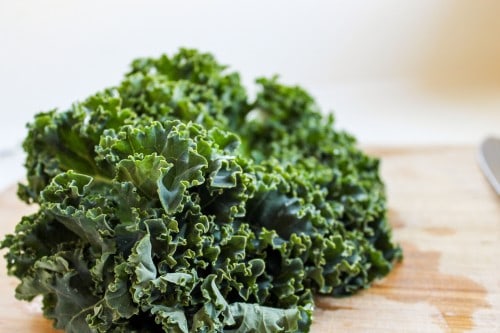 print
Did you make this recipe?
Leave a review »
Kale, Chicken & White Bean Soup with Parmesan Shavings
Makes 8-10 servings
adjust servings
Ingredients
2

tablespoons olive oil

1

medium onion, chopped

4

medium carrots, chopped (about 2 cups)

5

cloves garlic, minced

28-ounce

can diced tomatoes, undrained

2 15-ounce

cans great northern beans, drained and rinsed

1

teaspoon salt

1/2

teaspoon pepper

2

teaspoons Italian seasoning

8

cups chicken broth

2

cups chicken, cooked and shredded

one rind of Parmigiano Reggiano cheese

6-8

cups kale, chopped into bite-size pieces

Parmigiano Reggiano shavings
Instructions
In a very large pot or dutch oven, heat the olive oil. Add the onions and carrots and cook for about 8 minutes, or until the onions are soft but not brown.
Add the garlic and cook until fragrant, about 1 minute.
Add the tomatoes, white beans, salt, pepper, and Italian seasoning and bring to a boil.
Add the 8 cups of chicken broth, the 2 cups of chicken, and the Parmesan rind.
Bring to a boil, then turn down to a simmer and let cook for 20-30 minutes. Add the kale, one cup at a time, until you get to a ratio you like.
Simmer for an additional 10-15 minutes. Adjust seasonings to taste and serve with thin slices of Parmesan cheese.
by The Food Charlatan

If you make this recipe,
share it on Instagram
 using the hashtag
#TheFoodCharlatan
so I can see it!
Source: adapted from Ciao Annie
We are a participant in the Amazon Services LLC Associates Program, an affiliate advertising program designed to provide a means for us to earn fees by linking to Amazon.com and affiliated sites.