Horchata
Happy late Cinco de Mayo! I know I am posting this a day late, but honestly, Horchata is a good choice any day of the year.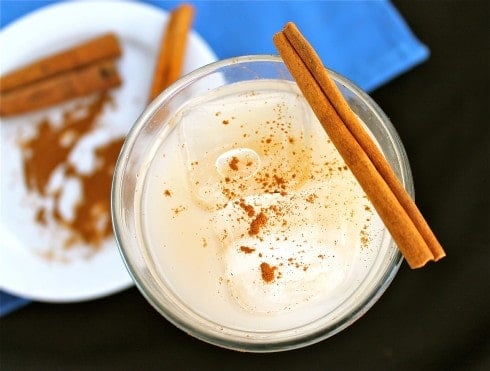 My friend Angie and I threw a baby shower for our friend Sarah on Saturday. It was a Cuatro de Mayo party since we were a day early. It was such a blast. Made more so by the fact that we (again) weren't playing lame baby shower games. Instead we played Pin the Tail on the Donkey, did a Peso coin toss into a sombrero, and of course beat a Pinata into smithereens. Our party favors were these tiny adorable mini-pinatas we found over at One Charming Party.
I'm super lame and forgot to take pictures of everything before we got started, so the best I can offer you is my friend Miranda photobombing my only shot of our half eaten food table: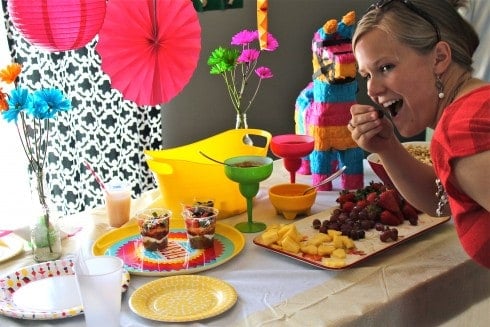 We ate these individual 7 Layer Dips from The Girl Who Ate Everything (that woman is a genius), chips and salsa, fruit, this Chili Lime Popcorn from With Style and Grace, and "fried ice cream," or these Krispie Ice Cream Squares that I posted a while back. And of course we can't forget the horchata.
If you don't know what horchata is, you are missing out. Growing up in California made it pretty easy to find, but now I can appreciate the fact that I was totally spoiled. It is a sweet and creamy rice drink. If you've never had it before I can understand how that might not sound very appetizing, but take my word for it. This stuff will change your life. Especially if you drink if right after a few bites of taco. Heaven. Fortunately for all you peeps who live in non-Mexicanified places and can't find this, horchata is really easy to make at home. Just blend, wait, strain, drink! Yum!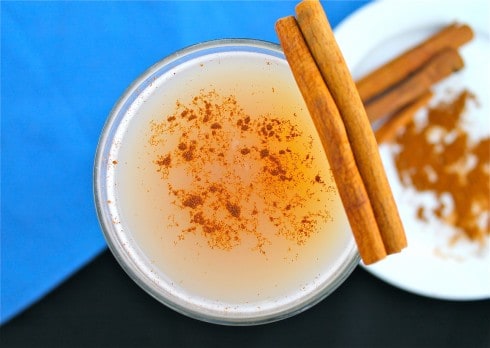 Oh and one more thing, please don't pronounce this whore-chata, it will make you sound like just that. It's or-cha-ta. Rant over.
One more thing, last time I promise. If you fill your glass to the brim with horchata and then decide that your picture would look better with ice, drink some of it before you add 3 ice cubes and horchata overflows all over the black dress that you used as a photo prop, inches away from you very expensive camera. Just sayin'.
P.S. This recipe is from my friend Christina's new blog Food Apparel. She's got some awesome stuff going on over there, go check it out!
P.P.S. Are any of you experts at making huge important life decisions? If so please contact me. (More on this soon. Don't worry I'm not coming out of the closet if that was your first guess.)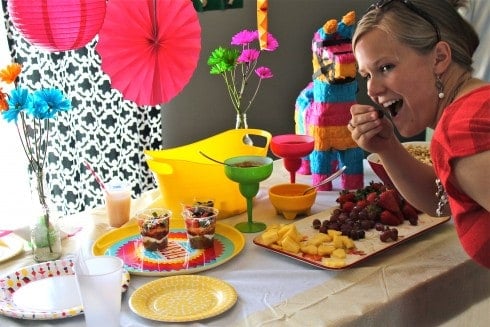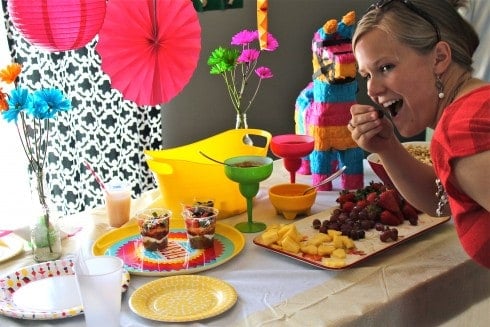 print
Did you make this recipe?
Leave a review »
Horchata
Makes about 5 cups
adjust servings
Ingredients
1

cup uncooked long grain white rice, rinsed until water is clear

4

cups water

1

cinnamon stick (or 1/2 tablespoon of cinnamon)

1/2

cup milk

1/2

tablespoon vanilla

1/3

cup to 2/3 cup white sugar
Instructions
Pour the rice into a mesh strainer and run it under your faucet for a good 30 seconds, or until the water runs clear. Add the rinsed rice to your blender.
Add 4 cups of water and cinnamon stick to the blender. Blend until rice is slightly broken up, about 1 minute.
Refrigerate overnight. Technically you can do 3 hours, but 7 or 8 hours gives it more flavor.
Pour liquid through a mesh strainer into a pitcher. Discard rice. Add vanilla, milk, and sugar to taste. Serve over ice sprinkled with cinnamon.
by The Food Charlatan

If you make this recipe,
share it on Instagram
 using the hashtag
#TheFoodCharlatan
so I can see it!
Source:
Food Apparel
We are a participant in the Amazon Services LLC Associates Program, an affiliate advertising program designed to provide a means for us to earn fees by linking to Amazon.com and affiliated sites.