Did you know making a killer red enchilada sauce is just about as easy as opening a can? And if you buy the right kind of chili powder it totally tastes better than the store bought kind. PLUS: done in 10 minutes. Yes!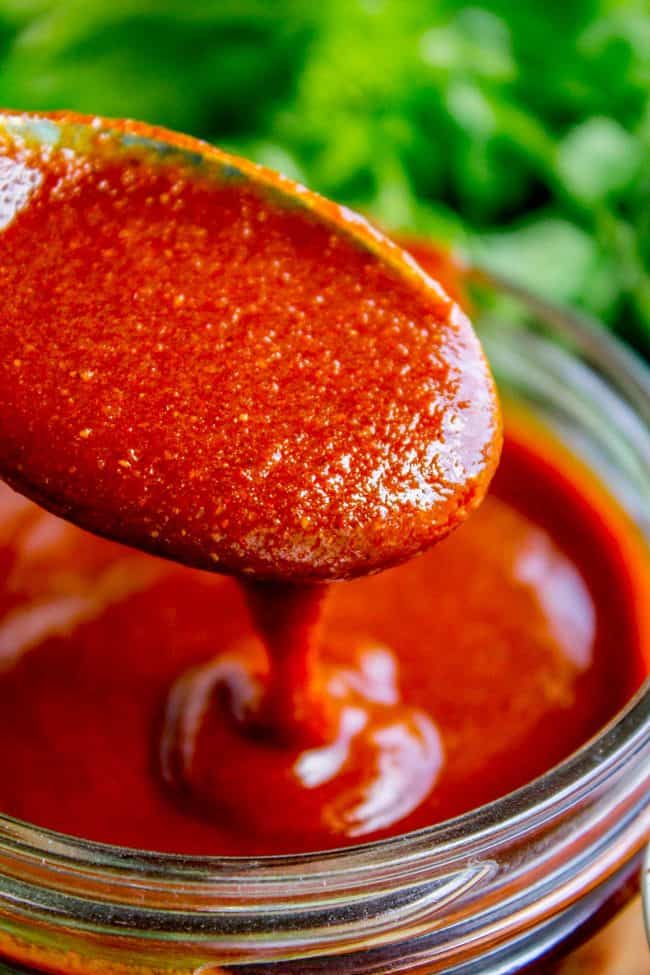 Right now I'm sitting in a white rocking chair, enjoying the dappled sunlight streaming in through the branches of a tree. There's a cool glass of water by my side and there's even a steady rush of people walking by that I can people watch (am I the only creepy people watcher??)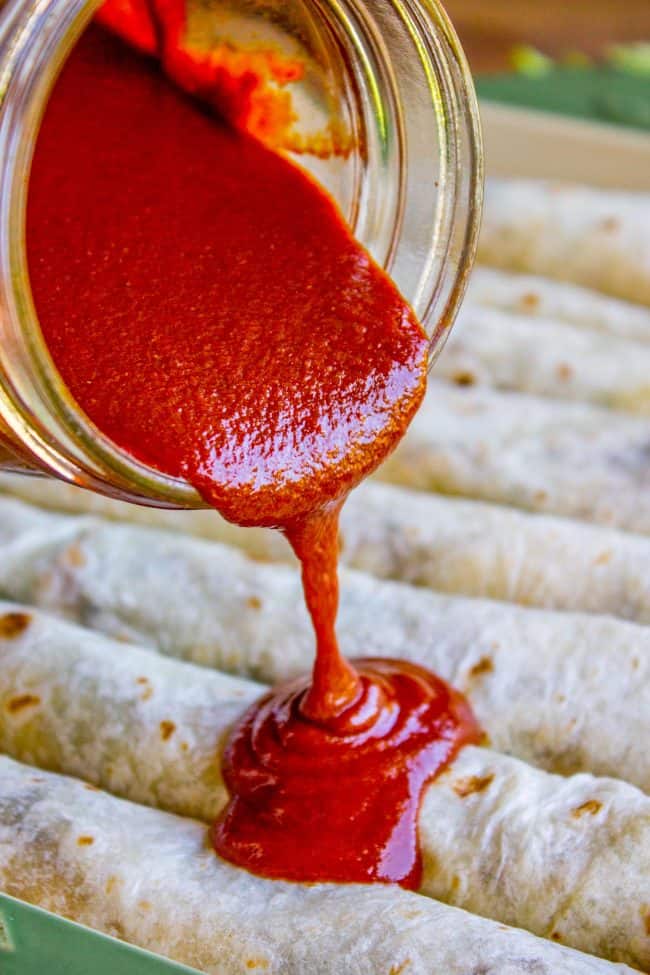 Guys, I'm in the AIRPORT. Charlotte, North Carolina: you know how to do airports right my friends. I've never been so not-irritated to have a layover. This is downright pleasant.
(Side note: Almost every time I take a flight somewhere, I hear people chatting around me. They'll be like, "yeah Sacramento blah blah blah…" and I'll think to myself, hey! I live in Sacramento too! What a coincidence! Until I remember that everyone was in Sacramento an hour ago, because that's where we got on the airplane. I'm an idiot. (This is the same excitement I feel when I send myself an email, and then check my email. Hey! Someone sent me an email! Oh whoops no just me, hi Karen from the past.)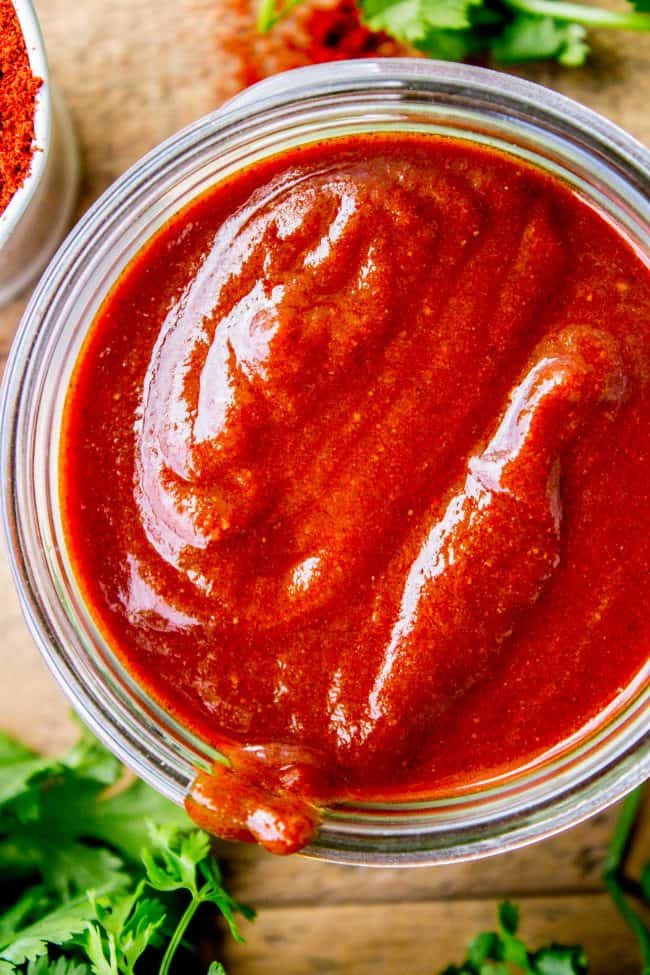 Eric and I have abandoned our children and are off on an adventure. We're heading to Richmond, Virginia where my brother Nathan is in the middle of his residency. (Have I complained before about how much of an underachiever you feel like when you have not one, but TWO brothers who are doctors?? Oh yeah. I have.)
My parents are coming too, and we are going to spend some time in DC and Williamsburg. Eric has never been east of Pennsylvania, so this is all a first for him! We're so excited, but I think the kids are even more excited that they get to stay home and do crafts with Eric's mom. If you have any food recommendations or cool spots we should see, let me know! We managed to get a tour of the Capitol building, I'm super excited about that!

Here's the "pinch" of cinnamon I used. Maybe a little less than 1/8 teaspoon? (This is my 1/4 teaspoon that has been down the garbage disposal more times than I can count…oops.)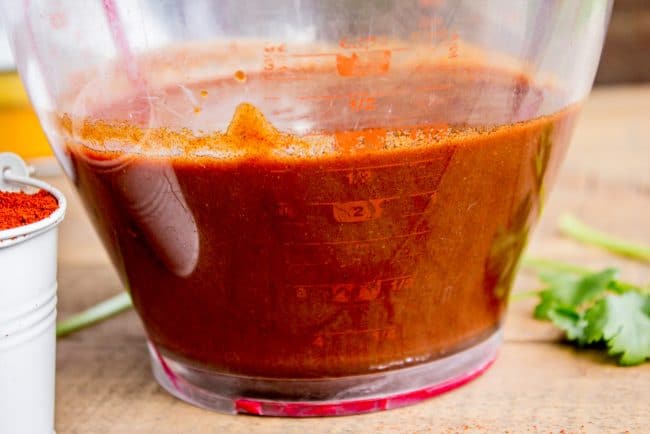 So do you ever get a hankering for enchiladas but don't have any canned sauce? I feel like my enchilada cravings come on like lightning sometimes. I'm so excited to have finally nailed a homemade sauce I love that uses pantry staples. This recipe is not a fancy one; we will not be reconstituting dried chili peppers today. Not for a weeknight dinner.
I can hear you saying, "but why not use a can of sauce," and you are so right, the can wins sometimes. But this sauce is super easy and the flavor is totally worth it! Really. This isn't one of those times when the food blogger is like, "it's so easy, all you have to do is whisk nonstop for 45 minutes! Oh and make sure you simultaneously pat your head and rub your tummy clockwise, otherwise it will be a TOTAL FAILURE!"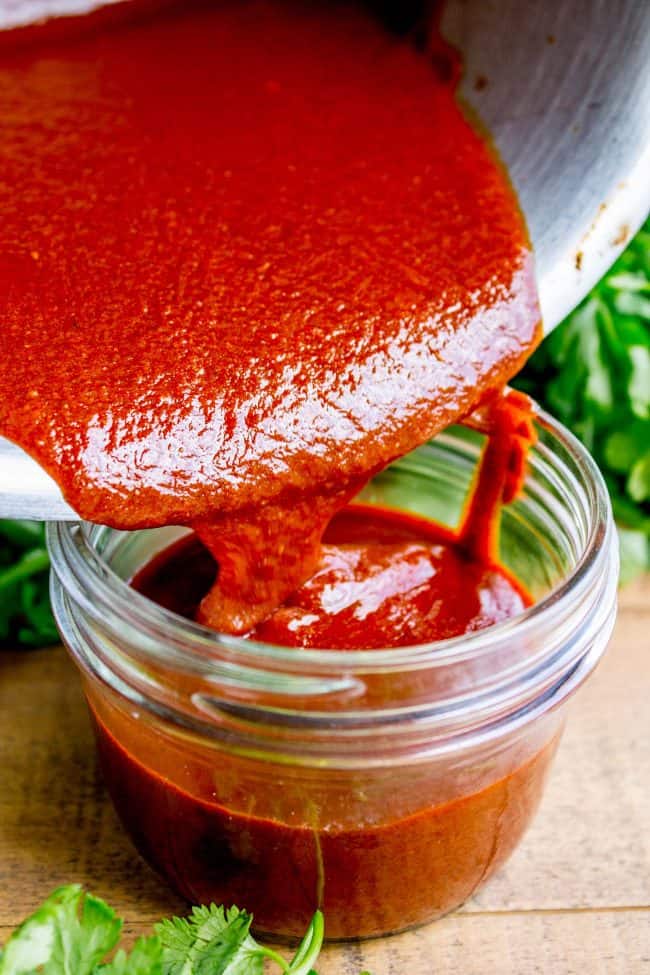 I promise, this recipe consists of melting butter, adding powder, then adding chicken broth. Simmer 7-8 minutes. That's it. It only takes a few minutes and the flavor is unstoppable!
Have you guys heard about New Mexican Hatch chili powder? It is the secret to a killer enchilada sauce. My mother-in-law Kris helped me do a quick taste test of a bunch of different chili powders I had bought (New Mexican, California, regular chili powder, chipotle). She tasted the New Mexican chili and said, "This tastes like it would make a great enchilada sauce!" Bingo. We mixed it with a little bit of the chipotle chili powder and thought it was perfect.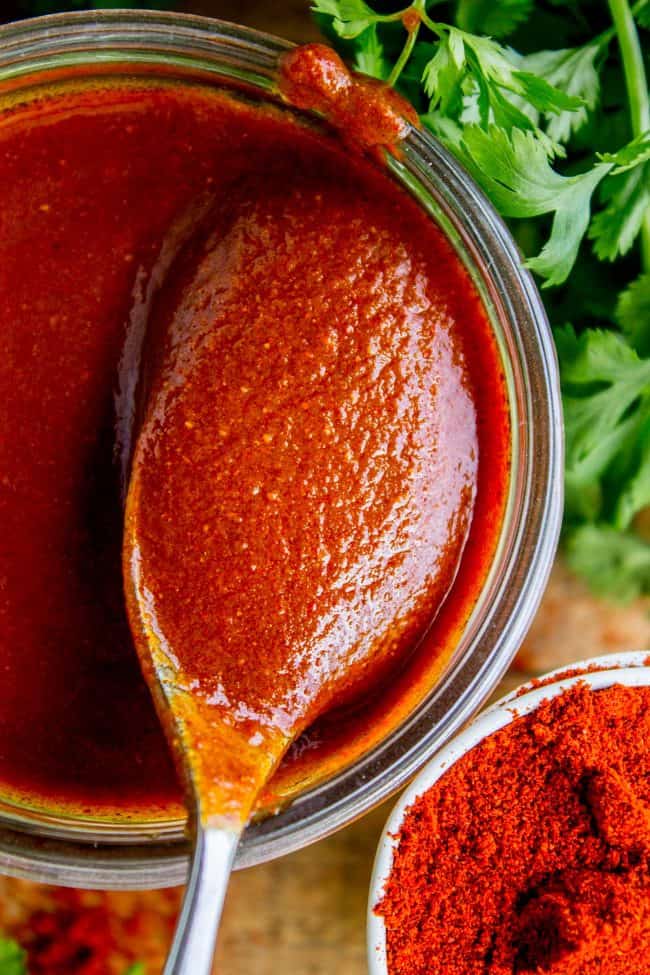 You can use regular chili powder in this recipe, but it won't be the same. Did you know that regular ol' chili powder from the spice aisle has salt in it? And other spices too, including garlic? I'm not complaining, it's delicious, but it's not going to give you that pure flavor we want for this recipe. If you decide to use it, omit the salt from the recipe and add to taste.
So. Any guesses what recipe I'm going to post next? Hint: it involves this red sauce + sweet potatoes + black beans. Get excited!!
Facebook | Pinterest | Instagram | Twitter
One Year Ago: Chinese Beef and Broccoli Soup 
Two years ago: Easy Baked Pesto Chicken
Three years ago: Butterscotch Pumpkin Cake <<make this one, guys.

Killer Red Enchilada Sauce That's Done in 10 Minutes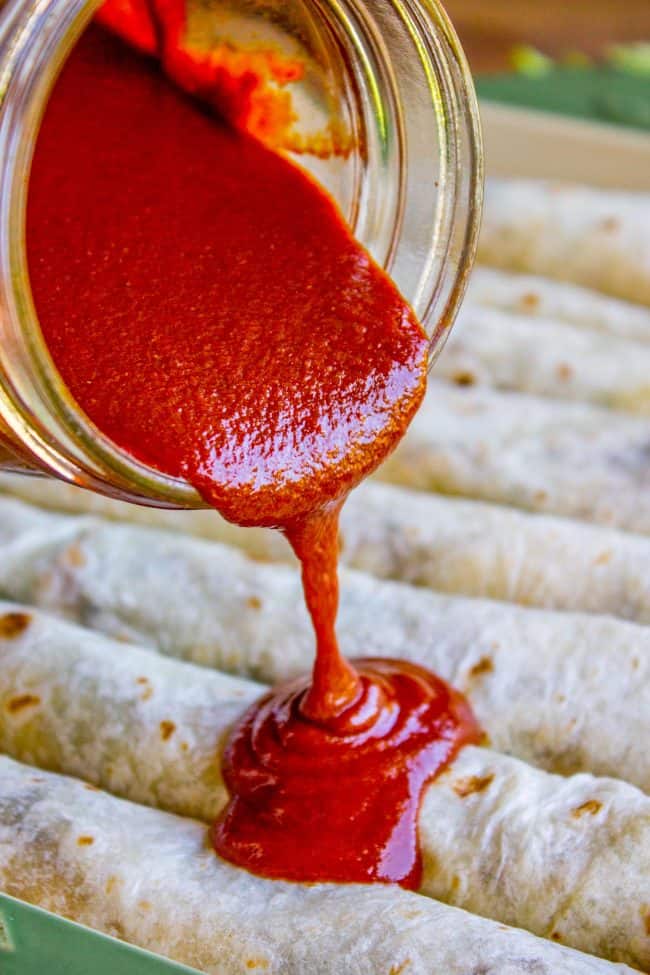 Did you know making a killer red enchilada sauce is just about as easy as opening a can? And if you buy the right kind of chili powder it totally tastes better than the store bought kind. PLUS: done in 10 minutes. Yes!
Ingredients
2

tablespoons

olive oil

2

tablespoons

butter

2

tablespoons

flour

3

tablespoons

New Mexican chili powder

1

tablespoon

chipotle chili powder

1

teaspoon

cumin

1/4

teaspoon

onion powder

1/4

teaspoon

garlic powder

1/4

teaspoon

salt

pinch

cinnamon

1 & 1/2

cups

chicken broth*

1 (8-oz)

can

tomato sauce
Instructions
In a 2 or 3 quart pot, melt the butter with the olive oil over medium heat.

In a small bowl, combine flour, New Mexican chili powder, chipotle chili powder, cumin, onion powder, garlic powder, salt, and a pinch of cinnamon.

When it is frothy, add the flour mixture. Stir it together into a thick paste. It should get nice and bubbly. Stir constantly for about 1 minute (this is to cook out the raw flour flavor and toast the spices a bit.)

Slowly pour in the chicken broth while stirring. The sauce should thicken up immediately. Add the can of tomato sauce.

You can thin it out with a few more tablespoons of chicken broth or water, if it is thicker than you like.

Simmer over medium or medium-low heat for another 7-8 minutes to give the flavors a chance to marry.

You can either use it right away, or store it in the fridge for up to a week. I like to store it in a 1-quart mason jar. You can also freeze it in a ziplock bag to have on hand.

Makes about 2 and 3/4 cup enchilada sauce.
Notes
*Use vegetable broth to make this vegetarian!
Nutrition
Serving:
0.25
g
|
Calories:
56
kcal
|
Carbohydrates:
4
g
|
Protein:
1
g
|
Fat:
5
g
|
Saturated Fat:
2
g
|
Polyunsaturated Fat:
1
g
|
Monounsaturated Fat:
2
g
|
Trans Fat:
1
g
|
Cholesterol:
5
mg
|
Sodium:
316
mg
|
Potassium:
144
mg
|
Fiber:
1
g
|
Sugar:
1
g
|
Vitamin A:
934
IU
|
Vitamin C:
3
mg
|
Calcium:
16
mg
|
Iron:
1
mg
You will love these recipes too!
10 Minute Enchilada Quesadillas: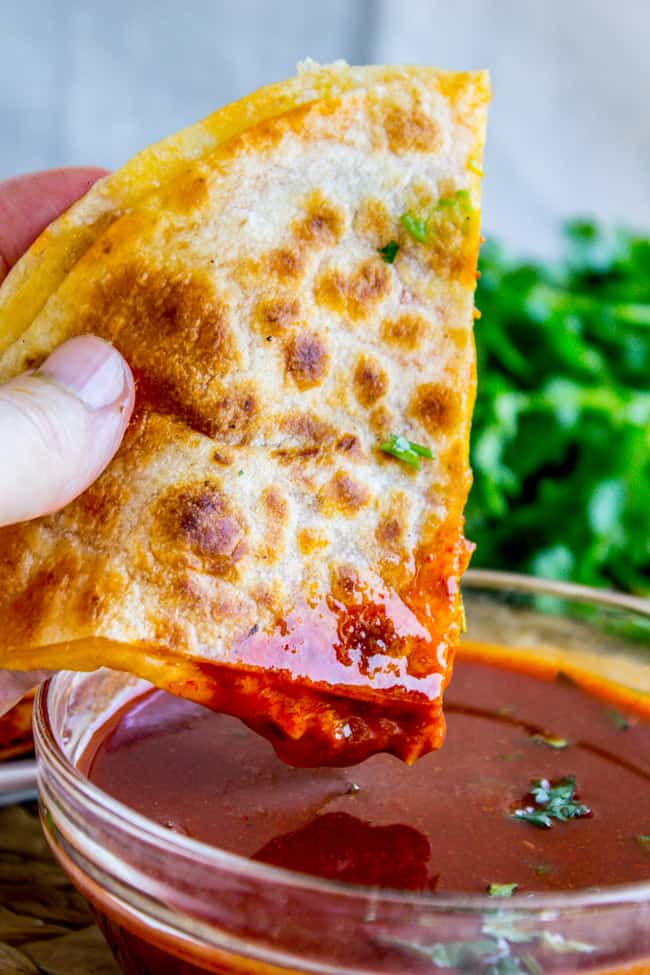 Chicken Enchilada Soup: (This is basically one of my all time favorite soups!)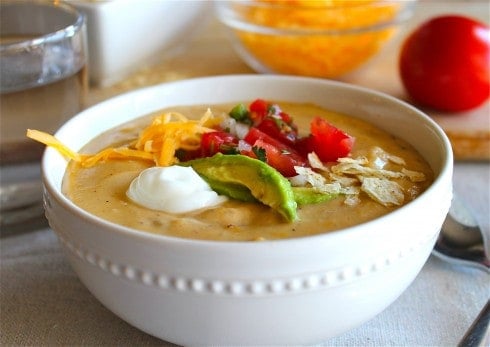 Chicken, Tomatillo, and Chipotle Chimichangas <<these are deep fried and so, so good.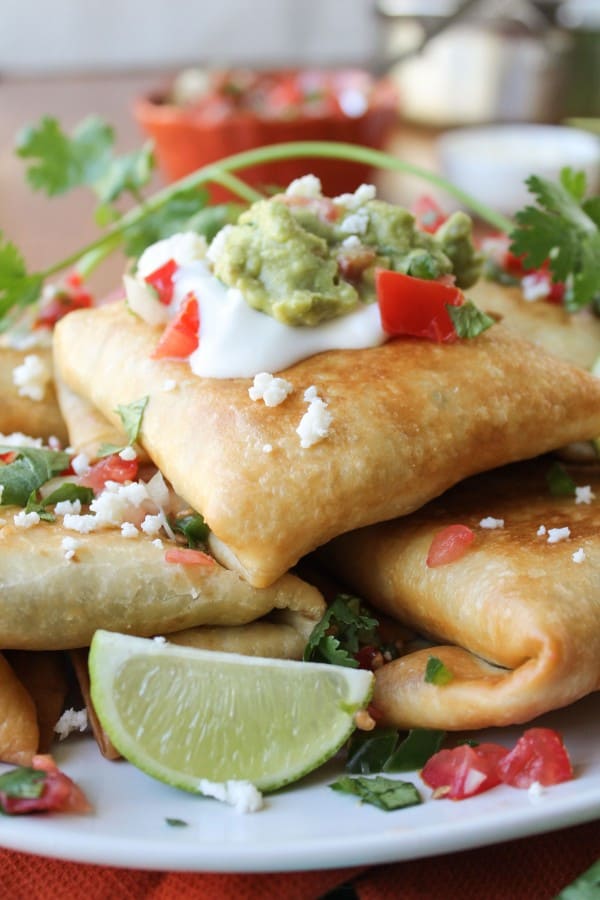 More homemade enchilada sauce from friends!
5 Minute Blender Enchilada Sauce from Crunchy Creamy Sweet
Homemade Enchilada Sauce from Amanda's Cookin
Creamy Enchilada Sauce from Rachel Cooks