Stacked Roasted Vegetable Enchiladas
I haven't always been what you would call a vegetable person (remember how my family called me little carnivore when I was little?) But I do try, and I think I have been getting better.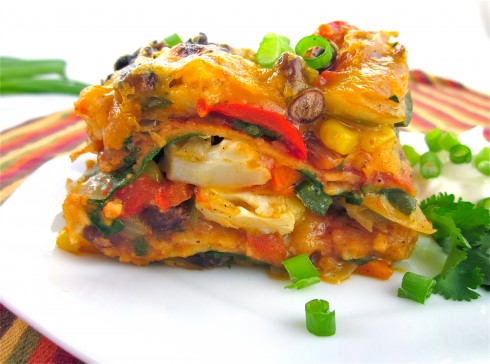 I've always recognized the necessity of vegetables, even if I haven't always savored the flavor. I was on a meal plan my freshman year of college, so I ate three meals a day in a cafeteria, often with my roommate Sarah. Sarah is one of those people who can eat 3 maple bars, a bowl of cream of wheat, a bowl of cereal, bacon and eggs, biscuits and gravy, and several scones every morning of her life and still look fabulous. But (at least back then) she wasn't always really into vegetables.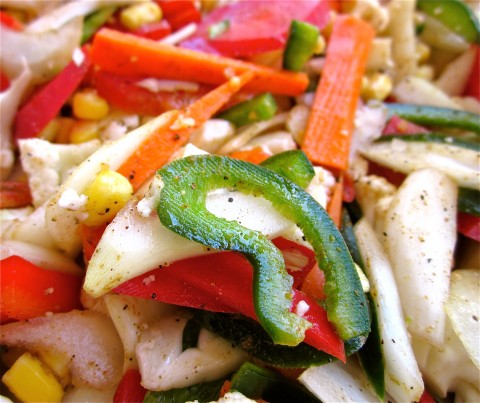 One night at dinner, concerned for her health, I forced her to dish up some green beans. I think I even added a few to her plate because I thought she hadn't gotten a big enough serving. We went and sat with our friends, chatting away. I had served myself a large portion of green beans (I hate green beans) so that Sarah could learn from my awesome veggie-eating ways.
The first few bites of those horrible, rubbery, cafeteria-bred, sea-sick-green green beans were just as bad as every other bite after that. But I choked them down. I was determined to eat all of them. Even though there were a ton. My green bean pile seemed to be never-ending. So…many…green…beans…
And that's when I realized that Sarah had somehow managed to transfer her entire pile of nasty green beans onto my plate in increments when I wasn't looking.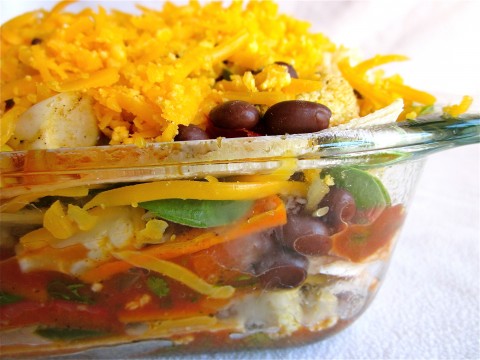 Lesson learned. Don't ever force anyone to eat green beans, yours truly included.
These enchiladas, on the other hand, are in a totally different category. First of all, the veggies are roasted in garlic and oil, which makes for a pretty awesome casserole base. (Much better than cafeteria fare) Then they are layered with copious amounts of cilantro (always a good thing) cheese, beans, tortillas…you get the idea. Yum. This is a great summer dish, because you can substitute any vegetables that are currently growing in your yard, or if
you don't have a garden, whichever ones are on sale that week. Let me know if you try this!
Stacked Roasted Vegetable Enchiladas

Source: adapted from Perry's Plate
1 poblano chile, cut into matchsticks (use a food processor)
2 red bell peppers, cut into matchsticks (use a food processor)
1/2 head of cauliflower, cut into 1/2-inch chunks
1 large carrot, cut into matchsticks
1 medium onion, halved and slivered (use a food processor)
1 cup corn kernels, fresh or frozen
3 tablespoons olive oil
1 1/2 tsp ground cumin
2 garlic cloves, minced
salt and black pepper
1 (15 oz) can black beans, drained and rinsed (optional)
1/2 cup chopped fresh cilantro
2 cups homemade or store bought salsa/pico de gallo (make sure it's good quality)
2 ounces baby spinach leaves (about 2 big handfuls)
9-10 corn tortillas, halved
2 cups shredded cheese (I used cheddar)
sour cream and sliced green onions for garnish, if desired
Preheat the oven to 425 degrees F. Lightly oil a large shallow roasting pan or rimmed cookie sheet.
Place poblanos, red bell peppers, cauliflower, carrot, onion, and corn kernels onto cookie sheet. Drizzle olive oil and sprinkle the cumin and minced garlic over top. Sprinkle generously with salt and black pepper, then use your hands to mix everything together. After everything is coated well, spread the vegetables evenly in the pan.
Roast for 30-40 minutes until vegetables are tender and begin to brown in spots. Stir or shake the pan every 10 minutes for even roasting. Remove pan from oven and reduce oven temperature to 350 degrees F.
Prepare an 8x8x2 or 9x9x2-inch square baking pan with nonstick spray. In a small bowl, stir the cilantro into the salsa. Spread 1/4 cup of salsa into the bottom of the baking pan. Sprinkle with 1/3 of the black beans. Add a layer of tortilla pieces, to completely cover the salsa. Top with 1/3 of the vegetables, a handful of spinach, and 1/3 of the cheese.
Make a second layer of tortilla, salsa, beans, vegetables, spinach, and cheese. Top with a layer of tortillas, salsa, beans, vegetables, and cheese. Cover with aluminum foil. (I barely fit this into my 8x8x2 inch pan. It was extremely full. So make sure you tent your aluminum foil so that you don't lose all your cheese, and you may want to stick a baking sheet underneath your pan in case it overflows.)
Bake for 20 minutes. Remove the foil and bake another 10 minutes, until cheese is melted and everything is heated through.
Let it sit for 5 minutes and cut into squares. Serve with sour cream and a sprinkle of sliced green onions.
Serves 4-5
We are a participant in the Amazon Services LLC Associates Program, an affiliate advertising program designed to provide a means for us to earn fees by linking to Amazon.com and affiliated sites.