Mint chocolate covered almonds are the perfect healthy snack or appetizer for New Year's Eve! Sprinkle them with coarse sugar for some extra sparkle and crunch. These are totally addictive!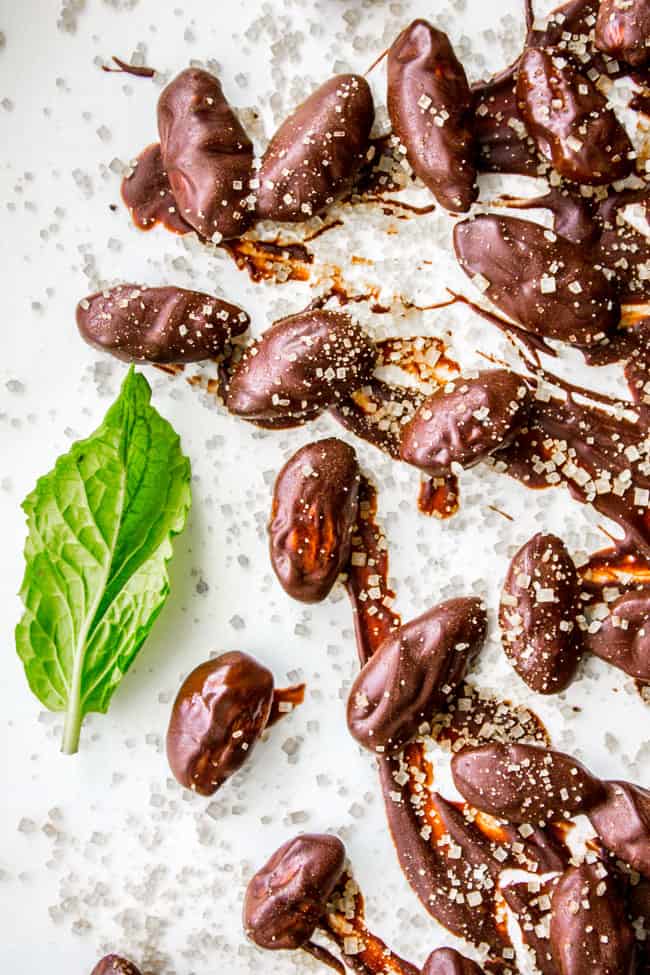 So how was everyone's Christmas?? Eric and the kids and I headed up to Montana, Land of Negative Numbers. It doesn't even really matter what the numbers are. Once they are negative, they are NOT OKAY.
(A friend of mine (who lives in North Dakota) posted on Facebook the other day, "the air makes my face hurt. Why do I live where the air makes my face hurt??" I don't know, Jen. I really don't know.)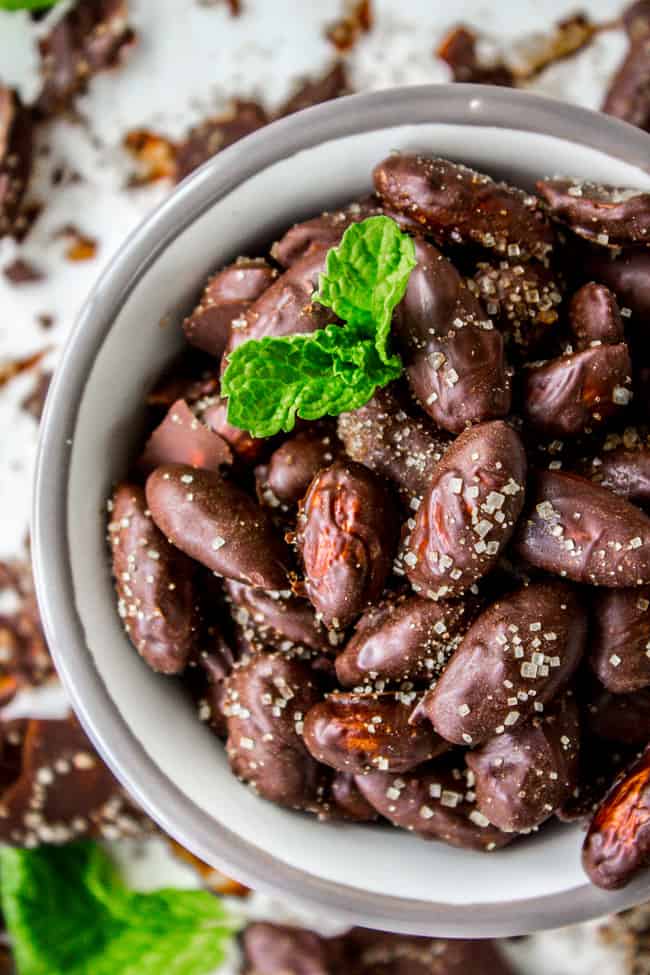 Cold weather isn't so bad though, when you are cozied up in your socks with the cats drinking Honey Hot Chocolate, so I can't complain too much. Plus, all the other awesomeness that ensued totally made up for it: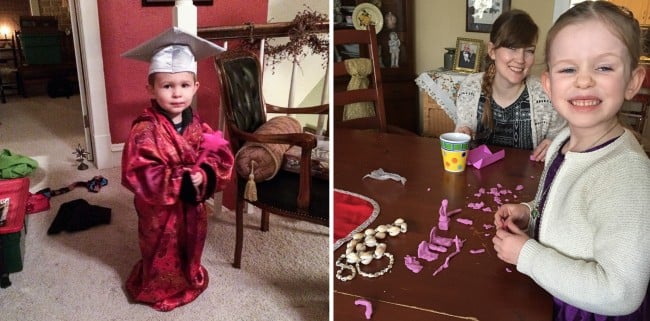 Truman was basically the most adorable wise man ever on Christmas Eve. I didn't get a picture of Charlotte shoving baby Jesus up under her dress when she played Mary, which is a real shame. I did snap this picture of her with a crazy face making a graveyard out of play dough though. Obviously.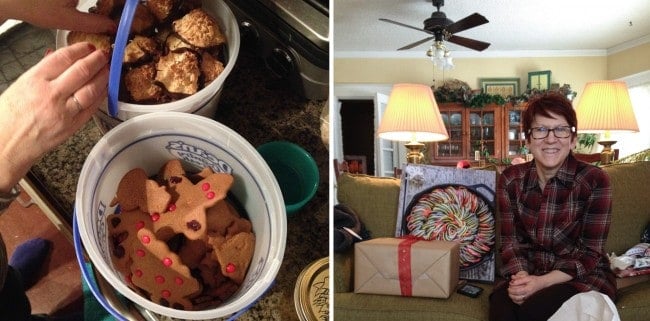 We made about 300 cookies. I tend to exaggerate a lot, but this time I swear I'm not. Eric's family is Swedish and they do NOT mess around when it comes to cookies. On the right here is Kris, my mother-in-law, who wanted a canvas of my Roasted Garlic Ratatouille for Christmas. The colors match her kitchen so she wanted to put it up. Kind of fun seeing my photo on something other than a computer screen!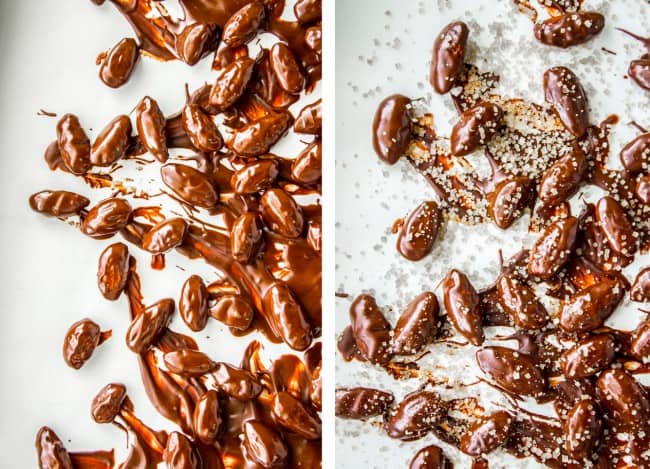 Before we left for Montana I made these Mint Chocolate Covered Almonds. Guys. I know you've had chocolate covered almonds before. But a few drops of mint extract make it a totally different thing! I could not stop eating these. They taste so refreshing, but you still get your chocolate fix. The sprinkle of coarse sugar on top adds just the right crunch. Use Lightly Salted Almonds so that you don't even have to toast them first.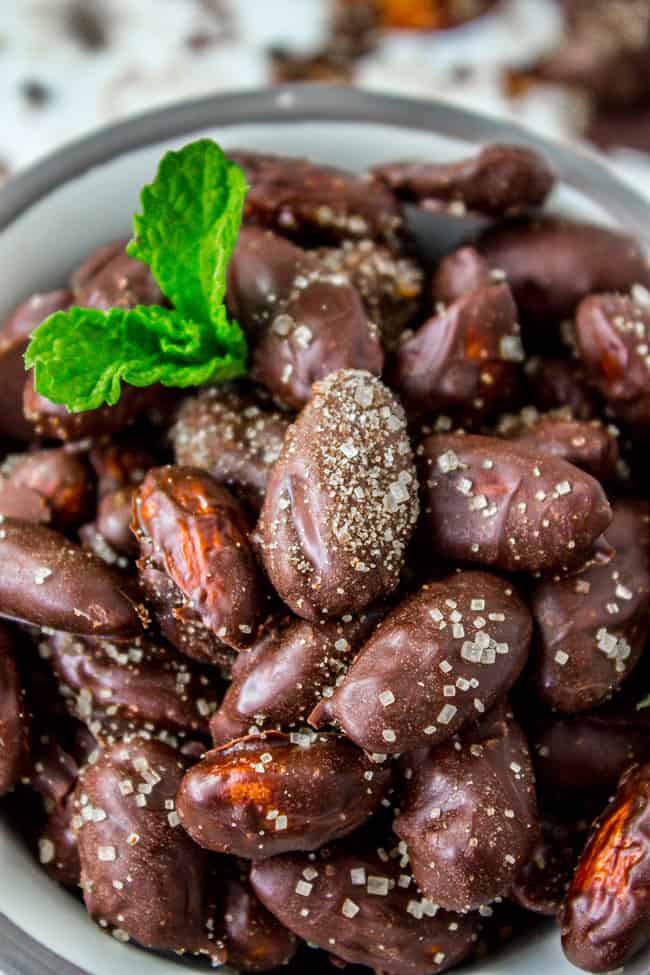 These are perfect for sneaking into a movie in your purse to have a sweet treat with your popcorn, but word to the wise, DON'T leave your purse on your lap because the chocolate will melt and then you will be sad.
Along with illegal movie-smuggling, these almonds make a great addition to your New Year's Eve spread! It's the perfect snack for partying: no mess, no plate needed, and none of those awkward moments where you are standing holding a drink and suddenly the bite you just took out of your appetizer hangs weird and you have to STOP EVERYTHING while you try to hide the fact that you have food hanging out of your mouth. I know you.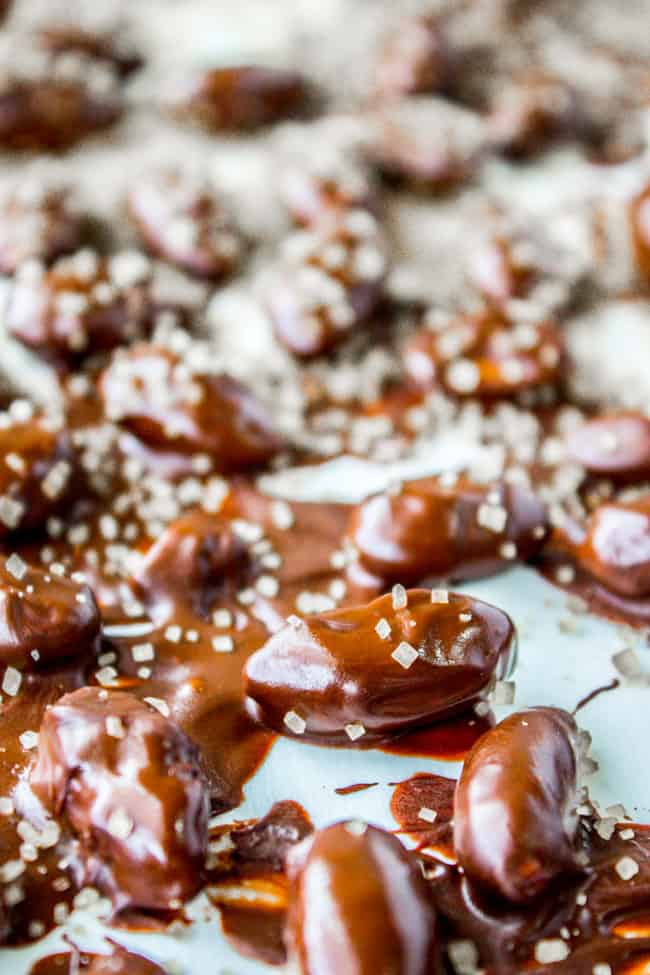 Bonus: these almonds totally support the new you for 2016! I mean, if you are planning on dieting, that is. Almonds are super healthy, and people have been talking for years now about how dark chocolate is basically like eating kale, so you're golden.
Come back later this week for my TOP FIVE post! Find out what the most-visited recipes on The Food Charlatan were for 2015. Any guesses?? (UPDATE: Click here to see the top 5!)
If you make these almonds, snap a photo and share on social using the hashtag #thefoodcharlatan. I'd love to see it!!
Facebook | Pinterest | Instagram | Twitter

Mint Chocolate Covered Almonds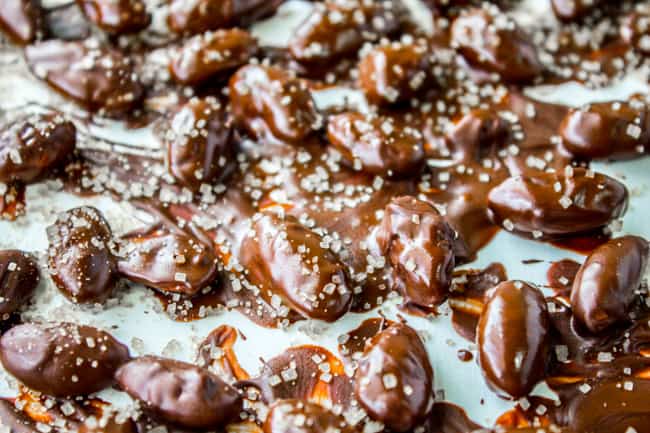 Mint chocolate covered almonds are the perfect healthy snack or appetizer for New Year's Eve! Sprinkle them with coarse sugar for sparkle and crunch.
Ingredients
1

6-oz. can

Blue Diamond Lightly Salted Almonds

3

ounces

dark chocolate

,

chopped (I used 60%)

1/4-1/2

teaspoons

mint extract

,

*be VERY careful!

1-2

tablespoons

coarse sugar
Instructions
Melt the chocolate in a medium-size microwave safe bowl for 30 seconds, then stir.

Continue microwaving and stirring in 30 second intervals until the chocolate still has a few unmelted lumps in it. Stir until smooth.

Carefully add the mint extract and stir. Start with 1/4 teaspoon and go from there. Don't overdo it!

Add the almonds to the bowl and stir to coat.

Lay a large sheet of parchment or wax paper out onto a work surface. (If you plan to refrigerate them to cool faster, place on a baking sheet).

Use a fork to carefully remove each almond and place on the paper. You want to make sure they are separated so that they don't cool in clumps.

While they are still wet, sprinkle with coarse sugar.

Let dry completely. You can speed this up by putting them in the fridge or freezer.

Once the chocolate has hardened, you can store them in the almond can that you have leftover, or in a tupperware. Keep in a cool place or the fridge.
Notes
*This can go from delicious to inedible in one slip of the hand. Toothpaste-flavored almonds is NOT what we're going for here. So start off slow, you can always add more!
Nutrition
Serving:
5
almonds
|
Calories:
165
kcal
|
Carbohydrates:
8
g
|
Protein:
5
g
|
Fat:
13
g
|
Saturated Fat:
3
g
|
Polyunsaturated Fat:
3
g
|
Monounsaturated Fat:
7
g
|
Trans Fat:
1
g
|
Cholesterol:
1
mg
|
Sodium:
2
mg
|
Potassium:
201
mg
|
Fiber:
3
g
|
Sugar:
3
g
|
Vitamin A:
4
IU
|
Calcium:
59
mg
|
Iron:
2
mg
This post is sponsored by Blue Diamond Almonds. Thanks for supporting the brands that keep the Food Charlatan up and running! 
Are you still looking for appetizers to make on the 31st? Check out this round up of EASY ideas:
18 EASY Appetizer Ideas for New Year's Eve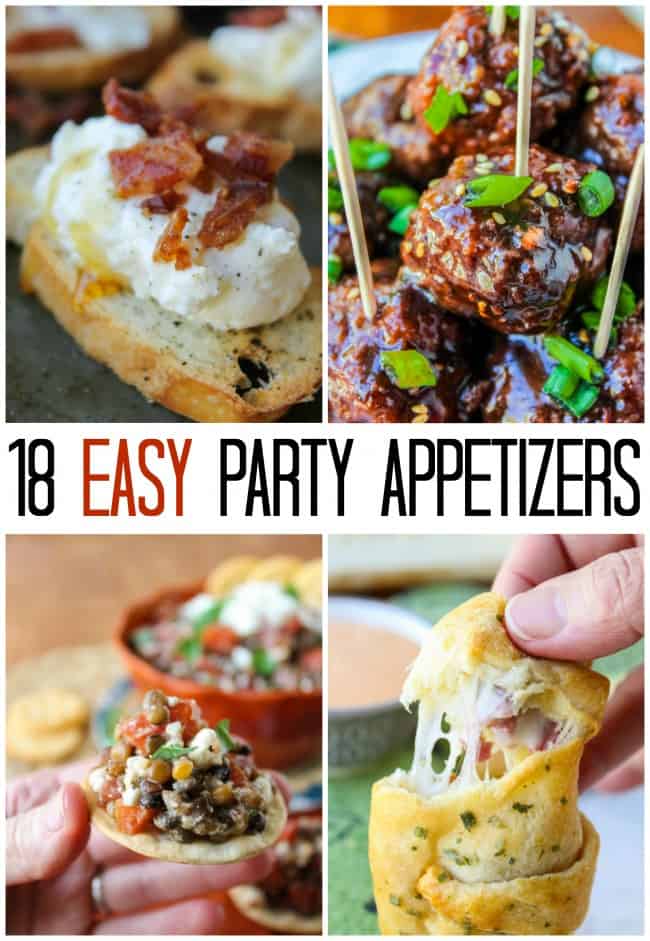 Here are some other ideas:
Smokey Almond Cream Cheese Endive Bites: << no cook, 5 minutes to throw together. Healthy to boot!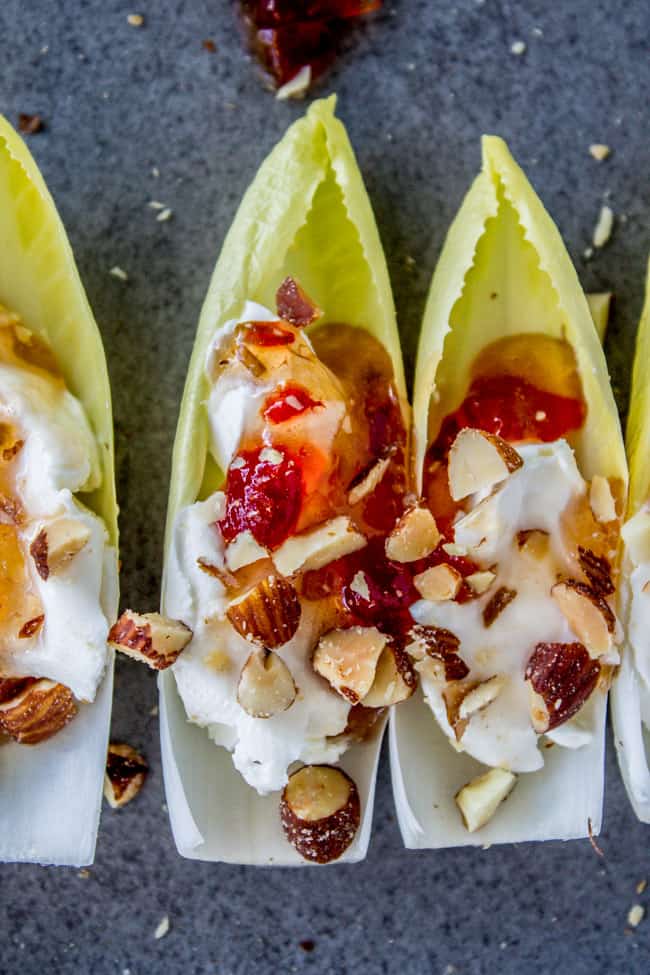 Asian Cheese Ball with Sriracha Almonds: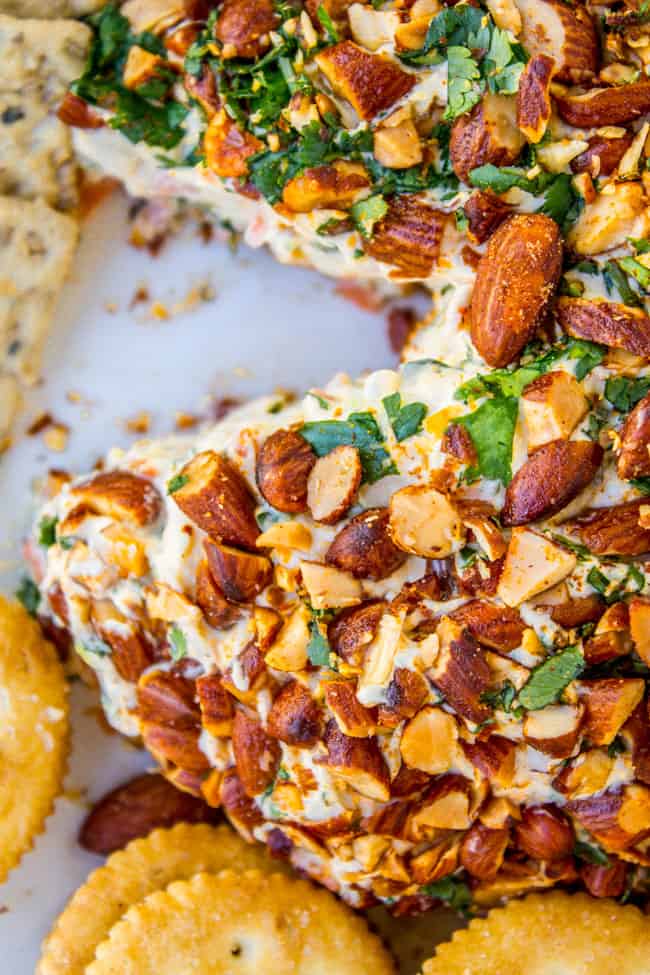 Secret Ingredient Chocolate Pecan Bites: <<perfect for those watching their waistlines!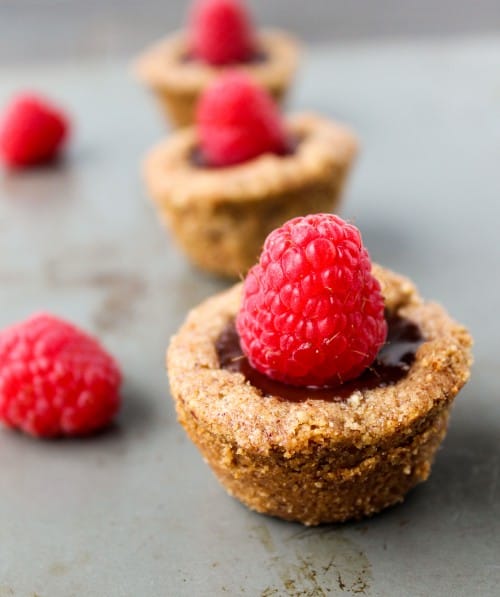 If you are looking for more min-chocolate, try these Mint Chocolate Chip Cookies! Reader favorite.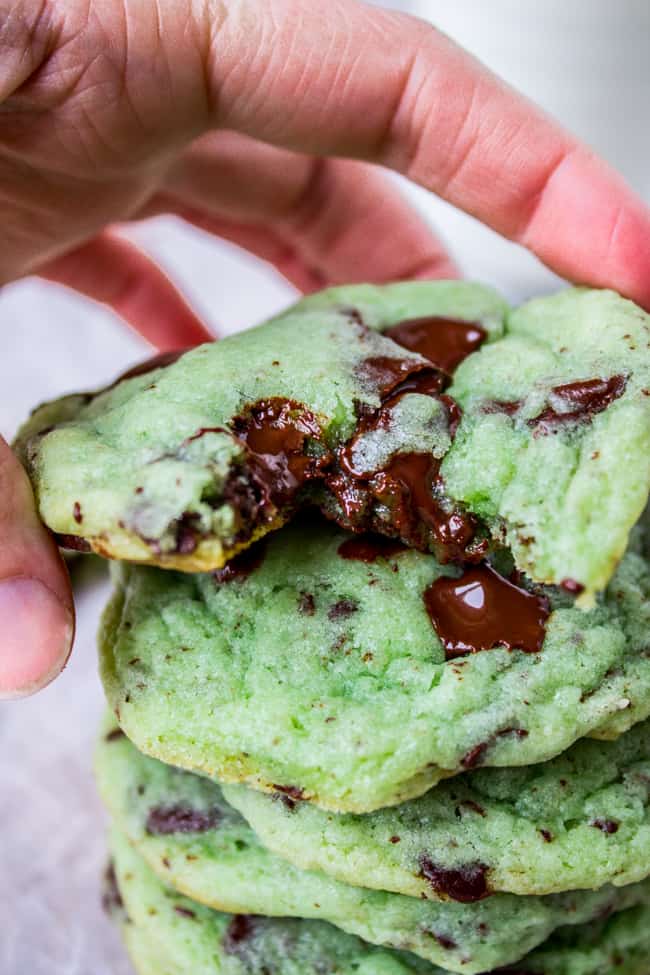 Here are some other ideas from friends!
Almond Crusted Chicken Bites from Food Faith Fitness
Mini Pizza Cheeseballs from Very Culinary
No-Bake Dark Chocolate Almond Cookies from Two Peas and Their Pod