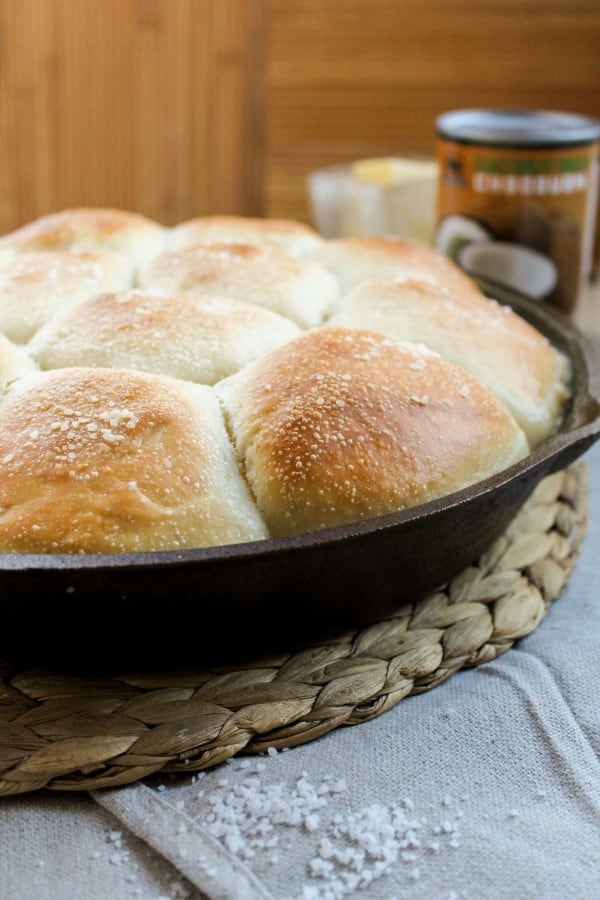 Eric just called to tell me about the Lego store he is in. "They have Gandalf, Karen! A life-size knight, on a rearing horse! Jasmine and Aladdin, on the magic carpet!"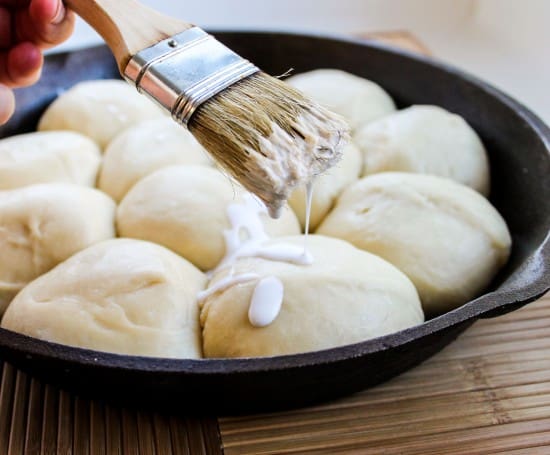 When I scoff, I can actually feel him rolling his eyes at me, like I'm some heathen who just doesn't understand art or something. Apparently I need to up the giddiness level in my voice when Legos are brought up, or I'm walking the line.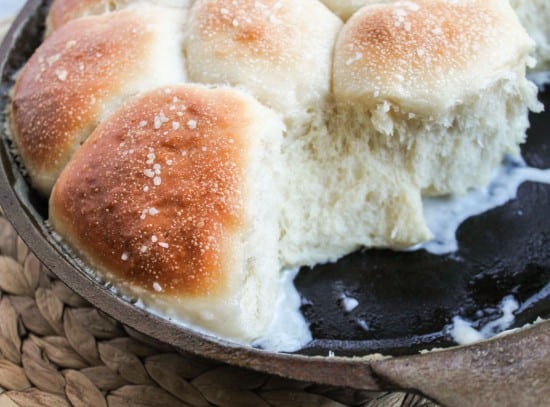 Last time he was in LA for a business trip, he called to tell me that his hotel was literally across the street from LegoLand, which is of course at the top of his bucket list. He checked the hours, and they happened to be closed the two days he was there. I said good, I don't want you to have to be thrown out for being that creeper guy at a kids amusement park.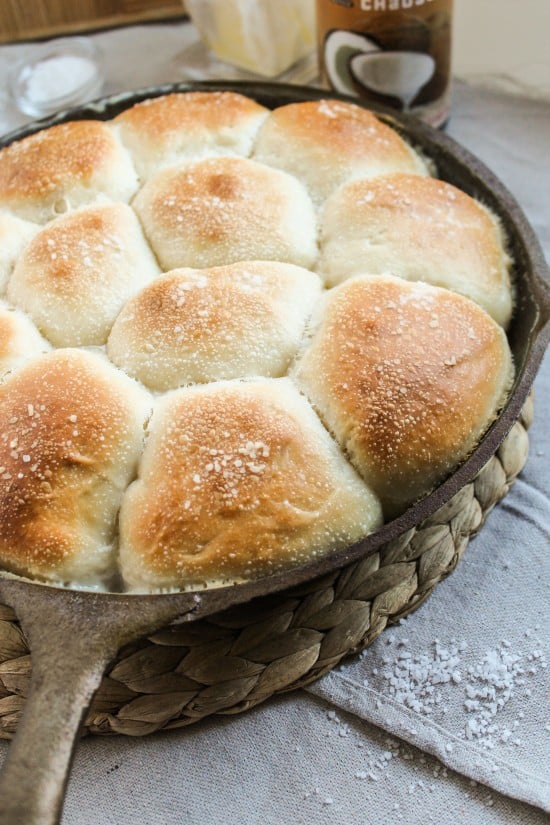 Have you guys had Hawaiian Bread? You know, the kind they sell in round loafs or rolls, in the bright orange bags? My mom used to buy the round loafs as a special treat growing up, and we had a tradition of just tearing out hunks of the bread instead of slicing it. I still do that when I buy it.
But…I don't know if I'll be buying it again anytime soon. These Samoan Coconut Rolls are not the same; but they are both very sweet, soft breads, and these Samoan Rolls reminded me of Hawaiian bread. Except they are way better, because they are soaked in coconut milk. And you get to eat them warm.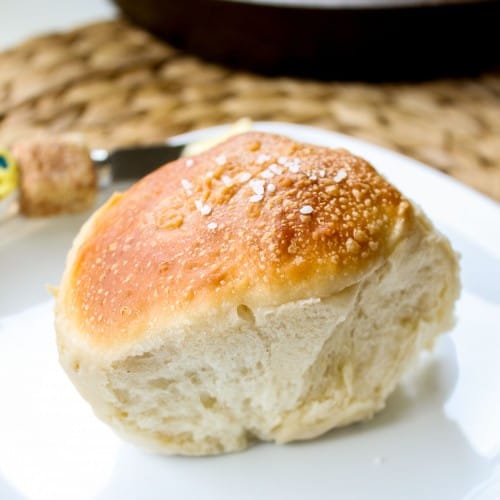 They are amazing. AMAZING. I have never had a softer, moister, more pillowy roll in my entire life. You pour half a can of coconut milk over the risen rolls, so they are literally baked in the stuff, making it pretty much impossible to dry them out. Plus there is coconut milk in the bread itself. Eric told me he was afraid they would be overly coconut-y, but was pleasantly surprised. The coconut ends up being mild, but it still gives it a very deep flavor that you don't find in regular sweet rolls.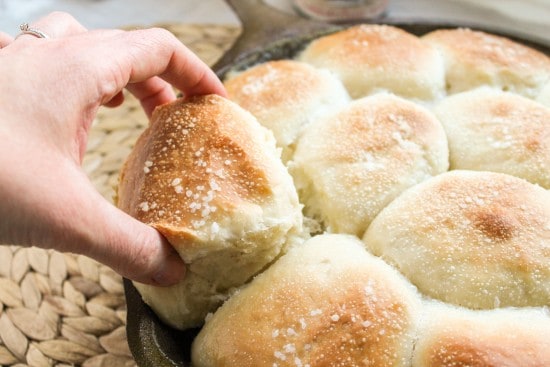 I gave some of these to our neighbors and immediately regretted it. I wanted to eat all of them, the entire dozen, by myself. The few that were left were stored in a tupperware on the counter, right next to a box of really awesome cookies. I always went for the rolls first. They are like candy.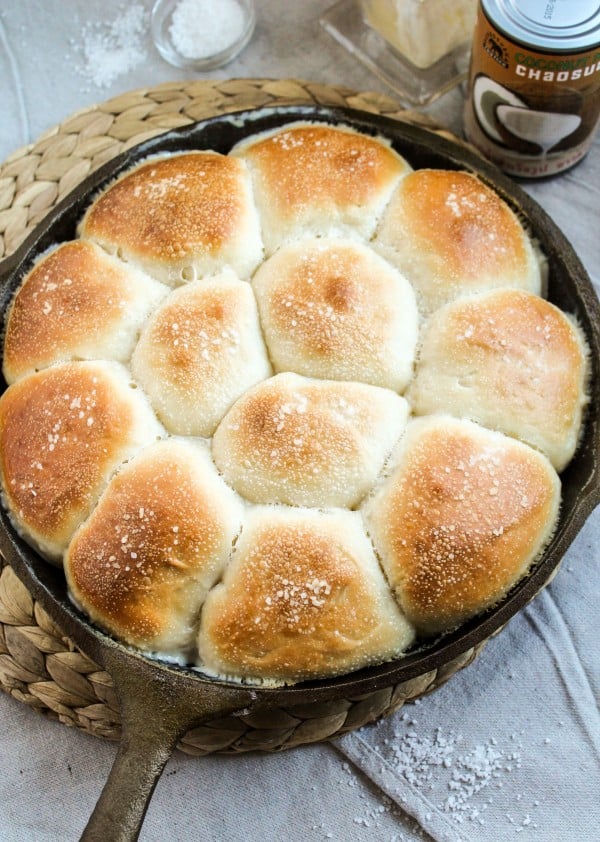 These rolls would be absolutely perfect for Thanksgiving, especially since you can form the dough into rolls 24 hours in advance. One less thing to do on the big day. (Which is in just one week people! Check out my latest posts for some great sides and desserts, and stay tuned for more to come.)
P.S. Do you guys know how much I love getting comments? They make me so happy. I never know you're here if you don't say hi. Go ahead, make my day! I always respond.

Samoan Coconut Rolls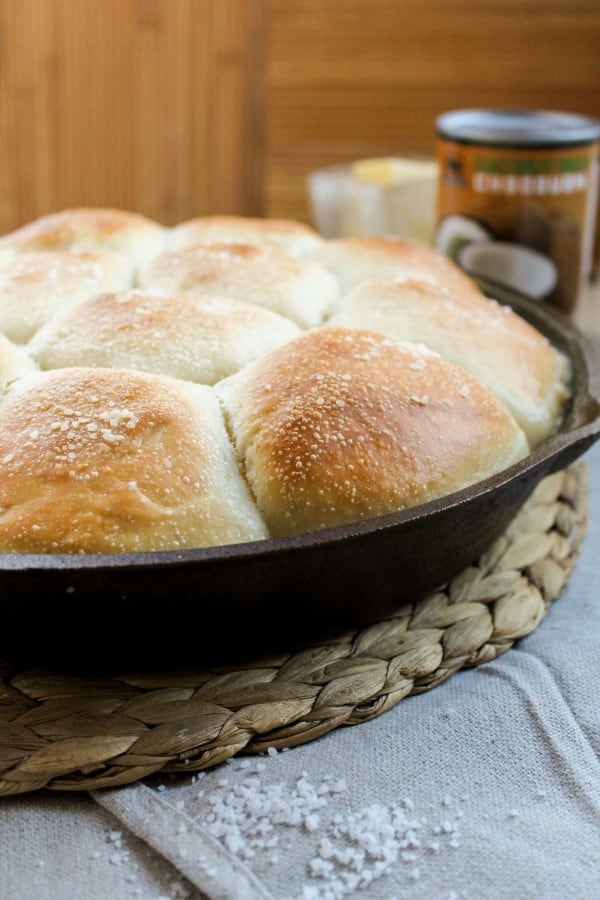 These Samoan coconut rolls are AMAZING! I have never had a softer, moister, more pillowy roll in my entire life.
Ingredients
1

tablespoon

active dry yeast

,

1 package

3

tablespoons

water

,

warm, 105F- 115 F

1

14-oz can

coconut milk

,

divided (don't use light)

4

tablespoons

salted butter

,

half stick

½

cup

sugar

½

teaspoon

salt

1

large

egg

¼

cup

powdered milk

,

non-fat or other

3 & ½

cups

all-purpose flour

,

spooned and leveled

optional: light sprinkling of coarse salt OR raw sugar
Instructions
In a stand mixer or large bowl add the tablespoon of yeast, then pour the warm water over it and stir to combine. You want the water nice and warm, not hot. Stir it up and set the bowl aside.

Shake up your can of coconut milk. In a large (4 cup) measuring cup, pour in one cup of the coconut milk. Add half a stick of salted butter. Put it in the microwave, and heat until the butter is about halfway melted, just a minute or two. Take it out, add ½ cup sugar and ½ teaspoon salt, and stir it until the butter melts all the way. If necessary, let the milk cool off for a bit. You are about to add an egg and you don't want to cook it.

Crack in the egg and whisk rapidly so that it doesn't curdle. Add the powdered milk and whisk until combined.

By now your yeast should be nice and frothy. Add the milk/butter mixture to the yeast mixture.

At this point I held the dough hook in my hand and stirred everything together manually. Then attach it to your mixer and turn it on medium low until everything is combined. (If you aren't using a mixer, you can do this all with a strong wooden spoon and some elbow grease.)

Add 3 ½ cups of flour that have been spooned and leveled. Continue mixing dough.

Add in enough additional flour (if needed) to make soft dough: it should be pretty sticky, but not wet. Check out my photos below. It will not pull away completely from the sides of the bowl.

Set a timer for 8 minutes, and let the mixer knead the dough on low. Or, turn dough on lightly floured surface and knead for 8 minutes.

Place dough in a greased bowl, turning once to coat the dough. Cover loosely with a clean cloth or with plastic wrap and let rise in a warm, draft-free place for one and a half or two hours. Mine did not double in size, but it did rise. Try to get close to two hours.

Punch the dough down.

Divide the dough into 12 equal pieces. Shape into balls.

Place in greased 12 -inch round pan. You can use a cast iron skillet, or a 9x13 pan would also work. (At this point, you can refrigerate, covered, for up to 24 hours. Let sit at room temperature for one hour before baking.)

If you aren't refrigerating, let the rolls rise for another 45 minutes to an hour in a warm place.

Preheat the oven to 350 F. Brush the top of the rolls generously with coconut milk, then pour the rest of the milk evenly into the pan. Yes, all of it. Sprinkle with sugar or salt.

Bake until the crust is deep golden brown, about 20 to 25 minutes.

Let cool slightly and serve.
Notes
You can top these rolls with either raw sugar or coarse salt. I prefer the salt, because I think it cuts the sweetness of the rolls really well. Sprinkle it on after you brush with coconut milk, right before baking. One other thing: I like to turn my oven to "warm" (170 degrees) for about 45 seconds or a minute, then turn it off and place the dough inside to rise. Just make sure you take it out before preheating the oven!
Source: adapted from Immaculate Bites
Nutrition
Serving:
1
roll
|
Calories:
219
kcal
|
Carbohydrates:
37
g
|
Protein:
5
g
|
Fat:
5
g
|
Saturated Fat:
3
g
|
Polyunsaturated Fat:
1
g
|
Monounsaturated Fat:
1
g
|
Trans Fat:
1
g
|
Cholesterol:
28
mg
|
Sodium:
147
mg
|
Potassium:
85
mg
|
Fiber:
1
g
|
Sugar:
9
g
|
Vitamin A:
164
IU
|
Vitamin C:
1
mg
|
Calcium:
34
mg
|
Iron:
2
mg
Use full-fat coconut milk. Oh yeah, bring it on.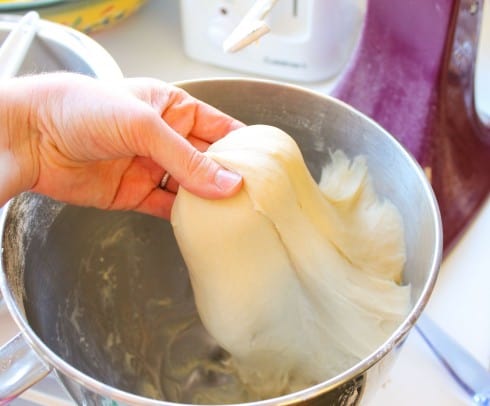 You want the dough to be soft, but not to the point that it sticks to your fingers like crazy.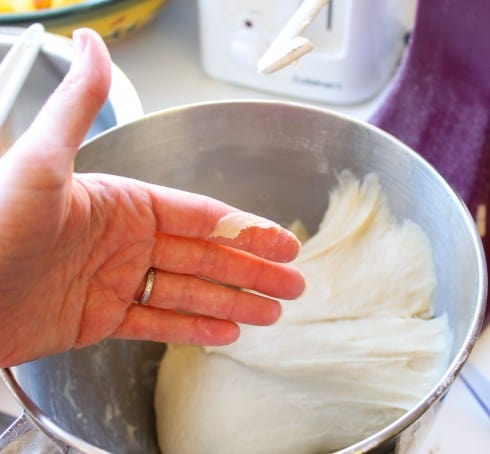 A little stick is okay. This is the dough that stuck to my hand after I lifted it in the previous picture.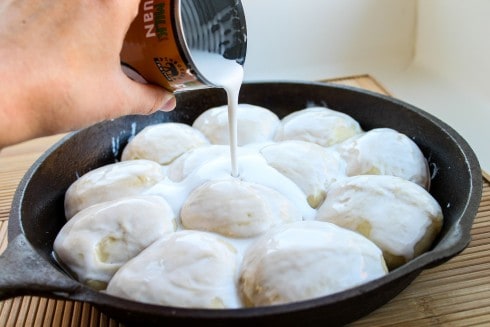 You want to pour allll that coconut milk on. It seems like a lot. Just do it.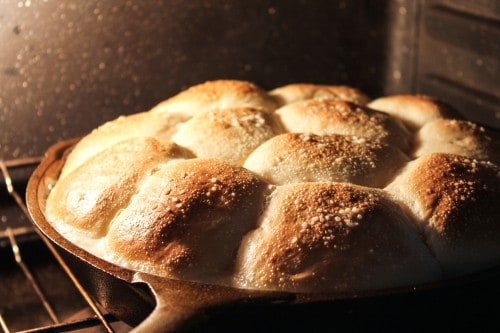 Can you see that coconut milk boiling?! Yum.