We are gearing up for winter around here.  Soon we will be driving north to see Eric's family in Montana, the Land of Perpetual Cold and Wind.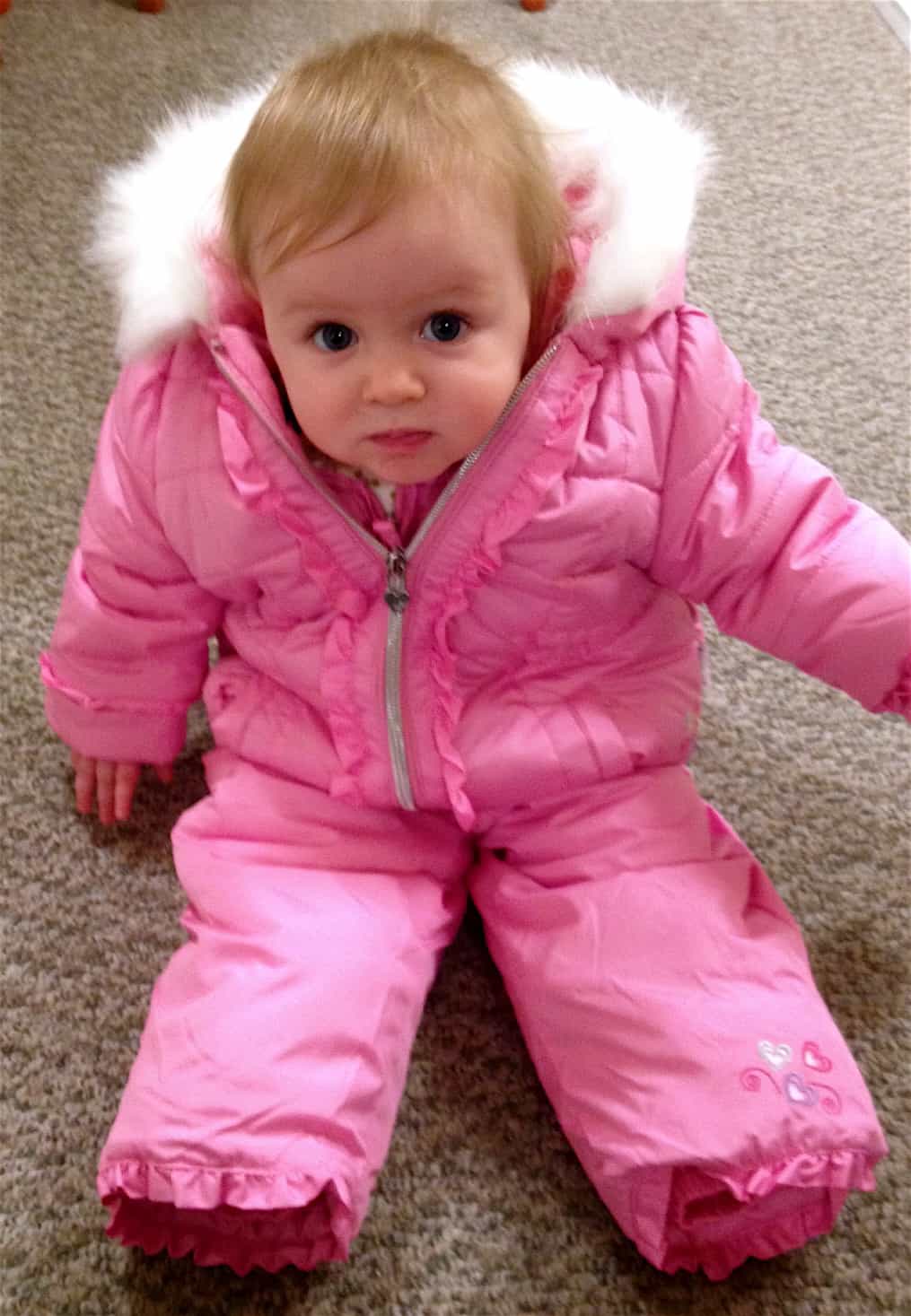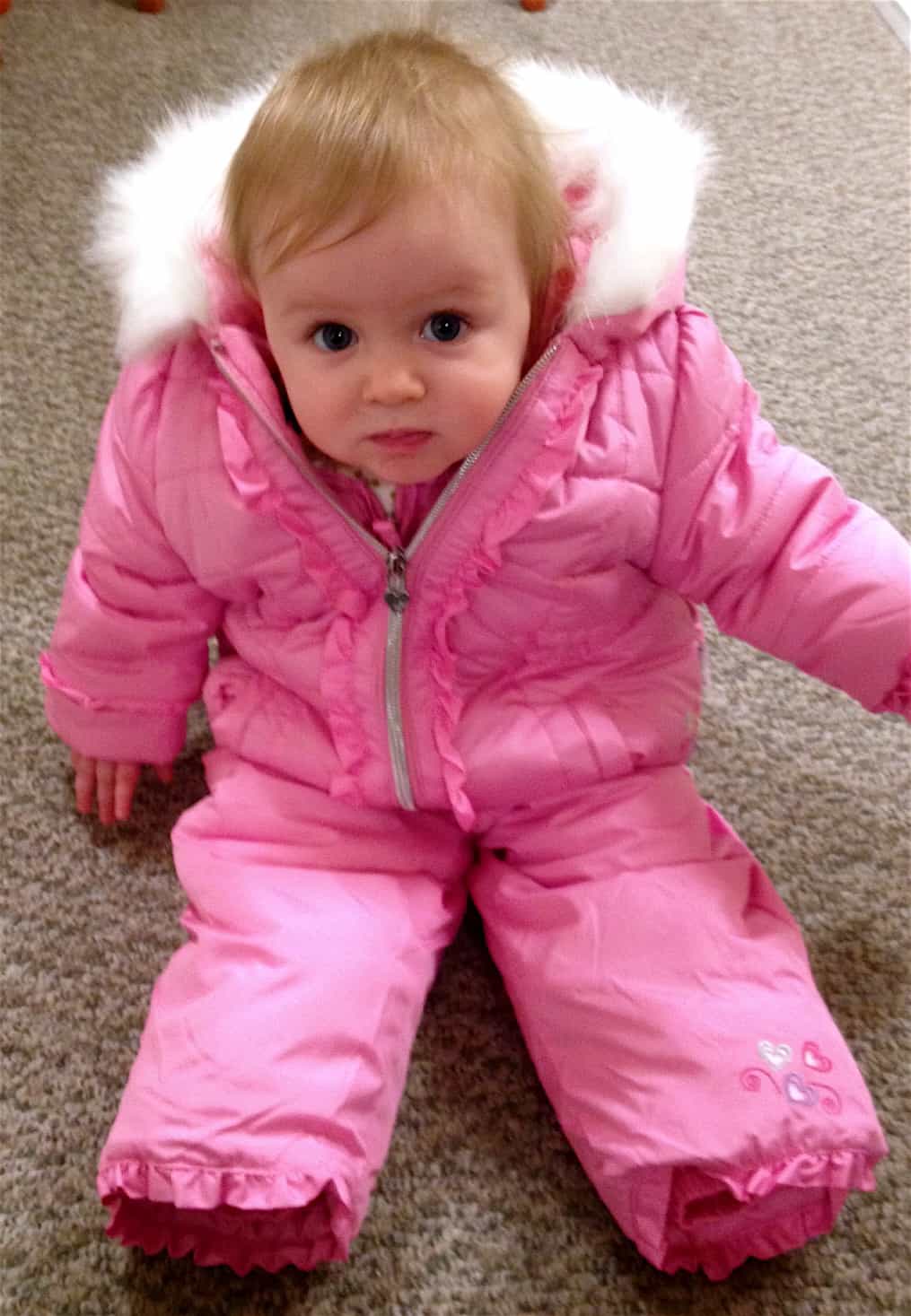 My favorite part is how her feet don't even come close to peeking out.  You should have seen her try to crawl around in this.  She looked like a helpless little snow mermaid.  Or perhaps a beached whale, mini and pink.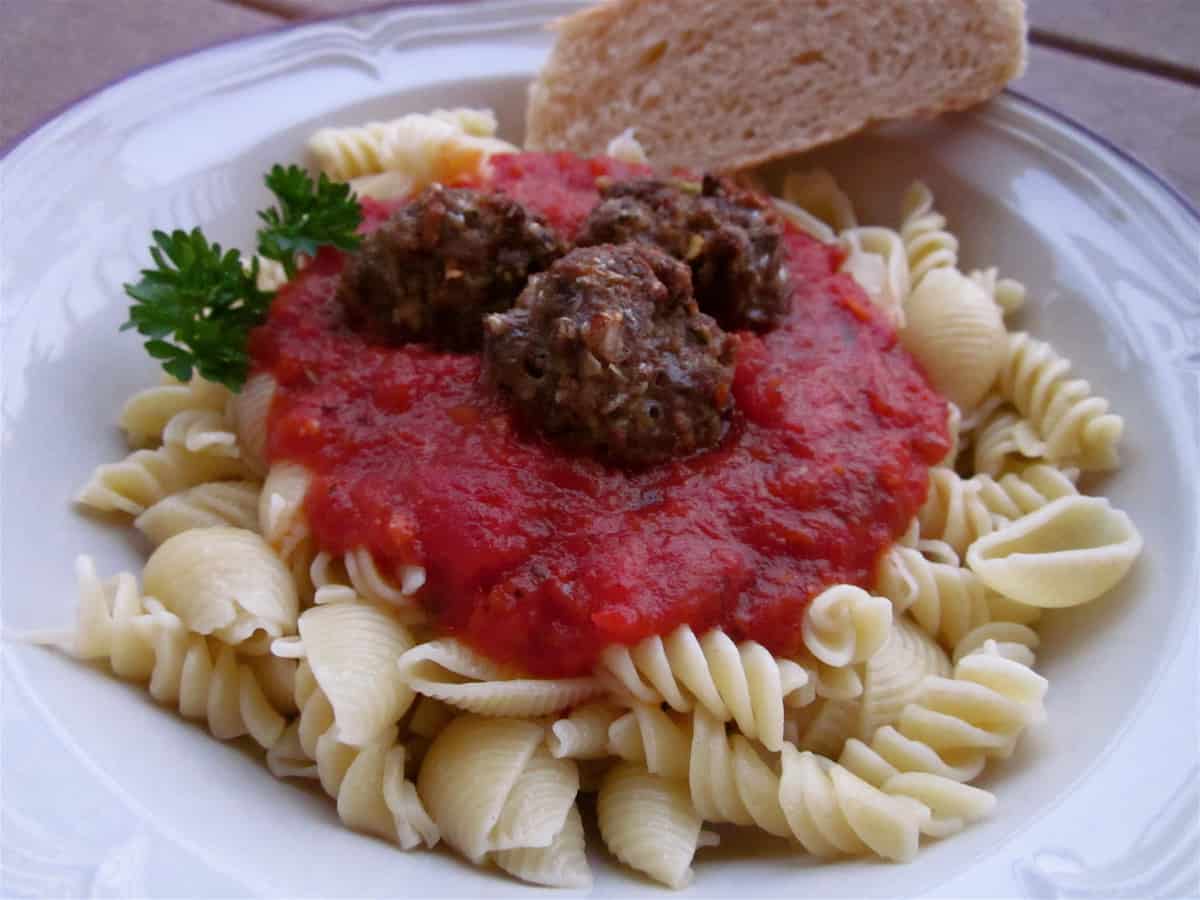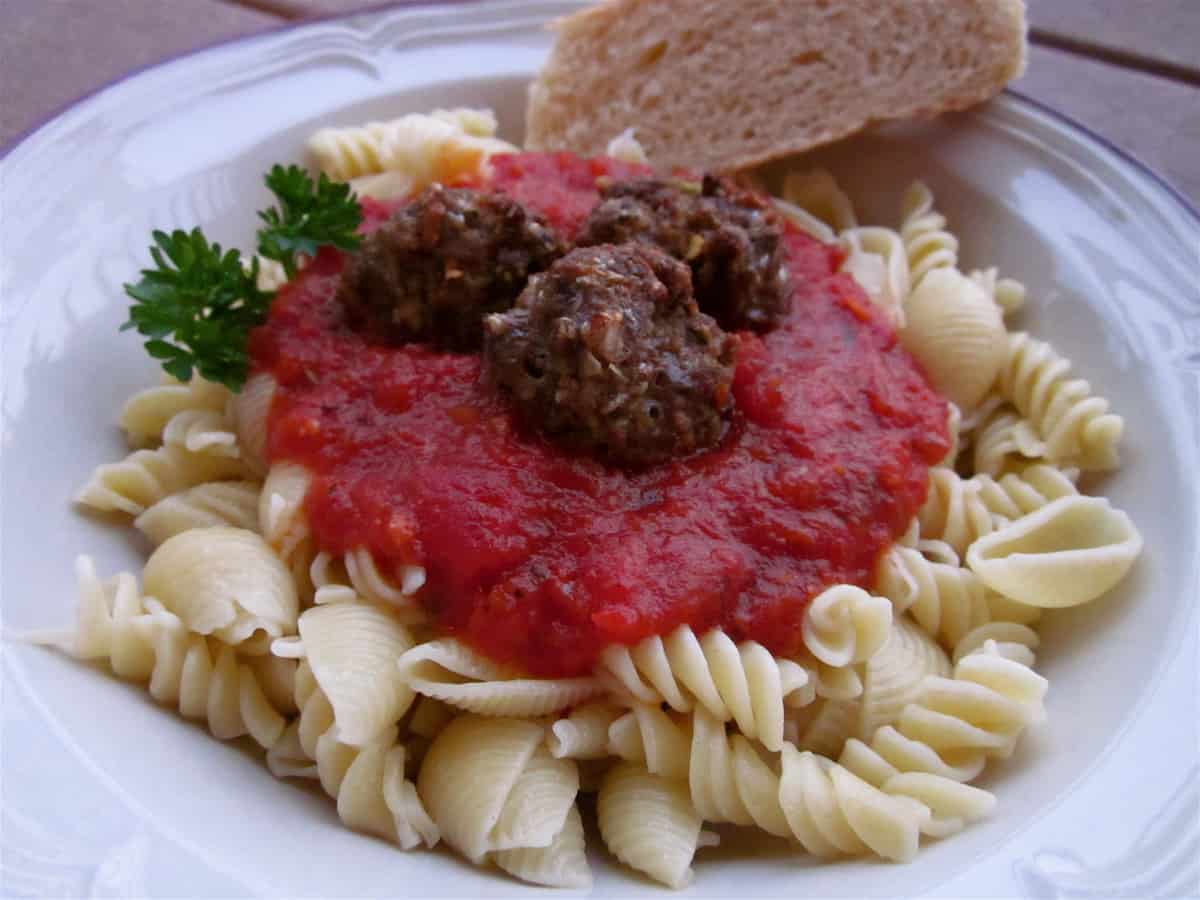 I do not like spaghetti.  I think it stems from the fact that the only experience I had with spaghetti growing up included jarred pasta sauce, dumped into the same pot with the noodles, and mixed into a nasty mass of red goo, occasionally sprinkled with chunks of ground beef.
As a result, I shied away from the stuff most of my life.  I reluctantly branched out into the world of "pasta" as the years passed, and realized that I liked it a lot.  For a while I thought the offender was the marinara.  But I tried that too (not from a jar) and loved it.
My brother Nathan has the same aversion.  He has done his research (this rocky relationship with spaghetti is apparently really important to us) and has discovered that the first ingredient in spaghetti is usually durum flour, whereas the first ingredient in most other types of pasta is semolina.  He thinks we are just durum wheat haters. I tried to verify this fact just now by looking in my cupboard, but of course I have no spaghetti.  My rotini, shells, and lasagna all start with semolina.  So maybe he's right.
I honestly think it's the shape though.  I get so frustrated trying to corner those dang noodles onto my fork.  Just give me a freaking noodle that I can spear already.  Who has time for this "spin it on your spoon" business?  You will not be surprised that I have never bothered trying to learn how to use chop sticks.
I realize that it's probably more polite to eat spaghetti using a spoon, but I have never been one for table manners, as my mother-in-law can tell you.  Just this last summer we were at their house eating dinner, and a few minutes after the prayer I look around the table and ask Why am I the only one who got a napkin? Only to realize .5 seconds later that everyone else did have a napkin; they were tucked neatly on their laps, where mine should have been.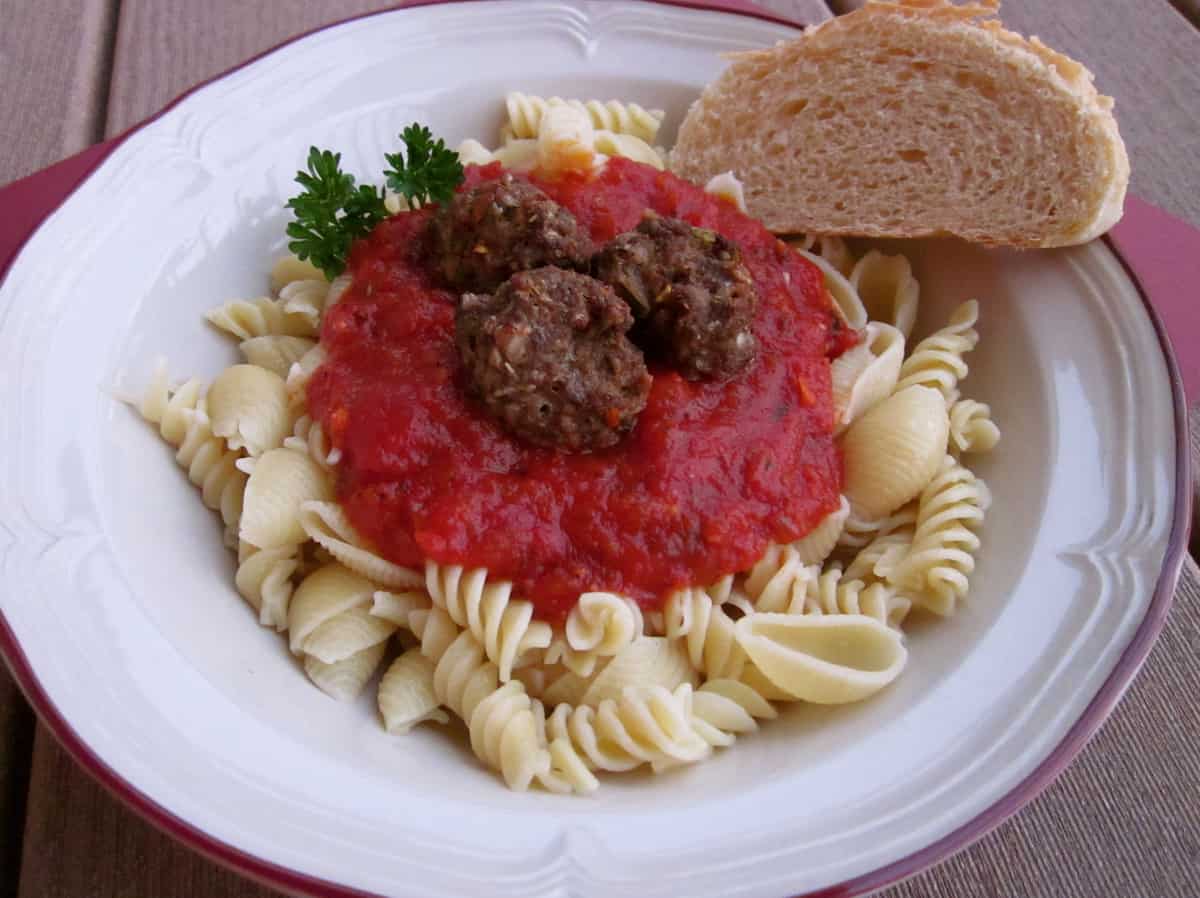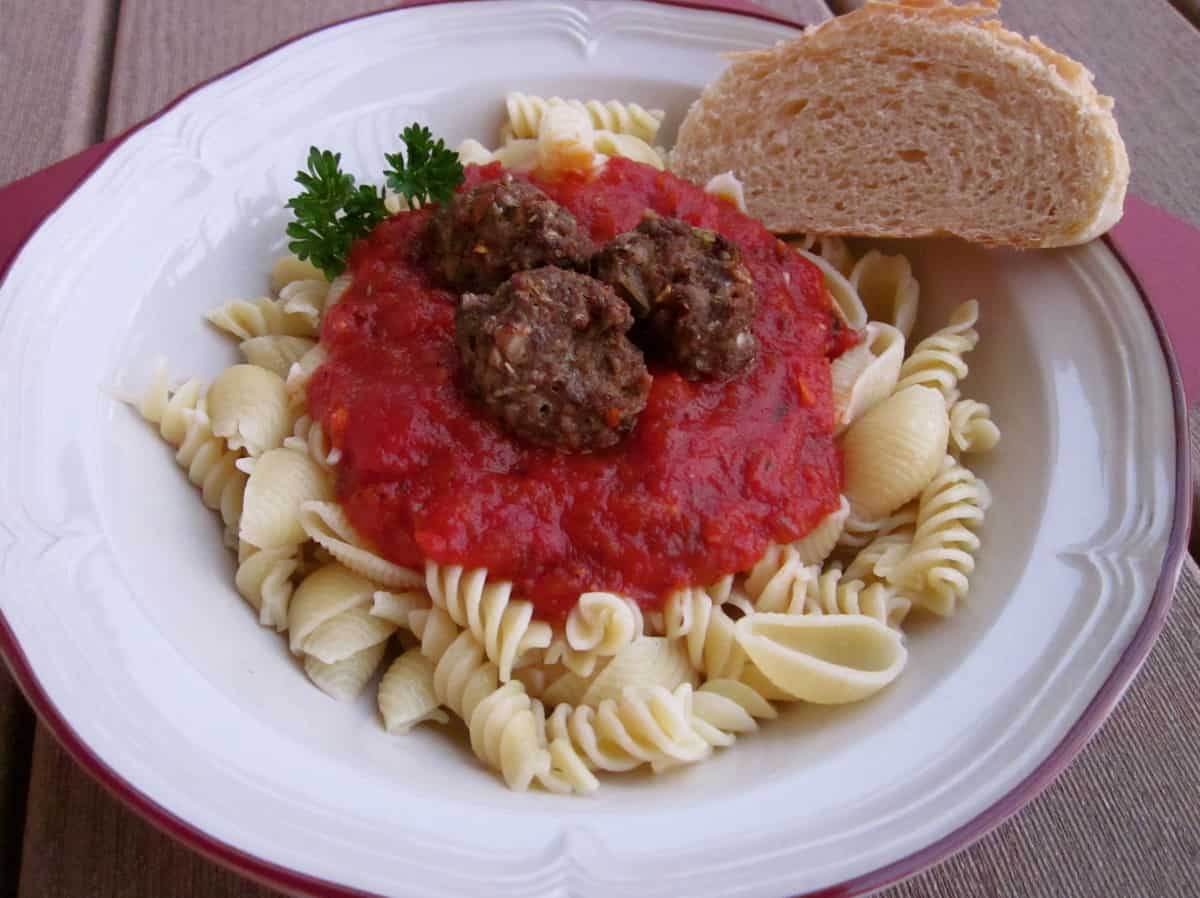 You will notice that I've used both rotini and shells for my "spaghetti" here.  It's because I had a half dozen boxes of half-full pasta of all different kinds, and it was Sunday so I wouldn't go to the store.  Pasta is pasta, right?
This is my favorite meatball and marinara recipe to date.  I really like them, but if you try them out and like your old recipe better, let me know. Don't even try to convert me to your spaghetti-noodle-ways though, or I will stab you in the eye with a chop stick.
Spaghetti and Meatballs
Source: Both the meatballs and the sauce are adapted from Allrecipes.com
Meatballs
1/2 pound ground beef
1/2 pound italian sausage
1/2 teaspoon sea salt
1 small onion, diced
1/2 teaspoon garlic salt
1 1/2 teaspoons Italian seasoning
3/4 teaspoon dried oregano
3/4 teaspoon crushed red pepper flakes
1 dash hot pepper sauce (such as Frank's RedHot), or to taste
1 1/2 tablespoons Worcestershire sauce
1/2 cup milk
1 egg
1/4 cup grated Parmesan cheese
1/2 cup seasoned bread crumbs
Preheat an oven to 400 degrees.
Place the beef into a mixing bowl, and season with salt, onion, garlic salt, Italian seasoning, oregano, red pepper flakes, hot pepper sauce, and Worcestershire sauce; mix well.
Add the milk, Parmesan cheese, and bread crumbs. Mix until evenly blended, then form into 1 1/2-inch meatballs, and place onto a baking sheet.
Bake in the preheated oven until no longer pink in the center, 20 to 25 minutes.  These freeze really well.
Marinara Sauce
2 (14.5 ounce) cans diced tomatoes
4 tablespoons chopped fresh parsley (or shake in some dried–less than 4 tablespoons though)
1 clove garlic
6 tablespoons olive oil
1/3 cup finely diced onion (I do this in the food processor before I blend the tomato mixture.  I hate chopping onions.)
1 (6 ounce) can tomato paste
1 teaspoon dried oregano
1 teaspoon salt
1/4 teaspoon ground black pepper
1/2 cup white wine (chicken broth works fine)
In a food processor* place 1 can tomatoes, chopped parsley, and garlic. Blend until smooth.
In a large skillet over medium heat, saute the finely chopped onion in olive oil for 2 minutes. Add the blended tomato mixture, the other can of diced tomatoes, and the rest of the ingredients.
Simmer for 30 minutes, stirring occasionally.
Serve with your favorite pasta! (I usually use 1 pound dried pasta for this amount of sauce and meatballs)
*A blender works too if you don't have a food processor.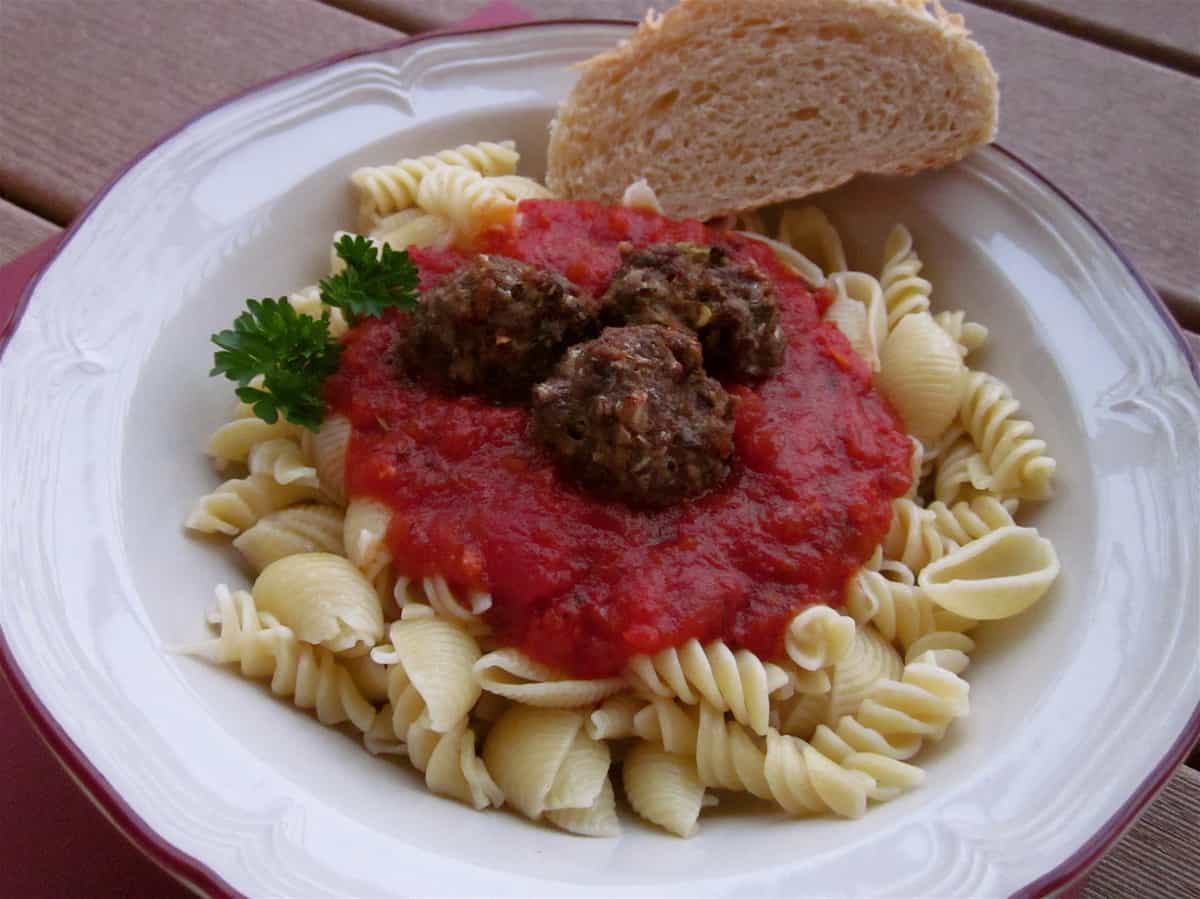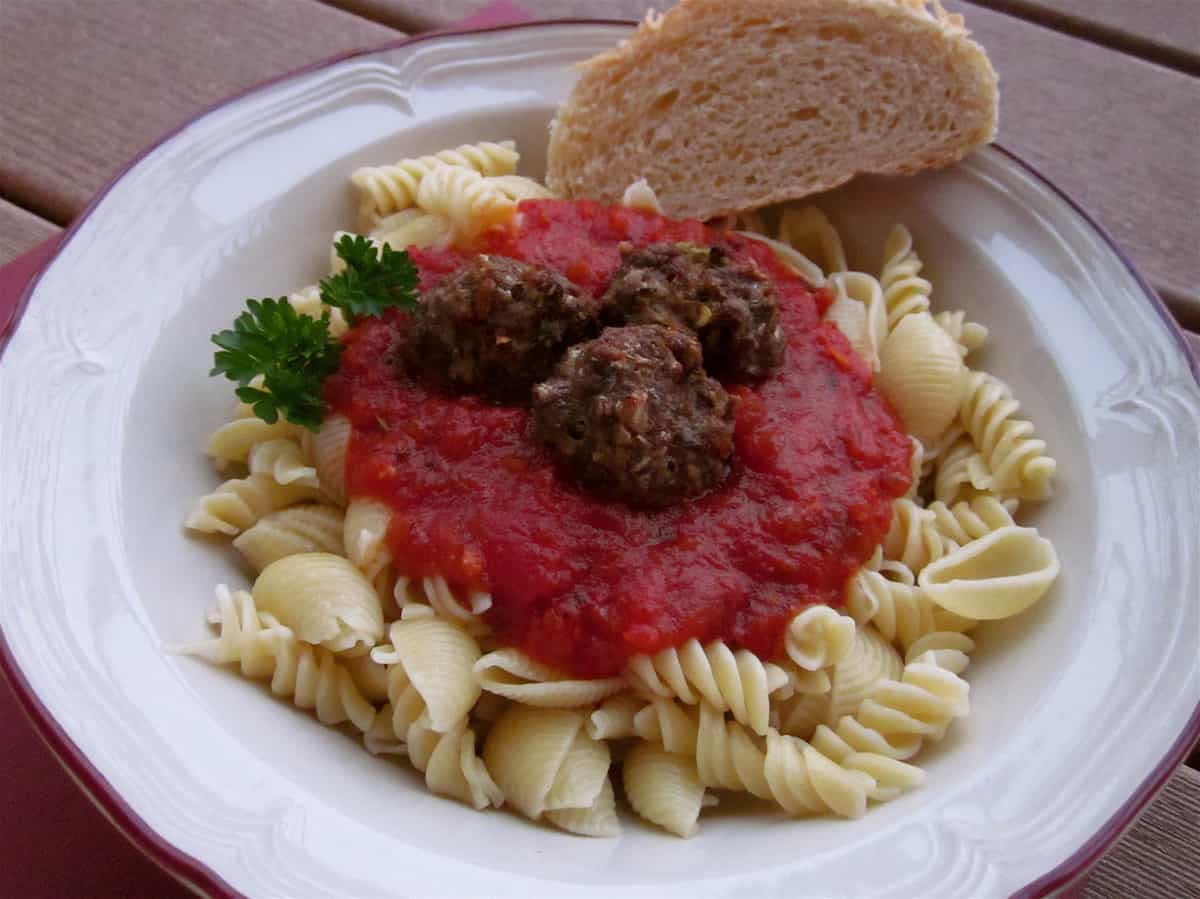 Add a few chopped green olives and the juice. And/or balsamic vinegar.