Raspberry Almond Thumbprint Cookies
These Raspberry Almond Shortbread Thumbprint Cookies are one of my favorite Christmas cookies! They are so easy to make and look very impressive on a cookie plate. All you need is a lot of butter and some raspberry jam. They are a Christmas classic!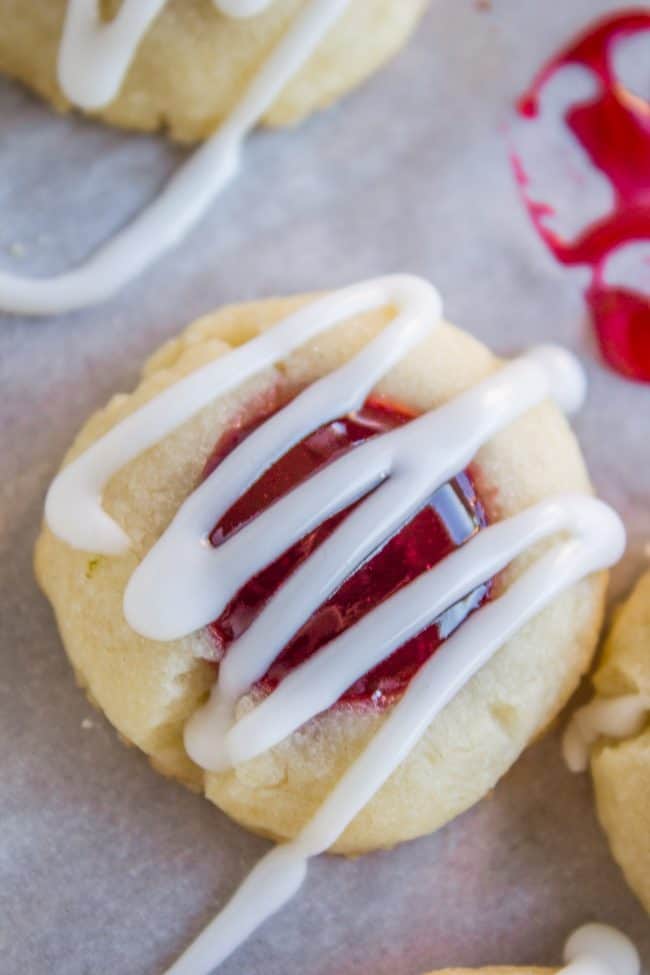 The amount of cookies in my house right now is RIDICULOUS. There are probably like, 20? Maybe? Not even? This is a disturbingly small amount, because I have literally made these Raspberry Almond Thumbprint cookies at least 4 times in the past few days, testing for this post. 35ish cookies per batch = 140 cookies at least. WHERE ARE THEY YOU GUYS? Where??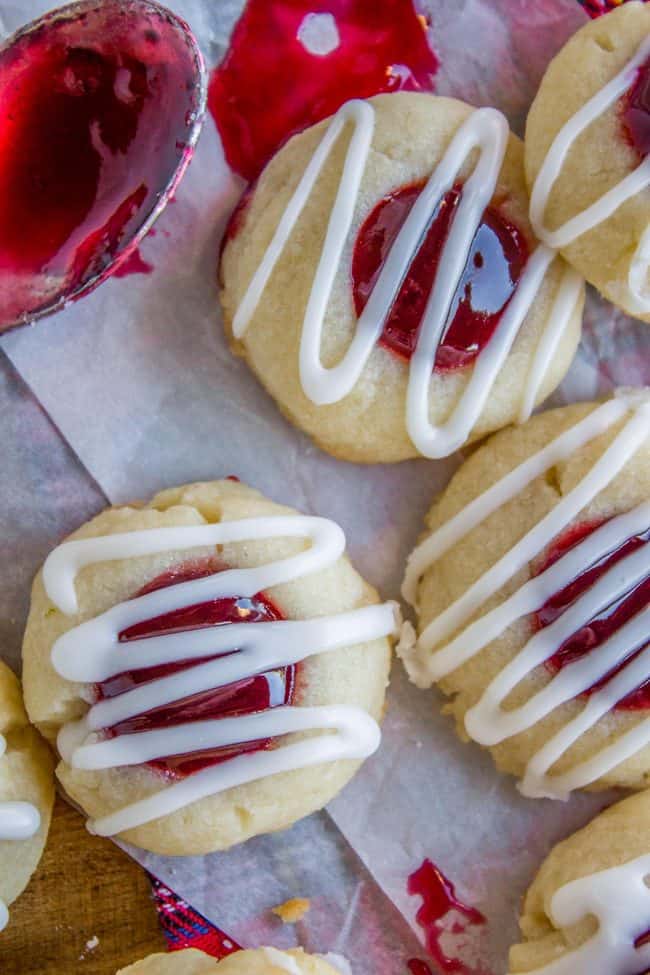 We also made a double batch of Spritz, some Soft Ginger Cookies, and at least 2-3 batches of Butter Pecans over the last few weeks. (I made a video for the Butter Pecans! Check it out!)
Spritz cookies are a huge classic in Eric's family. We made them as usual and had a huge tupperware full of Spritz at the end of the night. This morning I ate breakfast, then looked around for breakfast dessert, like any normal person. (Oh, sorry, are you better than me? Get over yourself, breakfast dessert is a THING.)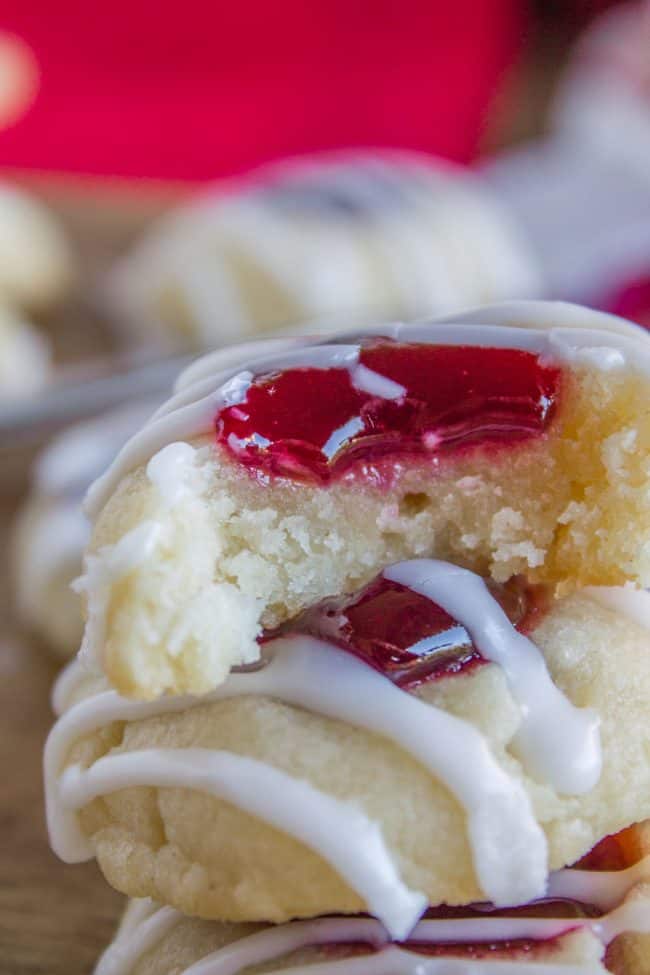 Anyway, I looked around for that tupperware full of cookies and didn't see it on the counter. Huh. Maybe Eric took it to work? (The whole thing??) I settled for a couple whoppers from the pantry for breakfast dessert and went on with my day.
Eric gets home from work tonight, and I'm like, dude, where are all the cookies? Did you take them to work? He just smiles at me knowingly and tells me that he hid them. HE HID THEM.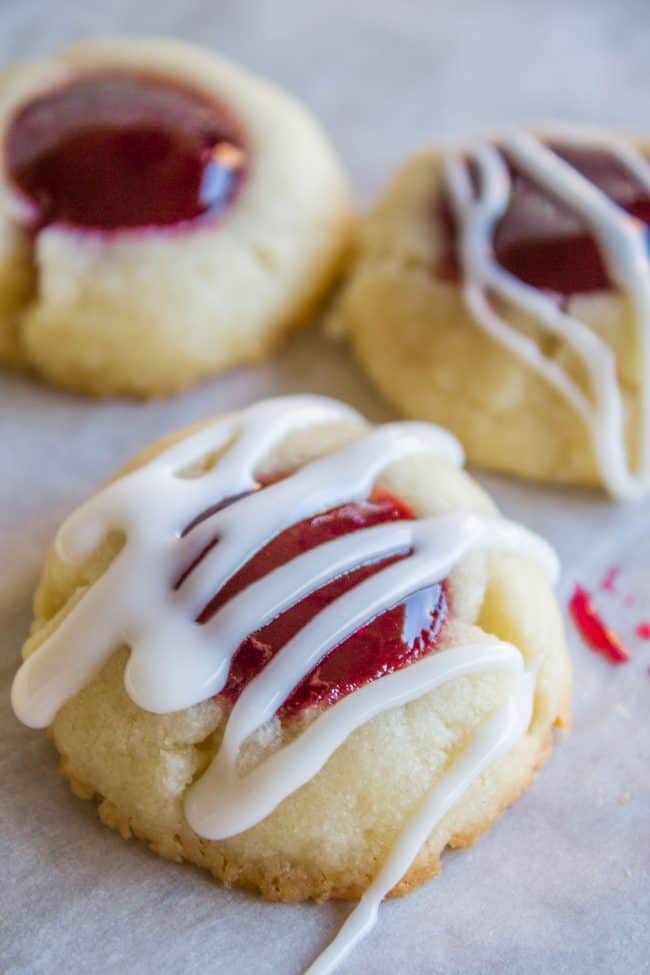 What is this, an intervention?? My brother's an ER doc, and he told me about this one time when a 22 year old college student came in with alcohol poisoning. She was brought in by her two sisters, and instead of talking to the patient, he talked to them. "Your sister is an alcoholic. She needs help. You need to support her or she'll never get through this. This. will. kill. her."
I can just hear Eric thinking, "If I don't help Karen with her cookie problem, I'm gonna lose her. This. will. kill. her."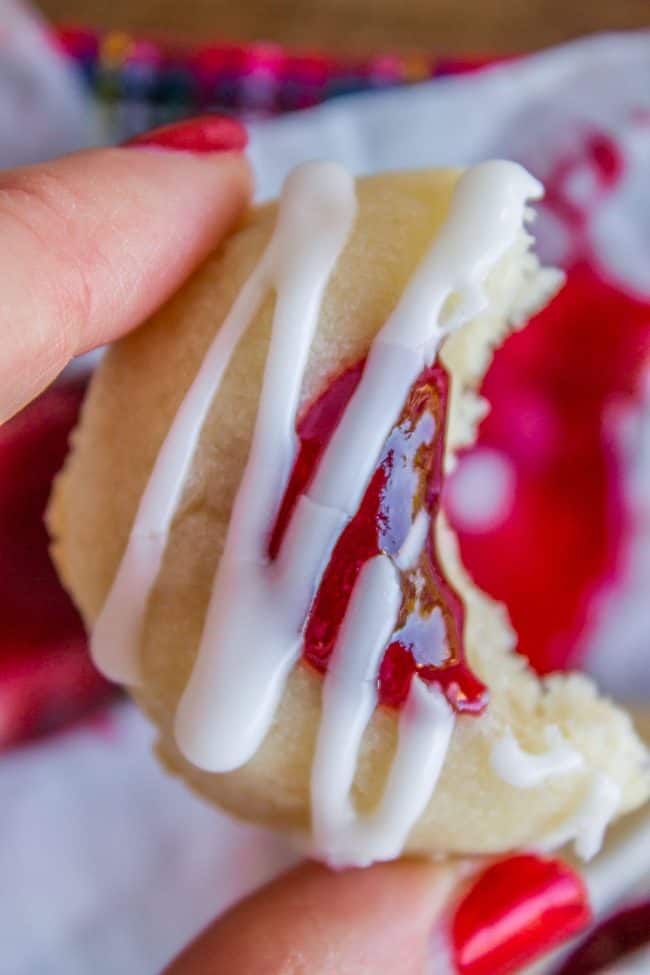 Okay okay, sorry to all the people in the world with real addictions, I'm sure I've offended you all. But really, it's a good thing I've got Eric around to keep me in line. Although the joke's on him. I made a batch of fresh cookies (these ones!) instead of searching for the hidden ones. Problem solved.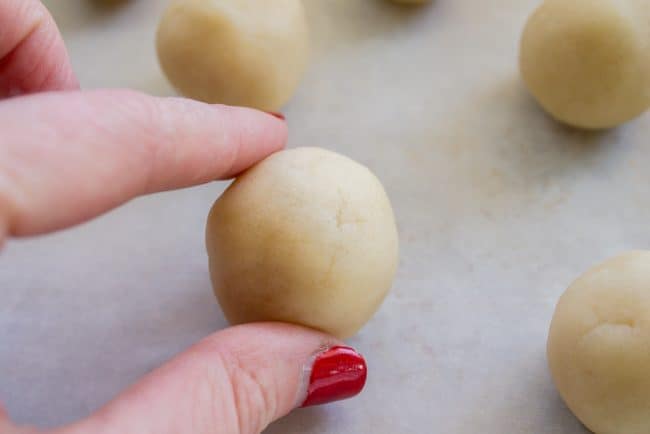 patch up those cracks now

oh no, spillage!

no problem just swipe it back toward the center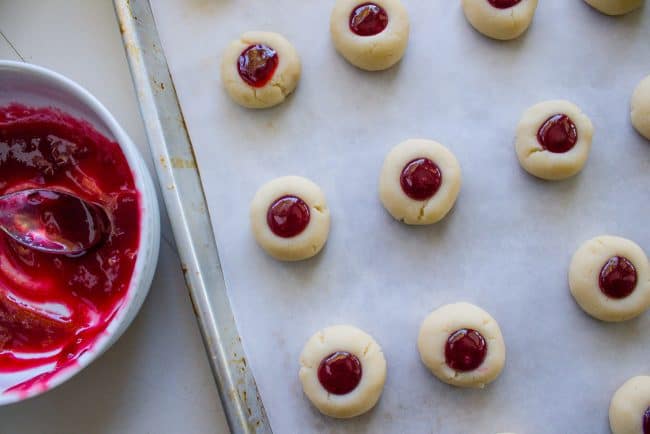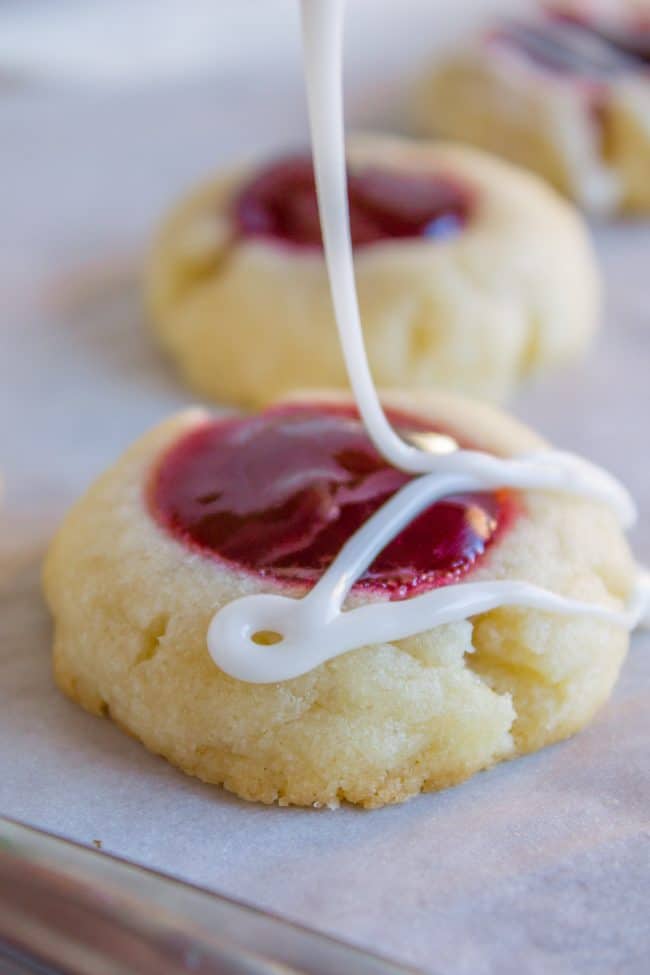 Everybody and their mom makes these Raspberry Thumbprint cookies, right? I'm sure you've had them before. The recipe has been around forever. I feel like everyone I've offered these to this week has said, Oh, I LOVE these cookies, my sister/grandma/mom used to make them! They are just a classic and everyone needs to try making them at least once. They are so pretty on a Christmas plate.
If Christmas isn't the perfect time to make a thousand thumbprint cookies, then when is it?? Do it! (…Then maybe get your husband to hide them from you.)
Facebook | Pinterest | Instagram | Twitter
One year ago: Sticky Sweet-and-Salty Chex Mix (Christmas Crack)
Two years ago: 20 Minute Lemon Broccoli Pasta Skillet << one of the top recipes on my site!
Six years ago: Kung Pao Chicken with Coconut Jasmine Rice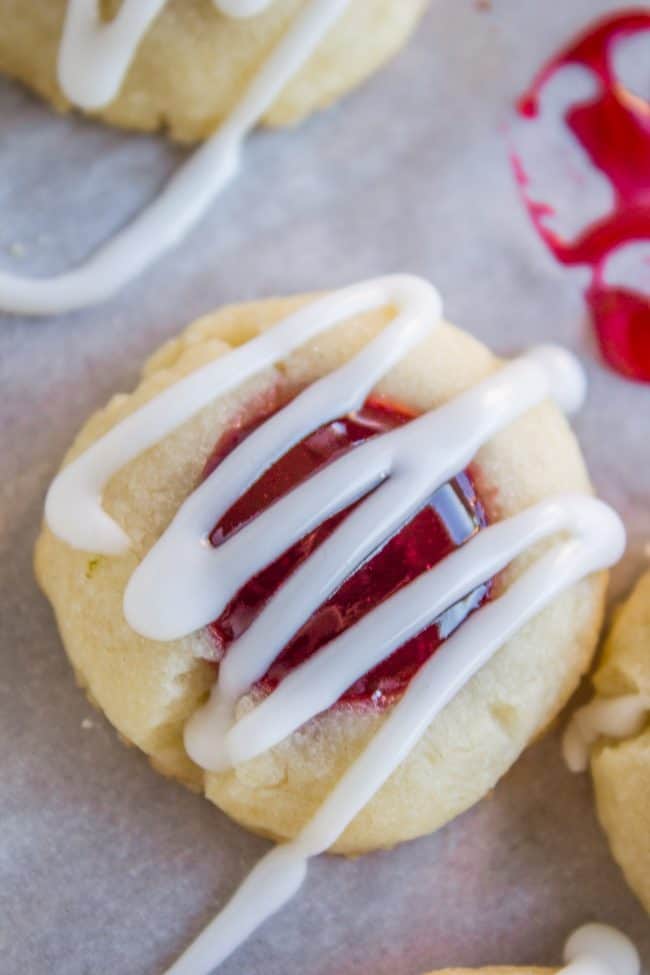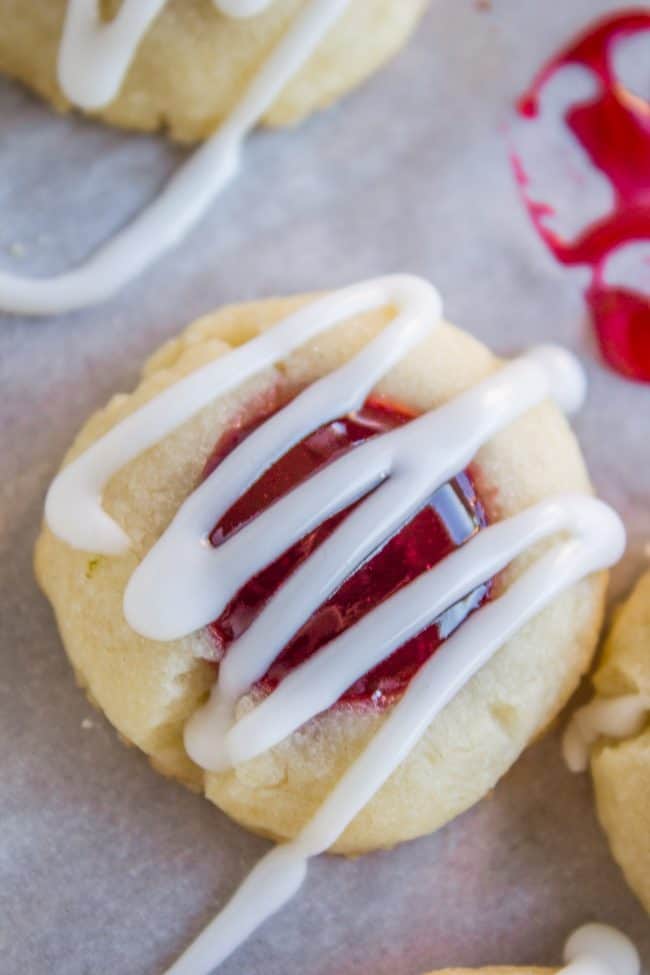 print
Did you make this recipe?
Leave a review »
Raspberry Almond Thumbprint Cookies
35-38 small cookies
adjust servings
These Raspberry Almond Shortbread Thumbprint Cookies are one of my favorite Christmas cookies! They are so easy to make and look very impressive on a cookie plate. All you need is a lot of butter and some raspberry jam. They are a Christmas classic!
Ingredients
For the cookies
1

cup (2 sticks) salted butter, softened

2/3

cup granulated sugar

1

teaspoon almond extract

1/4

teaspoon kosher salt

2

cups + 3 tablespoons all purpose flour, spooned and leveled

1/2

cup seedless raspberry jam
For the glaze
1

cup powdered sugar

1

and 1/4 teaspoons almond extract

2-3

teaspoons milk
Instructions
In a large bowl or stand mixer, beat the butter and sugar until fluffy, at least 2-3 minutes. Don't forget to scrape the sides and bottom. (If your butter isn't quite soft, beat it by itself first until you are sure it's smooth and not lumpy. Then add the sugar and continue beating.)
Add the almond extract and salt. Beat well.
Add the flour. Beat until the mixture forms a stiff ball of dough. Once the dough has come together, stop beating, you don't want to end up with a tough dough.
Cover and chill at least 2 hours, or 4 is even better.* You can chill it for up to 48 hours. (If you need longer than that, just stick it in a ziplock and freeze it.)
When you are ready to bake, take it out of the fridge and let it soften on the counter for 10-20 minutes. Line 2 baking sheets with parchment paper or a silicone baking mat.
After the dough has softened a bit, preheat the oven to 350 degrees F.
When the dough is malleable but still cold, shape into balls that are about 1 tablespoon worth of dough. It's a little bigger than a 1-inch ball of dough.
Place the dough on the baking mat. You can put them pretty close together, you only need about 1 inch of space between them.
Use something to press the cookie down in the center. Thumbs are okay, but it's even better if you find something that's about the size of a tube of chapstick. (Clean your chapstick off and use it!) I used the handle of a wooden spoon that's about 3/4 inch across (thicker than most wooden spoon handles I think), and it was perfect. I've read about people using corks too. However you want to do it, make a well in the center of the cookie. You want to press about halfway down, don't press all the way through or your jam will seep through to the baking sheet.
The edges of your cookie will likely crack. You can patch minor cracks with your finger, or if they are small enough leave them. If all of them are cracking pretty badly though, to the point that the jam would likely seep out, then let your dough get a little closer to room temperature by waiting another 10 minutes or so. If you shape them into balls and then wait a few minutes to press, they will warm up even faster.
Scoop some jam into a bowl and stir it well to get out the lumps.
Use a small spoon to fill each cookie. You are using a pretty tiny amount of jam. Don't go crazy. Think between 1/4 and 1/2 teaspoon. Fill it only until it reaches the top of the little well you have made. Don't let it drip out the sides or your cookie will get destroyed in the oven. See photos above for how I fix a little jam spillage.
At this point I always take the time (and make room in my fridge) for a little chill. Just like 15 minutes will do. You can skip this step if you think your dough is still cold enough. Remember, cold dough going in the oven=nice and puffy cookies.
Bake at 350 for about 12-14 minutes. Start with 12. You want to take them out JUST as the edges are starting to turn golden (around 14 minutes) or even before they start browning (By 12 minutes they are usually brown on the bottom but not on the edges). The cookies should not be shiny and the jam should be bubbling.
Let the cookies set on the baking sheet for about 10 minutes, then remove to a wire rack to cool.
In a small bowl, stir together the powdered sugar, 1 and 1/4 teaspoon almond extract, and 2 teaspoons milk. Add the extra teaspoon of milk if it seems too thick. (If you accidentally make it too thin, just add a teaspoon of powdered sugar). Drizzle the glaze over the cookies and then let cool completely.
Try not to each 4 batches all in the same week.
by The Food Charlatan

If you make this recipe,
share it on Instagram
 using the hashtag
#TheFoodCharlatan
so I can see it!
More holiday cookies you should make this year!
Buried Cherry Cookies << here's another thumbprint cookie you HAVE to try! I'm making these later this week!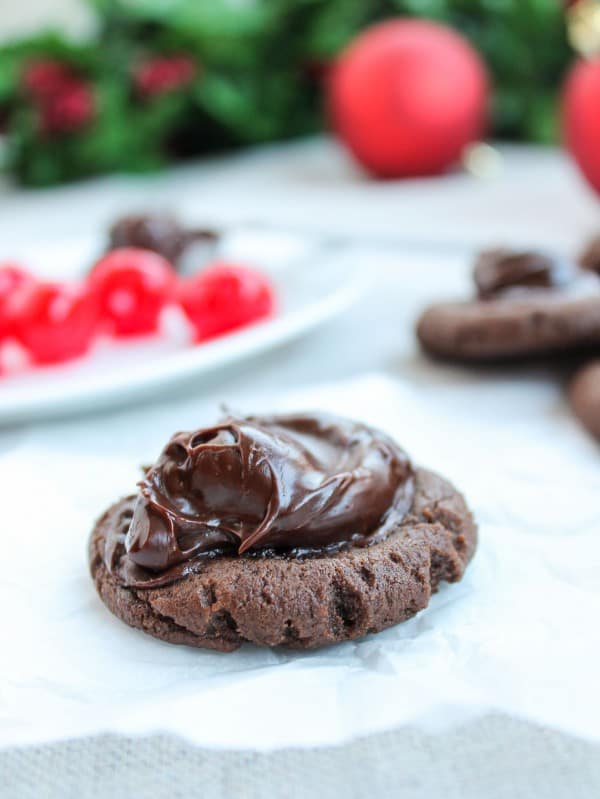 Caramel Pecan Thumbprint Cookies << someday I will reshoot these cookies, but until then you are going to have to trust me that they are insanely good.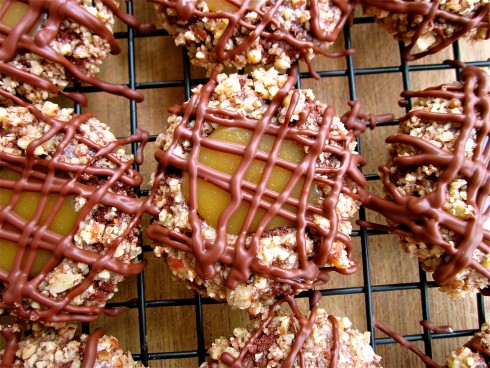 Butter Pecan Cookies << you might be tired of me talking about Butter Pecans lately. I'M NOT SORRY, THEY ARE THE BEST.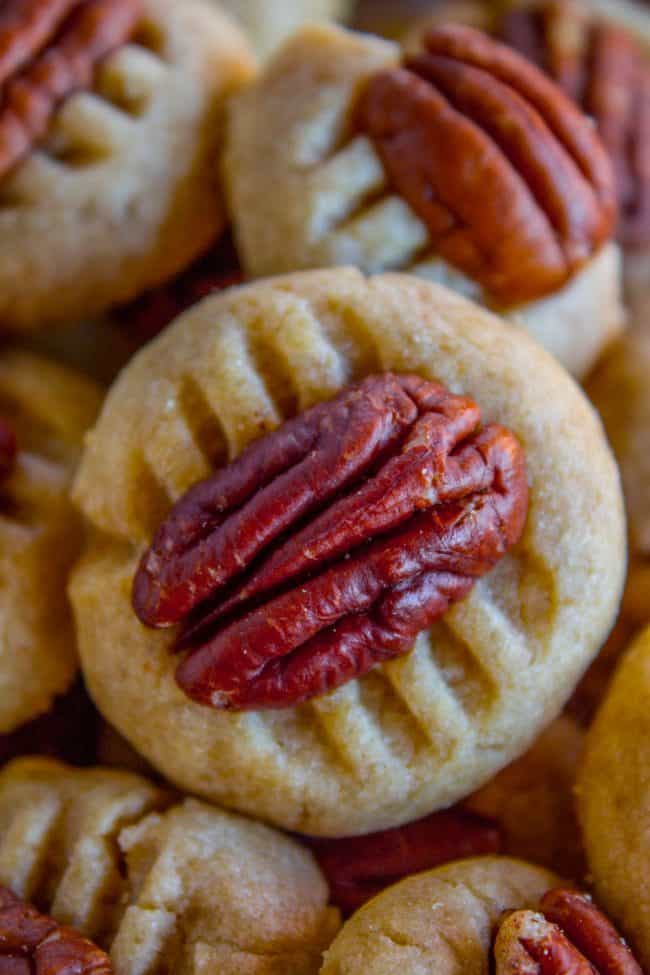 More cookies from blog friends that you will love!
Coconut Raspberry Cookies from Inside BruCrew Life
Raspberry-Vanilla Double Glazed Sugar Cookies from Boulder Locavore
Raspberry Filled Butter Cookie from Tidy Mom
We are a participant in the Amazon Services LLC Associates Program, an affiliate advertising program designed to provide a means for us to earn fees by linking to Amazon.com and affiliated sites.