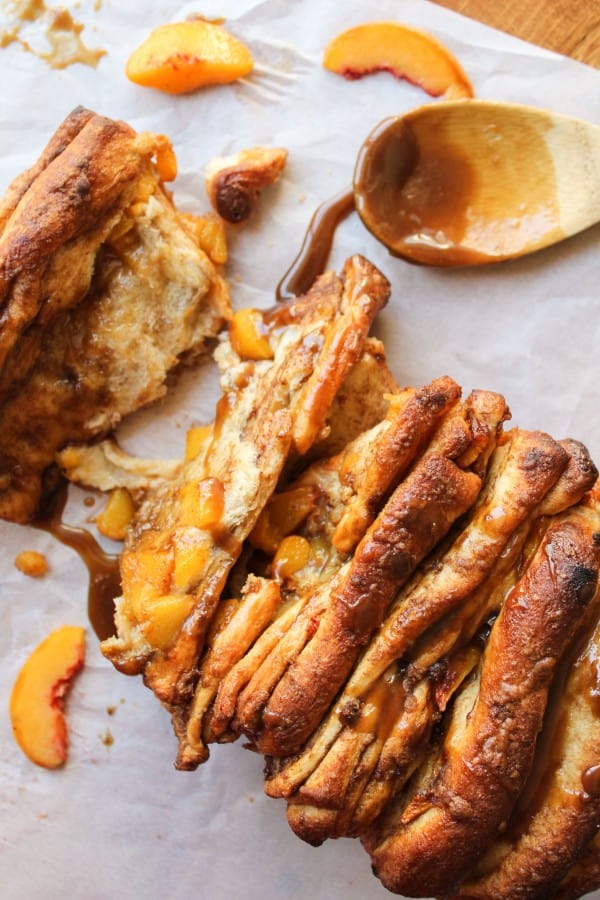 Some things:
I think Brussels sprouts have done nothing to deserve that capital B. They are disgusting.
When I was, like, way younger and more immature, I used to I stay up ridiculously late to finish Ever After (for the 8,572nd time) when Eric would go on business trips. (No it did not just happen last night, why do you ask?)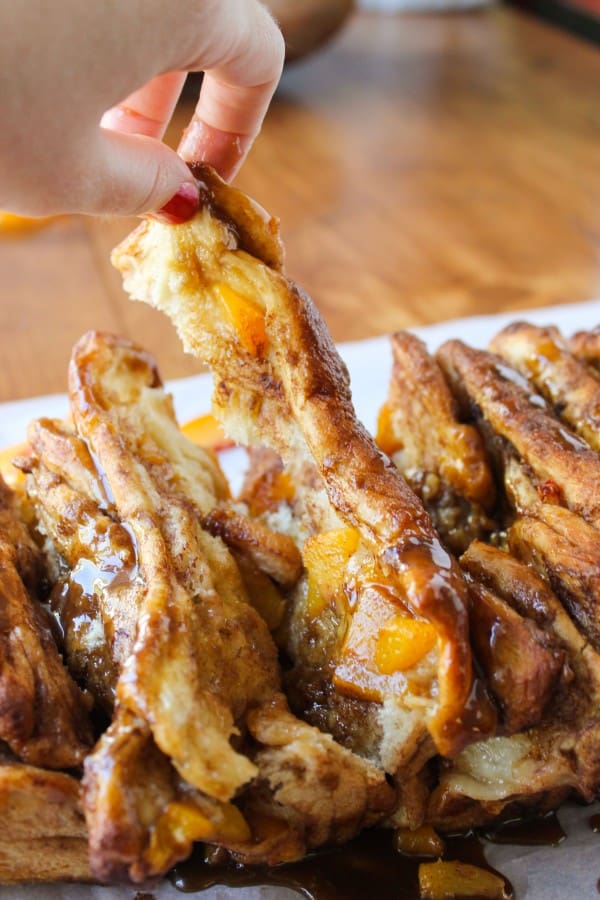 I'm going to a blog conference next week–BlogHer–and I was so nervous about picking out what clothes to wear that I made all the women in Eric's family put together outfits for me. We took pictures, including accessory options, so that I wouldn't forget. Yes, I AM Cher from Clueless.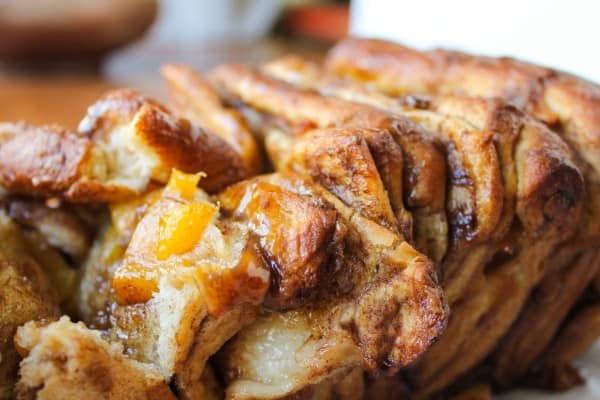 Eric's sister's kept saying things like, "don't you have ANY other shoes?" No. No I don't. Shoes and I, we just don't understand each other. And now you all hate me. I can feel the female-ness boiling inside you. I still like babies, okay? AND cute puppies. Still friends?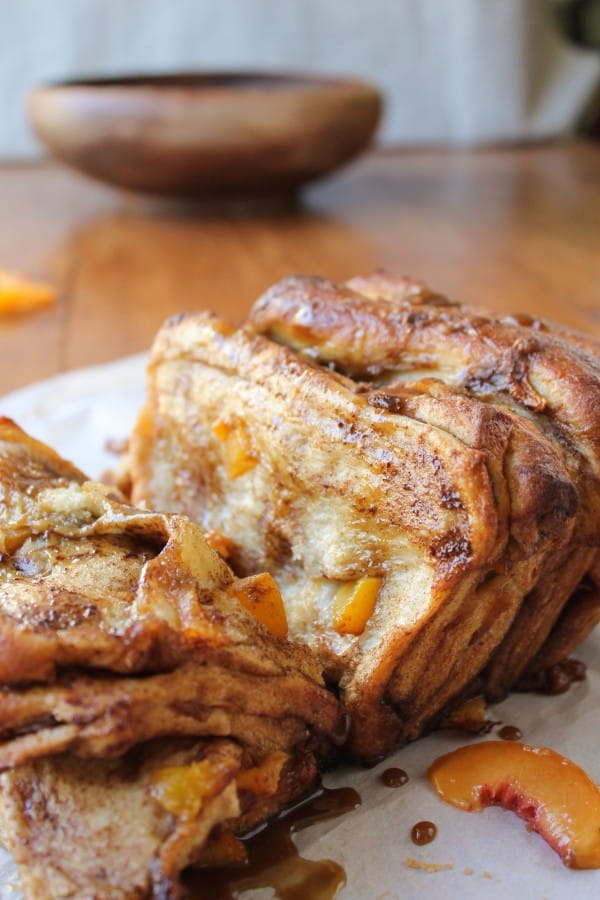 I finally ordered business cards last week (for said conference) and I have to say I'm kind of excited to be able to hand them out to the grocery store employees where I shop so that they don't look at me like I'm a crazy person for buying ALL THE THINGS. ("She says she has a 'food blog,' whatever that is. Sounds like a front for something…)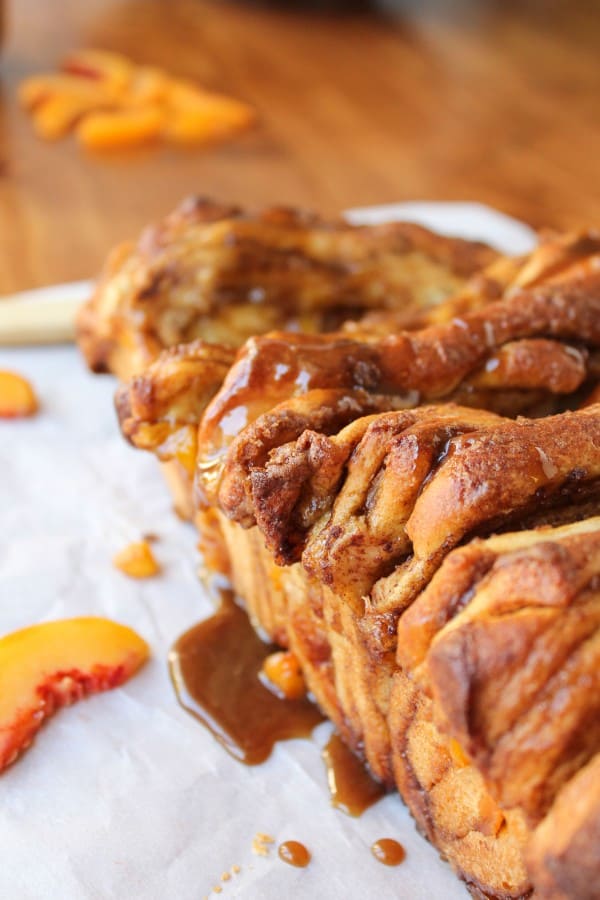 I get irrationally irritated sometimes that my computer doesn't autocorrect everything I type wrong. Can't you tell that freinds should be friends?? What are you, stupid?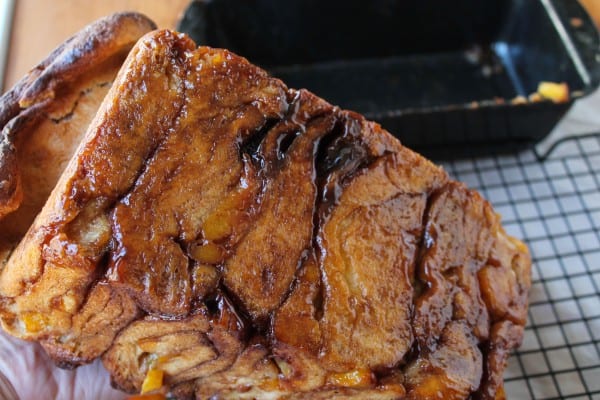 I chatted with an old friend from high school last week. Quote: "Yeah, I'm still training dolphins for the Navy in San Diego." NO I'M NOT JOKING. Our 10 year reunion is next spring (what?) and I'm pretty sure he's got everybody beat for coolest job. (I mean except the part where I get to make peach bread and call it work. That's pretty nice.)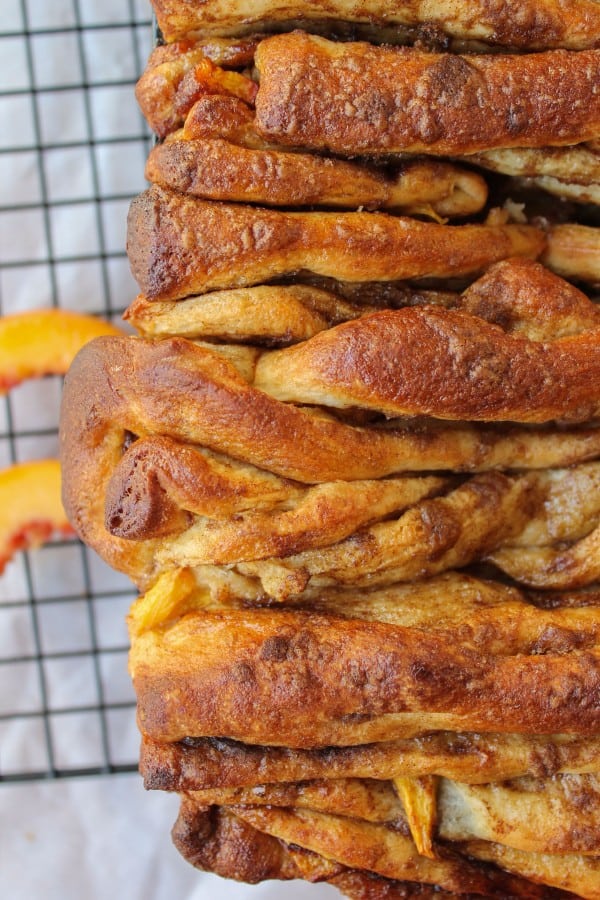 I love this Peach Pull-Apart Bread with Caramel Sauce probably more than anything right now. It is like one giant stacked cinnamon roll. With caramel sauce and peaches. I mean what's not to love? The dough is tender and sweet, and there is just the right amount of cinnamon. Hooray for summer fruit! Bring it on.

Peach Pull-Apart Bread with Caramel Sauce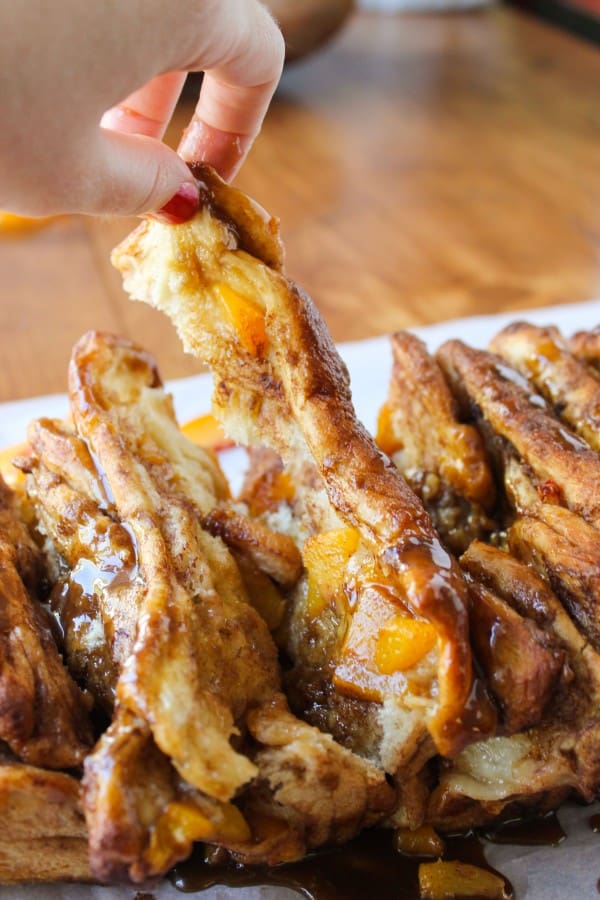 Peach Pull-Apart Bread with Caramel Sauce is a great way to use up those summer peaches. It's like a peach cinnamon roll.
Ingredients
For the dough:
1/4

cup

water

,

warm

2 & 3/4

teaspoons

active dry yeast

4

tablespoons

butter

,

melted

1/3

cup

milk

1

teaspoon

vanilla extract

2 & 3/4

cups

all-purpose flour

,

plus 1/4 cup, if necessary

1/4

cup

sugar

1/2

teaspoon

salt

2

eggs
For the Filling:
3/4

cup

brown sugar

,

packed (I like dark)

2

teaspoons

cinnamon

3

dashes

salt

3

tablespoons

butter

,

melted

3-4

ripe peaches

,

finely chopped (2 and 1/2 or 3 cups)
For the Caramel Sauce:
2

tablespoons

butter

1/2

cup

brown sugar

2

tablespoons

milk
Instructions
In the bowl of a stand mixer or large bowl, stir together the warm water and yeast. Let sit for a couple minutes until it foams a bit, just to make sure it's not dead.

Meanwhile, in a small bowl melt the 4 tablespoons butter in the microwave. Add the milk and vanilla. Set aside.

Add 2 cups of the flour, the sugar, and salt to the dough and stir together.

Add the eggs and continue to stir on low.

Add in the butter/milk mixture in a thin stream. Add more flour a little bit at a time until the dough comes together in a ball and cleans the sides of the bowl. Knead on medium for 3-5 minutes.

Transfer the dough to a large greased bowl. Cover it with a cloth and let rise in a warm place for and hour and a half. (I like to turn my oven to warm (170F) for about a minute, turn it off, then let the dough rise in the oven.)

While the dough rises, prepare the filling. In a small bowl stir together the brown sugar, cinnamon, and salt. Set aside.

Grease a 9x5 inch loaf pan and set aside.

Toward the end of the dough rising, prepare the peaches. Peel off the skins and chop them into small pieces. Melt 3 tablespoons of butter in a small dish.

Once the dough has risen, turn it out onto a large and well-floured work surface. Roll the dough into a large rectangle, roughly 12x24 inches, but don't fret if it's not exact.) The dough will be pretty thin.

Brush the rectangle with the butter you just melted. Slather it all on, don't be shy. Sprinkle the whole thing with the cinnamon-brown sugar.

Use a pizza cutter to slice the dough into 6 equal strips the LONG way (each strip should be about 24 inches).

Sprinkle the first strip with 1/6 of the chopped peaches (just eyeball it). Now you are going to lay the next strip on top of the one you just sprinkled with peaches. I found it easiest to slide my entire arm underneath the dough, pick it up and lay it gently on top of the peaches.

Sprinkle the stack with more peaches. Add the next layer of dough. Keep going until you run out of peaches and strips of dough.

Now you are going to use a very sharp knife to cut the stack into segments that will fit into your bread pan. I lined up the short end of the bread pan to the edge of the dough, and sliced there. Take the first segment and stack it vertically in the pan, like they are papers in a filing cabinet. Continue until all the dough is in the pan. Don't be afraid to shove it all in there.

Preheat your oven to 350 F.

Cover the dough with a towel and let rise in a warm place for about 30-45 minutes (not in the preheating oven this time.)

Bake for 40-45 minutes until brown and cooked through. Use a toothpick to reach the center of the bread, the layers make it pretty easy to do this. Check after about a half an hour to see if the bread is getting too brown on top. If so, cover with tin foil.

Cool on a wire rack for 10 minutes.

Meanwhile, make the Caramel Sauce. Add the butter, brown sugar, and milk to a small sauce pan and bring to a boil. Boil for 1 minute, then remove from heat.

Turn the bread out onto a cooling rack with parchment or wax paper below it. Drizzle with the warm Caramel Sauce. Save some for dipping if you want. Eat it while it's hot!
Nutrition
Serving:
1
slice
|
Calories:
486
kcal
|
Carbohydrates:
81
g
|
Protein:
9
g
|
Fat:
15
g
|
Saturated Fat:
9
g
|
Polyunsaturated Fat:
1
g
|
Monounsaturated Fat:
4
g
|
Trans Fat:
1
g
|
Cholesterol:
76
mg
|
Sodium:
438
mg
|
Potassium:
278
mg
|
Fiber:
3
g
|
Sugar:
45
g
|
Vitamin A:
660
IU
|
Vitamin C:
4
mg
|
Calcium:
71
mg
|
Iron:
3
mg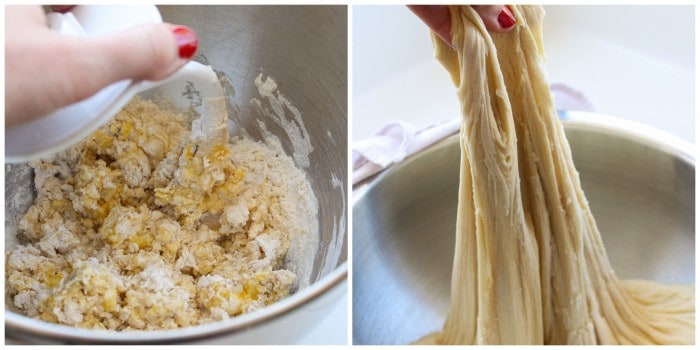 Sometimes I hold my dough hook in my hand for the stirring part (before it's knead-able) so that I don't have to dirty another spoon. Call me lazy.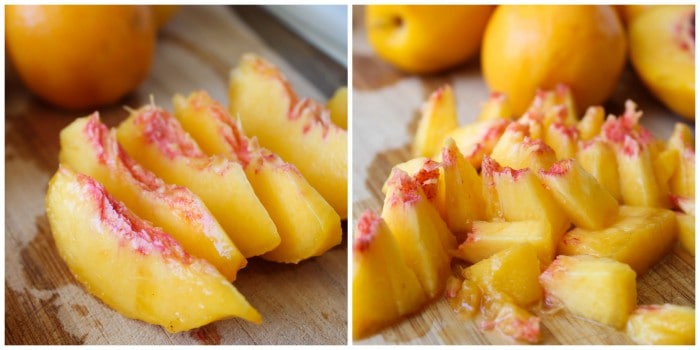 Here's how I sliced my peaches.

Use your arm to transfer the strips of dough on top of the peaches.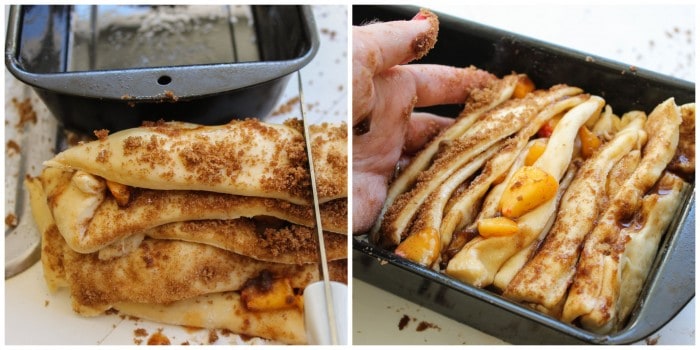 Cut the stack using the bread pan as a guide, and then put the stack in vertically.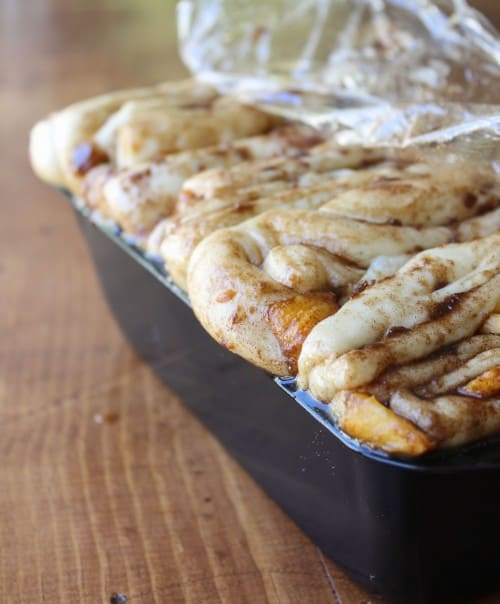 Here is the risen dough. Keep an eye on it, you don't want it to get too puffy and overflow in the oven.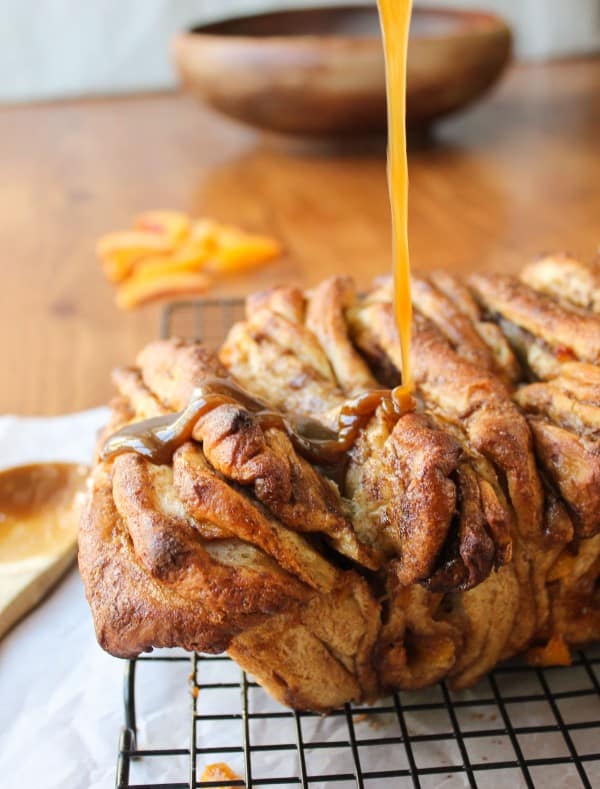 Don't forget the caramel sauce!! It totally makes it.