Raspberry Peanut Butter Smoothie
This single-serve smoothie is perfect for a busy morning when you want a quick breakfast that fills you up til lunch. 4 ingredients keeps it simple, tasting like a peanut butter and jelly sandwich keeps it delicious. Oh yeah.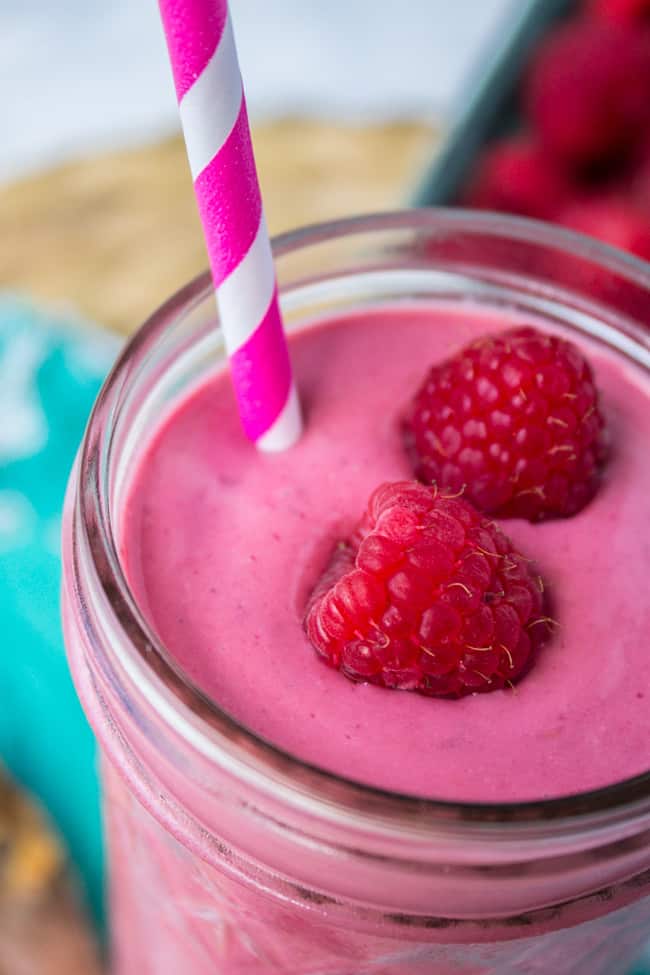 Rise and shine! How was your Easter weekend? I'm still in a Reese's Egg coma over here. No regrets.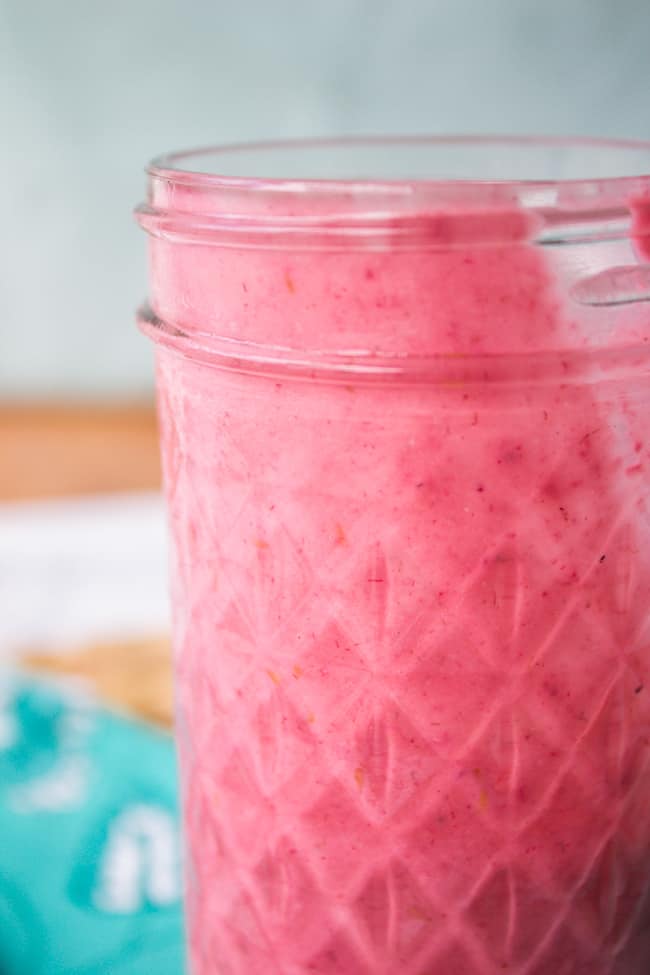 I ran into my sister-in-law Sandi at the store a couple days ago. This never happens, even though we live 4 minutes from each other and shop at the same place. She was there to buy candy for a special Easter basket for my mom. (My mom is the one always going over the top with Easter baskets–even polling adults for their favorite candy, because why SHOULDN'T adults get Easter baskets??)
Anyway, Sandi decided that it was time for Janice (my mom) to get her own special basket, so she asked me what kind of candy my mom likes best. I told her that one time I was in the checkout line with my mom and I pointed to the candy and asked what her favorite was. My mom pointed to the top and said, "Let's start with THIS row…"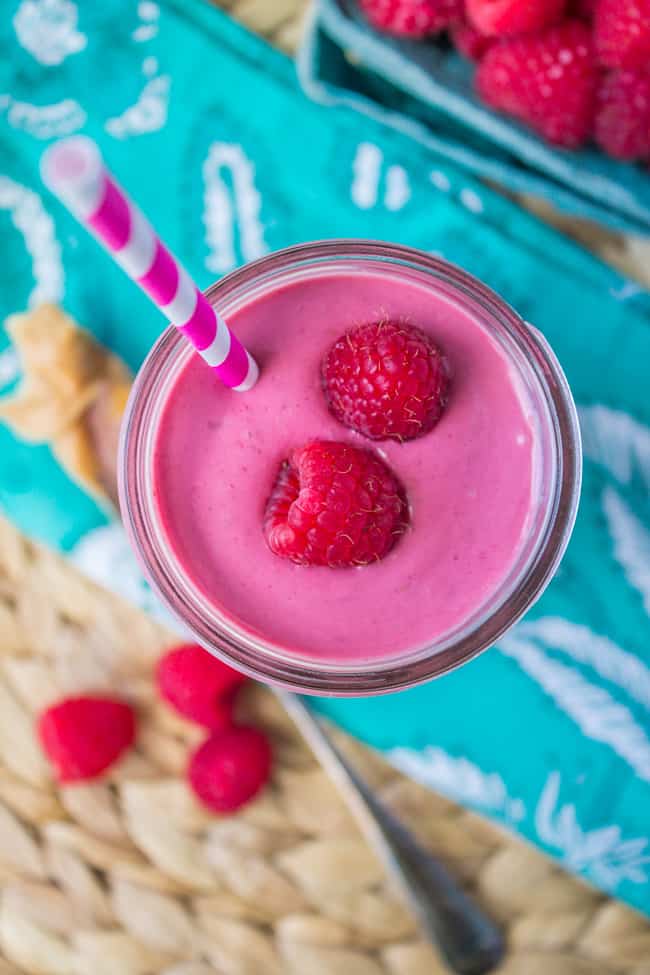 I also told Sandi that once I asked my mom what her favorite nuts were. Mom said chocolate covered almonds, and pecans. But only in pecan pie.
Sandi ended up buying her a giant (and I do mean giant) Reese's bunny. How can you go wrong?
You also can't go wrong with a slurpy ol' smoothie for breakfast. Especially when that smoothie tastes like a peanut butter and jelly sandwich. I'm not even kidding guys.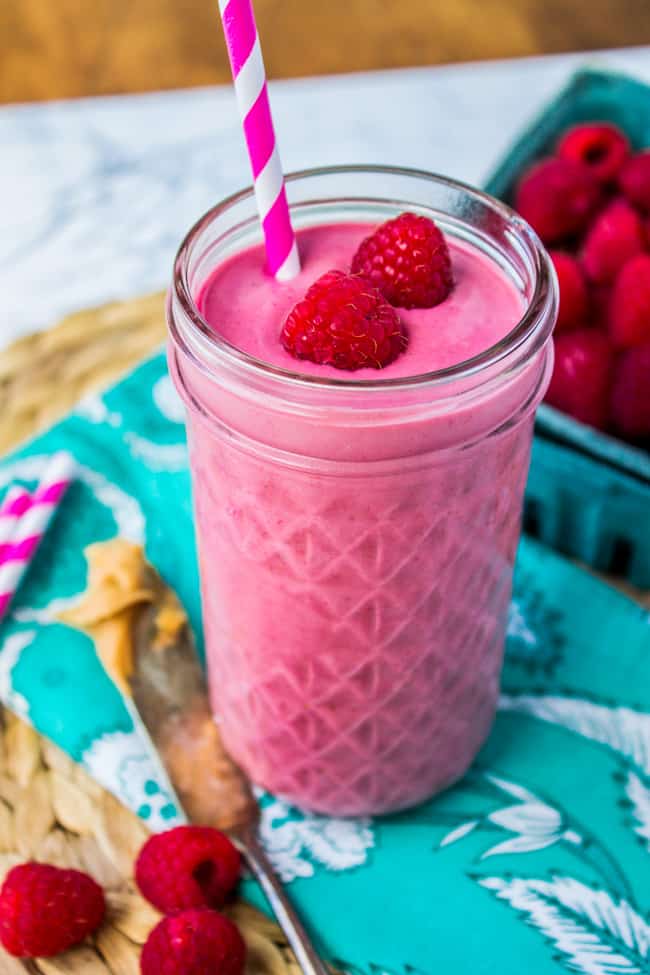 Today I'm guest posting for my friend Melanie from Melanie Makes, who just had a baby! So exciting! To read more about why you need lots of high-calorie peanut butter in your smoothies if you're nursing (hint: it's so that you don't start eating your shirt collar in desperation), head on over to Melanie Makes to get the recipe!  (UPDATE: I've since added the recipe below. Enjoy!)


print
Did you make this recipe?
Leave a review »
Raspberry Peanut Butter Smoothie
Serves 1
adjust servings
Ingredients
1

and 1/2 cups frozen raspberries

2

inches of a banana

2

tablespoons peanut butter

1/4

cup plain Greek yogurt

6

tablespoons ice water

fresh raspberries to garnish, optional
Instructions
Add all ingredients to a blender and blend until smooth. You may need to scrape down the sides a couple times.
This recipe makes about 10-11 very filling ounces.
by The Food Charlatan

If you make this recipe,
share it on Instagram
 using the hashtag
#TheFoodCharlatan
so I can see it!
We are a participant in the Amazon Services LLC Associates Program, an affiliate advertising program designed to provide a means for us to earn fees by linking to Amazon.com and affiliated sites.