Skinny Texas Cowboy Cookies
These low calorie cookies have NO sugar, NO white flour, and only 2 tablespoons of butter in the whole batch! What they do have are a ton of mix-ins. Oatmeal, coconut, bran flakes, pecans to name a few. They taste like a Texas Cowboy Cookie, but way better for you! (Which means I can eat half a batch…right?)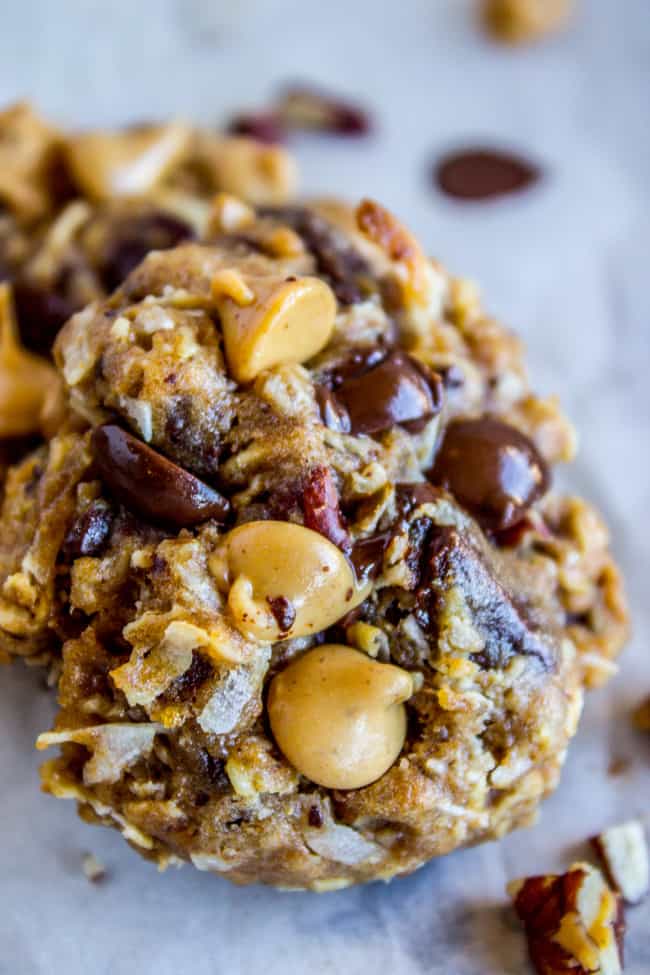 I finally feel like life is getting back to normal after all the Christmas festivities! Charlotte started school again today so we are back to having a schedule. Well. At least someone in the family has a schedule. Certainly 2-month-old Valentine doesn't. She's like a tiny 9-pound princess who forces me to bend to her every beck and call, or whimper and cry as the case may be. She's started smiling at me regularly though, which is basically payment in full for my slave labor.
(Thank you for all the kind comments on my last post about breastfeeding troubles by the way, they warmed my heart and made things a little easier for me. Moral support! It's legit!)
Kind of like how I always make Eric hover nearby while I give the baby a bath. The way our bathroom is situated it's pretty much a one man job, but I make him come in just to be present in case she freaks out. There is something about screaming wet babies that makes you panic a little bit.
Speaking of panicking. I had a friend of mine (hi Melissa!) watch the kids today while I went to the dentist. That sounds like such a casual statement, but I was freaking out . No, not because I was away from my kids, but worrying about poor Melissa. It's hard enough dumping 2 kids on someone else, but 2 kids plus an infant?? I think I owe somebody a batch of these cookies.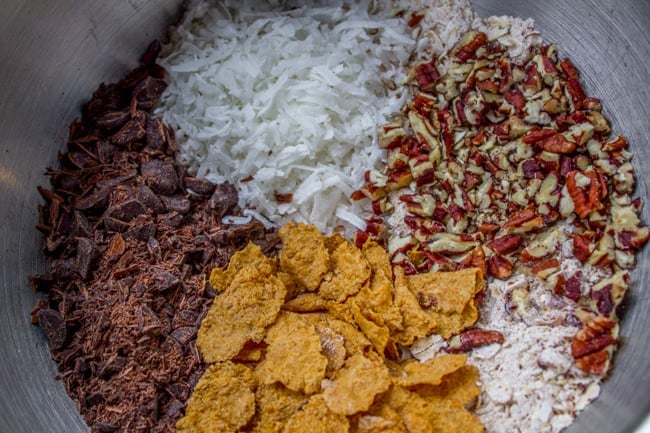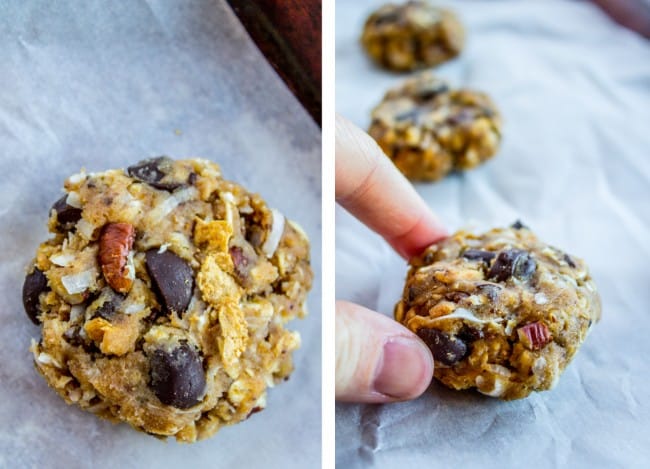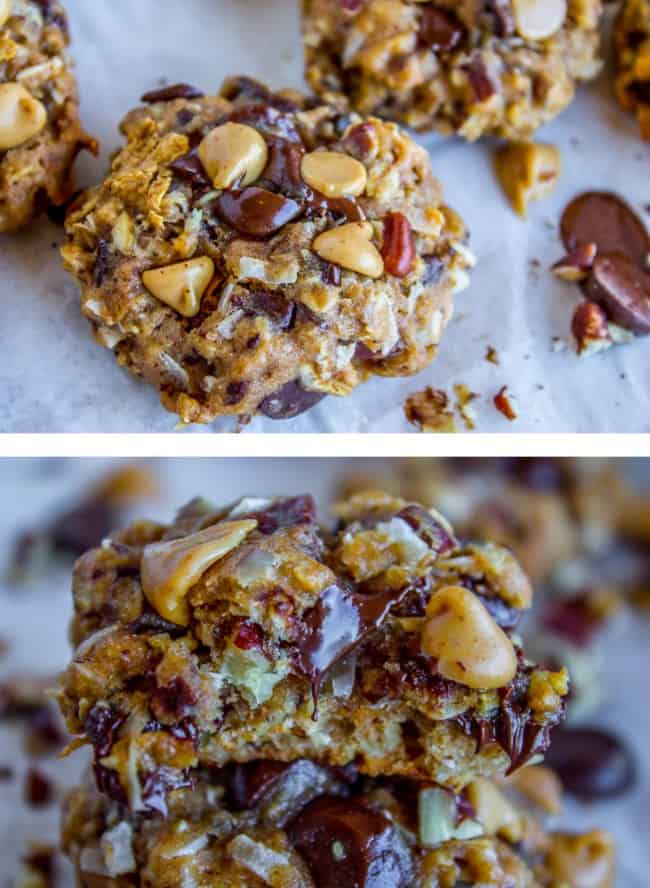 I can't tell you how much I love these Skinny Texas Cowboy cookies! I made them once, loved them, then made them again a day later with a few tweaks and loved them even more. (Yeah, good luck with this "skinny" recipe if you are into eating entire batches of cookies a day at a time.)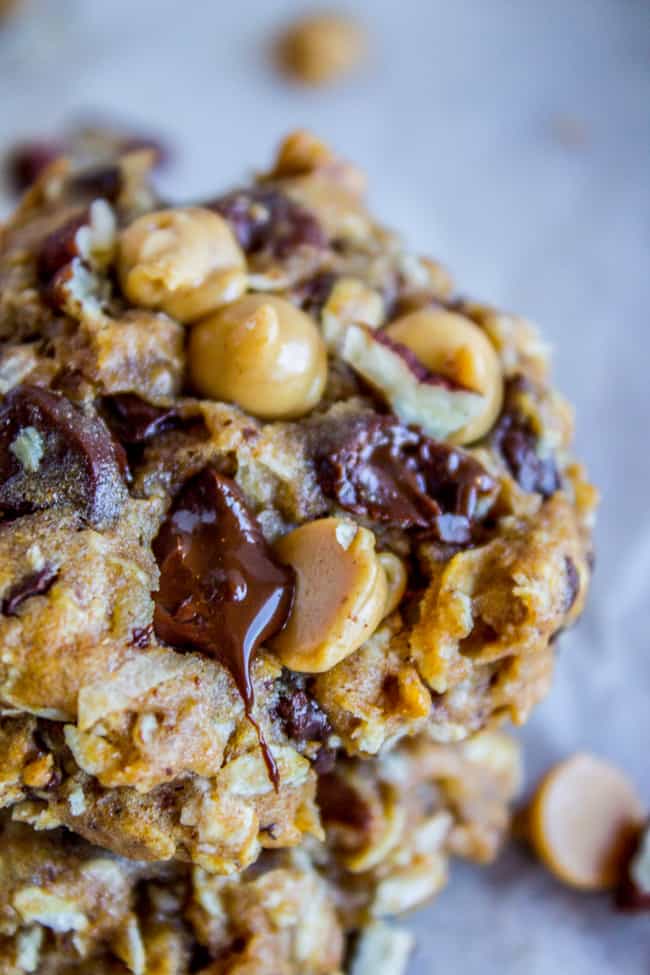 The recipe is a mashup between these Skinny Oatmeal Chocolate Chip Cookies and these Texas Cowboy Cookies. Both of these recipes made it in the Top 5 Recipes published on The Food Charlatan in 2016. I loved them both so much (and so did you!) I decided to put them together. I think it's officially my best idea of 2017 so far.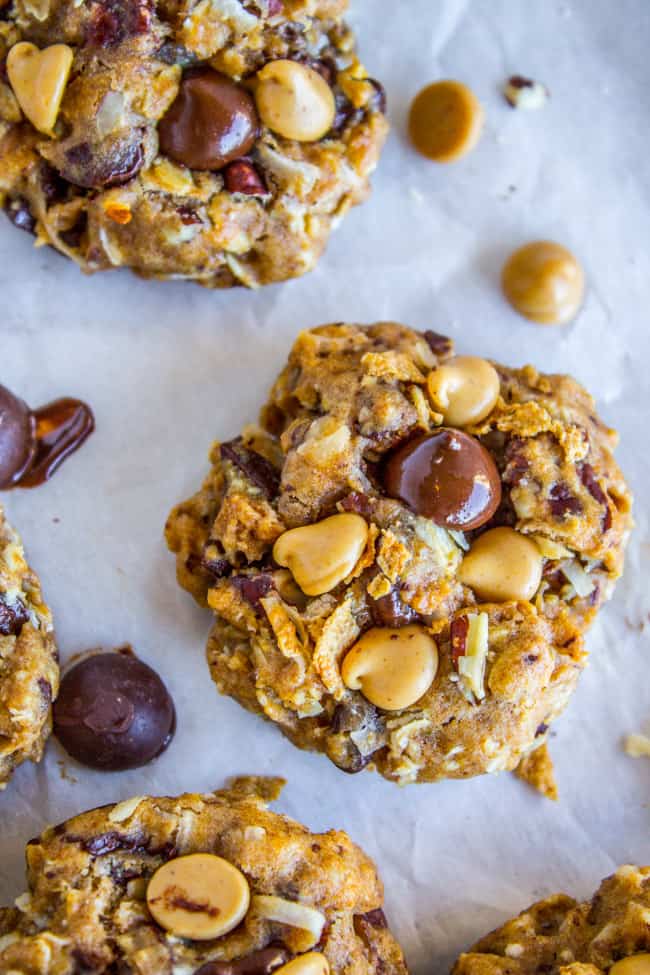 These cookies have the same flavor as the classic Texas Cowboy Cookie but have a different texture. I like it. I'm usually more of a soft-cookie girl anyway, and the original recipe is crunchy on the outside. This skinny version is soft and tender, and feels decadent from the chocolate and peanut butter chips, but is way lower in calories. Plus it's super easy; no electric mixing or creaming involved. Just a couple bowls and a spoon.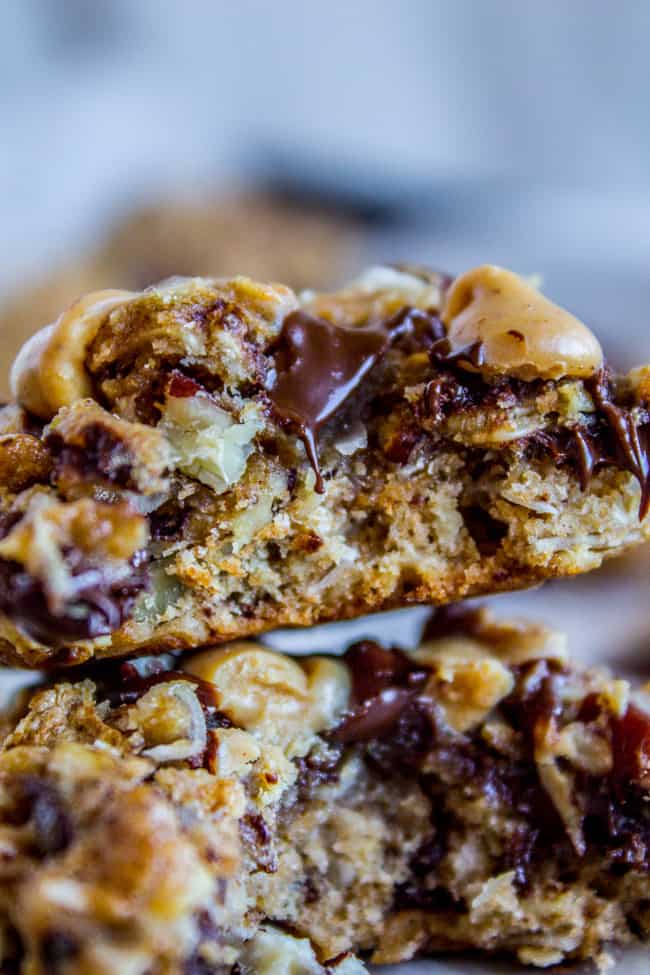 In case you've never tried the classic Texas Cowboy Cookies, it's a basic dough with oatmeal, coconut, pecans, corn flakes, peanut butter chips, and chocolate chips mixed in. It's an amazing combo that is so unexpected. For the skinny version (as far as mix-ins go), all I changed was to use bran flakes instead of corn flakes. The recipe makes about 18 or 20 small cookies, your only job is to not eat all of them in one sitting. Best of luck.
Here are some other cookie recipes you will love!
Facebook | Pinterest | Instagram
Skinny Texas Cowboy Cookies
These low calorie cookies have NO sugar, NO white flour, and only 2 tablespoons of butter in the whole batch! What they do have are a ton of mix-ins. Oatmeal, coconut, bran flakes, pecans to name a few. They taste like a Texas Cowboy Cookie, but way better for you! (Which means I can eat half a batch...right?)
Ingredients
2

tablespoons

butter

,

melted and cooled

2

tablespoons

coconut oil

,

melted

1

cup

whole wheat flour

3/4

cup

old fashioned oats

1 & 1/2

teaspoons

baking powder

1/2

teaspoon

kosher salt

1/4

cup

shredded coconut

,

packed

1/4

cup

pecans

,

chopped

1/4

cup

Wheaties

,

bran flakes

6

tablespoons

dark chocolate chips

,

chopped

1

teaspoon

vanilla

1

large

egg

1/2

cup

agave

,

OR honey*

dark chocolate chips

,

more to top with

1/4

cup

peanut butter chips

,

(to top with. I used Reese's)
Instructions
Get out a large bowl and a medium bowl.

In the large bowl, melt the butter and coconut oil. Set aside to cool.

In the medium bowl, add the flour, oats, baking powder, salt, and whisk together.

Next add the coconut, pecans, bran flakes, and chopped chocolate to the dry ingredients.

Add the vanilla and 1 egg to the wet ingredients. Whisk it in right away.

Add the honey or agave and stir.

Add the dry ingredients to the wet ingredients and stir together with a wooden spoon until it's incorporated. (Don't overdo it, stop when the flour streaks are gone.) The dough is quite sticky.

Cover the dough and let chill in the fridge for 30 minutes, or if you're in a rush you could do 15 minutes in the freezer.

Once the dough is chilled, preheat the oven to 325 degrees F.

Shape the dough into balls a little smaller than a golf ball. Use your hands to flatten them out a little bit. (see photos).

Place them on a silpat or parchment lined baking sheet, about 2 inches apart.

Bake in the preheated oven for 11-13 minutes, or until they are just getting golden on the edges.

Immediately after coming out of the oven, press additional chocolate chips and peanut butter chips into the top of each cookie.

Let the cookies set on the baking sheet for 5 minutes, then remove to a wire rack to cool.
Notes
*If you love honey flavor then by all means use it. The agave is a little more neutral. Either one works great!
Nutrition
Serving:
1
g
,
Calories:
154
kcal
,
Carbohydrates:
19
g
,
Protein:
3
g
,
Fat:
8
g
,
Saturated Fat:
6
g
,
Polyunsaturated Fat:
1
g
,
Monounsaturated Fat:
1
g
,
Trans Fat:
1
g
,
Cholesterol:
14
mg
,
Sodium:
135
mg
,
Potassium:
102
mg
,
Fiber:
2
g
,
Sugar:
8
g
,
Vitamin A:
70
IU
,
Vitamin C:
1
mg
,
Calcium:
50
mg
,
Iron:
1
mg
We are a participant in the Amazon Services LLC Associates Program, an affiliate advertising program designed to provide a means for us to earn fees by linking to Amazon.com and affiliated sites.