I love this recipe for Soft and Chewy Andes Mint Cookies! It is basically a chocolate chip cookie dough with some chopped up Andes Mints mixed in. I added a bunch of chopped dark chocolate for good measure. They are so easy to make and are truly one of the most perfect cookies for your Christmas tray! Everyone loves these!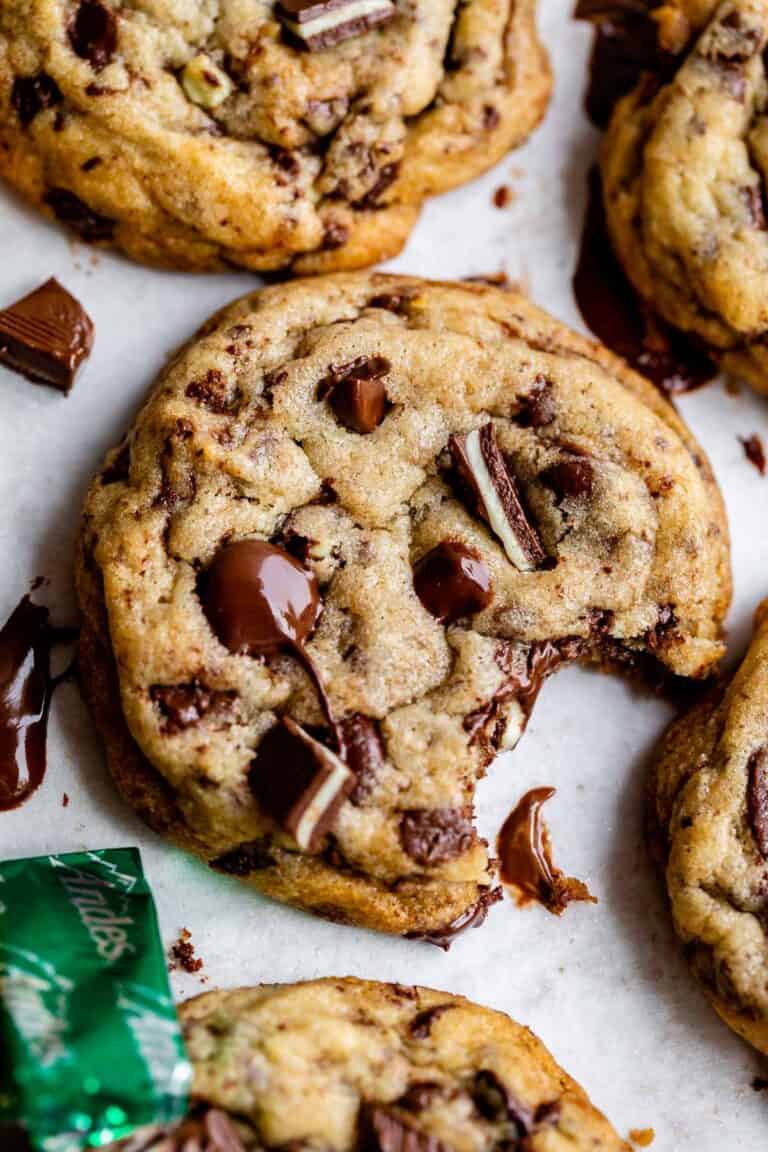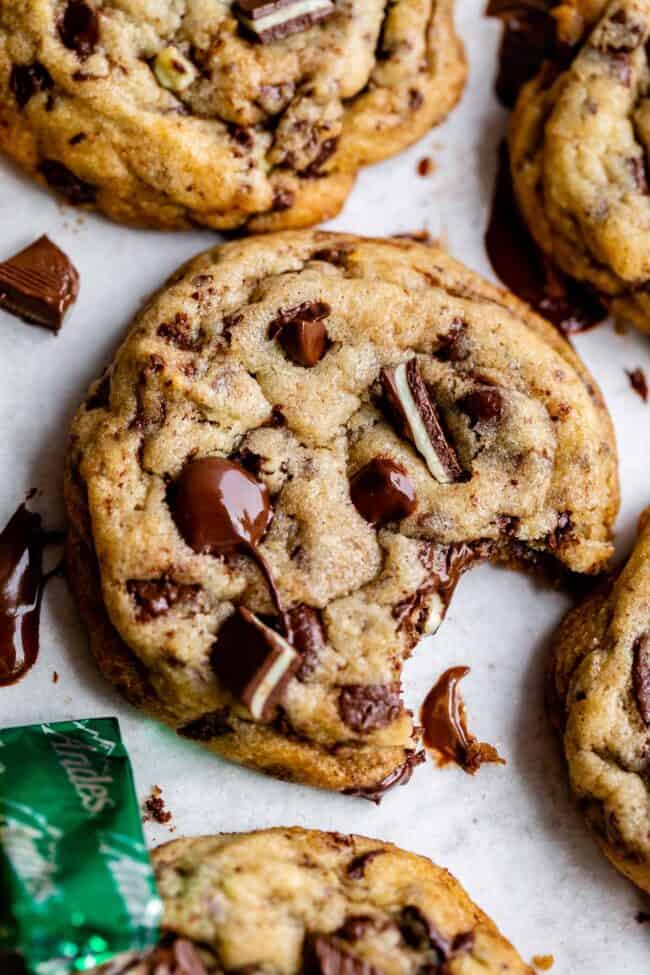 The other day I was trying to do my makeup after two nights in a row with very little sleep (meaning I looked a bit zombie-ish). I told Eric, "I need a better skin and beauty regime so I don't look so old! But what is it??" I feel like there are so many products out there, and I never know where to start.
But Eric told me, "Instagram. Just being on Instagram will solve all your problems." Ha! If only that's all it took. The more hours you spend watching other people tell you what beauty products to buy, the more youthful and smooth your skin will be! It's magic!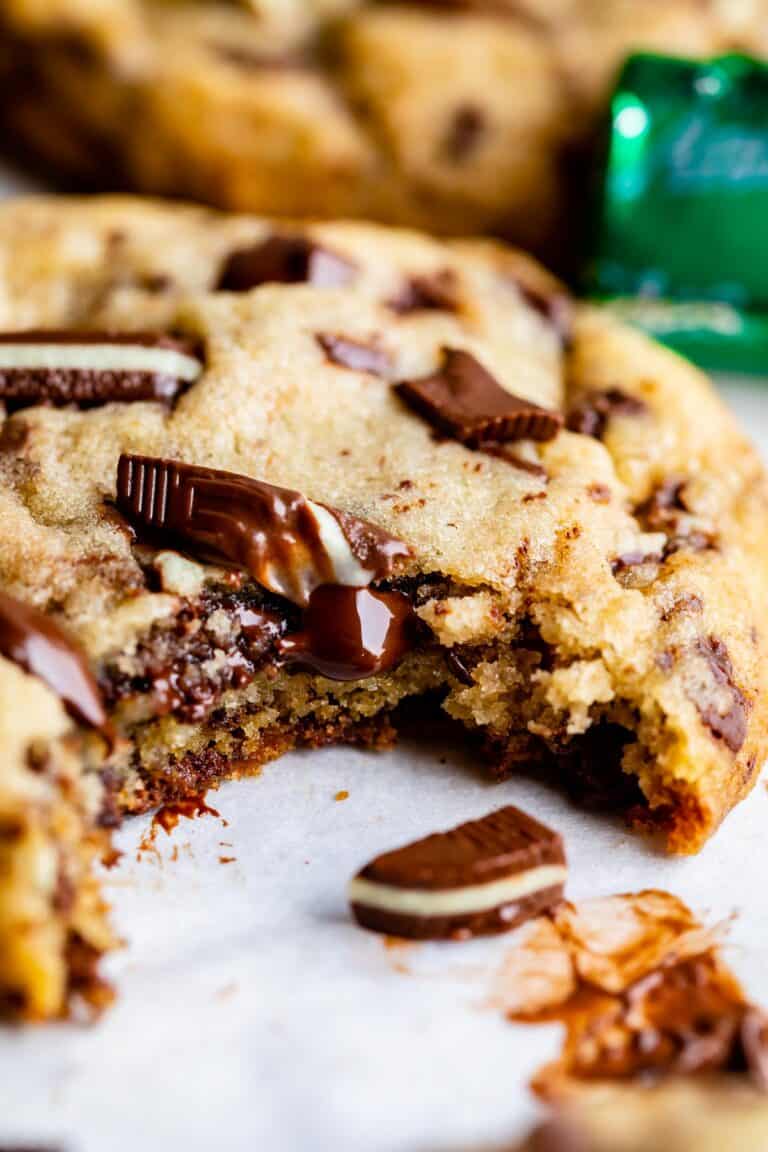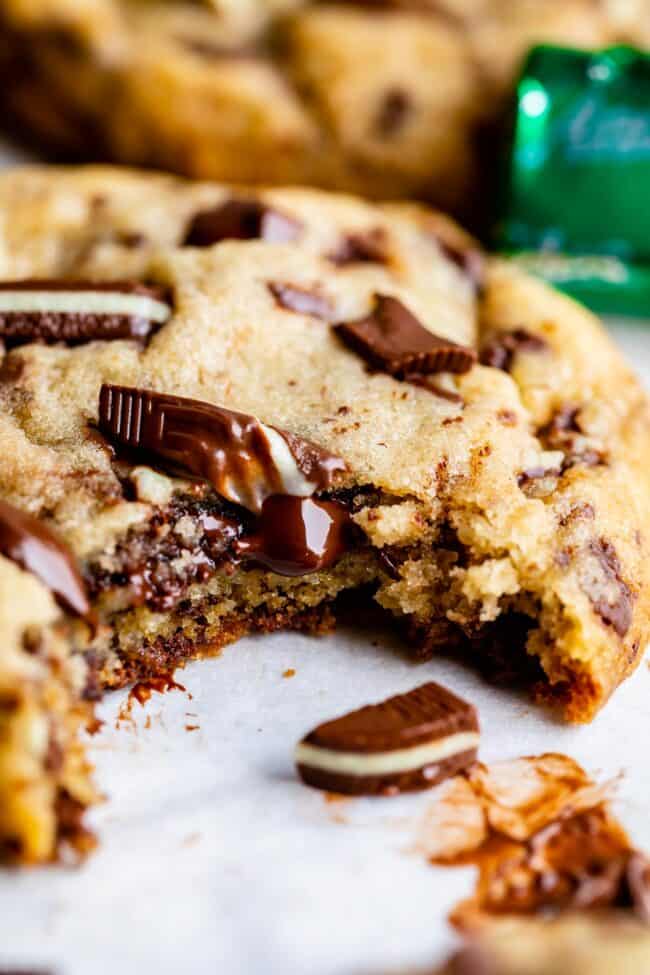 Later that week, Eric told me in an endearing voice that he likes my mouth crinkles. Ummm, do you mean WRINKLES?? I am in trouble guys. (Or maybe Eric is in trouble. ;)  Welcome to the mid 30s I guess! Bring on the CRINKLES!! 
I know a way to make your smile lines even wider. It's these Andes Mint Cookies. (you like my segue? People should pay me for this stuff. I'M KIDDING.)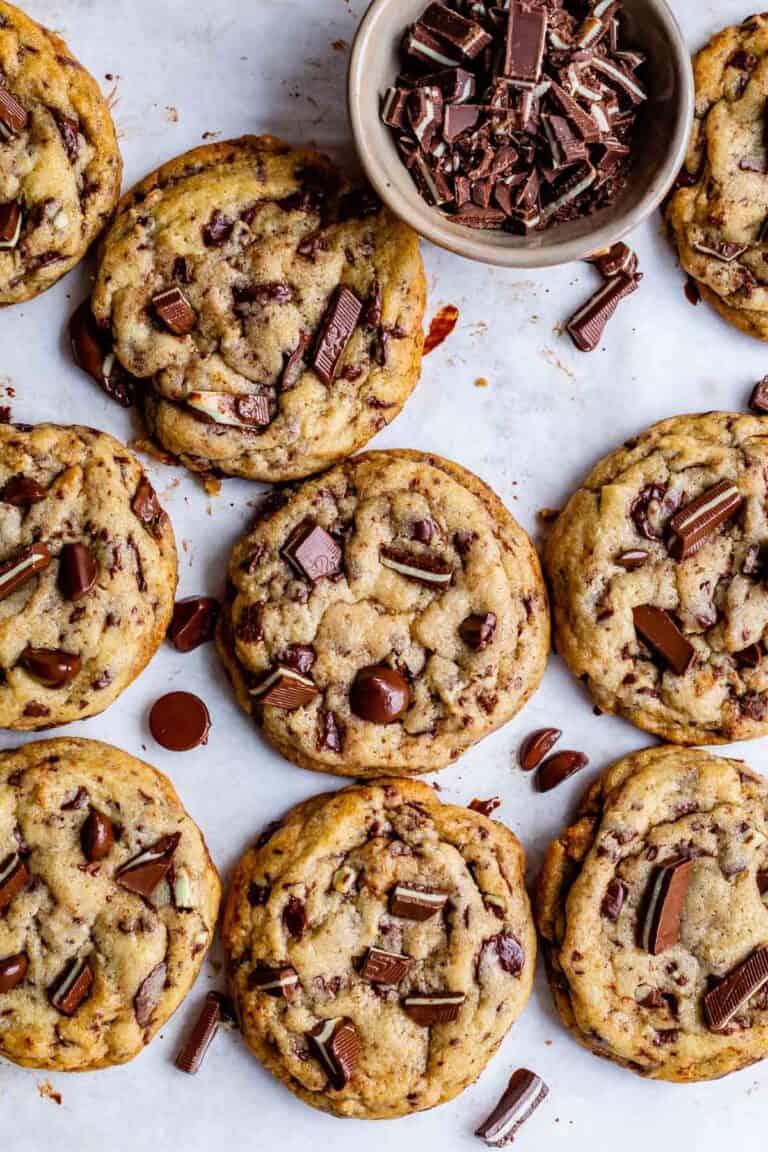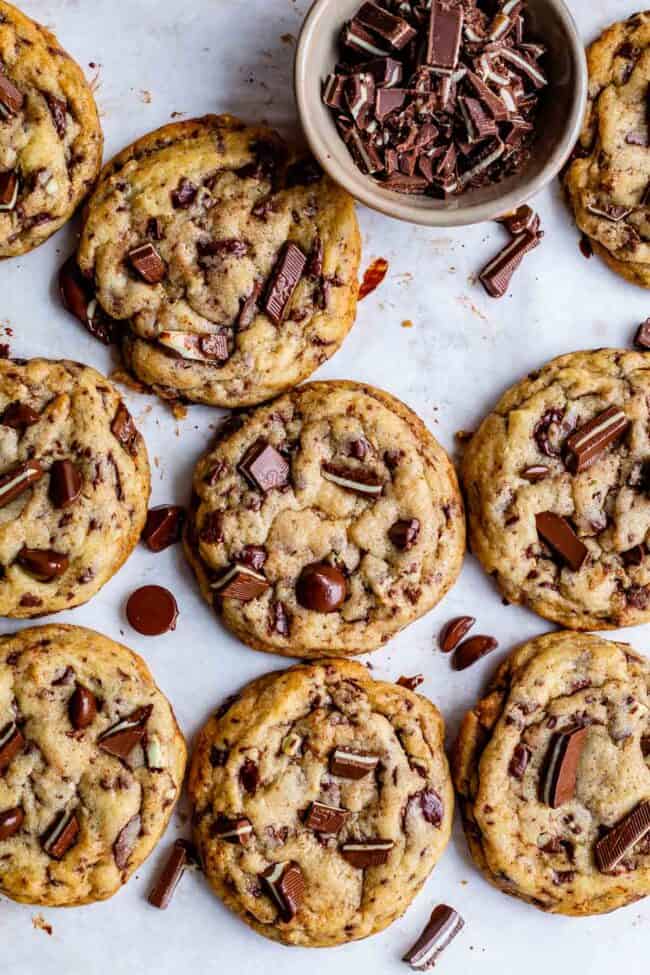 But really, these Andes mint cookies are legit!! Have you ever made them? They are the easiest way to kick up your chocolate chip cookies a notch and turn them into CHRISTMAS cookies! You can buy Andes mints at the store and chop them yourself, or they sell handy 10 ounce bags of pre-chopped Andes mints in the baking aisle.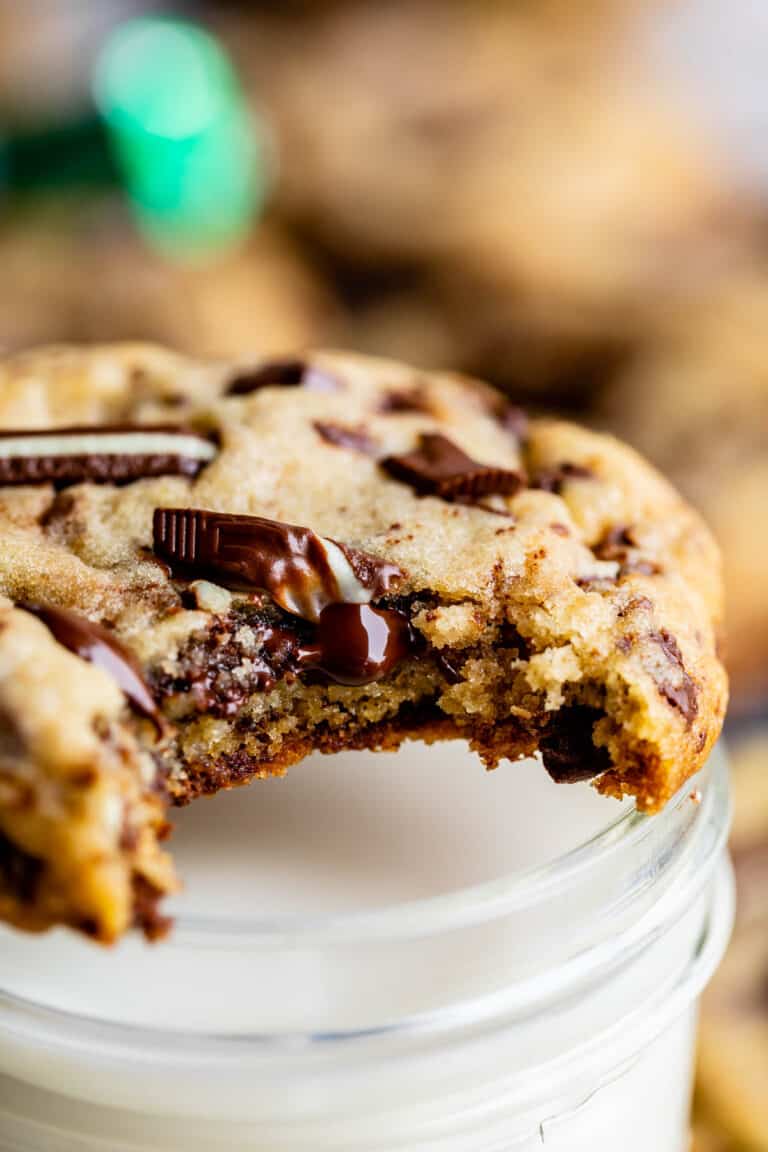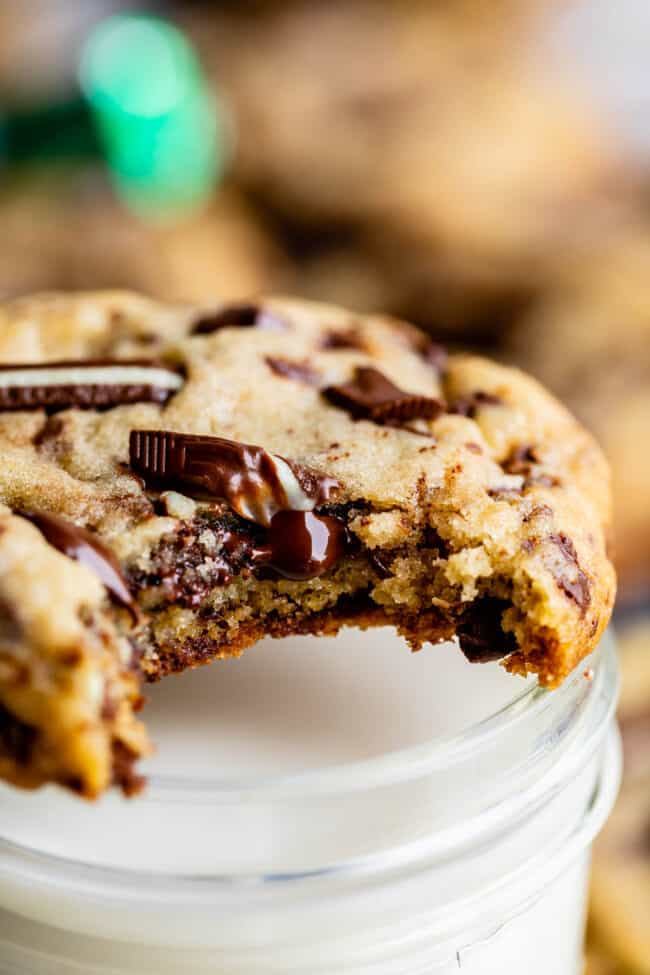 The cookies are so soft and buttery. The mint flavor goes perfectly with all the warm gooey DARK chocolate we're adding. The dark chocolate is optional, but I love how they up the ante on these cookies and make them a little more sophisticated. Let's make them!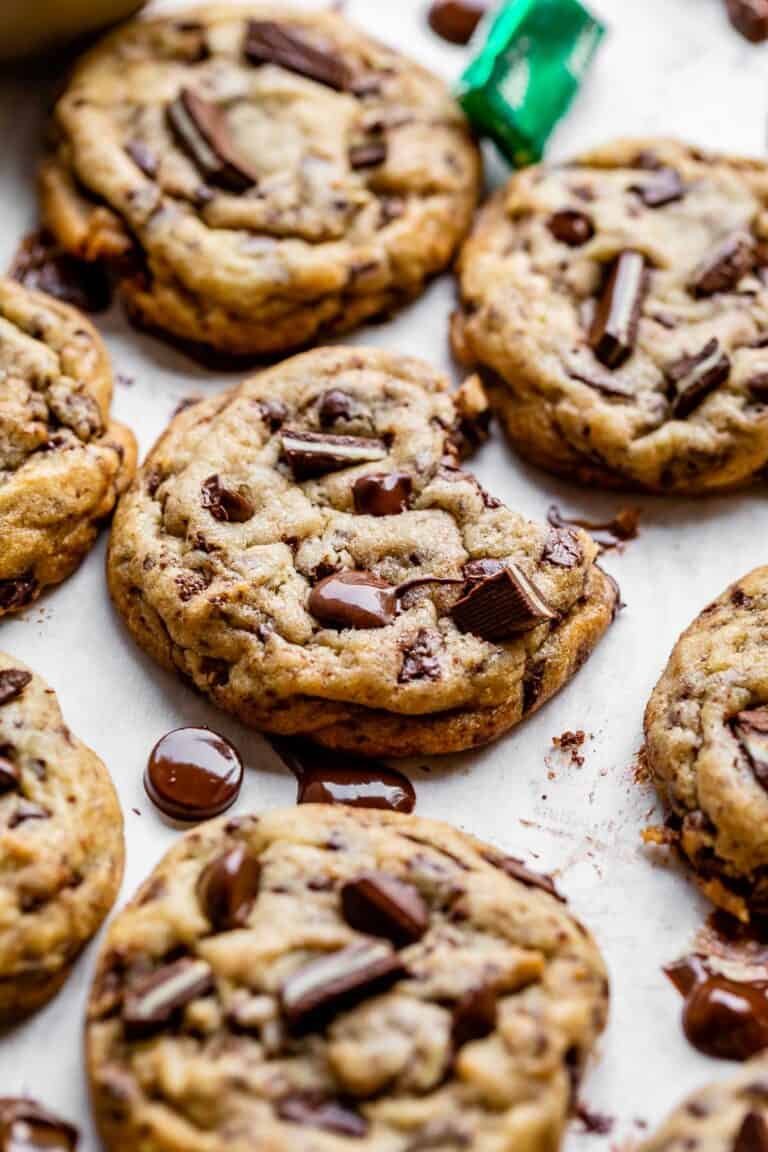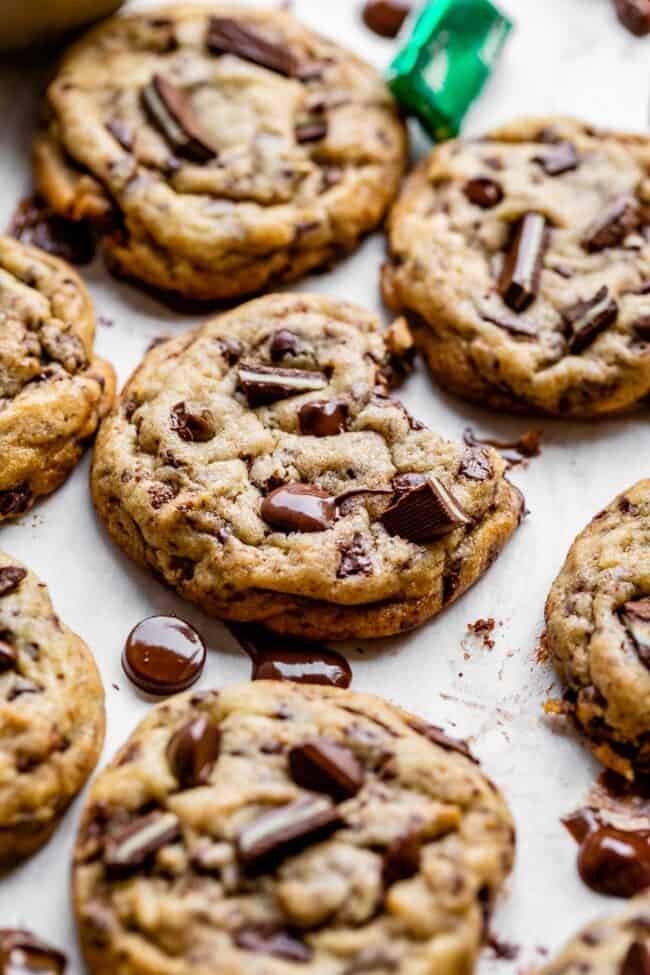 How to make Andes Mint Cookies
First grab some butta. Beat it to within an inch of it's life. Just kidding, just make sure it's nice and smooth and creamy. Be sure to scrape down the sides of the bowl.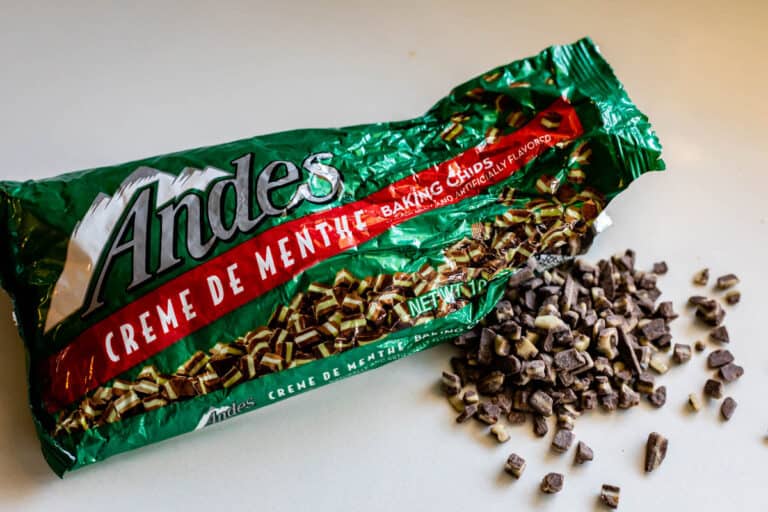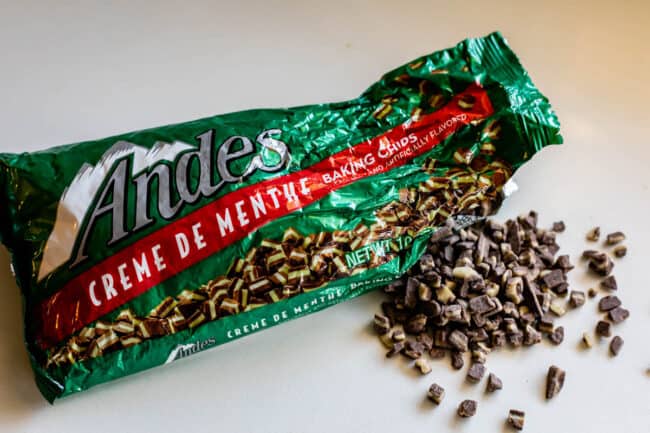 Add in the white and brown sugar and THEN beat it to within an inch of it's life. Not kidding this time. This process is called "creaming" and it is a chemical reaction that is essential if you want chewy cookies! You need lots of air beaten into the butter and sugar so that your cookies rise properly in the oven. Lots of people do not know this verb and end up adding cream to their butter-sugar mixture. Yes, really. Don't do that. ;)
Next up, add in some vanilla and eggs. If you love a REALLY minty cookie you could add a few drops of peppermint extract. But I like the more subtle peppermint flavor that comes from just the Andes mints. It balances perfectly with the dark chocolate.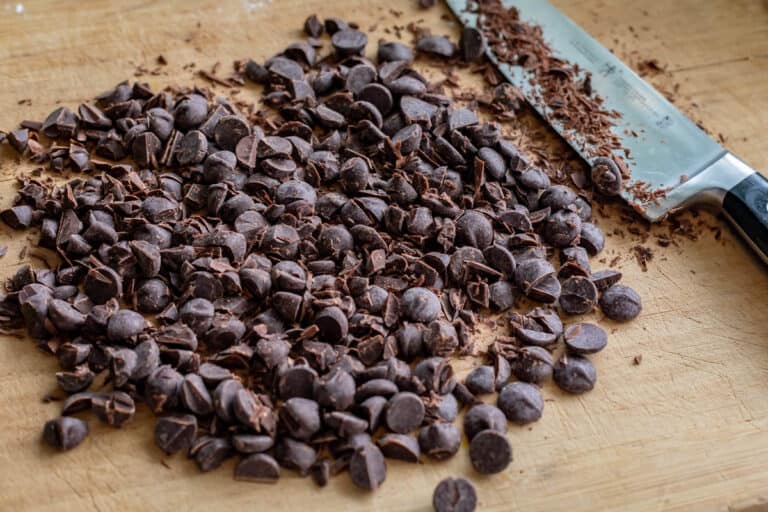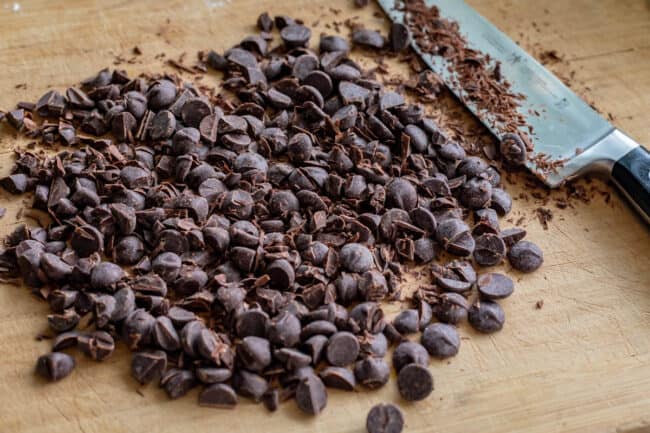 Next add in some flour, but don't stir it in. This is my hack for not having to pull out an extra bowl. Spoon and level your flour, then add all the other dry ingredients on top: baking soda, cornstarch, and salt. Stir it into the flour a bit, and voila! Your dry ingredients are mixed.
The cornstarch makes these cookies super soft and chewy! Have you ever heard of pudding cookies? People love to add pudding mixes to cookies, because it makes them so soft and chewy. It's the cornstarch in the pudding mix that does this! So we're adding in just a tablespoon to this recipe to makes these Andes mint cookies the softest and chewiest. Yes please.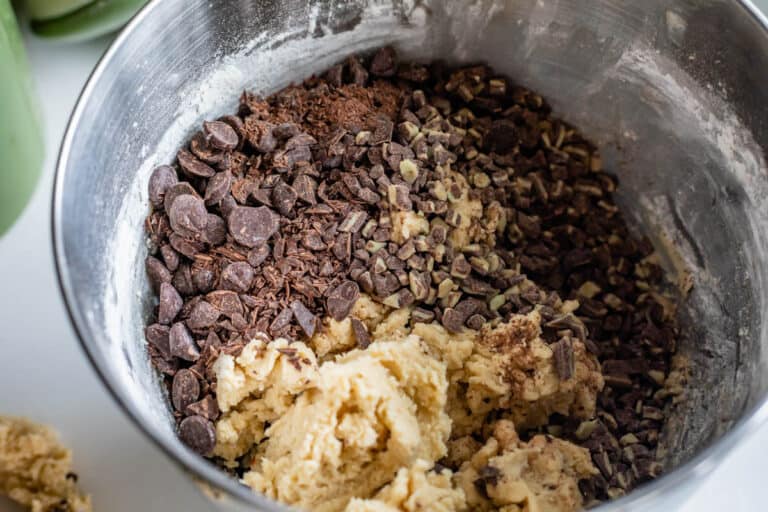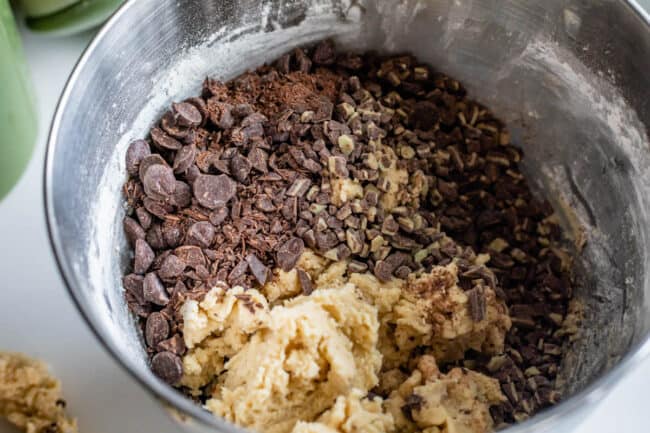 Mix in your flour, but don't go too crazy. Mix until it is barely combined and you can still see flour streaks. Then stop and add in your Andes mints and your dark chocolate. Save a little bit of the chocolate so that you can press it into the top of the baked cookies, it makes them so pretty!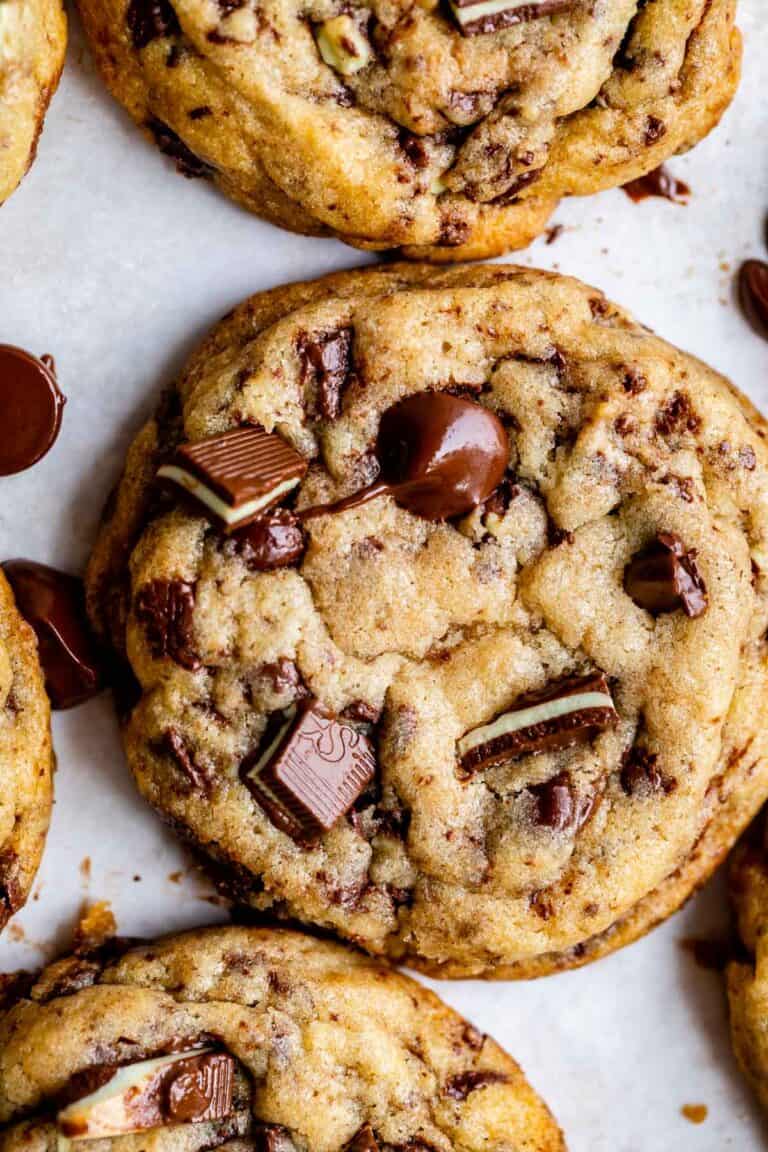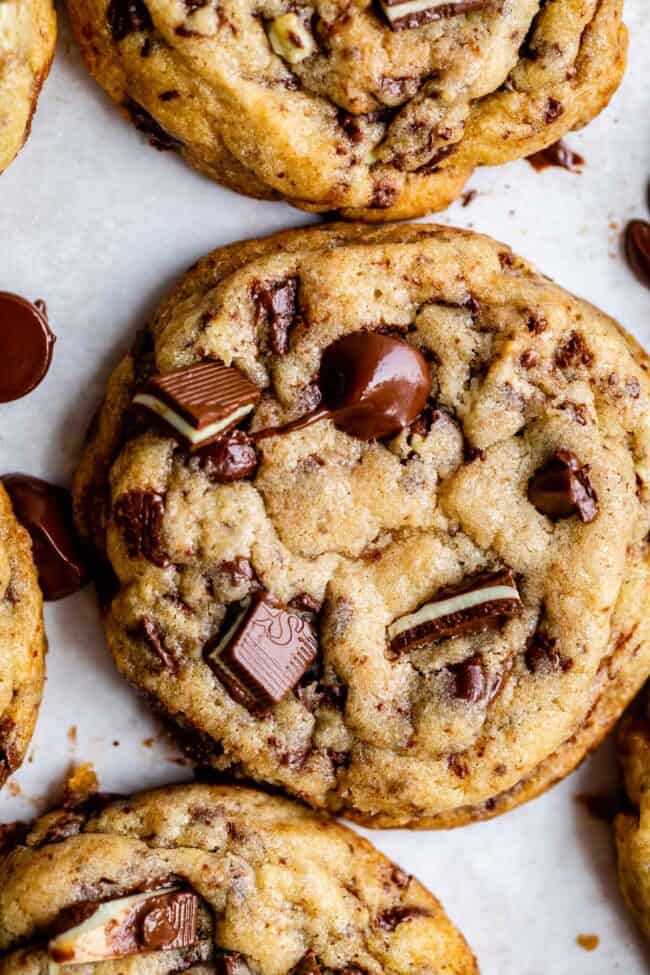 Bake at 350 and that's IT! So easy. Make sure you don't over bake. A little shine in the center of the cookie (no more than the size of a quarter) when you take it out is okay, it will continue cooking on the pan for a couple minutes.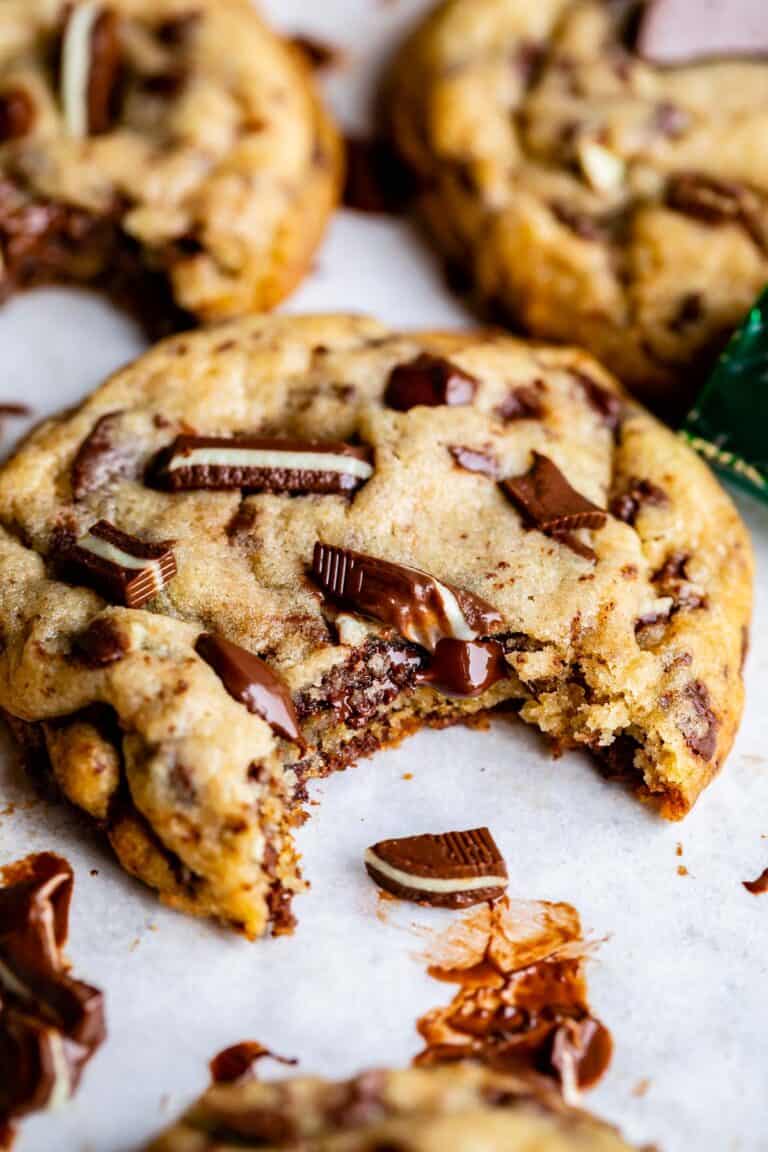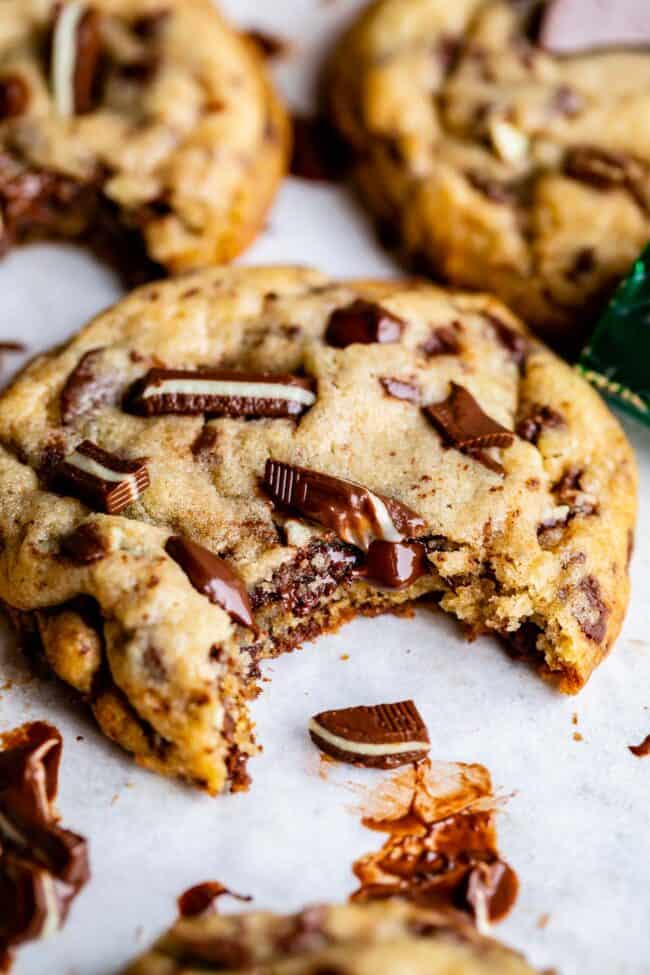 These cookies can be made any size you like. You just have to adjust the baking time. If I'm making them to enjoy at home, I like them to be a little bigger (the better to dip in hot chocolate). If I'm adding them to a busy cookie plate, I make them smaller so that they don't overwhelm the other cookies with their hugeness.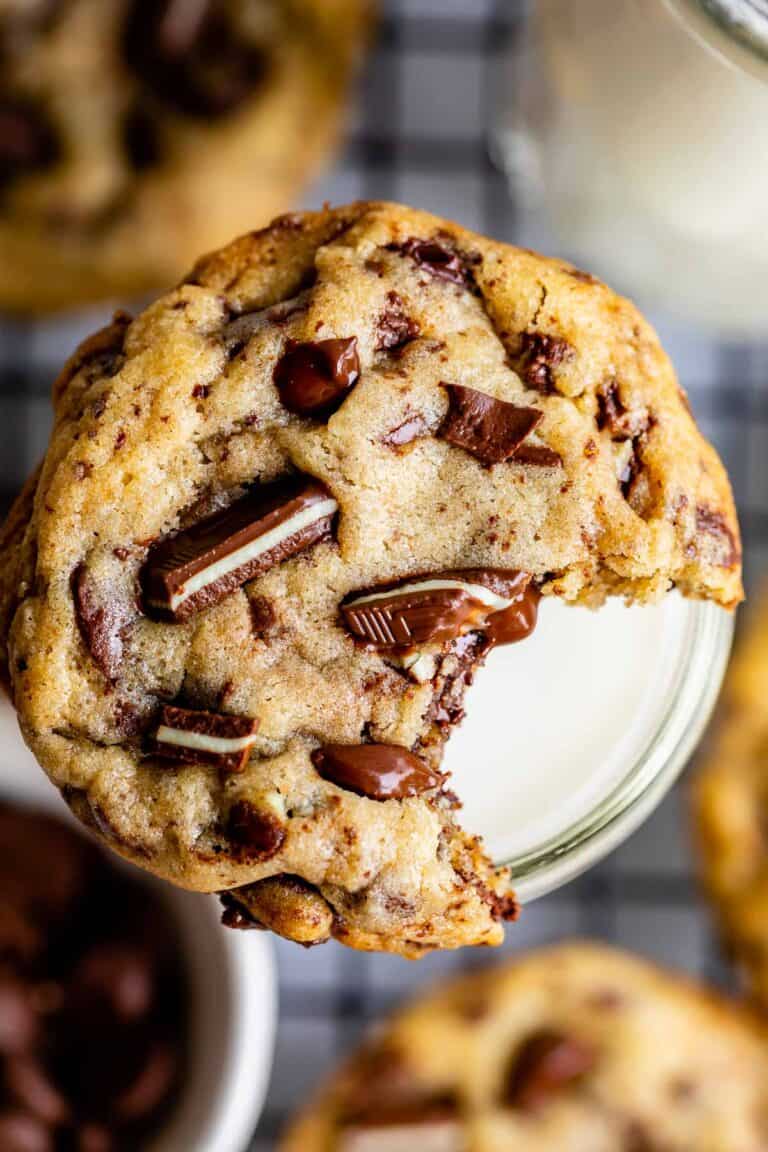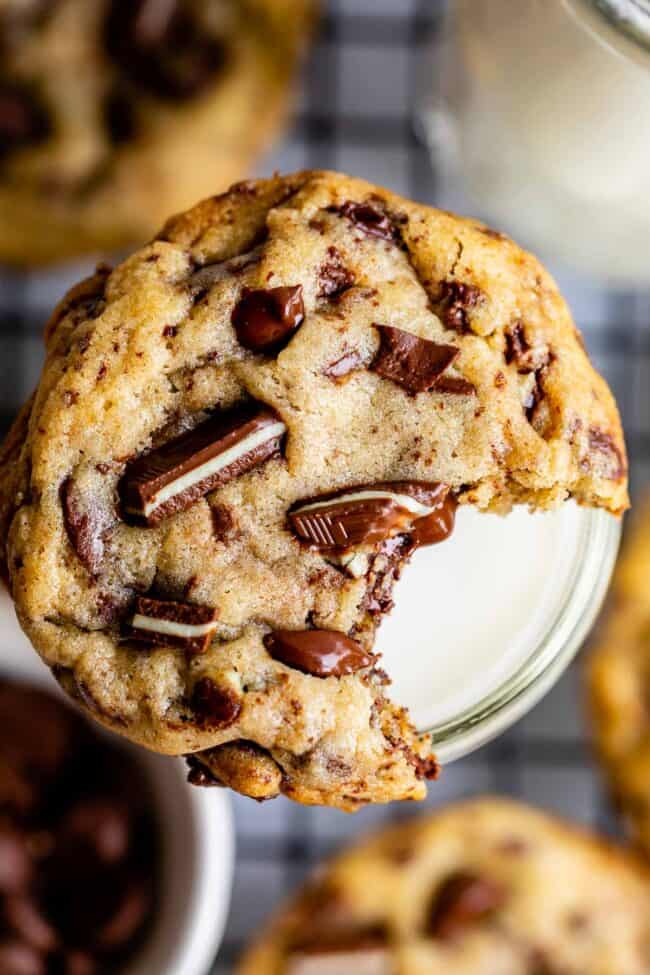 Any way you make these cookies, people are going to LOVE YOU for sharing them, that is for sure! What is Christmas even for if we're not stuffing cookies in each other's faces all month?? It's the best time of the year!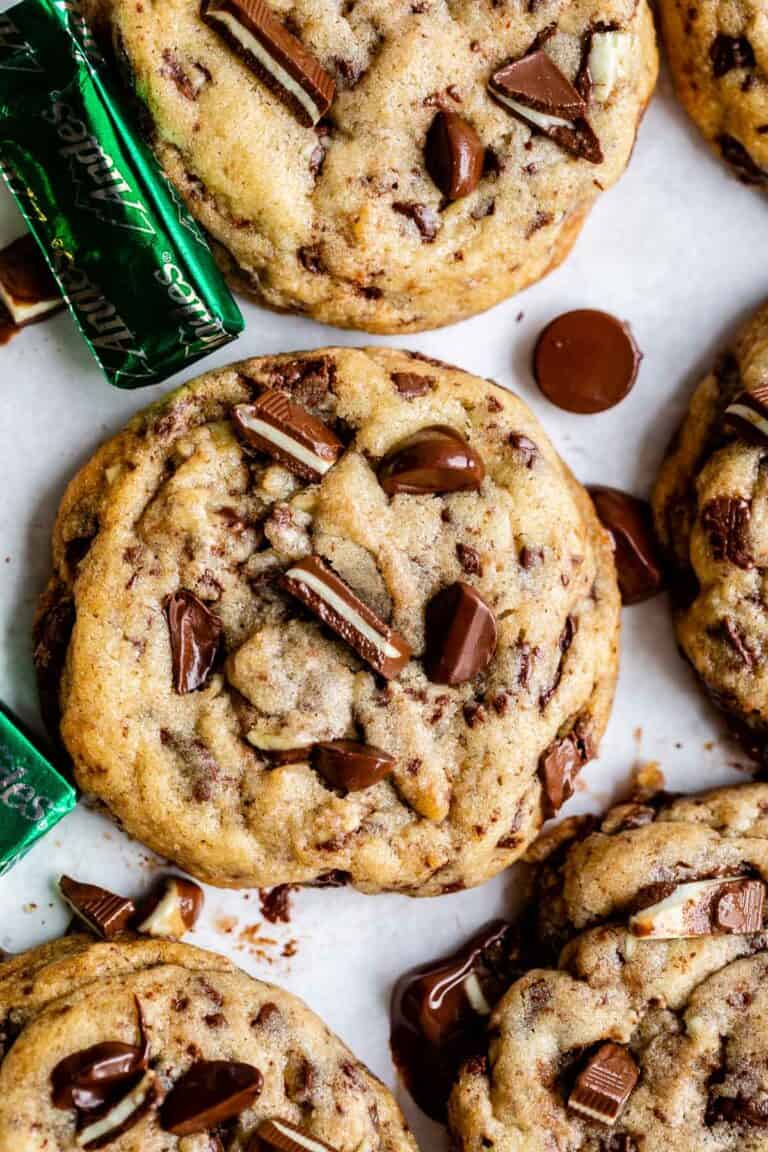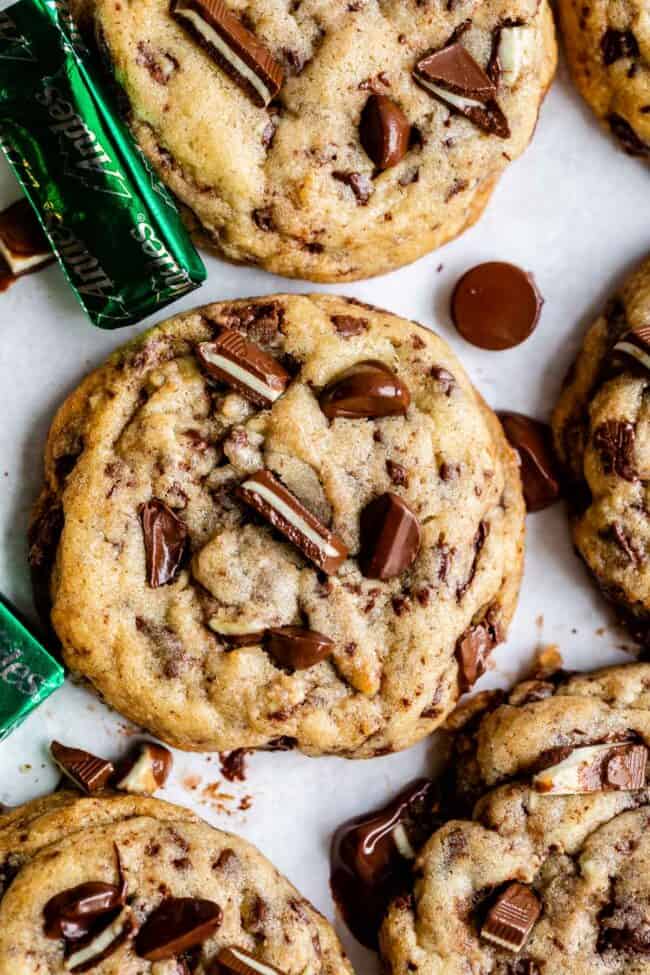 (If you really love these cookies, I bet you will also love these classic Mint Chocolate Chip Cookies. They are gooey and perfect, and you can make them even if you can't find Andes Mints at the store!)
More Christmas cookies you are going to love!
Facebook | Pinterest | Instagram

Soft and Chewy Andes Mint Cookies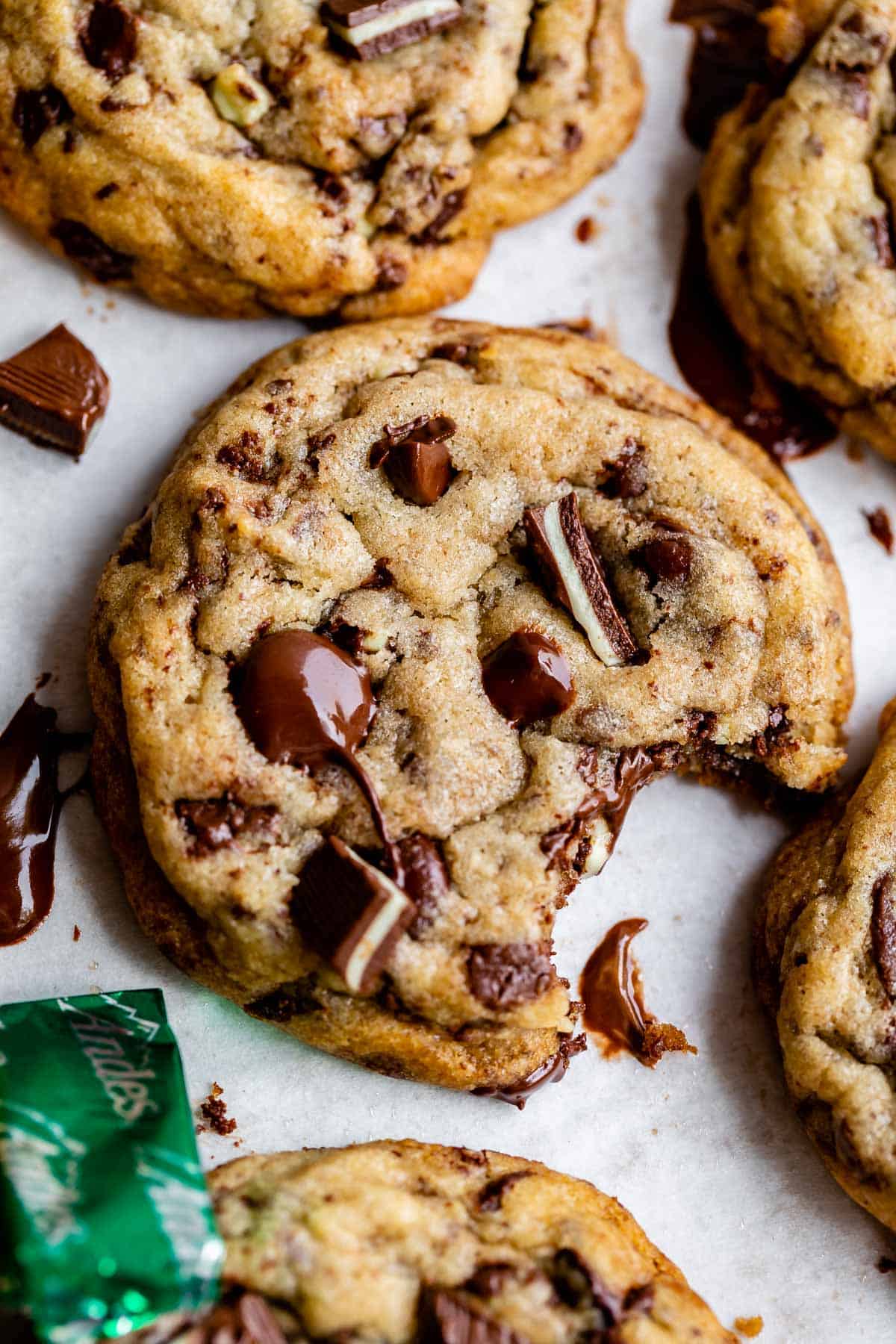 I love this recipe for Soft and Chewy Andes Mint Cookies! It is basically a chocolate chip cookie dough with some chopped up Andes Mints mixed in. I added a bunch of chopped dark chocolate for good measure. They are so easy to make and are truly one of the most perfect cookies for your Christmas tray! Everyone loves these!
Ingredients
1

cup

butter

,

softened (2 sticks)

1

cup

granulated sugar

1/2

cup

brown sugar

,

packed

1

teaspoon

vanilla

2

large

eggs

3

cups

flour

,

spooned and leveled

1 & 1/2

teaspoons

baking soda

1

tablespoon

cornstarch

3/4

teaspoon

kosher salt

10

ounce

mint baking chips

,

1 bag Andes creme de mente baking chips*

1

cup

dark chocolate

,

chopped, plus more for topping
Instructions
Preheat the oven to 350 degrees F. Line a couple

baking sheets

with parchment paper or silicone baking mats.

In a large bowl or

stand mixer

, beat 1 cup butter until is is smooth and creamy, making sure to scrape down the sides and bottom of the bowl.

Add 1 cup sugar and 1/2 cup brown sugar. Cream (this means beat) the mixture for 1-2 minutes on medium speed, stopping to scrape the sides and bottom of the bowl. Once the mixture is light and fluffy, move on to the next step.

Add 1 teaspoon vanilla extract and 2 large eggs. Beat into the butter mixture, scraping the sides and bottom to make sure it's all incorporated.

Add 3 cups of flour (spooned and leveled) but don't mix it in yet.

Add 1 and 1/2 teaspoons baking soda, 1 tablespoon cornstarch, and 3/4 teaspoon kosher salt on top of the flour. Use a small spoon to stir it into the flour. Make sure there are no clumps.

Mix the flour into the dough on low speed. Stop when there are still some streaks of flour. Scrape down the sides of the bowl.

Reserve about 1/4 cup of the Andes mint chips.* We are using them later to top the baked cookies. Chop up 1 cup of dark chocolate (I used Ghirardelli dark chocolate chips). Chop a little extra while you're at it, so that you have some dark chocolate to press into the tops of the baked cookies.

Add the rest of the 10 ounce bag and 1 cup of chopped dark chocolate to the dough. Beat the mixture together, or mix with a wooden spoon if you were using a hand mixer. Do not over beat on this step! You only want to mix until all the chocolate is distributed and all the flour streaks are gone.

Use a cookie scoop or spoon to shape the dough into 1 and 1/2 to 2 inch balls.

Place on the lined baking sheet with about 2 inches in between each cookie.

Bake at 350 degrees F for 10-11 minutes, or until the cookies are set on the edges. Do NOT over bake! The center of the cookie can still have a little bit of shine when you take them out. They will finish cooking on the pan.

Immediately upon taking them out of the oven, use two spoons or the edge of your spatula to push the edges of the cookies toward the center. See this

Chewy Chocolate Chip Cookies post

for more details. Do this right away, within 60 seconds of taking them out of the oven, before the edges have a time to crisp. This is what makes the center of your cookies ultra chewy and fudgy! It's my favorite cookie tip ever.

When the cookies are still hot, top each one with extra Andes mints and dark chocolate pieces.

Let the cookies finish setting up on the pan for about 5 minutes before transferring to

a cooling rack

to cool completely. Be sure to eat at least a few when they are warm!

Store these on the counter in a sealed container. They will stay fresh for 2-3 days!
Notes
*You can also chop up regular Andes mints if that's what you have! Use about 1 and 3/4 cup chopped. (If you are wondering how many packages to buy, get about 10 ounces).
Freezer instructions: You can freeze the shaped dough balls in a ziplock bag for up to 3 months! Bake straight from frozen and add 1-3 minutes to the bake time.
You can also freeze the baked cookies. Let thaw on the counter in the sealed container you froze it in.
Nutrition
Serving:
1
cookie
|
Calories:
290
kcal
|
Carbohydrates:
35
g
|
Protein:
3
g
|
Fat:
15
g
|
Saturated Fat:
10
g
|
Polyunsaturated Fat:
1
g
|
Monounsaturated Fat:
3
g
|
Trans Fat:
1
g
|
Cholesterol:
36
mg
|
Sodium:
225
mg
|
Potassium:
83
mg
|
Fiber:
1
g
|
Sugar:
21
g
|
Vitamin A:
262
IU
|
Calcium:
34
mg
|
Iron:
2
mg