These Meyer Lemon Sweet Rolls are packed with so much flavor! They are for true lemon lovers! These rolls are easy to make and come together pretty quickly. The cooked lemon filling is kind of like lemon caramel. The rolls are soft and tender. And the lemon glaze is perfectly sweet and tart! You can make this recipe with regular lemons but I love the slightly sweeter scent and flavor of Meyers.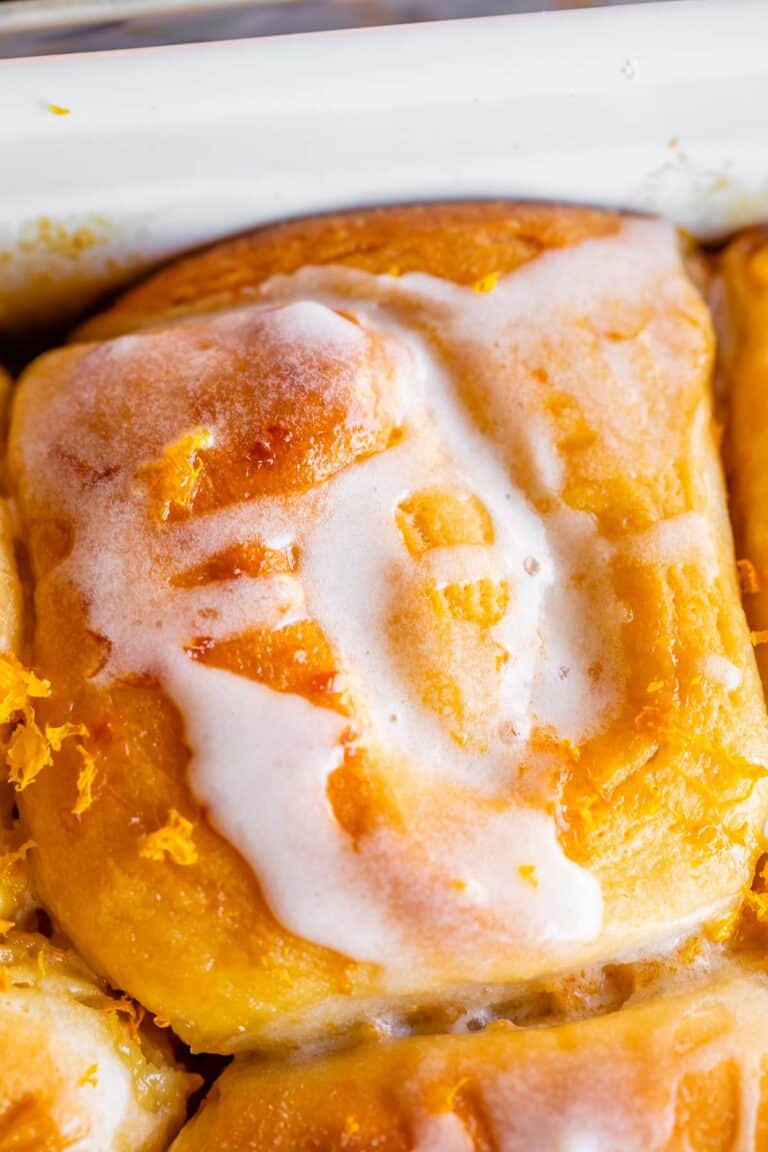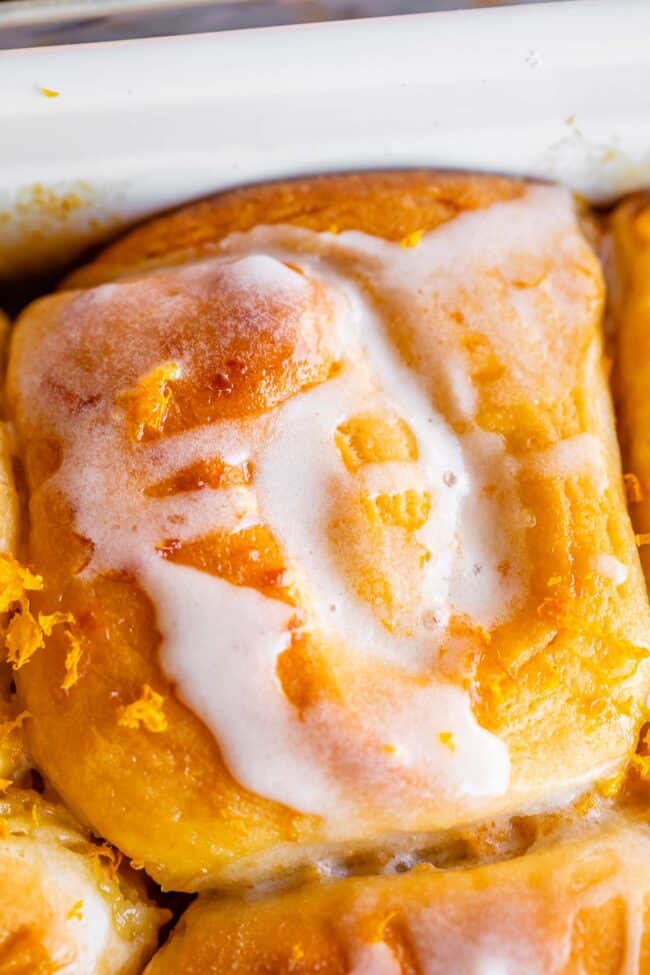 Eric and I just got back from a trip to Cabo San Lucas. (We found insanely cheap plane tickets a few months ago.) Let me tell you, going to a resort when it's only at about 1/3 capacity is the only way! It was our first time at a resort and I'm wondering if we should never do it again to preserve the memory of perfection.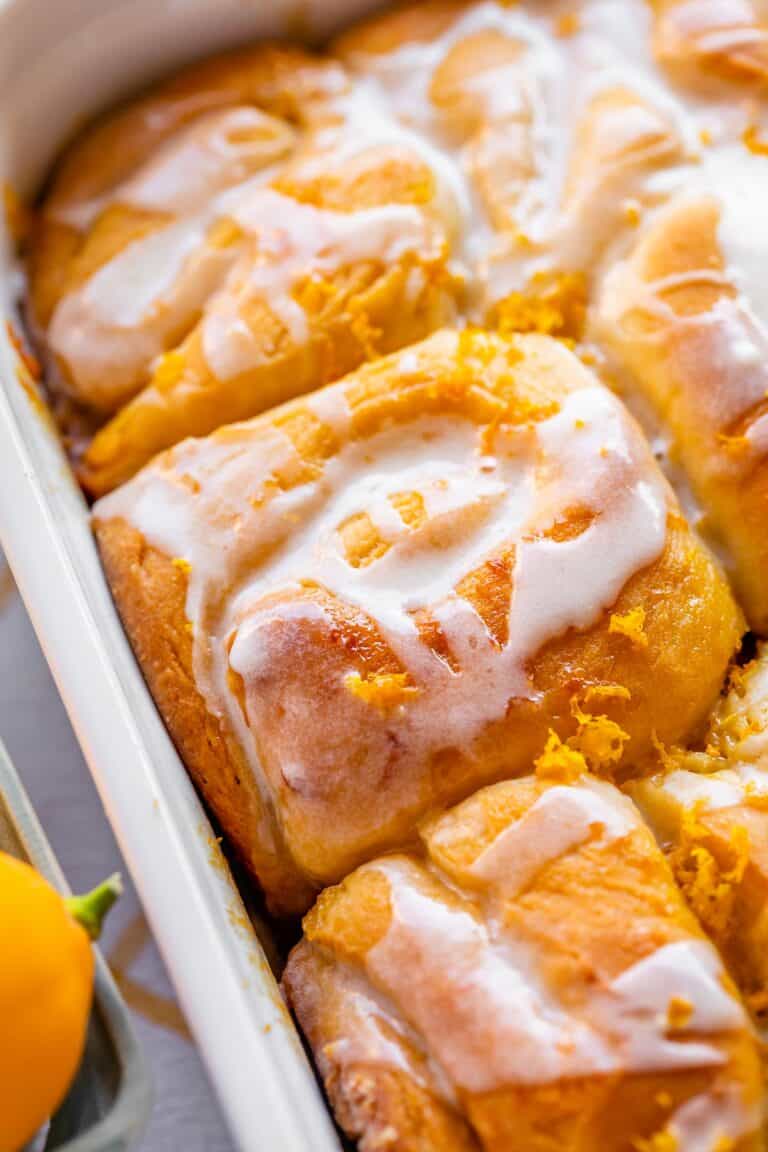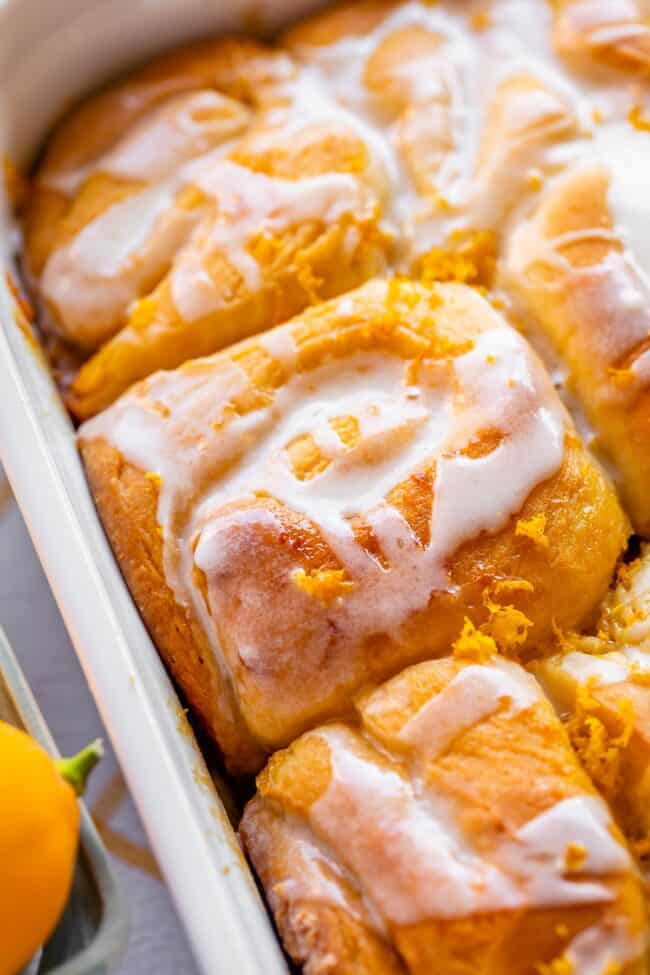 It was almost completely empty. I bet there were more staff there than vacationers. By the end of day one, we recognized the faces of every guest there. I have no idea how the resorts down there are staying afloat, because there is no way they are profitable right now. Come on vaccine!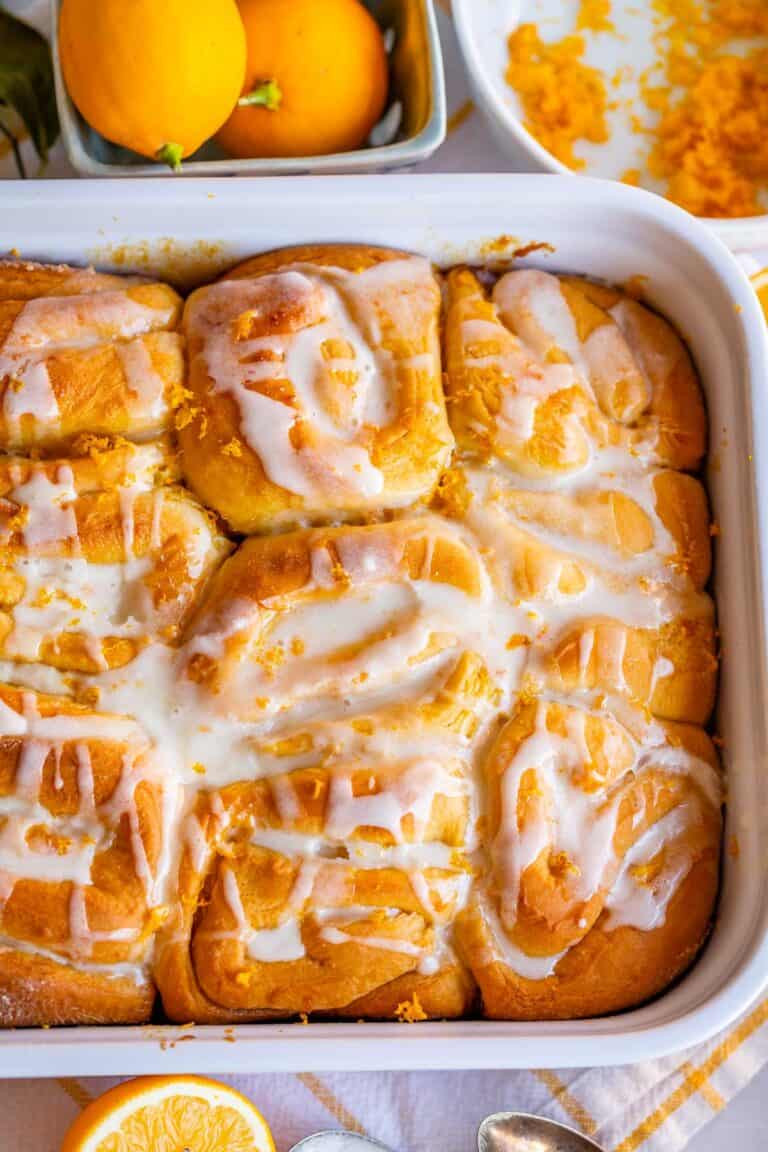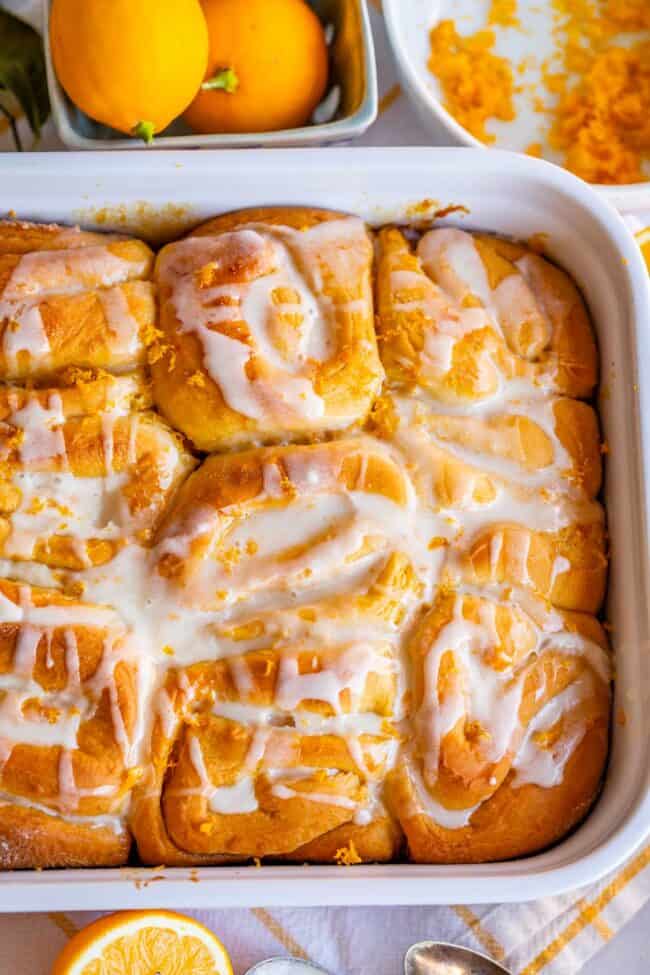 Although it's possible that they did profit from us in particular, since we don't drink and therefore did not have any of the "free" alcohol. You should see the looks on people's faces when they find this out. You can just see the cogs turning in their heads. "If you don't drink, why are you even here??"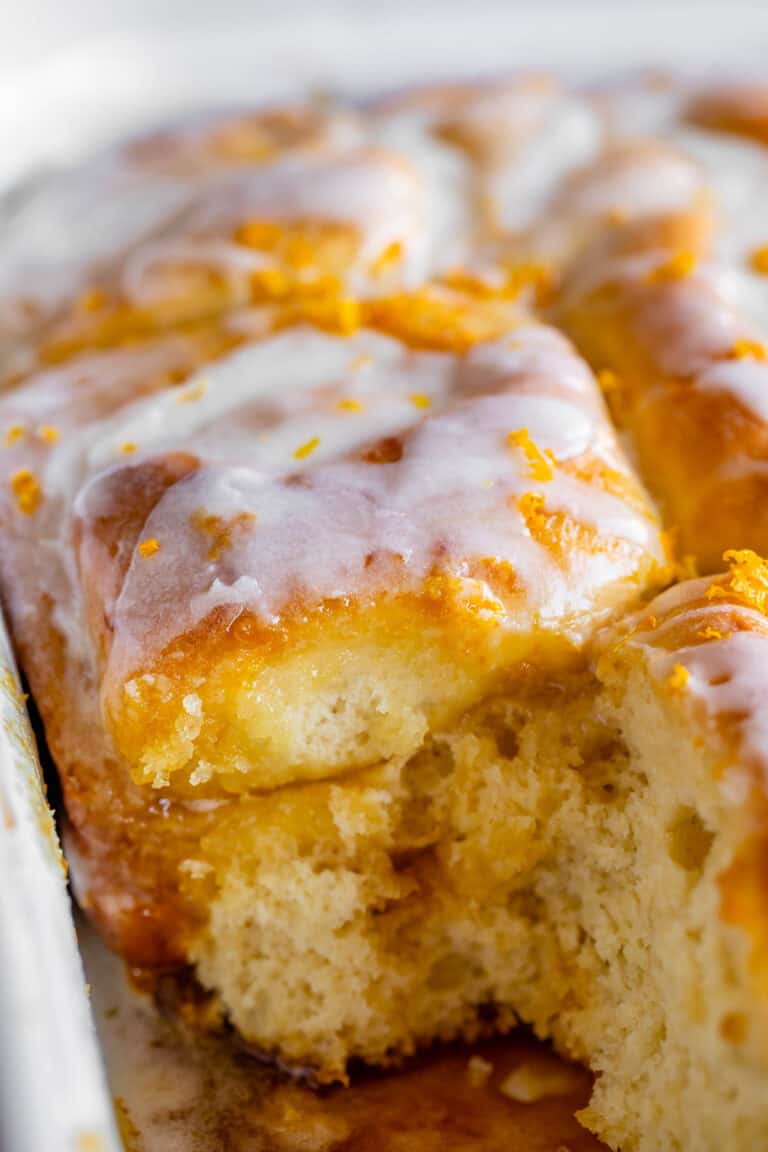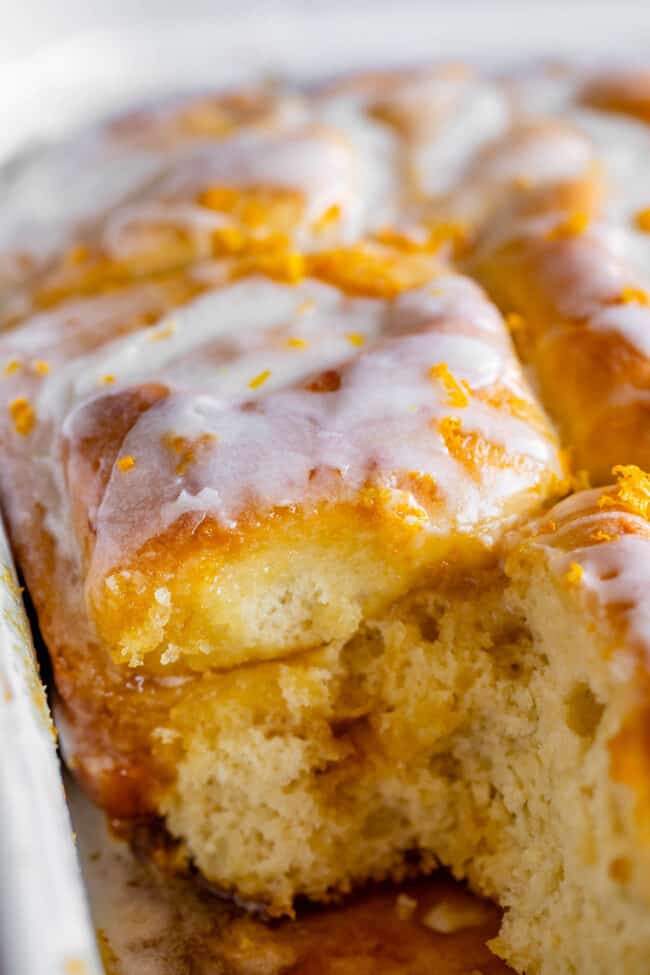 I will tell you why: Virgin Mango Mojitos are really delicious, the ocean is pretty, and the real kicker: the children stayed at home. (Thank you Mom, for taking them!!) Totally worth it.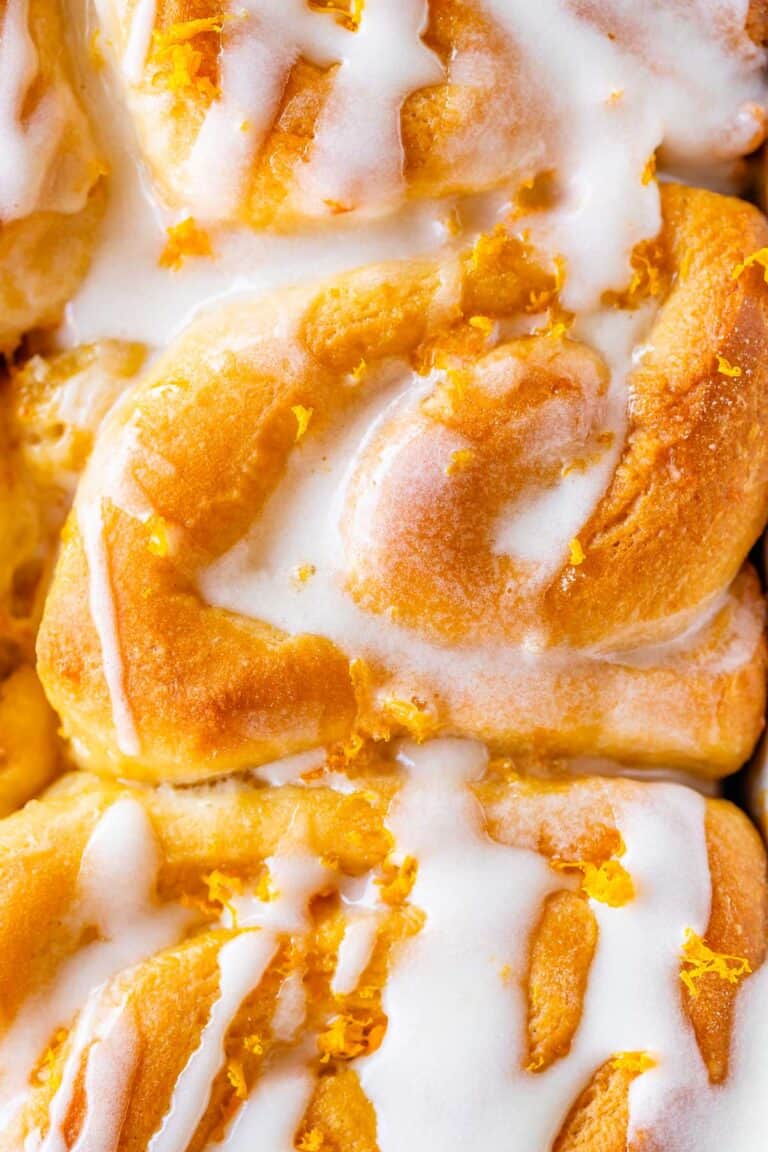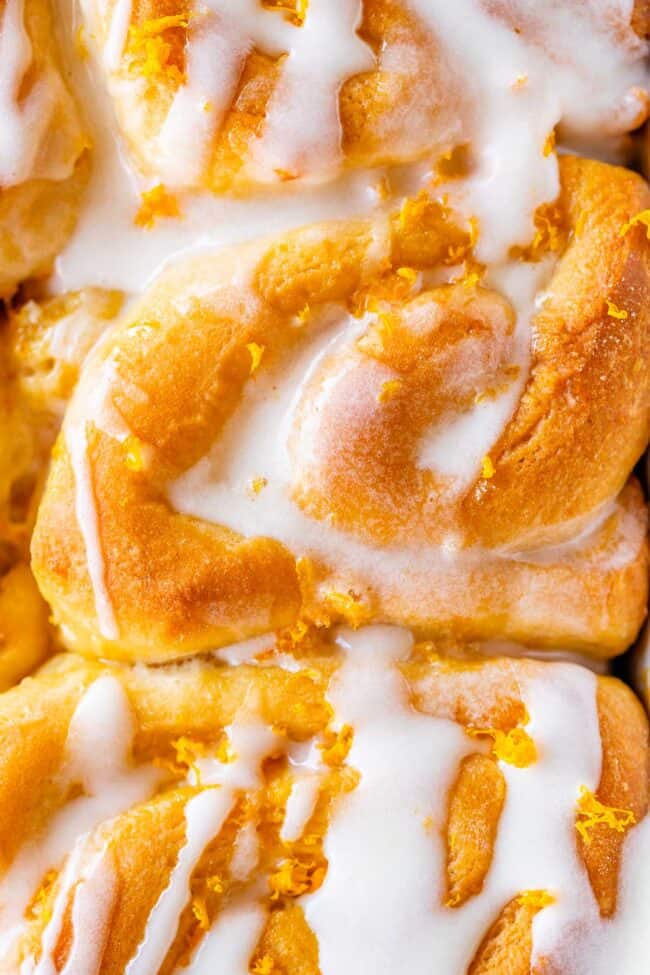 Before we left I made these sunshine-y Meyer Lemon Sweet Rolls. They are like cinnamon rolls but with lemon! All the lemon and orange trees here in Sacramento are bursting with fruit right now. It's been raining a lot lately, and every time it does there are blankets of citrus all over the neighborhood. Thanks to my friend Melissa for sharing these Meyers from her tree!
What is a Meyer lemon?
I used to think that a Meyer lemon was just another variety of lemon, and what's all the fuss about really? But it's not, it's actually a cross between a lemon and a mandarin orange. The result is a lemon that is much sweeter, with an amazing scent. It's not sweet enough to eat it like you would an orange. It can basically be swapped into any recipe where you need a lemon. It has a really unique flavor that you will notice right away.
Meyer Lemon Sweet Rolls
When it comes to lemon desserts, I do not mess around. Go big or go home. These rolls are definitely for lemon lovers! Most recipes I see for lemon rolls call for cream cheese frosting. No thank you. Your creaminess is just muting my tart lemon. Get outta here cream cheese.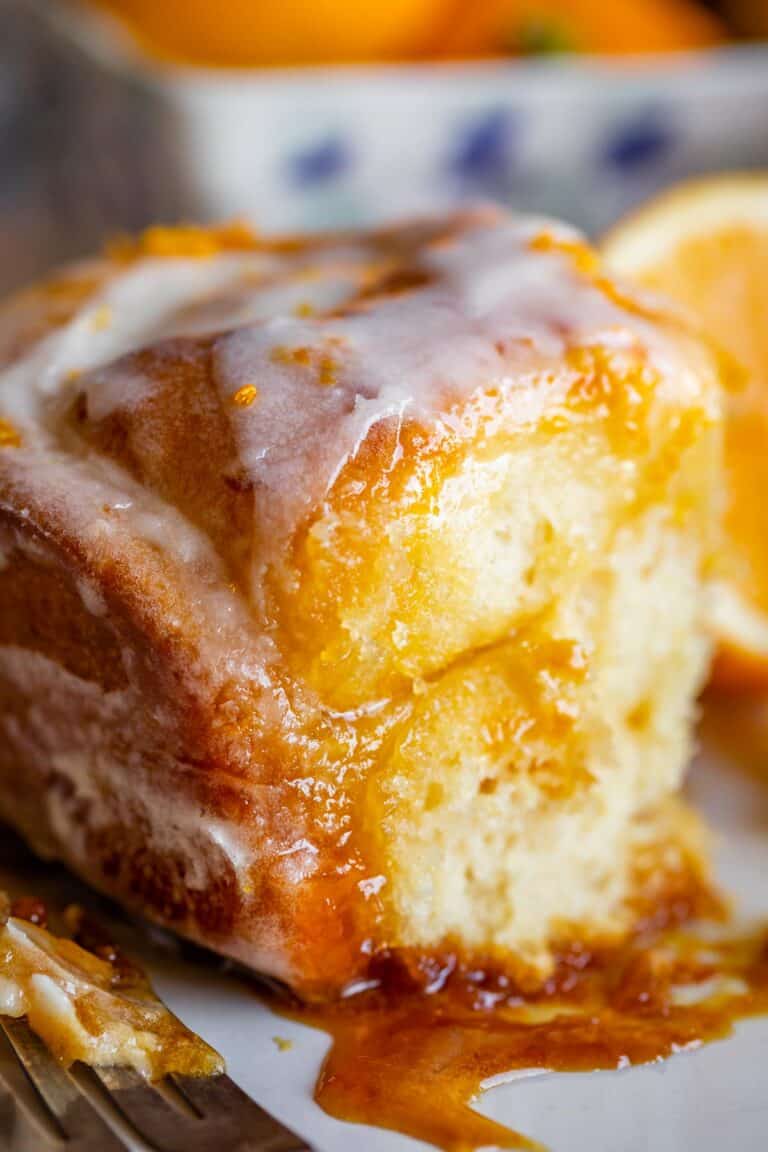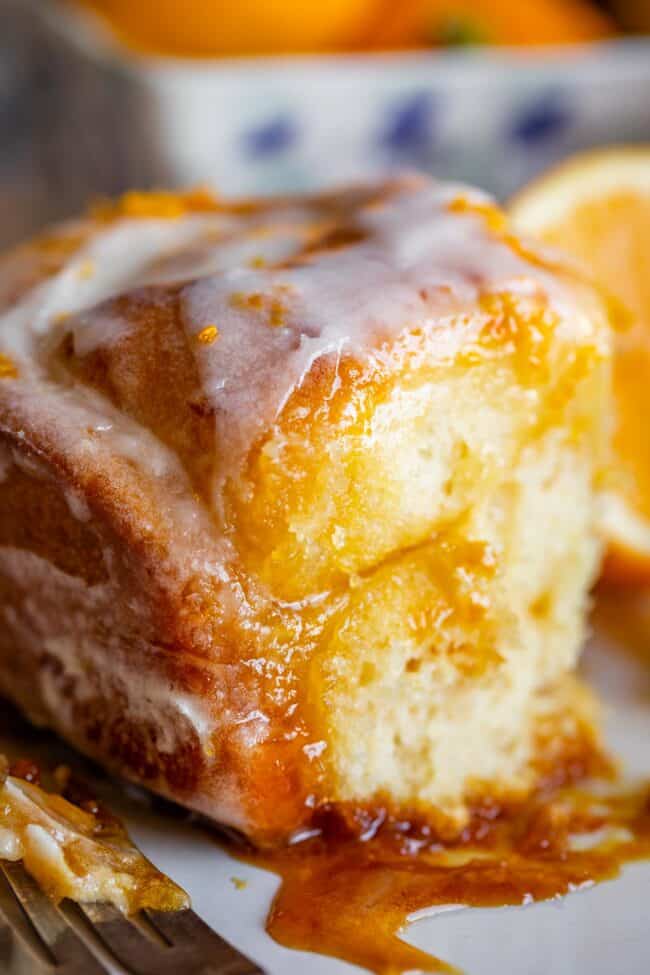 Can you see in the photo above how dark the lemon filling is that has spilled onto the plate? That's because it's a cooked filling. Most lemon rolls just have you mix up some butter and sugar and zest for the filling. And that's delicious, but not the next-level flavor I wanted for these rolls.
This filling is kind of like lemon caramel. It's the most delicious thing. It has a deep, rich flavor, with just a tiny bitter note (from the lemon peel) that is enough to keep you interested but not overwhelmed.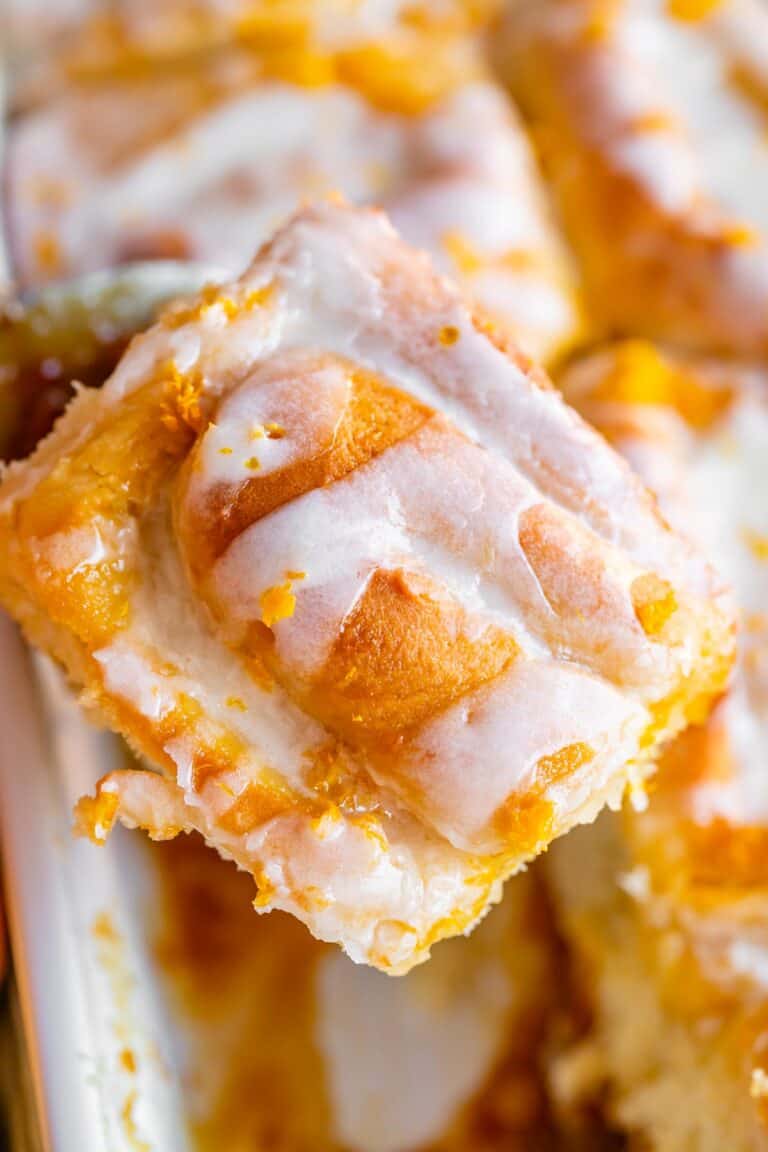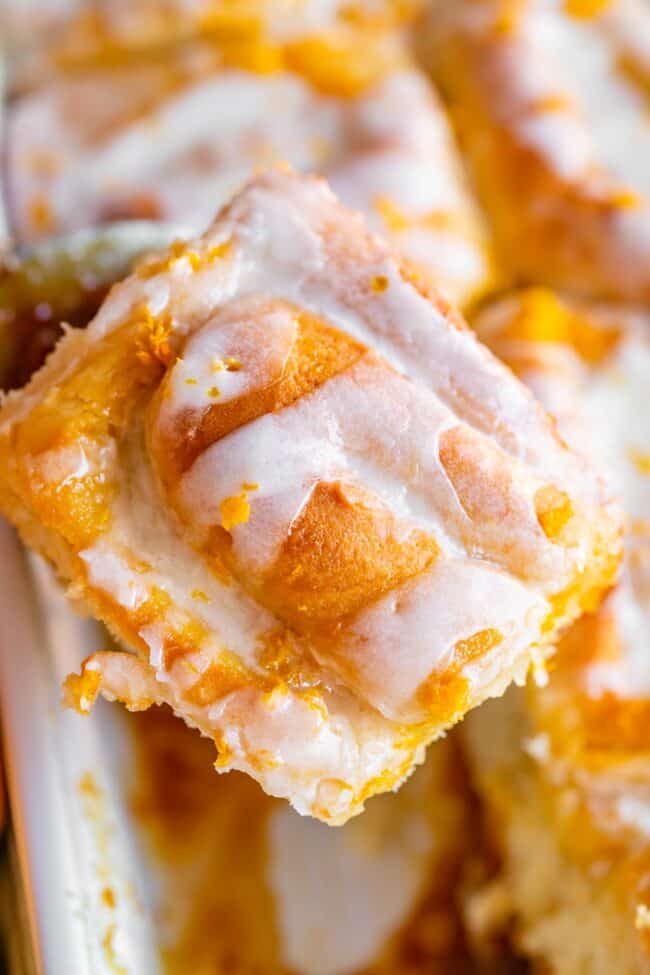 These rolls are a little different from your average cinnamon roll. I adapted the recipe from my One Hour Dinner Rolls. I love that recipe because the rolls are so light and soft, and really are done in one hour. It's not feasible to get these Meyer lemon rolls done in one hour because of the cooked filling. It's actually because of the more intensive filling steps that I wanted to use a quick one-hour recipe for the dough. Nobody wants to spend half the day in the kitchen! Although these rolls would kind of be worth it.
So instead of the traditional bread method of rise, shape, and rise again, instead we have only a half hour chill in the fridge (to make the dough more workable), shape, and then a 10 minute rest before going in the oven.
How to make Meyer lemon rolls from scratch
Start by making the dough.  This recipe doesn't have a lot of flour in it. The more flour you add to any bread dough, the stiffer and more workable your dough will be (workable meaning easier to roll out), but the tougher your bread will be when it bakes. My goal when making bread is to add as little flour as possible to bring the dough together. It gets tricky when you need to handle the dough so much, as with cinnamon rolls or sweet rolls.

My solution to this on my recipe for The Fluffiest Cinnamon Rolls of Your Life is to use a brioche dough, which has even less flour than this recipe, and a different method of mixing the dough. It makes the softest, most melt in your mouth cinnamon rolls, but there is a 2-hour minimum chill step that is required. If you don't chill the dough, it will be too soft to roll out, and especially too soft to slice into rolls.
Today's Meyer lemon roll recipe is not quite a brioche dough, but it is quite minimal with the flour, meaning that it's a pain to roll out. I've required a 30 minute chill before rolling out (which time you need to make the filling anyway, so it works nicely) but if you want to chill the dough even longer feel free. Even overnight would be fine. The colder your dough is when you roll it out, the easier it will be to slice your rolls.


While the dough chills in the fridge, it's time to zest and juice your lemons and take them for all they've got! I love to use a microplane grater for zesting, and an electric juicer for juicing. If you are a citrus lover, these are the two tools you need to make everything so much faster for making lemon treats!
The lemon filling ingredients are simple. Add some butter, sugar, and lemon juice to a medium pot.


Bring it to a boil, then let it bubble and simmer for about 8-10 minutes. The mixture will rise up in the pot once it reaches a boil. After several minutes, the mixture will be slightly thicker, like maple syrup consistency.


Then place the hot pot in an ice bath (a big bowl of ice water). This will cool the filling quickly and make it thicken nicely.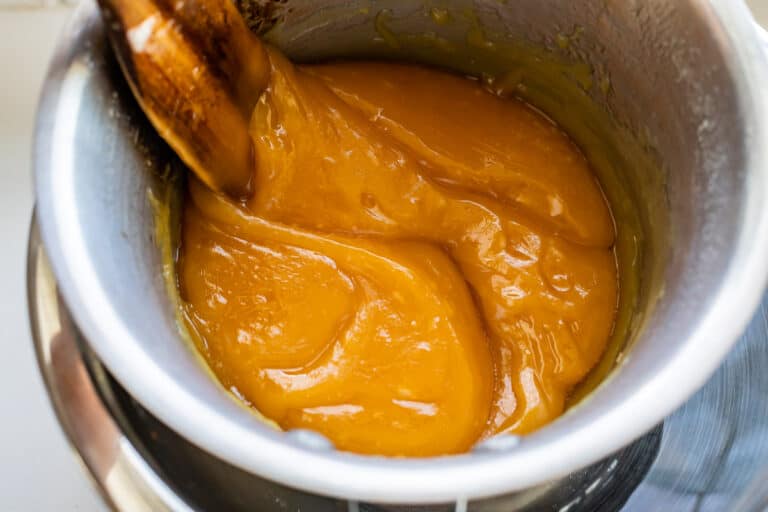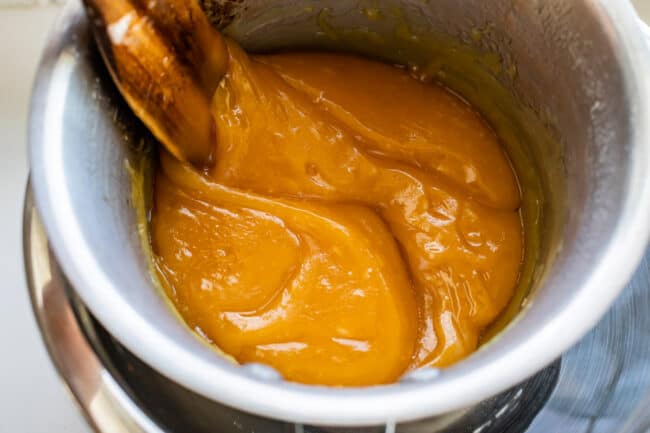 Just look at this gorgeous stuff. Try not to eat it all with a spoon.


Don't forget to add in the zest. That's where all the flavor is! Can you see on the right how thick it is after the ice bath?


Roll out your chilled dough. Work quickly! The colder the dough, the easier it is to slice. Dollop the filling onto the dough and use an offset spatula to spread it around to the edges.


Roll it up and slice into 12 rolls. 30 minutes is not much time to chill. This dough is a little tricky to slice. Use a sharp serrated knife and work quickly. They may not be the most beautiful sweet rolls you've ever made, but we have more important things to worry about, like getting to eat them faster.


This recipe is heavy on the milk and eggs. This makes a rich and flavorful dough, and also means there is plenty of golden browning happening on the top as it cooks. Just look at this gorgeousness!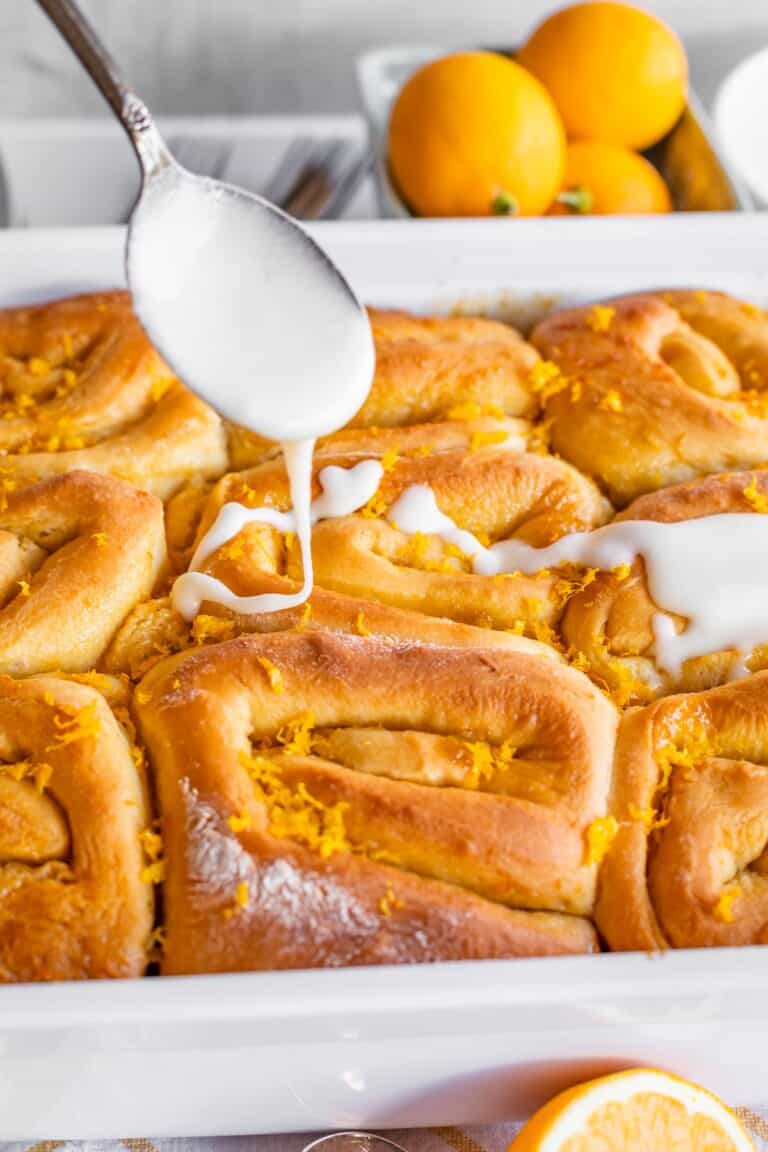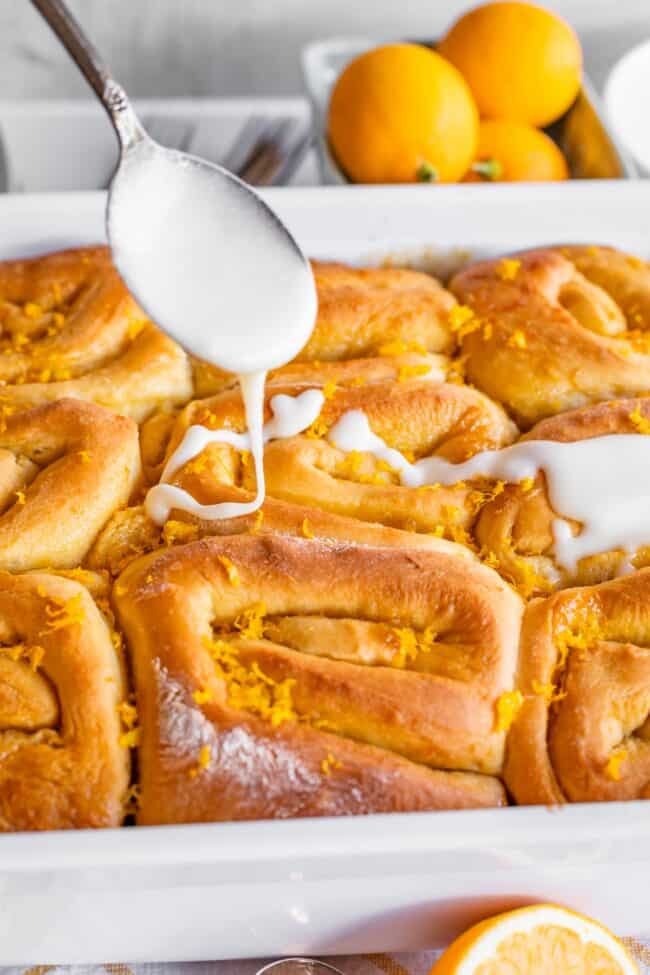 Top the rolls with a tart lemon glaze, and dig in! These rolls are so soft and lemony it will make you want to cry happy tears. And like I said, if you can't get your hands on any Meyer lemons, this recipe will still work great (no changes) with regular lemons. Enjoy!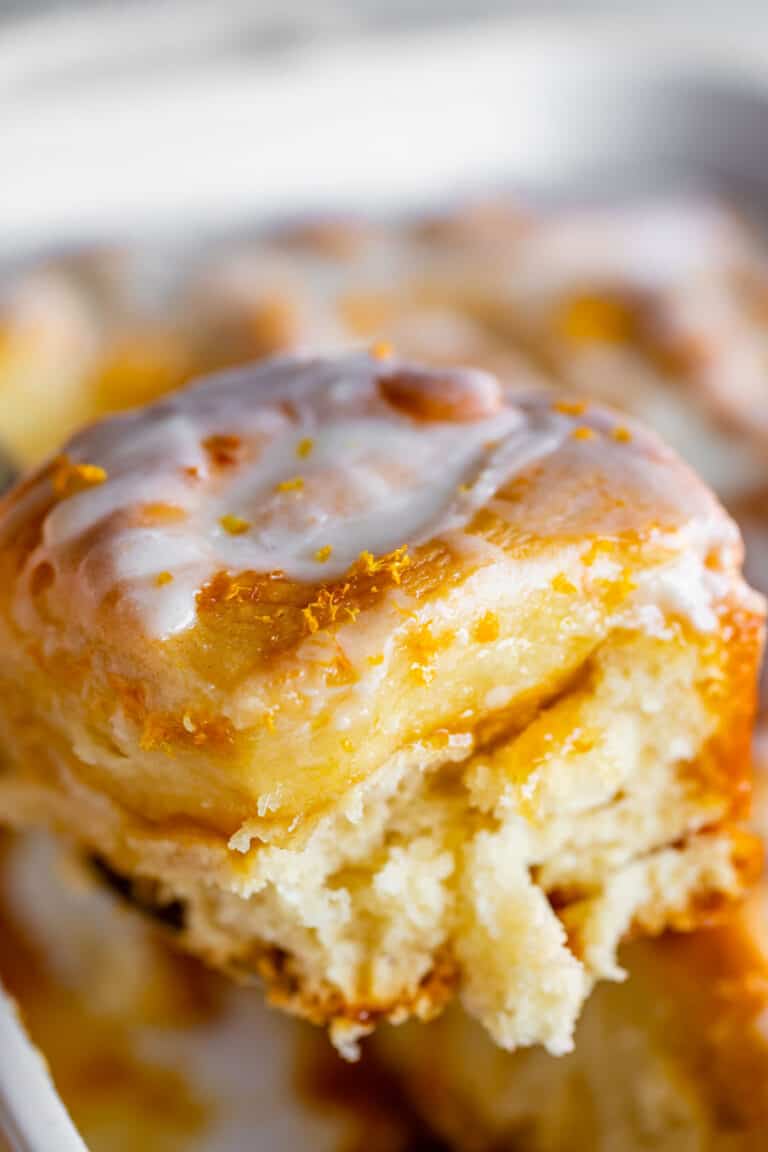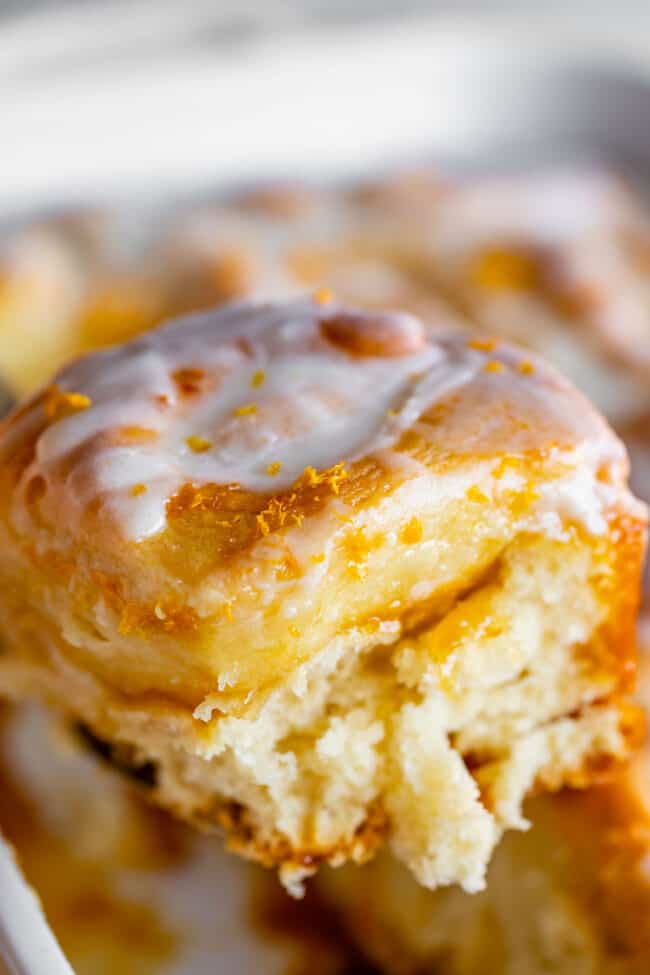 More lemon recipes you are going to love!
More recipes that are a twist on cinnamon rolls!

Meyer Lemon Sweet Rolls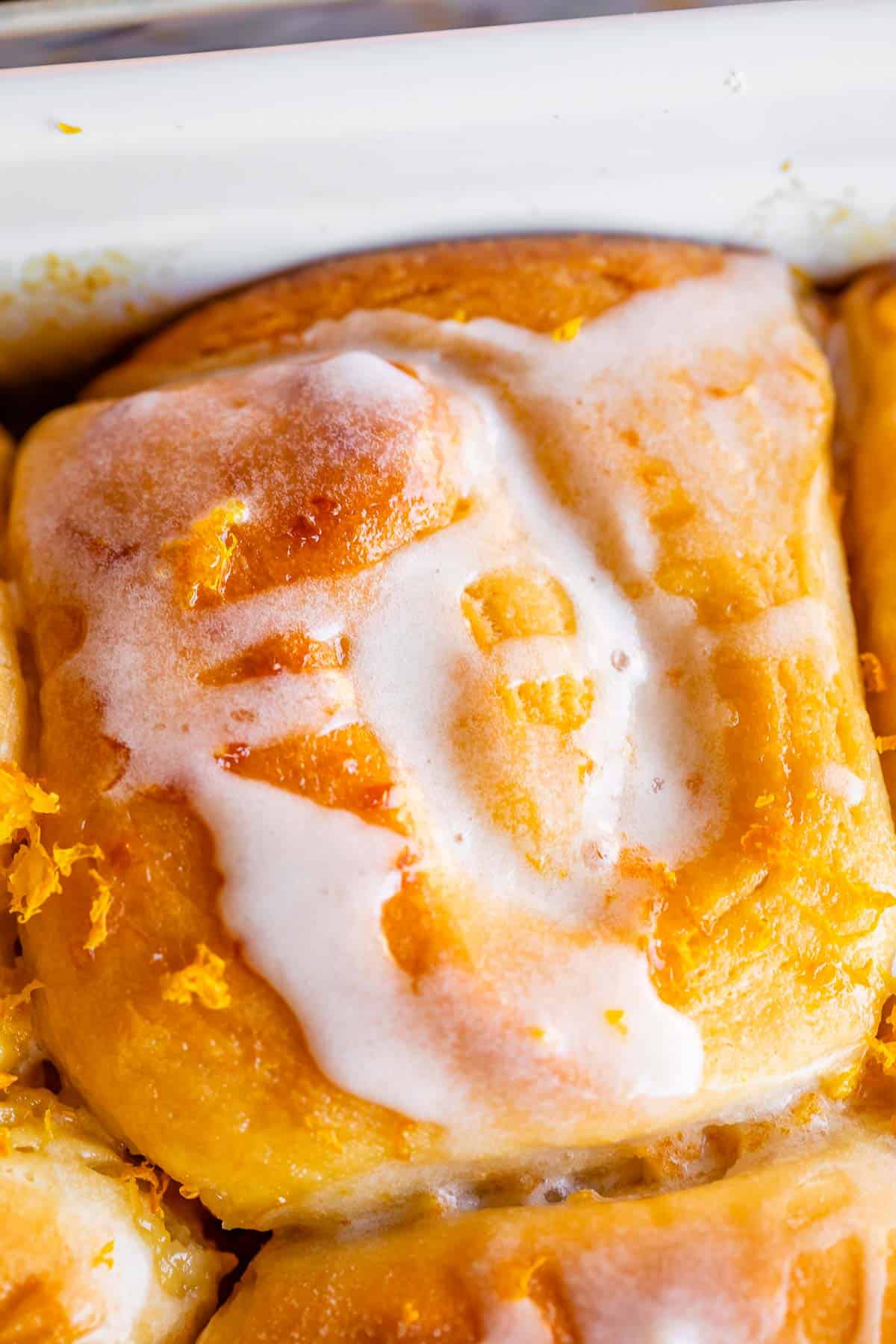 These Meyer Lemon Sweet Rolls are packed with so much flavor! They are for true lemon lovers! These rolls are easy to make and come together pretty quickly. The cooked lemon filling is kind of like lemon caramel. The rolls are soft and tender. And the lemon glaze is perfectly sweet and tart! You can make this recipe with regular lemons but I love the slightly sweeter scent and flavor of Meyers.
Ingredients
For the rolls
6

tablespoons

warm water

3

tablespoons

active dry yeast

,

yes, really!

2/3

cup

granulated sugar

,

divided

6

tablespoons

shortening

,

*I like butter-flavored

2

teaspoons

kosher salt

1 & 1/2

cups

whole milk

2

large

eggs

5

cups

all-purpose flour

,

spooned and leveled (divided)
For the filling
3/4

cup

butter

,

(1 and 1/2 sticks)

1 & 1/2

cups

granulated sugar

3/4

cup

Meyer lemon juice

,

fresh squeezed

3

tablespoons

Meyer lemon zest
For the glaze
3

tablespoons

butter

,

very soft

3

cups

powdered sugar

,

or more or less to taste (divided)

1/2

cup

Meyer lemon juice

2

tablespoons

Meyer lemon zest
Instructions
Make the rolls: In a small bowl or glass measuring cup, add 6 tablespoons warm water. It should be nice and warm like a bath for a baby, not hot. (About 105-110 degrees F)

Stir in 3 tablespoons active dry yeast. Yes, really, 3 tablespoons. Add in 1/3 cup of the sugar. Let sit for 5 minutes and make sure it is getting bubbly! (If it is not bubbly at all, you killed your yeast, throw it out and start over)

In a large bowl or stand mixer, add the other 1/3 cup sugar, 6 tablespoons shortening, 2 teaspoons kosher salt, 1 and 1/2 cups whole milk, 2 eggs, and 2 cups of the flour. Beat together.

Add in the bubbly yeast mixture and stir.

Add the remaining 3 cups of flour, one cup at a time. If you are using a stand mixer, switch now to the dough hook. Once all the flour is incorporated, knead by hand or with the dough hook for 5-7 minutes, until the dough is smooth and elastic. It is an VERY sticky dough. See photos.

Cover and let chill at least 30 minutes. You can also let it chill overnight.**

Make the filling.

Take the time now to get all your

zesting and juicing

out of the way. We are gonna destroy these lemons and take them for all they've got!! You need a total of 1 and 1/2 cups juice (divided), and about 5 tablespoons zest (divided). Make sure you buy or pick at least 8-10 lemons to get all the zest you need. (1 lemon zested is definitely not a full tablespoon.) I like to use

this microplane grater

for zesting, and I love using

this electric juicer

.

In a medium saucepan, add 3/4 cup butter, 1 and 1/2 cups sugar, and 3/4 cup fresh squeezed Meyer lemon juice. Set over medium high heat and stir until the butter is melted and the sugar is dissolved. Continue stirring until the mixture reaches a rapid boil, meaning there are bubbles all across the surface. The liquid will rise up in the pan. Lower the heat to medium so you don't burn your hands, but keep the mixture at this rolling boil. Stir for about 8-9 minutes. The mixture will lighten some and become a little syrupy.

Remove from heat. Prepare an ice bath in a large bowl: add a bunch of ice and cold water. Place the hot pan in the bowl, making sure water doesn't get in the lemon mixture. Continue stirring every 1-2 minutes, scraping the sides and bottom that will start to solidify. See photos. Keep the pan in the ice water for 5-10 minutes, until the mixture is no longer scalding hot and has started to thicken significantly. See photos. When you remove it from the ice bath, it should still be slightly warm but very thick. Add in about 2 tablespoons Meyer lemon zest and stir. Set aside.

Preheat the oven to 375 degrees F. Grease the bottom and sides of a 9x13 inch pan with butter or nonstick spray. Set aside.

Roll the chilled dough out into a large rectangle, about 18 x 22 inches; it doesn't have to be exact.

Use a spatula to dollop the lemon filling (which will be quite thick by now) into small sections all over the dough. This makes it easier to spread around on such a soft dough. Spread the filling to the edges and get it all covered.

Roll up the dough, rolling from the long edge of the rectangle. Seal the edges with your fingertips.

Use a very sharp serrated knife to slice into rolls. This is easier said than done! This dough is very soft. I usually slice off about an inch on each edge and discard (or bake separate), because the ends are small and don't have much filling.

Slice the log into 12 rolls. I cut the log in half, then cut each half in half, then cut each quarter of the log into 3 rolls. If you get too frustrated you could always put the dough in the freezer or fridge to chill for a few minutes. I didn't take that step because I don't care about slightly misshapen rolls. Just do your best and remember that they are going to taste amazing.

Place the rolls in the greased 9x13 inch pan.

Cover the pan with a tea towel and let the rolls rest for about 10 minutes.

Bake at 375 for about 35-40 minutes.

Because the lemon filling seeps into the dough, this recipe takes longer to bake than your average cinnamon roll. At about the 25 minute mark, cover your rolls with foil to prevent over browning. You will know the rolls are done when

an instant read thermometer

inserted into the center reads 190 degrees F. The top should be a deep golden brown. It is really hard to know if these are done without a thermometer, so I highly recommend one. If you don't have one, the only other thing I can recommend is taking the pan out of the oven and using a spatula to lift the edge of one roll. If the bottom of the rolls are golden, then they are cooked all the way through.

Take the rolls out of the oven and let sit for about 10 minutes before adding the glaze.

Make the glaze. In a medium bowl, add 3 tablespoons very soft butter. You can put it in the microwave for a few seconds to move it along. Add 1 cup powdered sugar and beat together with a spatula or a hand mixer. Add 1/2 cup Meyer lemon juice and stir. Add the rest of the powdered sugar, 1 cup at a time, until the glaze has reached a consistency and flavor you like. You can either add the remaining 2 tablespoons lemon zest directly to the glaze, or sprinkle the zest on top of the rolls when they come out of the oven. Reserve a bit of zest to garnish each serving, if you want that little pop of color.

Drizzle some or all of the glaze over the rolls. I like to save some of it for guests to add to their own servings, because not everyone likes excessive amounts of glaze like I do.

These rolls are best served warm; heat leftovers in the microwave.

Store rolls covered tightly on the counter for up to 3 days; after that put them in the fridge. These rolls are of course best served on the day they are made.
Notes
*You can replace the shortening with butter. But I prefer shortening because it makes the rolls softer. Shortening is 100% fat, butter is only about 80% fat.
**If you chill overnight, place it in a VERY large bowl and cover well. This dough rises a lot over 8-12 hours!
Nutrition
Serving:
1
roll
|
Calories:
670
kcal
|
Carbohydrates:
110
g
|
Protein:
8
g
|
Fat:
23
g
|
Saturated Fat:
12
g
|
Polyunsaturated Fat:
3
g
|
Monounsaturated Fat:
7
g
|
Trans Fat:
1
g
|
Cholesterol:
72
mg
|
Sodium:
542
mg
|
Potassium:
153
mg
|
Fiber:
2
g
|
Sugar:
68
g
|
Vitamin A:
539
IU
|
Vitamin C:
13
mg
|
Calcium:
58
mg
|
Iron:
3
mg