This lemon pasta recipe is perfect for summer! It is so easy and done in 30 minutes. The cheesy sauce is made by blending ricotta with peas and lemon. Top it with Parmesan and garden fresh peas, and you have a hearty vegetarian dinner! It's so good!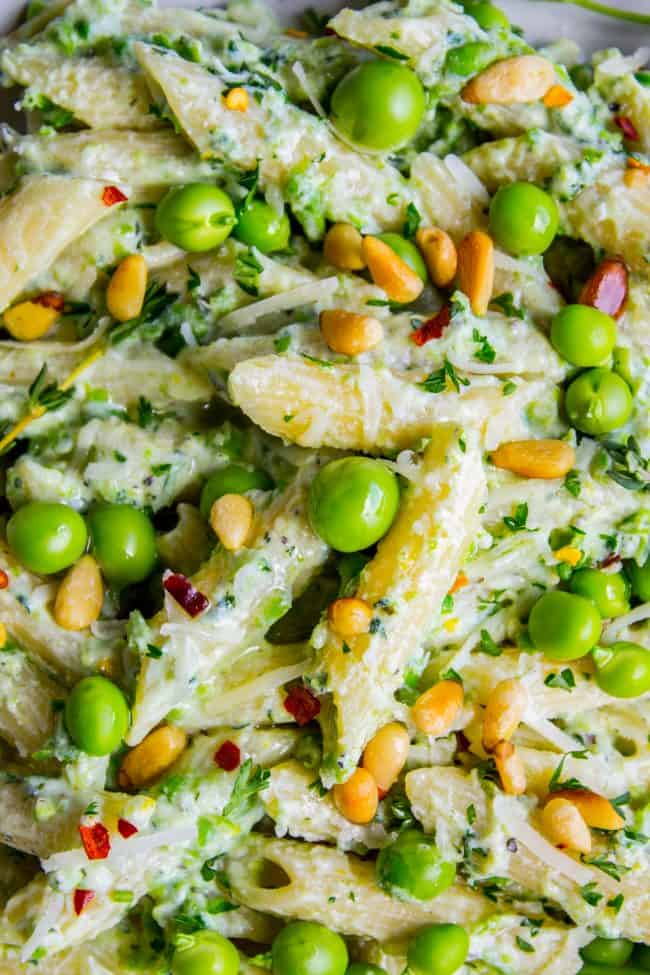 I just sprayed my entire kitchen and my entire outfit with almond butter. You know how almond butter separates and gets all oily on top? I was following a tip from someone who said you can use a hand mixer to stir it up. Great idea right?? Right…… Just don't do it while trying to film a story for Instagram. This is like Hand Mixer 101 guys. Hold onto the bowl (not your phone) while mixing. FAIL!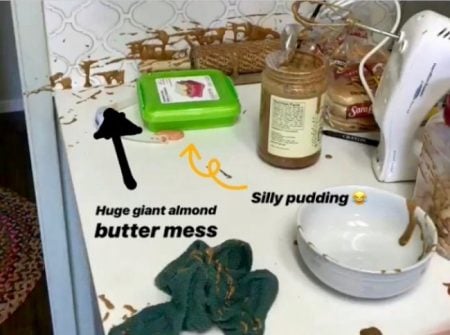 Of course I didn't bother clearing off the counter before testing out this tip…instead I have almond butter all over that bag of hamburger buns, my embossed rolling pin, and Truman's silly putty (that he, incidentally, calls 'silly pudding.' He is also nearly 2 years strong calling his sister Valentine 'Valentime.' Ah I hope they never grow up.)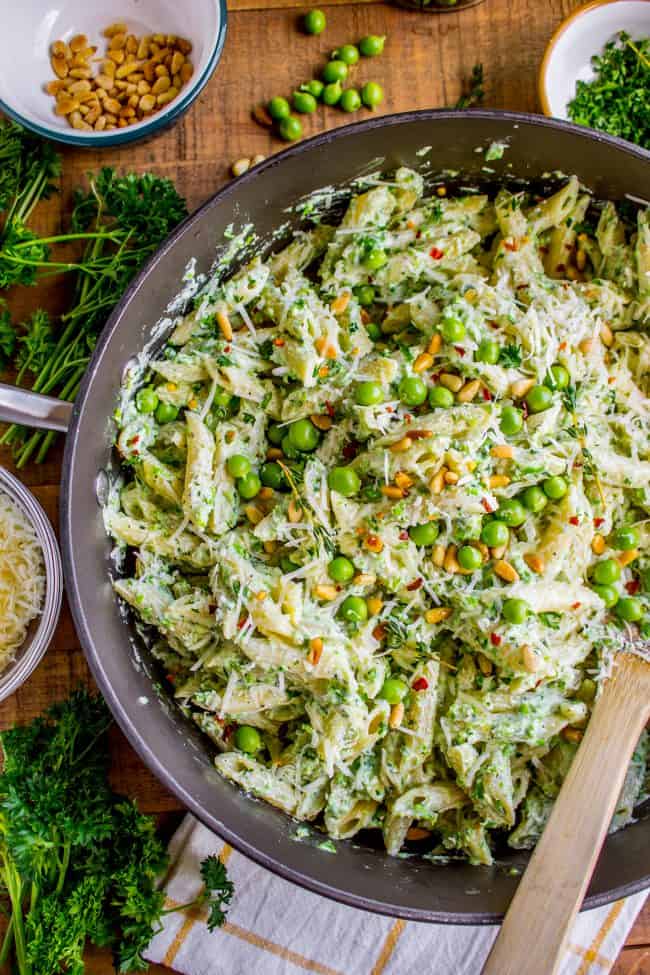 There may be hidden smears of almond butter in the corners of my kitchen for years to come, but I promise there is absolutely no almond butter in this pasta (is that a thing??? Googling….yes, it's a thing. But only if you're vegan. (jk jk)
This fresh tasting lemon pasta is not vegan, because it has a ton of CHEESE in it. It is vegetarian, yet still incredibly satisfying. You can trust me when I say this because I'm not a vegetarian ;)  (proof: last week I posted these amazing Honey Balsamic Ribs. Gimme all the meat.)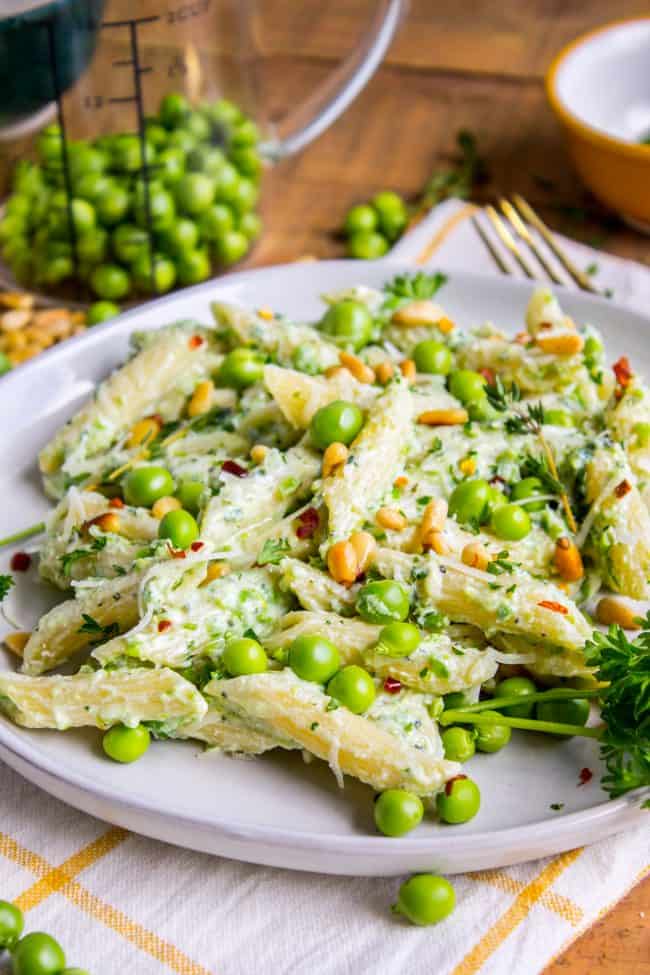 But I promise this pasta will be fine without it. The ricotta-pea combo makes for a very satisfying pasta sauce. You could definitely pair it with some grilled chicken to round out your meal if you like, or throw in some shredded rotisserie chicken. OOH! Or I just thought of this, I bet a sprinkle of crumbled bacon on top would be delicious too! Bacon's always a good idea.
The sauce is super easy to make. Use a food processor or blender to pulse together some ricotta, peas, lemon, and parsley. It takes about 2 seconds. Who knew blended up peas would taste so good? We have to give a lot of the flavor points to our boy ricotta though. He's the best. (Just look at how he shines on this Blackberry Ricotta Pizza with Basil. Or this Bacon Ricotta Crostini!! Yum.)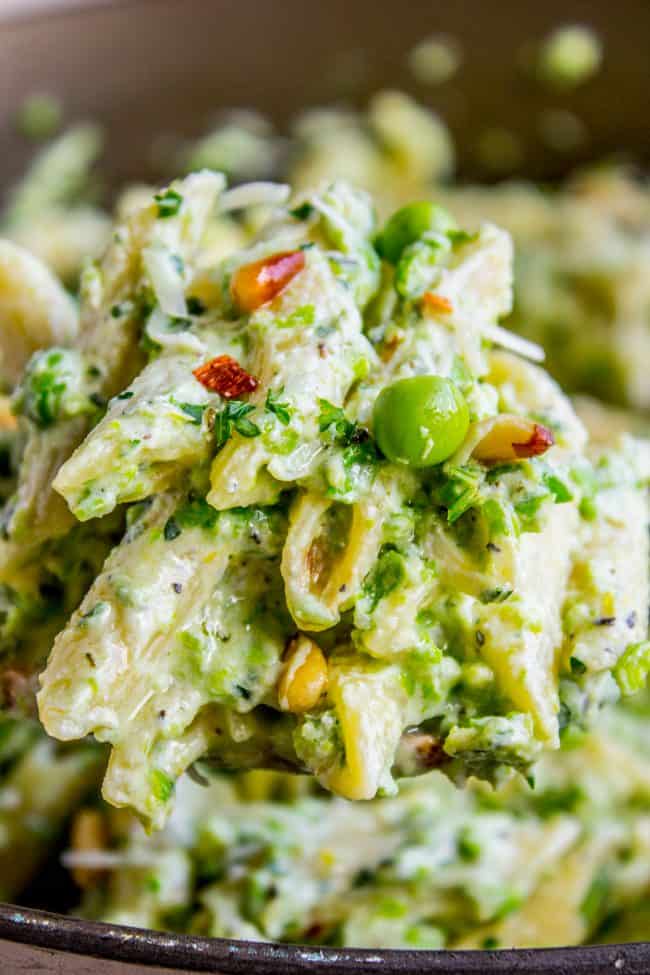 Another great thing about this lemon pasta is that it doesn't skimp on the sauce. You know there's nothing worse than dry pasta…but look at that cheesy mess.
How to make lemon pasta with fresh peas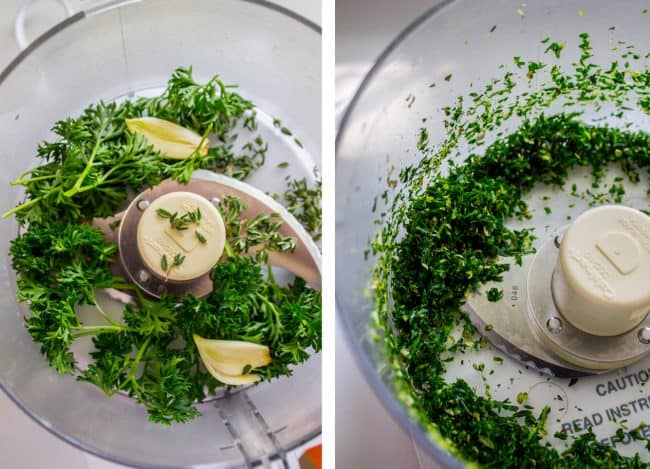 I bought some fresh peas at the farmer's market this week, which I realized I have never even cooked with before. How, why?? I'm no gardener and I'm so cheap that I never think to buy them. It cost $4.50 for 1 pound of fresh peas, and by the time I shelled them I had exactly one cup of fresh peas. They were SO good though.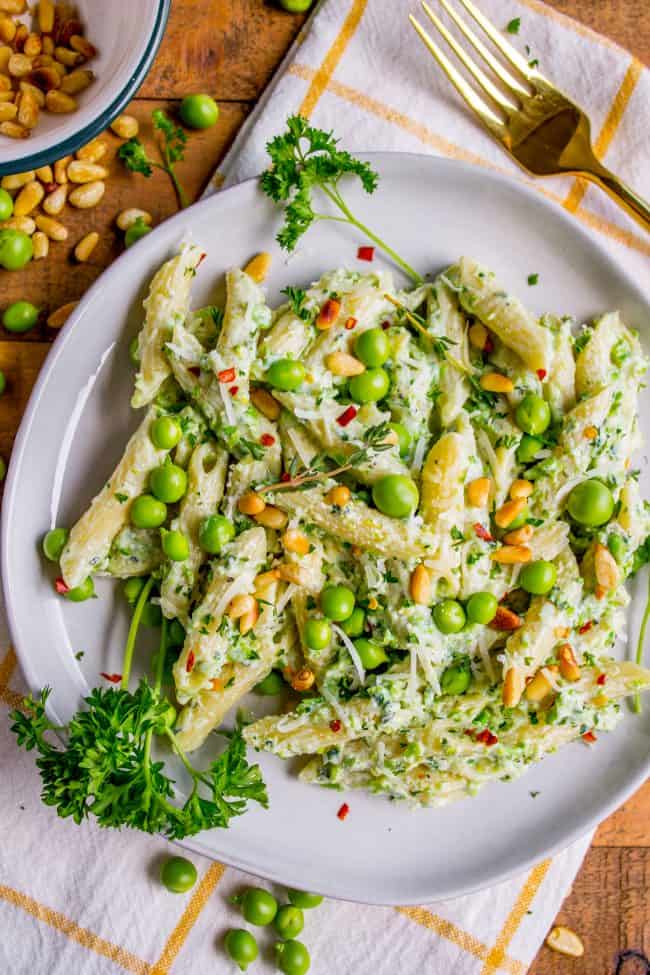 But don't worry, you can make this pasta with frozen peas (don't use canned, it's an offense to vegetables the world over.) I used frozen peas (that I had thawed quickly in the microwave) in the sauce that I blended up, and saved the fresh peas to add at the end. Fresh or frozen, this pasta is going to taste amazing! If you can get your hands on 1 cup of fresh peas, even better!
You could serve this with Garlic and Rosemary Skillet Bread and these Roasted Carrots with Dill! That would be such an amazing dinner!
Facebook | Pinterest | Instagram | Twitter
One year ago: Grilled Cheese Eggs Benedict with Bacon and Hollandaise Sauce
Two years ago: No Bake Peanut Butter Oatmeal Energy Bites
Four years ago: Honey-Drizzled Bleu Cheese Strawberry Bites
Six years ago: Butterscotch Peanut Butter Wheaties Treats

Lemon Ricotta Pasta with Fresh Peas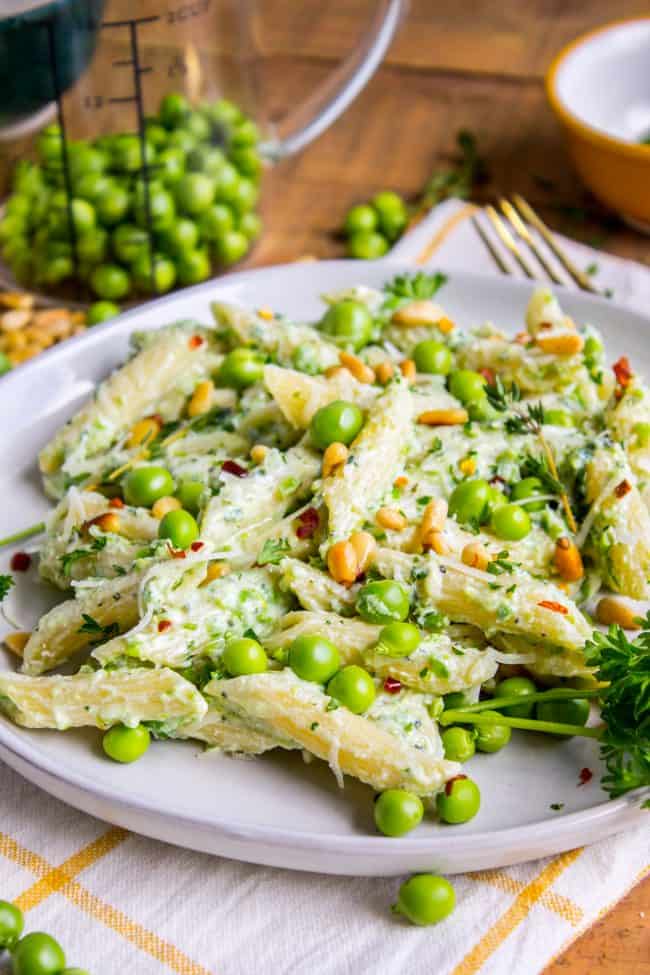 This lemon pasta recipe is perfect for summer! It is so easy and done in 30 minutes. The cheesy sauce is made by blending ricotta with peas and lemon. Top it with Parmesan and garden fresh peas, and you have a hearty vegetarian dinner! 
Ingredients
1/3

cup

pine nuts

,

toasted

1

pound

penne

,

ziti, or rigatoni pasta

1

tablespoon

kosher salt,

for the pasta water
For the sauce
2

medium

cloves garlic

,

smashed

1/3

cup

fresh parsley

,

any kind

1

teaspoon

dried oregano

1

teaspoon

fresh thyme

,

or 1/2 teaspoon dried

1 & 1/2

cups

peas

,

frozen and thawed, or use fresh

1 (15-oz)

tub

ricotta cheese

1

tablespoon

lemon zest

,

1 large lemon

2-3

tablespoons

fresh lemon juice

,

taste it

1/4

cup

olive oil

2

teaspoons

kosher salt*

3/4

teaspoon

black pepper
To assemble
1

cup

peas

,

fresh is best

1/2

cup

grated Parmesan

1-4

tablespoons

olive oil

,

to drizzle

crushed red pepper

,

to taste
Instructions
In a large, high sided skillet, toast the pine nuts over medium heat. Watch them carefully! Stir them constantly! These will burn in a hot minute and then you will be out 5 bucks worth of expensive nuts. Not that I'm speaking from experience...

Once the pine nuts are toasty and golden and fragrant, remove to a plate and set aside.

Fill the high sided skillet with water and add 1 tablespoon of salt (it should taste like seawater.) Bring to a boil over high heat.

Add the pasta and cook, stirring occasionally, until al dente. It should only take about 10 minutes, but check the package. Don't overcook it. Nobody likes limp noodles.

When the pasta is al dente, drain in a colander and return to the same pot. Drizzle with olive oil and stir.

Meanwhile, make the ricotta pea sauce. In a food processor or blender, add garlic and a bunch of parsley*. I didn't measure this, just throw in what looks like it will be 1/3 cup. Add oregano and thyme, and pulse or blend until the parsley and garlic are finely chopped.

Add 1 and 1/2 cups peas, the ricotta, the lemon zest and juice, 1/4 cup olive oil, 2 teaspoons kosher salt (see note), and black pepper. Pulse until the mixture comes together but still has some texture to it, it shouldn't be completely smooth.

Add the ricotta mixture to the pasta and stir it up. Add the remaining cup of peas.

Add 1/2 cup grated Parmesan and a few drizzles of olive oil. You can add this to the pot or over each individual serving.

If you are serving adults, add a few shakes of crushed red pepper, or if you are serving kids leave it out (or just add a little).

Top each serving with some toasted pine nuts.
Notes
*If you are using table salt, start with 1 and 1/2 teaspoons and go up from there. Don't be shy.
I don't drink alcohol, but one of the reviews on the original recipe said that this is best served with a crisp white wine.
If you are using fresh peas, pop a few in your mouth to make sure you like them raw. If it's not your thing, you can add the peas to the cooking pasta for the last 1-2 minutes of boiling. No more than that! You don't want them to get mushy. Frozen peas are always blanched before they are frozen, so no need for this step if you don't have fresh peas.
This recipe is from MyRecipes.com, it originally appeared in Sunset magazine.
Nutrition
Serving:
1
g
|
Calories:
965
kcal
|
Carbohydrates:
105
g
|
Protein:
38
g
|
Fat:
44
g
|
Saturated Fat:
14
g
|
Polyunsaturated Fat:
7
g
|
Monounsaturated Fat:
20
g
|
Cholesterol:
65
mg
|
Sodium:
3203
mg
|
Potassium:
726
mg
|
Fiber:
9
g
|
Sugar:
9
g
|
Vitamin A:
1742
IU
|
Vitamin C:
49
mg
|
Calcium:
433
mg
|
Iron:
5
mg
More easy pasta recipes to try out!
20 Minute Lemon Broccoli Pasta Skillet << this recipe is a fan favorite!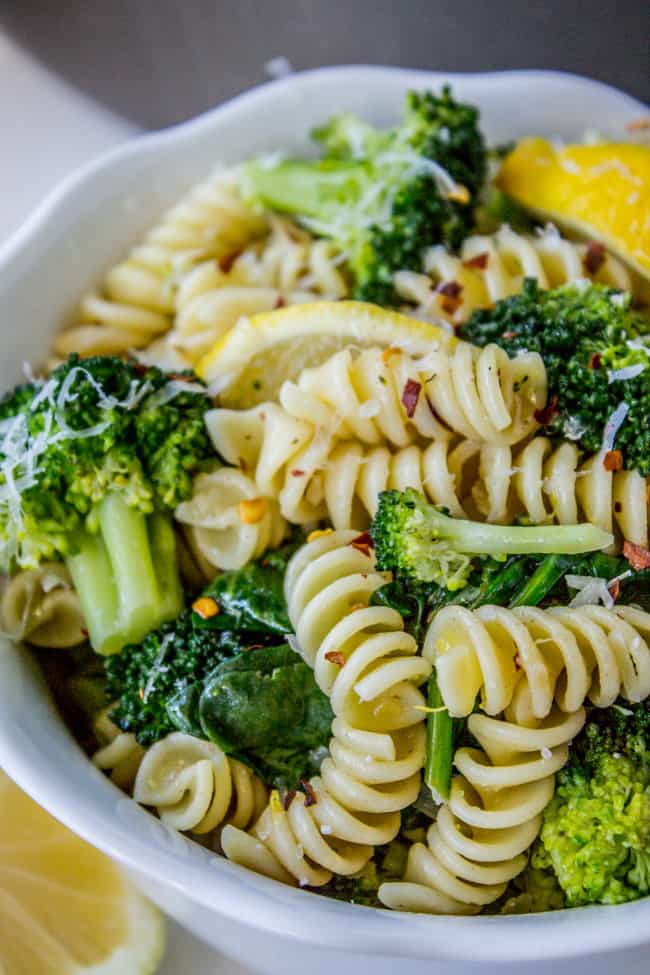 30 Minute Pesto Penne with Chicken and Cherry Tomatoes << sooo easy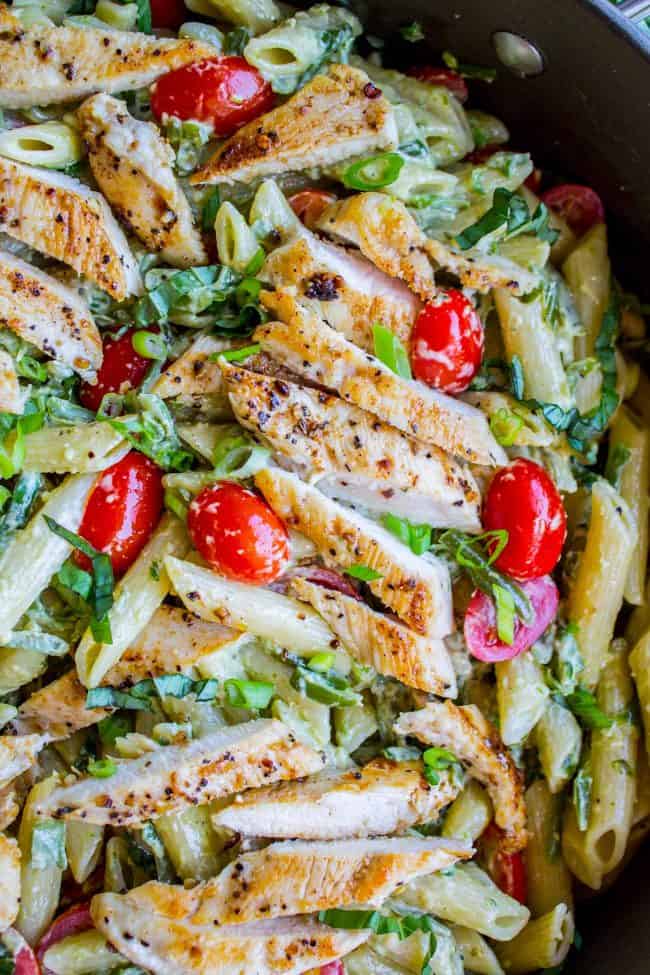 Garlic Asparagus and Pasta with Lemon Cream << this is an oldie but a goodie.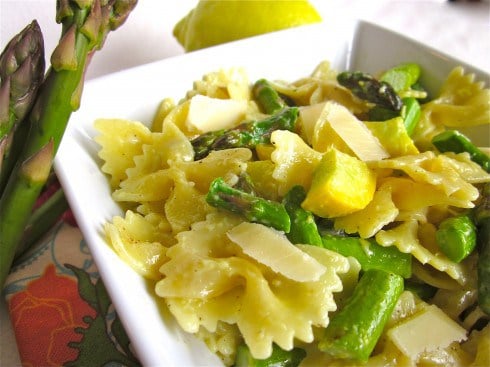 More easy pea pasta ideas you will love!
Easy Bacon Pea Pasta Salad from Foodie with Family
Pasta with Fresh Peas, Lemon and Mint from The View From Great Island
Linguine with Lemony Pea Pesto, Artichokes, and Ricotta from Eats Well with Others
Creamy Mushroom Pasta with Fresh Peas and Ricotta from Foolproof Living