I knew I was in trouble this morning when my arms were too tired to even finish putting on my mascara. Who stops to take a breather during mascara application?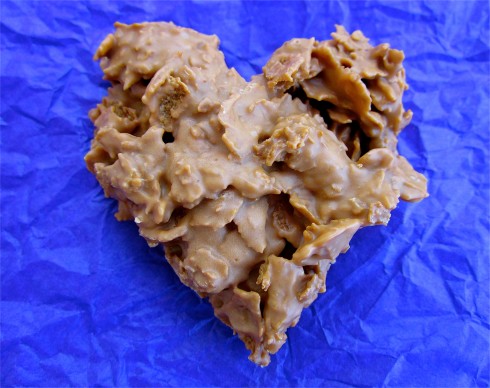 Weaklings, that's who. I went running with a friend this morning. Let me revise that. I went running while she did cartwheels and back flips in my vicinity. We were going about the same speed.
Then the rest of the day my body kept reminding me that I am a complete wuss, because I kept being tempted to do things like sit down in the shower from exhaustion, or stop smiling so wide because it hurt my face. Seriously, who gets tired cheek muscles from a casual morning run?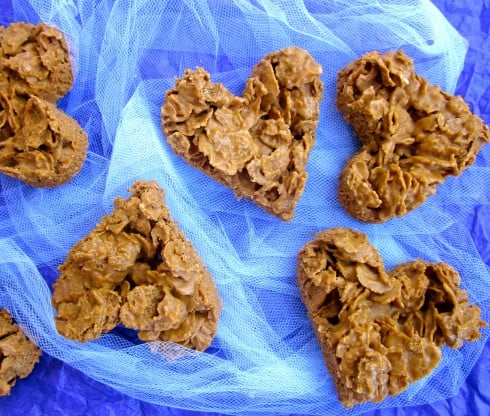 So I know these little dudes might not look very special, but they definitely pack a punch. There are only 3 ingredients, and they take about 3 minutes to make, so they are an awesome last-minute treat. My mom is locally famous for making these. She has been making them since she was 12 years old, when her parents gave her her first cook book. I grew up eating these.
Wheaties Treats are perfect for mailing. They are completely non-perishable, and they can't get demolished en route. Don't even bother refrigerating them. Just scoop into a ziplock bag, seal, and send. The recipient can divide and refrigerate as desired. My mom sent me these in college all the time. And it was awesome. Thanks Mom!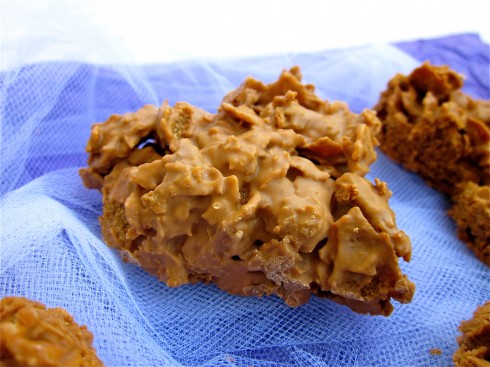 If you are still dubious about these, take my 16-month-old daughter's word for it. I was out on our porch taking pictures of these and I turned around to see her licking the screen door, watching me jealously.
***P.S. Come back next week for my first giveaway on Monday, June 18th!!***
Butterscotch Peanut Butter Wheaties Treats

Source: my mom Janice who revised it from the Let's Start to Cook Farm Journal
11 ounce package butterscotch chips
1/2 cup peanut butter
6 cups Wheaties, or similar generic brand
melt chips. add pb. add wheaties. freeze.
Those are my mom's original directions. Pretty straightforward. But for those who like detail, I'll give you this:
Place the butterscotch chips in a very large bowl. Melt in the microwave, stirring every 1 minute. When chips are completely melted, add the peanut butter and stir to combine. Add the Wheaties and stir until all the cereal is coated. Spread on a cookie sheet and refrigerate or freeze uncovered for about a half hour. At this point, cut them into bars (or any cookie-cutter shape you like) and return to the fridge or freezer until they are the coldness level you like. I actually prefer mine room temperature.