These Peanut Butter Oatmeal Energy Bites basically taste like cookie dough, but they have NO butter, NO sugar, NO flour. And last I checked, dark chocolate was totally healthy, so basically you can eat these for breakfast.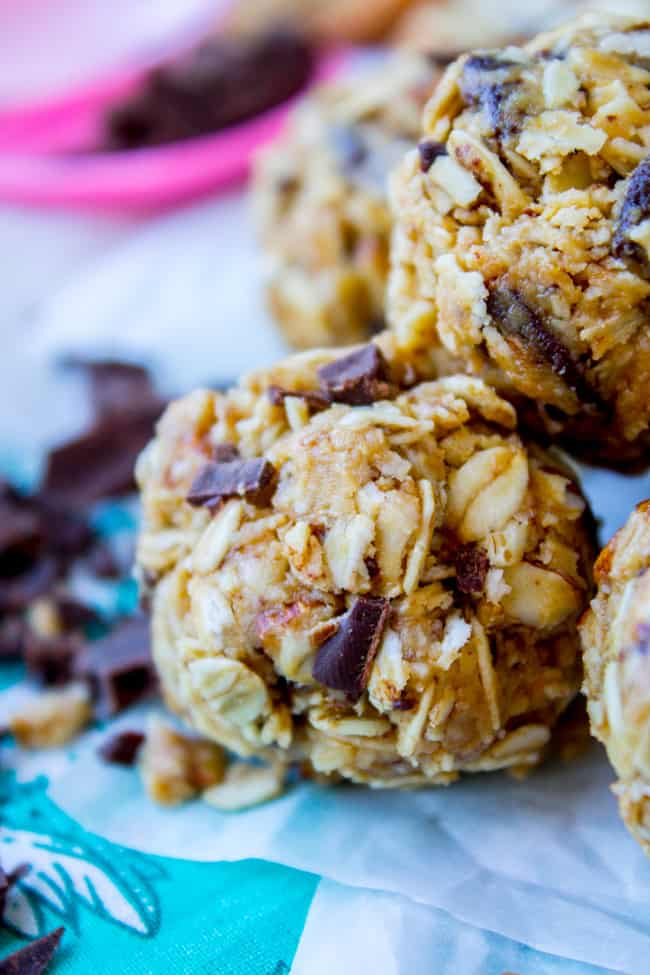 I was a lifeguard in high school. In retrospect, all I can say to the mothers of young children out there is this: DO NOT TRUST 16 YEAR OLD LIFEGUARDS. They have no idea what they are doing and your children will drown.
Okay so maybe it was just me. I'm a terrible swimmer, I always have been. But most of my siblings worked at the city pool, so I did too. Even though exposing my lily-white skin to 8 hours of sun a day was pretty much guaranteeing me a 3 month long sunburn every summer.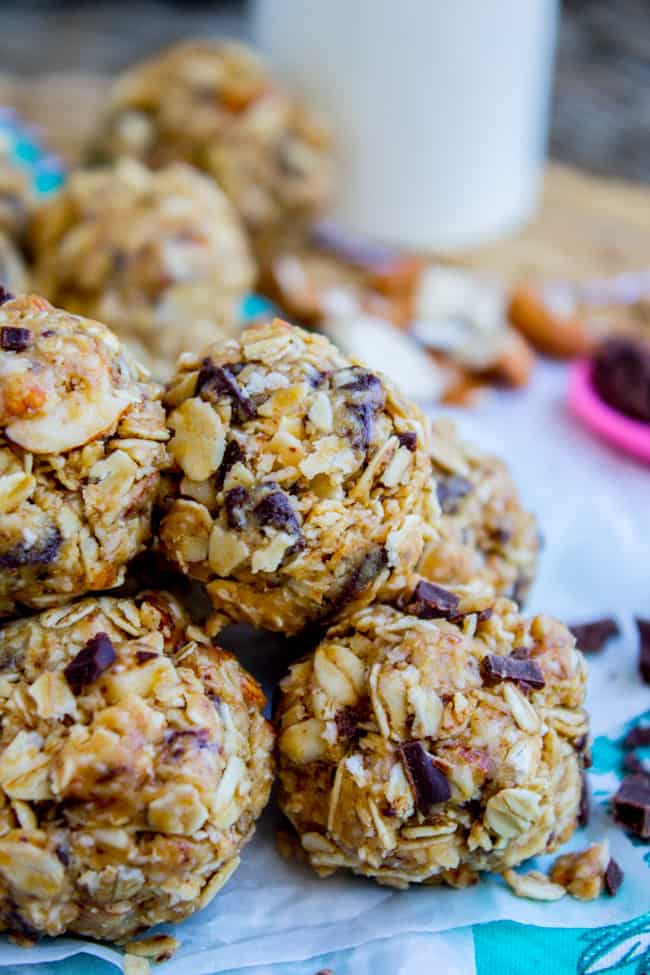 I only saved one kid during my 3 summers there. It was my first day of work. MY FIRST DAY. I wasn't even on duty yet. My manager (also in her teens) was showing me around the pool. There were swim lessons going on, and we were observing a small class of 5 swimmers. The teacher was out teaching a kid, and the other 4 kids had ONE JOB: don't let go of the wall. Well of course this one kid lets go. So I panic and look at my new manager, who's like, well, get him!
He was literally a foot away from the wall, sputtering and flailing. I could have reached out and grabbed him, but instead I jumped in, fully clothed.
Needless to say my lifeguarding/swimming career has not continued into adulthood. But you know what is way easier than actually swimming? Watching people swim. I barely break a sweat when I'm watching swimming on TV. I highly recommend it. It's even better when you're snacking on these babies: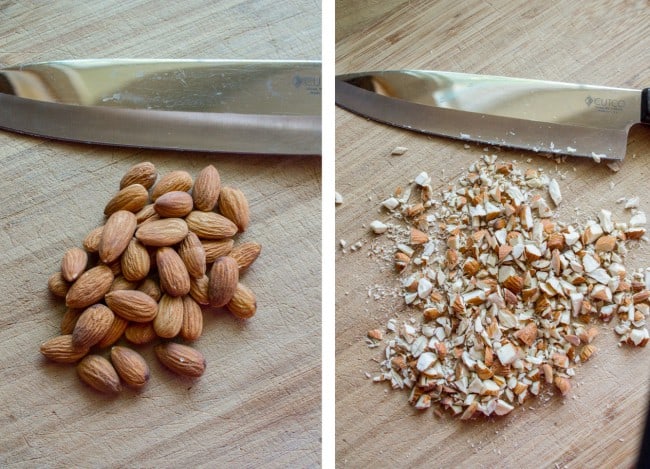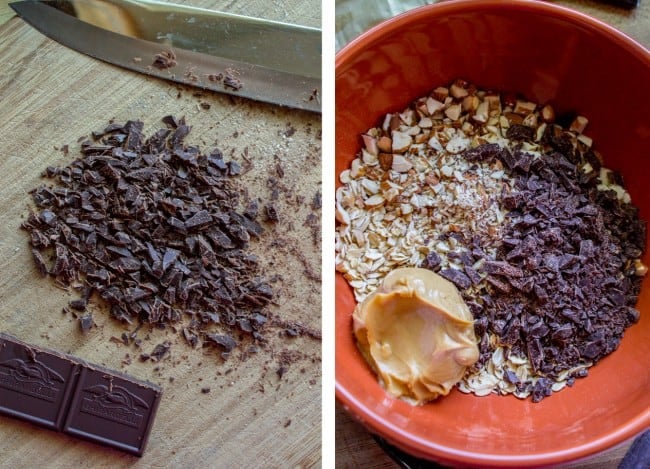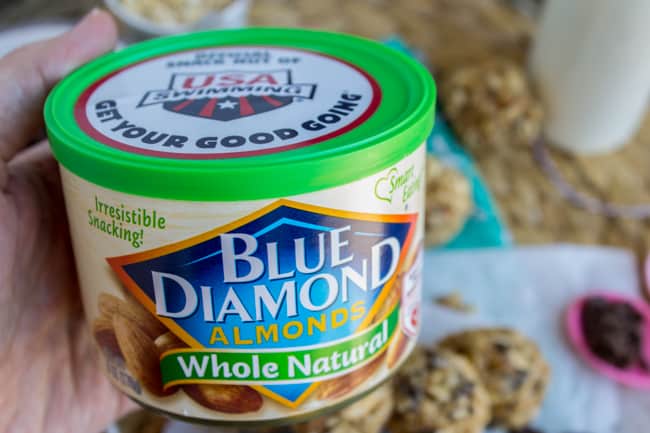 This year, Blue Diamond (my favorite sponsor here at The Food Charlatan) is the official snack nut of the USA Swim Team. It's kind of perfect, because swimming takes so much out of you, you NEED a snack like almonds: super healthy and super portable. (Check below the recipe to find out about their $5000 contest! (!!)
I decided to add some almonds to these Energy Bites. I'm not kidding when I say they taste like cookie dough. But instead of feeling like a cow after eating half the bowl, you can feel energized! Just kidding, don't eat half the bowl.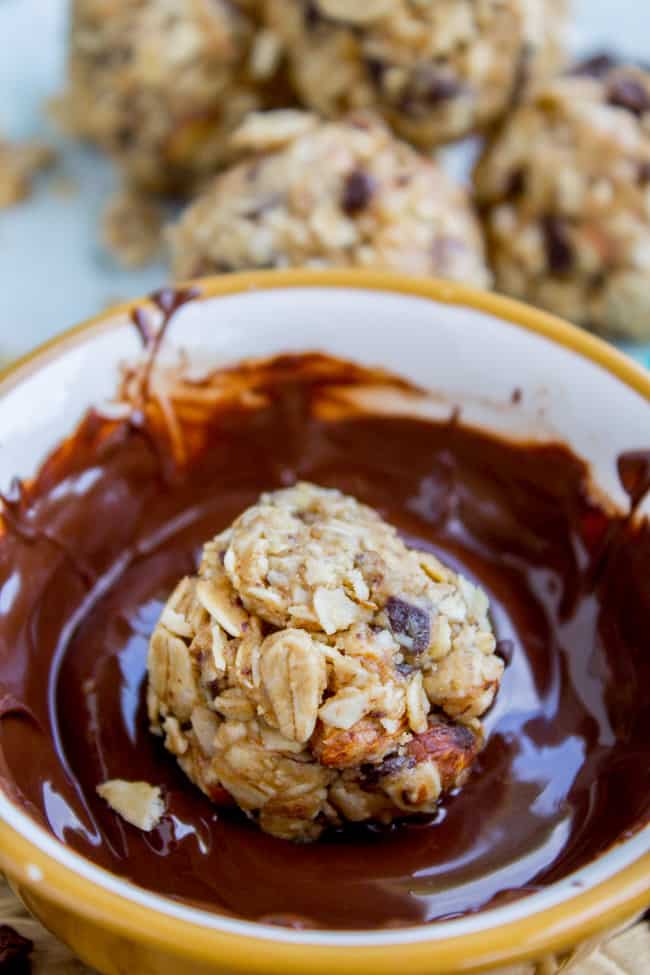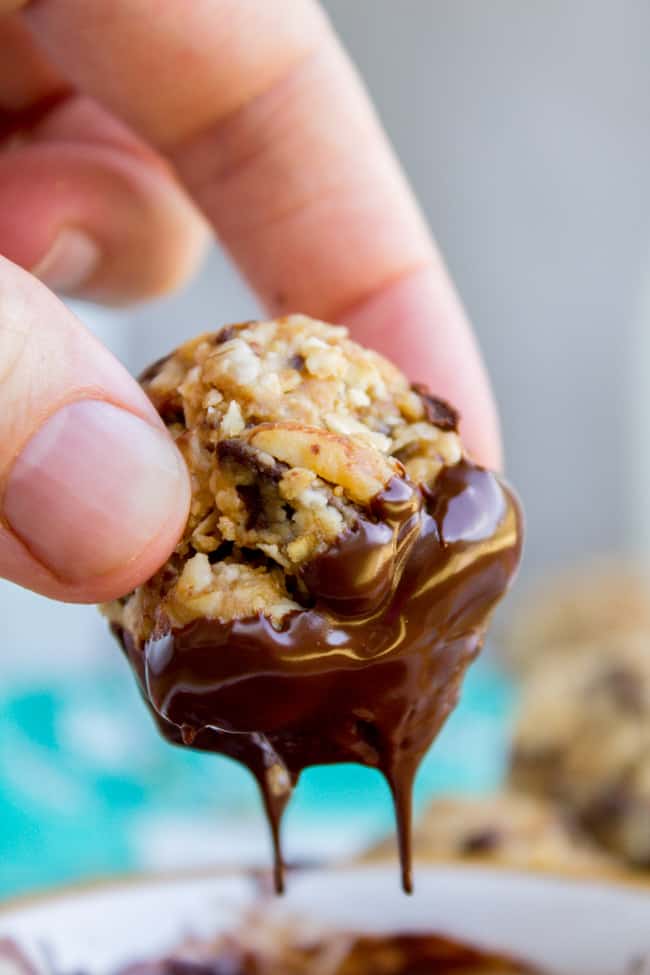 These energy bites are a great summer snack, especially if you and the kids are at the pool a lot. They are packed with oats and almonds and peanut butter (protein!), and kids love them because they are sweet. Plus they have dark chocolate chunks. I mean, hello.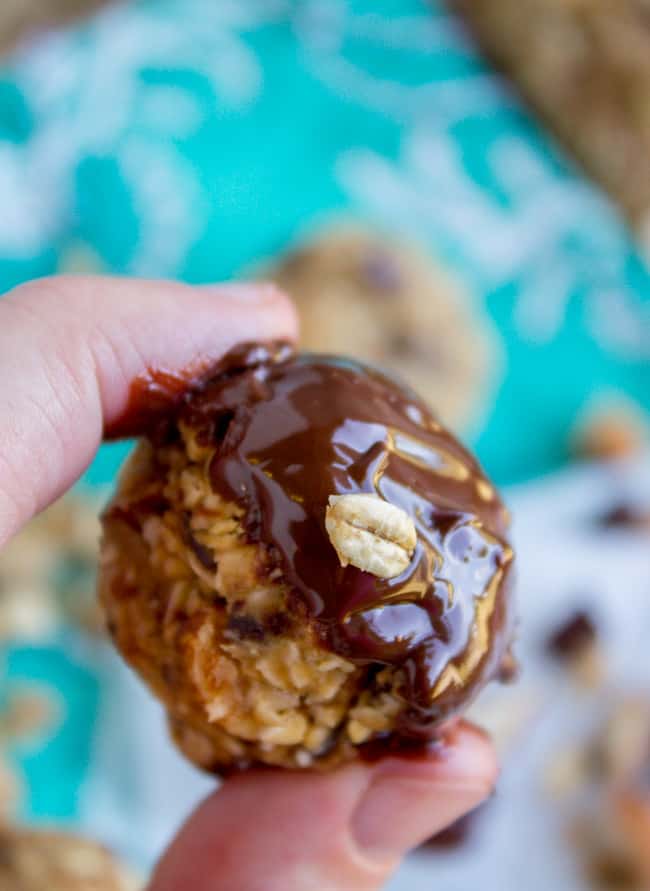 I dipped a few of mine in more dark chocolate. For the antioxidants, you know.
If you make these, be sure to tag me on Instagram so I can see it!
Here are some other "skinny" recipes you might like!
Skinny Oatmeal Chocolate Chip Cookies << these are legit.
2-Ingredient Sugar Free Fruit Dip:
Tropical Mango Coconut Granola:
Oatmeal Raisin Energy Bites from Amy's Healthy Baking
Cranberry Almond Energy Bites from The Creative Bite
Facebook | Pinterest | Instagram | Twitter

No Bake Peanut Butter Oatmeal Energy Bites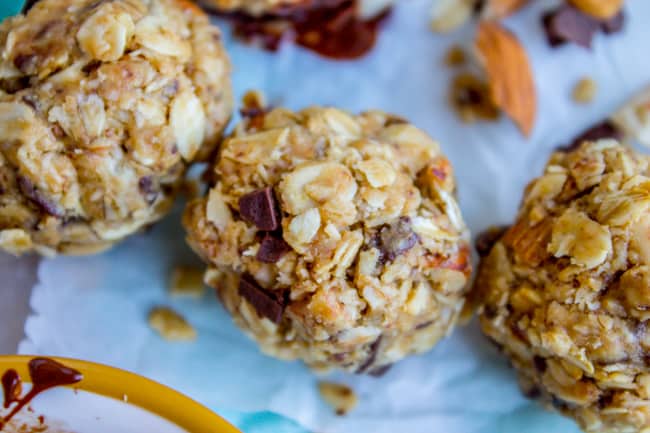 These tasty Peanut Butter Oatmeal Energy Bites basically taste like peanut butter oatmeal cookie dough, but they have NO butter, NO sugar, NO flour.
Ingredients
1

cup

oats

,

I like old fashioned

1/4

cup

Whole Natural Blue Diamond Almonds

,

chopped

1/4

cup

dark chocolate

,

chopped

6

tablespoons

peanut butter

1

tablespoon

honey

pinch

salt

,

optional
Instructions
In a medium bowl, combine the oats, chopped almonds, and chopped chocolate.

Add the peanut butter and honey. Stir until it comes together. (I used my hands)

Taste it and add salt if you like.

Refrigerate the bowl for about a half hour, or freeze for a few minutes.

Once the mixture is cold, use your hands to shape the dough into 1 or 1 and 1/2 inch balls.

Store in the fridge until ready to serve.
Notes
If you want to make these a little more decadent, you can dip them in chocolate. Put the shaped bites in the freezer for a half hour or so. Melt 1 cup of dark chocolate with 1 teaspoon of butter/shortening/coconut oil, etc (any fat). Melt it in the microwave in 10 second intervals, stirring each time. Be careful, you don't want it to scorch! Once the chocolate is smooth, dip the energy bites in and lay on wax paper to harden. Putting them back in the freezer will speed that up.
Nutrition
Serving:
1
g
|
Calories:
117
kcal
|
Carbohydrates:
10
g
|
Protein:
4
g
|
Fat:
7
g
|
Saturated Fat:
2
g
|
Polyunsaturated Fat:
2
g
|
Monounsaturated Fat:
3
g
|
Trans Fat:
1
g
|
Cholesterol:
1
mg
|
Sodium:
41
mg
|
Potassium:
124
mg
|
Fiber:
2
g
|
Sugar:
3
g
|
Vitamin A:
1
IU
|
Vitamin C:
1
mg
|
Calcium:
18
mg
|
Iron:
1
mg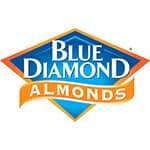 This post is sponsored by Blue Diamond Almonds. Blue Diamond Almonds understand what it takes to be the best. That's why we're proud to be an official sponsor of USA Swimming.