Cauliflower rice is cauliflower that is chopped up really tiny and then sauteed on the stove. It's a great replacement for rice if you are going low carb! This recipe uses Indian spices to give it even more flavor, and goes perfectly with your curry.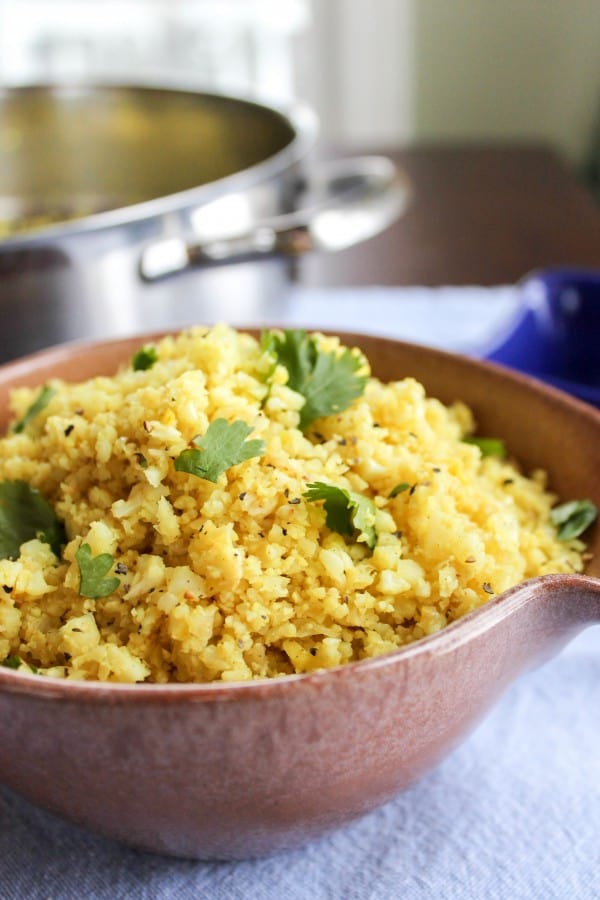 Is anyone else still in vacation-mode? Christmas break is officially over tomorrow and I don't think I'm ready. If I keep this up, pretty soon my butt is going to permanently morph into the shape of the corner of the couch that I tend to favor when we sit around to play Mario Kart and watch movies all day. It's hard work, sitting.
And who am I kidding. I'm not even the one playing Mario Kart. You have to like, move your controller to play. That's almost like exercise. I'm the one Pinteresting in the corner.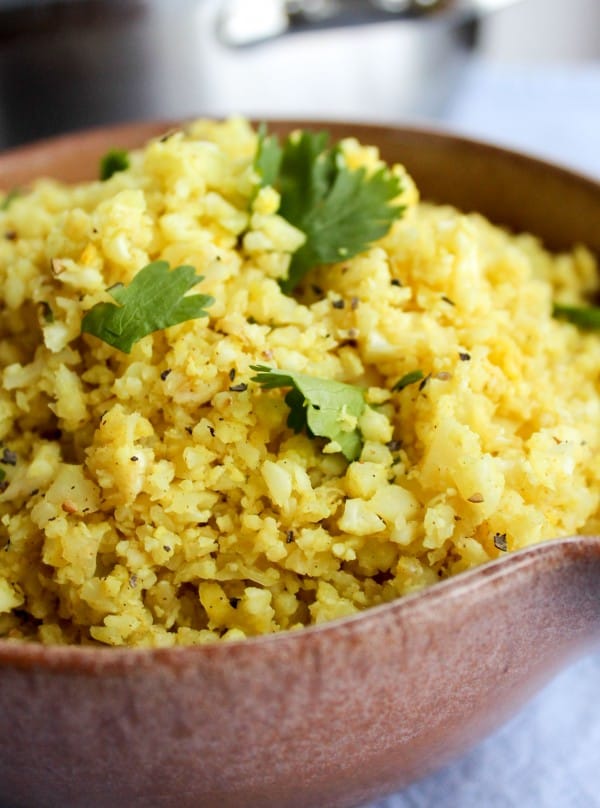 We had a rocking family dance party the other night. We turned off all the lights in the house, turned up N'Sync and The Spice Girls, and got down, while all the guys in the family shrugged their shoulders and shuffled their feet. It was so fun.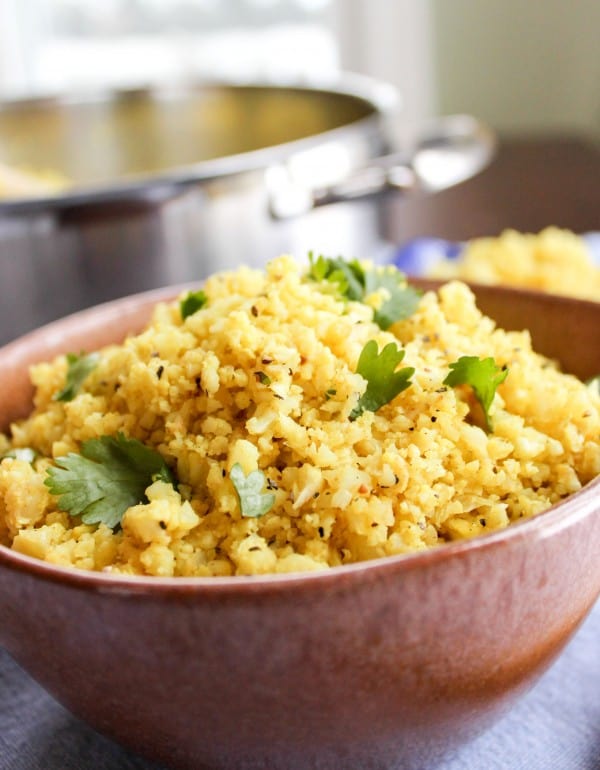 I miss dancing. I used to go to dances all the time in college, and I would bring my older sister Nikki because she missed it too. Nikki, graduated, married with children, at a school dance. She bolted for the exit whenever a slow song came on, but sometimes she wasn't fast enough and would get asked to dance by some poor unsuspecting kid. I can just hear the post-dance guy grunt session.
"So, did you get any numbers tonight?"
"No, but I hit on some married chick."
"I bet that wasn't awkward or anything."
But back to our dance party. I actually had a side ache afterward. No joke. I'm seriously pathetic, you guys. I guess now is a bad time to admit that I made a decadent 3-layer cake today.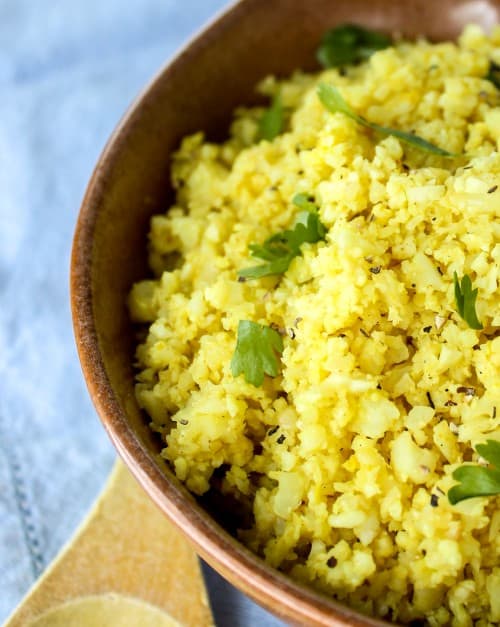 But I also made this! Look, it's healthy, it's got vegetables! It IS vegetables. My sister Laura introduced me to cauliflower rice around this time last year when she went paleo. It is not rice, and it doesn't taste like it, not in the slightest. The reason it's called cauliflower rice is because it kind of looks like rice (normally it is white, the turmeric turns it yellow in this recipe), and it can be substituted for rice in many dishes, particularly dishes that are served "over rice." I just want to make it clear so that you don't all hate me when you realize that this is essentially chopped up sauteed cauliflower.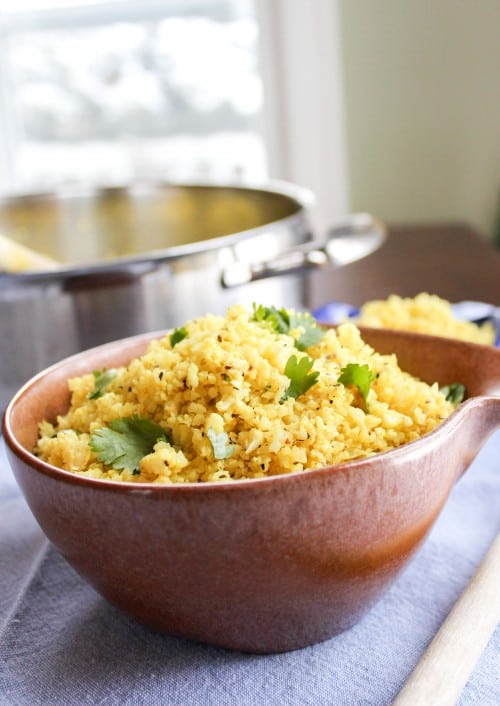 It's really quite good. It's definitely a good option when you feel like taking all the carbs in the room and punching them in the face. I put together an Indian version to go with the curry we had the other night, but you can flavor this however you like. The lovely Gina over at Skinnytaste posted a Cilantro Lime version a while back. Plain old salt and pepper is good too. There are some tutorial shots below.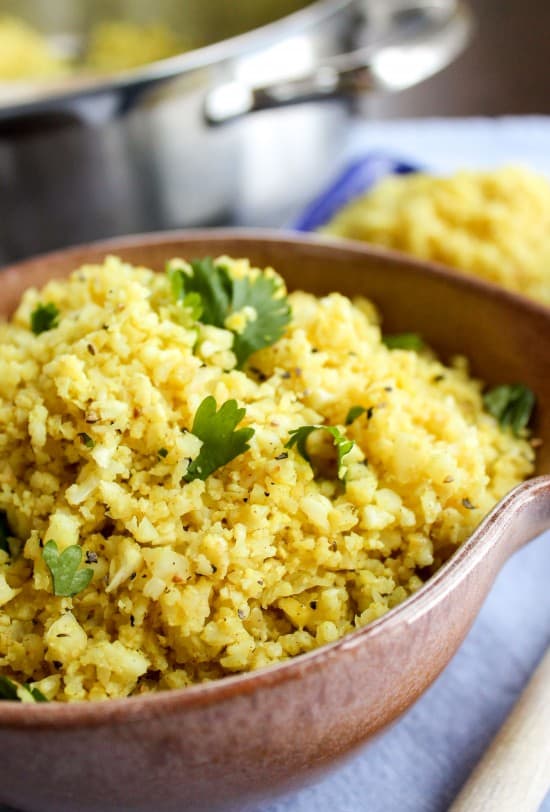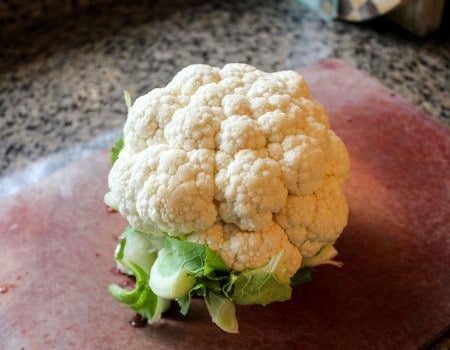 He's cute, isn't he?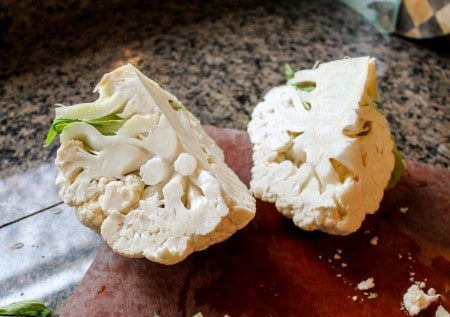 Chop him in half, then chop each half in half. Try not to make one half twice the size of the other half like I did here.
Hold each quarter upright and slice off the stem. This separates the florets.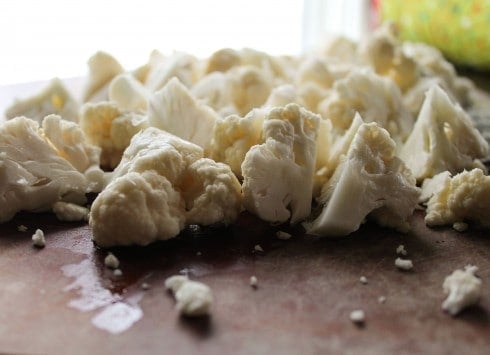 Roughly chop the florets into 1 or 2 inch pieces.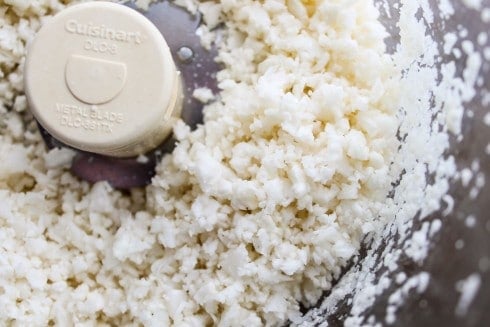 Then pulse it in the food processor. It should look something like this.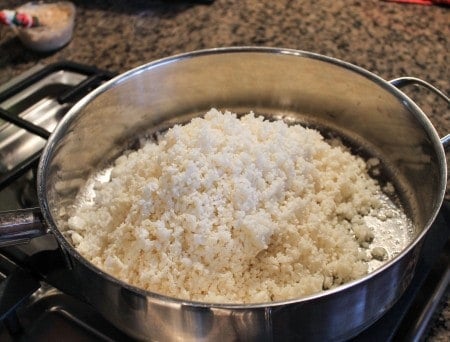 Then saute until tender, seasoning it however you like.
Facebook | Pinterest | Instagram

Indian-Spiced Cauliflower "Rice"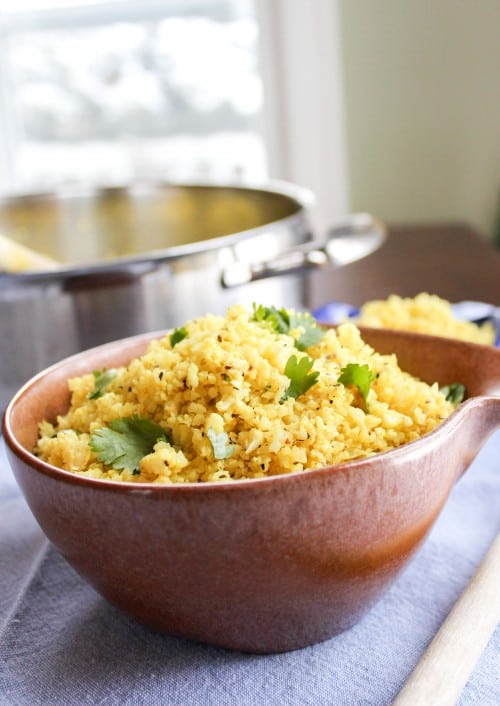 Cauliflower rice is cauliflower that is chopped up really tiny and then sautéed on the stove. It's a great replacement for rice if you are going low carb! This recipe uses Indian spices to give it even more flavor, and goes perfectly with your curry. 
Ingredients
1

head

cauliflower

1

tablespoon

butter

1

tablespoon

olive oil

1/2

teaspoon

cumin

1/4

teaspoon

turmeric

1/4

teaspoon

ground ginger

1/8

teaspoon

cardamom

1/8

teaspoon

cinnamon

1/8

teaspoon

ground cloves

1/2

teaspoon

salt

black pepper to taste

3-4

tablespoons

chopped cilantro

,

to garnish
Instructions
Rinse your cauliflower. Slice it in half down the middle, then slice each half again along the stem. Hold the quarter of a cauliflower upright and slice off the stem; this should separate the florets. Chop them roughly into 1 or 2 inch pieces. (See photos below.)

Place half or 1/3 of the cauliflower (depending on how big it is) into a food processor with the blade attachment. Pulse in one-second intervals until the cauliflower pieces are about the size of grains of rice, more or less. Repeat with remaining cauliflower.

In a large saucepan, heat 1 tablespoon of butter and 1 tablespoon of olive oil. When it is hot, add all the cauliflower, and stir occasionally for 5-8 minutes, or until tender.

While it cooks, season with cumin, turmeric, ginger, cardamom, cinnamon, cloves, salt and pepper. None of these measurements or even the spices themselves are hard and fast--go with what sounds good to you.

Remove from heat and add chopped cilantro to taste.

Serve with your favorite curry, grilled chicken, lamb, beef, pork, etc.
Notes
This is my basic recipe for cauliflower rice; if you are serving it with something that doesn't go with these spices, just add salt and pepper.
Nutrition
Serving:
1
cup
|
Calories:
94
kcal
|
Carbohydrates:
8
g
|
Protein:
3
g
|
Fat:
7
g
|
Saturated Fat:
2
g
|
Polyunsaturated Fat:
1
g
|
Monounsaturated Fat:
3
g
|
Trans Fat:
1
g
|
Cholesterol:
8
mg
|
Sodium:
360
mg
|
Potassium:
443
mg
|
Fiber:
3
g
|
Sugar:
3
g
|
Vitamin A:
111
IU
|
Vitamin C:
69
mg
|
Calcium:
37
mg
|
Iron:
1
mg
UPDATE: Here's another cauliflower rice recipe I made: Asian Cauliflower Rice. So good!