The best dinner rolls you will EVER put in your mouth, rolled up into a bunny until they are almost too cute to eat. (Almost.) Don't be intimidated; if you can make cinnamon rolls, you can make these. A fun Easter project!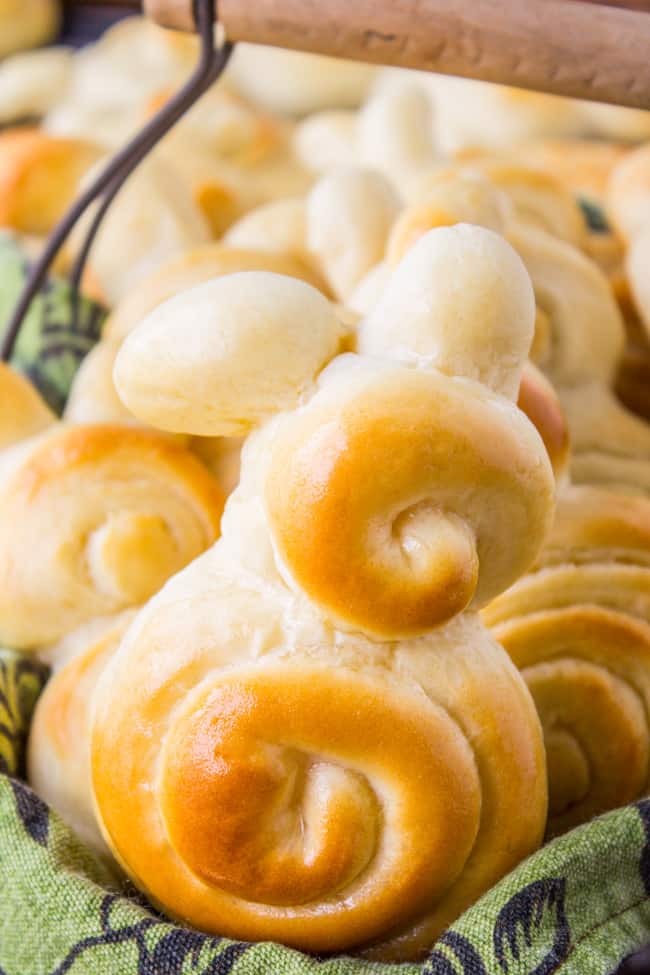 Every year on my sister-in-law Sandi's birthday, my brother and I have a contest to see who can send her the cutest picture of a baby goat. Sandi has an affinity for anything small and furry, of course, but there is just something about that tiny-horns-floppy-ears combo. And don't forget expert frolicking:
I'm wondering if this year I could just bake her a few of these bunny rolls instead. They are small and cute and YOU ACTUALLY GET TO EAT THEM.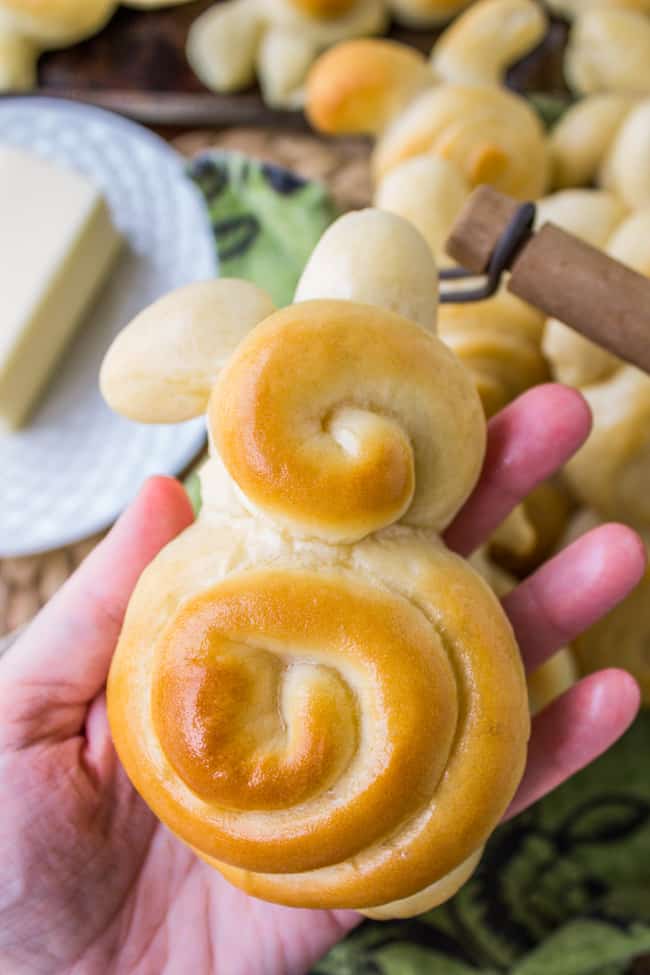 I think I am missing the cute and furry gene. I mean don't get me wrong, I love baby goats and all, but I don't find myself googling them with any regularity.
I think it stems from when I begged my parents for a hamster when I was a tween. I beeeeeegged them. They finally gave in, smelly cage and all.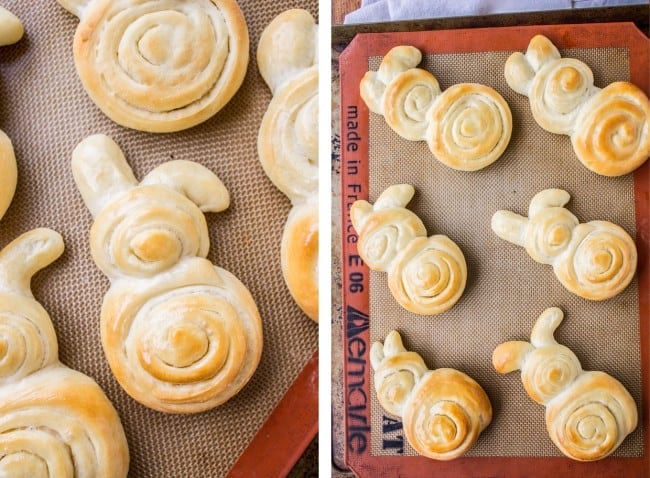 The first day with Henry the hamster was magical. The first night, though, was the beginning of Henry's marathon training apparently. The pink plastic wheel that came as a part of the cage was the squeakiest in existence. I didn't sleep wink.  (At least that's what my 10-year-old self thought. Probably I was awake for like 20 minutes.)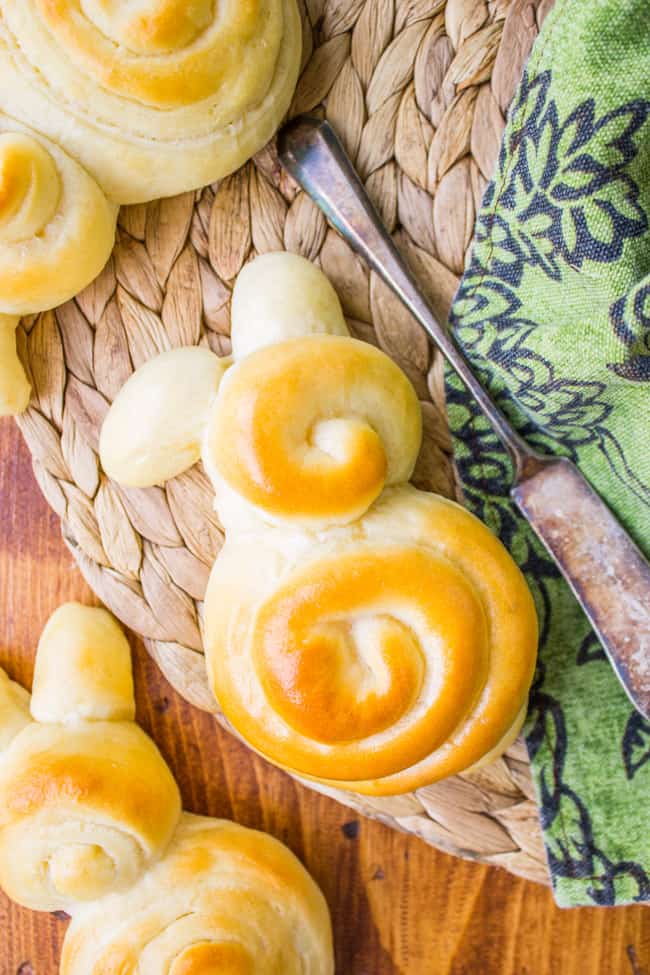 Maybe I should try out rabbits. Eating them. With butter. And honey. With ham and scalloped potatoes and jello and asparagus on the side.
These rolls look difficult, but they're not. A little time-consuming the first time around, but if you can make cinnamon rolls, then you can whip these up no problem. The recipe is from a restaurant in Salt Lake City called The Lion House, which is hugely famous for their rolls. It is my favorite roll recipe to date. Very soft and tender, with a perfect crust. I'm not telling how many bunnies I ate today.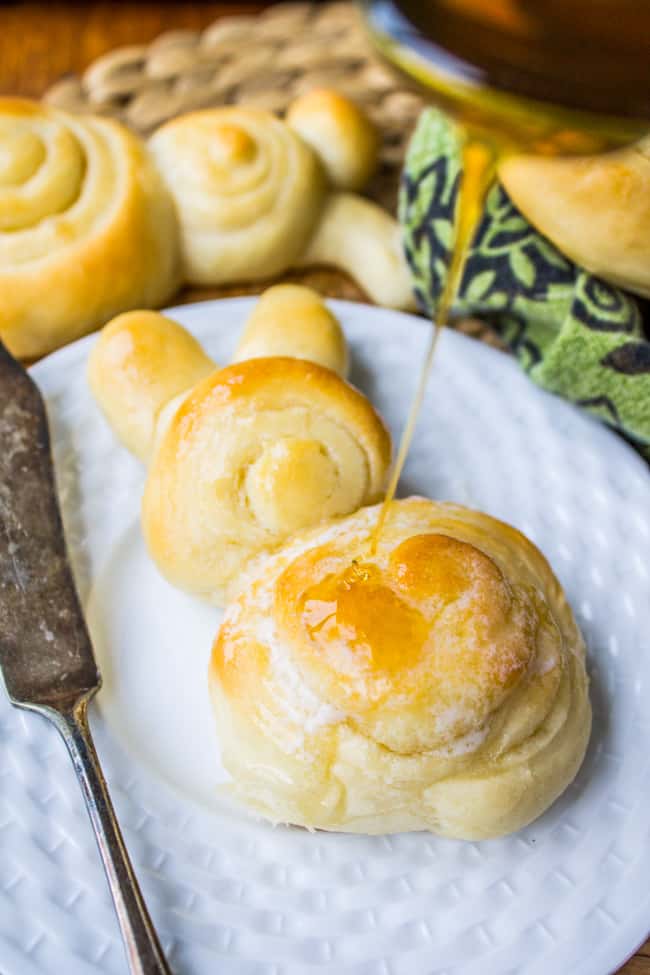 Follow one of the links below the recipe to see how to shape them like normal rolls. Eat these with Cinnamon Honey Butter. HEAVEN.
Do you guys give up? Or are you thirsty for more?
Facebook | Pinterest | Instagram | Twitter

Easter Bunny Dinner Rolls (Lion House Rolls)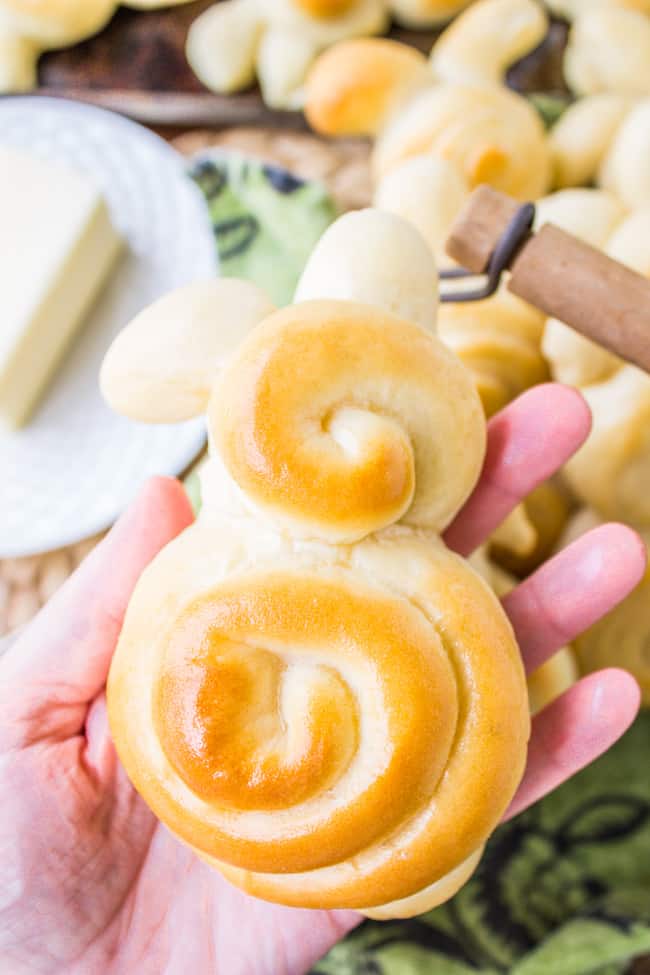 The best dinner rolls you will EVER put in your mouth, rolled up into a bunny until they are almost too cute to eat. (Almost.) Don't be intimidated; if you can make cinnamon rolls, you can make these. A fun Easter project!
Ingredients
2

cups

warm water

,

110-115 degrees F

2/3

cup

nonfat instant dry milk

2

tablespoons

active dry yeast

¼

cup

sugar

,

*

2

teaspoons

salt

1/3

cup

butter

,

softened

1

egg

5-6

cups

all-purpose flour

,

or bread flour

3

tablespoons

butter

,

softened

more soft or melted butter for rubbing/brushing on baked rolls
Instructions
In the bowl of a stand mixer, combine warm water, powdered milk, and yeast. Let it sit for a few minutes until the yeast begins to foam--if it doesn't, you may have killed your yeast. (start over if it doesn't foam.)

Add sugar, salt, 1/3 cup softened butter, 1 egg, and 2 cups of flour. Use the paddle to beat on low until combined.

Switch to a dough hook. Add 3 more cups of flour, one at a time, stirring in between.

You can add up to 6 cups of flour, or until the dough starts to pull away from the sides of the bowl, and it is tacky but not sticky. It is a soft dough. If it is humid you will need more flour.

Knead with the dough hook for about 5 minutes.

Scrape the dough into a large greased bowl, cover with a cloth, and let rise in a warm place for about an hour, or until doubled. I like to turn my oven on to warm (170F), turn it off, then put the bowl in the oven with the door ajar.

Lightly dust a large workspace with flour. When the dough has doubled, punch it down and knead it together with floured hands a couple times. Split the dough in half, one half slightly larger than the other. Add the smaller half back to the greased bowl, cover and set aside.

Use a rolling pin to roll the larger half of the dough into a 11 x 24 inch rectangle.

Spread about 2 tablespoons of very soft butter over the dough.

Roll up, starting on the long edge. (You should have a roll that is 24 inches long).

Use a very sharp knife or floss (see photos) to cut the roll into 24. These are the bunny bodies :)

Prepare 3-4 large baking sheets with nonstick spray, silpats, or parchment paper. Place the rolls on the sheets, making sure there is plenty of space for the head and ears, plus rising. I put 6 rolls on 4 sheets. Cover each baking sheet with a cloth. If you have room, refrigerate them so they don't rise while you prepare the head and ears. If you don't have room, do the next steps fast!

Divide the remaining dough. Pull off how much you think you need (definitely less than half) to make 48 bunny ears. Set aside.

Roll the remaining dough into a 24x6 inch rectangle. Spread with about a tablespoon of soft butter. Roll up the dough starting from the long edge (you should have a 24 inch roll).

Use a sharp knife or floss to cut the dough into 24 pieces.

Have a bowl of water handy. Dip the bottom of the "head" into water, and tuck gently underneath the top of the body. Just enough so that they will stick together. I like to put the head on the opposite end of the "tail" of the spiral of the body, so that it looks a little like a bunny tail. (see photos) Repeat with remaining bunny heads.

Use the remaining dough to form ears for the bunnies. I just rolled little pieces of dough in between my palms, dipped the end in water, and tucked it under the head. Don't forget to make a few of the ears floppy!

Cover each baking sheet with a cloth.

Preheat oven to 375 degrees F.

Let the bunnies rise for 15-30 minutes, until they look puffy. Remember they will rise more in the oven.

Bake the bunnies 2 sheets at a time for about 10 minutes, or until golden on top and the bottoms are brown when lifted with a spatula. Halfway through baking time, switch the baking sheets (move the one on top to the bottom, and vice versa).

Soon after removing the bunnies from the oven brush with melted butter. Or you could rub the hot rolls with a stick of softened butter.

Let cool on a cooling rack. Or eat 5 of them while they are hot. Bust out the honey.

These rolls are great for freezing. Bread freezes so well. You could make these a few weeks before Easter, pull them out on the day of, let them thaw on the counter, then bake at 350 F for 2-5 minutes until warmed.
Nutrition
Serving:
1
roll
|
Calories:
159
kcal
|
Carbohydrates:
23
g
|
Protein:
4
g
|
Fat:
5
g
|
Saturated Fat:
3
g
|
Polyunsaturated Fat:
1
g
|
Monounsaturated Fat:
1
g
|
Trans Fat:
1
g
|
Cholesterol:
21
mg
|
Sodium:
246
mg
|
Potassium:
82
mg
|
Fiber:
1
g
|
Sugar:
4
g
|
Vitamin A:
166
IU
|
Vitamin C:
1
mg
|
Calcium:
39
mg
|
Iron:
1
mg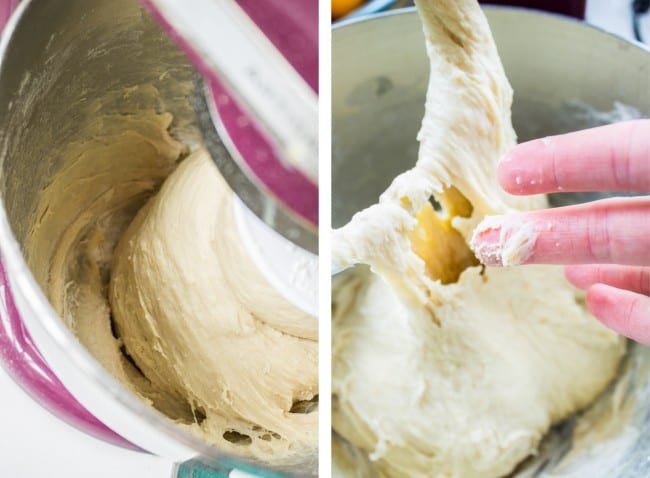 Some finger stick-age is ok.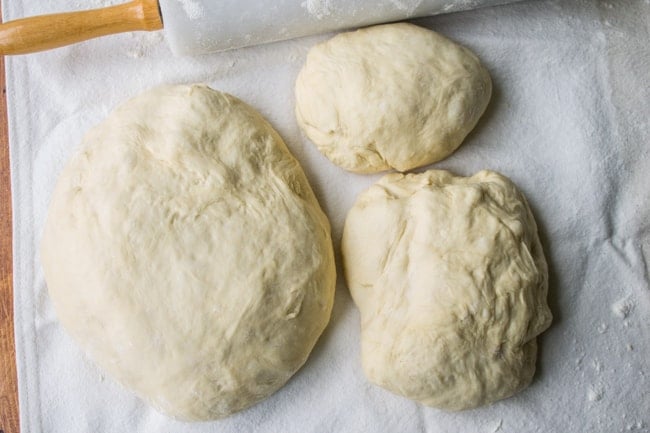 Left: bunny bodies. Top right: Bunny ears. Bottom right: bunny heads
Left: bunny bodies. Right: Bunny heads.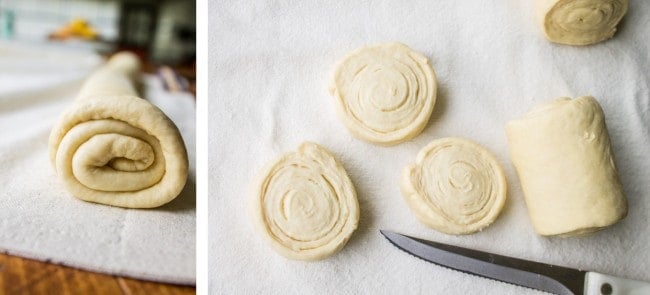 Have you ever cut dough with floss? So much easier. Don't use mint!
The one on the left was the end piece of the roll that I cut into 24. It turned out a little puffier, but I thought both of them were cute in the end.
Eat these rolls with this Cinnamon Honey Butter and die happy: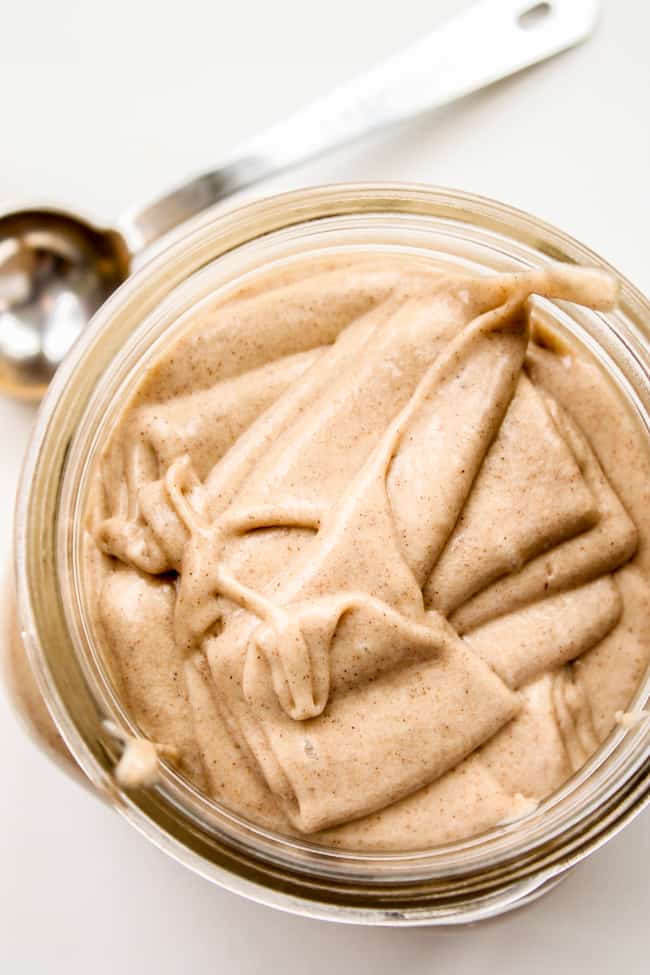 You might like these other bread recipes for Easter!
Samoan Coconut Bread (Pani Popo)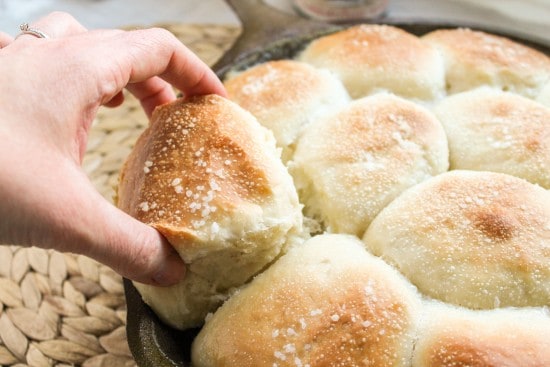 Oldie but a goodie: Big Fat Crescent Rolls: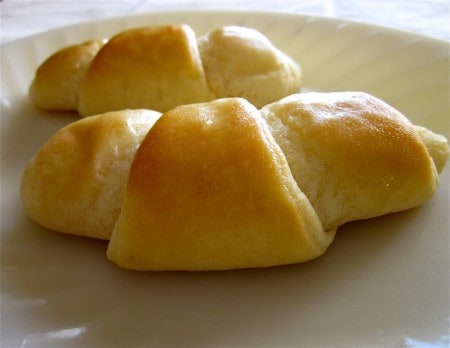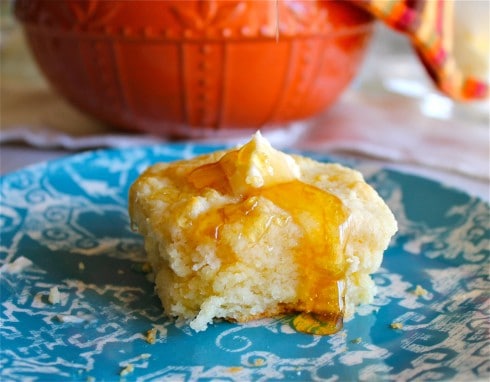 If you're into making shaped bread, pin this one for next Christmas: Golden Santa Bread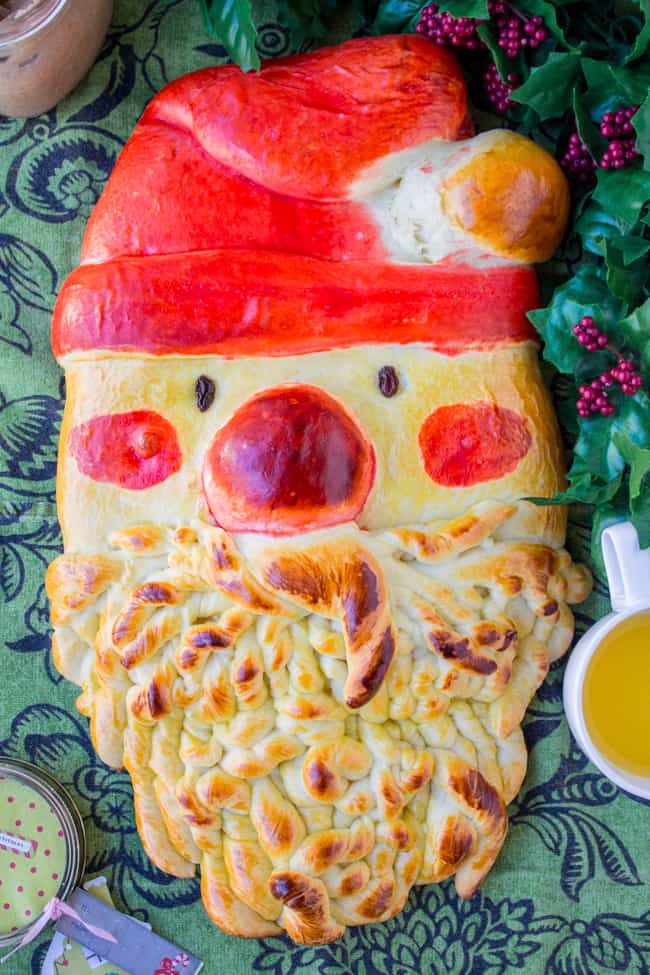 Other bread recipes from awesome bloggers:
One Hour Honey Bunny Buns from Kirbie Cravings
Orange Bunny Rolls from Budget Gourmet Mom
Best Butterhorn Rolls from Lovely Little Kitchen