Eric and I have a goal this year to have more fun. I know that sounds kind of silly and generic, but we really mean it. By "have fun" we mean both that we want to make more awesome memories, and also that we want to find ways to have more fun doing all our regular stuff.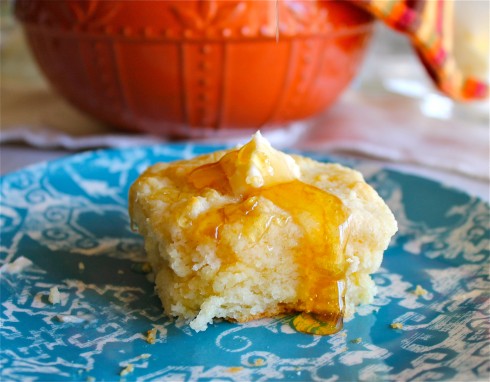 The idea stems from a conversation Eric had with my brother (also named Eric…I know, confusing) who is an ER doctor. They were talking about different careers they could have chosen. Doctor Eric said something like, "I wouldn't really want a desk job, but I'd have fun no matter what I did." And it's true. My brother has one of the most fun-loving spirits I have ever encountered. He and his family are always having crazy adventures.
So Eric (my Eric) and I decided that we should be having more fun too, no matter what we're doing. Since we live in Utah with tons of beautiful powdery snow everywhere, I decided that we should go snowshoeing. (Because skiing is expensive. Also I am 8 months pregnant and although there may not be official rules about that, in my case there should be. If you could get your hands on some footage of me strapped to 2 sticks falling rolling skiing down a slippery mountain, you would understand.)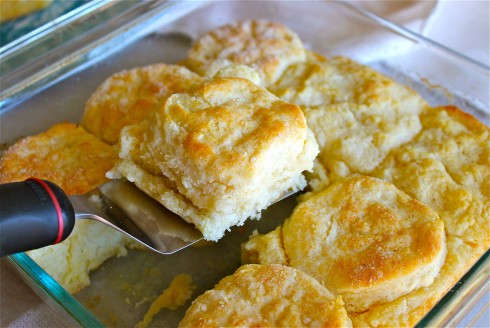 Anyway. We were going to go with my sister and her kids, but she called me that morning and told me that there was going to be a huge blizzard in like 20 minutes. Fun fail. You can't have fun if you don't check the weather, idiot! I was totally bummed. But then I remembered that the goal was fun, not snowshoeing. So we went over to their house and played Fox and Geese in the backyard with all the kids and had a massive snowball fight.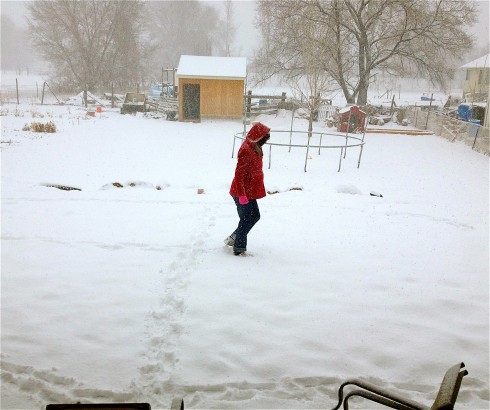 Here I am forging the trail. It was pretty epic. And memorable. And definitely fun. Yesss!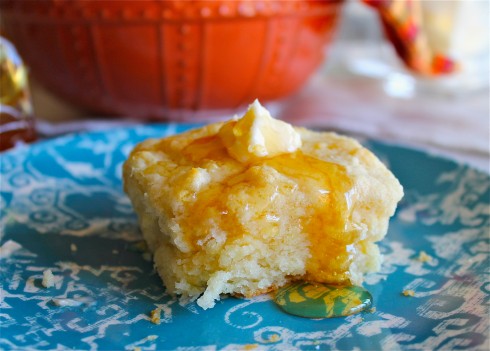 These biscuits are fun too. (See how awesome we are doing on our goal??) For real though, these biscuits taste like the ones at KFC, except way better. Which I didn't even know was possible. The original recipe says it's a Popeye's knockoff, but I've never been there so I wouldn't know. What I do know is that these babies are baked in butter. That's right. You melt butter in the baking dish and plop the dough right in it. I never would have thought of doing that, but the result is to die for. Especially when you drizzle honey over the top…you will be craving fried chicken in no time. Eat these with a glass of water.
7Up Biscuits

Source: recipe from Plain Chicken, recommended to me by Ami over at bunkers down.
Makes 9 biscuits
2 cups bisquick*
1/2 cup sour cream (light works great)
1/2 cup 7Up or ginger ale (don't use diet)
1/4 cup melted butter
Preheat oven to 450. In a medium size bowl, use a pastry cutter or fork to cut the sour cream into the bisquick. Add the 7Up and stir with a spoon or spatula. The dough will be very soft and wet.
Melt 1/4 cup butter in an 8 or 9 inch square pan and set aside.
Sprinkle additional bisquick on counter or pastry cloth. Scrape the dough onto the bisquick and sprinkle the top with more bisquick so that it doesn't stick so much to your fingers. Pat down so that it is about 1/2 inch thick. Use a 2-1/2 inch biscuit cutter or similar sized upside-down glass to cut out 9 biscuits, reshaping the dough as necessary.
Place cut biscuits in prepared pan and bake for 12-15 minutes or until golden brown on top. Do the toothpick test if you are worried about them being done. Then drench them in honey and smile while you get fat.
*I didn't have any, so I made my own. Combine 2 cups flour with 1 teaspoon salt and 2 tablespoons baking powder. Cut in 1/4 cup butter-flavored shortening with a pastry cutter. You only need 2 cups of this mixture for the biscuits, so be sure to measure it. Use the rest for the counter top.