This super easy recipe for Caramel Popcorn takes 10 MINUTES start to finish! You make it in a brown paper bag in the microwave. It is SO crunchy and flavorful! And you don't have to stir a giant pan in the oven for an hour. WIN.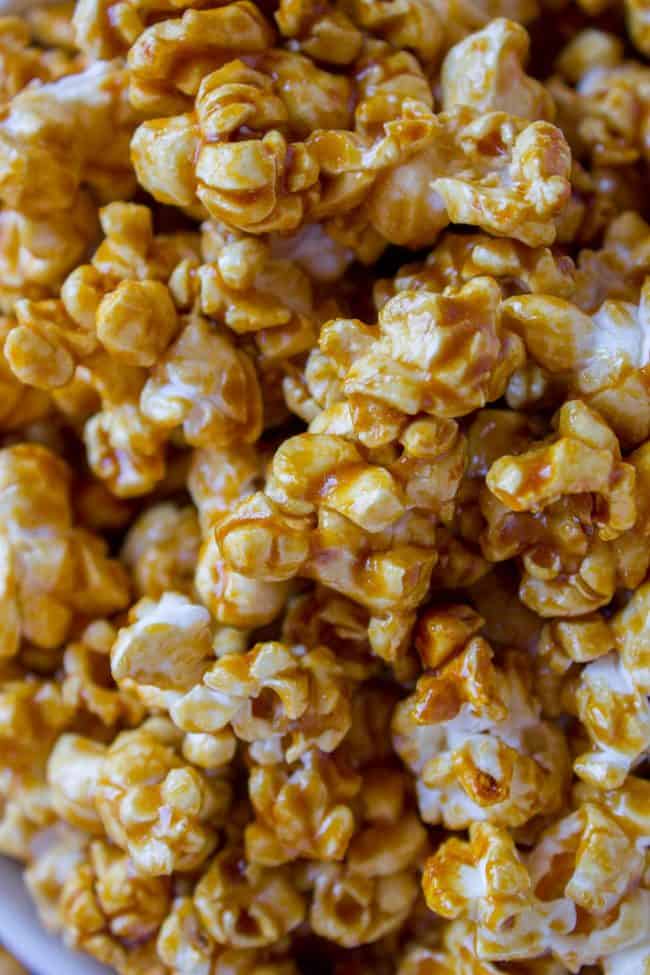 Originally posted Decebmer 5, 2017
The other day I was on the phone telling my sister Laura just how tacky I am. I bought a new sweater but wasn't sure if I wanted to keep it, so the tags were still on. I wore it to preschool drop off…and then again to preschool pick up, because by then I had decided to keep the sweater but had still forgotten to take off the tags.
That was when Laura told me that she was also wearing a new sweater. With the tags still on…because she was still thinking about whether or not to keep it. Welcome to my family. We've got all kinds of class.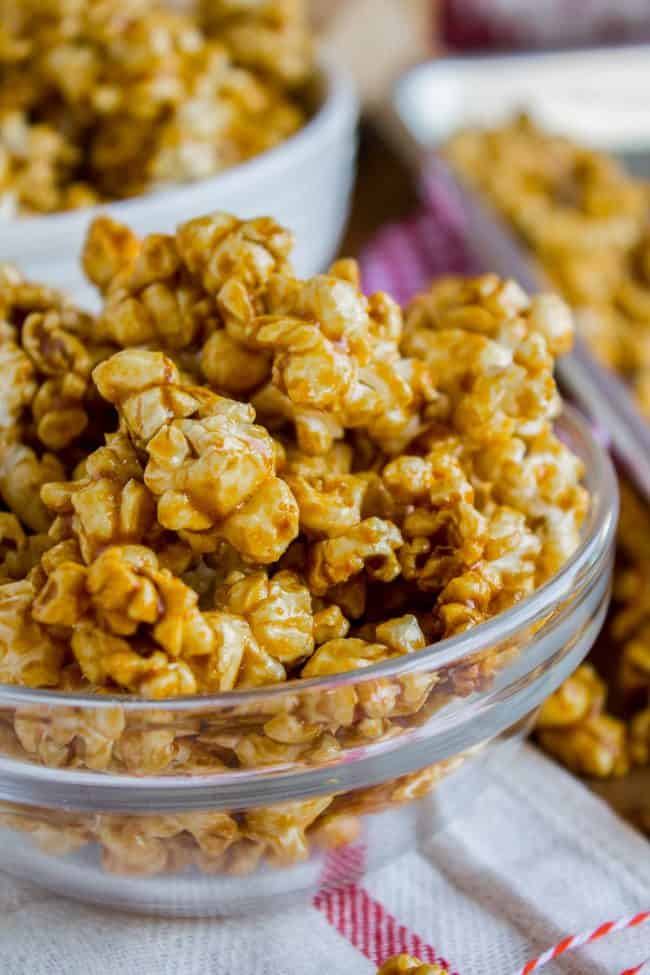 Classy kind of like the other day when I walked past Truman hanging out on the couch, poking at his belly. A minute later I'm in the kitchen and I hear, "Mom…is there such a thing as belly button boogers?" (Okay, gross, but actually a totally valid question, especially if you're 4.)
Caramel Popcorn Recipe
Are you ready for another AUNT SHIRLEY recipe?? I hope you guys aren't feeling overloaded. (How could you feel overloaded by creamy mashed potatoes, famous dinner rolls, and sparkling Christmas slush? I'M NOT SORRY.)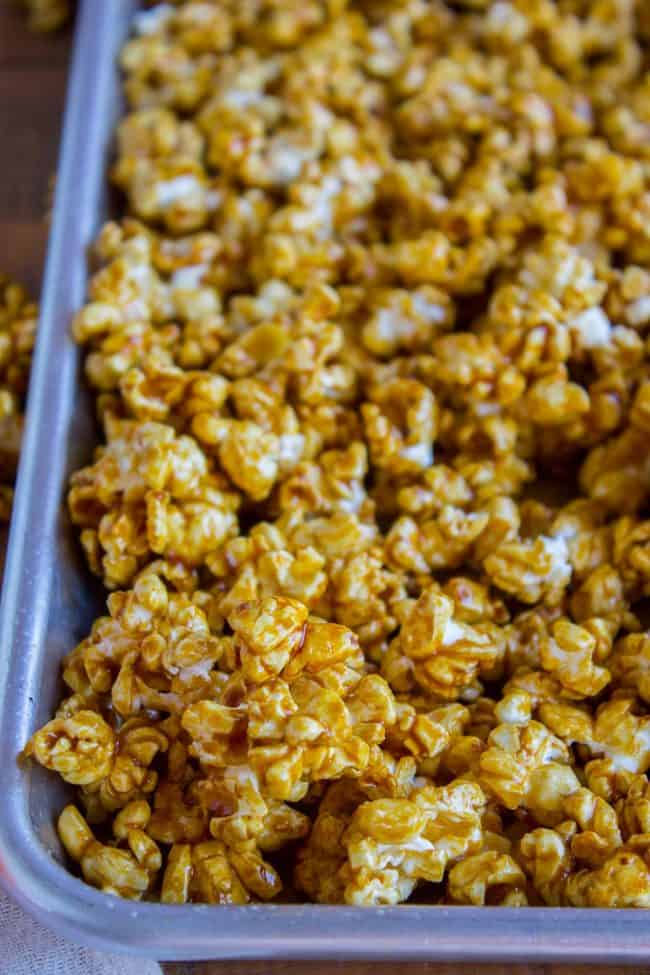 This recipe is KILLER you guys. I've made traditional Caramel Corn before, and while delicious, it involves stirring a giant pan of popcorn in a crazy hot oven. I am the worst at burning myself (I literally have a burn on the back of my hand right now from trying to stir this cauliflower rice while it baked in the oven. Doh!)
How to make Caramel Corn (In the microwave!)
Some things you will love about this recipe: You don't need a candy thermometer. You don't need to wait for a special temperature. You don't have to stir forever, on the stove OR in the oven. And you can have crunchy, caramel-y popcorn in your mouth in 10 minutes flat.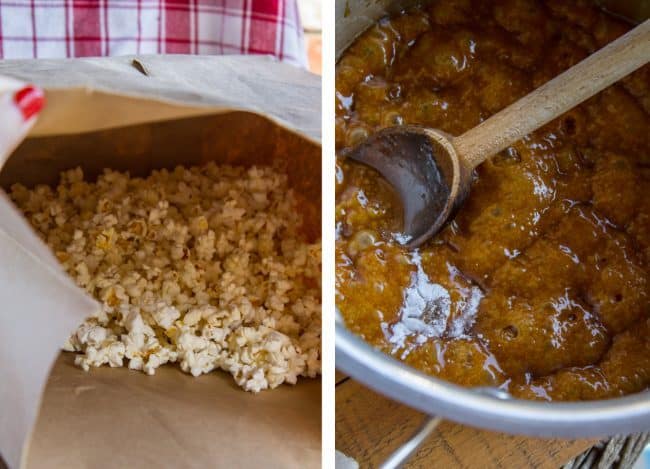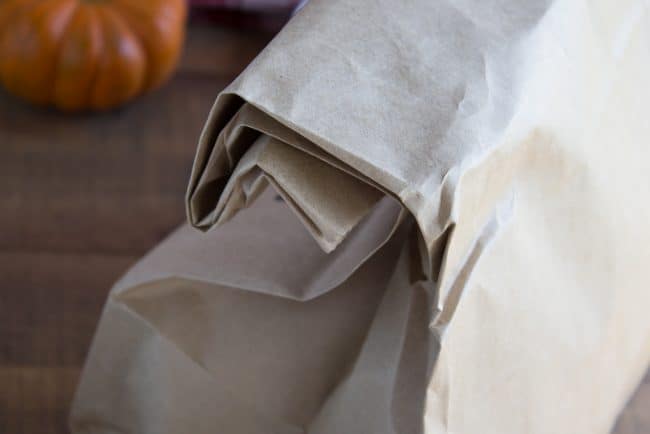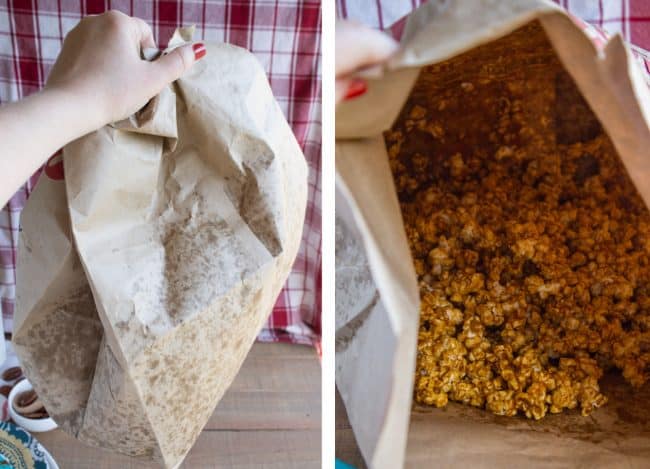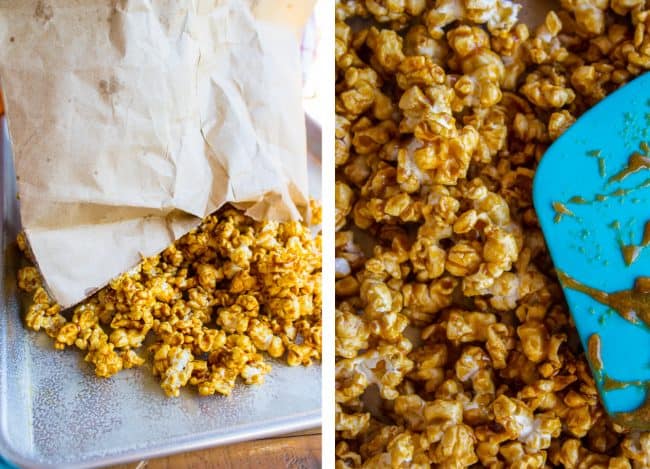 All you need is a clean paper bag from the grocery store (not the lunch sack size–the big guy.) Oh, and a microwave. The microwave is pretty important. It's what gets you out of using your oven. Basically, you add popped popcorn to the bag, boil some sugar on the stove for a couple minutes, then pour it over the caramel and shake, microwave, shake. That's IT. You've got microwave caramel corn.
The recipe calls for already popped popcorn. You can either buy a bag at the store to make life easy, or you can pop your own at home. We have had this Orville Redenbacher Presto Pop for about 10 years now. It never fails! It's so much cheaper than buying bags of microwaveable popcorn. Plus you can add whatever amount of butter and salt you want. It is totally worth the 15 bucks.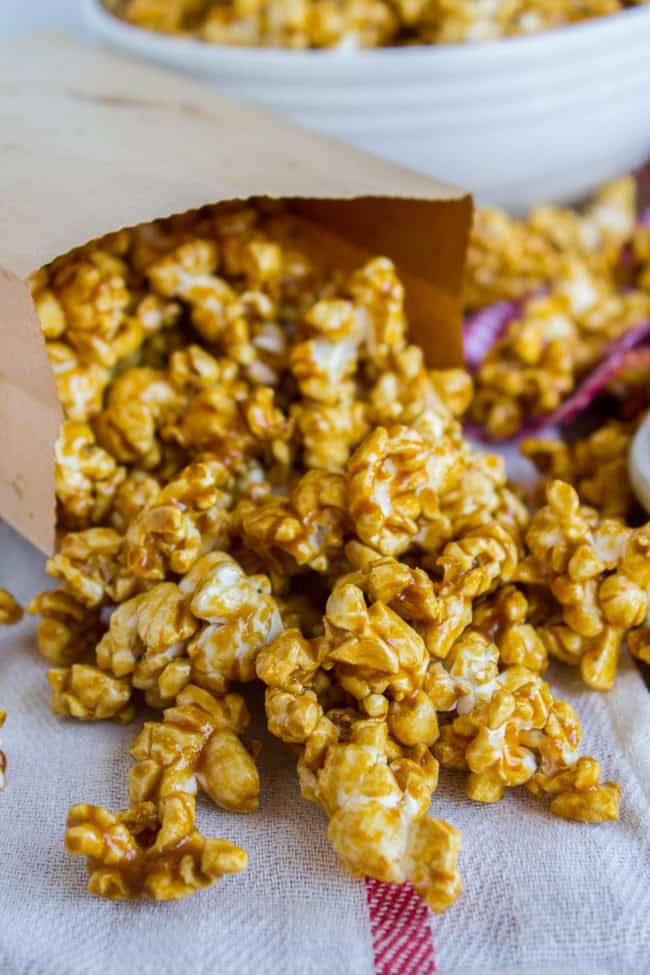 If you do microwaveable popcorn, buy whatever kind you can find that has the least amount of butter and salt. If you use regular movie theater style buttery popcorn, it might be a little overwhelming once you add the caramel.
Making Caramel Popcorn a Neighbor Giveaway
I can't think of an easier neighbor gift for Christmas. (Okay well actually this Sticky Sweet and Salty Chex Mix might give the Caramel Corn a run for it's money. That stuff is legit and also done in about 10 minutes.)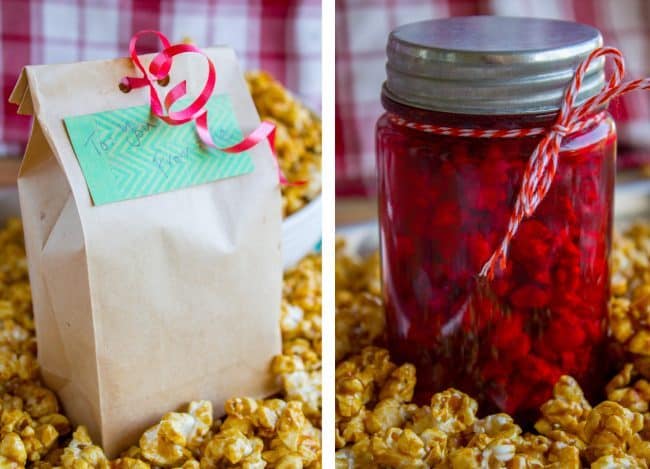 Here are some packaging ideas. These are mini paper bags, I think I got them at Hobby Lobby. A regular size lunch bag would be cute too, with a ribbon and tag. (Here are some I found that have Christmas designs on them!) Or you could get these cute red and white popcorn bags.
More delicious sweet snacks:
Easy Butterscotch Popcorn Balls << Butterscotch and Peanut Butter FTW!
Mint Chocolate Covered Almonds << These are a fun and healthy snack
Cheesecake Stuffed Strawberries (Strawberry Blossoms) << A really pretty party appetizer
2 Ingredient Nutella Puff Pastry << I could eat 10,000 of these!
No Bake Peanut Butter Oatmeal Energy Bites << A quick, healthy snack
Edible Egg-Free Brown Butter Cookie Dough << Why bake cookies when you can just scarf the dough??
Here are some other ideas for giveaways!
Caramel Nougat Pecan Rolls << I give this to my neighbors every year for Christmas. It's really something special for the holidays!
Sticky Sweet and Salty Chex Mix (Christmas Crack) << another great neighbor gift idea :)
Caramel Pecan Thumbprint Cookies << if you haven't made these, you haven't lived!
Sweet and Spicy Curry Cracker Jack from Snixy Kitchen
Facebook | Pinterest | Instagram | Twitter

10 Minute Caramel Popcorn in the Microwave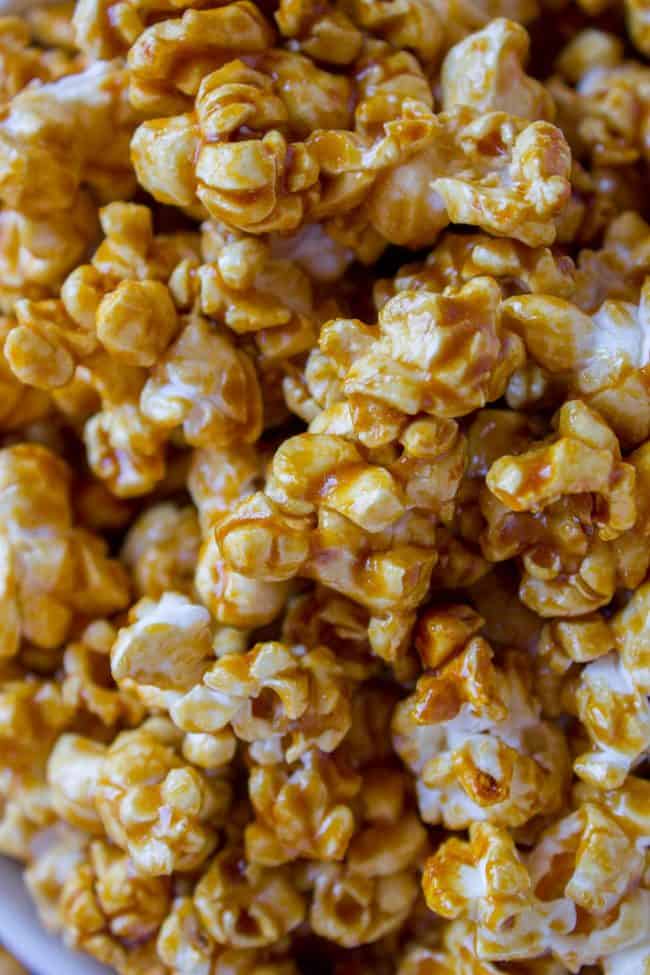 This super easy recipe for Caramel Popcorn takes 10 MINUTES start to finish! You make it in a brown paper bag in the microwave. It is SO crunchy and flavorful! And you don't have to stir a giant pan in the oven for an hour. WIN.
Ingredients
4

quarts

of popped popcorn

1

cup

brown sugar

1/2

cup

salted butter

,

1 stick

1/2

teaspoon

kosher salt

1/4

cup

light corn syrup

1/2

teaspoon

baking soda

1/2

teaspoon

vanilla
Instructions
Add the

popped popcorn

to a large paper grocery sack that hasn't been used (make sure it's clean).

In a 3 quart saucepan, combine brown sugar, butter, salt, and corn syrup. Bring to a boil over high heat, stirring frequently.

When the mixture is at a rolling boil, set a timer for 1 minute.

Remove from heat. Stir in 1/2 teaspoon baking soda. It's going to bubble and foam up, be ready!

Add the vanilla and stir.

Immediately pour the caramel over the popcorn in the bag. It's nice if you have someone around to help you hold the bag open, but I managed it on my own. Stir the caramel in with the popcorn a little bit.

Fold the bag down several times. Place the bag in the microwave and microwave for 1 minute on high heat.

Take it out and shake the heck out of it! Keep the top folded obviously.

Put it back in (top folded) and microwave for 1 more minute.

Shake it like a polaroid.

Pour the popcorn out onto the prepared baking sheet, breaking up any chunks.

Let cool for a couple minutes, then stuff your face!
Notes
This recipe is from my Aunt Shirley!
Nutrition
Serving:
2
cups
|
Calories:
177
kcal
|
Carbohydrates:
24
g
|
Protein:
1
g
|
Fat:
9
g
|
Saturated Fat:
5
g
|
Polyunsaturated Fat:
1
g
|
Monounsaturated Fat:
3
g
|
Trans Fat:
1
g
|
Cholesterol:
15
mg
|
Sodium:
243
mg
|
Potassium:
68
mg
|
Fiber:
1
g
|
Sugar:
17
g
|
Vitamin A:
197
IU
|
Calcium:
16
mg
|
Iron:
1
mg