Cheddar Bay Biscuits Recipe
These Cheddar Bay Biscuits taste just like the ones from Red Lobster! Packed with cheddar cheesy goodness, with a little (tiny) bit of heat. The baked biscuits are brushed with garlic butter. You can make this recipe into drop biscuits (which is so easy), but I love rolling them out and cutting them to get all those flaky layers! Either way they are tender, moist, and oh so cheesy!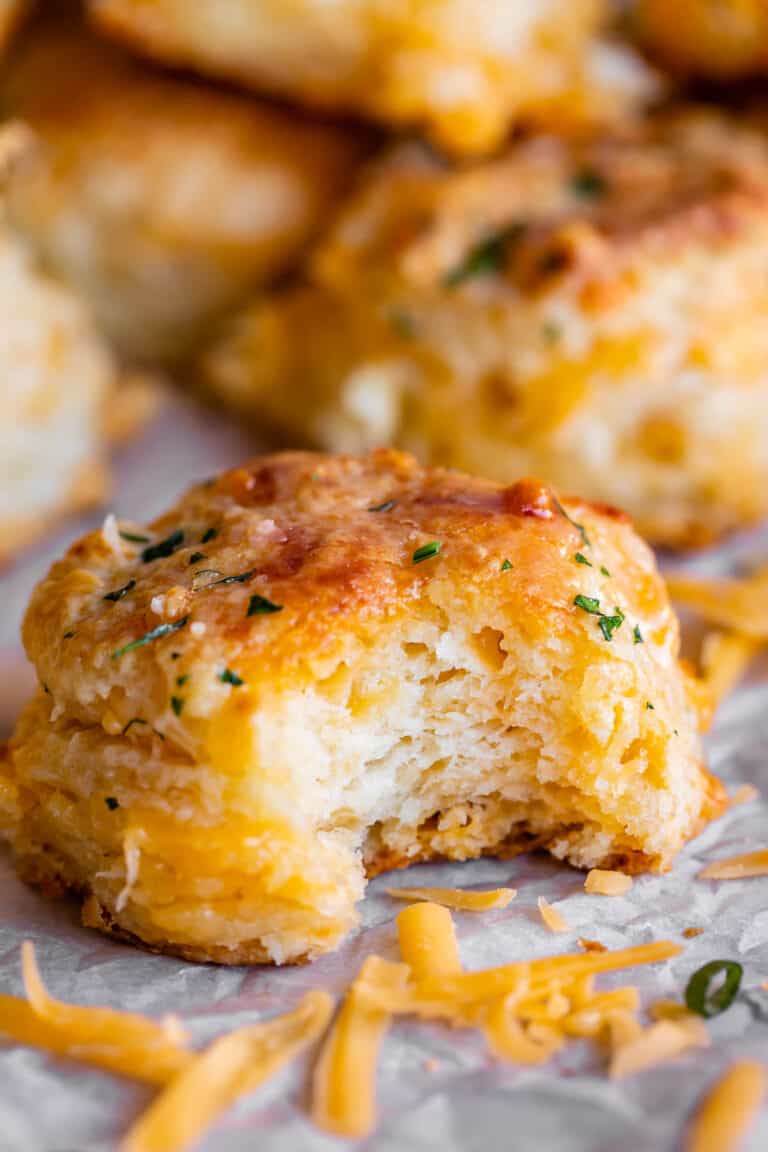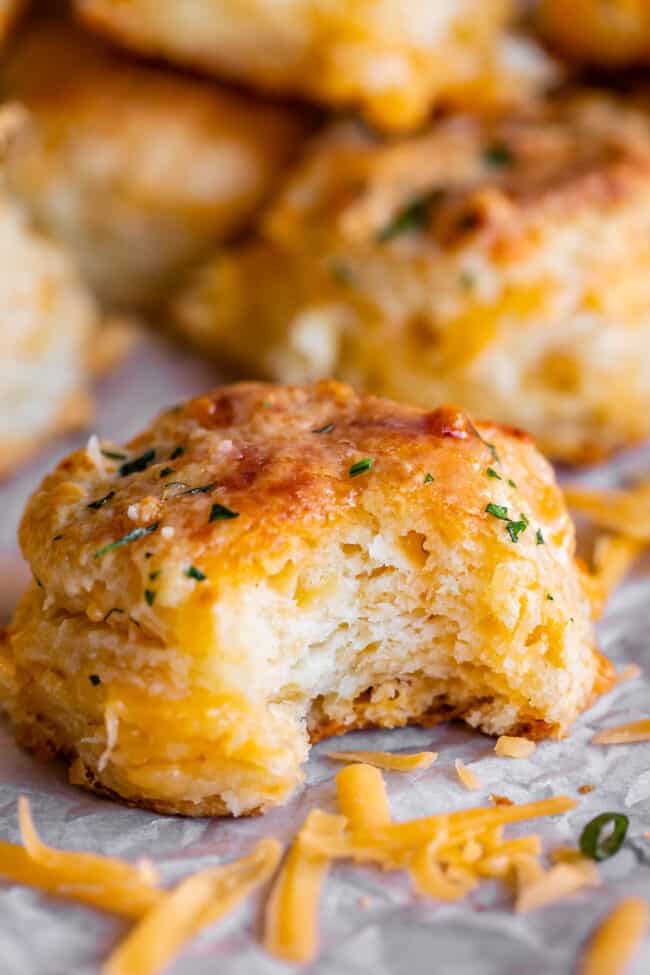 So I've been working really hard this year to lose all the baby weight that's accumulated after having 4 kids. I've lost 20 pounds! Woohoo! I've never really dieted before and I'm totally proud of myself.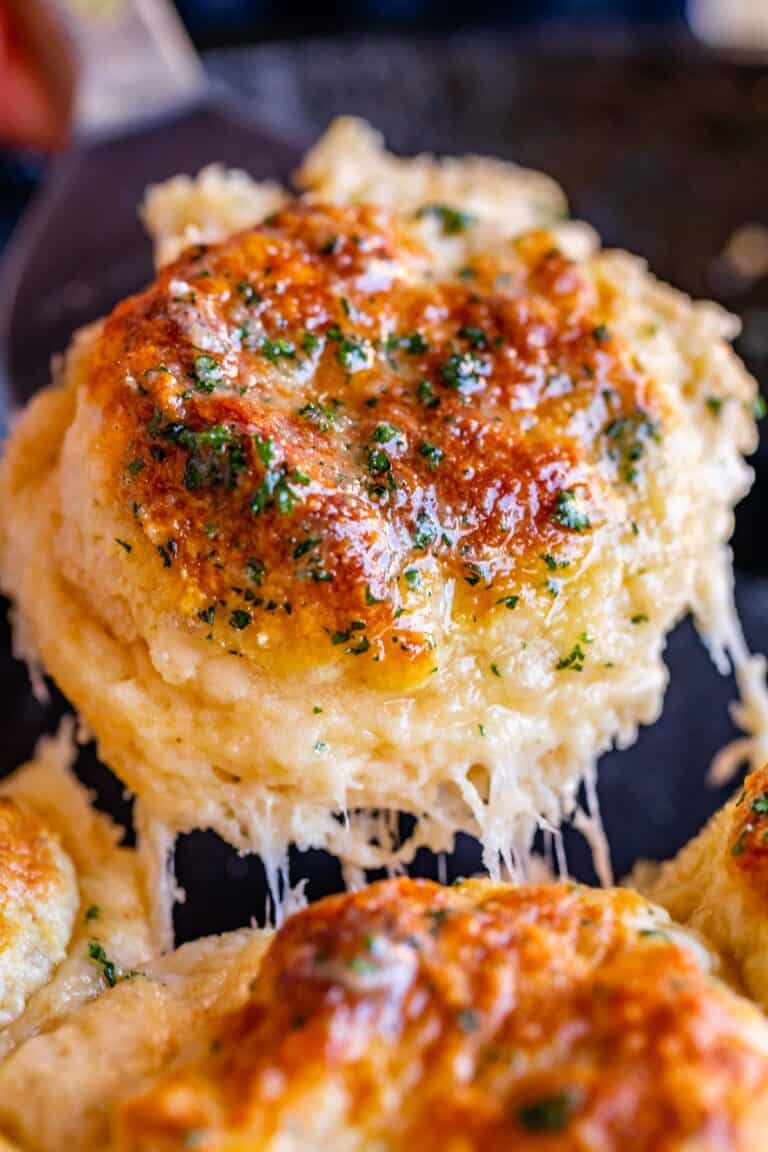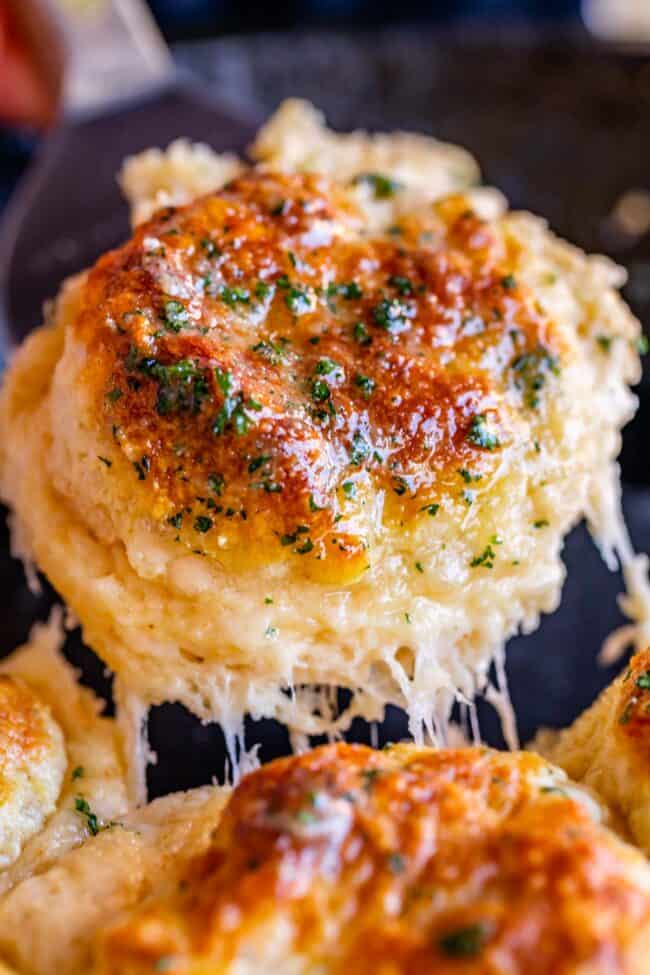 But just the other day, Valentine (4) comes up to me while I'm sitting on the couch with a blanket on my lap. She pulls it back, looks right at my midsection and says, "It still looks like you've got a baby in your tummy, Mommy."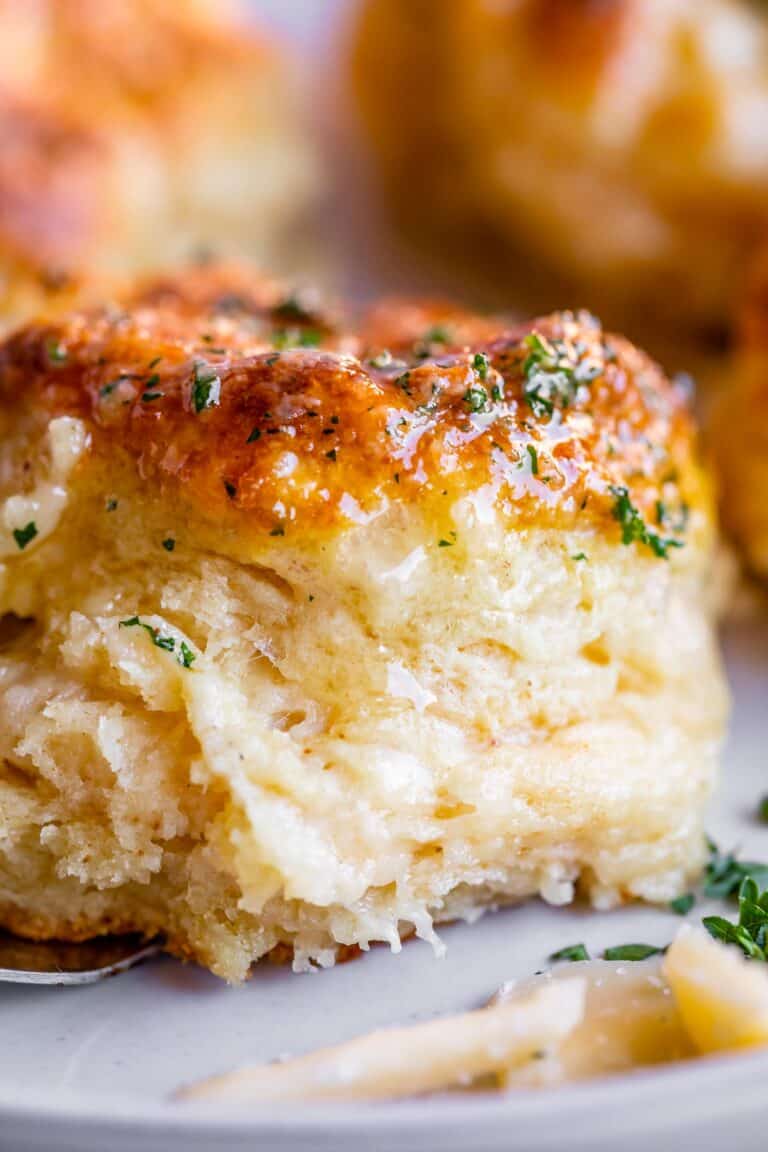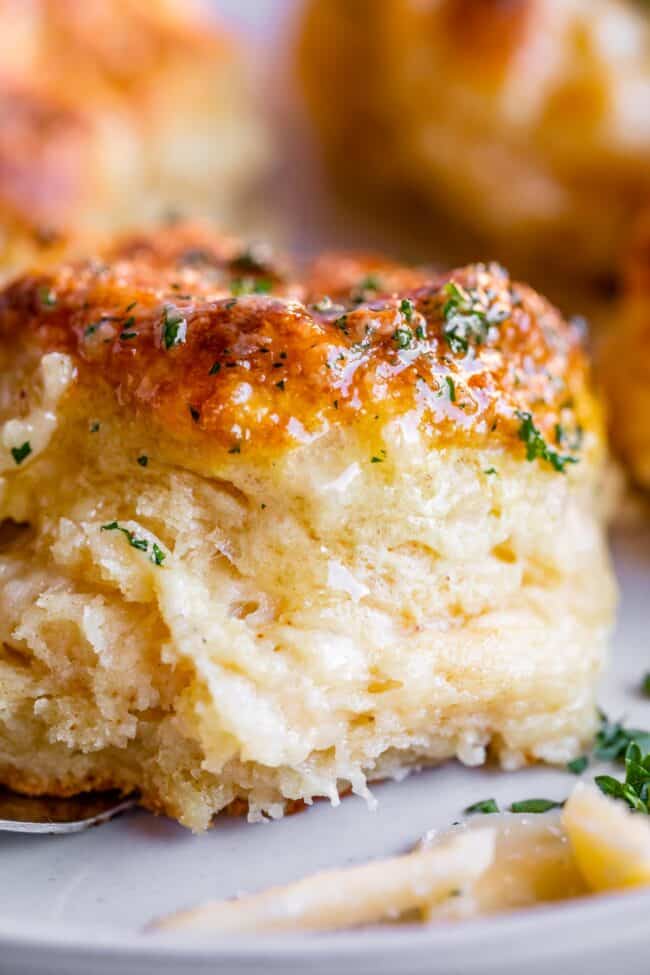 Well THANKS A LOT KID. Someday when I'm old people will ask me, Didn't you have a second daughter? The cute one with the long hair? Whatever happened to her? And I will say, I don't know, she's been dead to me since she was 4 years old.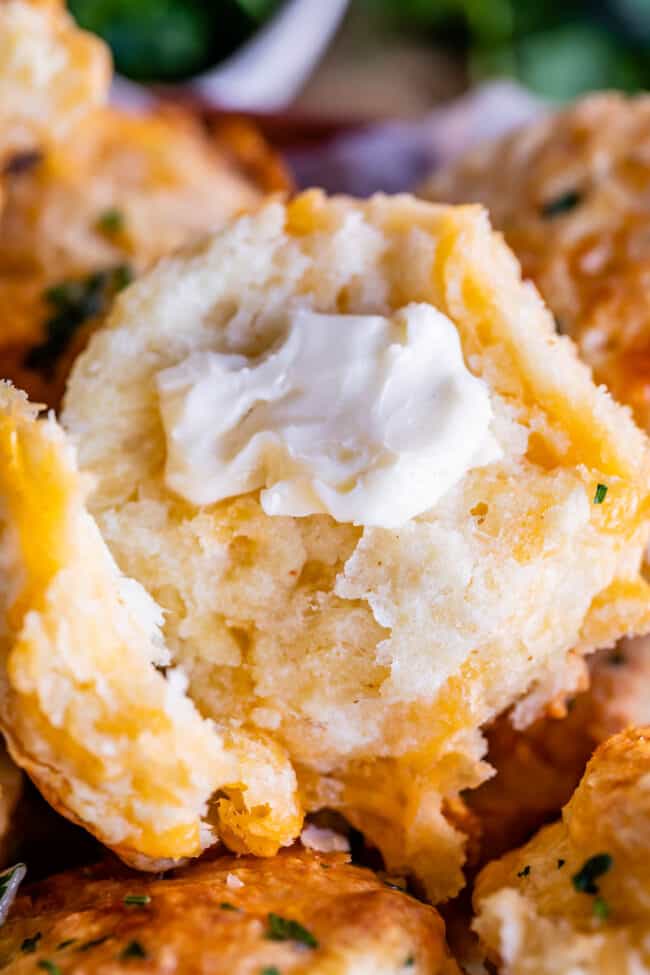 I can't really be too mad at her. She knows exactly how many cheddar biscuits I'm sneaking. It's a food baby belly, ok? I don't think it will ever go away. I may be back to my original weight, but the shape is just not the same. My belly is in the exact shape of these Cheddar Bay Biscuits, and I'm not mad about it.
Cheddar Bay Biscuits
Have you ever had cheddar bay biscuits from Red Lobster?? They are SO LEGIT AMAZING. I thought they might be a little overrated, because you know how everything tastes amazing when you're super hungry waiting for your meal to arrive. Honestly they could throw you some hard tack, or Soylent Green, or maybe some salted cardboard and we would still spread butter on it and eat it, thinking, wow this restaurant must be new wave or something. You can't trust yourself in that 20 minute interval before your food arrives. It's just a fact.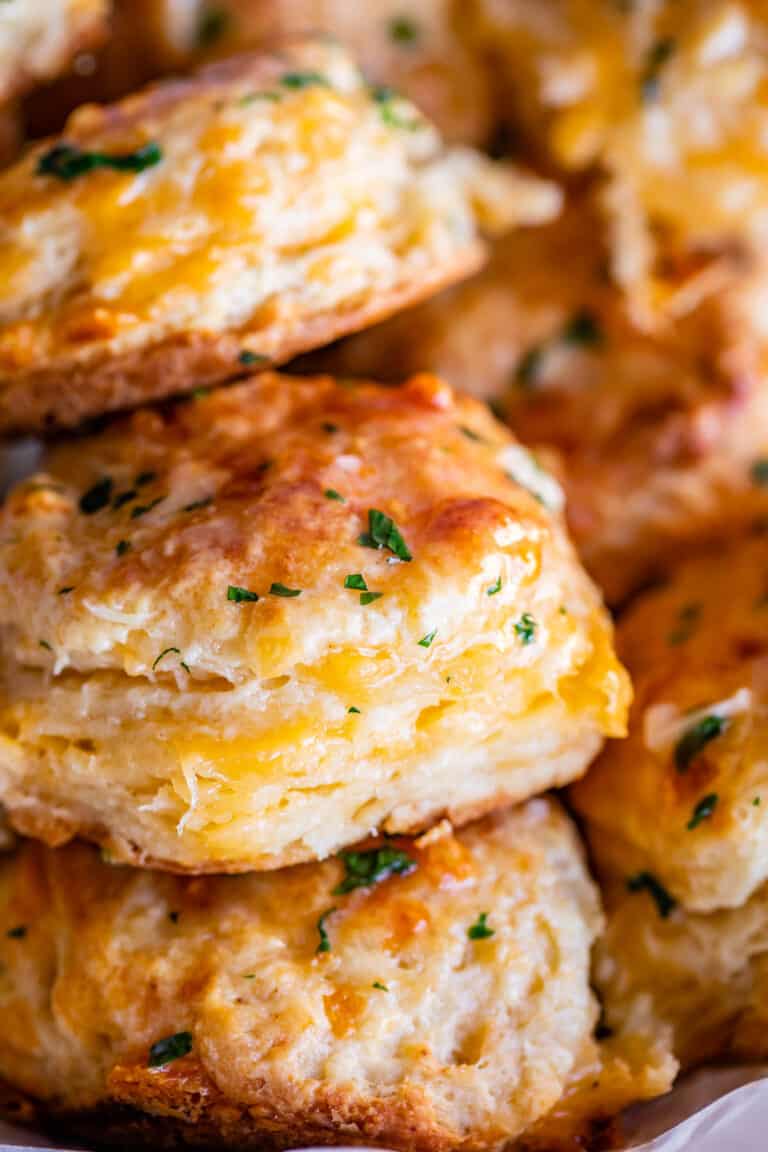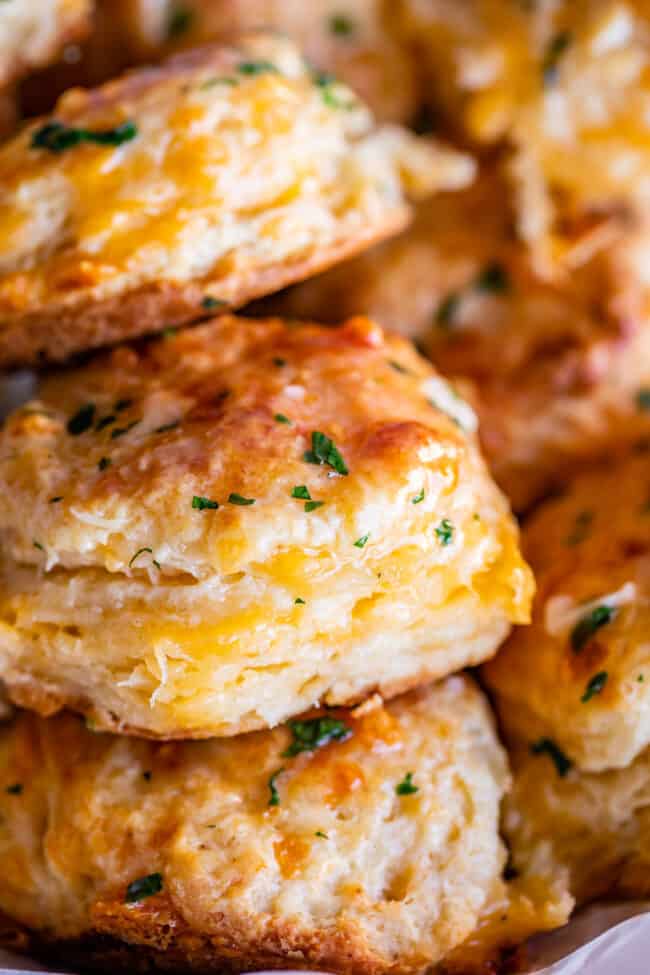 But I was very pleased to find that these biscuits are totally stand alone amazing. Even the 4th one in a row is amazing. (I would know, I've got the biscuit shaped tummy to prove it.)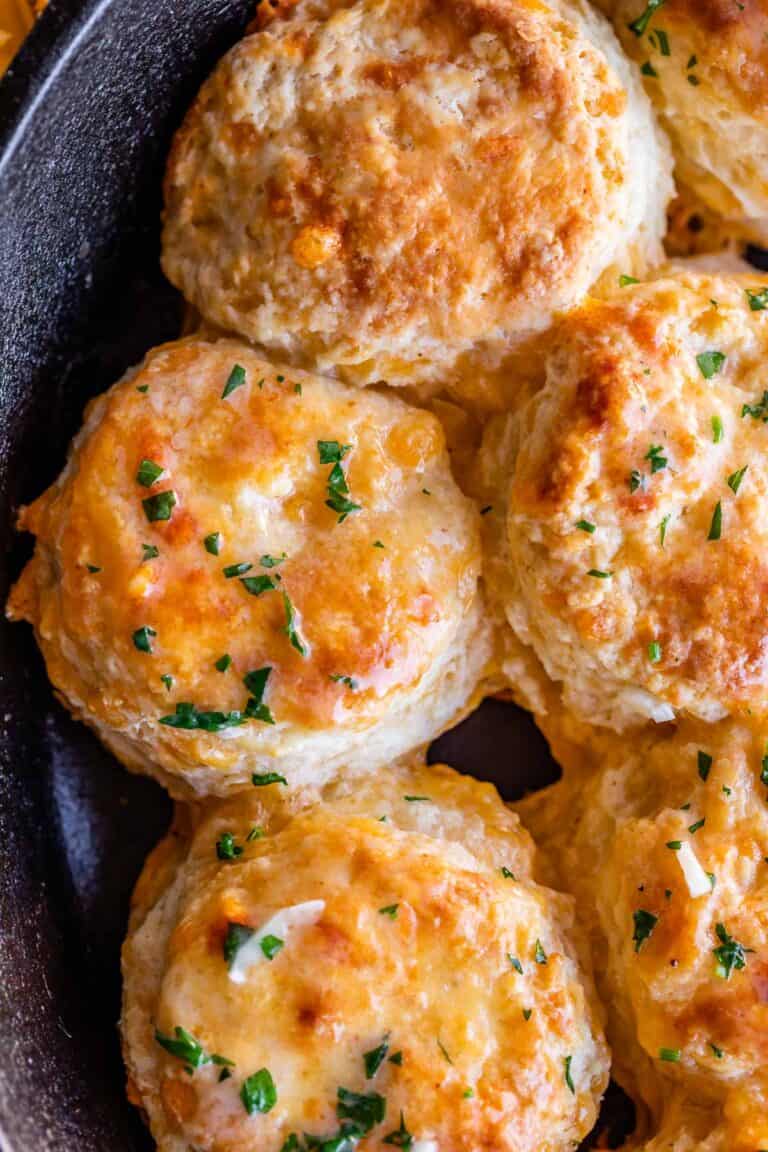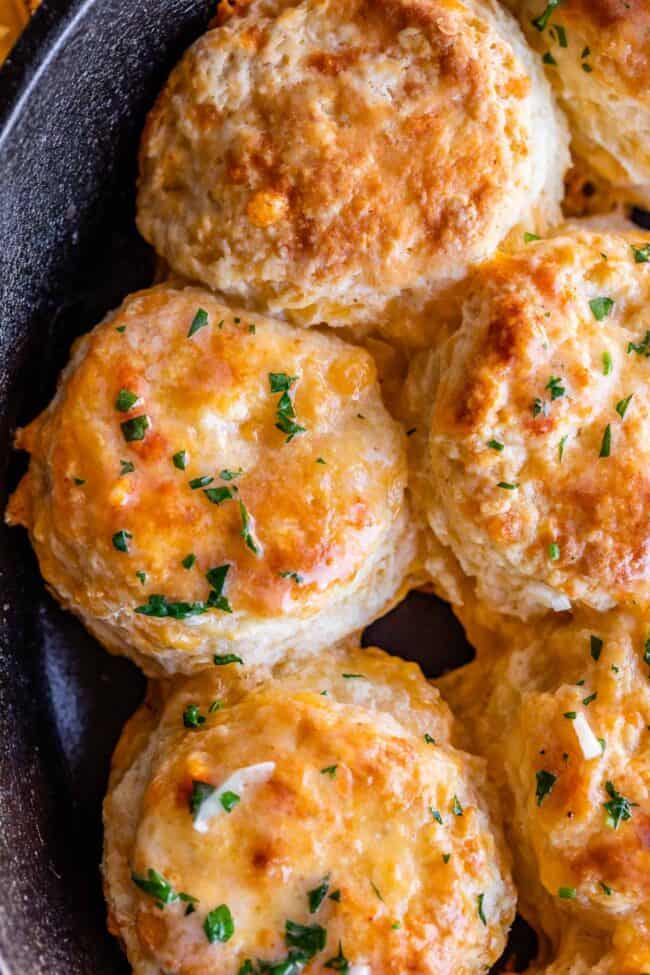 I researched a bunch of recipes for Cheddar Bay Biscuits and mashed it up with my Ultra Flaky Buttermilk Biscuits, the flakiest, tallest biscuits of your life. The result is a ridiculously cheesy biscuit that has gorgeous layers. Buttermilk and an egg make it super moist and tender. The recipe has a little cayenne in a for a tiny (tiny) kick, and the baked biscuit is brushed with garlic butter. I mean how can you go wrong here??
How to make Cheddar Bay Biscuits
They are pretty easy to make. First start out with the dry ingredients:
flour
sugar
baking powder
garlic powder
cayenne pepper
kosher salt

Funny story. The first time I tested this recipe, the biscuits baked up super tall and golden. I even started my photo shoot, they looked so good. Then I took a bite of one and thought I was going to DIE. It tasted like pure metal. Like biting into a lamp post. I had used baking soda instead of baking powder! My brother moved recently and gave me the contents of his pantry. His baking soda (from Trader Joe's) is in the EXACT SAME CANISTER that baking powder comes in. What kind of monster does this?? Baking soda COMES IN A BOX thankyouverymuch. How can I be expected to read the label??
Anyway. Make sure you don't use baking soda. It's a bad idea. (I actually included two photos from that original photoshoot in this post. Can you tell which ones they are? Hint: I used white cheddar! They looked so good it felt like a crime throwing them away, but again…lamp post.)


Cut in your butter. Leave in some nice big chunks, about the size of peas. Do ya'll have a pastry cutter? It's time to get yourself one. You need more pastry cutting in your life.


Mix up some buttermilk and an egg and add it into the biscuits. You can use whole milk or half and half in place of the buttermilk. But I love the tang it adds! You can also totally use cheater buttermilk. (add 2 teaspoons vinegar to a measuring cup, then fill with milk to the 1 cup line. Let sit 5 minutes.)
Stir the dough together and get it all moistened. Add in all that cheese!! 2 cups packed cheese means SMASH it down into your measuring cup!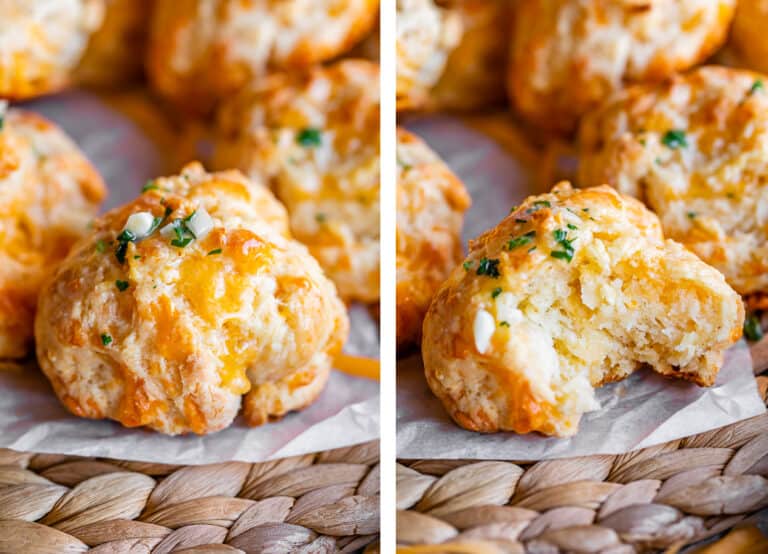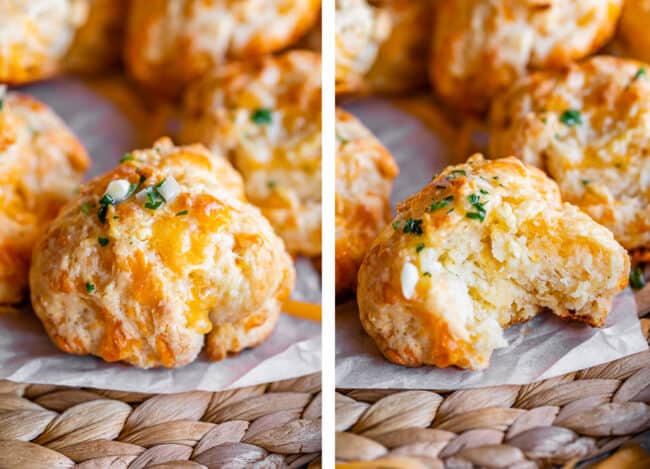 At this point you can spoon these onto a baking sheet and pop them in the oven. This is called making them as "drop biscuits" because you're just dropping the dough on the pan. It's delicious. You can see what they look like above. Not as many layers, but still oh-so-cheesy.


BUUUUT. If you want extra flaky layers. Take 5 minutes to roll and cut.
It's not hard. Just roll it out, fold it up like a business letter, turn it over and pat down to the thickness you want your biscuit to be. (THICK)


Then cut and bake! I like to bake my biscuits right next to each other so that they help each other lift and rise in the oven, but you can spread them out if you like. The picture below shows the biscuits in a cast iron skillet, but this recipe makes 15-18 biscuits and they don't actually all fit (I made the rest as drop biscuits so you could see how to shape these both ways). Use a baking sheet or 9×13 inch pan and just place them right next to each other.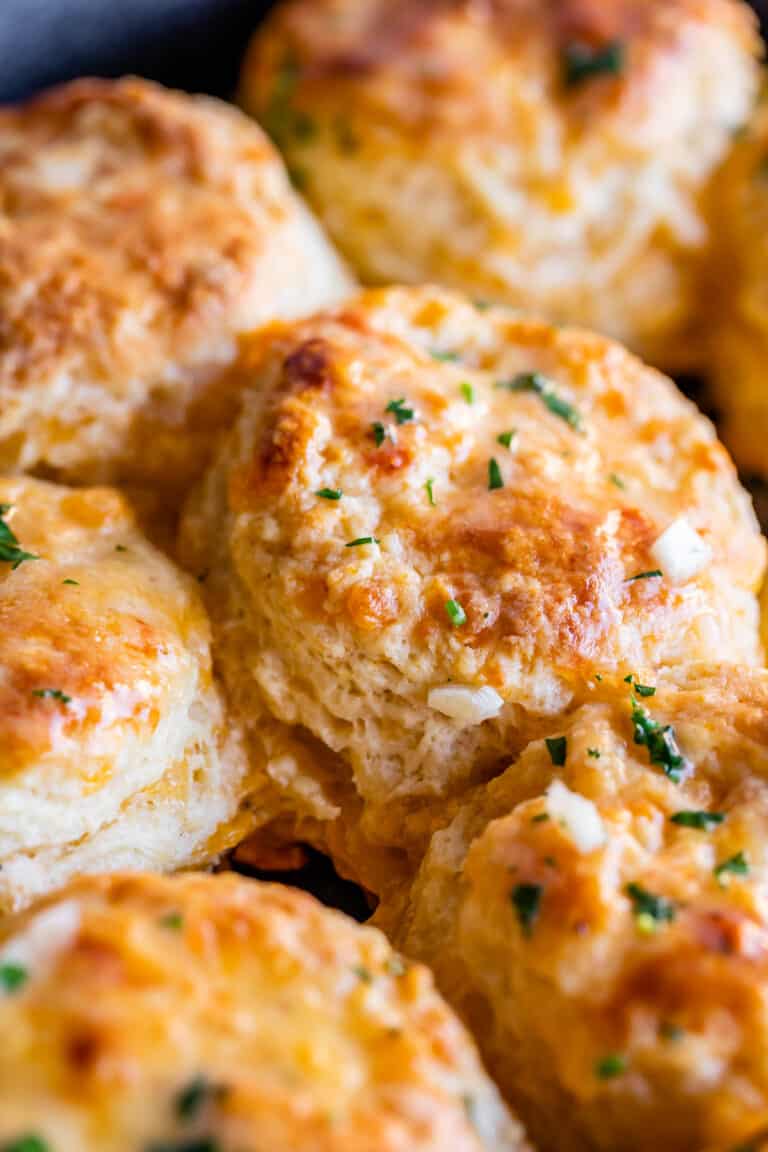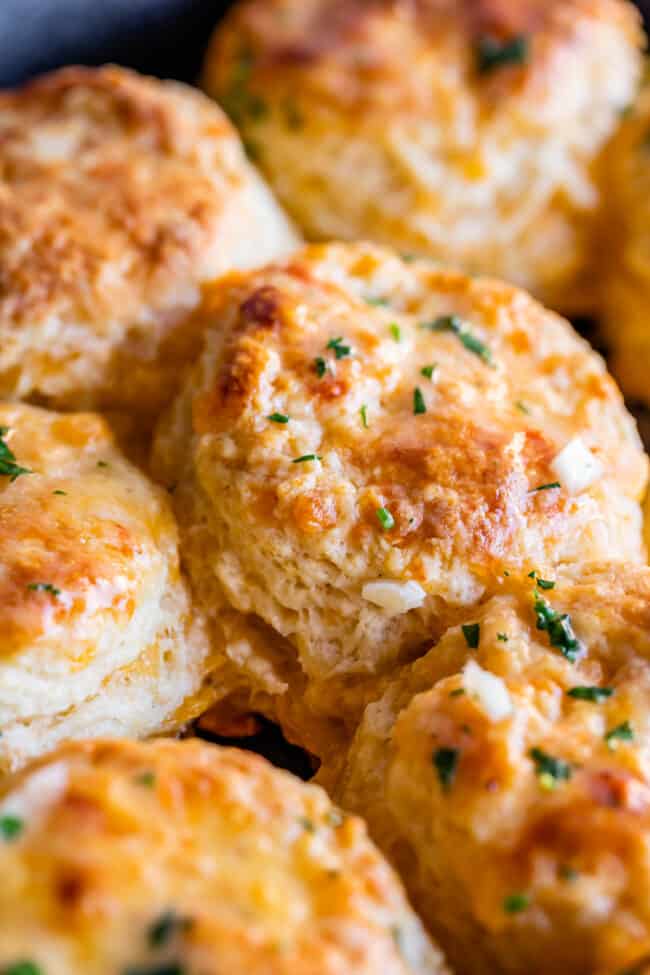 When they come out of the oven, brush them with the garlic butter! Then eat as many as you need to to create a soft, round, cheddar biscuit shaped belly. #worthit.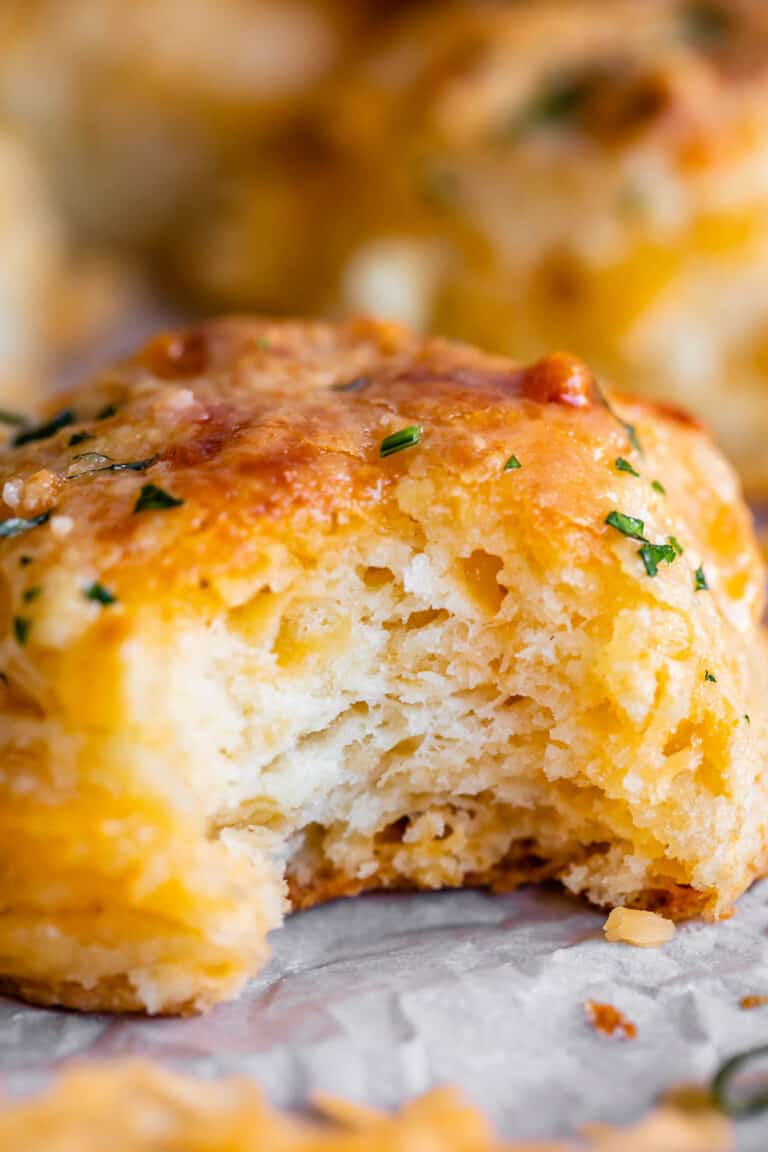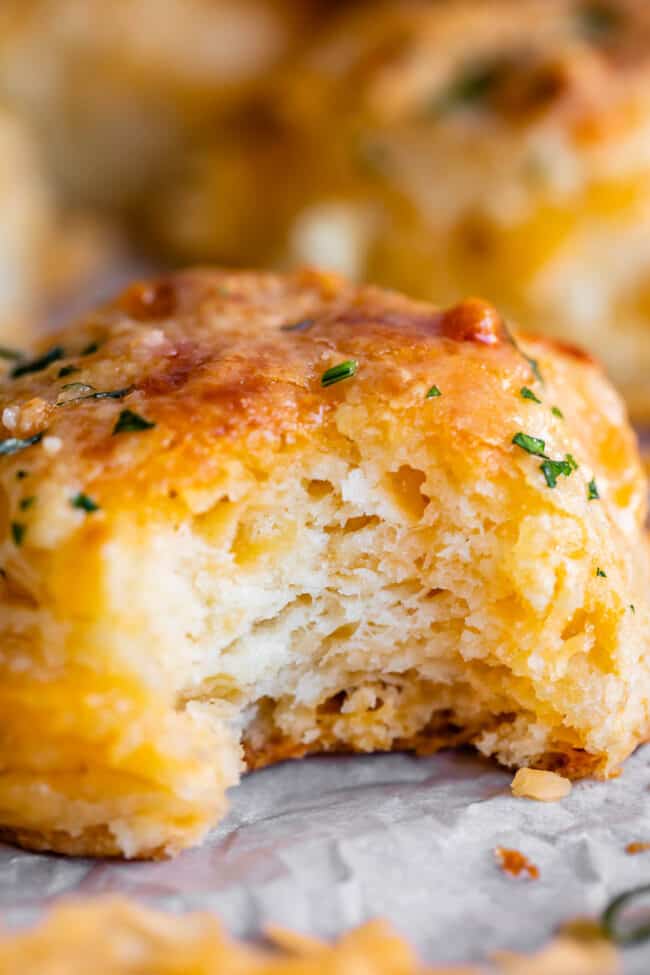 What to serve with Cheddar Bay Biscuits
Here are some main dish ideas that could definitely use some cheesy cheddar bay biscuit support:
More biscuit and bread recipes you are going to love!
Facebook | Pinterest | Instagram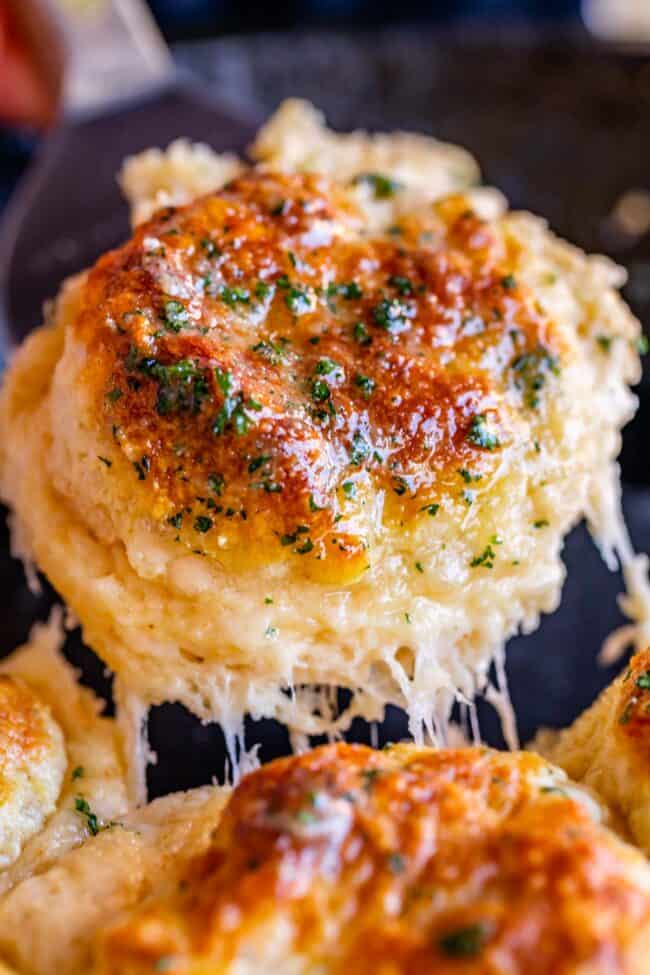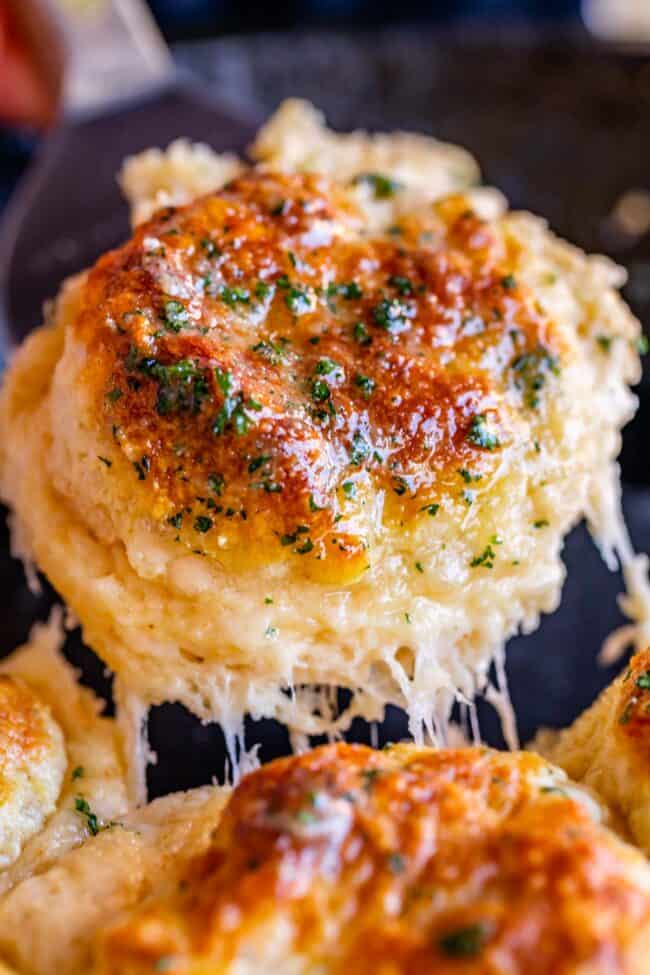 print
Did you make this recipe?
Leave a review »
Cheddar Bay Biscuit Recipe
18-20 biscuits
adjust servings
These Cheddar Bay Biscuits taste just like the ones from Red Lobster! Packed with cheddar cheesy goodness, with a little (tiny) bit of heat. The baked biscuits are brushed with garlic butter. You can make this recipe into drop biscuits (which is so easy), but I love rolling them out and cutting them to get all those flaky layers! Either way they are tender, moist, and oh so cheesy!
Ingredients
For the biscuits
3

cups all purpose flour, spooned and leveled

1

tablespoon granulated sugar

1

tablespoon + 1 teaspoon baking powder

3/4

teaspoon garlic powder

1/4

teaspoon cayenne pepper

1

teaspoon kosher salt

1/2

cup (1 stick) cold butter

1

cup buttermilk (you can use whole milk instead)

1

large egg

2

cups packed (8 ounces) sharp cheddar cheese
For the garlic butter topping
1/4

cup (half stick) butter, melted

1

clove garlic, smashed and minced*

1

tablespoon fresh parsley, chopped
Instructions
Preheat your oven to 425 degrees F.
Start by grating your cheese. You will need 2 cups packed, about 8 ounces. Packed means you have to press it down pretty well into your measuring cup! Once it's all grated, stick it in the fridge so that it stays cold while you mix up the biscuits. Cold biscuit dough going into a hot oven is what makes flaky layers.
In a large bowl, whisk together 3 cups flour, 1 tablespoon granulated sugar, 1 tablespoon + 1 teaspoon baking powder, 3/4 teaspoon garlic powder, 1/4 teaspoon cayenne pepper, and 1 teaspoon kosher salt.
Add 1/2 cup cold butter that has been cut into chunks. Use a pastry cutter to cut in the butter. You can use a fork if you don't have a pastry cutter. You want to leave some pea-size pieces of butter, see photos.
In a glass measuring cup, add 1 cup buttermilk. Crack in one egg and whisk is together.
Pour the liquid over the dry ingredients and stir together with a rubber spatula.
Add in the cold shredded cheddar cheese and stir it together. Coat your hands with flour and knead it together if the spatula can't handle it.
At this point, you can form these into drop biscuits. See notes!
To roll out the dough, prepare a work surface by sprinkling flour generously. Coat your hands with flour and transfer the dough to the floured surface. Knead it together a couple times if it hasn't come together in a ball.
Use a rolling pin to roll the dough into a large rectangle, about 12x16 inches. It doesn't have to be exact.
Fold the short sides of the dough over the center into thirds, just like you're folding a business letter. See photos.
Turn the dough over so the seam is on the bottom. Pat or roll out the dough again until it is about an inch thick. Thick biscuit dough makes thick biscuits!
Use a 2 and 1/2 inch biscuit cutter to cut into biscuits. Do not twist the cutter as you press down, this inhibits rising in the oven. Just push straight down.
Place the biscuits close together (they should be touching. This helps them rise tall) in a 9x13 inch pan, or you can place them in the center of a normal baking sheet (touching each other). I used a 10 inch cast iron pan in the photos above, but was only able to fit 12 of the biscuits (I shaped the rest into drop biscuits.) Use a 9x13 inch pan or a baking sheet to fit all 18-20 biscuits.
Brush each biscuit with buttermilk. (or you can brush with milk, cream, or half and half. It helps them brown.)
Bake in the preheated 425 degree oven for 15-18 minutes. The edges of the biscuits should be golden brown. If you are unsure if they are done, you can always insert a toothpick to the center to make sure it comes out with no batter on it. Be careful not to over bake; these biscuits tend to look a little under baked because of all the cheese on the edges. It looks like gooey dough but it's actually gooey cheese.
While the biscuits are in the oven, make the garlic butter topping. Melt 1/4 cup butter in a small bowl. Stir in 1 tablespoon fresh chopped parsley (you can sub 2 teaspoons dried parsley) and 1 clove garlic*, smashed and minced. Brush each biscuit with the butter mixture just after coming out of the oven.
Store these sealed tightly on the counter for up to 3 days. After that, put them in the fridge.
FREEZER: Biscuits are great for freezing. You can freeze the finished biscuits: let thaw in the sealed container at room temperature, then microwave or warm in the oven at 350 for 5 minutes. You can also freeze the biscuits after you have shaped them but before baking (don't brush with buttermilk). Freeze unbaked biscuits in a sealed container (ziplock is fine). You can bake them straight from frozen. Brush frozen biscuits with buttermilk and bake as instructed, adding 2-5 minutes to the bake time.
by The Food Charlatan

If you make this recipe,
share it on Instagram
 using the hashtag
#TheFoodCharlatan
so I can see it!
We are a participant in the Amazon Services LLC Associates Program, an affiliate advertising program designed to provide a means for us to earn fees by linking to Amazon.com and affiliated sites.