I make this Cranberry Cake with Warm Vanilla Butter Sauce every Christmas without fail! It really is one of my favorite cakes. It is SO easy to put together, you really can't mess it up. The butter sauce is EVERYTHING!!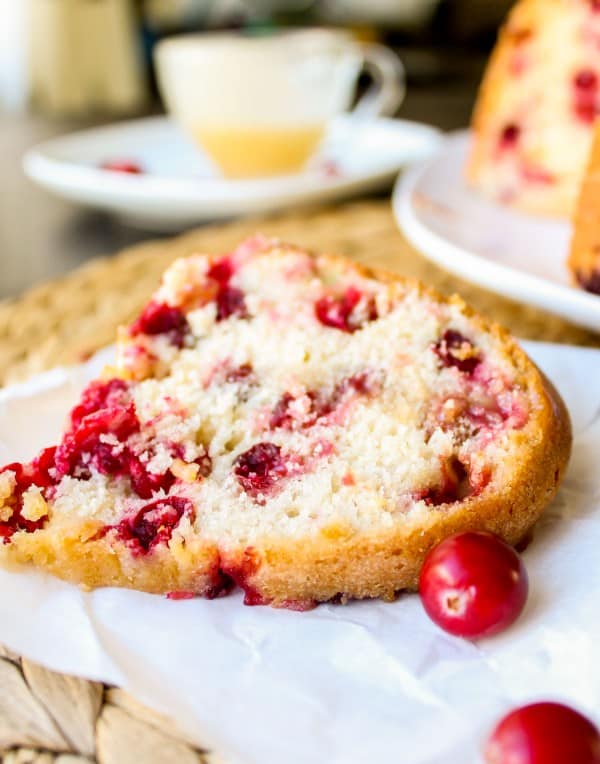 Eric went to my recipe index yesterday because he wanted to make these Butter Pecans (a Christmas classic around here). He went to the page, hit ctrl+ F, typed in "butter," and got 32 matches. That's right, apparently 32 of my recipes have butter in the title.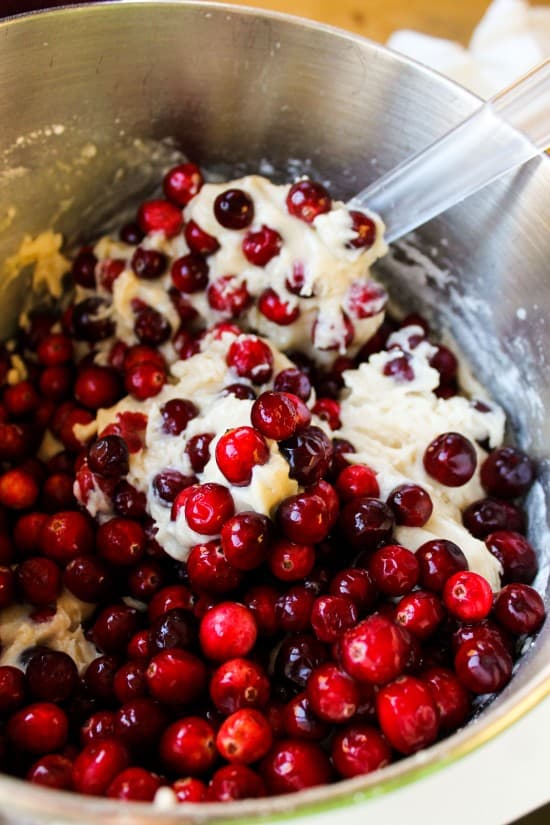 I have no shame in adding one more today. I could drink this Warm Vanilla Butter Sauce straight. (And I would, if I wanted to die by 30.)
This cake is kind of like warm and moist  crack cocaine, but a little more homey. I'm kidding. Kind of. If it weren't so rich I probably would have thrown down half the cake myself.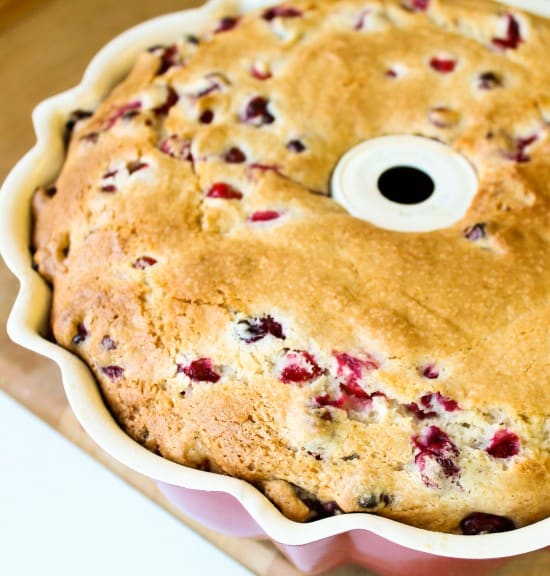 My baking addiction has reached an all time low. You all know that I never clean my house unless people are coming to visit. A few hours before my sister-in-law Jessie arrived a couple weeks ago, I was in my pajamas and halfway through vacuuming the house when all the sudden I was rinsing cranberries and measuring flour instead. It's like I didn't even think about it, I blinked and instead of scrubbing toilets I was sneaking bits of delicious cake batter.
Actually, this kind of sounds like a dream come true.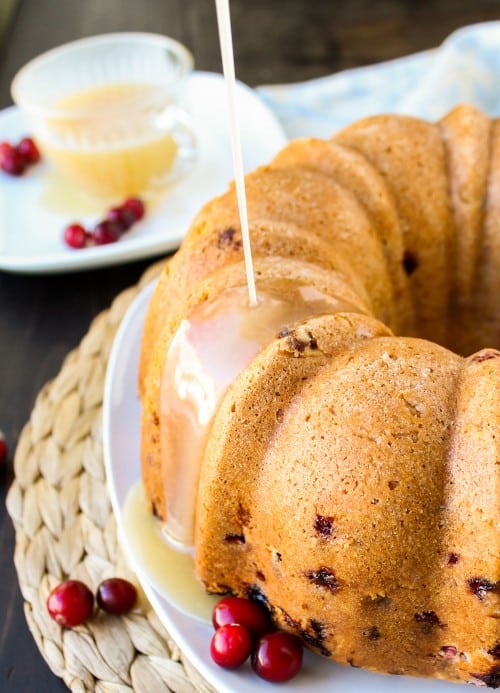 I was all apologies when Jessie arrived. Sorry it's not clean, here have some cake. And some butter sauce. Yes, BUTTER SAUCE. A couple days later she was like, "Um, Karen, do you mind if I vacuum a little bit?" What, my cranberry cake didn't blind you to my dirty floors? It worked on me.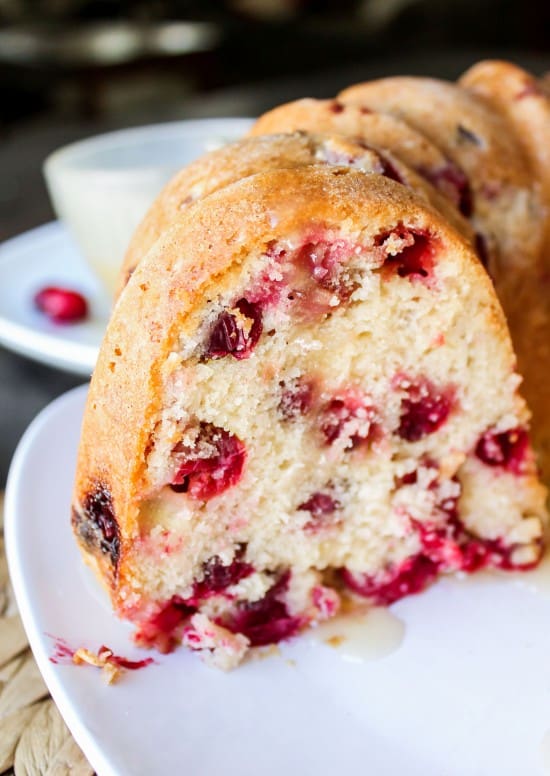 Cranberry cake already would have been good, but I'm telling you, this butter sauce is boss. It soaks into the cake and makes it super moist and melt-in-your-mouth. The tart bite of the cranberries balances out the simplicity of the cake. Then the sauce makes it all twirly sunshine stardom.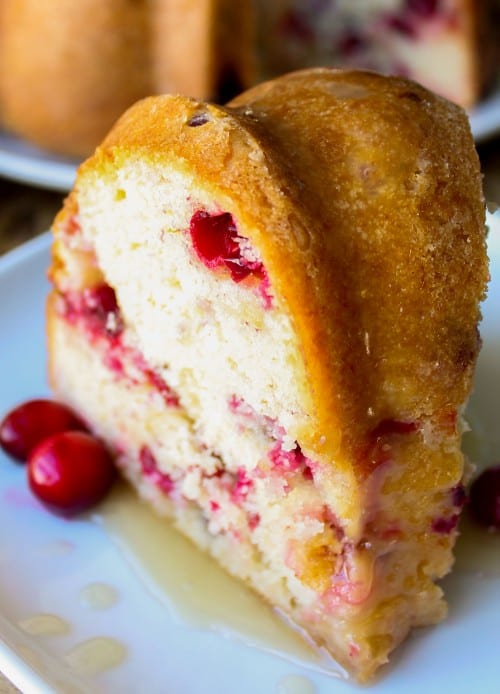 This would be perfect to serve for dessert on Christmas. Or even, dare I say, for breakfast? (Let's be real, it's not like French toast or cinnamon rolls are any healthier. Let go of your prejudice and embrace dessert for breakfast.)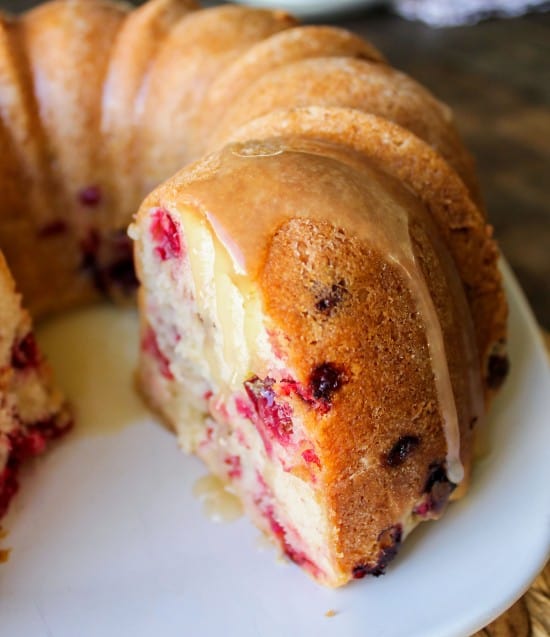 Cranberry Cake with Warm Vanilla Butter Sauce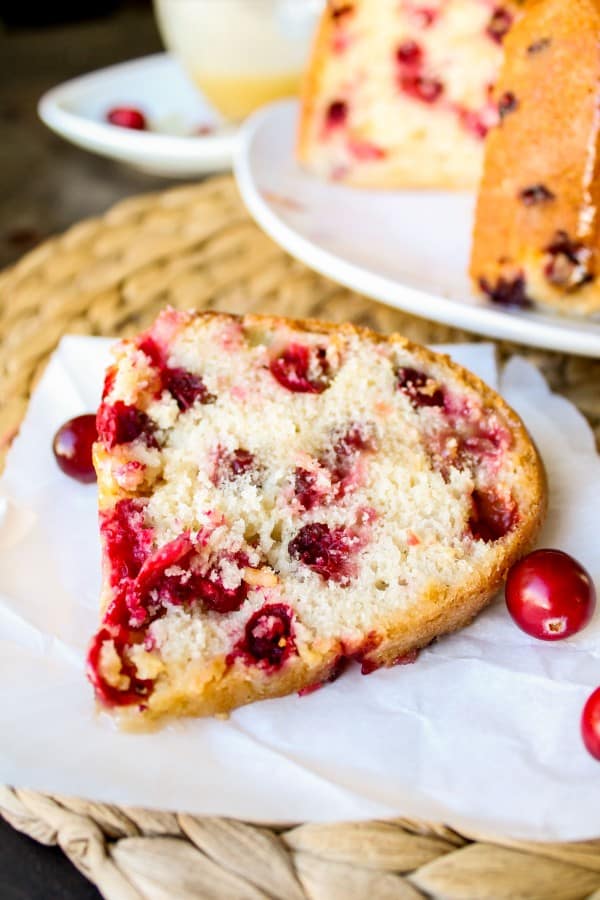 I make this Cranberry Cake with Warm Vanilla Butter Sauce every Christmas without fail! It really is one of my favorite cakes. It is SO easy to put together, you really can't mess it up. The butter sauce is EVERYTHING!!
Ingredients
For the cake:
4

cups

cranberries

,

fresh, a 12-oz bag is 3 cups

1/2

cup

unsalted butter

,

1 stick, softened

2

cups

sugar

1

12-oz can

evaporated milk

4

cups

flour

,

spooned and leveled

2

teaspoons

salt

2

tablespoons

baking powder
For the sauce:
1

cup

butter

,

2 sticks

2

cups

sugar

1

cup

cream

2

teaspoons

vanilla
Instructions
Preheat the oven to 350 F. Dump all the cranberries in a colander, rinse them, and set them aside to dry. (If you really love cranberry, you can add up to 5 cups of cranberries. I used 4 and thought it was perfect.)

Add the softened butter and 2 cups of sugar to the bowl of a stand mixer and beat until smooth and fluffy. Add the evaporated milk and combine.

In another medium bowl, whisk together the flour, salt, and baking powder. Add the dry ingredients to the mixer and beat until just barely combined, scraping the sides and bottom as necessary. Fold in the cranberries using a wooden spoon.

Spray a standard-size (10-12 cup) bundt pan with nonstick cooking spray. Over the sink, sprinkle a couple teaspoons of flour all over the inside of the pan, and shake it so that it completely covers the interior. Dump any remaining flour. You just want a thin layer so that your cake inverts nice and easy.

Spoon the batter into the pan, smoothing the top with a spoon. Bake at 350 for 40-50 minutes. The cake is done when it is a deep golden color and a toothpick stuck in the center comes out dry. It was closer to 50 minutes in my oven.

Remove the cake from the oven and let it cool on a wire rack for 15 minutes. Set a timer so you don't forget.

Invert the cake onto a plate or cake stand.

In a small saucepan, melt butter over medium heat. Stir in sugar and cream, and heat until sugar is melted and sauce is hot. Don't let it boil! Remove from heat, let it sit for a minute, then stir in vanilla.

Serve warm sauce over cake. I like it best served over each individual slice, but you can drizzle it over the whole cake if you want. Don't do all of it, just enough to make it pretty. The cake can be served warm or at room temperature.
Nutrition
Serving:
1
slice
|
Calories:
840
kcal
|
Carbohydrates:
124
g
|
Protein:
6
g
|
Fat:
37
g
|
Saturated Fat:
23
g
|
Polyunsaturated Fat:
2
g
|
Monounsaturated Fat:
10
g
|
Trans Fat:
1
g
|
Cholesterol:
106
mg
|
Sodium:
895
mg
|
Potassium:
117
mg
|
Fiber:
3
g
|
Sugar:
82
g
|
Vitamin A:
1225
IU
|
Vitamin C:
5
mg
|
Calcium:
177
mg
|
Iron:
3
mg