Cookie Dough Cupcakes are my new best friend. Picture this: A moist and tender vanilla cupcake recipe with mini chocolate chips, topped with the most amazing cookie dough frosting of your life. Okay, so maybe it's the only cookie dough frosting in your life. Which by default makes it the most amazing, but I'm telling you guys. IT'S LEGIT. I didn't know it was socially acceptable to eat this much cookie dough in one sitting, but this blog is basically a party and I am letting you know IT'S ACCEPTABLE. You're welcome.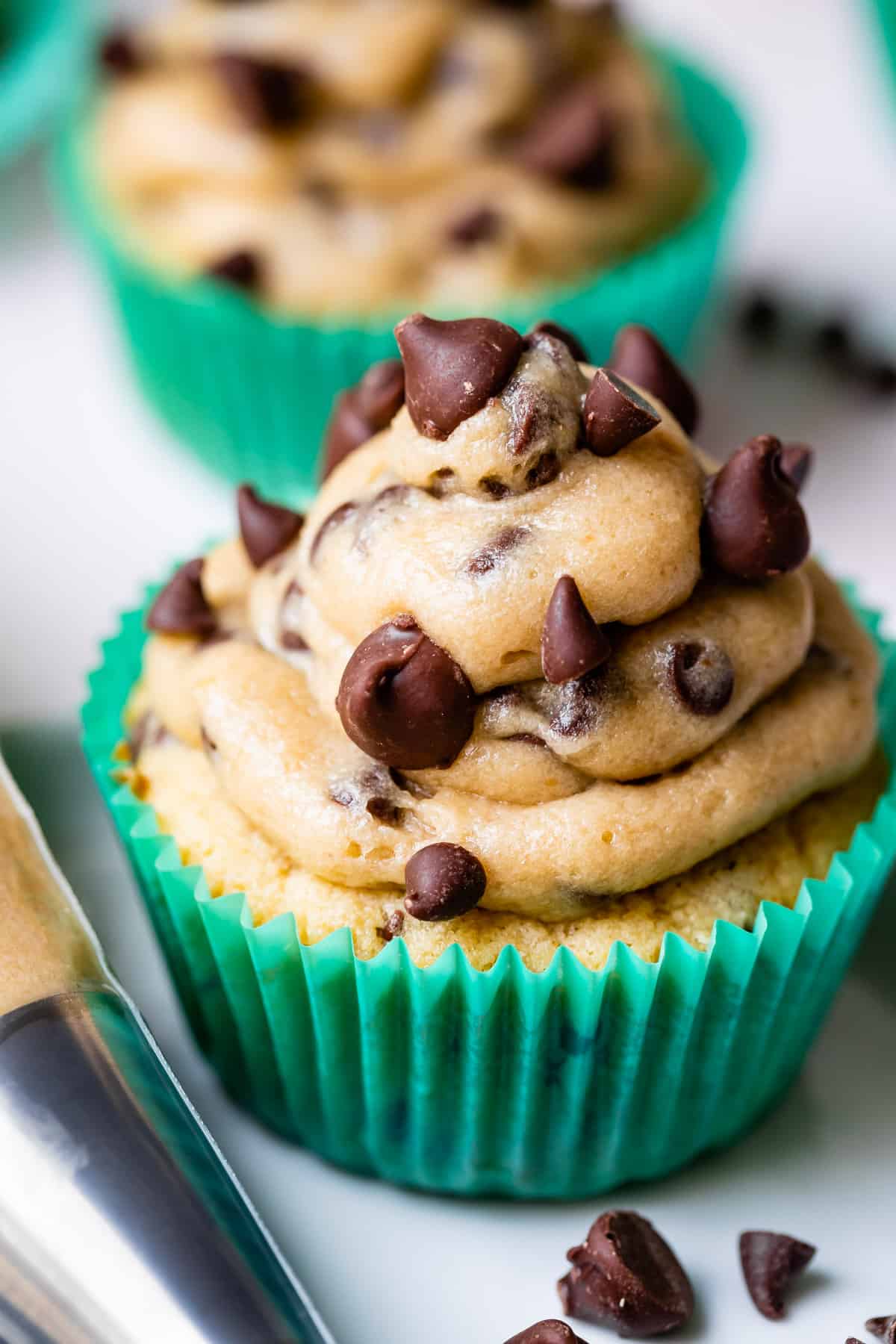 Table of Contents
My family doesn't mess around when it comes to cookie dough. On the day my grandma passed away last fall (she was a lovely lady who lived a full and long life!), we weren't exactly in shock, but there were still just a lot of emotions to get through. We had gathered at my mom and dad's, with a full house and lots of visitors passing through to check in on us. I decided to make a quadruple batch of chocolate chip cookies, because what else do you want to eat on a day like that?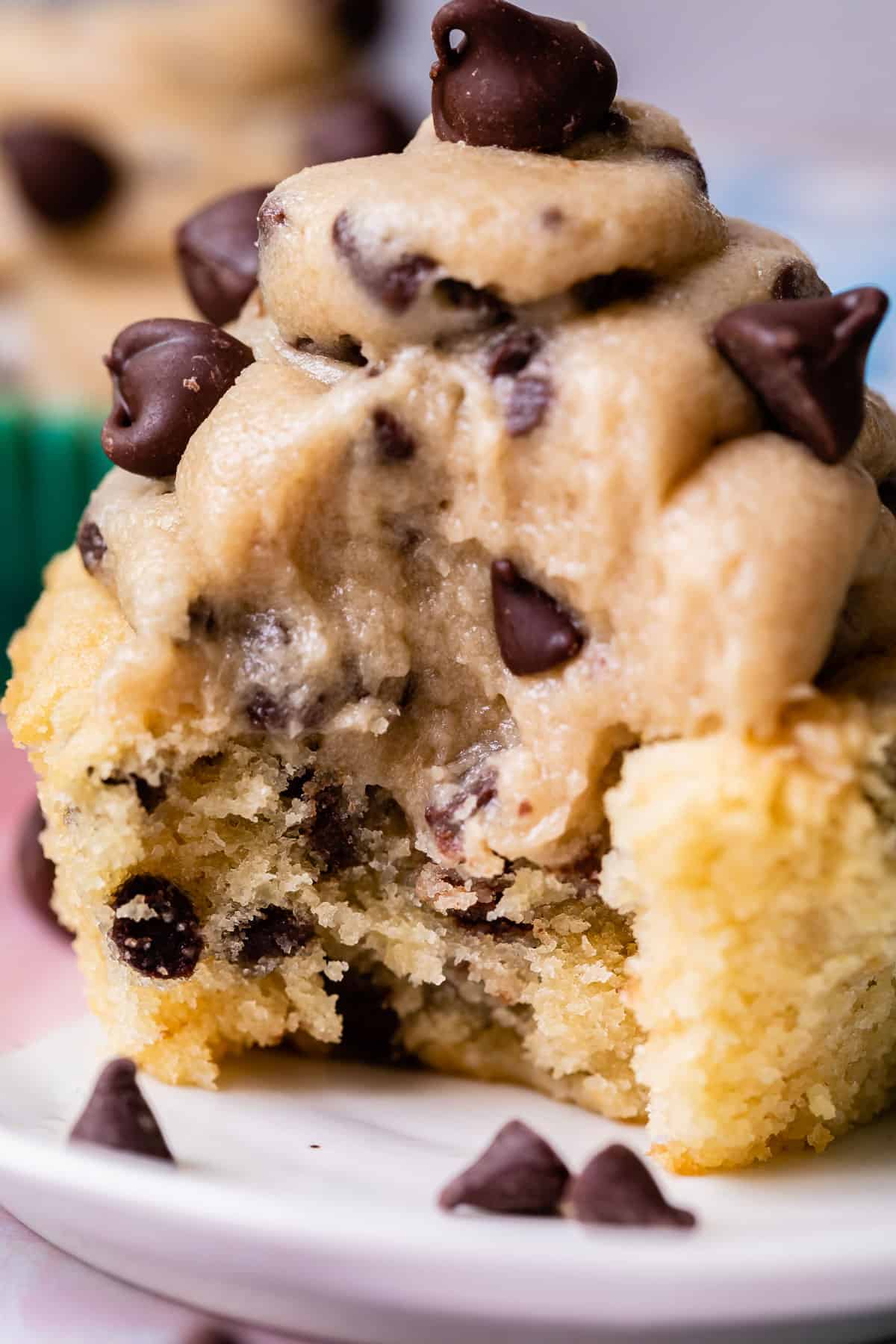 I made the dough and started snacking on it immediately, as one does. I was about to start scooping and baking when I realized I was being incredibly selfish, and slammed the entire bowl of dough in the middle of the table with a bunch of spoons.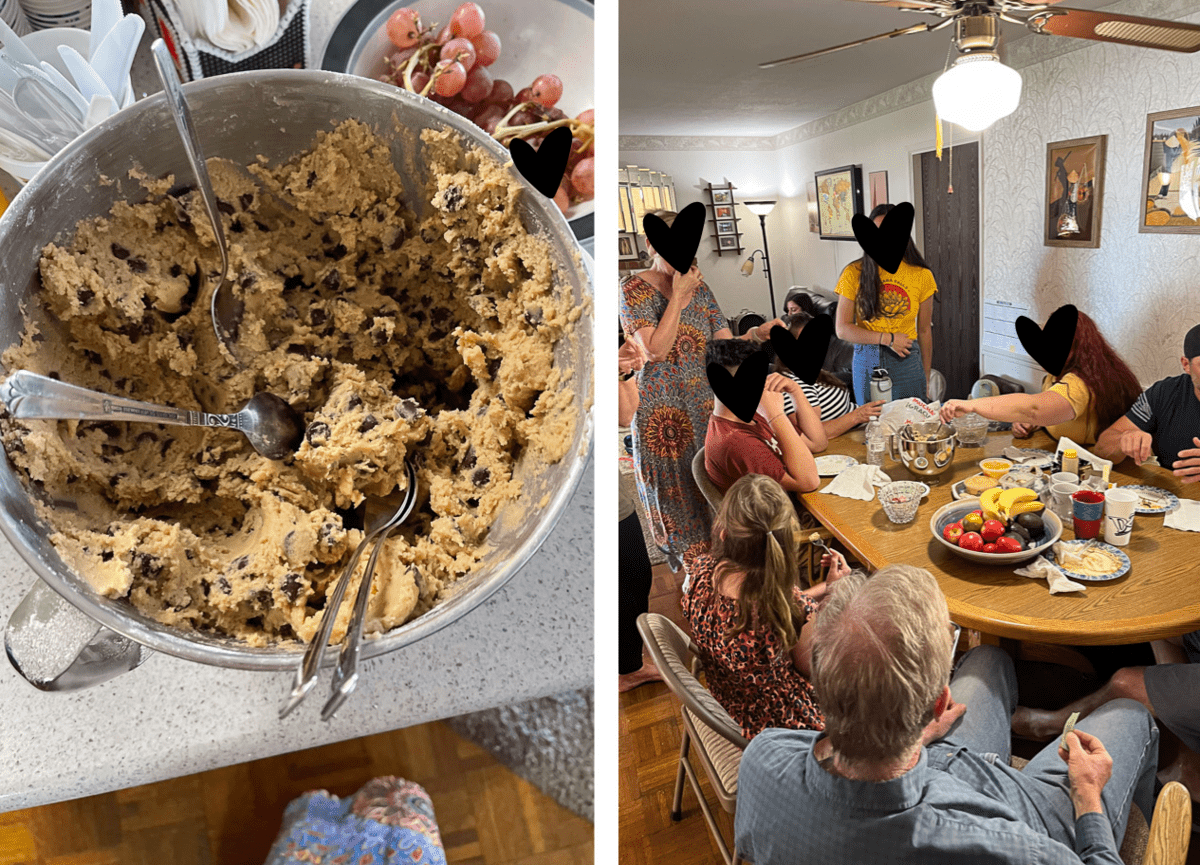 Why jump straight to cookies when cookie dough does the job, you know? Mourning: handled. Just kidding, we still cried all day. 😂 But cookie dough did help!
Another time in college, my BFF roommate Sarah and I made cookie dough with the intent to make cookies. We took the bowl with us as we floated around to a couple different neighboring apartments, and within an hour the dough was completely gone. That's the only time I've ever made a batch that never saw the inside of an oven at all.
My daughter Charlotte's 12th birthday was a few weeks ago and we decided it was time to take cookie dough to a whole new level of officialness: eating it on top of a cupcake. On purpose. Not as a side piece on the way to cookies.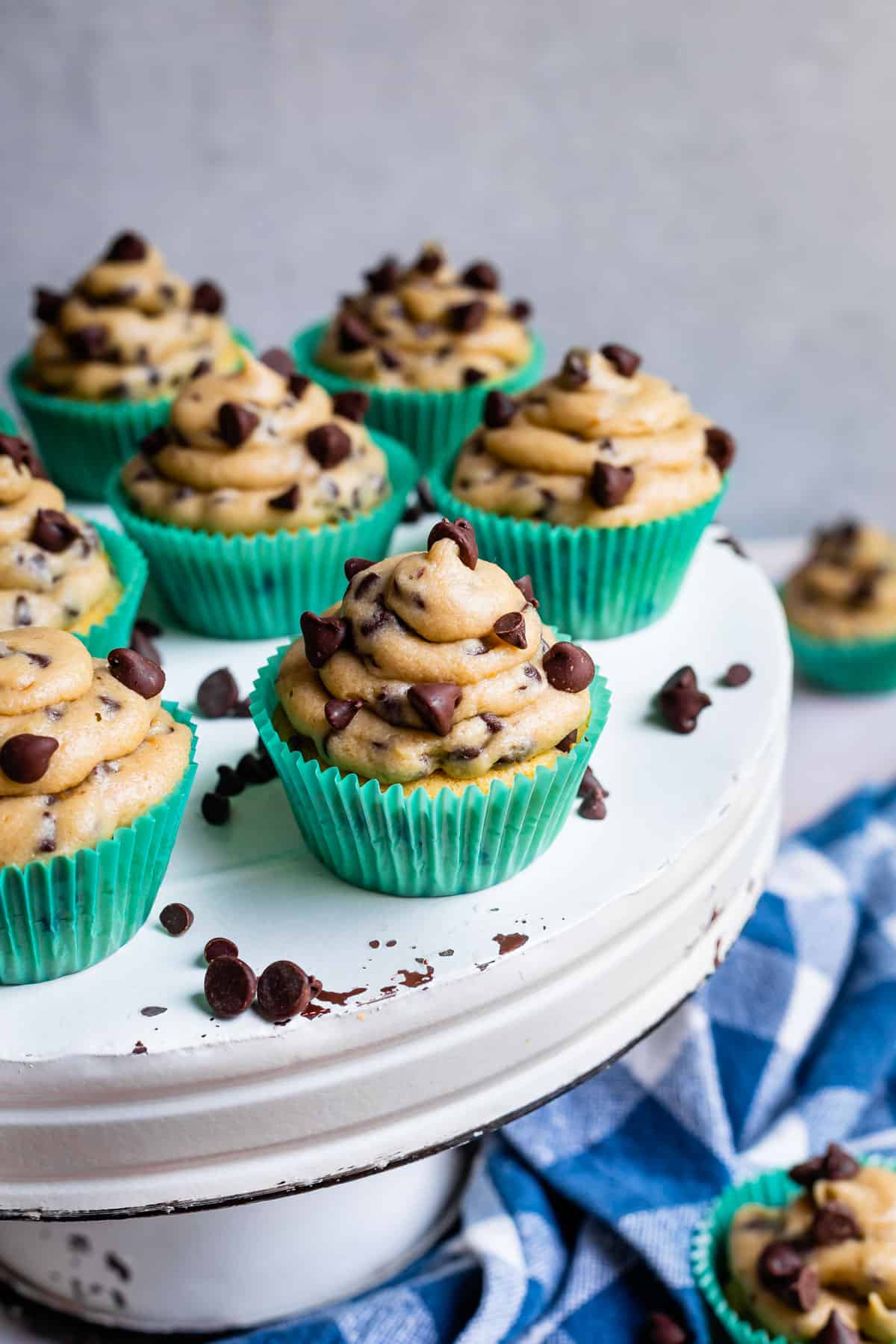 The first few versions I tried were atrocious, not gonna lie.
Cupcakes are not my jam you guys. I've had this blog for 11 years now and you will find exactly 7 cupcakes on my site. Now cake I can get behind; I can make moist and fluffy cakes all day long. But cupcakes are small, almost always over baked, and just generally dry.
But I've found one I like in spite of all the shade I'm throwing.
Chocolate Chip Cookie Dough Cupcakes FTW
This cupcake is perfect because it has a tender vanilla cupcake on the bottom (studded with mini chocolate chips that help keep it moist) and a mountain of cooke dough frosting on the top.
I found so many recipes that make Cookie Dough Cupcakes immensely complicated. Many of them stuff the cupcake with a ball of cookie dough. Or swirl cookie dough into regular buttercream frosting.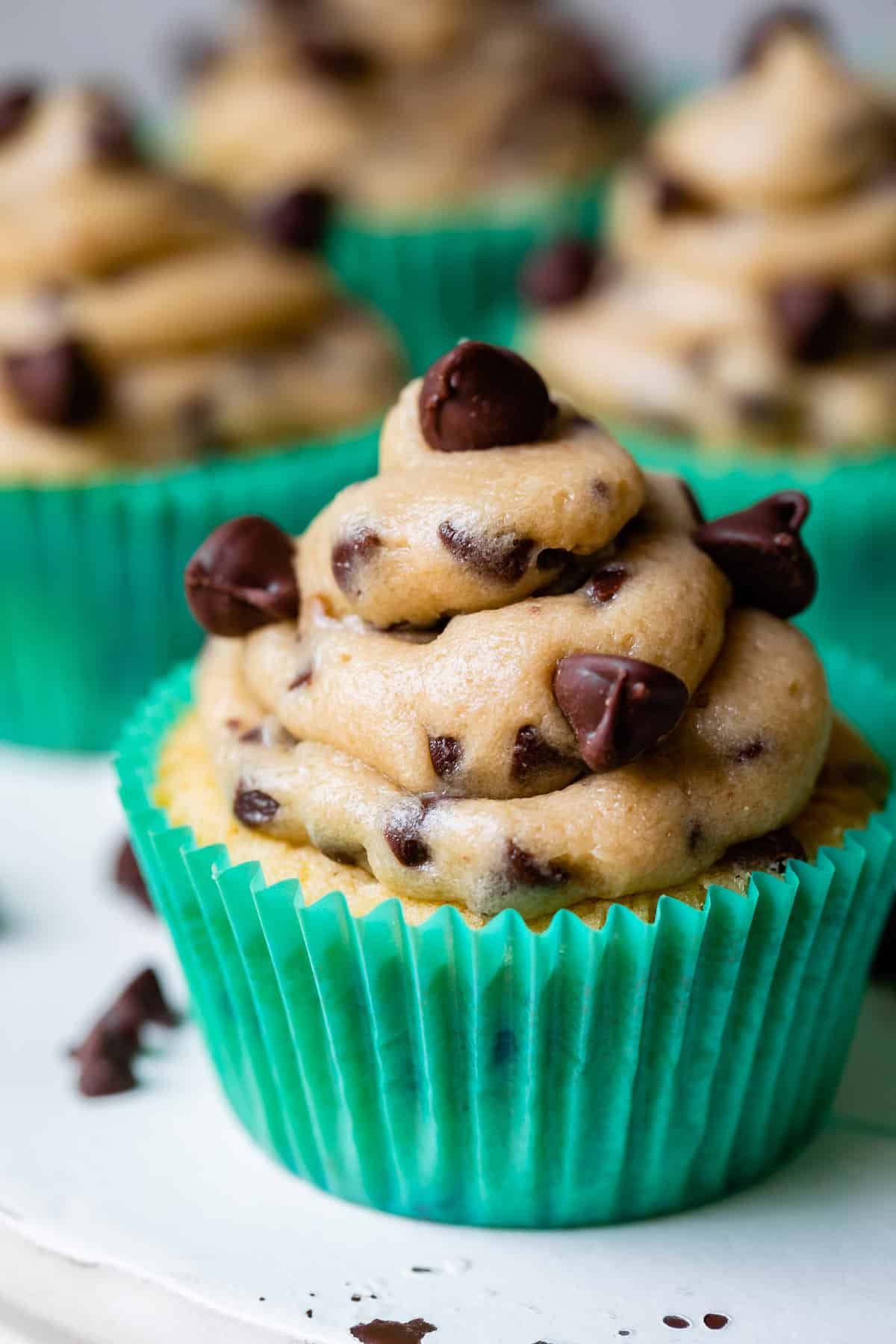 But like, why complicate this? I did a few tests where I filled the cupcake with cookie dough, but then I thought it was superfluous to have the cookie dough frosting sitting right on top of it. And I KNEW I wanted a frosting that tasted just like cookie dough. Don't give me any of this buttercream-with-chips-swirled-in. I want the GOODS. Give me that brown sugar grit cookie dough texture please.
This recipe delivers. And we're getting it done with just the normal two step process: make the cupcakes. Make the frosting. Put it together and BOOM cookie dough heaven that you get to eat with your hands. I'm pretty sure grandma is smiling down.
Ingredients you will need
Here's a quick list of what you need to have on hand to make these bad boys. The full instructions are on the recipe card below!
Butter
Granulated sugar
Brown sugar
Oil
Eggs
Vanilla
Sour cream
Flour
Kosher salt
Baking powder
Mini chocolate chips
Milk
Powdered sugar
How to make Cookie Dough Cupcakes
Let's get to it! First we need to make the cupcakes.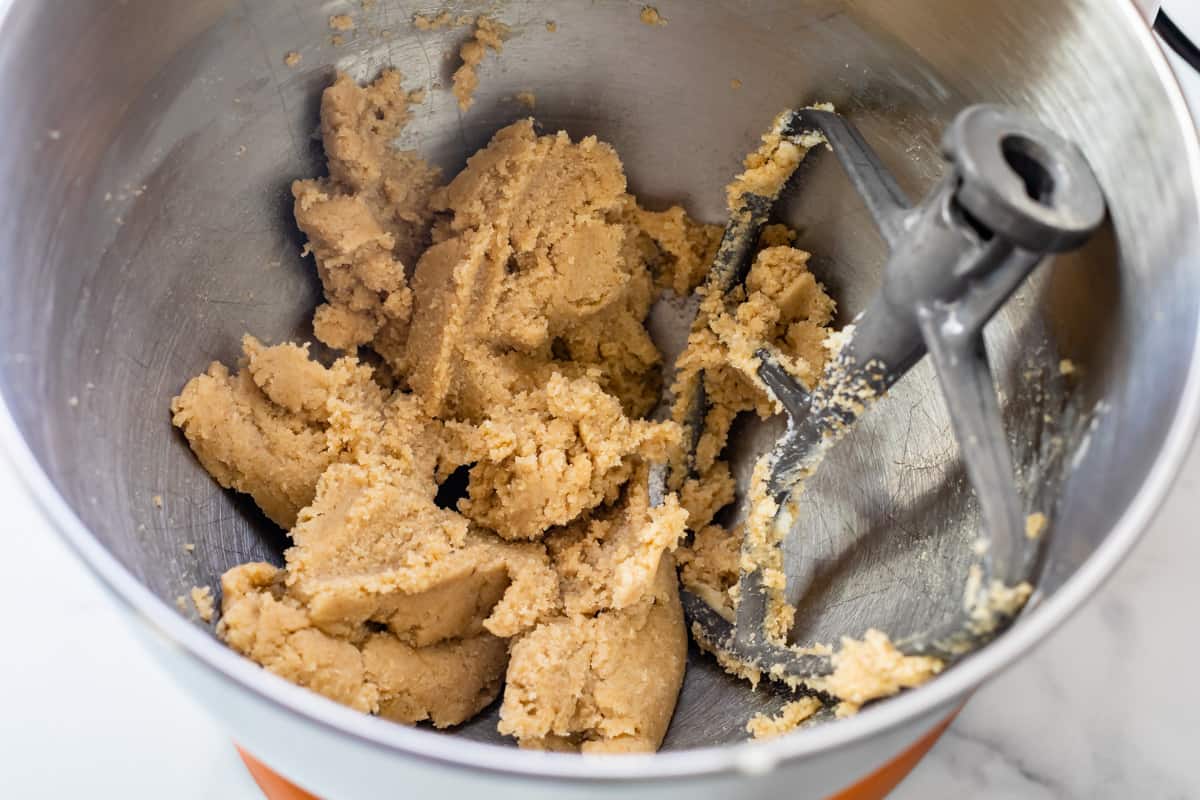 Beat together butter with the brown and white sugar until it looks homogenous like this. Then keep beating for a bit to get lots of air incorporated! This is called 'creaming' and it makes our cupcakes nice and light.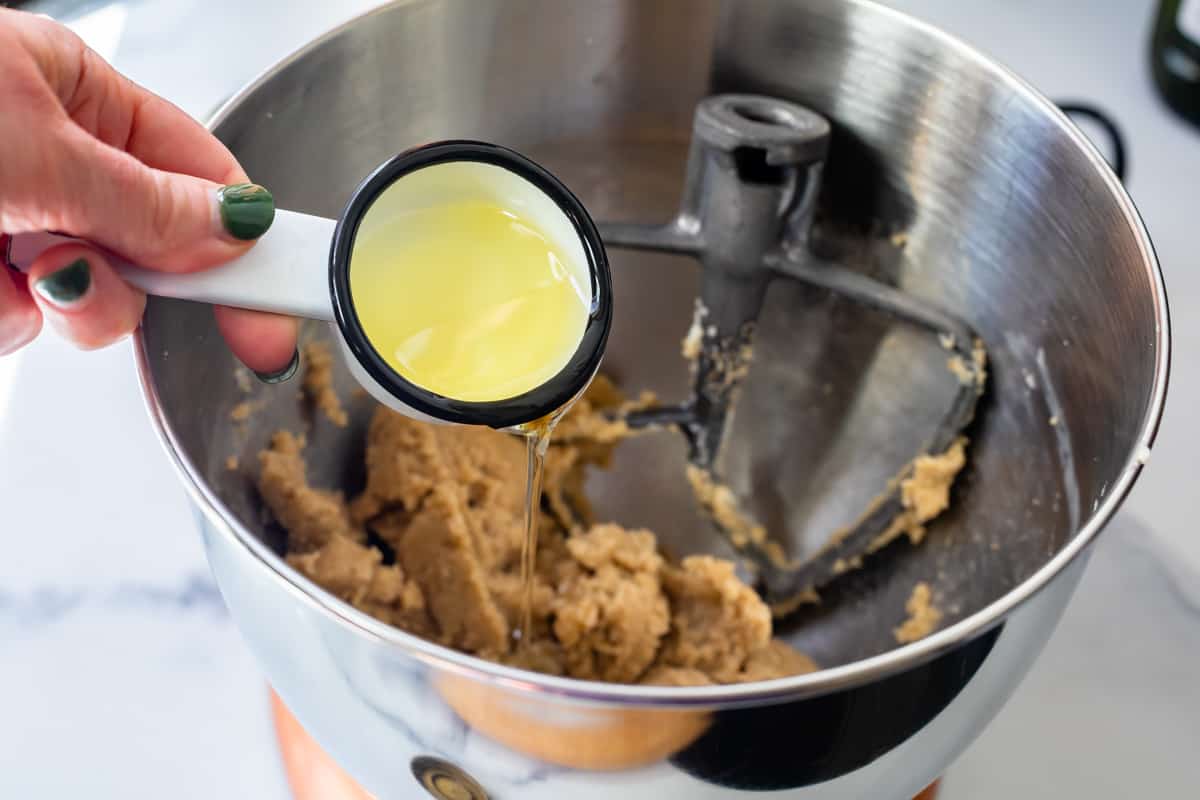 Next add in some vegetable oil. Oil is the secret ingredient in any cake worth its salt! If you use only butter, your cake will be flavorful but dry dry dry. (Oil is 100% fat; butter is about 80% fat. Fat = moist cupcakes.)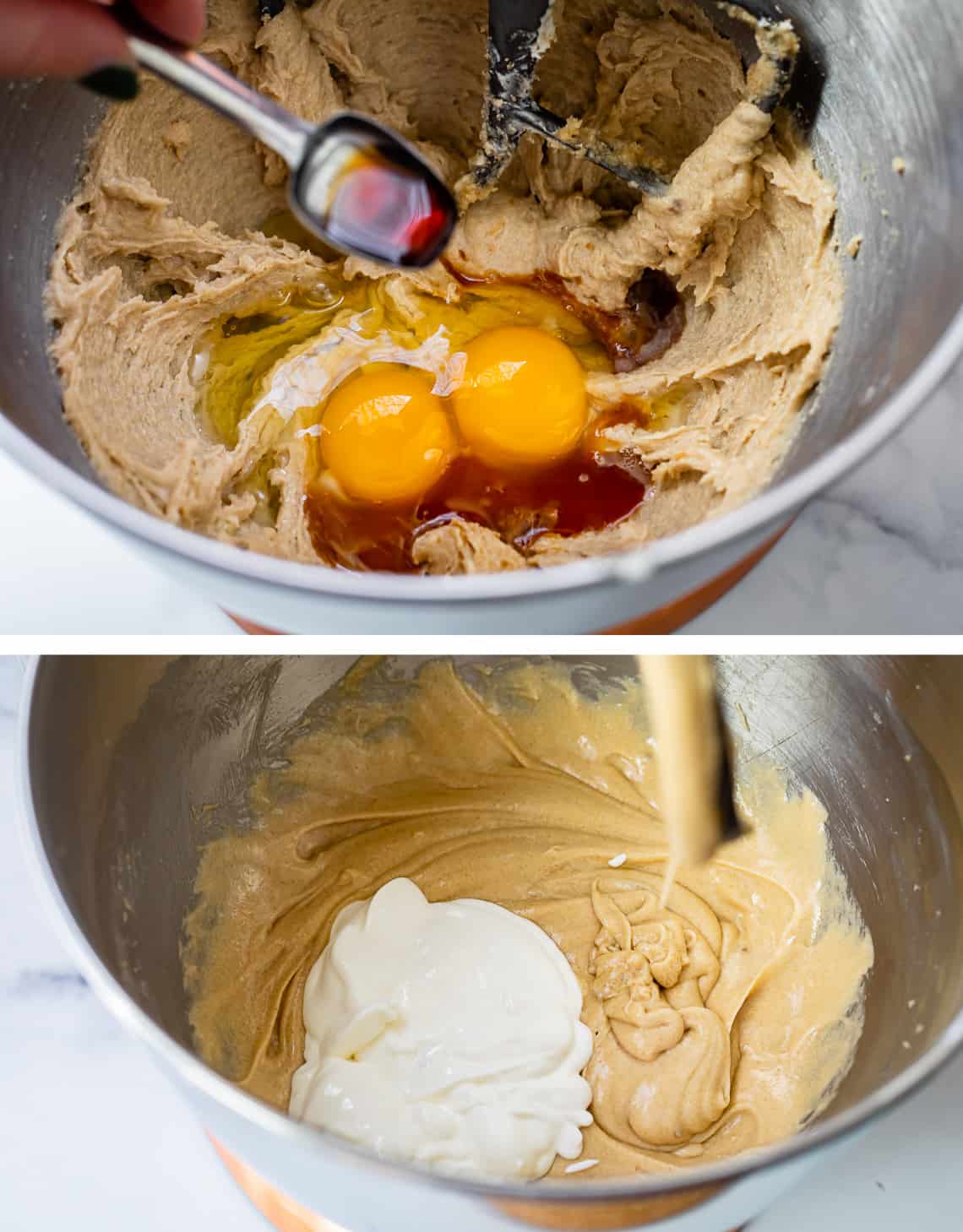 Next up, add your eggs and vanilla. Beat it nicely. Throw in some sour cream for good measure. Sour cream adds a bit of tang and tons of moisture!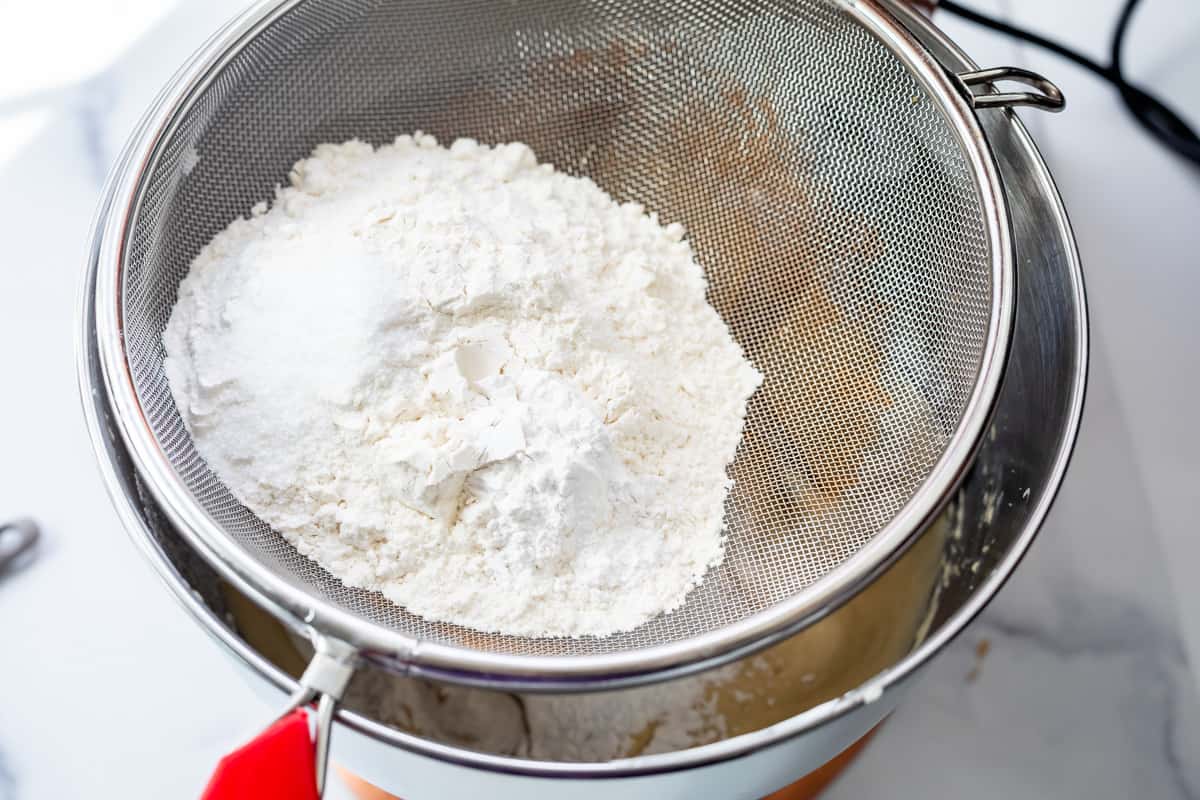 Use a strainer to sift in your flour. This sifting step makes your cupcakes nice and light! Cake is fussy, guys. Treat her right.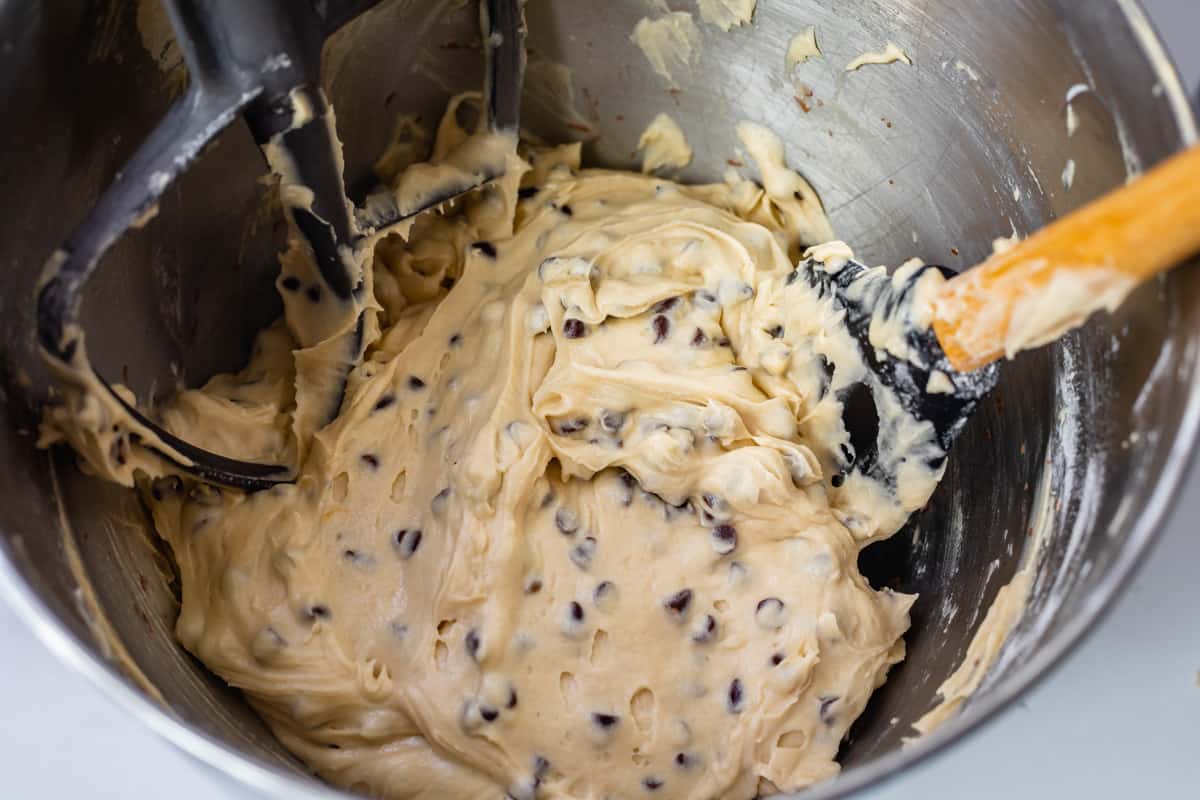 Mix in your chocolate chips. You need about 1 cup for the batter and 1 cup for the frosting, and if the scoundrels over at the chocolate chip factory would sell you a 12 ounce bag like they used to, then it would be perfect. Instead, you will have to buy two 10-ounce packages and have some leftover.
(I suppose we shouldn't complain too much, because a handful of mini chocolate chips after the kids have gone to bed is one of my greatest joys in life. They are even better than regular chocolate chips. Just like mini M&Ms are better. Right? I think it's the primal satisfaction of being able to fit so many in your mouth at once. 😂)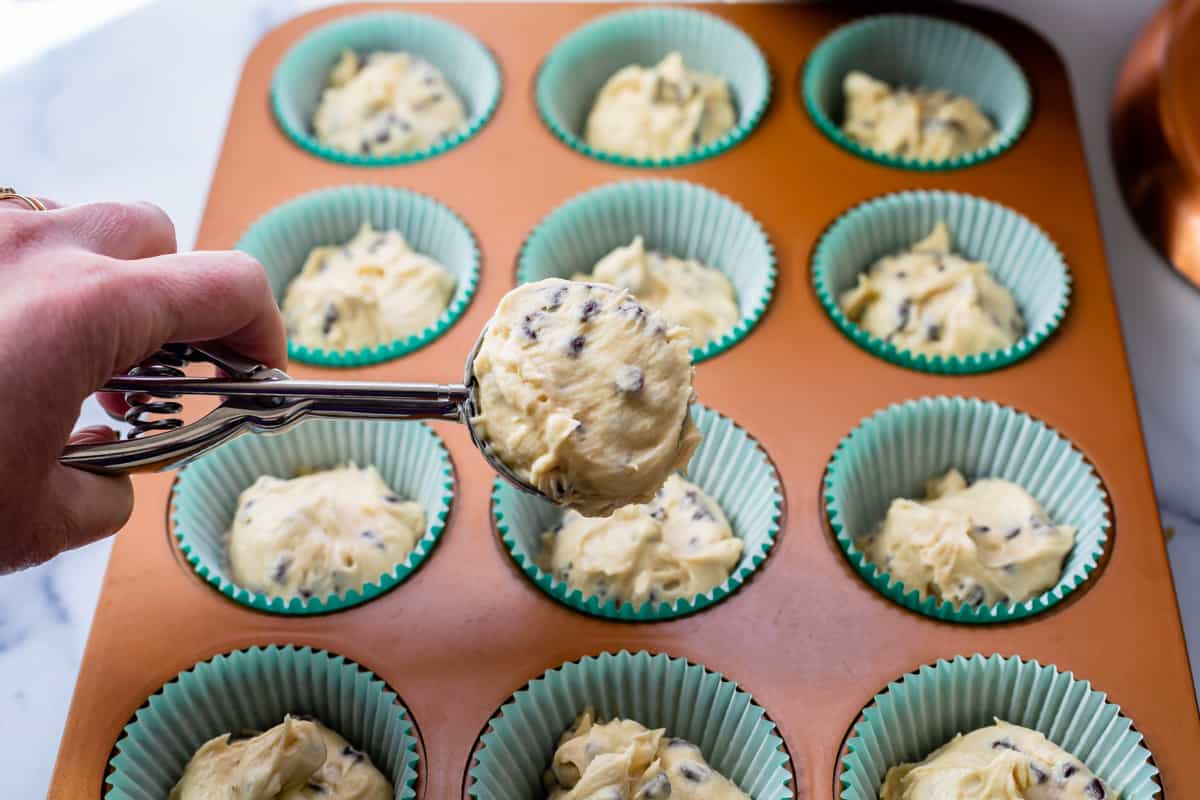 Scoop your batter into the cupcake liners. I like to use a cookie scoop but a regular spoon will do fine. You want to aim for about 4 tablespoons per liner. I probably under-filled mine, honestly. I've been burned so many times by overflowing cupcakes that I'm overcautious now. I told you, cupcakes and I normally do not get along!!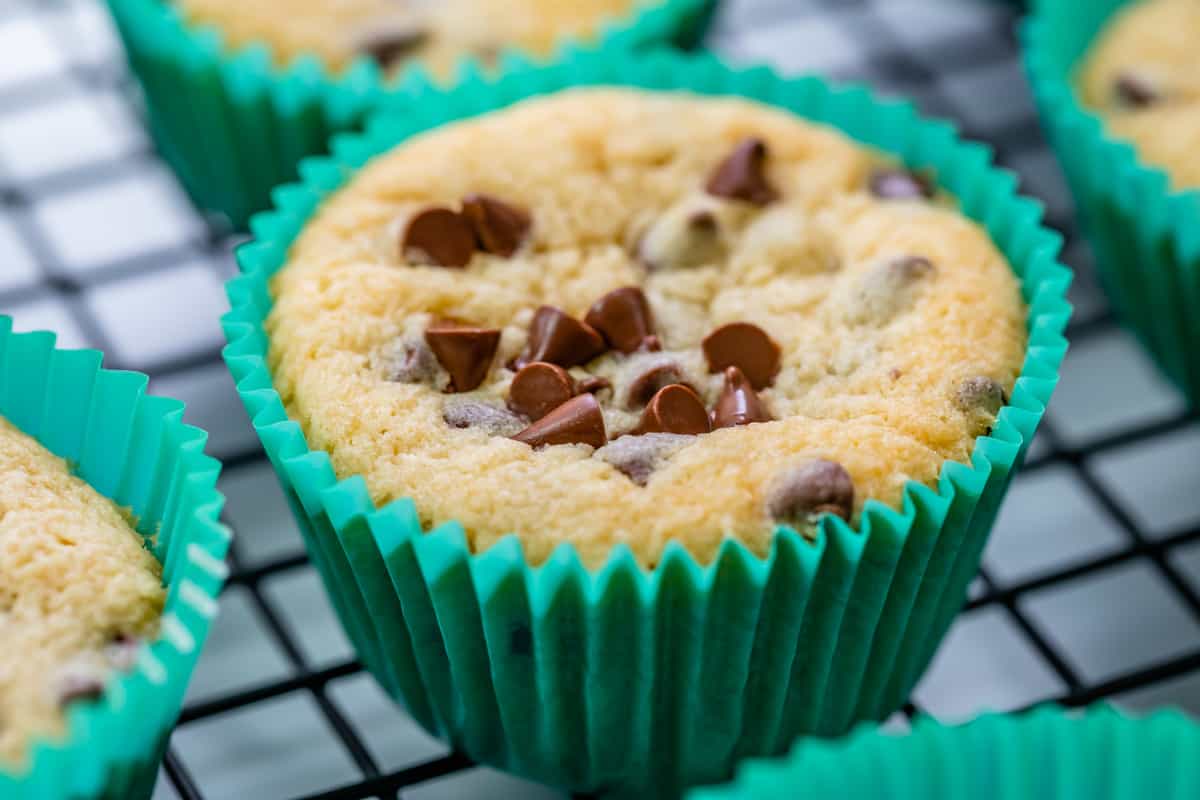 Here she is all baked. I sprinkled the top of mine with chocolate chips for fun, then I realized it would be covered in frosting anyway 🤦‍♀️ don't be like me. Let them cool all the way!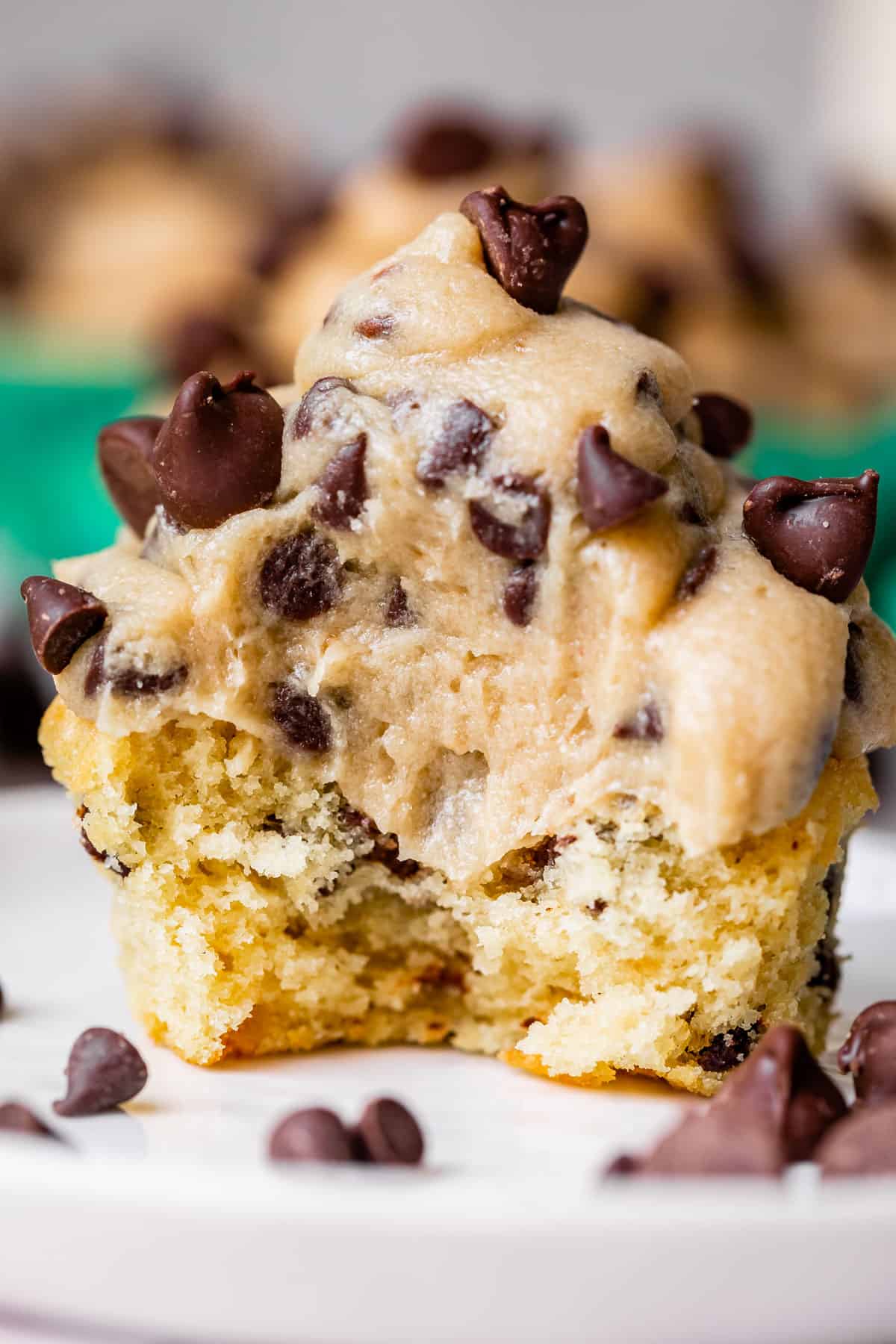 How to make Chocolate Chip Cookie Dough Frosting
First, gather all your willpower and maybe repeat a few affirmations to yourself: "I will not eat all the frosting with a spoon. I will not eat all the frosting with a spoon."
Add some butter and sugar to a mixing bowl, just like any self respecting cookie dough starts out.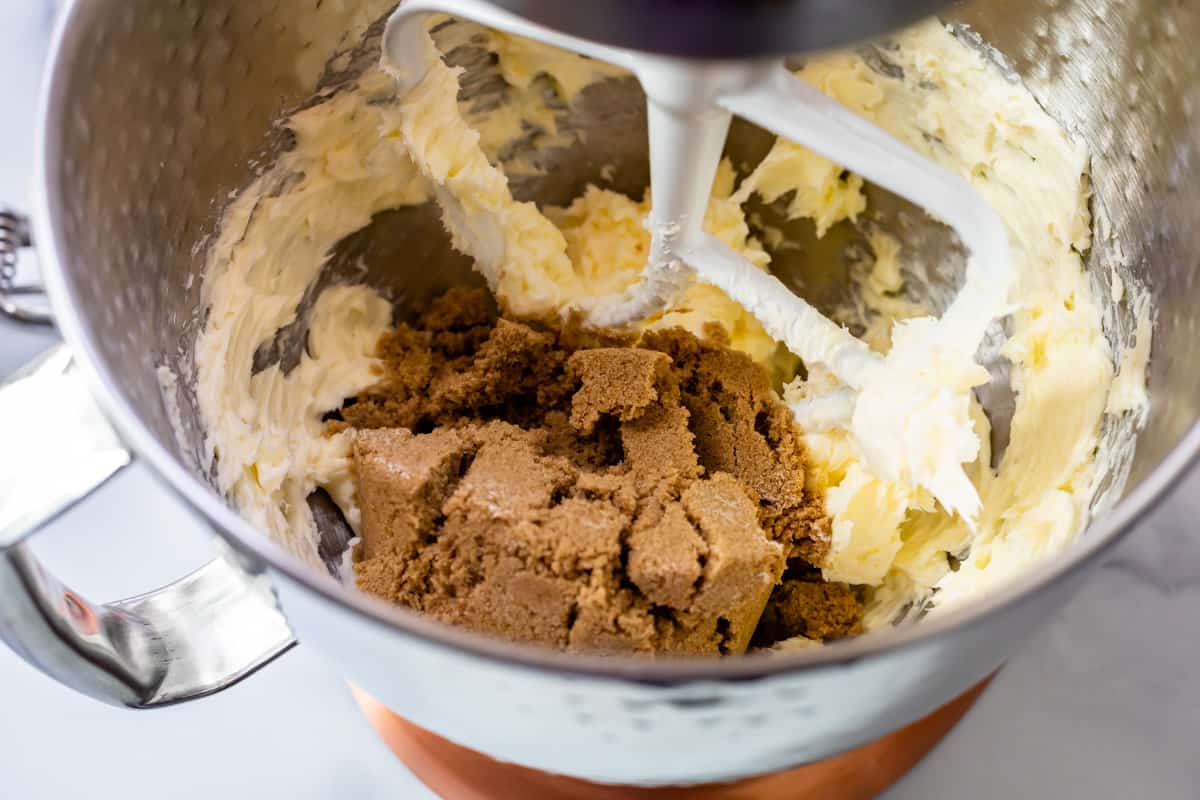 Add in the powdered sugar (that's what makes it frosting-y)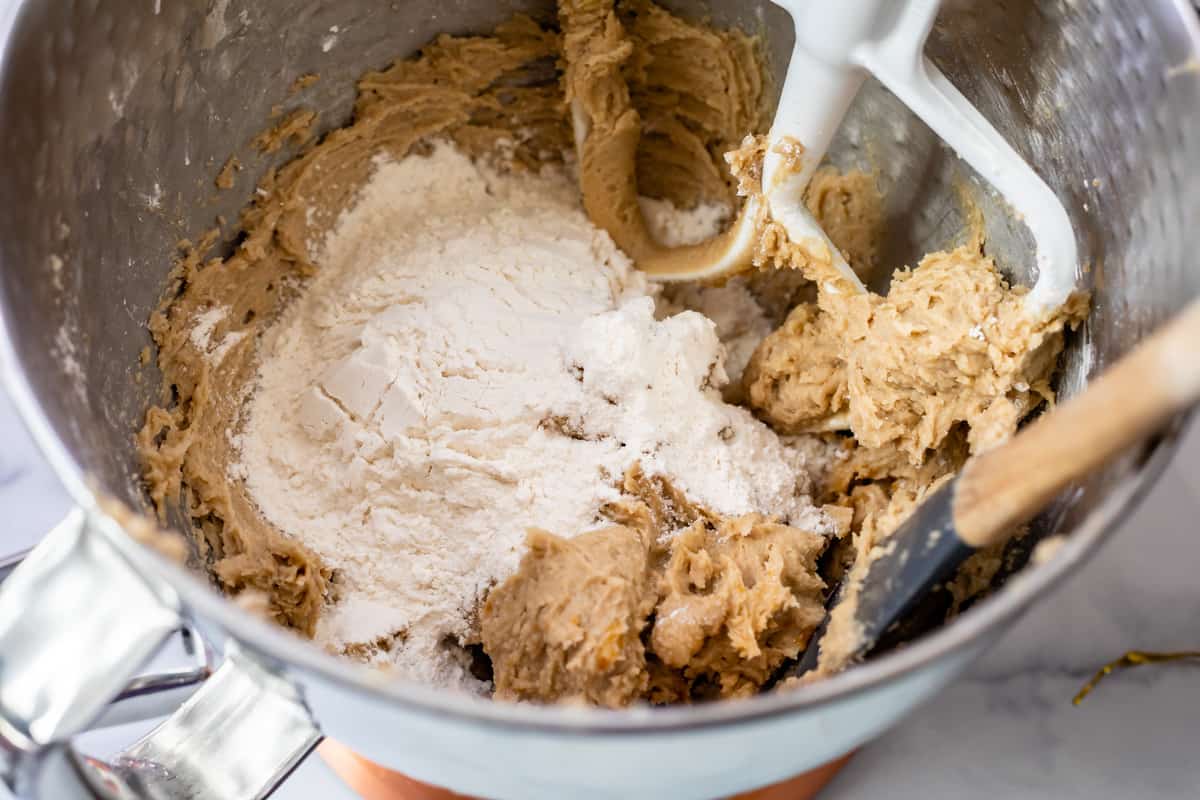 And then the flour. This is what gives the frosting that thick cookie dough texture. See notes on the recipe below in the FAQ if you are worried about eating raw flour. (I'm not..)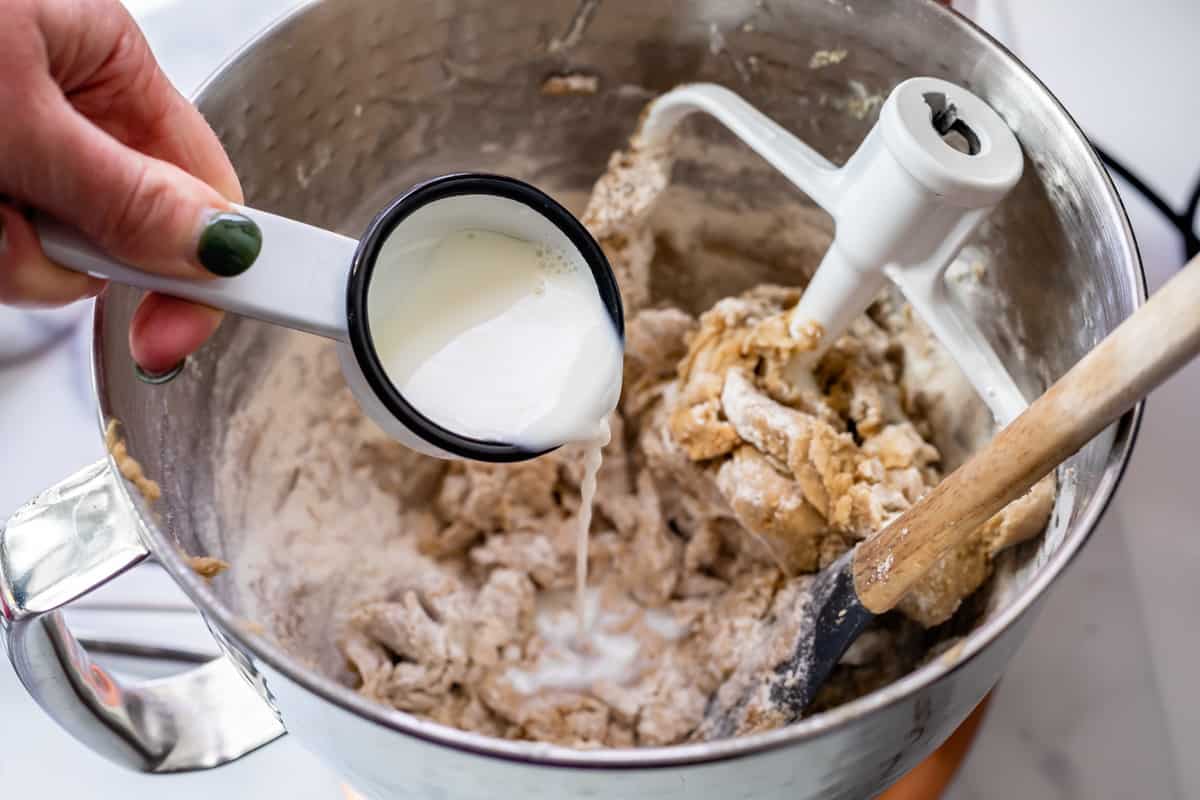 Now add in some milk to smooth it all out and get it to a spreadable consistency. You can add a little more or less than then recipe calls for to get it how you want.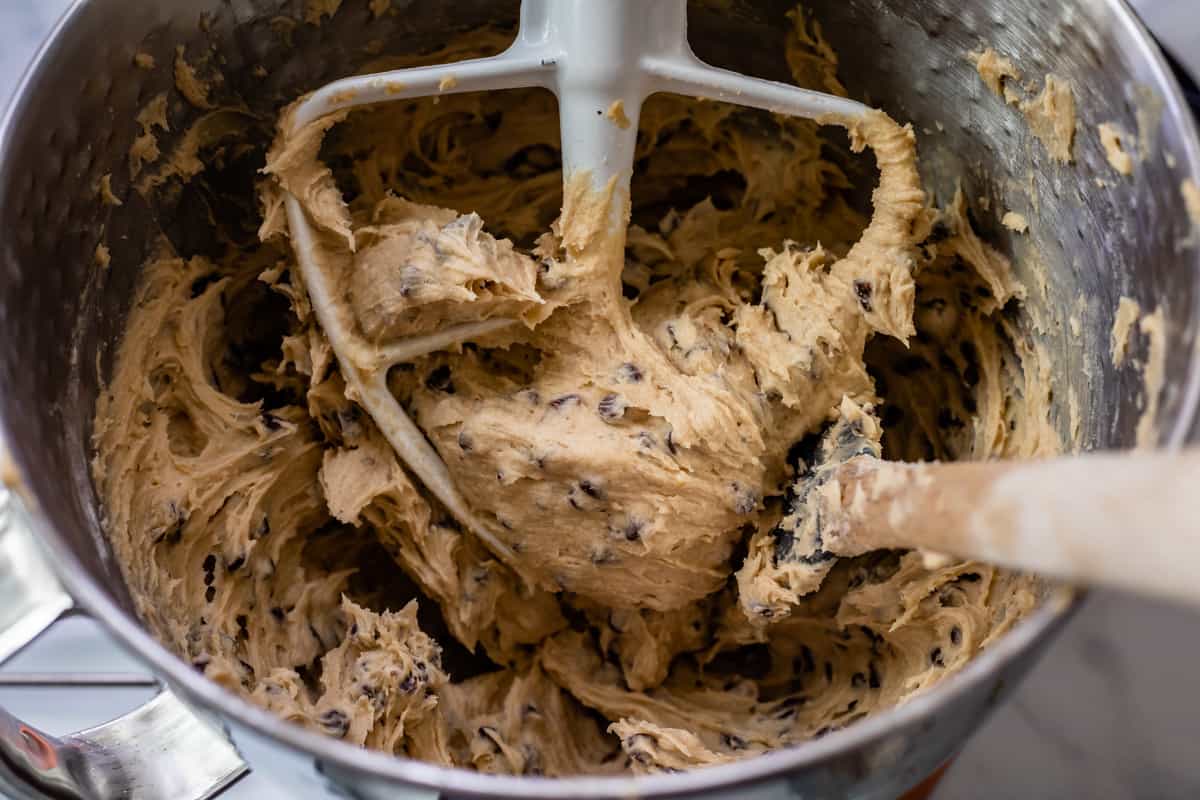 Add in those mini chips and repeat your affirmations from above after you've tried one, or two, or three bites.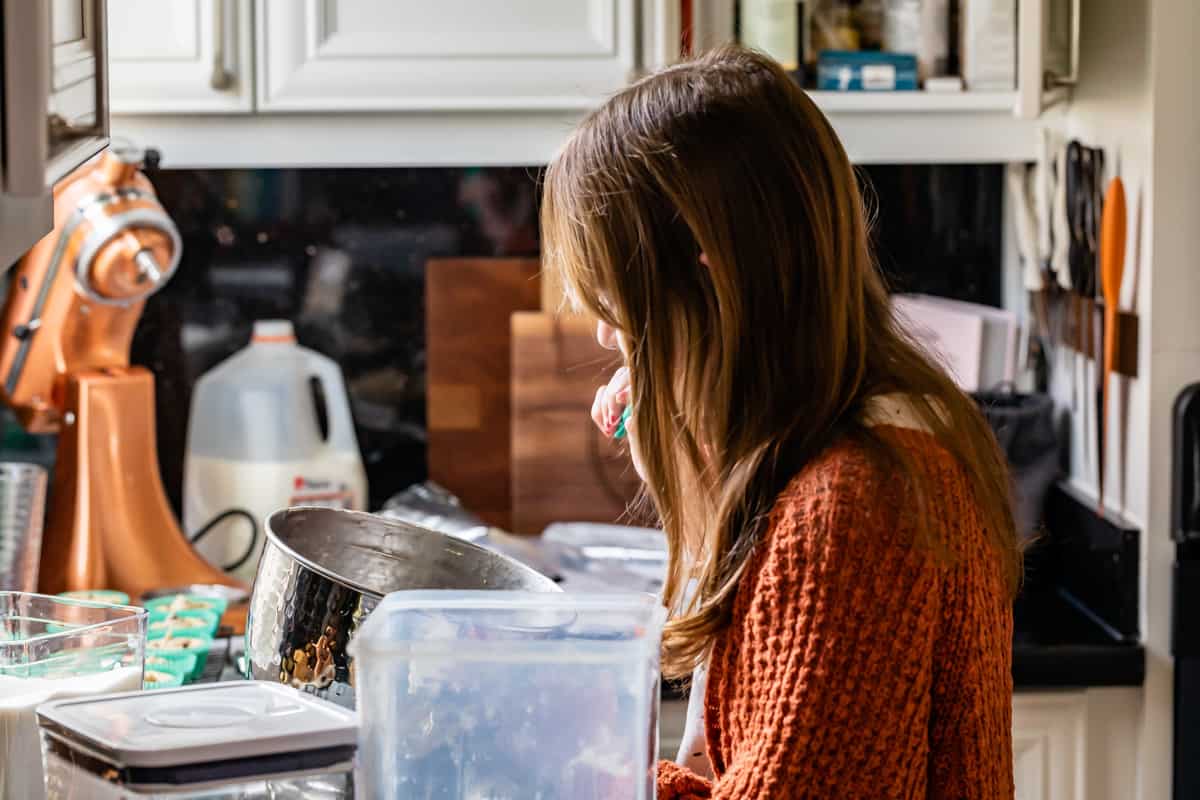 Chase away any errant children who did not participate in the affirmation ceremony from before. (It was her birthday, so I cut her some slack.)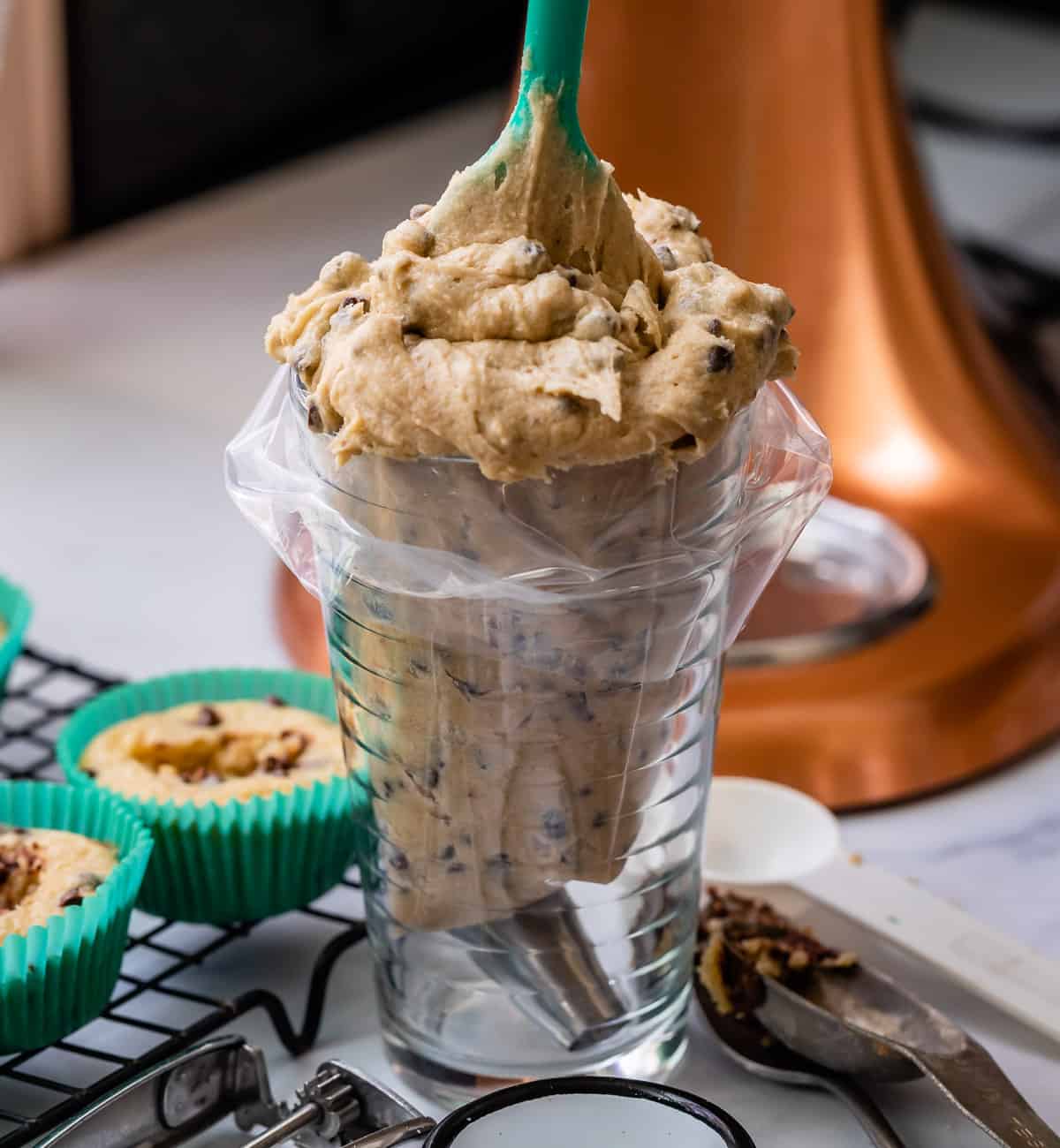 Now it's time to pipe! This is one of my favorite hacks for adding frosting to a pastry bag. Putting it in a glass gives it some structure, making it easier to scoop in.
Use a large piping tip, like the Wilton tip 1A is perfect. You need something big enough that mini chips will pipe through no problem. You can also just use an offset spatula and frost them by hand, no big deal. Top with mini or semi sweet chocolate chips.
And voila! That's it! Eat these cupcakes with milk if you know what's good for you!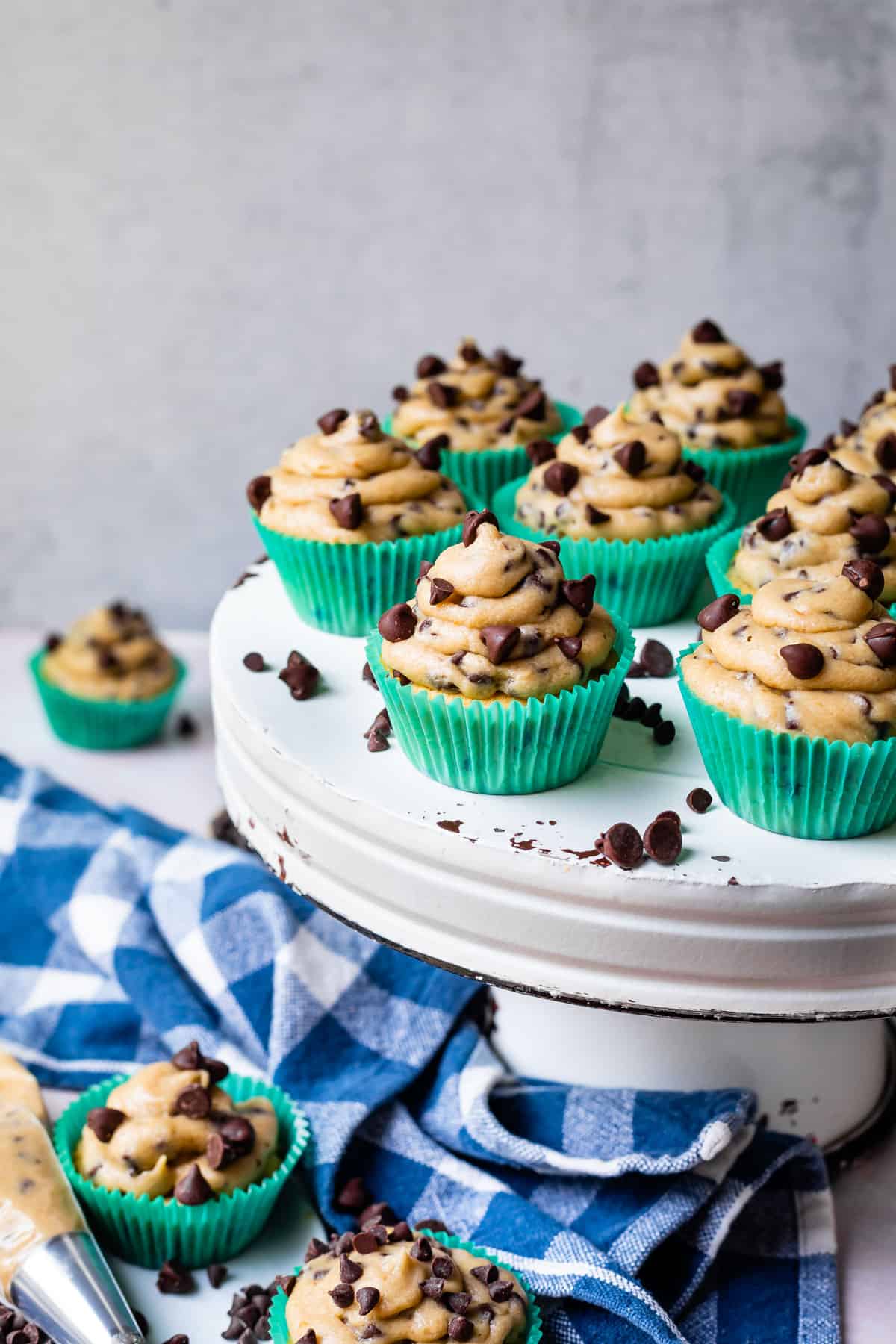 FAQ
Can you make chocolate chip cookie dough cupcakes ahead of time?
Absolutely! It's best to keep the cupcakes and the frosting separate until just before serving. The cupcakes can be made a day in advance, just keep them covered at room temperature. The frosting can be made up to two days in advance but must be kept in the refrigerator. Let the frosting sit out for 30-60 minutes (or to room temperature) until soft enough to spread on the cupcakes.
how do you store leftover chocolate chip cookie dough cupcakes?
These cupcakes will last about 2-3 days after making. If you can go that long without eating all of them, you deserve a willpower prize because they don't last more than a day or two here! Keep them in a well-sealed container in the refrigerator. You can eat them cold right out of the fridge, or let them come to room temperature before eating. Over time the top of the cupcake will start to get a bit soggy from the frosting, so I personally would eat them or freeze them as soon as possible.
can you freeze chocolate chip cookie dough cupcakes?
Yes! If you're planning to freeze ahead of time, the best method is to freeze the baked cupcakes and the buttercream frosting separately. Make sure both are in well-sealed containers or freezer ziplock bags, then place in the freezer where they will last about 2-3 months. When you're ready to eat your cupcakes, put both the frosting and the cupcakes in the refrigerator until thawed. Then, take them out and let them sit on the counter until nearly room temperature. Frost and serve!

You can also freeze already made cupcakes, but it will be a lot harder to find a container that can fit the frosted cupcakes. Instead, try flash freezing for about 30-45 minutes on a tray in the freezer. Then, wrap each individually in plastic wrap and place all of them in a freezer ziplock bag. Thawing instructions are the same as above, but be sure to take off the individual plastic wrapping first to keep the frosting intact.
why did my chocolate chip cookie dough cupcakes sink in the middle?
Chances are, the cupcakes were underbaked. Make sure to test with a toothpick when the timer goes off. It needs to come out completely clean! Overfilling can also cause the tops of cupcakes to collapse, so make sure you're filling the liners the correct amount, about 4 tablespoons. One last things that could cause issues is if your baking powder is old and will not give lift to the cupcakes. To test if your baking powder is still fresh, add a teaspoon to some hot water. It should bubble up right away. If it doesn't, throw it out and buy more.
Is it safe to eat raw cookie dough?
Normal cookie dough that you're going to bake has raw eggs in it, and eggs have about a 1 in 20,000 chance of salmonella. Today's recipe for cookie dough frosting does not have eggs, so risk level on eggs is zero.

The recipe does call for raw flour though, which technically has a tiny risk of bacteria without cooking it first. If you're nervous, heat treat your flour to kill off any bacteria: Add the flour by itself to a bowl and microwave in 30 second increments until it reaches 160 degrees F. (I never do this. I live for danger. As my brother Nathan always says, "Look good, have fun, safety 3rd.")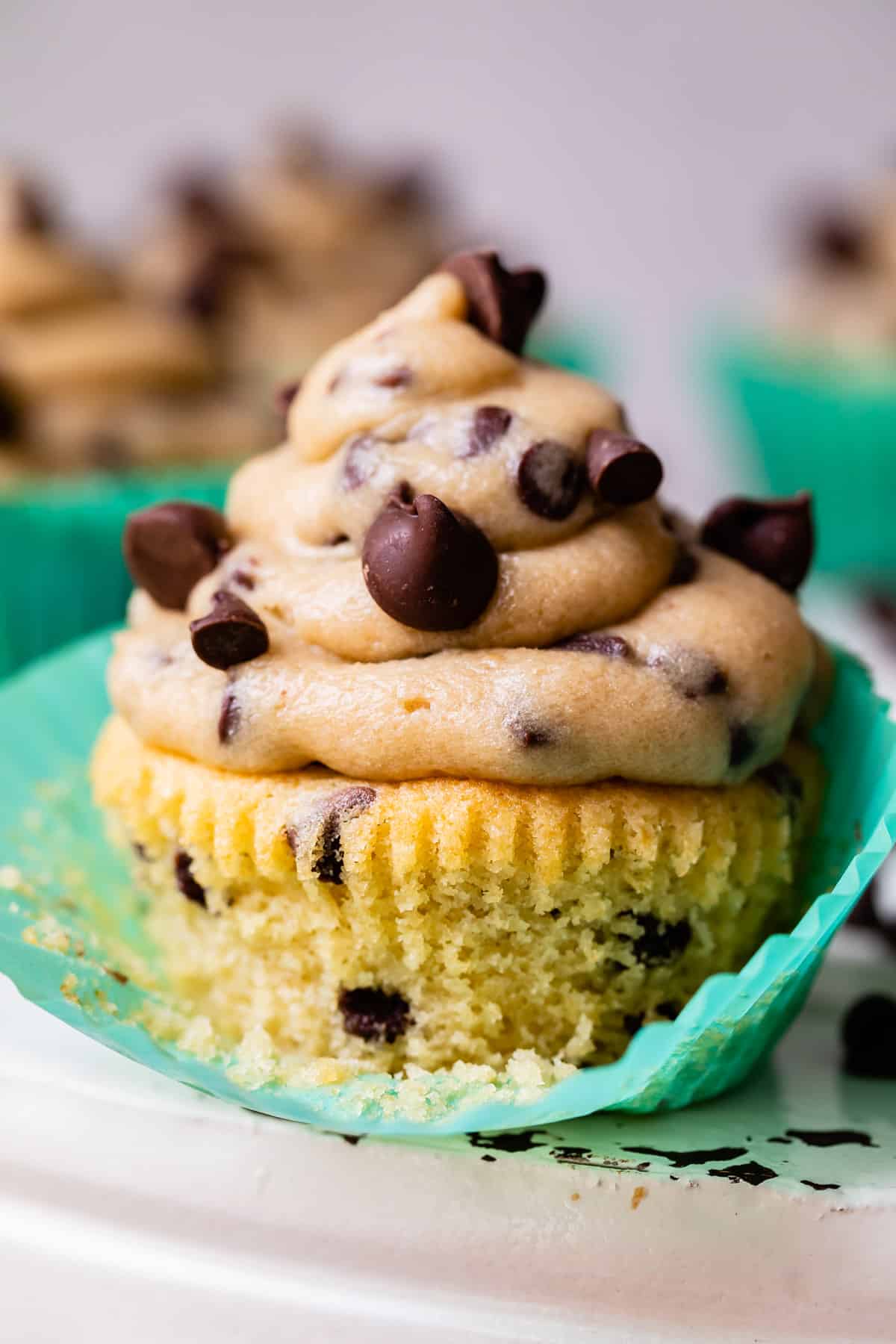 More amazing cupcake and cake recipes to love!
Facebook | Pinterest | Instagram

Cookies Dough Cupcakes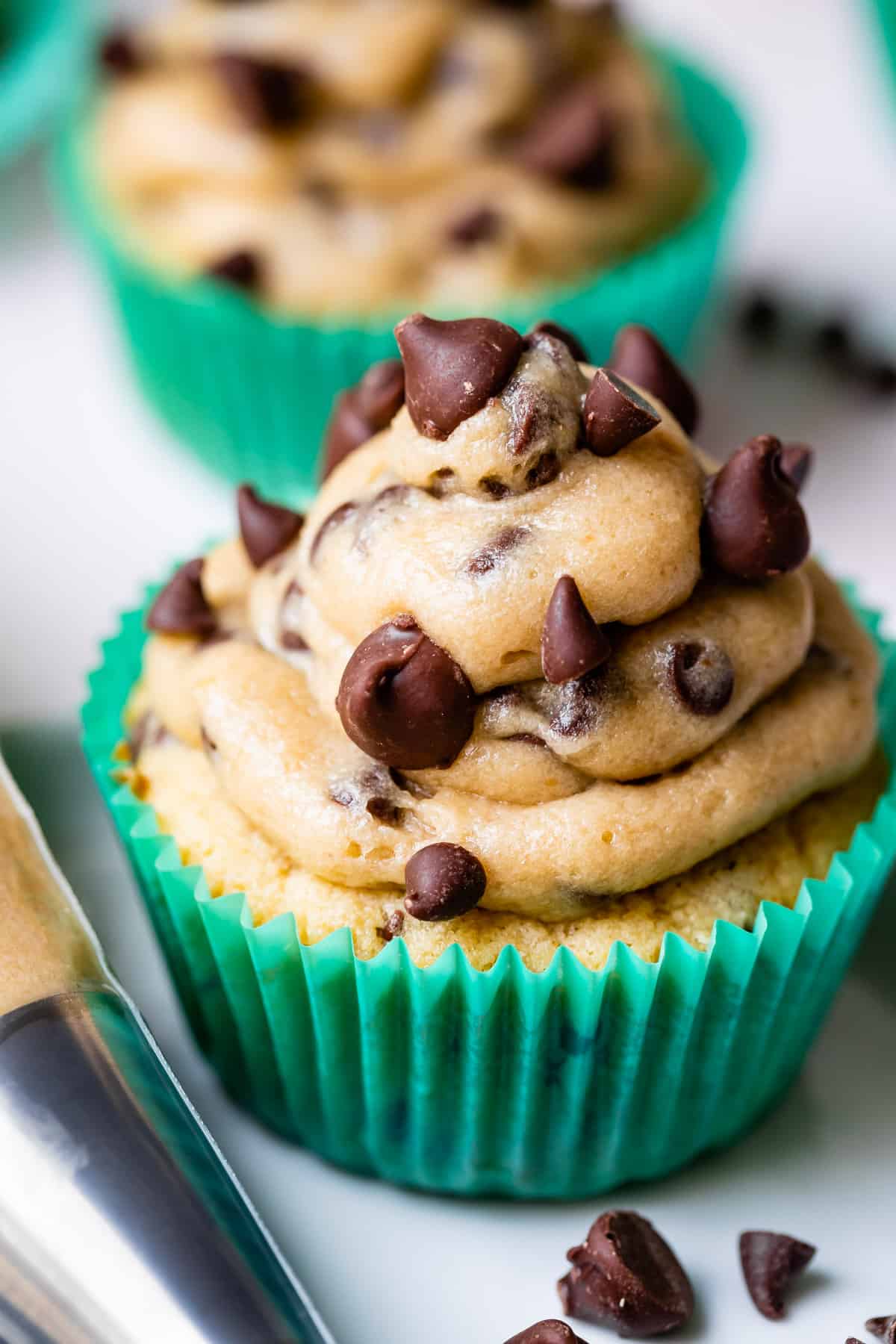 Cookie Dough Cupcakes are my new best friend. Picture this: A moist and tender vanilla cupcake recipe with mini chocolate chips, topped with the most amazing cookie dough frosting of your life.
Ingredients
For the cupcakes
1/2

cup

butter

,

one stick

1/2

cup

granulated sugar

1/2

cup

brown sugar

1/4

cup

vegetable oil

,

I like light olive oil

2

large

eggs

2

teaspoons

vanilla

1/2

cup

sour cream

1 and 1/2

cups

all-purpose flour

1/2

teaspoon

kosher salt

1 and 1/2

teaspoons

baking powder

1

cup

mini chocolate chips

,

buy 2 (10 ounce) packages
For the frosting
1

cup

butter

,

2 sticks

1

cup

brown sugar

,

packed

1

cup

powdered sugar

4

teaspoons

vanilla

5

tablespoons

whole milk

,

or more

1

cup

all purpose flour

,

spooned and leveled

3/4

teaspoon

kosher salt

1

cup

mini chocolate chips
Instructions
For the cupcakes: Line two muffin pans with 18 cupcake liners. Preheat the oven to 350 degrees F.

In a large bowl or stand mixer, add 1/2 cup butter. Use the paddle attachment to beat it until smooth. If it's cold butter this will take a minute; remember to scrape the sides.

Add in 1/2 cup granulated sugar and 1/2 cup packed brown sugar. Beat into the butter for at least 90 seconds, stopping halfway to scrape the sides and edges of the bowl.

Add 1/4 cup oil. Any vegetable oil will do, I like to use light flavored olive oil. Too bad it's not also light in calories :) Oil makes our cupcakes really moist.

Add in 2 eggs and 4 teaspoons vanilla. Beat well and scrape sides.

Add 1/2 cup sour cream and beat well.

Use a strainer to sift in 1 and 1/2 cups all purpose flour, making sure to measure the flour by spooning it into the measuring cup and leveling it off. Add 1/2 teaspoon kosher salt and 1 and 1/2 teaspoons baking powder. Beat together, scraping down the sides of the bowl. Continue beating for another 60 seconds or so.

Add 1 cup mini chocolate chips and stir.

Use a scoop to fill 18 cupcake liners with the cupcake batter. You don't want to overfill them. Use about 3-4 tablespoons of batter per cupcake.

Bake the pans one at a time in the center of the oven for about 16-20 minutes, until a toothpick inserted in the center comes out with no wet batter on it. The edges of each cupcake should be firm to the touch. They should not brown on top.

You can bake both pans at once if you have a nice oven that you trust, and if you rotate the pans halfway through the bake time. (My oven is an absolute joke so I always bake one pan at a time!)

With the help of a butter knife, remove the cupcakes from the pan within 1-2 minutes after coming out of the oven so the bottoms don't get soggy. Let rest on a wire rack until completely cooled.

For the frosting: Meanwhile, add 1 cup butter to a large bowl or stand mixer (clean it first). Beat well until smooth, scraping the edges.

Add 1 cup packed brown sugar and beat well, scraping the sides of the bowl.

Add 1 cup powdered sugar, 4 teaspoons vanilla, and 5 tablespoons milk. Beat well.

Add 1 cup of all purpose flour and 3/4 teaspoon kosher salt. If you are nervous about eating raw flour, first add the flour by itself to a bowl and microwave in 30 second increments until it reaches 160 degrees F. (I never do this. I live for danger. As my brother Nathan always says, "Look good, have fun, safety 3rd.")

Mix the flour in. When you can still see white streaks, stop the mixer and add 1 cup mini chocolate chips. Continue beating, scraping the edges, until it has all come together. Add more milk or flour as necessary to reach the consistency you like. Remember this is frosting, so you want it to be sticky; about the consistency of buttercream frosting.

Frost the cupcakes:Fit a wide-mouthed frosting tip (like tip size 1A is perfect) into a pastry bag, or the corner of a ziplock bag that has had the end snipped. Set the bag into a tall empty glass to brace it. Use a spatula to add the cookie dough frosting to the bag. Pipe the frosting in a swirl on top of each cupcake.If you don't want to pipe, use an offset spatula to spread frosting on each cupcake.

Top with mini or semi sweet chocolate chips! Devour with milk!

Store these covered on the counter up to 3 days. After that, stick them in the fridge.
Nutrition
Calories:
470
kcal
|
Carbohydrates:
58
g
|
Protein:
4
g
|
Fat:
25
g
|
Saturated Fat:
14
g
|
Polyunsaturated Fat:
3
g
|
Monounsaturated Fat:
5
g
|
Trans Fat:
1
g
|
Cholesterol:
69
mg
|
Sodium:
349
mg
|
Potassium:
72
mg
|
Fiber:
1
g
|
Sugar:
43
g
|
Vitamin A:
594
IU
|
Vitamin C:
0.2
mg
|
Calcium:
80
mg
|
Iron:
1
mg