I know you, cookie-dough-sneaker. Don't be shy now. Here's a recipe that skips that cumbersome baking step and just gets you the goods, stat. Plus: brown butter. God's gift to mankind.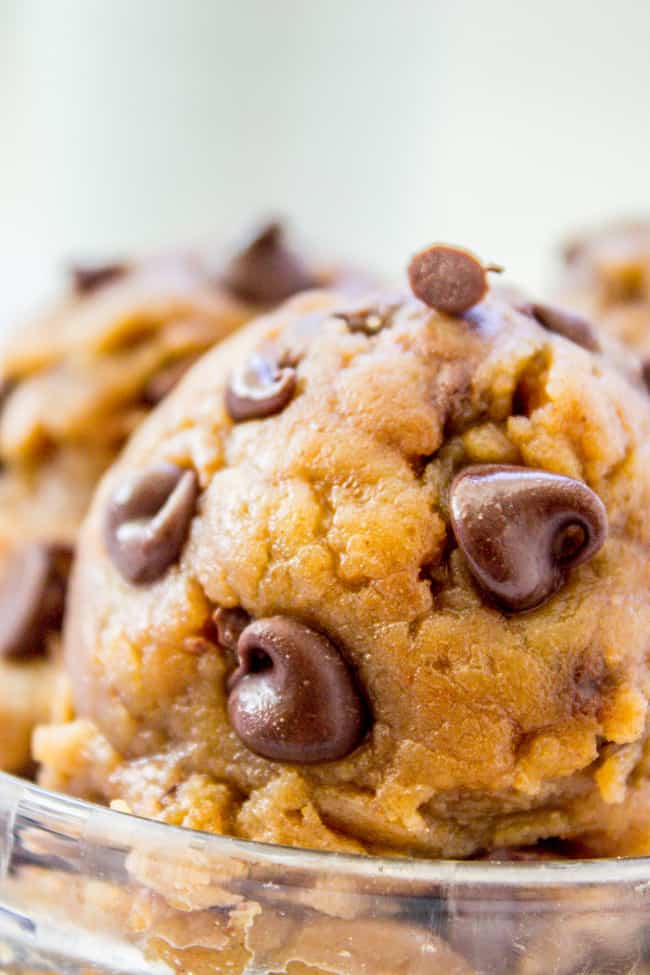 You know how when you move, all of your possessions seem totally frivolous? You just look around at all the billion things you have to pack and think, really, why do I need all this? I always end up throwing stuff away with reckless abandon.
And that, my friends, is how a dumpster diving expedition is begun.
On moving day, my mom held up 4 little pieces of metal that I didn't recognize. She said, what are these? And I said, I don't know, throw them away. GREAT IDEA KAREN.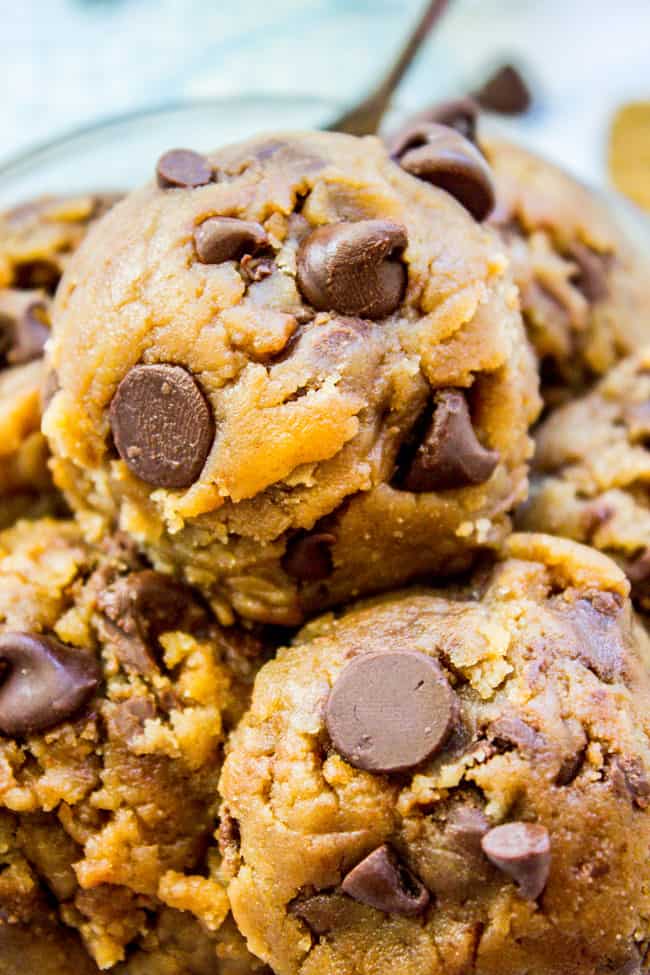 A few days later we realized that they were the pegs that hold up the shelves on our bookshelf. And we also realized that trash day at my old house hadn't come yet. Those 4 little pieces of metal that we needed to hold up our shelves were exactly where we had put them…and there was no reason we couldn't get them.
It was actually kind of fun. Not the going-through-trash part, but seeing my old house torn up was kind of cool/weird. An investor bought our house, he's going to flip it. The crew let me in to wash my hands after I found the pegs. (I found them!) The entire kitchen was gone already, just an empty room. So strange. (The carpet was still there. Maybe it will never die.)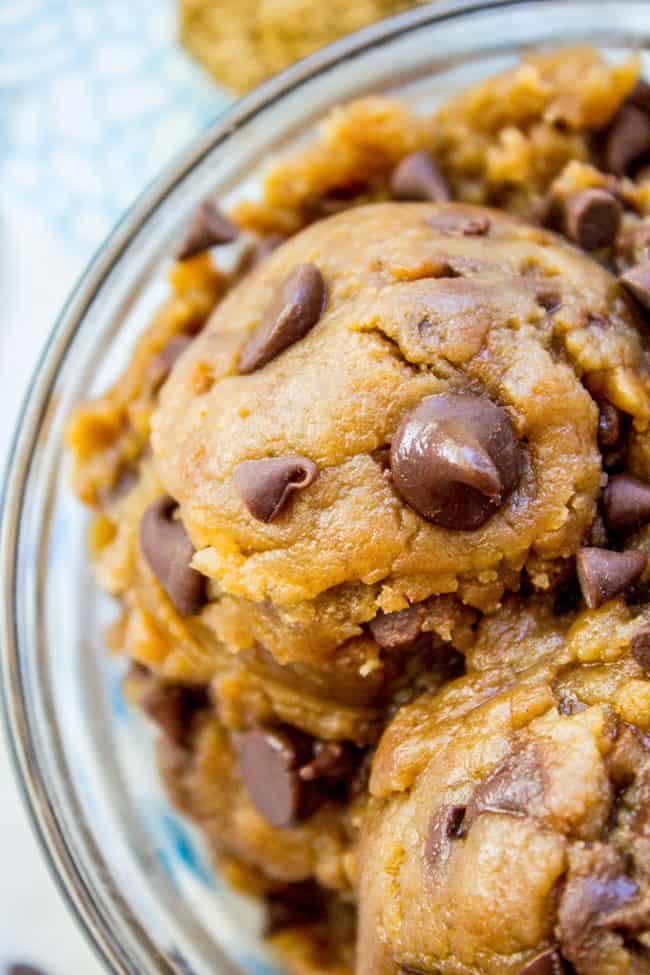 That night I told Eric my exciting dumpster diving story. "We found the pegs Eric! Now we can put our bookshelf together!"
"I have like 30 more of those exact pegs in my tool bag."
I'm never moving again.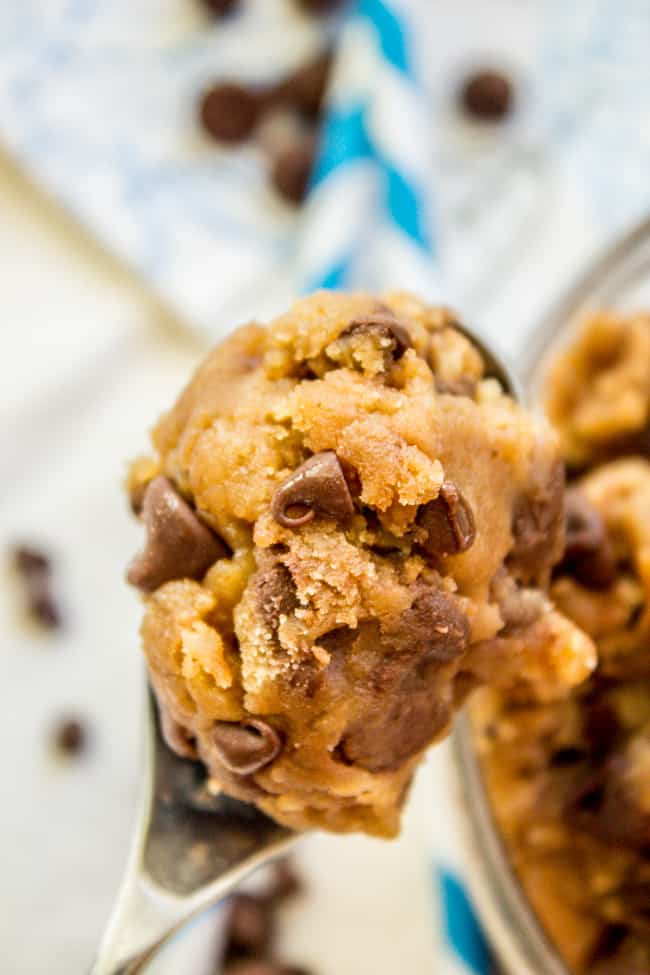 This recipe is inspired by Center Cut Cook's awesome Edible Chocolate Chip Cookie Dough. The first time I stumbled upon this post I spent way too much time scanning a few pages of the 556 comments, because they were literally making me laugh out loud.
You would not believe all the comments from people who were so glad to have finally found an egg-free cookie recipe but were totally disappointed when their cookies baked flat. Or people asking, "Can you make it without the flour?" "This recipe still isn't safe because eating raw flour is dangerous." (wha??) Or my favorite, "It just tasted like raw dough." Who ARE these people??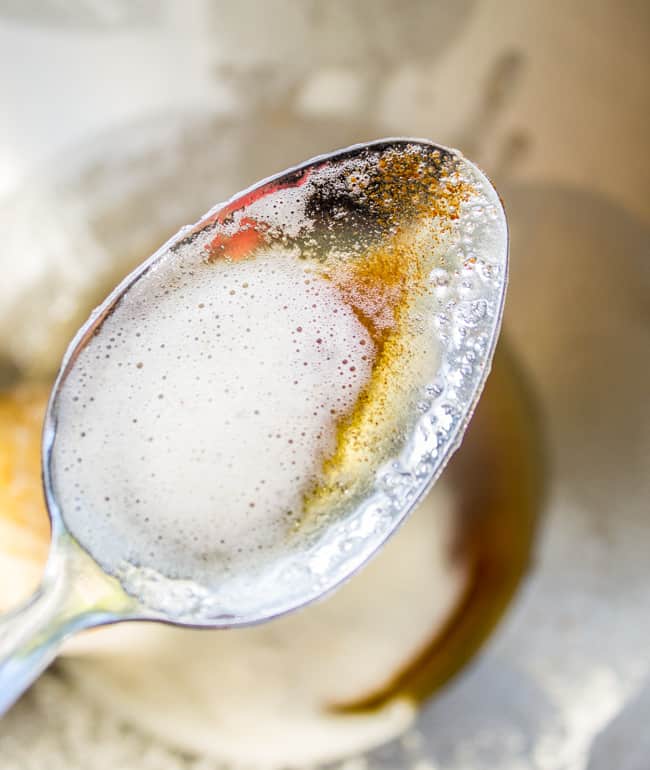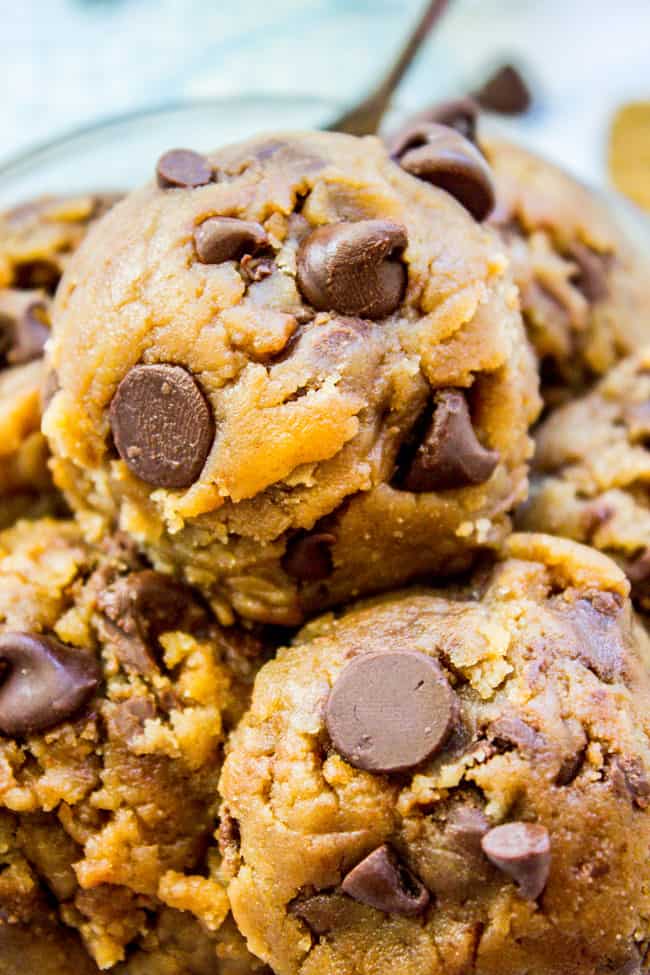 I could seriously eat this whole batch with a spoon. I don't really have any huge salmonella fears, but if all I want is dough anyway, why waste the egg. Plus it comes together in like 10 minutes, you can't beat that! You could literally adjust the amounts on almost every ingredient, but don't skip browning the butter!! It makes it.

Edible Egg-free Brown Butter Cookie Dough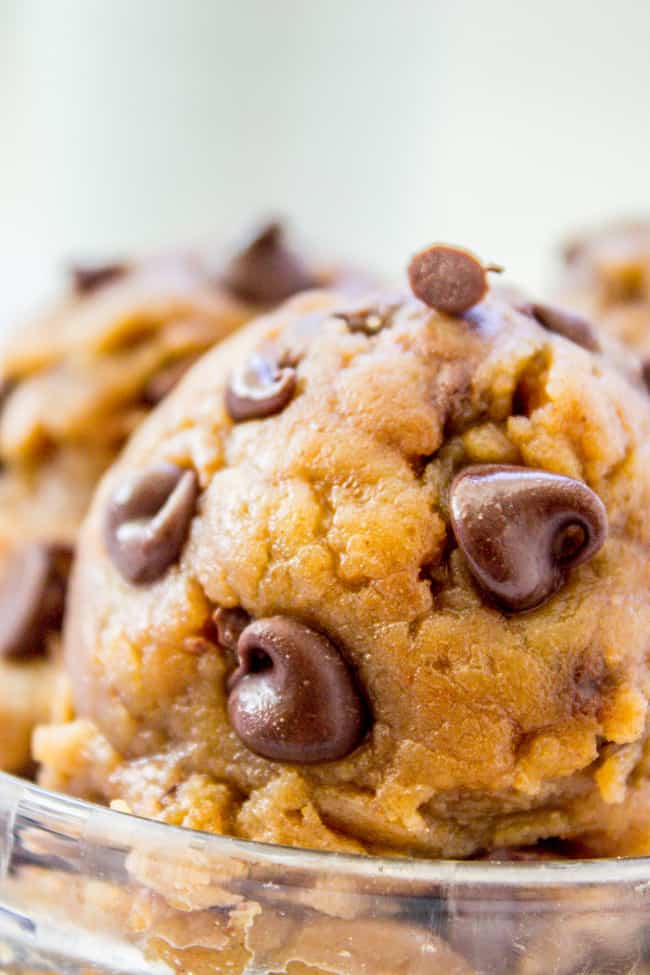 I know you, cookie-dough-sneaker. Don't be shy now. Here's a recipe that skips that cumbersome baking step and just gets you the goods, stat. Plus: brown butter. God's gift to mankind. 
Ingredients
1/2

cup

butter

,

1 stick

1/3

cup

white sugar

1/2

cup

brown sugar

1

teaspoon

vanilla

2

tablespoons

milk

1/4

teaspoon

salt

,

a pinch more if you love salt

3/4

cup

flour

,

spooned and leveled

1/2

cup

chocolate chips

1/4

cup

mini chocolate chips

,

or replace with regular
Instructions
Add the butter to a small pot. Turn the heat to medium. Cook, stirring every 1-2 minutes with a wooden spoon. After a couple minutes, the butter will start to foam. Keep watching it. Eventually the butter will turn brown and you will see tiny brown specks. The smell will turn nutty. You might not be able to see the color under the foam very well, which is part of the reason you need to stir. Once it is brown and it looks silty at the bottom, it is done. Pour it into a mixing bowl to stop the cooking process.

Add both of the sugars and combine.

Add vanilla and milk and beat. Add the salt.

Let the mixture cool for a few minutes so you don't melt your chocolate chips.

Add the flour and chocolate chips all at once. Beat to combine. Adjust to taste.

This recipe freezes great! If you store it in the fridge, you can add more milk if it has dried out.
Notes
This cookie dough is perfect with ice cream! Just don't bake it. :)
Nutrition
Serving:
1
cookie ball
|
Calories:
156
kcal
|
Carbohydrates:
21
g
|
Protein:
1
g
|
Fat:
8
g
|
Saturated Fat:
5
g
|
Polyunsaturated Fat:
1
g
|
Monounsaturated Fat:
2
g
|
Trans Fat:
1
g
|
Cholesterol:
17
mg
|
Sodium:
93
mg
|
Potassium:
22
mg
|
Fiber:
1
g
|
Sugar:
15
g
|
Vitamin A:
187
IU
|
Vitamin C:
1
mg
|
Calcium:
14
mg
|
Iron:
1
mg
I'm obsessed with brown butter desserts. This is not an apology:
Brown Butter Sea Salt Butterscotch Cookies: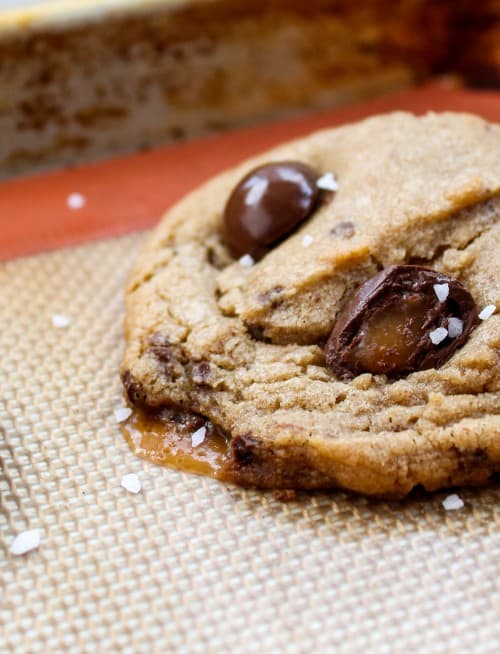 Browned Butter Blondies: I think this was the first recipe I ever browned butter for. A day in history guys.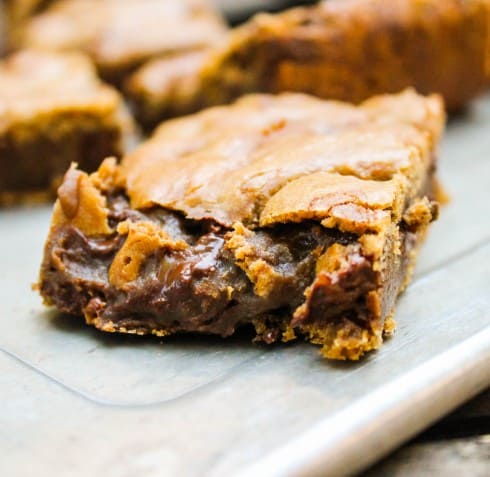 Soft Cinnamon Cookies with Maple Pecan Frosting: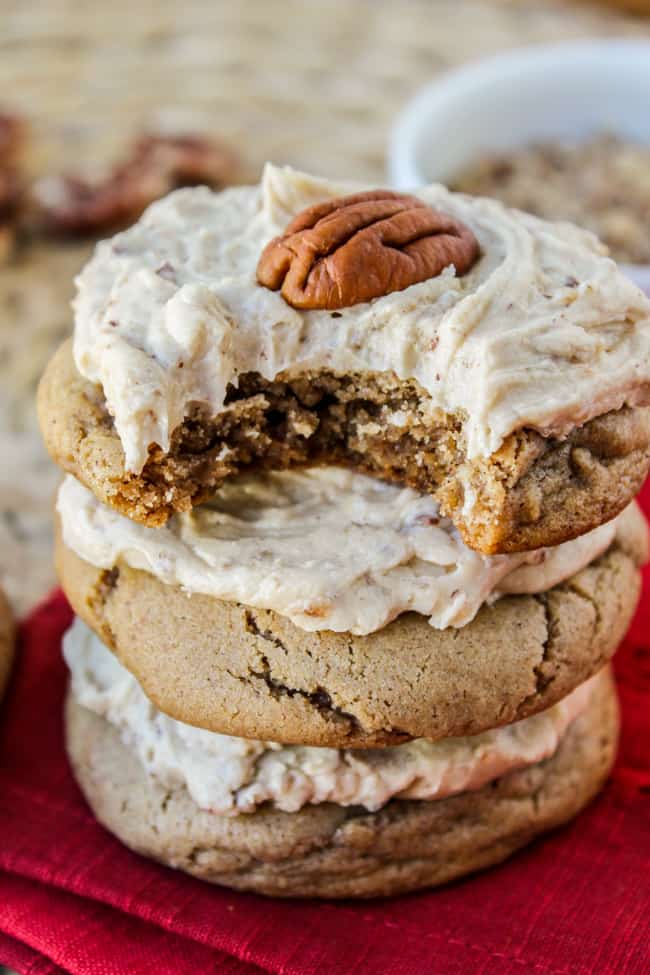 Nutella Stuffed Brown Butter Blondies: << one of the top recipes on The Food Charlatan!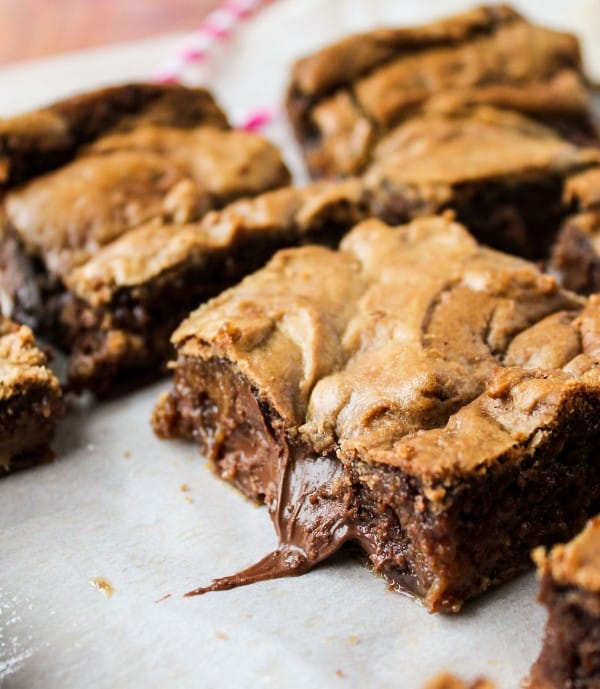 Viva la brown butter!
Brown Butter Sea Salt Chocolate Chip Cookies from Ambitious Kitchen
Salted Caramel Brown Butter Cookies Cups from Buns in my Oven
Brown Butter Chocolate Chip Cookies from Completely Delicious