Don't even try to tell me you didn't love those Hostess Chocolate Cupcakes when you were a kid, you know the kind with the loopy white frosting on top? It was a serious contender in the lunch trade. This is a homemade version that is SO much better!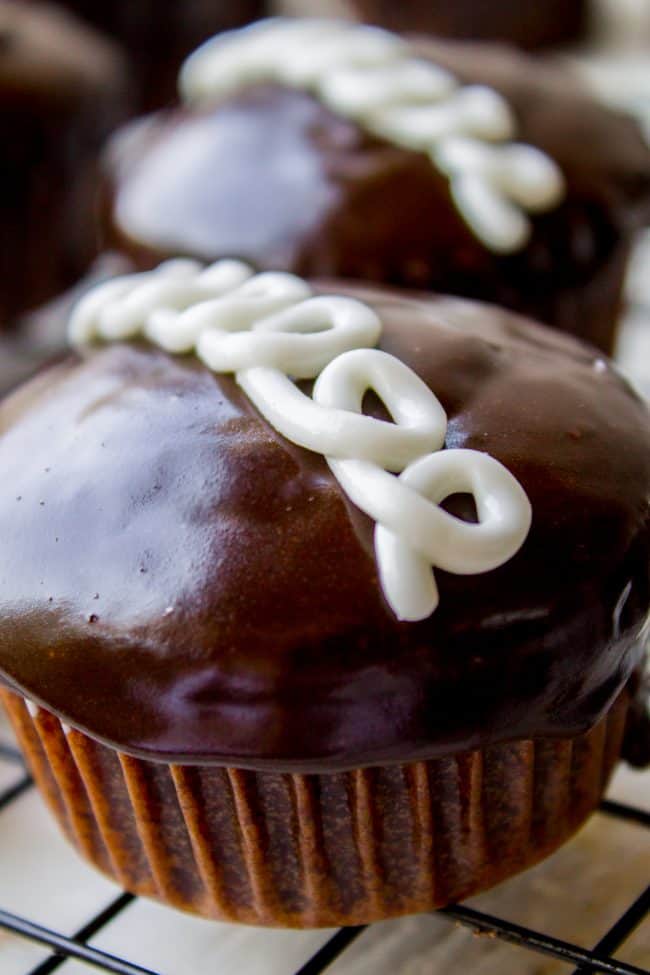 We are leaving for Paris today, and Eric had some last minute reservations to make on the phone. Neither of us studied French, but he has been diligently using Duolingo (a free language app) so that we will at least be able to pretend like we know something. We've heard that the people there appreciate it if you at least try to speak French instead of presumptuously launching into English.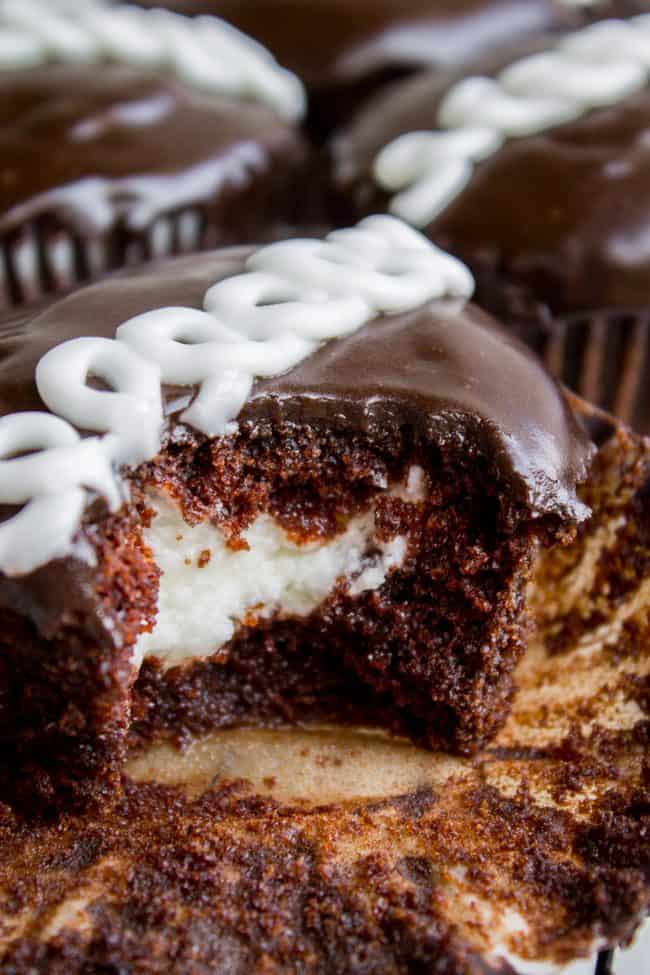 He just made a call early this morning and I heard him from the other room, "Puis-je faire une réservation s'il vous plaît?" And then a very long pause and a "Um." Then he asked his question about reservations in English.
Afterward he told me that the lady on the phone listened to his poor attempt at French and just said, "Mm-hmm." And then sat and waited.
Oh boy. What are we in for this week!! I'm kind of scared!!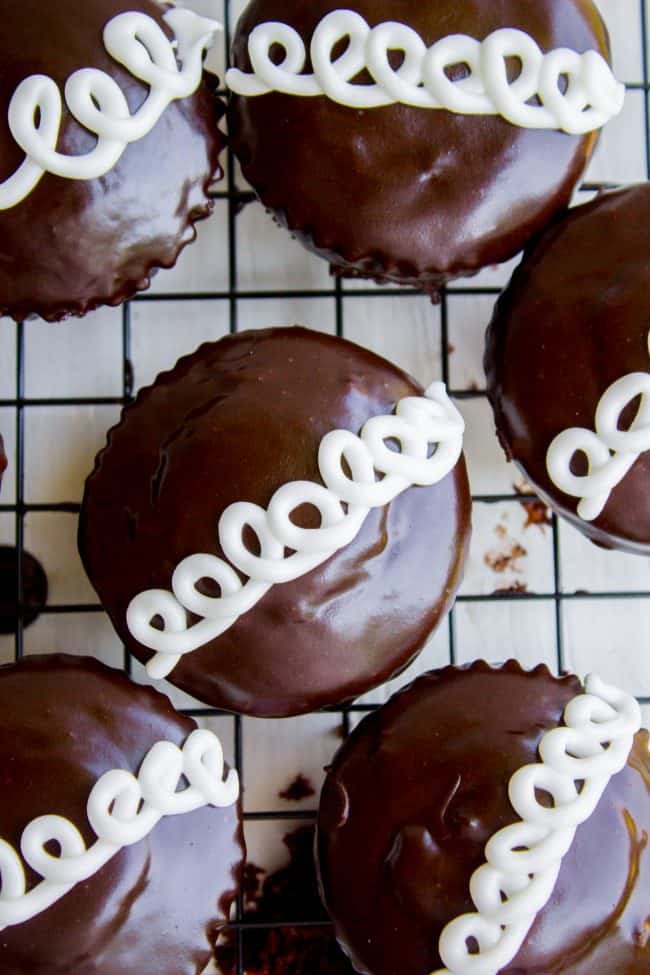 My mom is arriving soon to take care of the kids at our house, but my youngest Valentine just woke up with a cold. Why, why?? My mom and dad are so nice to take the kids whenever we are away, but sick kids are more than they bargained for I'm sure. Crossing my fingers it's a short cold!
How to make Hostess Chocolate Cupcakes
I should be posting something French today, like French Silk Pie or French Dip Sandwiches. But instead I'm following up my very American 7 Layer Dip that I posted earlier this week with these Homemade Hostess Chocolate Cupcakes. Nothing says 'Merica like factory made cupcakes, am I right?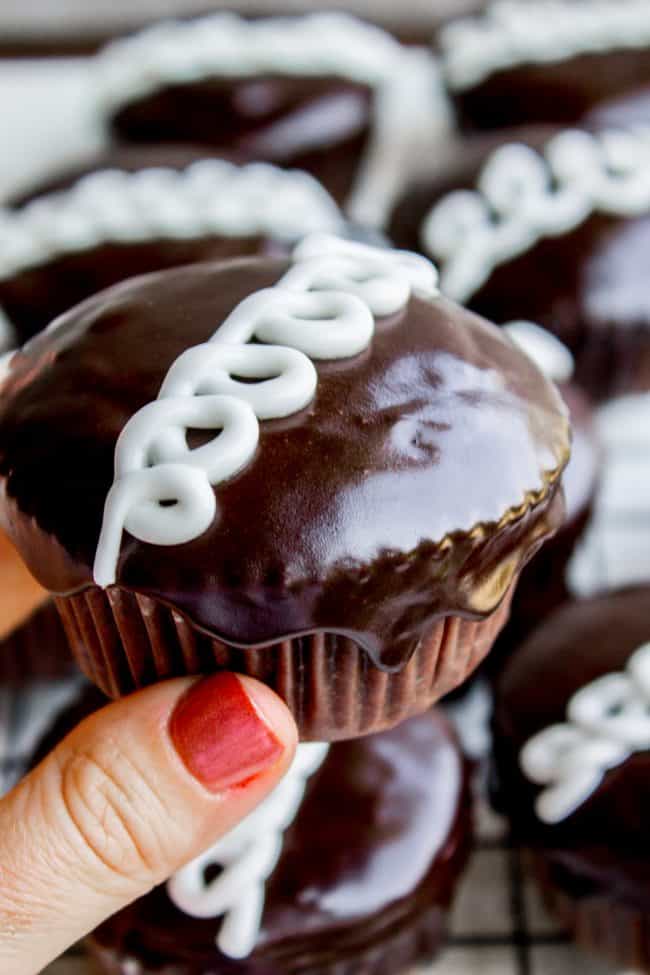 But this homemade version is WAY better. Actually I rarely eat Hostess stuff anymore, it just doesn't taste the same now that I'm an adult! The nostalgia is there but the flavor is not, and I try to only eat sweets that are worth the calories.
These, my friend, are worth the calories. The cupcake recipe is adapted from The Only Texas Sheet Cake You'll Ever Need, one of my favorite chocolate cakes. The glaze is the best part, it's a cooked frosting that is perfectly fudgy and slightly grainy (anyone who's had Texas Sheet Cake knows what I'm talking about.)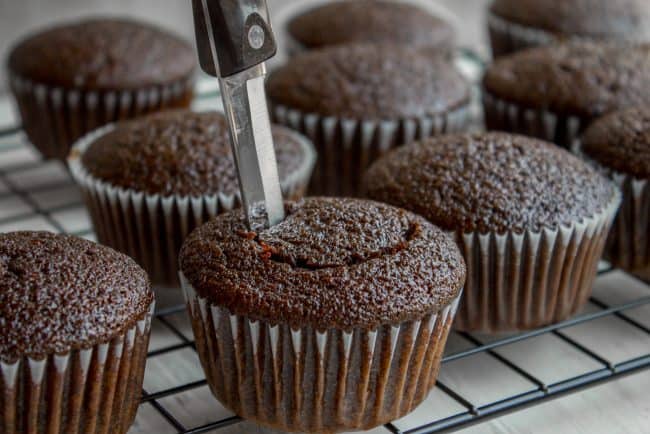 Then we are filling the cupcake with marshmallow whipped cream. It's whipped cream with a jar of marshmallow mixed in. It's so delicious!!

Finally, we are making a really simple royal icing for the loop de loop on top. You can't call them Hostess chocolate cupcakes without the loop. Because all egg whites are slightly different sizes, you will have to play with the amount of powdered sugar you add to get the right consistency. I used one egg white and about 2 cups of powdered sugar, give or take a tablespoon. Practice making loops on a plate (or on your counter if you're a heathen like me) to make sure that as the frosting sets it doesn't bleed together and turn into loop de blobs instead of loop de loops.


I just got a notice from my kid's school that we are not allowed to bring cupcakes or any sweets on our kid's birthday anymore (the district suggests we bring healthy snacks like carrots. I'm not kidding.) Apparently by banning all joy and fun, they are going to solve the obesity problem, which is the stupidest thing I've ever heard. Healthy eating starts at home, and no cupcake denials will change that.
Who wants to come egg the district office with me? Or maybe we could throw these Hostess chocolate cupcakes at them??
I'm going to be that crazy lady on my kid's birthday, ambushing all their classmates with covert cupcakes as they exit the classroom.
Fortunately I talked to the principal about it and she told me that she would definitely be upholding the district standard, while winking heavily. I like her. I think I'll bring her one of these cupcakes on my kid's birthday.
More delicious treats you are going to love!
Cream Cheese Chocolate Cupcakes << my favorite cupcake ever. Today's recipe might be giving it a run for it's money. (Chocolate with cream filling…I'm noticing a trend here.)
The Only Texas Sheet Cake You'll Ever Need << today's recipe is based on this cake!
Mint Oreo Cupcakes << I haven't made these in years! But seriously, how can you go wrong here? Also, how do you like my food styling circa 2012?? This was taken on the ledge of the balcony of our apartment, with a baby blanket thrown over to make it look like a napkin. Oh, Karen.
Ding Dong Cake from That Skinny Chick Can Bake
Ho Ho (Ho) Cake from Brown Eyed Baker
Facebook | Pinterest | Instagram

Homemade Hostess Chocolate Cupcakes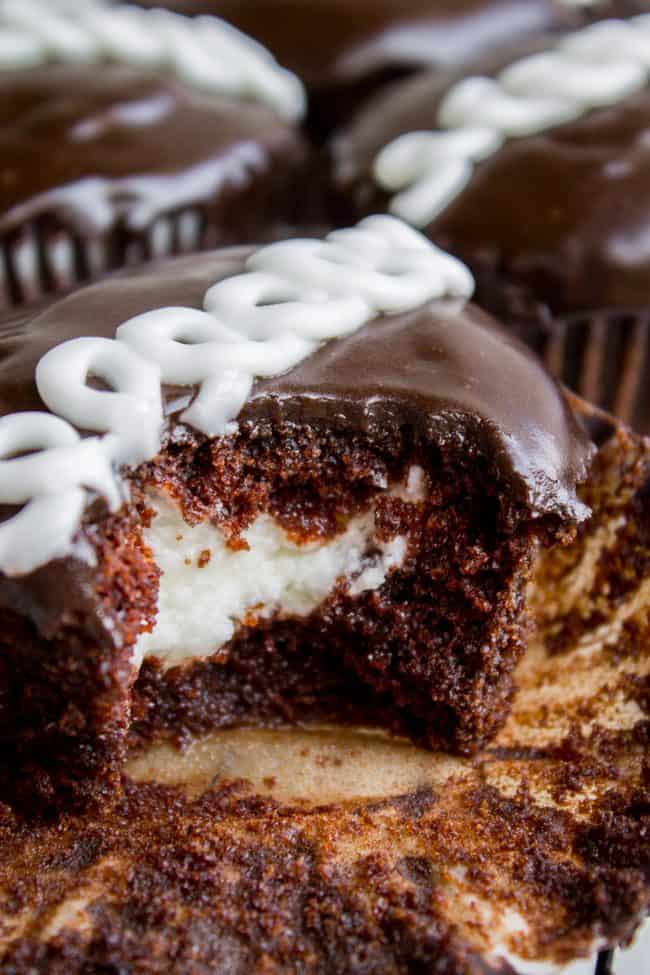 Don't even try to tell me you didn't love those Hostess Chocolate Cupcakes when you were a kid, you know the kind with the loopy white frosting on top? It was a serious contender in the lunch trade. This is a homemade version that is SO much better!

Ingredients
For the cupcakes
1

cup

butter

,

(2 sticks)

1

cup

water

1/2

cup

cocoa

1

cup

brown sugar

2

teaspoons

vanilla extract

2

cups

flour

1

cup

granulated sugar

1/2

teaspoon

salt

1

teaspoon

baking soda

1/2

cup

sour cream

2

large

eggs
For the marshmallow filling
1 & 1/2

cups

heavy cream

1 (7-oz)

jar

marshmallow creme
For the chocolate glaze
1/2

cup

butter

,

(1 stick)

1/2

cup

unsweetened cocoa

,

preferably Special Dark Cocoa

6

tablespoons

sour cream

1

teaspoon

vanilla extract

1/4

cup

milk

3 & 1/2

cups

powdered sugar
For the white royal icing
1

egg white

2

cups

powdered sugar
Instructions
Preheat your oven to 350 degrees F. Fill 2

muffin tins

with 21 paper cupcake liners.

In a medium or large saucepan, add 1 cup butter, 1 cup water, and 1/2 cup cocoa. Bring to a boil over medium high heat. Once it boils, take it off the heat.

Let it cool for a minute or two, then stir in brown sugar and 2 teaspoons vanilla.

Meanwhile in a medium bowl combine 2 cups flour, 1 cup granulated sugar, salt, and baking soda.

Add the dry ingredients to the saucepan. (Then wipe out the bowl and put it back in your cupboard.)

Stir well, then add 1/2 cup sour cream and eggs. Blend well until all the lumps are gone.

Pour the batter into the prepared cupcake liners. Use about 1/4 cup batter for each cupcake.

Bake at 350 for about 17-20 minutes, until a toothpick comes out of the center with no wet batter on it. Don't over bake!

Remove the cupcakes to a wire rack and let cool completely.

Meanwhile, make the marshmallow filling. In a large bowl or stand mixer, beat the cream on high for about 3 minutes, until stiff peaks form. Add the marshmallow cream and continue beating until smooth. Store in the fridge until you are ready to fill the cupcakes.

When the cupcakes have cooled, use a sharp knife to cut out the center. See photos. To make more room for the filling, I used my knife to dig out even more than the little cone shape that I cut out. I also cut off the bottom of the cone. (see photos) Just make sure there is plenty of space in there, while making sure the bottom stays intact.

Use a pastry bag and

frosting tip

to fill each cupcake. Or you could put the filling in a ziplock and snip the corner, that's easy!

Put the top back on each cupcake. If your glaze is not ready to go, chill the filled cupcakes while you make it.

Make the chocolate glaze. Clean out the saucepan you used for the batter and add 1 stick of butter and 1/2 cup cocoa. Stir together over medium heat until it comes to a boil, then remove from the heat.

Add 6 tablespoons sour cream, 1 teaspoon vanilla extract, and 1/4 cup milk.

Use a whisk to stir in the powdered sugar. If your cupcakes are not cooled and filled when you finish the glaze, stir it every now and then to break up the hardened shell on top. Add a little more milk if necessary.

Carefully dip the top of each cupcake in the glaze. Once the frosting has set, (several minutes) dip each cupcake again. (Double dipping is optional, but why wouldn't you?)

Let the frosting set completely. I stuck mine in the freezer for 20 minutes.

In a large bowl or stand mixer, beat the egg white until frothy. Slowly beat in about 2 cups of powdered sugar. Put a small amount in a ziplock bag, snip the end, and try to make a loop on a plate. If it bleeds together, add more powdered sugar. If it's already too thick, add 1/2 teaspoon milk. Keep adjusting until the icing comes out smooth but firm, and doesn't bleed after it sets.

Top each cupcake with a loop de loop. Let set completely.

Store finished cupcakes sealed on the counter for up to 24 hours, then stick them in the fridge!
Nutrition
Serving:
1
cupcake
|
Calories:
484
kcal
|
Carbohydrates:
72
g
|
Protein:
4
g
|
Fat:
22
g
|
Saturated Fat:
14
g
|
Polyunsaturated Fat:
1
g
|
Monounsaturated Fat:
6
g
|
Trans Fat:
1
g
|
Cholesterol:
81
mg
|
Sodium:
253
mg
|
Potassium:
133
mg
|
Fiber:
2
g
|
Sugar:
57
g
|
Vitamin A:
741
IU
|
Vitamin C:
1
mg
|
Calcium:
47
mg
|
Iron:
1
mg