Chocolate Babka: layers of super rich and yeasty brioche dough, layered with straight up dark chocolate. It's a major win for breakfast or as a snack with hot chocolate. It also makes an amazing Christmas neighbor gift!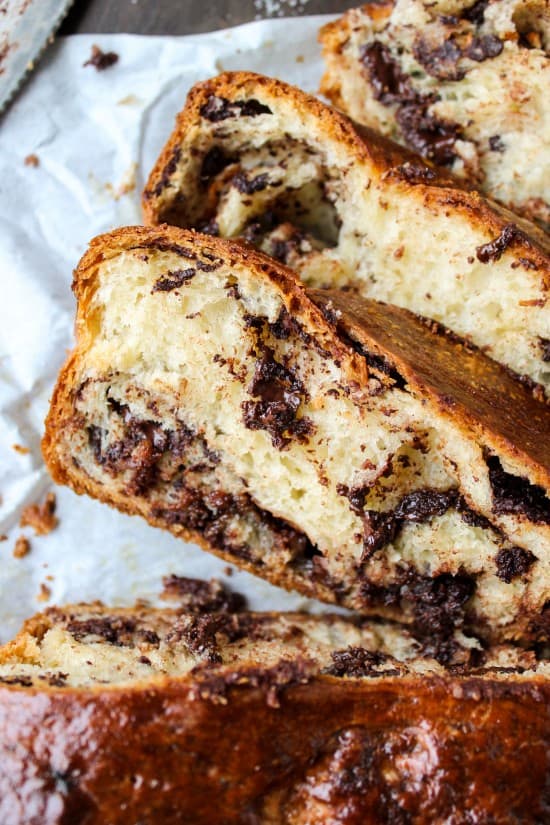 Yesterday my mom was reading me all the crossed-off items on her to-do list. (What, you guys don't do this? Sometimes you need a pat on the back just for getting through the day, especially when that day includes stampeding crowds at Toys-R-Us, tantrums at the grocery store, and that moment at the post office when you realize the address you need is on the slip of paper you left at home. Gotta love this relaxing season.)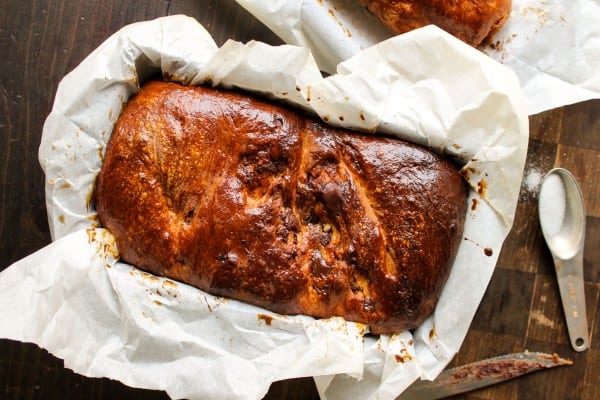 She read her list: "Go to the post office, give the dog a bath, buy pajamas for grandkids, finish sewing Christmas projects, make treats for coworkers, and shave your legs."
You know that your life has gotten too busy when standard grooming procedures make it on your to-do list. At least it didn't say "blink" or "breathe" anywhere on there.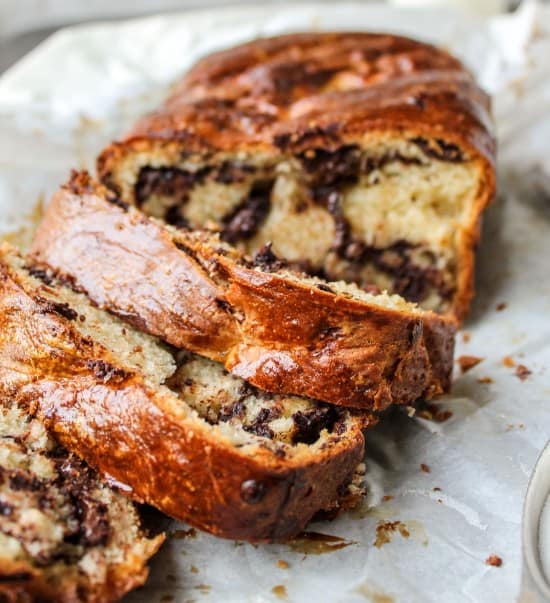 Although I'm one to talk. Pretty much any day that I'm organized enough to make a to-do list the first item says "take a shower, you dirty animal." I'll be the first to admit that sometimes it still doesn't happen. And that's when I count my many blessings: dry shampoo and deodorant top the list.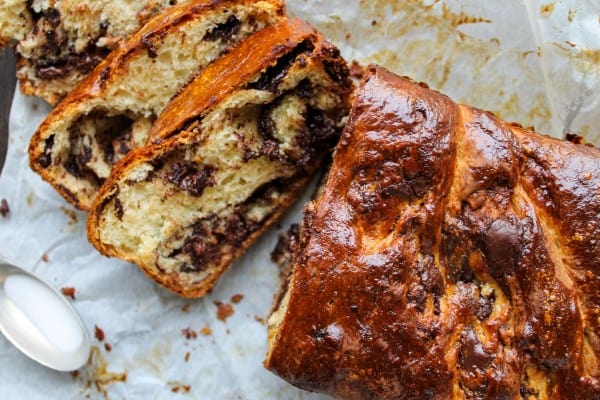 How many pictures of this bread do I have to show you before you will admit that you are gnawing on your computer?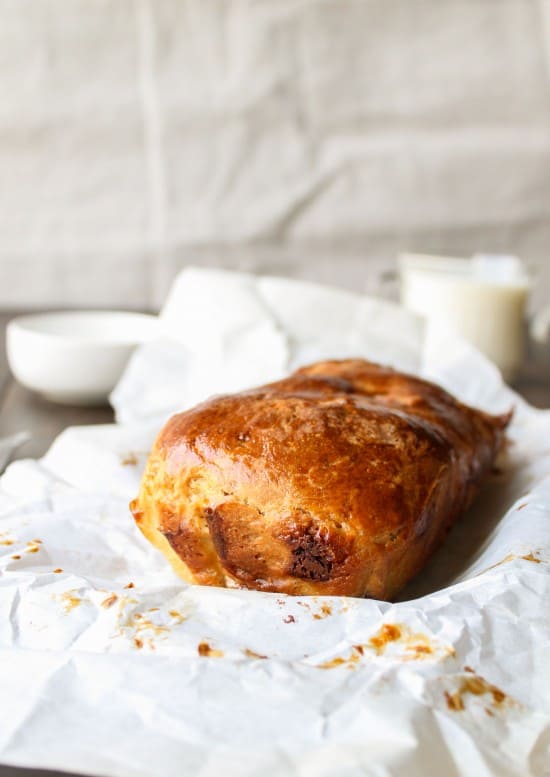 Everyone I gave this bread to thought I was calling it "Chocolate Vodka." I don't know if that's a real thing, I'm seriously glad I've never tried it.
The babka, on the other hand, is probably the best thing since…well, since sliced bread. We are talking an incredibly tender fall-apart butter-bread with a crusty outer layer and swirls of dark chocolate layered throughout. It's almost like eating one of those chocolate filled croissants, except it's even better because it's warm.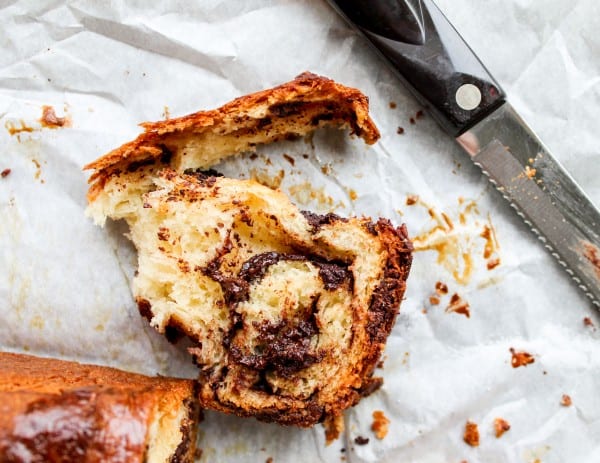 I'm not going to lie, this recipe takes some doing. It's not hard, but it's not fast. Both rising steps take at least an hour and a half. Make this on a lazy day at home, when you have your Christmas tunes turned up high and you're avoiding the crowds by ordering everything online.  You can either make this in 2 regular loaf pans or in several mini loaf pans. The mini ones would make great neighbor gifts, and provide a lovely respite from all the cookies. (Not that I'm hating on cookies.) Happy weekend everyone!
P.S. There are some how-to shots below.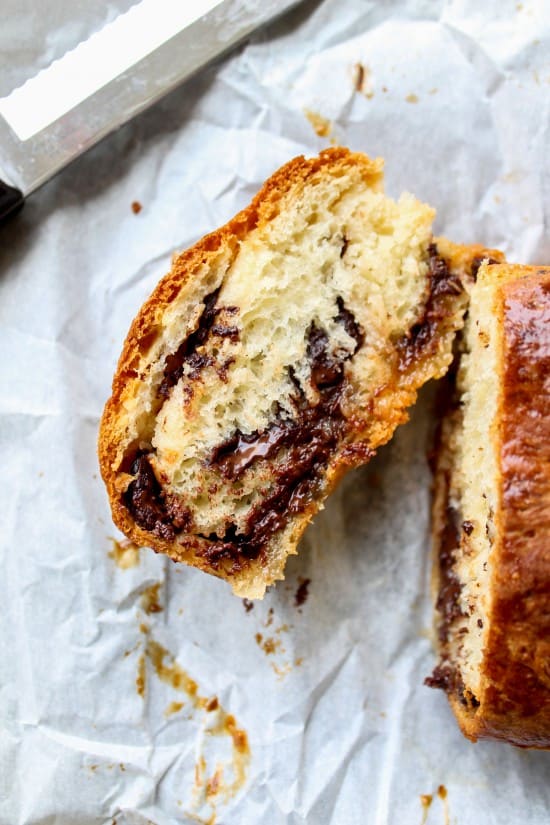 Chocolate Babka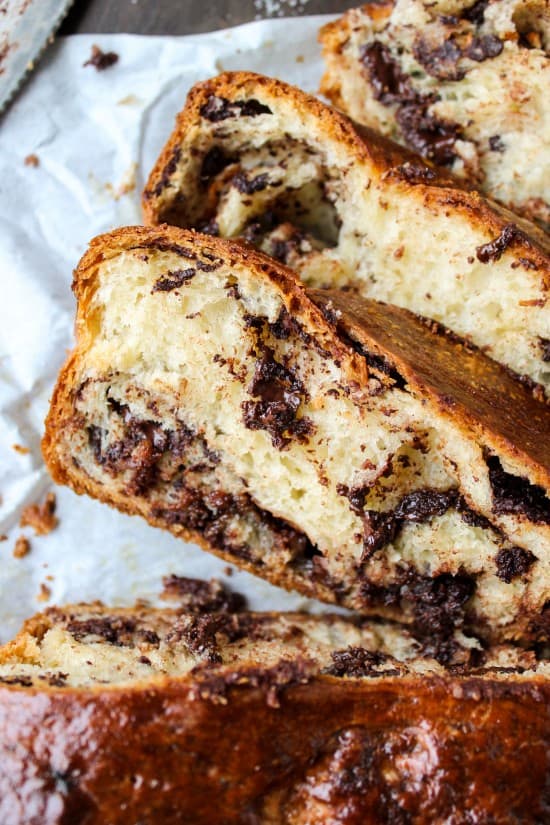 Chocolate Babka: layers of super rich and yeasty brioche dough, layered with straight up dark chocolate. It's a major win for breakfast or as a snack with hot chocolate. It also makes an amazing Christmas neighbor gift!
Ingredients
For the dough:
3/4

cup

milk

,

warm, 105–115°F

2

teaspoons

sugar

4

teaspoons

active dry yeast

1/2

cup

sugar

1/2

cup

all-purpose flour

2

large

eggs

1

large

egg yolk

1

teaspoon

pure vanilla extract

3/4

teaspoon

salt

2 & 3/4 cups

flour

,

plus more for dusting

10

tablespoons

unsalted butter

,

1 & 1/4 sticks, cut into pieces and softened
For the egg wash:
1

large

egg yolk

1

tablespoon

cream
For chocolate filling:
5

tablespoons

butter

,

divided and well softened

1 & 1/2

10-oz bags

bittersweet baking chips

,

60% cacao, divided

1/3

cup

sugar

,

divided
Instructions
To make the dough: In a glass measuring cup, warm the milk in the microwave. Be careful not to overdo it. You should be able to put your finger in with absolutely no discomfort. If you warm it too much, put it in the fridge for a while. Add 2 teaspoons of sugar and 4 teaspoons of yeast, and stir to combine. Let the mixture sit for 5-10 minutes until it is foamy. If it does not foam--and I mean at least double in size--toss it and start over.

Add the yeast mixture to a stand mixer or large bowl. Add 1/2 cup sugar and 1/2 cup of flour and stir to combine (use the paddle or a spoon, or hold the dough hook in your hand to mix it.) Add eggs, yolk, vanilla, and salt, and stir to combine. Add the 2 and 3/4 cup flour and use the dough hook to mix it up. It will be very soft.

Add the softened butter a little bit at a time, beating thoroughly each time. Once it is all mixed in, knead with the hook for about 4-5 minutes. The dough should be shiny and form strands from paddle to bowl.

Lightly oil a large bowl, and scrape the dough in. Cover with plastic wrap and let rise in a warm place for at least 1 and 1/2 to 2 hours, or until doubled in size.

Assemble babkas with the filling: Sprinkle the top of the dough with flour and punch it down with your hand. Knead by hand in the bowl, adding flour until it is workable and able to be rolled out. Divide the dough in half.

On a lightly floured silpat or heavily floured work surface, roll out 1 piece of dough into an 18- by 10-inch rectangle.

In a small bowl, beat together yolk and cream.

Spread 2 1/2 tablespoons softened butter on dough, leaving a 1/2-inch border on the edges. Brush a light amount of egg wash on the long border furthest from you.

Use a knife or food processor to finely chop 5 ounces of the chocolate, about half of a ten-ounce bag. Sprinkle half of the chopped chocolate over the dough, then sprinkle half of the whole chocolate pieces over the dough.

Sprinkle with half of the 1/3 cup of sugar; just eyeball it. Starting with the long side that is not brushed with the egg wash, roll dough into a snug log. Pinch firmly along egg-washed seam to seal. Bring ends of log together to form a ring, and pinch it to seal, using more egg wash if necessary. Twist the entire ring twice to form a double figure 8. (See photos below)

Line two 9x5 loaf pans with parchment paper. Gently place the babka into the first pan, and cover with plastic wrap that has been sprayed with nonstick spray. Let rise in a warm place for 1 and 1/2 to 2 hours. The bread needs to rise to at least the top of the pan, if not more. (Alternatively, let dough rise in pans in refrigerator 8 to 12 hours; bring to room temperature, 3 to 4 hours, before baking.)

Make another babka with the remaining piece of dough, butter, egg wash, chopped chocolate, whole chocolate, and sugar.

Chill remaining egg wash, covered, to use later.

Place oven rack in middle position and preheat oven to 350°F. Brush tops of dough liberally with remaining egg wash. Bake until tops are deep golden brown and bottoms sound hollow when tapped (when loaves are removed from pans), about 40 minutes. (If you are doing mini loaves bake for about 30-35 minutes.) Transfer loaves to a rack and cool to room temperature.
Notes
Source: adapted from Buttered Up , originally from Epicurious
Nutrition
Serving:
1
slice
|
Calories:
167
kcal
|
Carbohydrates:
14
g
|
Protein:
3
g
|
Fat:
11
g
|
Saturated Fat:
7
g
|
Polyunsaturated Fat:
1
g
|
Monounsaturated Fat:
3
g
|
Trans Fat:
1
g
|
Cholesterol:
68
mg
|
Sodium:
141
mg
|
Potassium:
57
mg
|
Fiber:
1
g
|
Sugar:
10
g
|
Vitamin A:
378
IU
|
Vitamin C:
1
mg
|
Calcium:
22
mg
|
Iron:
1
mg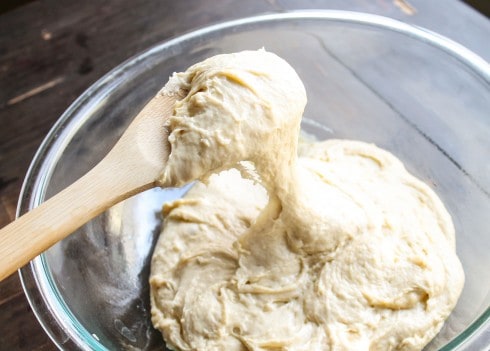 The dough should be very soft. Don't be afraid to add all the butter to the dough. I know it sounds weird, but trust me, it works.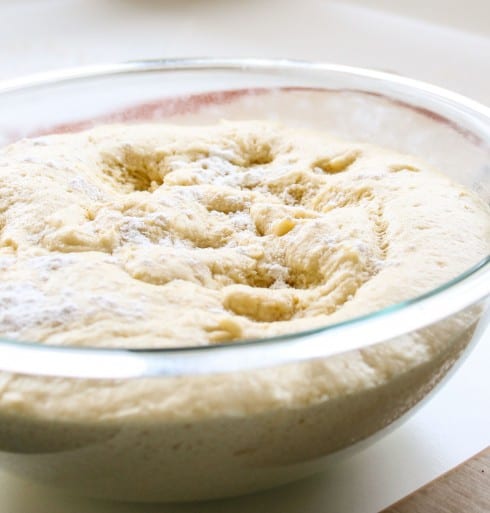 Make sure it doubles in size, otherwise wait longer.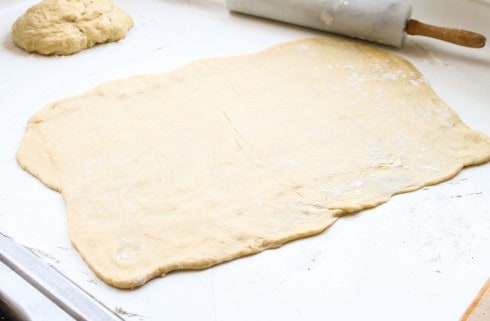 Rolls it out…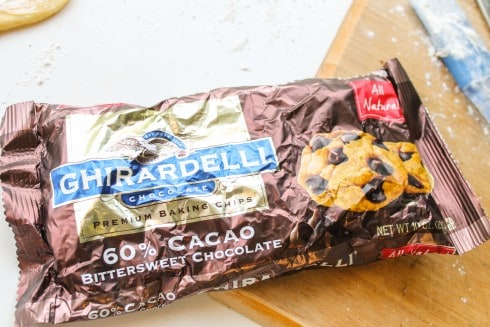 This is the chocolate I used. You will need 2 bags: one whole bag you leave alone, and half of the other bag you are going to chop up, like this: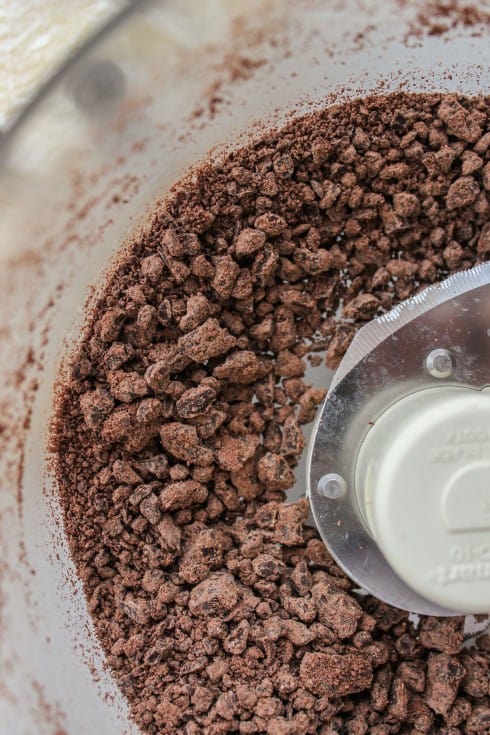 You don't want it to be a powder, but you do want it pretty fine so that you get swirls of speckledy chocolate.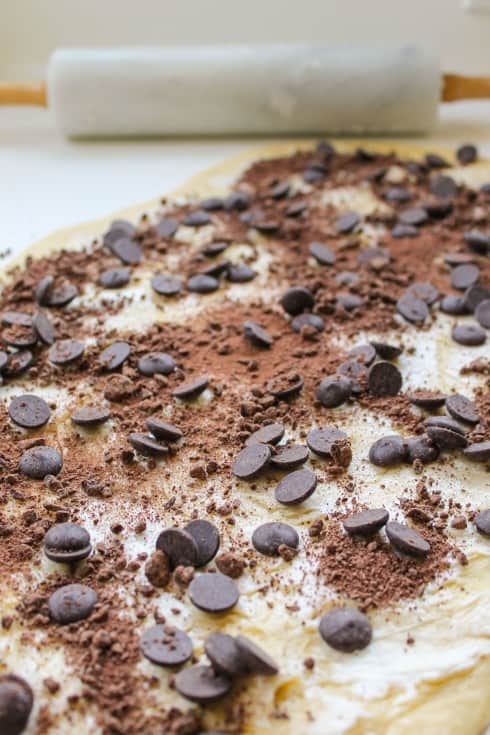 Layer it all on the dough: butter, egg wash on one edge, chocolate, chopped chocolate, sugar.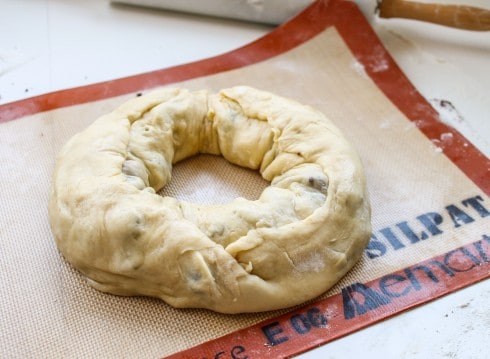 Roll it up and form a ring. Use all the flour you need.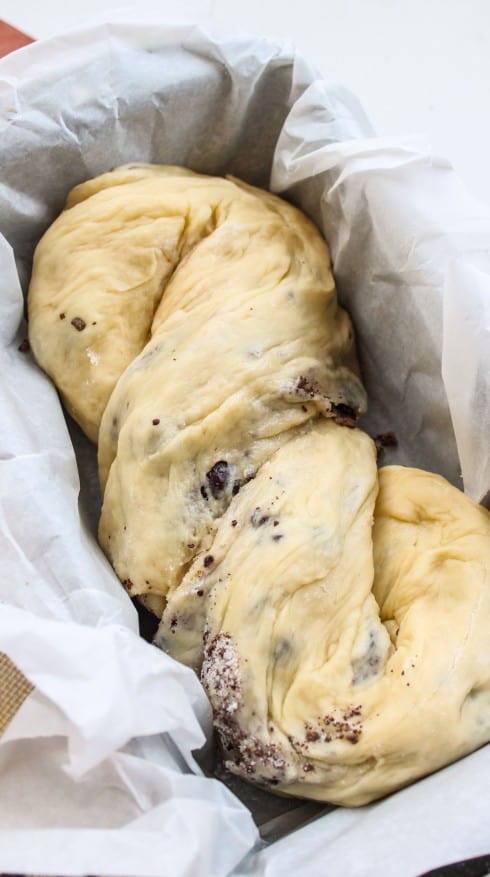 Twist it once, flouring your hands if necessary. Then twist it one more time.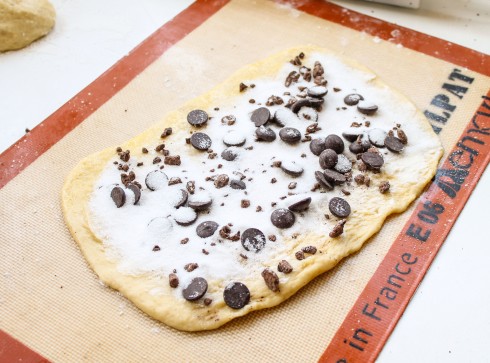 If you are making mini loaves, roll your dough out into about a 10×8 rectangle.
And you only need to twist it once.