It's like a Pretzel Dog you get at the mall, but instead of wrapping the dough around a hot dog I used mozzarella cheese. Gooey, pretzel-y happiness. Perfect for dipping in honey-mustard sauce!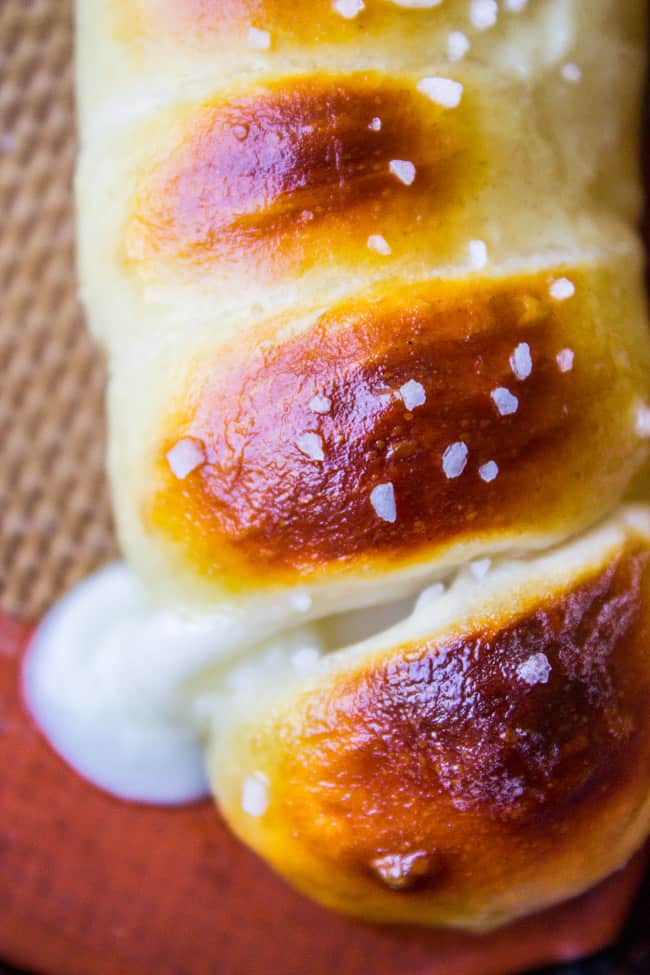 So this morning I turned around to see Truman staring down at a large puddle of milk he'd just spilled, a plastic mug dangling from his finger by the handle. Then I looked up and saw milk dribbled all down the side of the cupboards, beneath where he had clearly tried to place his full mug back on the counter, which is just out of reach for him.
Did I mention we have carpet in our kitchen?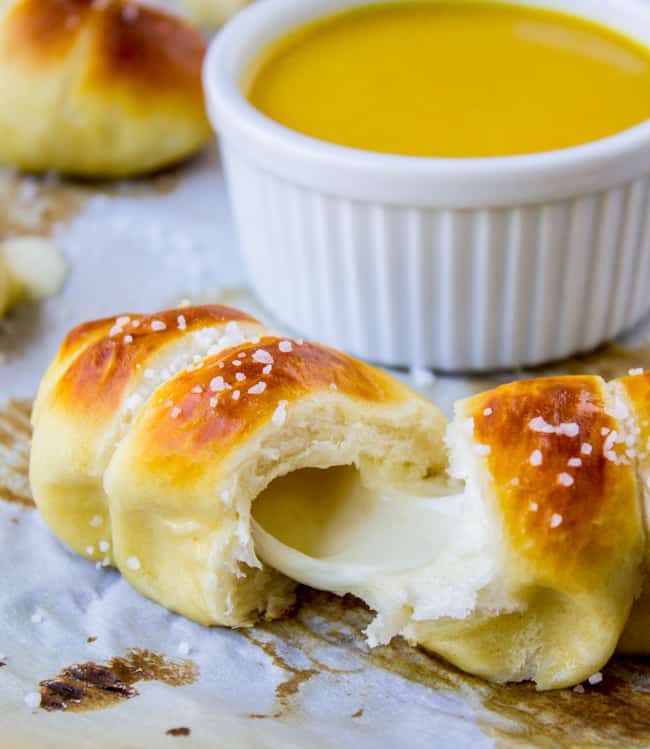 Sandi (my sis-in-law) was there, and she told me a story from years ago about her sister and The Milk Incident. They were all sitting at family dinner when she went to the fridge to get milk. It was on the top shelf and the cap wasn't on, and it dumped all over her head. Like all of it. GLUG. GLUG. GLUG.
And once again. Carpet in their kitchen. 70s, I'm so glad you're over.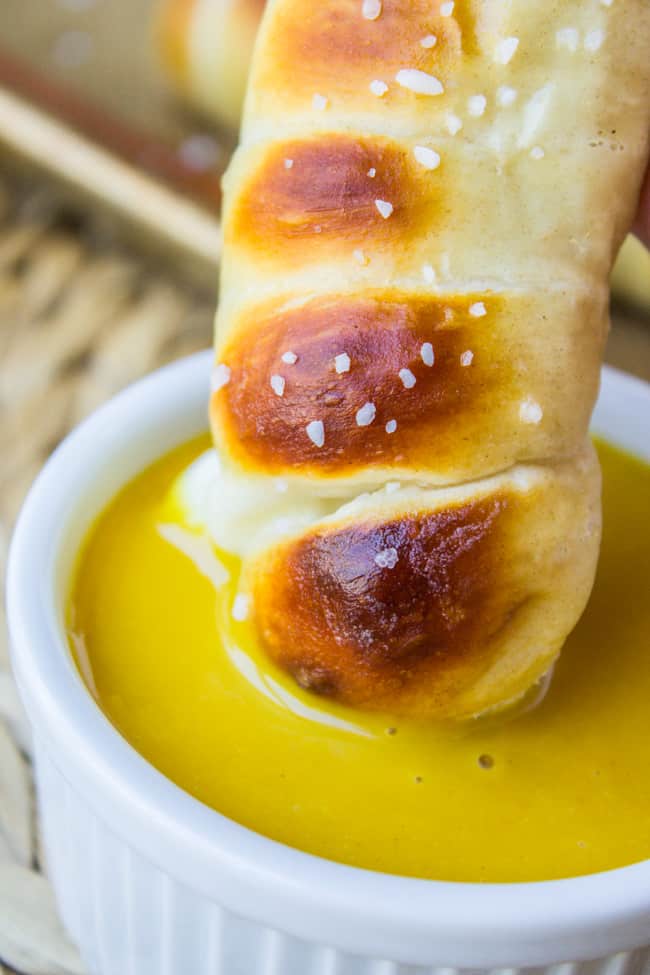 No use crying over spilled milk right? The only people who say that are the people who have not spilled an entire bottle of breastmilk though. Truth.
One of the most popular recipes on my blog are these Homemade Pretzel Dogs. They are SO GOOD.
A few weeks ago Eric and I ordered some Pizza Hut, they have this new pretzel stuffed crust we wanted to try. I didn't even eat all of the pizza part. I just kept eating the crust. Because it was pretzel-y. And STUFFED WITH CHEESE. Hello.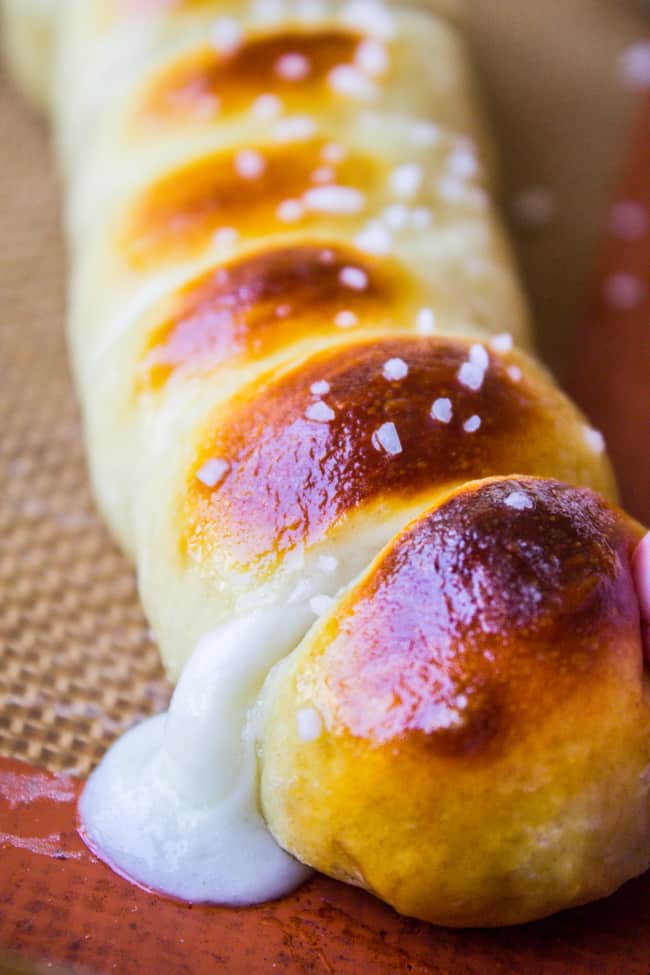 I decided that the pizza part was totally unnecessary, but that I needed that Pretzel Stuffed Crust stat. So I swapped out the hot dogs in my Pretzel Dog recipe for mozzarella sticks. Guys. AMAZING.  Make these for your next party! These freeze well. I froze some and reheated them in the microwave for 1-2 minutes. Don't skip the honey-mustard sauce!
Do you guys give up? Or are you thirsty for more?
Facebook | Pinterest | Instagram | Twitter

Mozzarella-Stuffed Soft Pretzels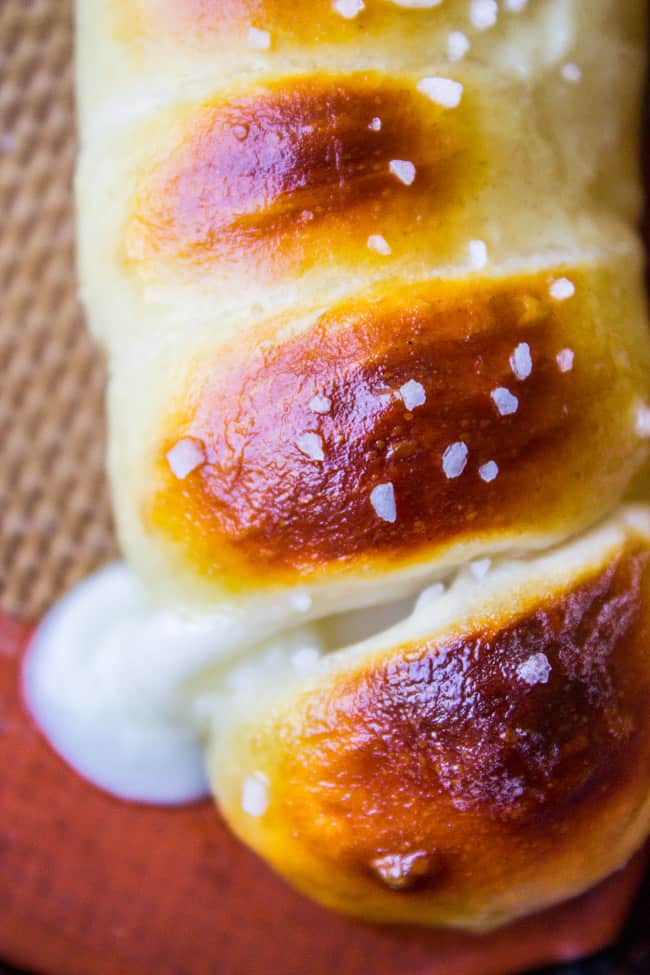 It's like a Pretzel Dog you get at the mall, but instead of wrapping the dough around a hot dog I used mozzarella cheese. Gooey, pretzel-y happiness. Perfect for dipping in honey-mustard sauce!
Ingredients
For the pretzels:
1 & 1/2

cups

warm water

,

110 to 115 degrees F

1

tablespoon

sugar

1

tablespoon

active dry yeast

2

teaspoons

salt

4 & 1/2

cups

bread flour

,

*

1/4

cup

unsalted butter

,

melted (or salted butter, but decrease the 2 teaspoons of salt by a bit)

10

cups

water

2/3

cup

baking soda

16-18

mozzarella cheese sticks

,

string cheese

2

tablespoons

butter

,

melted

coarse sea salt

,

or kosher salt for sprinkling
For the honey-mustard sauce:
1/3

cup

yellow mustard

1/4

cup

honey

1

tablespoon

mayonnaise
Instructions
Combine the water, sugar and yeast in the bowl of a stand mixer. Let sit for 5 minutes or until the mixture begins to foam.

Add the salt, flour, and butter. Combine with a spoon or the paddle until it start to come together, then switch to the dough hook. Mix with the dough hook on low speed until well combined.

Change to medium speed and knead until the dough is smooth and pulls away from the side of the bowl, about 5 minutes. You may need to add a bit more flour, but be aware that this is a pretty soft dough. You should be able to touch it without it being impossible to get off your fingers, though.

Transfer the dough to a lightly oiled bowl. Cover and let rise in a warm place for about 1 hour, or until the dough has doubled in size. I like to put mine in an oven that has been turned to 170 (warm) for about a minute, then turned off.

Preheat the oven to 450 (make sure you take out the dough first if that's where it's rising!)

Line 2 large baking sheets with parchment paper or a silpat.

In a large pot, bring the 10 cups of water and the baking soda to a boil. Turn it down to medium or medium low, so that the water remains vey hot but isn't bubbling a ton.

Meanwhile, knead down the dough, turn it out onto a slightly floured work surface, and divide into 16 equal pieces.

Use your hands to roll out each piece of dough into a rope that's about 16-18-inches long.

Starting at one end, wrap the dough around the string cheese, pinching each end together so that it's sealed. Place onto the pan and repeat with the remaining dough and cheese.

Place the pretzels into the hot water two at a time and boil for 30 seconds. Remove them from the water using a large flat slotted spatula. Return the boiled pretzel dogs to the pan.

Bake at 450 for 8-10 minutes, or until the tops are very brown.

Brush immediately with melted 2 tablespoons of butter, then sprinkle right away with salt. Eat hot with marinara, honey-mustard, or just by itself!
For the Honey-Mustard Sauce
Whisk together the mustard, honey, and mayonnaise in a small bowl. Adjust ratios to taste.
Notes
*All-purpose flour will work too!
Nutrition
Serving:
1
pretzel
|
Calories:
270
kcal
|
Carbohydrates:
32
g
|
Protein:
11
g
|
Fat:
11
g
|
Saturated Fat:
6
g
|
Polyunsaturated Fat:
1
g
|
Monounsaturated Fat:
1
g
|
Trans Fat:
1
g
|
Cholesterol:
27
mg
|
Sodium:
1967
mg
|
Potassium:
49
mg
|
Fiber:
1
g
|
Sugar:
5
g
|
Vitamin A:
141
IU
|
Vitamin C:
1
mg
|
Calcium:
35
mg
|
Iron:
1
mg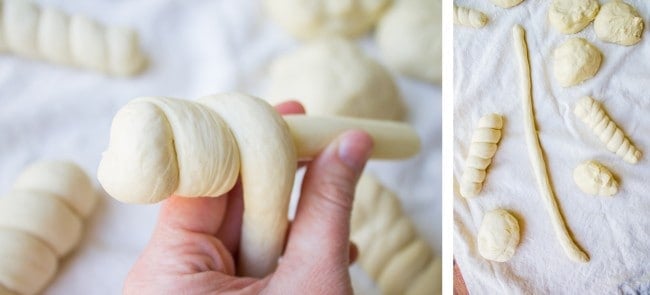 Here's how I wrapped them.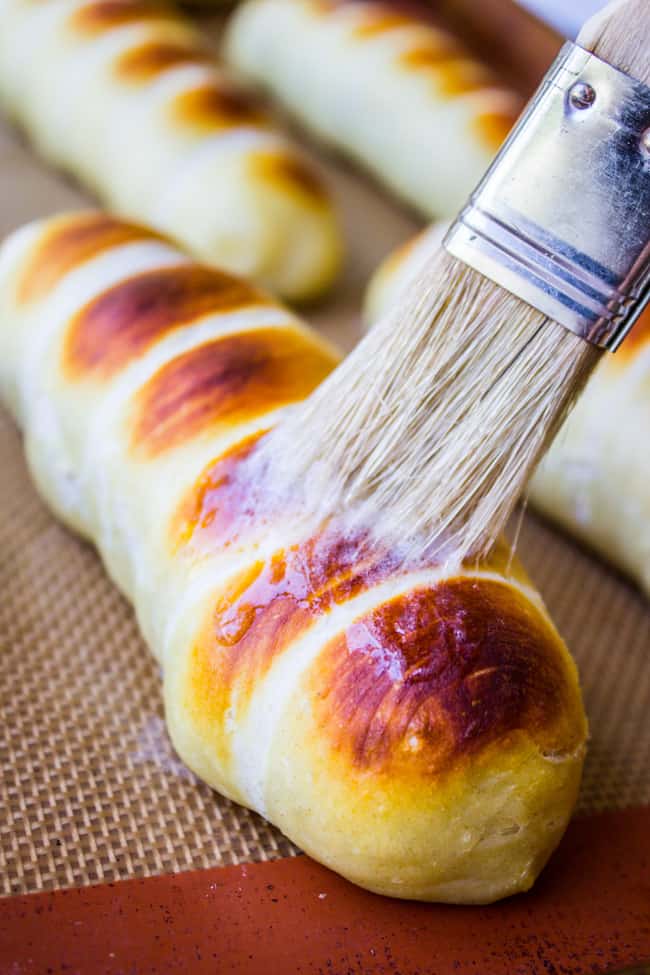 Butter for president. Butter for mayor.
You might like these recipes too!
The original Homemade Pretzel Dogs. You HAVE to try these!
Bacon and Pepper-Jack Stuffed Pretzels: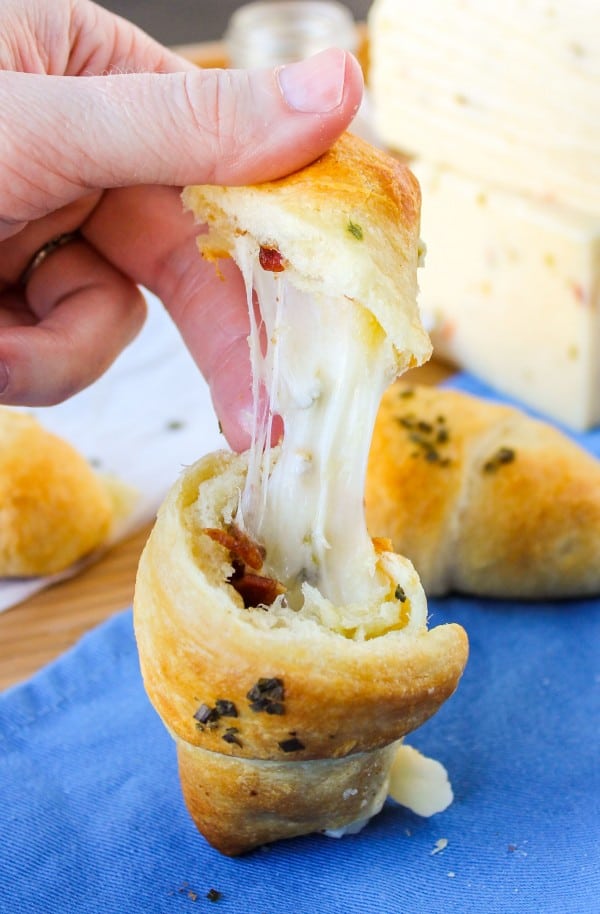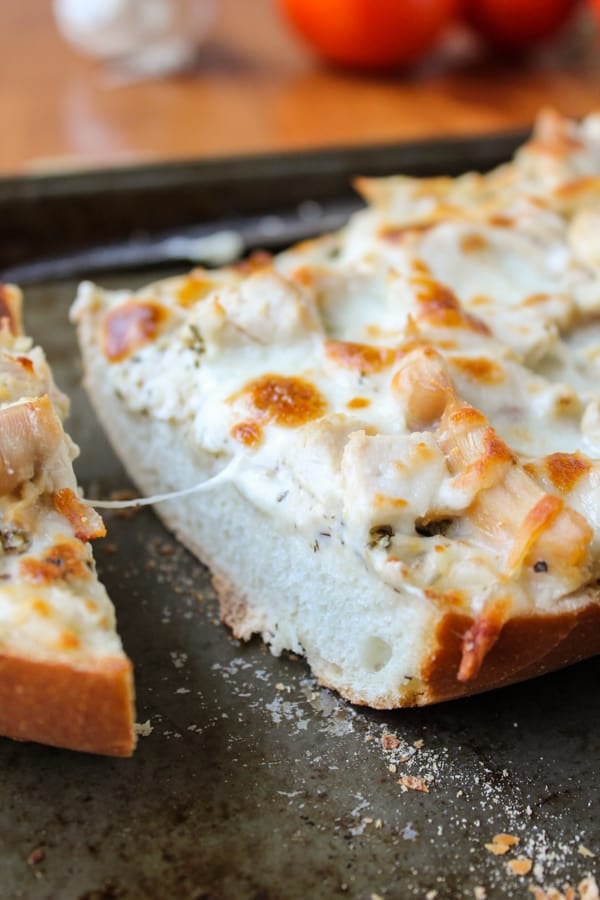 More pretzel-y goodness from friends!
Pesto-Parmesan Stuffed Soft Pretzels from A Kitchen Addiction
Pretzel Bites with Four Distinct Dipping Sauces from Snixy Kitchen << check out these fun sauces!
Soft Pretzel Rolls from Mel's Kitchen Cafe