Chicken Tikka Masala Meatballs
Chicken Tikka Masala flavors meet the classic and comforting meatball. An Indian-inspired easy dinner…with lots of sauce.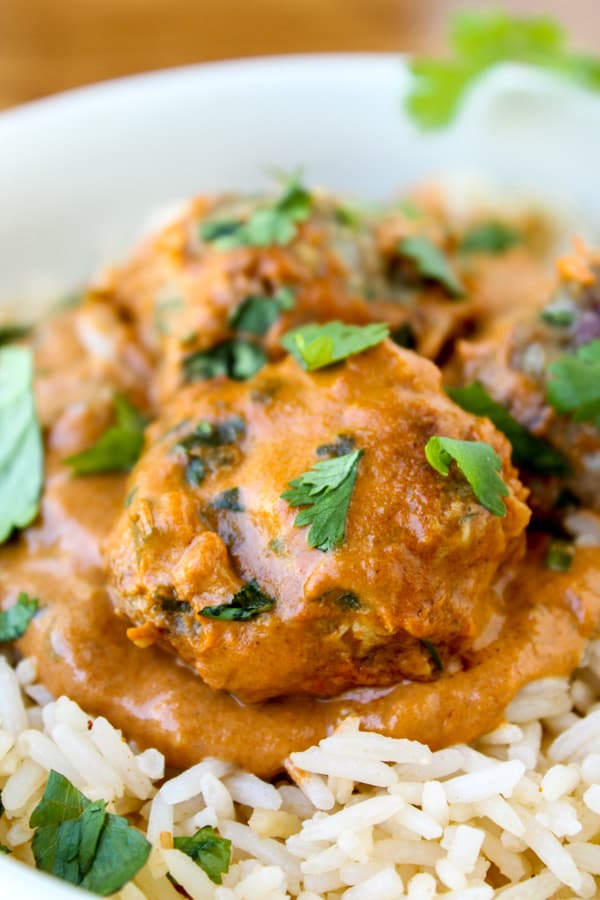 Happy Saturday my friends! I sincerely hope you are reading this in bed and contemplating a weekend brunch. Brunch, because it's too late for breakfast, and any decent weekend morning meal is going to take you well into the brunch zone anyway.
I can't believe I just said "brunch zone." I should totally open a cafe called that.
My birthday was on Tuesday and it was basically the best ever. Eric made me pancakes for breakfast, and I spent the day toddler-free, making a hand rolled Chicken Pot Pie, with pumpkin candles lit, while listening to dreary fall music like Alexi Murdoch and the new Ryan Adams album (the kind of dreary music that makes you happy and nostalgic. You know what I mean right?)
Many of my Facebook friends who wished me happy birthday said things like, "I hope someone else is cooking for you today!" Honestly. Do they know me at all?
Eric came home and we proceeded to make this chocolate sour cream cake together. It was bliss.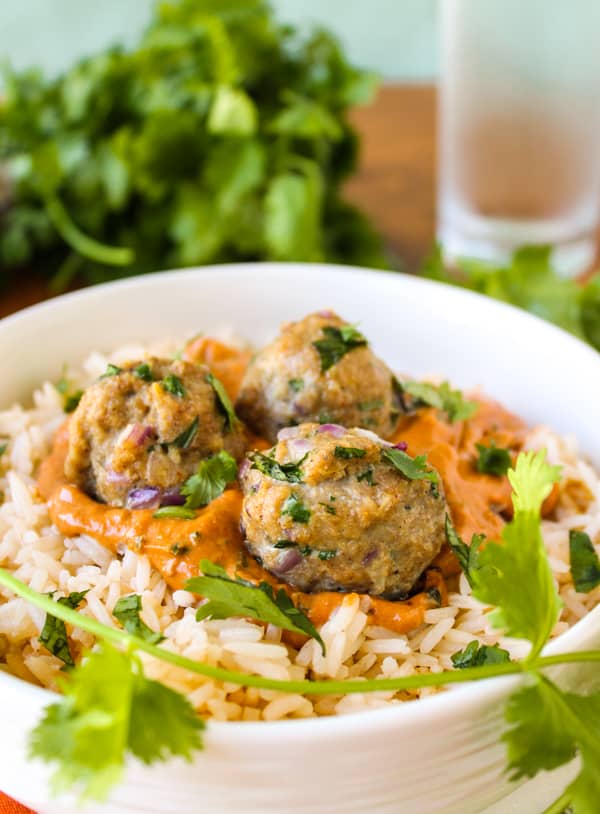 Today I shared a recipe in VRAI magazine (an online lifestyle magazine that you should definitely check out), and I thought you guys might like to see it. Because the recipe is for Chicken Tikka Masala Meatballs. I repeat: Chicken. Tikka. Masala. MEATBALLS. This idea floated into my brain one day, and when the result turned out (I swear) even better than I had imagined, I was pretty excited. (Recipe is now below)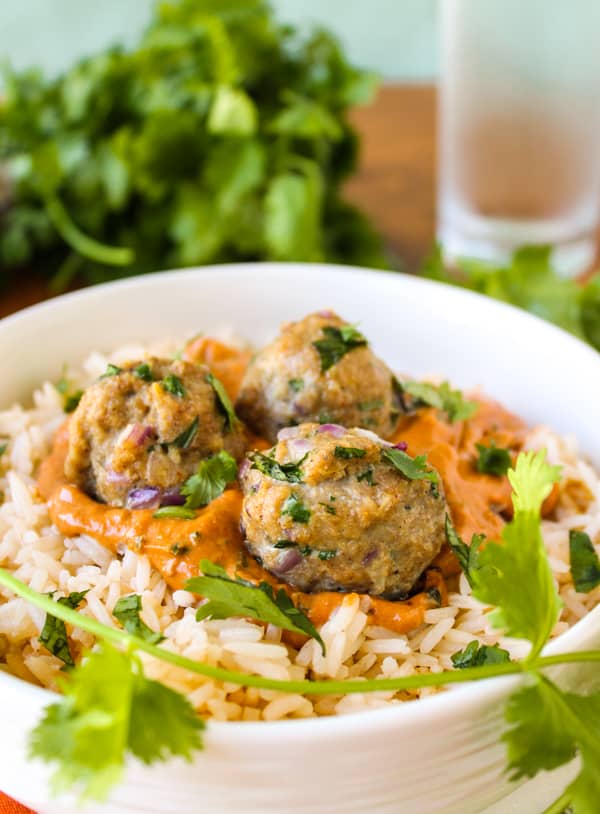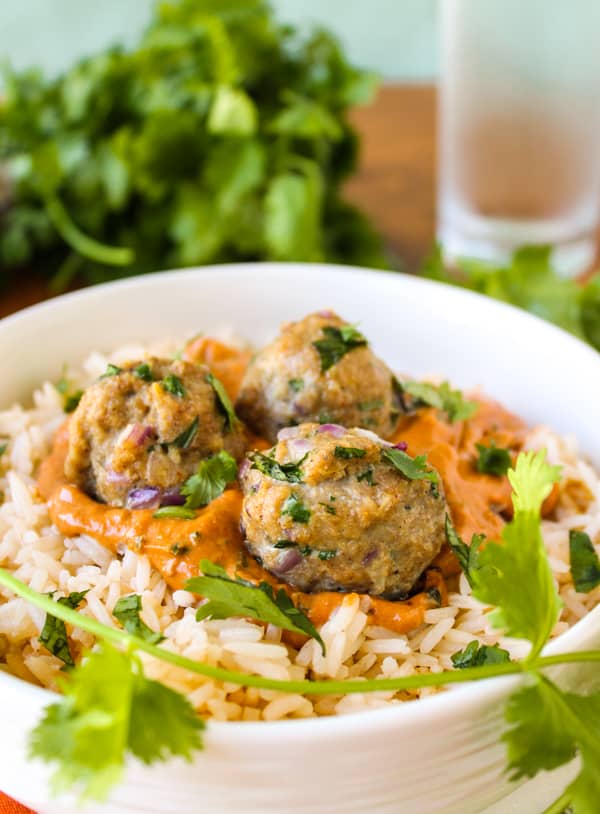 print
Did you make this recipe?
Leave a review »
Chicken Tikka Masala Meatballs
Ingredients
For the meatballs
1

pound ground chicken (or turkey)

1/4

of a large red onion, chopped small

1

jalapeno, chopped small

1

tablespoon ginger, minced or grated

1

and 1/2 teaspoons cumin

1/2

teaspoon black pepper

1/2

teaspoon cinnamon

1/2

teaspoon cayenne pepper

3/4

teaspoon salt

1

egg

1/3

cup panko breadcrumbs

3

tablespoons plain Greek yogurt

3

tablespoons cilantro, minced
For the sauce
1

tablespoon butter

1

clove garlic, minced

1

jalapeno pepper, finely chopped

2

teaspoons ground cumin

2

teaspoons paprika

1

teaspoon salt

1

(8 ounce) can tomato sauce (1 cup)

1

cup heavy cream

1/4

cup cilantro, chopped
Instructions
Preheat your oven to 400 degrees F. Line a rimmed baking sheet with aluminum foil and coat with nonstick spray.
In a medium bowl, add all the ingredients for the meatballs. Use your hands to mix it until it is just combined—don't overdo it or the meat will get tough.
Shape the meat into balls that are a little smaller than a golf ball. (Or any size, really, as long as they are uniform. Adjust baking times if you change the size.)
Place the meatballs on the prepared baking sheet. Bake at 400 for 10 minutes, or until they are browned on the bottoms.
Meanwhile, make the sauce. In a small bowl combine 2 teaspoons cumin, paprika, 1 teaspoon salt, and set aside.
Melt butter in a medium-sized pot over medium heat. Sauté garlic and jalapeno for 1 minute. Add the bowl of spices and cook for another minute.
Stir in tomato sauce and cream. Simmer on low heat until sauce thickens, about 20 minutes.
You can add the cooked meatballs to the sauce, or spoon the sauce over each individual serving. Serve this with naan and jasmine or basmati rice. (About 2 cups of uncooked rice will be enough.)
by The Food Charlatan

If you make this recipe,
share it on Instagram
 using the hashtag
#TheFoodCharlatan
so I can see it!
You might like these other recipes!
Raspberry Balsamic Meatballs (Slow Cooker):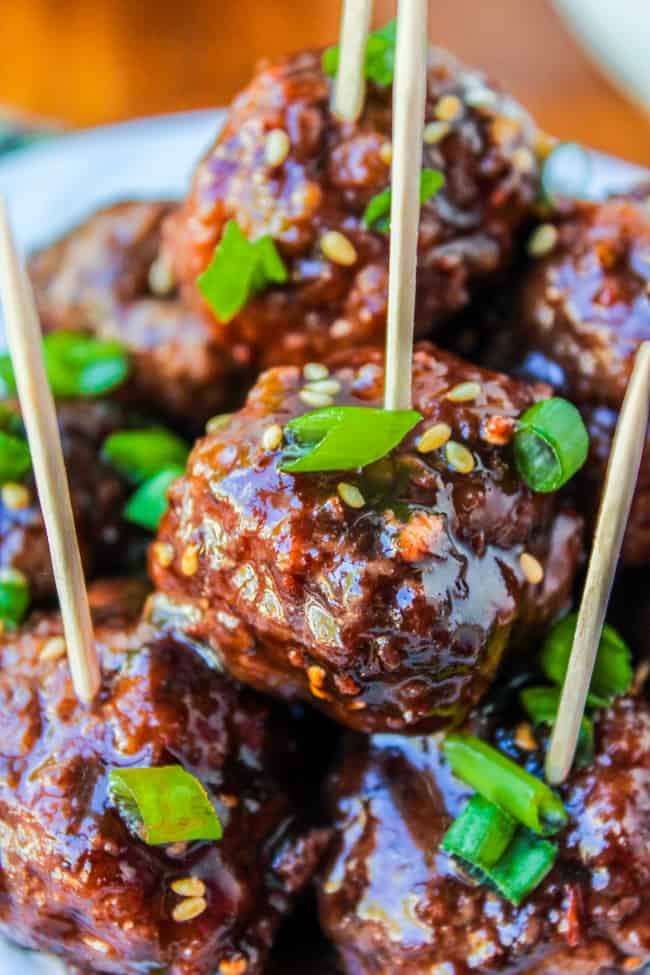 Easy Baked Meatballs: (no chop!)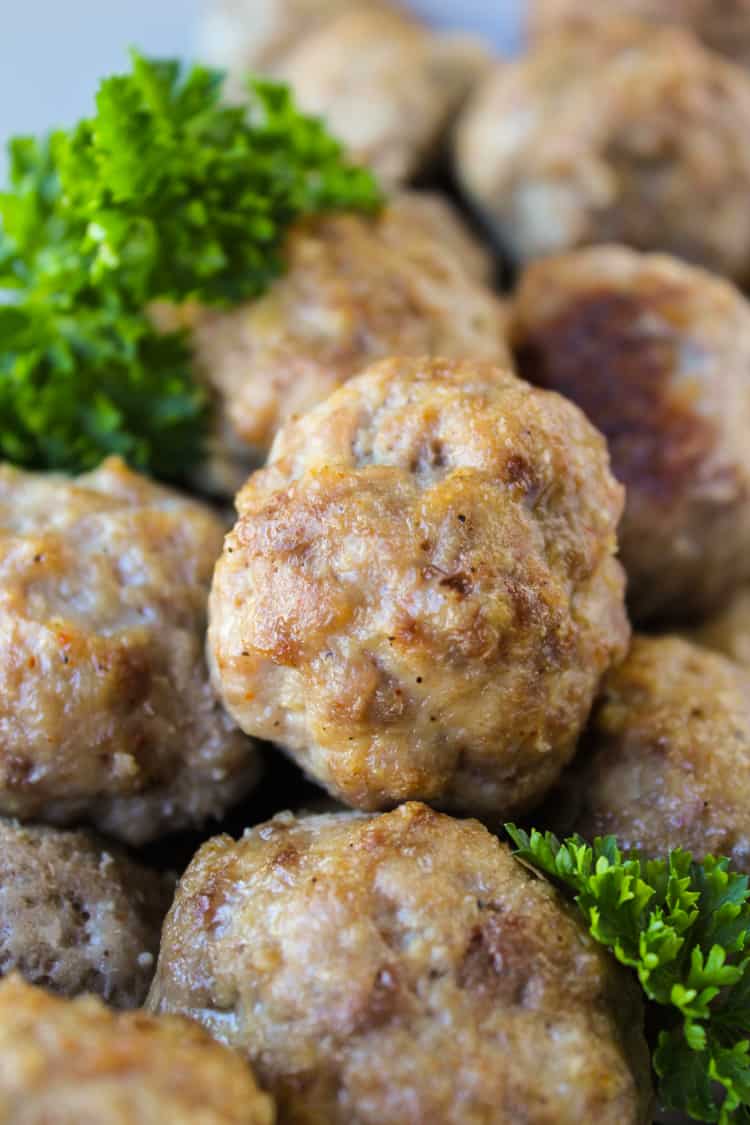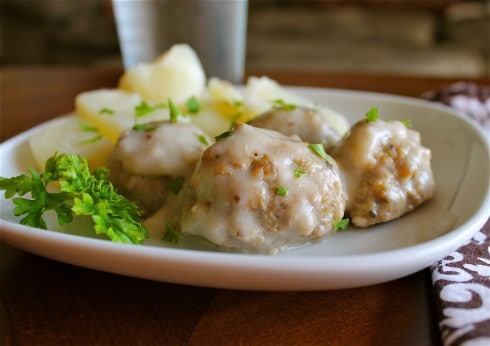 1770 House Meatloaf: (this has garlic sauce. GARLIC SAUCE!!)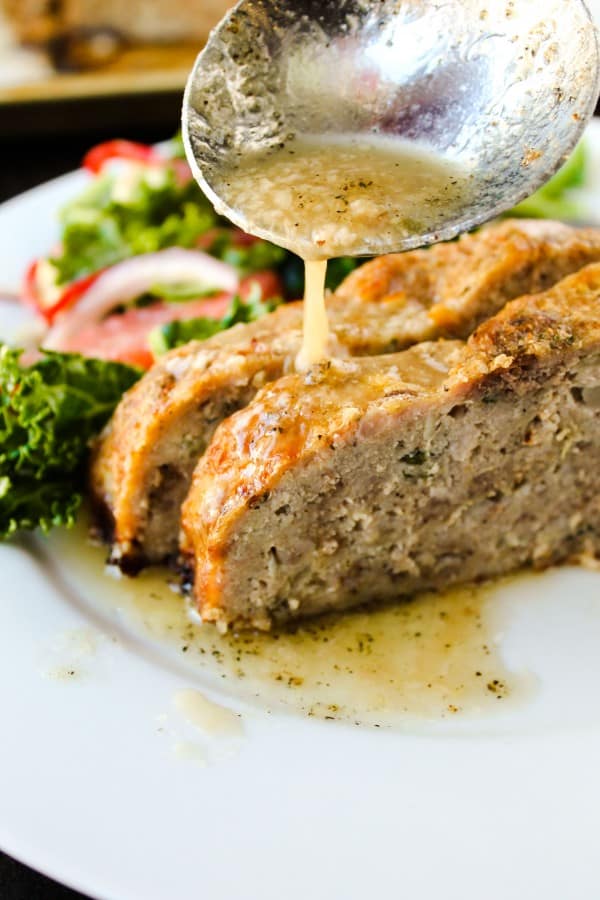 We are a participant in the Amazon Services LLC Associates Program, an affiliate advertising program designed to provide a means for us to earn fees by linking to Amazon.com and affiliated sites.