This easy stove-top basil chicken coconut curry recipe will knock your socks off. Don't worry, it's not too hot, just very tasty.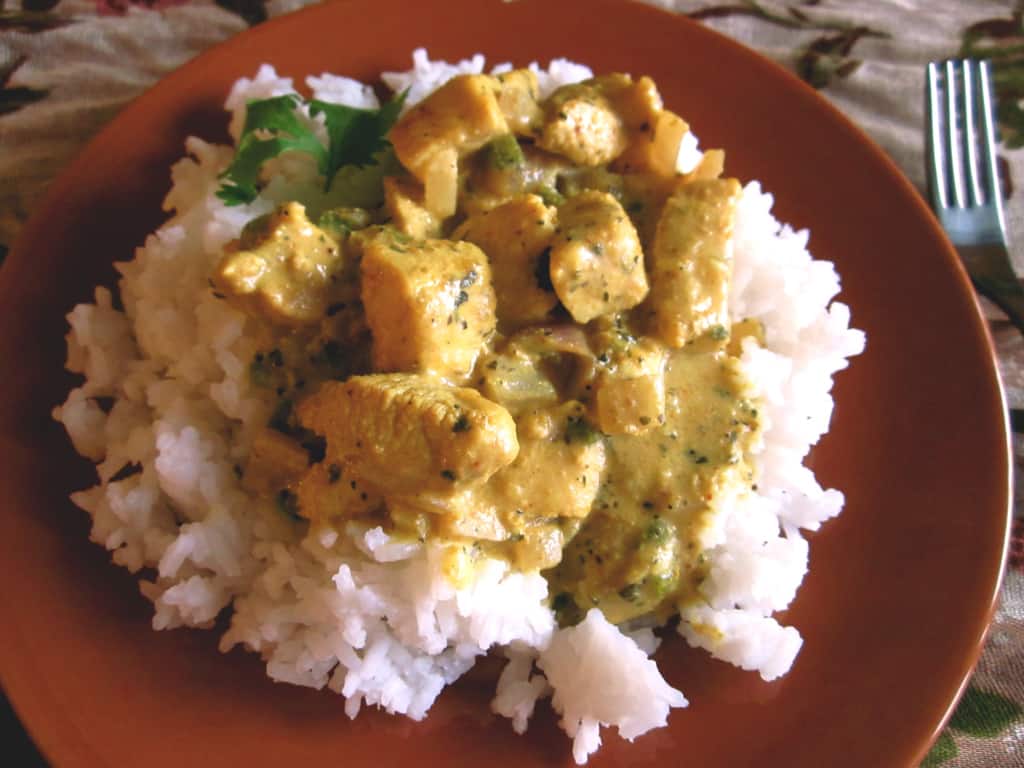 Originally Published November 5, 2011
We have been having problems with our internet connection since we moved into this apartment.  The wireless randomly shuts down, and sometimes even plugging in the ethernet doesn't do the trick.  I don't have much patience with it.  This on top of the fact that I have only vague ideas about how the internet works. You're lucky I even know what an ethernet is.
We finally had a technician come out today.  Unfortunately Eric wasn't here to oversee communications (and by that I mean he wasn't here to keep me from looking like a complete imbecile).  The poor technician kept trying to explain things and I kept responding inappropriately.
Technician: Oh, I see the problem.  You've got a splitter here that's~~~~~~~~~~~~~ (Why don't we have a keystroke for white noise?)
Me: That's great.  Thanks for fixing it. Do you want to try these cookies I made?
Technician: No, I'm saying, can you please show me where the other~~~~~~~~~
Me: I can get you a glass of milk too.
It's not my fault.  My brain was made in the 80s, when computers were going through puberty, before they became all popular.  It reminds me of one time when I was using a public computer in the BYU library.  A guy came up to me and said, hey, I think I left something I need on the desk top, do you mind if I check for it?  I said, sure, and immediately started clearing my notes and things off of the top of the desk so that he could find his pen or whatever he had lost.  I felt like an idiot when he grabbed the mouse and found the file that he had left on the desktop.
Whatever.  Computers are just a fad anyway.
How to make stovetop Basil Chicken Coconut Curry
Fortunately, food will never go out of style.  This curry recipe will knock your socks off.  Don't worry, it's not too hot, just very tasty.  I am putting the original recipe but will warn that I increased the spices significantly.  I like my food hot. So if you do too, heap your curry and chili powder.
UPDATE: I recently made this recipe in the slow cooker! Check it out: Slow Cooker Basil Chicken in Coconut Curry Sauce: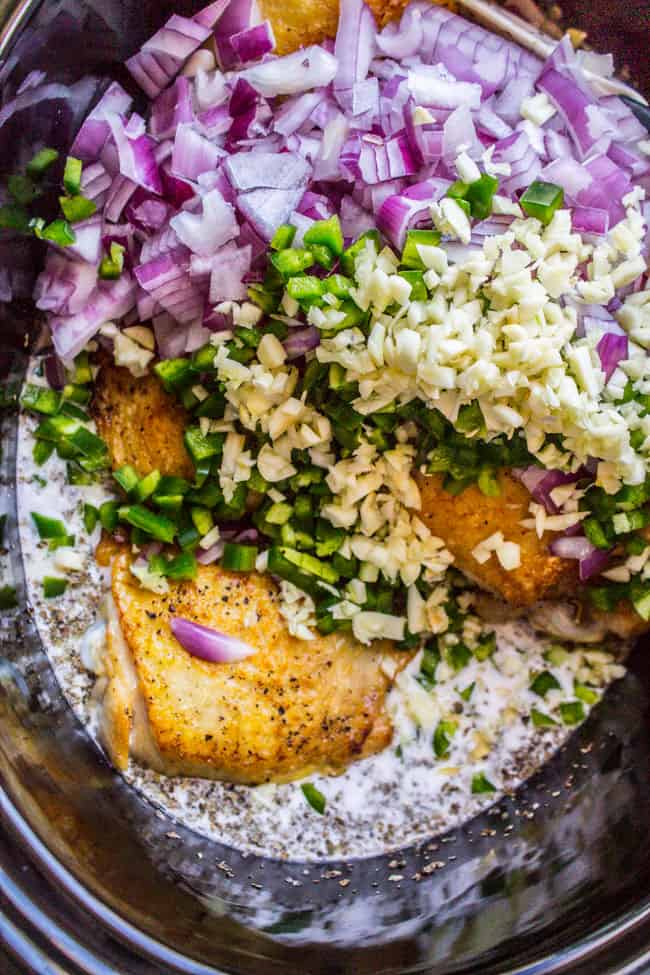 More great curry recipes!
Roti Recipe << A delicious buttery Indian flatbread that pairs perfectly with this recipe
Homemade Naan << Another classic Indian bread
Slow Cooker Chicken Tikka Masala << This is another old recipe from the blog that I adapted for the slow cooker. It's a classic Indian dish and it tastes sooo good!
6 Ingredient One Pot Vegetable Curry << this cheater recipe is so easy!
Thai Red Chicken with Cherry Tomatoes: this is an oldie but a goodie.
Thai Red Curry with Vegetables from Cookie and Kate
Coconut Chicken Thai Curry from Tastes Lovely
Facebook | Pinterest | Instagram | Twitter

Basil Chicken in Coconut Curry Sauce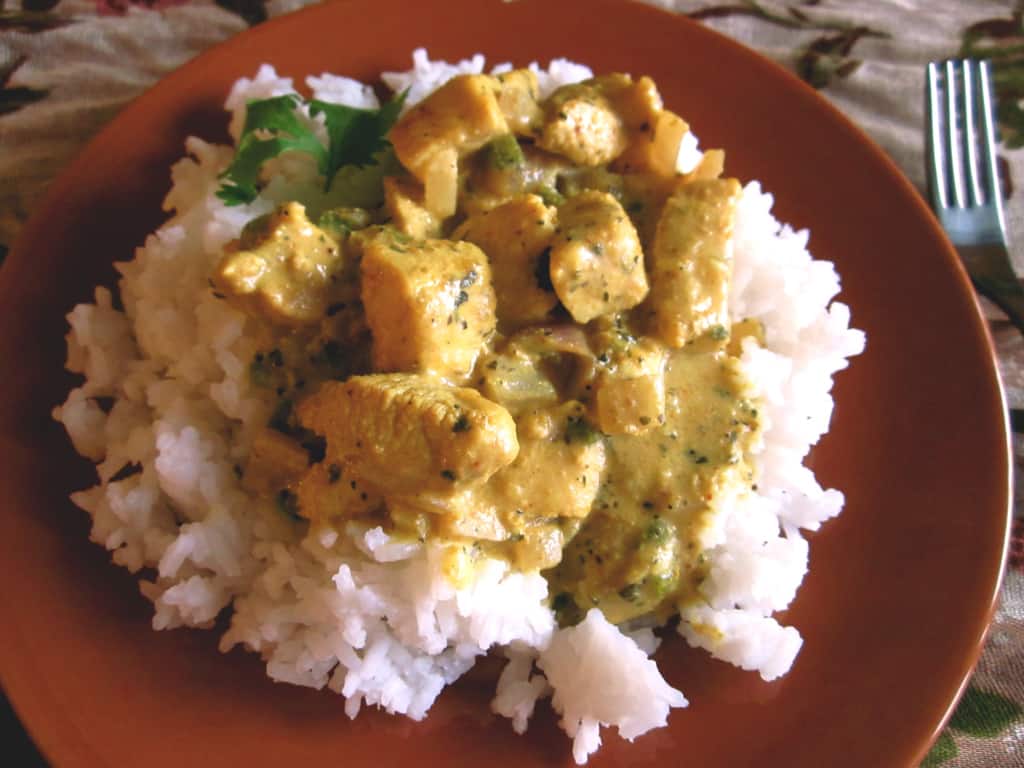 This easy stove-top basil chicken coconut curry recipe will knock your socks off. Don't worry, it's not too hot, just very tasty.
Ingredients
3

skinless

,

boneless chicken breast halves

2

teaspoons

curry powder

,

I used more

1

teaspoon

salt

½

teaspoon

pepper

¼

teaspoon

chili powder

,

I used more

1

medium red onion

,

chopped

5

cloves

garlic

,

minced

2

jalapeno peppers

,

seeded and finely chopped (by seeding the jalapeno you lose most of the spice/heat but retain great flavor)

1

tablespoon

olive oil

1

(14-ounce) can light coconut milk

1

tablespoon

cornstarch

1

tablespoon

dried basil

1

teaspoon

grated fresh ginger

3

cups

hot cooked rice
Instructions
Cut chicken into 1-inch pieces. Place in medium bowl. Stir together curry, 1/2 teaspoon salt, pepper and chili powder. Sprinkle over chicken, tossing to coat evenly. Cover and chill for 1 to 2 hours.

In a large nonstick frying pan, stir onion, basil, garlic and peppers in hot oil over medium-high heat for 3-4 minutes, until onion is translucent. Add chicken and cook for 5-6 minutes until no longer pink.

Combine coconut milk and cornstarch and whisk well to combine. Carefully add to skillet, whisking vigorously. Cook and stir until slightly thickened and bubbly. Stir in ginger. Cook and stir for another minute. Serve over hot rice.
Nutrition
Calories:
402
kcal
|
Carbohydrates:
44
g
|
Protein:
21
g
|
Fat:
14
g
|
Saturated Fat:
8
g
|
Polyunsaturated Fat:
1
g
|
Monounsaturated Fat:
4
g
|
Trans Fat:
1
g
|
Cholesterol:
81
mg
|
Sodium:
746
mg
|
Potassium:
371
mg
|
Fiber:
2
g
|
Sugar:
2
g
|
Vitamin A:
152
IU
|
Vitamin C:
12
mg
|
Calcium:
63
mg
|
Iron:
2
mg