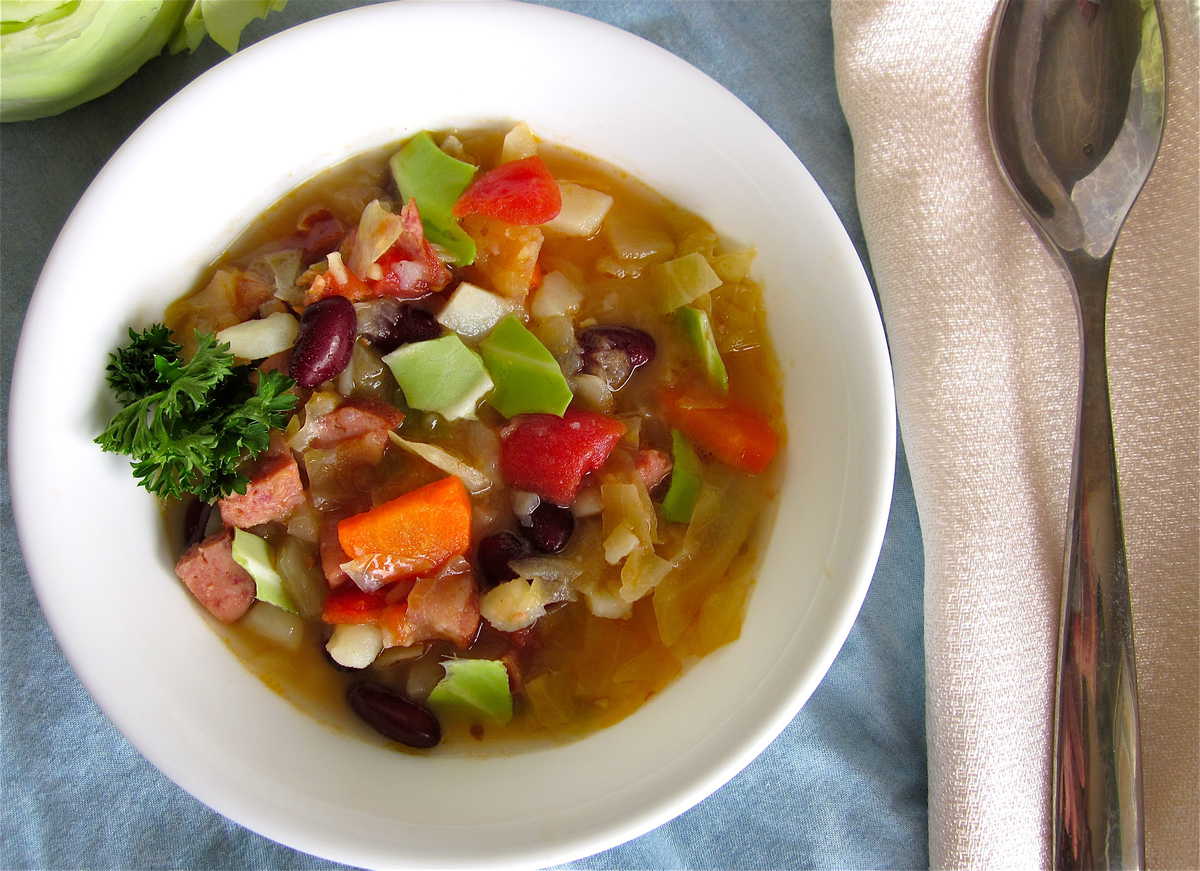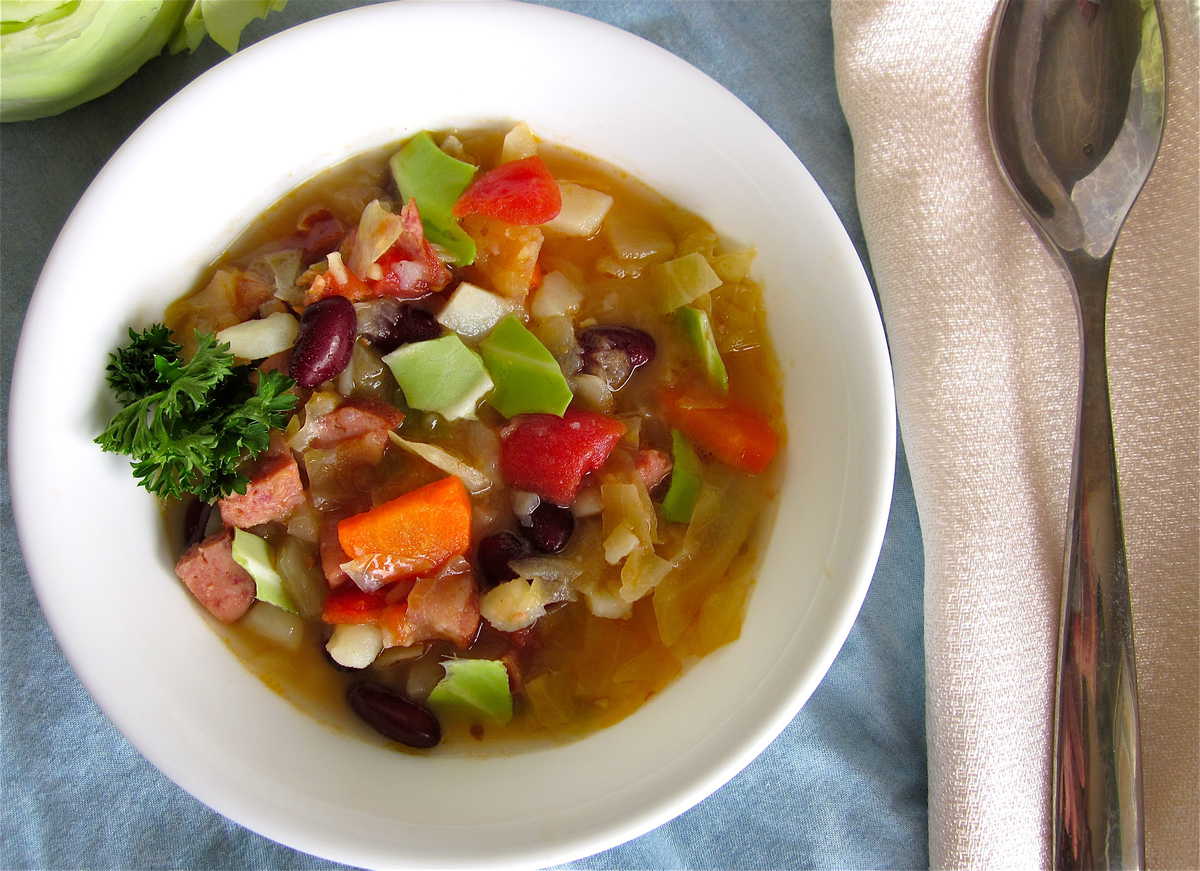 I've been on a soup kick lately. Doesn't that happen to everyone during winter? I never tire of soup. I made some Mulligatawny Soup the other day (recipe coming as soon as I make it again. We ate it too fast to take pictures.) and my brother Nathan revealed that he doesn't really like soup that much. I thought he was just a freak of nature until my friend Wendy told me that her husband "came home from work to a pot of soup one day, and was disappointed because he thinks soup is girl food."
Girl food?? Seriously? The soup Wendy had made was this Ham and Potato Soup, and she said he absolutely loved it. Rightly so. Soup is food of the gods.
And this Portuguese Soup definitely makes the celestial cut. Don't ask me why it claims to be Portuguese, I have no idea. I got the recipe from a bridal shower that Eric's mom threw for me. Everyone was supposed to bring a recipe and a gift that went along with it. It was fun and I still use a lot of them, like Jessie's peanut butter frosting.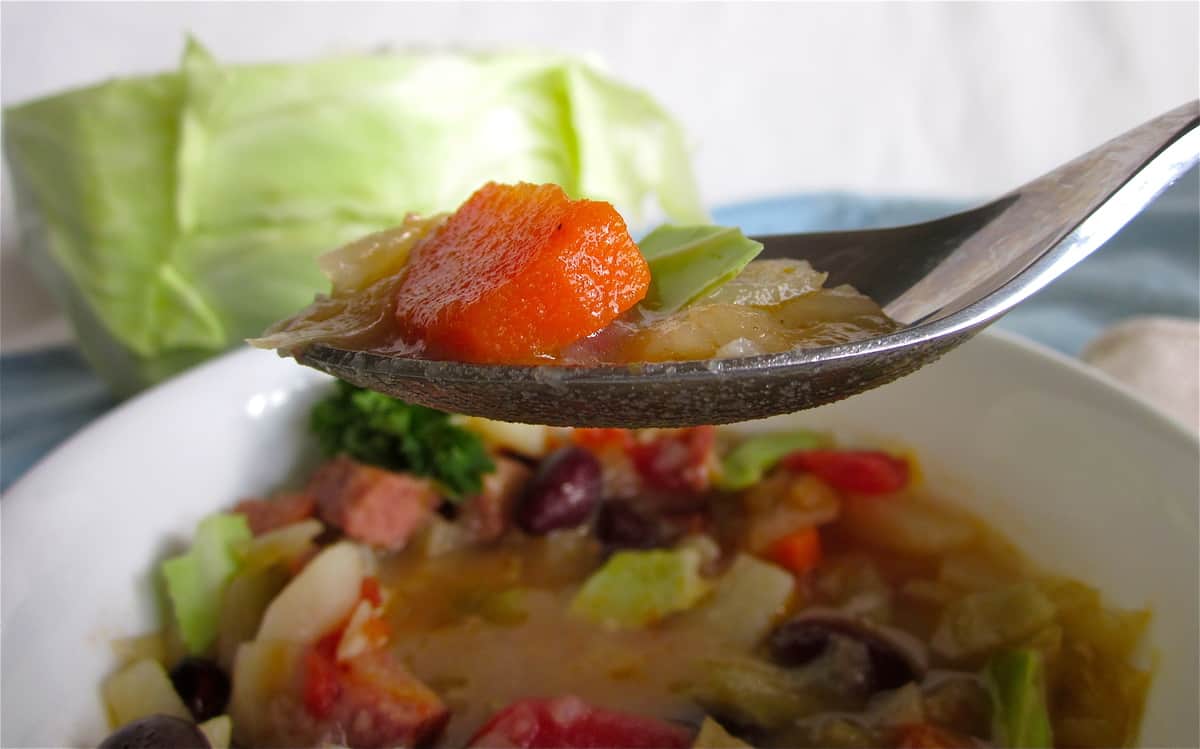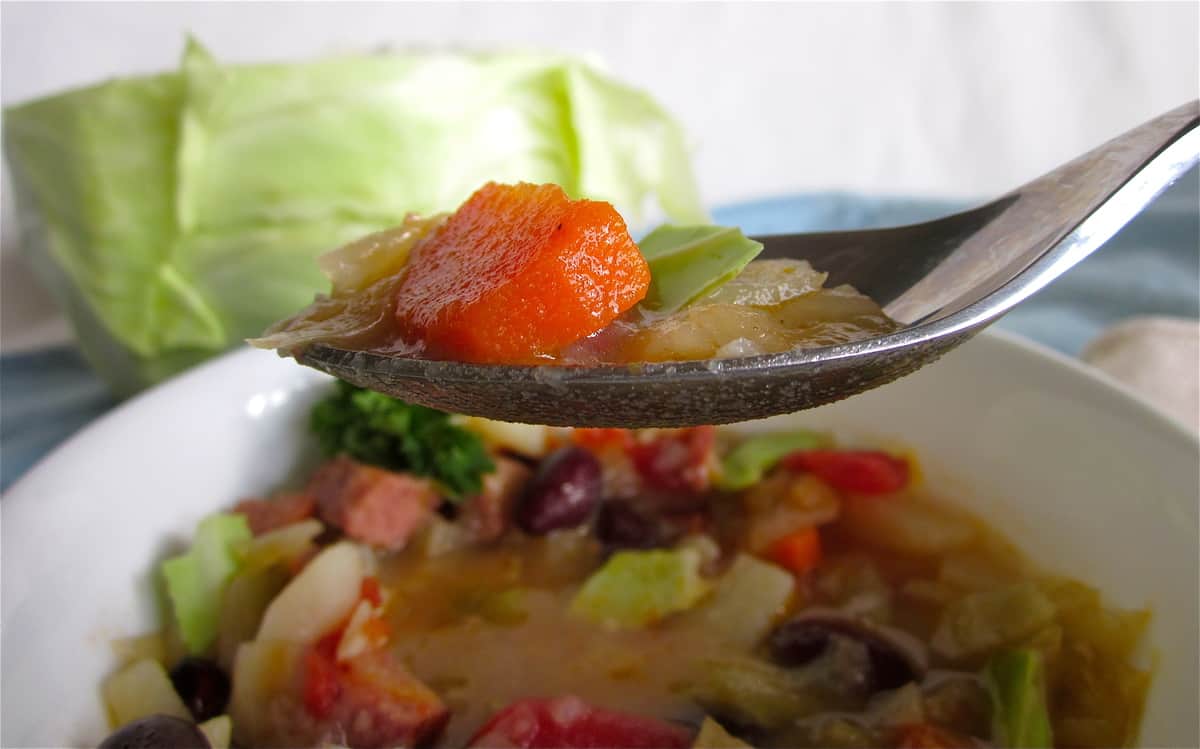 That bridal shower included one of my most embarrassing moments, although I didn't know it until later. Eric is from a really small town and many of the guests at the shower were women that had been friends with their family for years. I was determined to remember all of their names.
For me, the best way to remember someone's name is to repeat it frequently in conversation with them. There was one woman there named Mary-Karen. I talked with her several times at the shower and repeated her name as often as possible. I specifically remember that when I opened her present I looked her in the eye and said, Thank you Mary-Karen! I love it.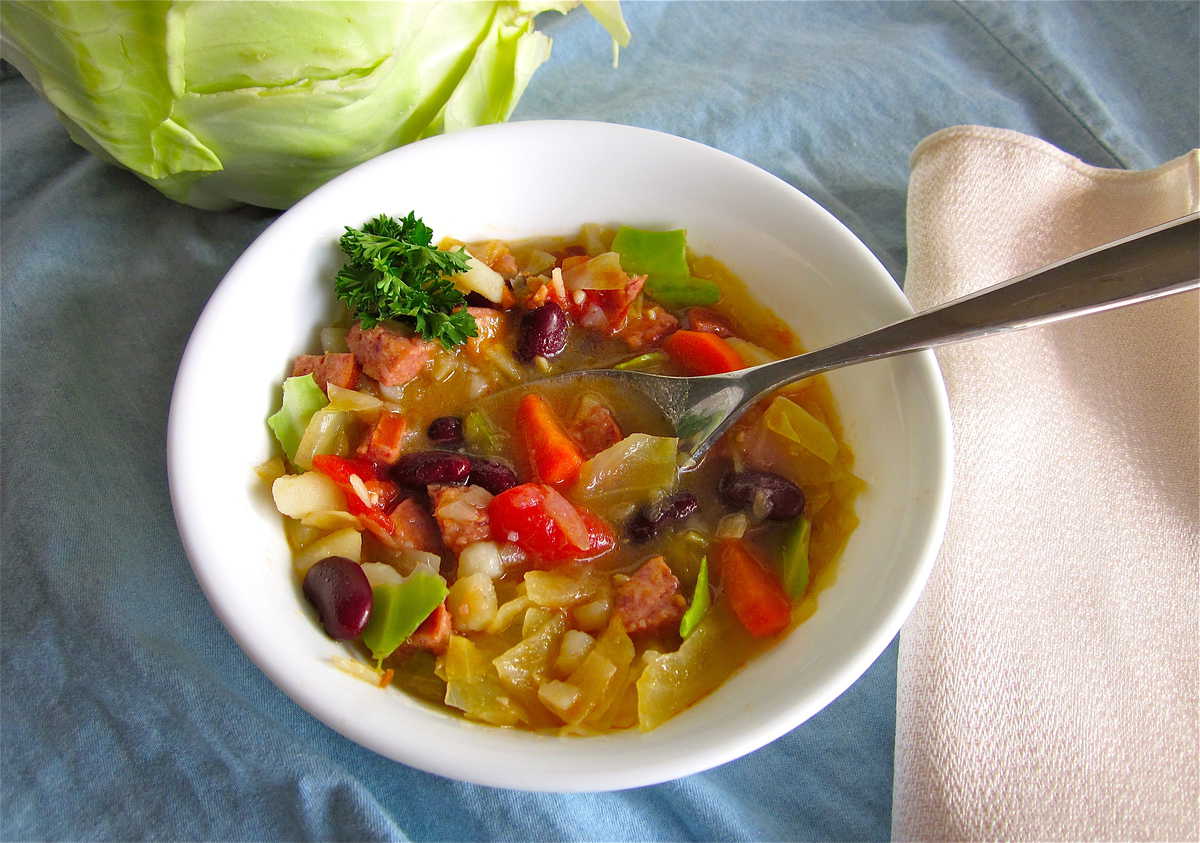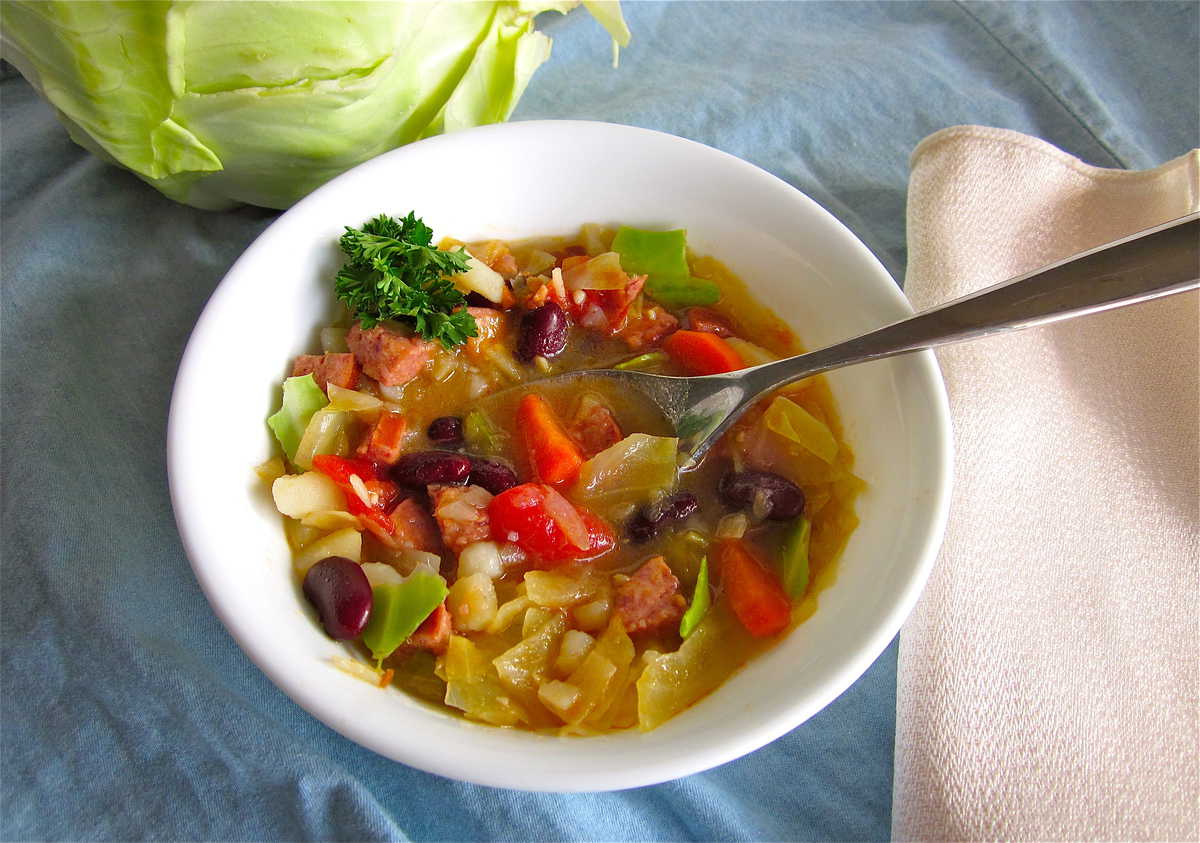 Fast forward several weeks. I'm writing thank-you notes for the shower and am looking over the list of names. I see Mary-Karen's name is spelled Mary Karren. Two r's. No dash.
Because her last name is Karren. I must have called her by her full name 4 or 5 times, and at least once in front of the whole group. And no one corrected me. They must have thought I was extremely weird. It's ruined me forever. To this day when I see her I still call her Mary-Karen in my head. What can I say? Karen is just a fabulous name that deserves to be repeated.
Portuguese Soup
Source: adapted from my friend Wanda's recipe
2 tablespoons butter
1 medium onion, chopped
1 large carrot, diced
1/2 green pepper, diced
3 garlic cloves, minced
6 cups chicken stock, broth, or bullion
1/2 of a medium cabbage, coarsely chopped
1 lb kielbasa sausage, diced (I could only find 13 oz and it was fine)
1 lb potatoes, diced (I used 3 average sized potatoes)
1 15 oz can kidney beans, drained and rinsed
1 14 oz can diced tomatoes, undrained
salt and pepper to taste
Melt butter in a large stockpot. Add onions, carrots, and green pepper. When the carrots are almost tender (5 minutes or so), add garlic and saute for 30 seconds. Add the chicken broth, cabbage, sausage, potatoes, beans, and tomatoes. Bring to a boil, then turn heat down to medium-low and simmer for 20-30 minutes, or until all the vegetables are tender. Season with salt and pepper and enjoy!