Gooey Pecan Pie Bars with Toffee
The most gooey and delicious Pecan Pie Bars in all the land! These bars taste like an extra caramely pecan pie, but with a killer buttery shortbread crust. (And no sad tears, because you don't have to roll out a pie dough.) I adapted my favorite Pecan Pie Recipe to make these. The toffee bits that melt into the filling are what set it apart!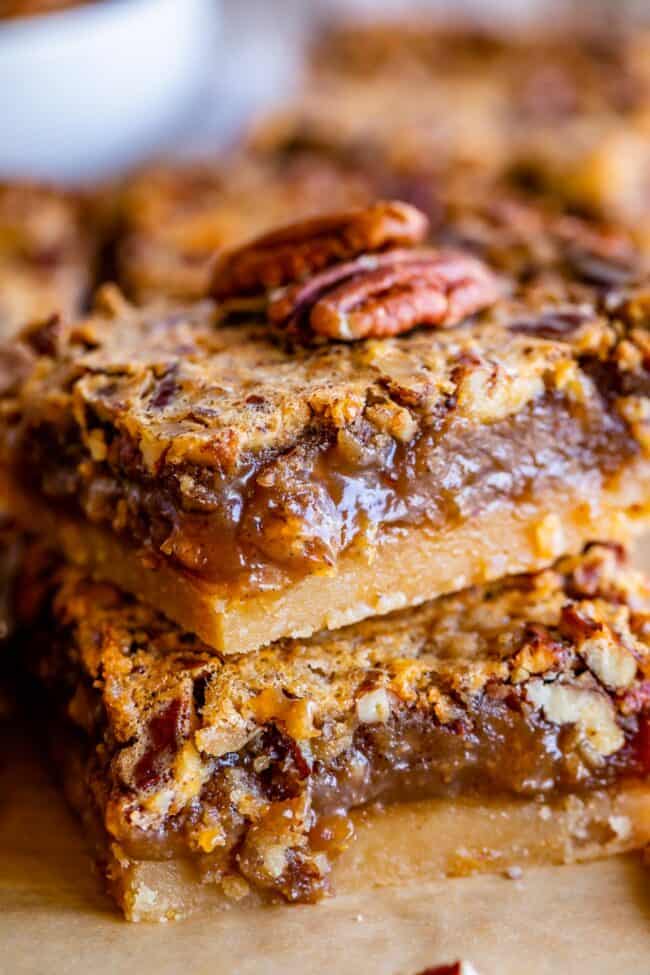 Can someone please comment right away if you read this post and see several references to "Pecan Pie Bras." I swear I've scoured it like 10 times already and keep finding more and more! There are no bras to see here people, move along.
If you're looking for Pecan Pie Bars, on the other hand…I got your back.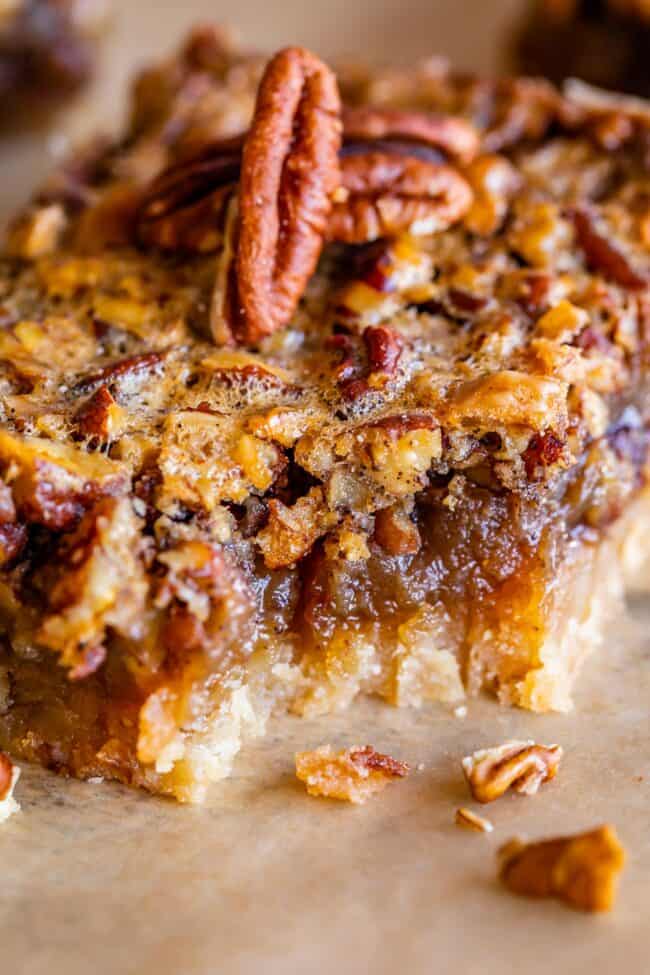 Tuesday isn't too late to be sharing these bras, right? (okay, that one was a joke.) Is everybody ready for Thanksgiving on Thursday? We just put up our Christmas tree, so we are totally ready. Don't be a hater now, Thanksgiving is super late this year! On normal years everybody would have been putting up their tree last week already!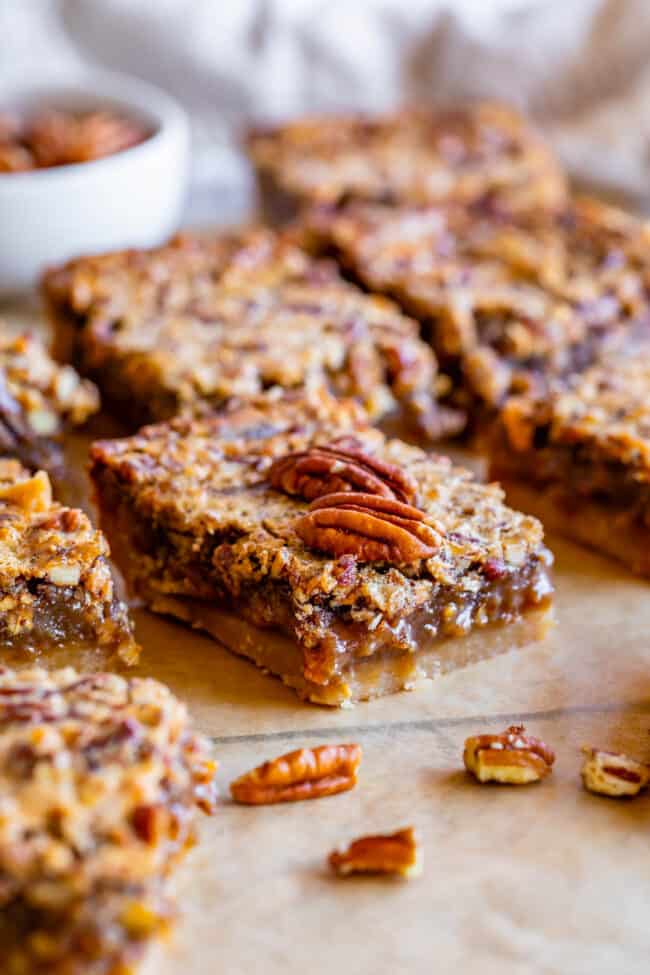 Tell that to Home Depot though. I called ahead to make sure they had live trees, they said yes. So we pull up after dinner, and can see the trees across the parking lot, but it looks dark. There happened to be an employee walking by, so we rolled down the window and asked if the live trees were for sale. "No, I don't think so, no one is out there yet. Come back in December."
Say whaaa? People today is November 26th. Thanksgiving is so late this year! Last year it was on Nov 22! And most people put up their tree the weekend after, right? Or was that just my family growing up.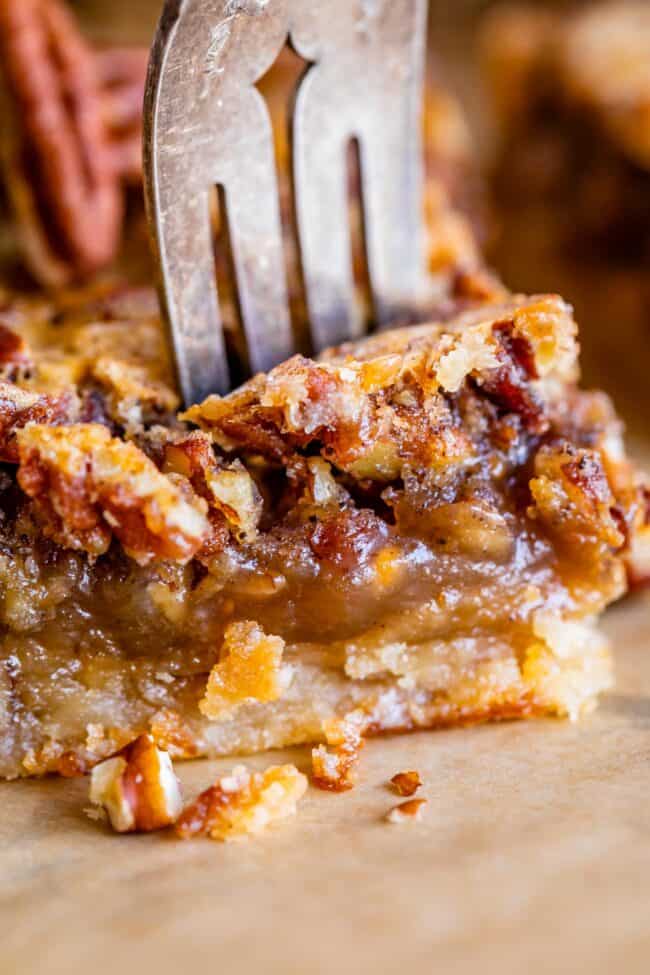 I wanted to put mine up extra early this year because I'm 36 weeks pregnant. I'm running out of time! This baby could surprise us anytime basically, and I don't want to have to worry about decorating when I'm in recovery! (I know I've completely jinxed myself now, and will have my baby on Decmeber 21, exactly when he's due.)
Anyway, we drove over to the trees, just to check, and sure enough there was an employee there ready to help us. He was so nice and friendly and even put our tree on top of our van single handedly while we were inside paying, that it totally made up for the other guy, who clearly has no idea what's going on! Ha!
How to make the best Pecan Pie Bars
Well if you are still scrambling about what dessert to make on Thursday, I've got you covered! These pecan pie bars are absolutely decadent and WAY easier than pie.
Start by making a shortbread crust. It's very simple, just butter and sugar and flour basically, with a little salt and vanilla for flavor. Try not to eat it all by itself. (There aren't even any eggs to deter you. As if salmonella risks ever stopped us anyway…)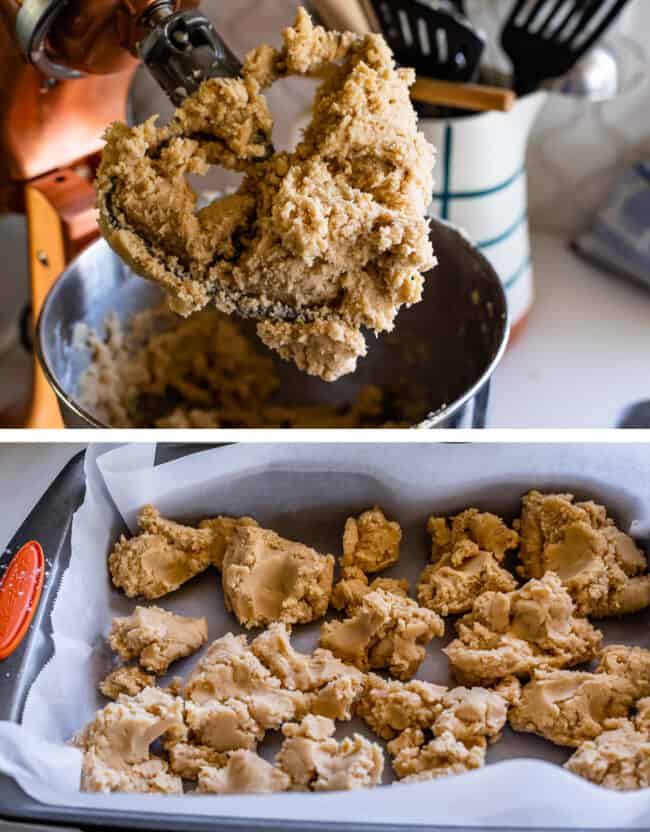 When transferring your dough to the pan, I like to break it up into pieces so that it's easier to press it in evenly.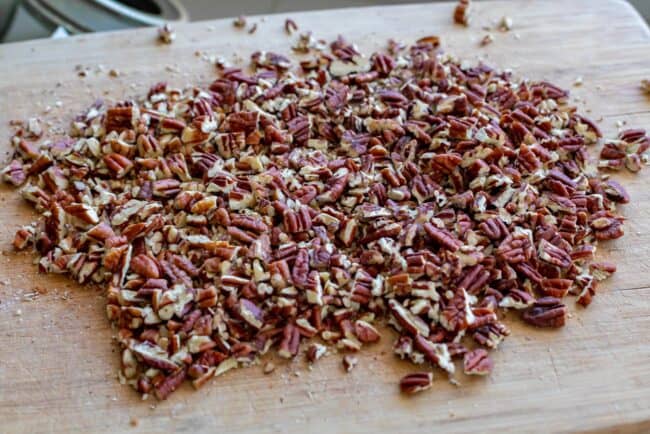 Here's how I chopped my pecans. You can chop them as big or as small as you want. If you buy pre chopped pecans from the store, you can skip this step entirely! I like to toast my pecans before adding them to the bars, but you can skip that step too. I love how deep they make the flavor, and you are preheating the oven anyway, but if it's stressing you out, don't worry they are still going to taste good!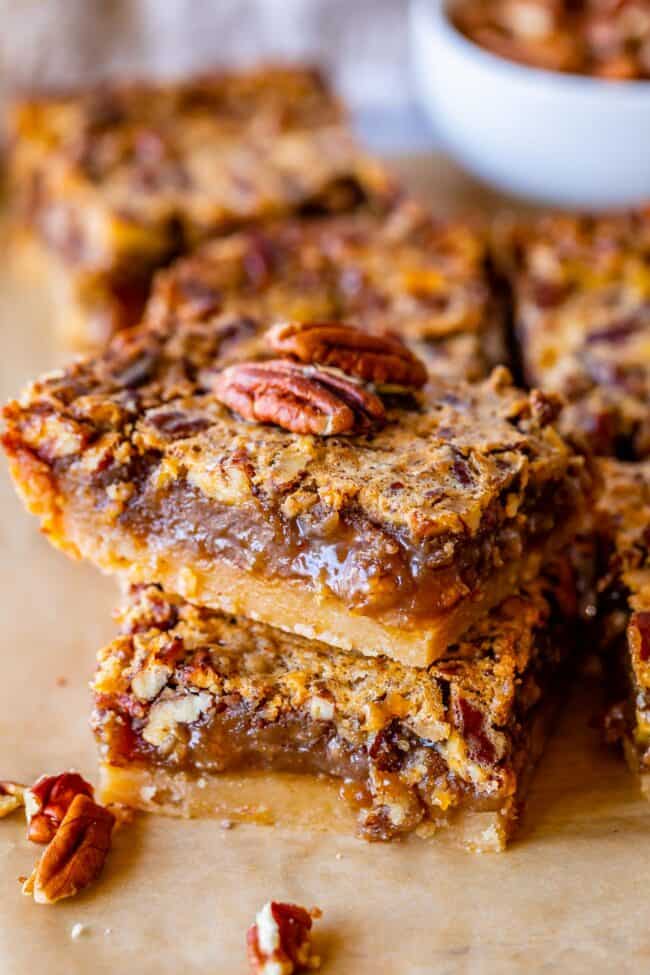 Don't skip stirring in the toffee bits though! They melt into the filling to make the gooiest, most caramely filling ever. I LOVE the flavor the toffee bits add, you are going to love it.
Add your filling on top of the crust, bake, and voila! They are so easy. The hardest part is letting them cool.
How to store Pecan Pie Bars
One of the best parts about pecan pie bars is that they are perfect for making ahead when you have one thousand other things to be doing on Thanksgiving. In fact, it's better if you make them ahead of time, just like pecan pie. The filling needs time to set up. Have you ever tried to cut into a pecan pie straight from the oven? It's a mess! A delicious mess it's true, but still.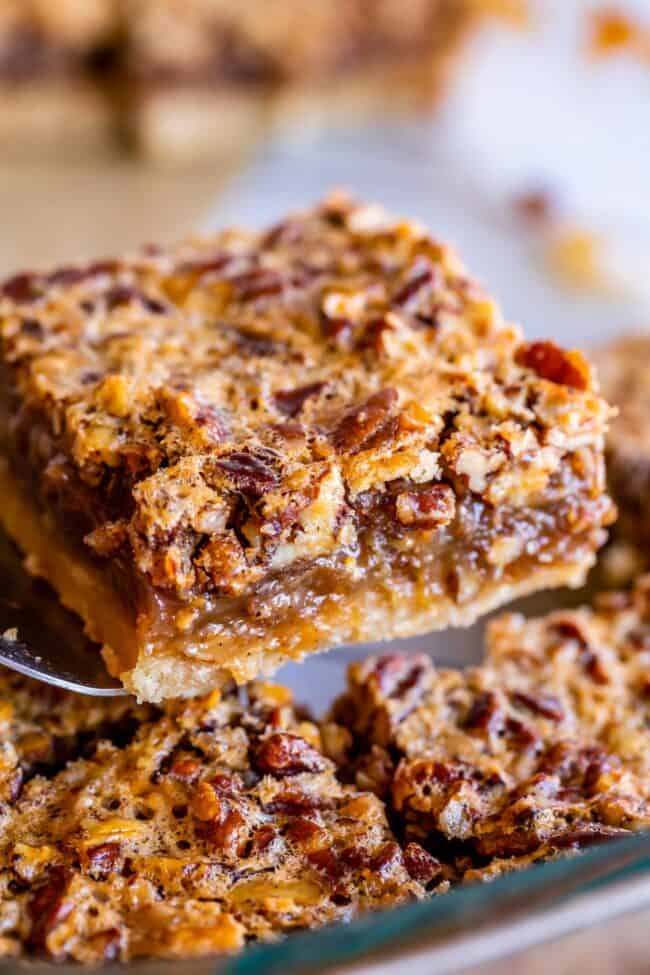 Make these bars up to 2 days in advance. Store them on the counter, tightly covered so they don't dry out. If you would like to serve them warm, put the whole pan back in the oven at 350 for about 10-15 minutes, until heated through. This will make it nice and warm for serving, but won't fall apart the way that they would if you served them hot from the oven.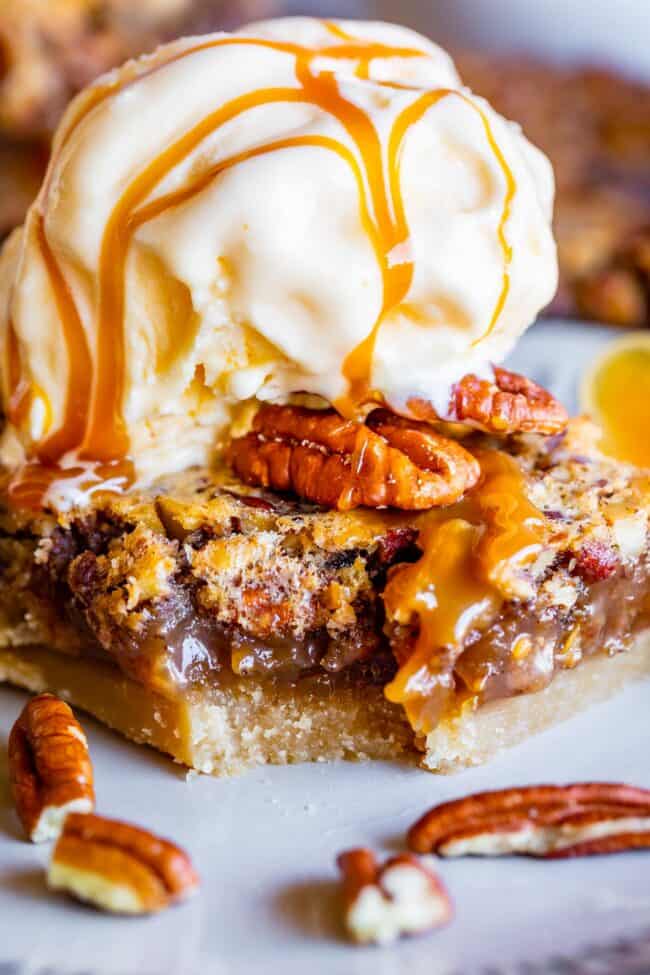 If the pecan pie bars are not gone by day 5 (how??), then I would stick them in the fridge, covered. You can also freeze them in a ziplock and pull them out later. You will really love your past self. Let them thaw on the counter, sealed. Then scoop some ice cream on top and drizzle with salted caramel. Yessss.
Happy Thanksgiving my friends! I will be back tomorrow with an easy recipe for how to make turkey stock from your turkey carcass! It's so easy and makes the BEST soup. Stay tuned!
More dessert and pie bars recipes for the holidays!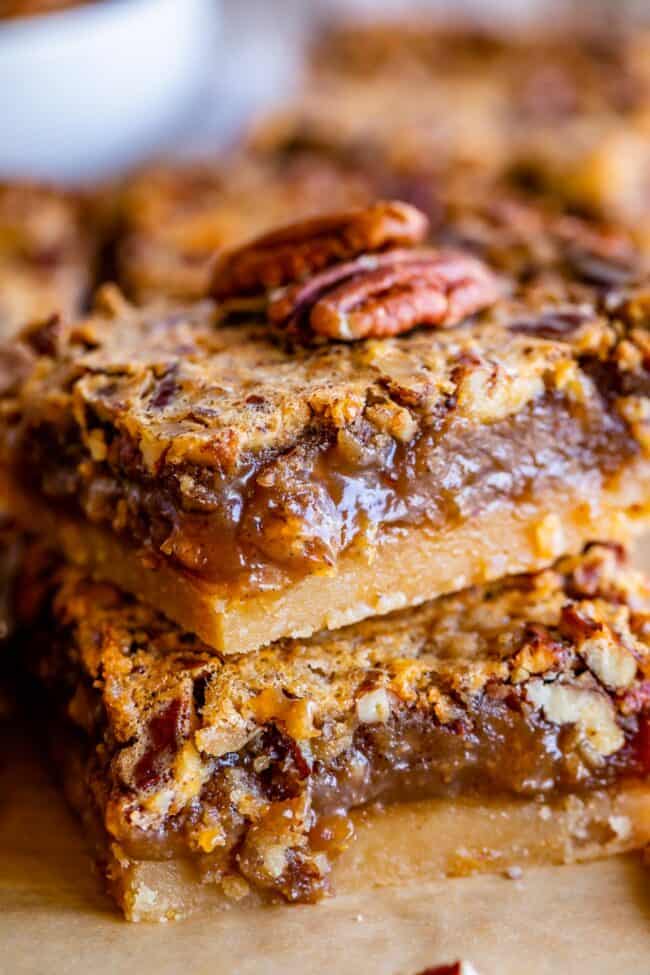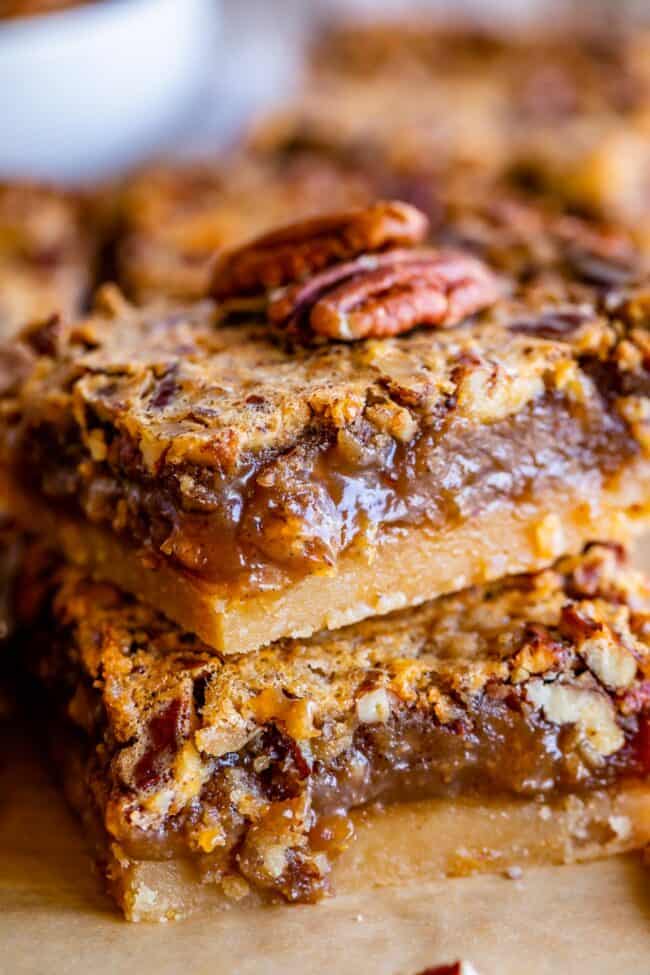 print
Did you make this recipe?
Leave a review »
Gooey Pecan Pie Bars with Toffee
12-16 bars
adjust servings
The most gooey and delicious Pecan Pie Bars in all the land! These bars taste like an extra caramely pecan pie, but with a killer buttery shortbread crust. (And no sad tears, because you don't have to roll out a pie dough.) I adapted my favorite Pecan Pie Recipe to make these. The toffee bits that melt into the filling are a total game changer!
Ingredients
For the shortbread crust
1

cup (2 sticks) butter, softened

1/2

cup granulated sugar

1/3

cup brown sugar

1

and 1/2 teaspoons vanilla extract

3/4

teaspoon kosher salt

2

cups all purpose flour, spooned and leveled
For the pecan filling
1/2

cup (1 stick) butter

3

large eggs

1/4

cup granulated sugar

1

cup brown sugar

1/2

cup light corn syrup

1

tablespoon milk

1

and 1/2 teaspoons vanilla extract

1/2

teaspoon kosher salt

1

and 1/2 teaspoons fresh lemon juice

1

tablespoon flour

2

cups pecans, coarsely chopped

1/2

cup toffee bits
Instructions
Preheat your oven to 350 degrees F. Toast your pecans: If you want, take the time to toast your pecans a bit before they go in your bars. I like the extra flavor this adds, and your oven is preheating anyway, but it's not necessary. Spread 2 cups of pecans out onto a dry baking sheet and put it into the oven at 350. Stir the pecans every 2-5 minutes. Leave the pecans in the oven for 7-10 minutes total (How long it takes will depend on if they are already chopped.) When the pecans are fragrant and toasty, take them out and set aside to cool.
Make the shortbread: Line a 9x13 inch pan with parchment paper, or foil that you spray with nonstick spray. (You can also spray the pan itself no problem, but I like to be able to lift the bars out for easy slicing.)
In a large bowl or stand mixer, beat 1 cup of butter to within an inch of it's life. You want it to be light and fluffy, should take at least 2-3 minutes, plus breaks for scraping down the sides and bottom of the bowl.
Add 1/2 cup sugar and 1/3 cup brown sugar. Beat until the mixture is smooth and creamy, again making sure to scrape the sides and bottom of the bowl.
Add 1 and 1/2 teaspoons vanilla and 3/4 teaspoon kosher salt. Beat well.
Add 2 cups of flour. Beat it all in, it's going to feel like too much at first. Use your spatula to get the crumbs at the bottom if necessary. Don't over beat, once the flour is incorporated, stop mixing.
Transfer the mixture to the prepared 9x13 inch pan. I like to section out the dough into pieces and spread them over the bottom of the pan for easy pressing, see photos. Wet your hands just a little bit, and press the dough evenly into the pan. Don't form an edge crust, just press it all flat, wetting your hands again as necessary.
Bake the shortbread at 350 for 18-20 minutes, until lightly browned on the edges. Remove from the oven and set aside if your filling is not ready to go.
Make the pecan pie filling: Begin by browning your butter. This gives your bars that deep, nutty flavor that is so perfect for fall. In a small saucepan, add 1/2 cup butter. Turn the heat to medium and let the butter melt. Keep the heat on medium and don't walk away. Stir occasionally. Soon the butter will bubble and form a thick white foam on top. After that, the foam will recede a little bit and you will start to see little brown "bits" forming on the bottom of the pan. Stir them up and take a whiff. If you see brown specks and your butter has taken on a nutty aroma, your butter is browned. Take it off the heat right away. It goes from browned to burned real quick, so pay attention! Set aside to cool.
Meanwhile, scrape out any crumbs from the same bowl that you mixed your shortbread in. (It's Thanksgiving people, we don't have time for extra dishes!) Add 3 large eggs to the bowl and beat on medium speed for 3 minutes, until the eggs have lightened up in color a bit. (You're whipping air into them. Use a whisk attachment if you have one.)
Once the 3 eggs are well beaten, add 1/4 cup sugar, 1 cup brown sugar, 1/2 cup light corn syrup, and 1 tablespoon milk. Beat well.
When your butter has cooled a reasonable amount, add it to the egg mixture. If it is still pretty hot, you can tempt fate and add the hot butter while your mixer is running, to make sure you don't curdle the eggs. (That's what I always do. These are the kind of risks that make me feel like I'm living a dangerous life.) But if you're nervous, wait til you can stick your finger in the butter without it hurting. Beat the butter in well.
Add 1 and 1/2 teaspoons vanilla extract, 1/2 teaspoon kosher salt, 1 and 1/2 teaspoons fresh lemon juice (don't skip it! Lemon is the best secret ingredient to a great caramel sauce!), and 1 tablespoon flour. Beat it all together, whisking out any flour lumps.
If you haven't already, coarsely chop your pecans. Add the chopped pecans and 1/2 cup toffee bits to the egg mixture, and fold in with a spatula.
Pour the mixture on top of the baked crust. It's okay if the crust is still warm, even hot. Spread the mixture out evenly.
Bake the bars at 350 degrees F for about 30-35 minutes. When it is done, the edges of the bars will be light brown. The center of the bars may wiggle a little bit when you shake the pan, but it should not look sloshy. The bars from about 2 inches away from the edges and further out should not wobble. Your bars will bake a few minutes faster in a metal pan, a couple minutes slower in a glass pan.
Let cool completely to room temperature. I mean it now!
See notes for the best way to serve these pecan pie bars to your guests warm.
Serve with a scoop of vanilla ice cream and a drizzle of salted caramel! Totally unnecessary...but totally decadent.
by The Food Charlatan

If you make this recipe,
share it on Instagram
 using the hashtag
#TheFoodCharlatan
so I can see it!
We are a participant in the Amazon Services LLC Associates Program, an affiliate advertising program designed to provide a means for us to earn fees by linking to Amazon.com and affiliated sites.