These Peanut Butter Butterfinger Cookies are unreal! I thought Peanut Butter Cookies couldn't get any better…But then I added chopped up Butterfinger bits and my life changed forever! A delightfully soft and THICK peanut butter cookie with crispety, crunchety, peanut-buttery bits that make it taste like a peanut brittle cookie.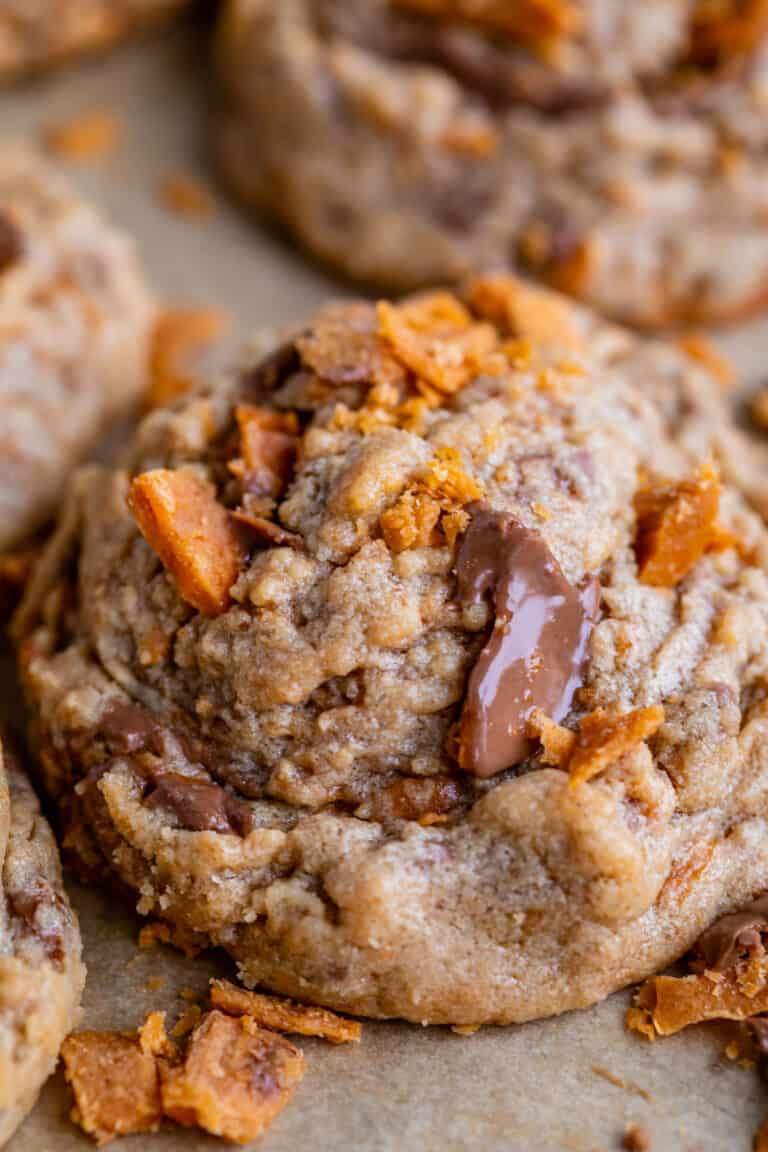 Buying and selling a house is insane you guys. I feel like my head is spinning from the time I wake up in the morning to the time I fall into bed at night.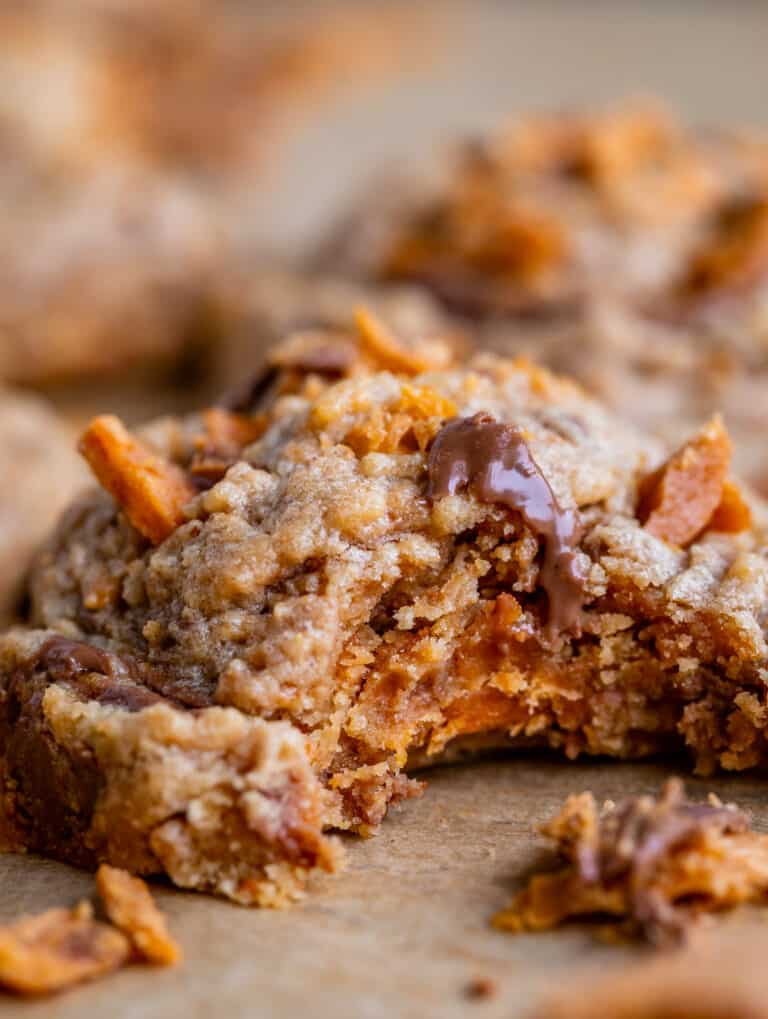 What no one tells you about selling a house is just how clean and perfect it has to look all the time. Clean the house for the pictures to go on Zillow, clean the house for the weekend of showings, clean the house for the appraisal, clean the house for the inspection.
I have turned into an absolute witch. A clean-freak witch. You know when you mop a floor and then spend the next few hours yelling at whoever dares to drop crumbs on it? (no, this is just me??) Well it's like that, but multiply it by the whole house. We all like slightly-cluttered-Mom more than eat-off-the-kitchen-floor-level-clean-Mom.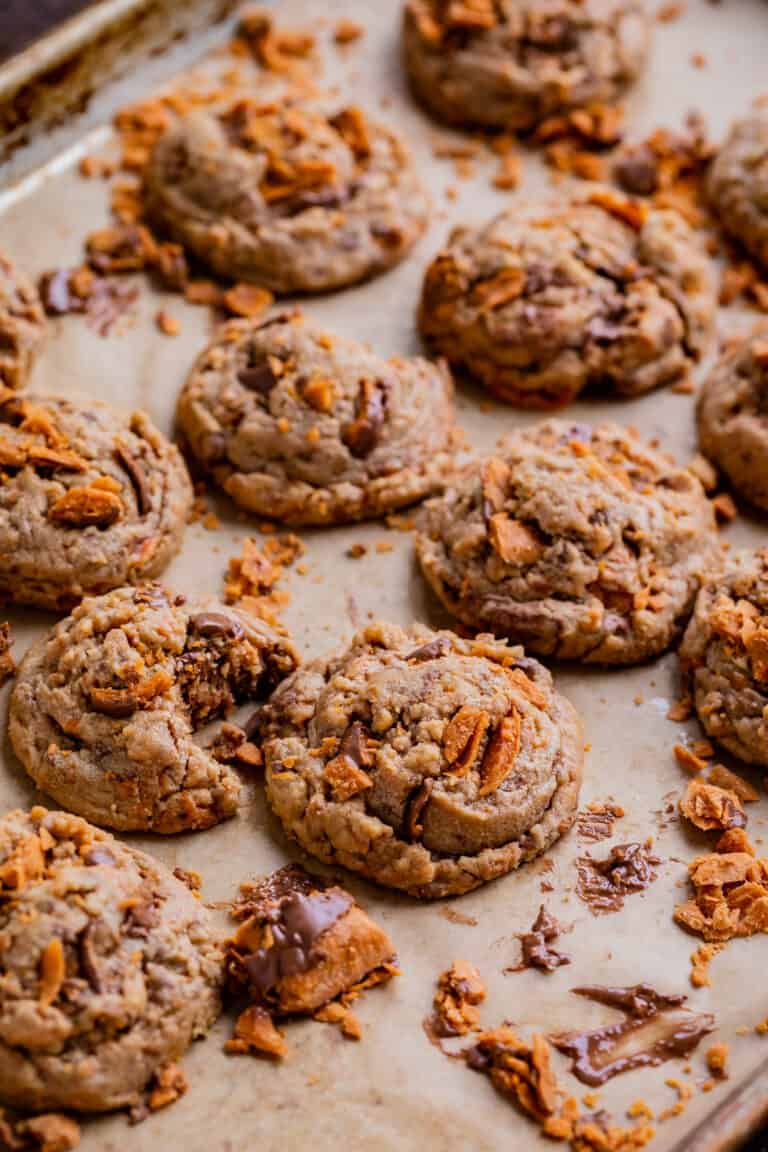 The kids are revolting against the reign of the witch. After the first Big Clean we had to do, for the pictures of the house, here is what they did:

It's almost like they think it's hilarious that I would even try to make our house look like four screaming rapscallions didn't live in it. As if they have made it their life's mission to follow me around, up-ending whatever I have just finished doing. "This room looks too clean, let's empty the drawers! Mom packed up all the toys, let's build a fort with every chair and blanket in the house!"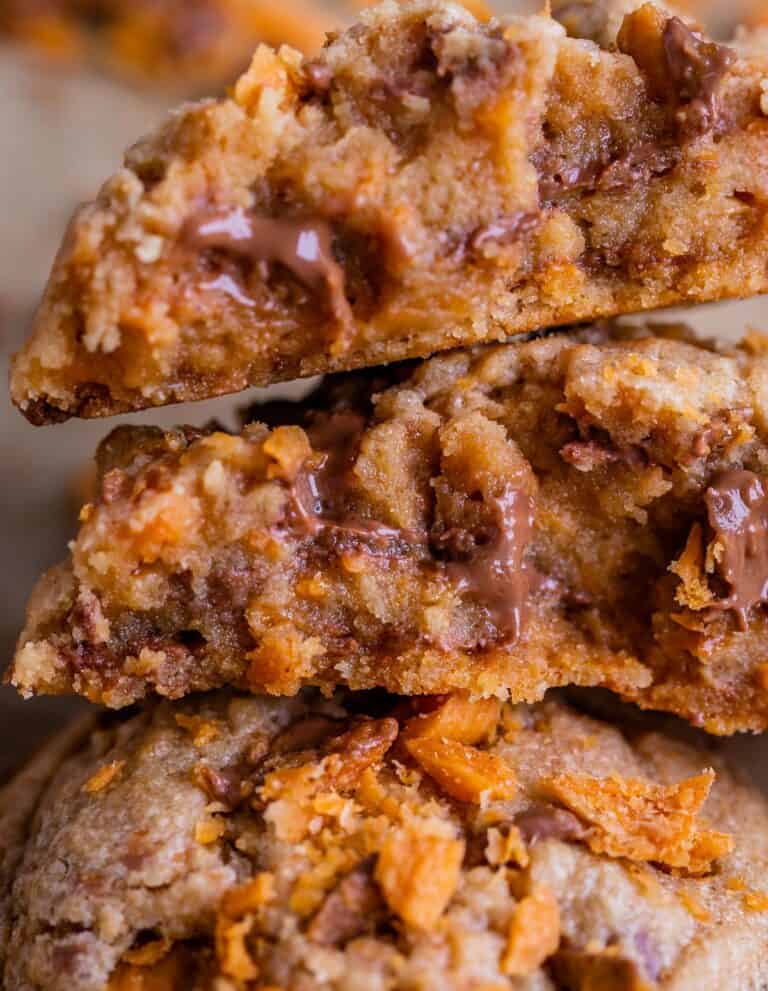 The over-cleaning and the stress and emotional drainage of moving and starting over has us in a state of denial over here. I spend a significant amount of time in la-la-land, pretending like none of the chaos is happening in the background.
Like when Eric and I watched Stranger Things 4 (HAVE YOU SEEN?? AAAhh so good!) Except instead of binge watching it in one weekend like we normally would, we spaced it out over days, and STILL fell asleep by the end of every episode, because apparently we are Old People now. Soon I will start serving dinner at 4 o'clock and darn my socks in the evening as I nod off by the fire.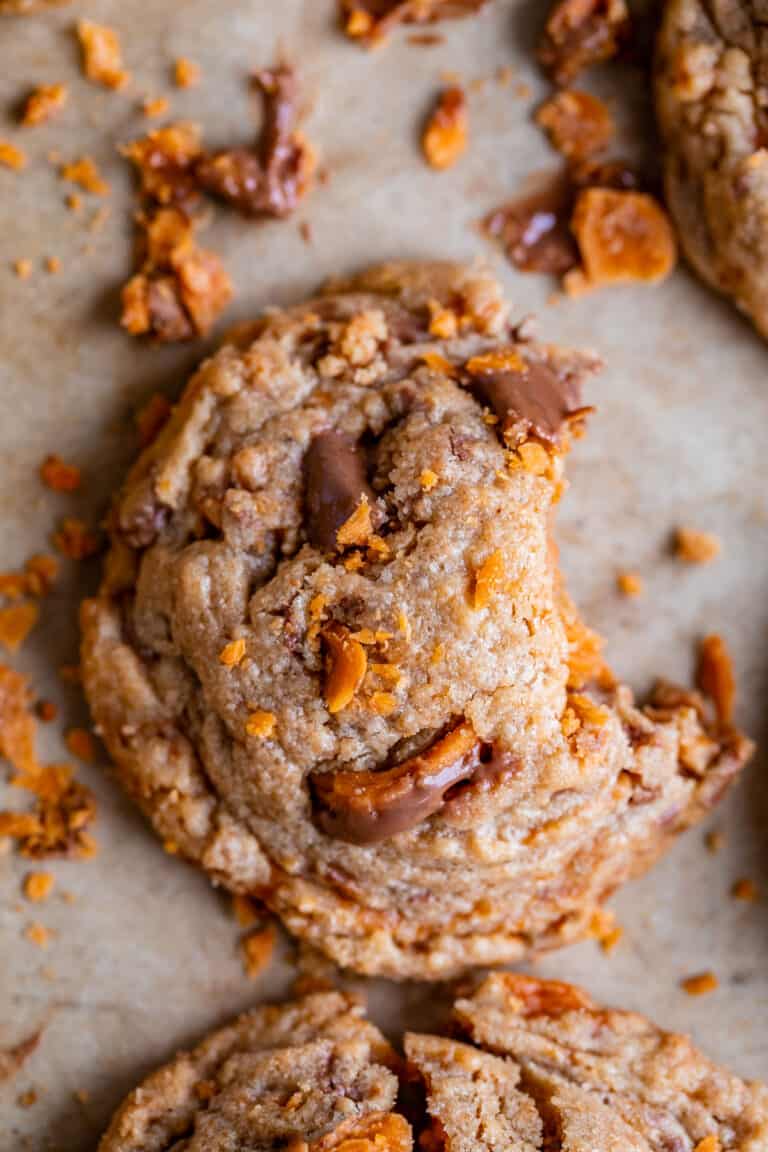 It's finally over. The final inspection happened yesterday and no one has to come into our house again until it's not ours anymore. We are all breathing a sigh of relief over here. But I'm telling you guys, the world is against me. We woke up to an entire colony of ants in our pantry this morning. Seriously!!
Thank goodness it wasn't yesterday. Can you imagine showing up for the inspection on your new house with ants everywhere?? Gah. (if you don't live in a warm climate, please don't think we are disgusting. Everyone living in California gets ants in their house at some point or another. Eric, who is from the northern plains of frozen Montana where apparently there are no bugs, is still personally offended every time this happens.)
Okay okay enough about that. I know you are here for the COOKIES!! Don't you want a bite of this right now??
Butterfinger Baking Bits Cookies
I saw these Butterfinger Baking Bits in the chocolate chip aisle a few weeks back, and immediately tossed a few into the cart. I am always checking the baking aisle for whatever new ingredient the industry wants to sell me. (Like for these Andes Peppermint Crunch Cookies, or these Double Chocolate Caramel Bits Cookies, or these Sea Salt Butterscotch Caramel Cookies!)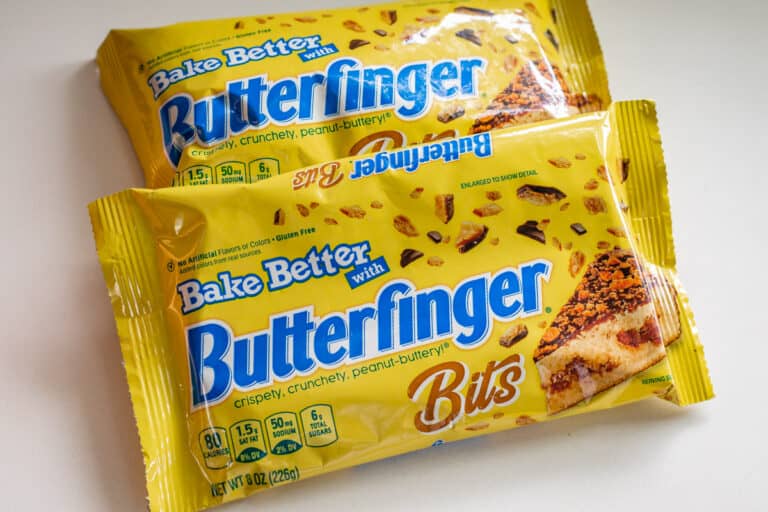 I ended up adding them into my Best Soft Peanut Butter Cookies for the ultimate peanut butter experience. OH MY GOODNESS YOU GUYS.
These cookies are everything I wanted them to be. I like them even more than I thought I would. It's a soft, tender, THICK peanut butter cookie, with bits of crushed butterfinger. I know this doesn't sound like that big of a deal but I'M TELLING YOU. The official Butterfinger slogan is spot-on: Crispety, crunchety, peanut buttery. When you mash this up with a soft and tender overwhelmingly peanut-buttery cookie, the result is just amazing. Let's make them!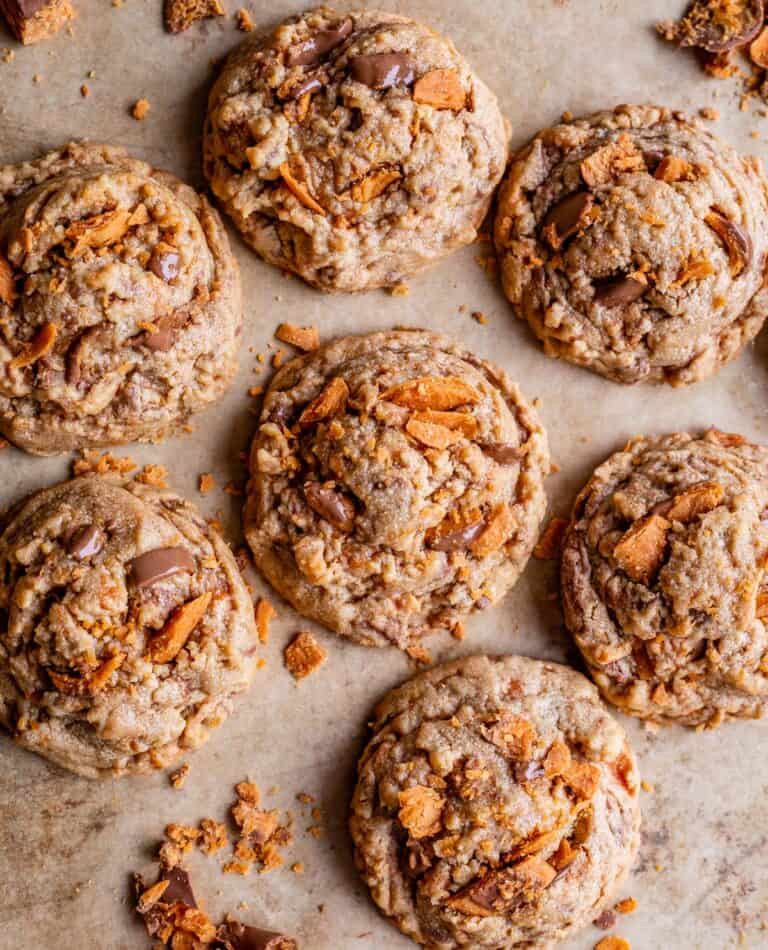 How to make these soft and chewy Butterfinger cookies
Just like all good cookies, we're starting out with butter and sugar! Beat it together within a half inch of its life, if you know what's good for you. This method is called "creaming," and it's how you incorporate a lot of air into your dough, making the cookies the perfect light texture.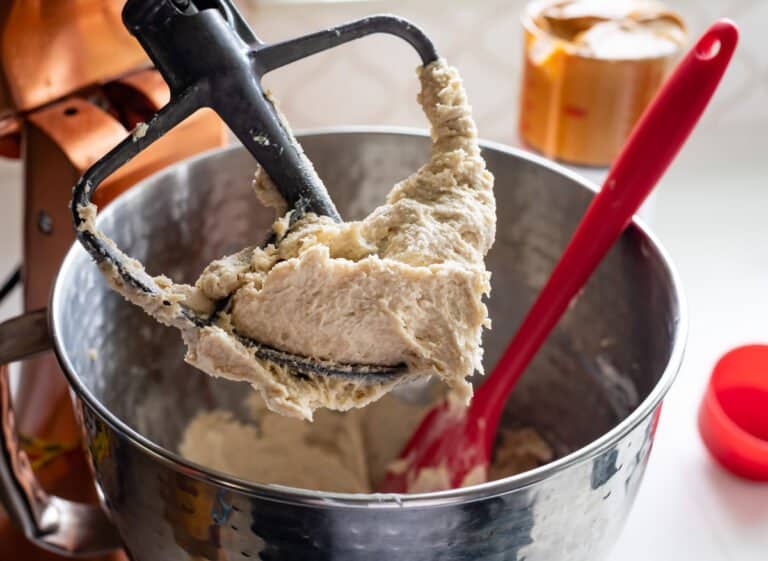 Next we are adding in a full cup of peanut butter, and if you don't have one of these adjustable measuring cups, run, don't walk, to get yourself one. They are so handy, no more scraping out the cup of peanut butter! You just shoonk it in and voila. Shoonk is a technical term in case you didn't know.

Beat the peanut butter in and add an egg and vanilla as well.
Then add in your dry ingredients: flour, salt, baking powder, baking soda. I never bother using a separate bowl for dry ingredients. Too lazy! Just put the flour in first (be sure to spoon and level!), then stir the other dry ingredients into it before turning the mixer back on.

Mix it for just a few seconds. You should still see streaks of flour. Then stop the mixer to scrape down the sides. This is the point where you want to add your mix-ins, in this case, Butterfinger bits.
Now the good news here is that you do NOT need to find yourself a bag of these special baking bits to make these cookies. The bag of bits and a regular Butterfinger bar have the EXACT same ingredient list. I'm willing to bet 10 bucks they just crush them up at the factory and throw it in a bag. Well, we have knives and butterfinger bars my friends, we can chop.
I dumped a bag of butterfinger bits into the bowl. And on the cutting board are a few butterfinger bars that I chopped up. See? Exactly the same.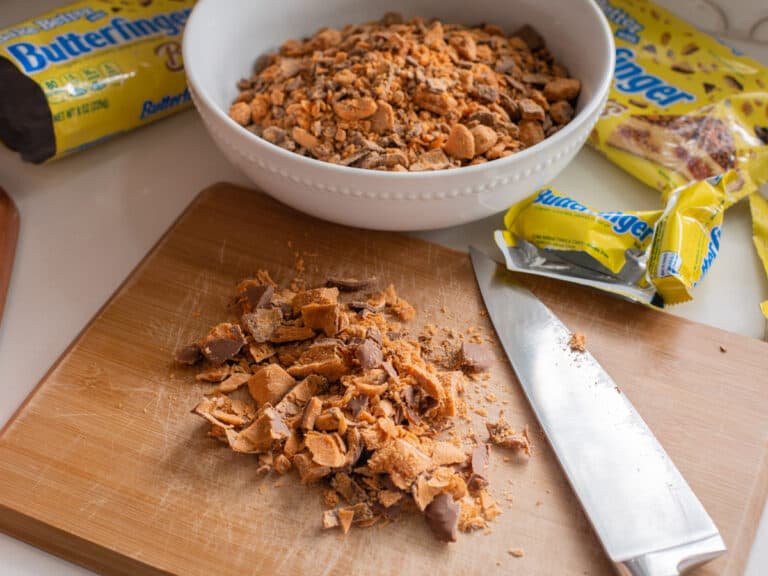 Here are the ways to get yourself to 16 ounces (yes, a full pound!!) of Butterfinger in these cookies:
Two 8-ounce bags of Butterfinger Bits
24 Fun-size Butterfinger bars (which are 0.8 oz each)
8 Full-size Butterfinger bars (which are 1.9 oz each)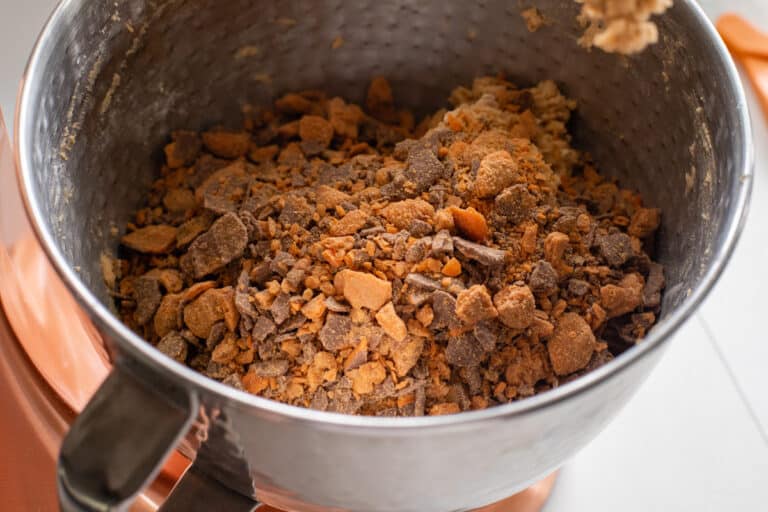 I was going to just add one 8-ounce bag of Butterfinger bits…but in a fit of excess I tossed in both of the packages that I had. Best. decision. ever. These cookies are absolutely STUFFED and I love it.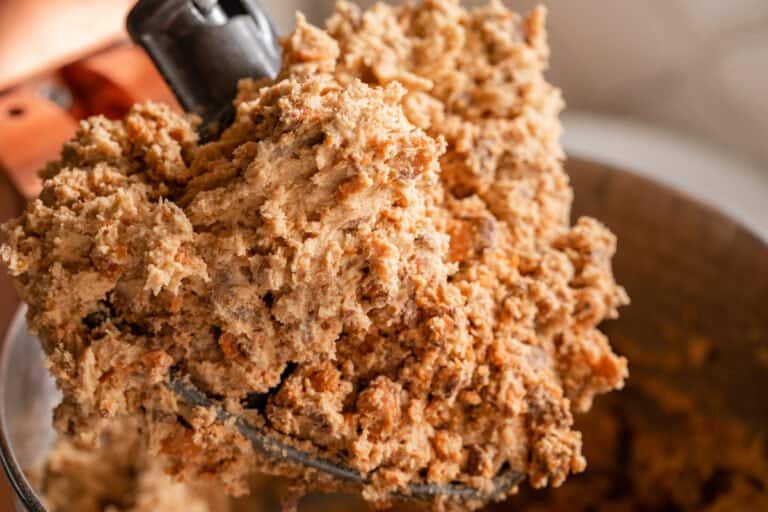 This might be my favorite cookie dough of all time. So much crispety peanut buttery goodness! It's hard to save some to actually make it into cookies. I'm not kidding, I think this even tops chocolate chip cookie dough for me.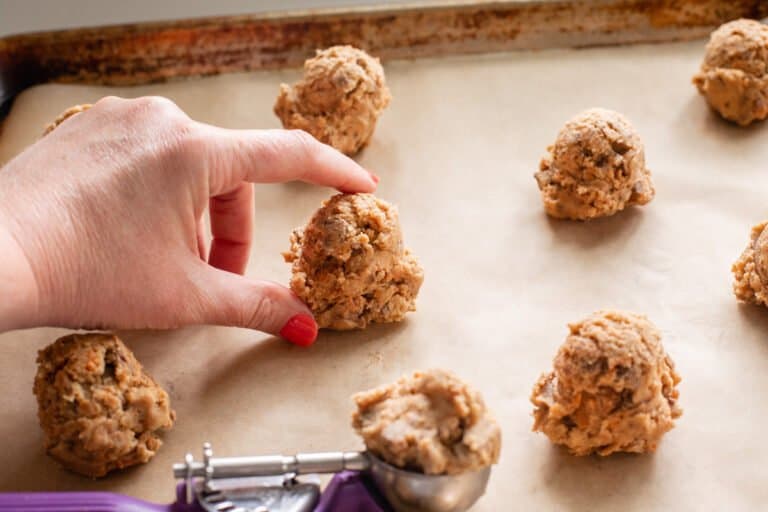 Here's how big I made the dough balls. About 2 inches. I love biiiig ol cookies. I used this cookie scoop and you can see how full I stuffed it. Make your cookies nice and tall if you like thick fudgy cookies.

How to keep cookies from spreading too much
Once they come out of the oven be sure to do the spoon trick as described in my Chewy Chocolate Chip Cookies recipe. I do this for basically every cookie that comes out of my kitchen. Pushing the cookies in on themselves RIGHT when they come out of the oven makes them thicker, fudgier, and super soft in the center. Such an easy technique and the results are fabulous!
What if my cookies don't spread at all?
You know how traditional peanut butter cookies have fork marks on the top? That's because they don't spread much in the oven, instead we use a fork to press them down before baking. Today's cookies spread a lot easier because of the butterfinger mix ins, but you still might end up with cookies that don't spread a lot (especially if you didn't spoon and measure your flour and end up with too much!) The solution is simple: When you take them out of the oven, or even 2 minutes before they are done baking, use your spatula to gently press the cookies down to be as thick as you like.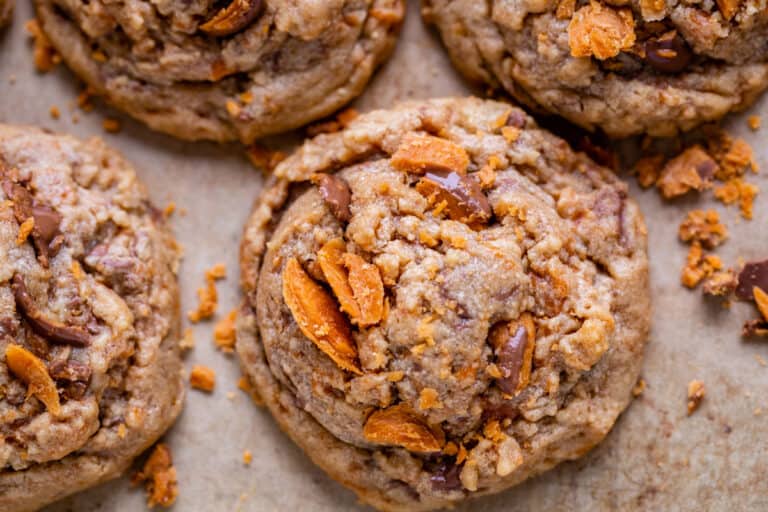 Then, if you want, get some extra chopped butterfinger and place bits and pieces all over the tops of each cookie. This is mostly for looks, you can skip this if the plan is to devour over the sink. But if you are taking these to a potluck and want to impress, it does make them look prettier.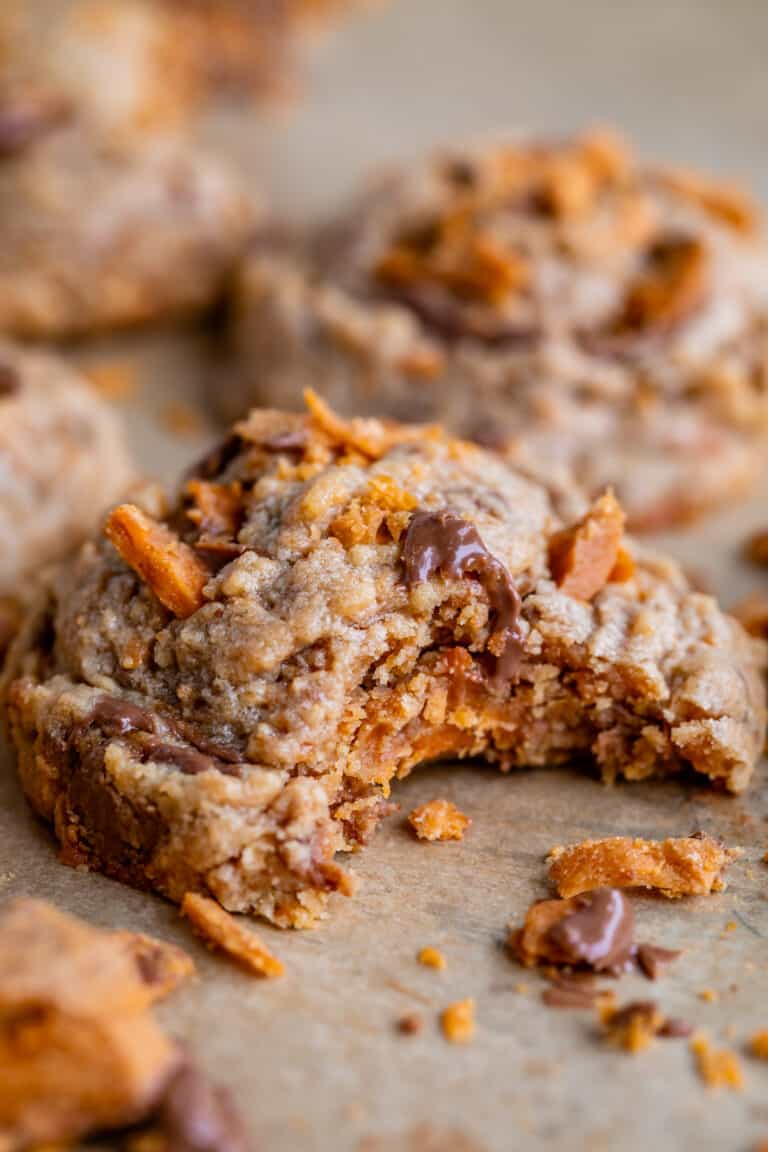 Usually I like to eat cookies straight off the baking sheet, hot and gooey and chocolatey. But I actually prefer these cookies when they are approaching room temperature or fully cooled. What?? Here's why:
What's inside a butterfinger?
The center of a Butterfinger is made from cooked sugar and peanut butter: it's candy. Butterfingers shatter in your mouth when you take a bite, similar to peanut brittle. (Say it with me now, "Crispety, crunchety, peanut buttery!!")
When you put butterfingers in the oven, the candy melts and becomes chewy, which is not the texture we're going for. But fortunately as they cool, the Butterfinger bits in the cookies return to their normal crispety, crunchety, peanut buttery state. THIS is the texture I love to bite into: soft, tender peanut butter cookie, with bits of crispy peanut candy crunching throughout.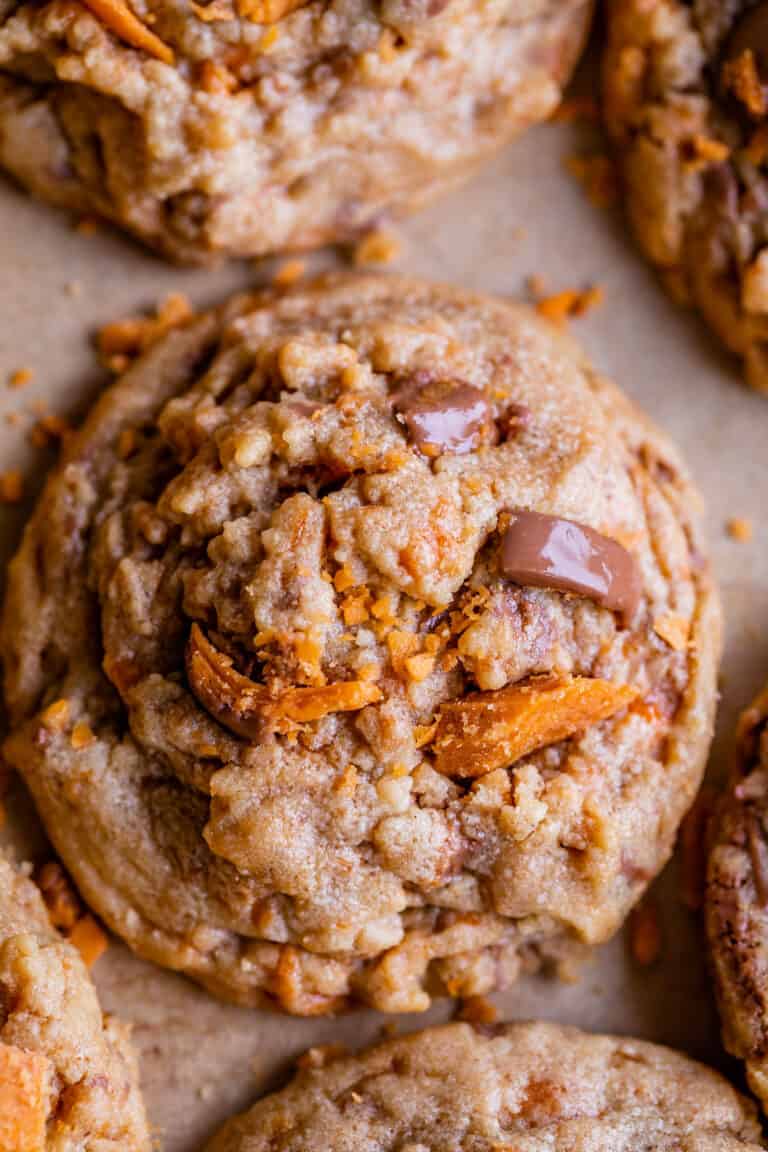 Can you freeze them?
Yes totally! I know because I tried it. The first time I tried these I made a full batch (25 cookies), we ate some and I threw the rest in an airtight container in the freezer so that we could save them for later. But less than 12 hours later we got them out of the freezer and ate the rest 😂 they are just that good. Be sure to thaw in the airtight container at room temperature. I'd say you could freeze them for at least a 3-4 weeks.
I have also tried freezing the dough balls in ziplock bags, it works great. Seal well and freeze for up to 3 months. Bake from frozen and add a couple minutes to the bake time, and be ready to press the baked cookies down with a spatula because they will spread even less when baked from frozen. Voila! Fresh baked cookies in 10 minutes! There is never a time in my life when I don't have cookie dough balls in the freezer. If there ever aren't any, IT'S A PROBLEM, haha.
I hope you get to try out these cookies soon! Or save the recipe for Halloween when you have tons of leftover Butterfingers! But I say don't wait. Peanut Butter heaven is only 30 minutes away!
More peanut butter cookies to love!
Facebook | Pinterest | Instagram

Peanut Butter Butterfinger Cookies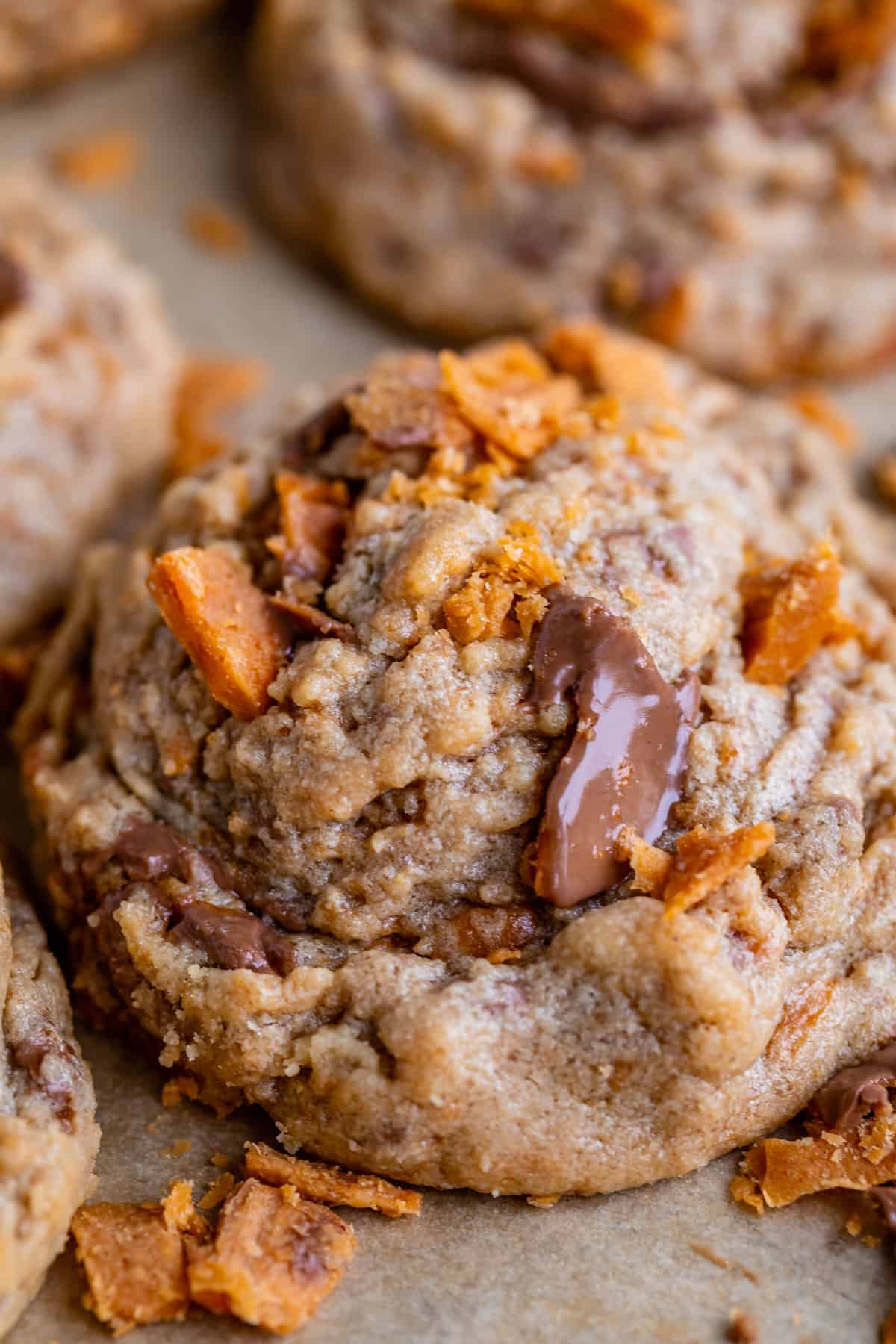 These Peanut Butter Butterfinger Cookies are unreal! I thought Peanut Butter Cookies couldn't get any better…But then I added chopped up Butterfinger bits and my life changed forever! A delightfully soft and THICK peanut butter cookie with crispety, crunchety, peanut-buttery bits that make it taste like a peanut brittle cookie.
Ingredients
3/4

cup

butter

,

softened (1 and 1/2 sticks)

1/2

cup

granulated sugar

1/2

cup

brown sugar

,

packed

1

cup

peanut butter

,

don't use natural pb

1

large

egg

1 & 1/2

teaspoons

vanilla

1 & 1/2

cups

all purpose flour

,

spooned and leveled

1/2

teaspoon

baking soda

1/2

teaspoon

baking powder

1/4

teaspoon

kosher salt

16

ounces

butterfinger

,

chopped, see note*
Instructions
In a large bowl or stand mixer, beat 3/4 cup softened butter (this is 1 and 1/2 sticks) until it is smooth and creamy, scraping the sides of the bowl.

Add 1/2 cup sugar and 1/2 cup packed brown sugar. Beat well for about 2 minutes until it is fluffy, scraping the sides. There should be no chunks of butter.

Add 1 egg and 1 and 1/2 teaspoons vanilla. Beat until combined, scraping the sides of the bowl occasionally.

Add 1 and 1/2 cups all-purpose flour, making sure you spoon the flour into the measuring cup and level off. Add the flour to the bowl, but don't stir it in yet. Add 1/2 teaspoon baking soda, 1/2 teaspoon baking powder, and 1/4 teaspoon kosher salt on top of the flour. Stir it in with your teaspoon to combine the dry ingredients together a bit, making sure to break up any clumps.

Turn the mixer on to combine the dry ingredients into the dough. Don't overdo it! Once the dough barely starts to come together (with some flour still visible), stop and scrape the sides and bottom of the bowl. (Over mixing cookie dough results in tough cookies.)

Add 16 ounces of chopped butterfingers and mix in until just barely incorporated. You can use 2 (8-ounce) bags of "Butterfinger Bits" (found in the baking aisle), but this is kind of a rare find. See notes* for how many butterfingers to use if you can't find the Bits. See photos for the level of coarseness we're going for, if you're chopping.

Cover the bowl and chill the dough for 15 minutes to an hour.** (Or up to 24 hours!) Try not to eat it all. I think this is some of my favorite cookie dough EVER, no lie. It is peanut buttery crispity perfection.

Shape the dough into 2 inch balls. I used this cookie scoop and seriously overpacked it.

Bake the cookies at 350 for about 10 minutes.

The cookies are done baking when the edges are set. They should not be shiny in the middle. They will be very puffy, but should have spread a bit from their ball-shape. If they have not spread much, use your spatula to gently press on the top of each cookie to flatten them a bit. Do this after you take them out of the oven, or even 2 minutes before they are done. Top each cookie with more butterfinger crumbles, if you have any left.

Let the cookies set up on the pan for at least 5 minutes before transferring to a wire rack to cool completely.

Strange note: I do not love eating these cookies warm. (Besides Sugar cookies, I think this is a first for me!) The butterfinger melts in the oven and I don't love the chewy texture. I prefer to wait until they are approaching room temperature before eating.

This recipe makes about 25 cookies. Store leftovers in a tightly sealed container for up to 3 days.

The dough freezes very well. Place cookie dough balls in a ziplock bag and freeze for up to 3 months. Bake on a pan straight from frozen (as directed plus another minute or two), and be prepared to press down on them with your spatula after baking to help them spread.

You can also freeze the baked cookies in a sealed container up to 4 weeks. Let thaw at room temp, sealed.
Notes
*You need 16 ounces of crushed butterfinger for these cookies. This is:
Two (8-ounce) bags of Butterfinger Bits (found in baking aisle)
24 "fun size" Butterfingers (each fun size is about 0.8 oz)
8 full size Butterfingers (each full size is about 1.9 oz)
The bag of Butterfinger Bits and the regular candy bars have the EXACT same ingredient list. I bet you 10 bucks they just crush them up in the factory and throw it in a bag with no other changes. Which we can certainly do on our own!
**Usually when I tell you to chill the dough on a cookie recipe, it's absolutely essential. But you can bend the rules on this recipe. I like to give it at least a 15 minute chill to help the flavors develop and make the dough easier to work with (it's quite soft). But you can skip the chill completely if you want, the cookies will bake up just fine!
Nutrition
Serving:
1
cookie
|
Calories:
169
kcal
|
Carbohydrates:
19
g
|
Protein:
4
g
|
Fat:
9
g
|
Saturated Fat:
3
g
|
Polyunsaturated Fat:
2
g
|
Monounsaturated Fat:
4
g
|
Trans Fat:
1
g
|
Cholesterol:
17
mg
|
Sodium:
138
mg
|
Potassium:
89
mg
|
Fiber:
1
g
|
Sugar:
13
g
|
Vitamin A:
119
IU
|
Calcium:
16
mg
|
Iron:
1
mg