Browned Butter Blondies with Sea Salt Butterscotch Caramels
 These browned butter blondies are studded with butterscotch caramels. Nuff said.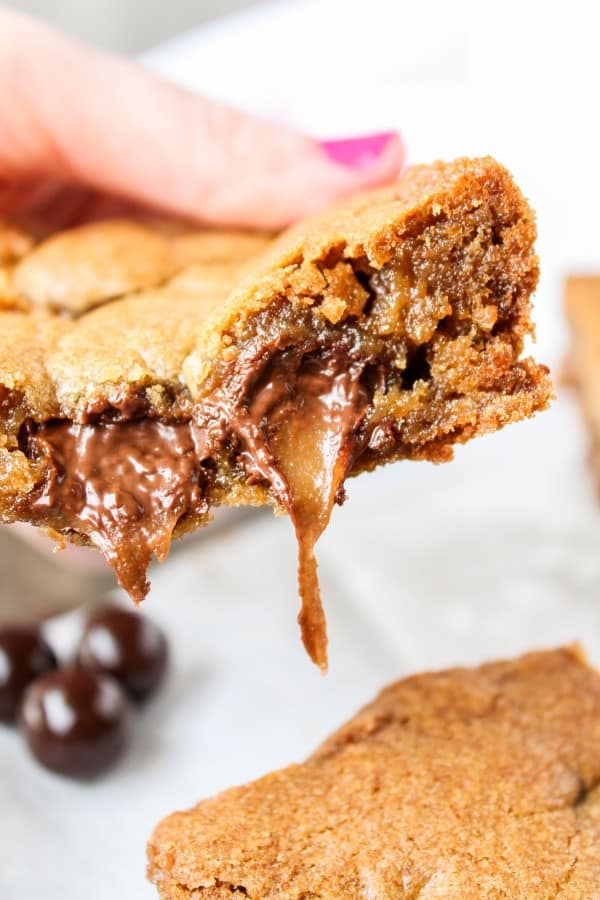 Five of my fingernails are hot pink right now.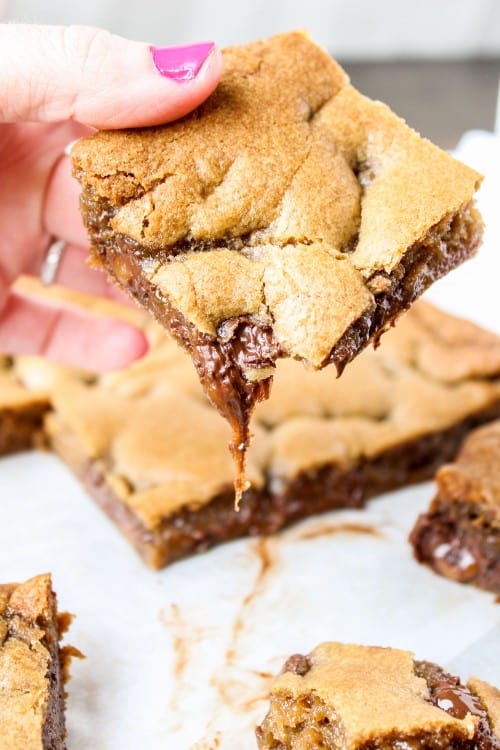 Look. SEE? I'm girly! I'm so put together!
Well. At least halfway girly. I still haven't painted my other hand. Wanna know why? Diapers. That's why.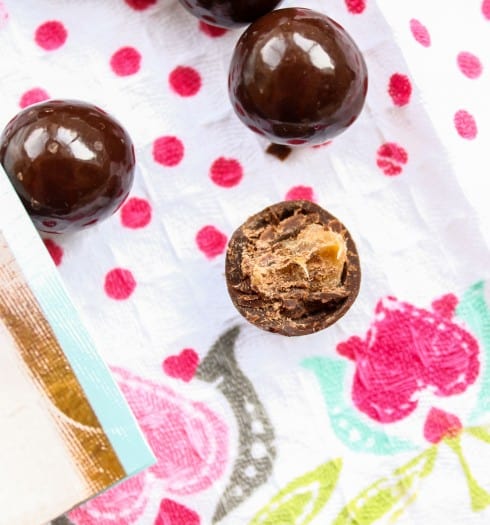 Every time I think "I should paint my fingernails" the rational part of my brain chimes in: ain't NOBODY got time for that! I've got faces to wipe, pigtails to comb, and pins to pin toilets to scrub. 
But guess what you guys. Something's going on with this little bloggy-thing of mine. This month I've gotten 30x the amount of traffic that I got last January. And 3x the amount of traffic I got even just last month.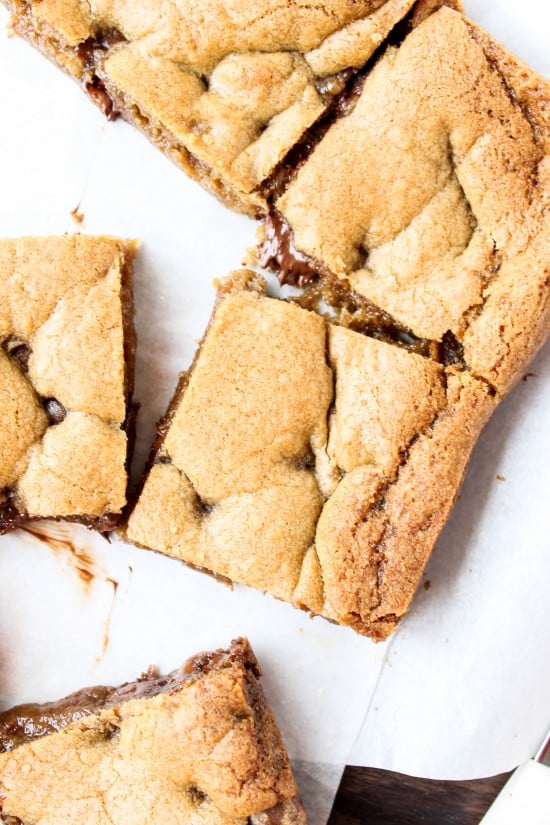 With traffic comes feedback, which I LOVE. Listen to this: "I just found your site today and have spent over two hours here so far." This is from Linda. Linda, I love you. Come to my house. I will make you these blondies. You think I'm joking.
But along with all the stars-and-rainbow-comments come the reality checks. The other day someone called me out on the photos of my atrocious chipped nails. Alright, ALRIGHT, I'm super tacky, I KNOW! Try not to hate me.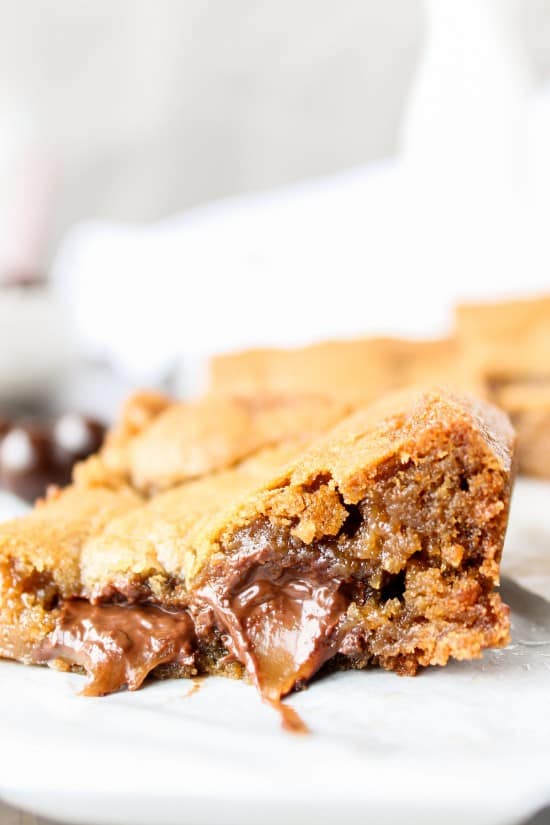 So here's me making an effort. Valentine's Day is coming up, so I thought pink. (False. I only have 5 shades, one of them is clear, and the others are getting kinda crusty, so choice was limited.)
I'm surprised there is not pink nail polish on these Blondies. I literally stopped in the middle of my shoot, slapped some paint on my nails, blow-dried them for about 30 seconds, then came back. Don't lick chocolate and caramel off your fingers 3 minutes after you paint them. Thank you, Captain Obvious.
So are you guys ready to Super Bowl it up? (Probably now is a bad time to mention that I found out on Friday that the Super Bowl wasn't this last weekend. Yes, really.)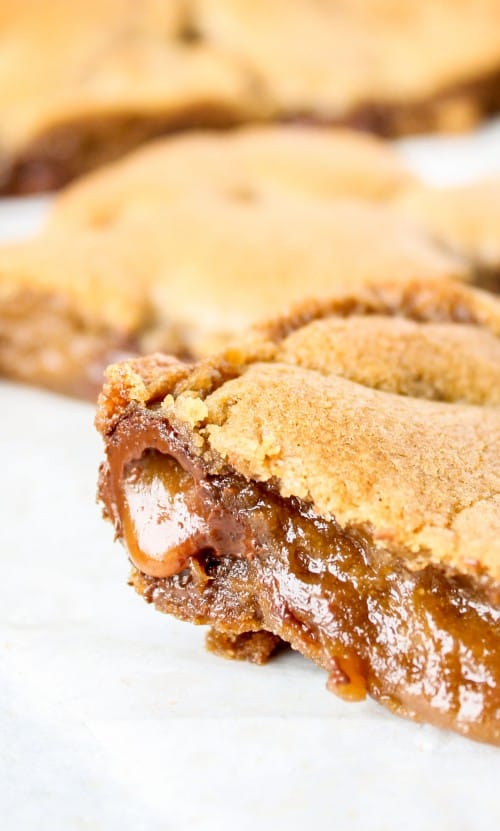 But the good news is that there is still time for you to make these Blondies! Now, if you have been reading my blog recently you've probably heard me gush about these Brown Butter Sea Salt Butterscotch Cookies. And with good reason. They are my favorite cookie, ever. But…the recipe's a bit time consuming because you have to chill the dough. Which means there is at least a couple hours between "I want cookies" and "Kill me now, these are amazing." These Blondies are the answer. You can have these in your mouth in 35 minutes flat. No frilly refrigeration required. Just git 'er done.
If you live within 5 hours 3 hours 1 hour <— that's my final answer) of a Trader Joe's, you need these in your life: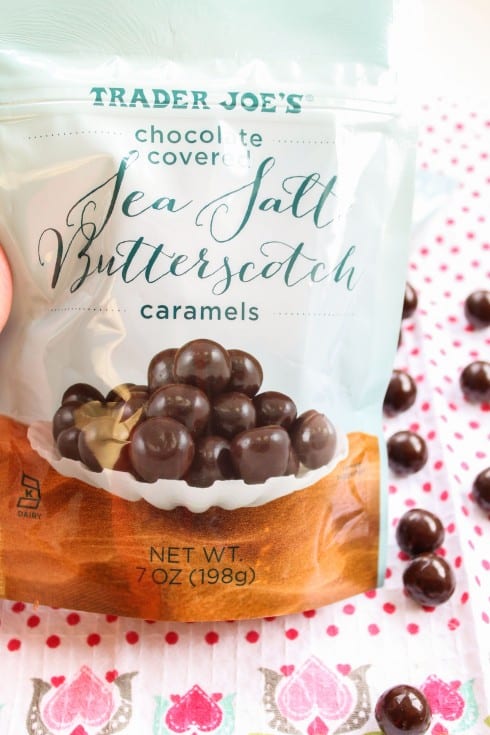 Seriously. I could go on all day, but I'll just tell you that I've made many, many trips to the store for no other purpose than buying these little butterscotch caramels.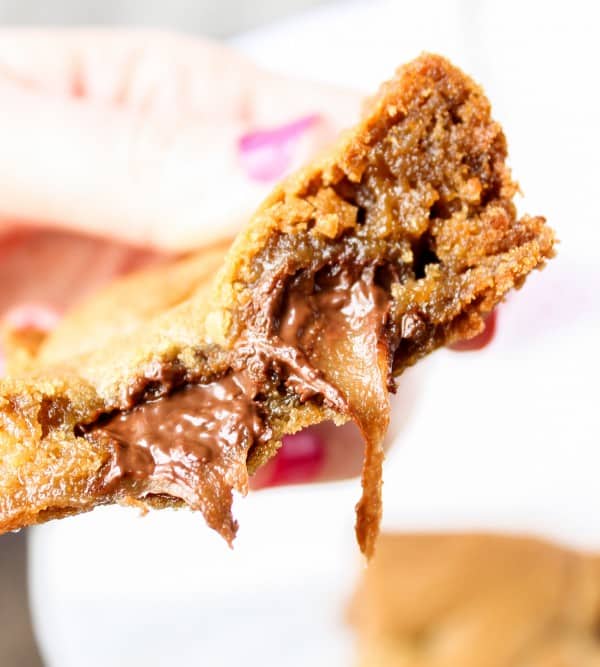 These are my regular Browned Butter Blondies (which are anything but ordinary) with the butterscotch caramels added instead of chocolate chips. The result is a chewy, tender, soft, and rich blondie filled with little nuggets of butterscotch-y caramel goodness. I discovered this recipe last summer and have probably made it 7 or 8 times. I made it 3 times with these caramels. The first time I tried cutting each caramel in half like I do for the cookies, but I actually prefer them when they are added whole. And it's faster. Like I said. Git 'er done.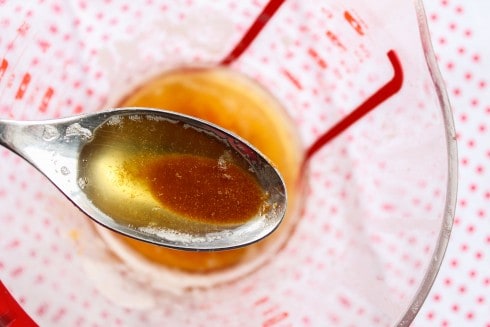 Mmmmmm browned butter. Make sure your butter has those little brown bits in it, otherwise cook it a little longer.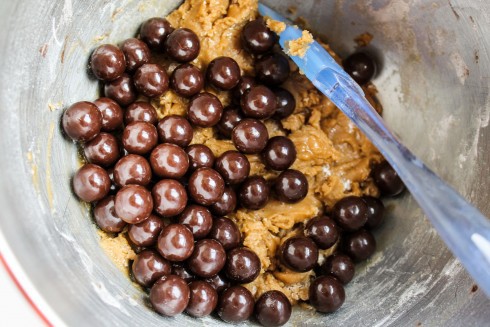 They're just so beautiful. I love you, sea salt butterscotch caramels.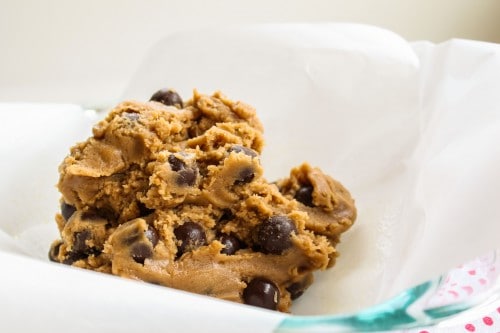 It's a lot easier to get them out of the pan it you line it with foil or parchment paper. Enjoy!!!
Facebook | Pinterest | Instagram
Browned Butter Blondies with Sea Salt Butterscotch Caramels
 These browned butter blondies are studded with butterscotch caramels. Nuff said.
Ingredients
1/2

cup

salted butter

1

cup

dark brown sugar

,

packed

1

teaspoon

vanilla

1

large

egg

1

cups

all-purpose flour

,

spooned and leveled

1/2

teaspoon

baking soda

1/4

teaspoon

salt

1

7-oz package

Chocolate Covered Sea Salt Butterscotch Caramels
Instructions
Preheat the oven to 350 F. In a small saucepan, melt the butter over medium heat. Keep it on the heat, stirring or swirling occasionally, until the foam starts turning golden and the mixture smells nutty. If you've never browned butter, go

here.

Remove from heat and pour immediately into a mixing bowl or stand mixer. (Hurry, otherwise the heat from the pot could burn this precious stuff.)

With a wooden spoon or using the mixer, stir in the brown sugar, then the vanilla, then the egg.

Add the flour, but don't mix it in. Spoon the baking soda and salt onto the flour, and stir with a small spoon to blend it with the flour.

Stir in the flour until almost combined; add the butterscotch caramels and stir just until there are no more streaks of flower.

Line a 9x9 or 8x8 inch pan with foil or parchment paper, then spray with nonstick spray. Spread the batter evenly into the pan.

Bake at 350 for 20-22 minutes, until golden on top and set. Let them cool in the pan for at least 10-20 minutes before lifting them out. These blondies are amazing when they have cooled...but they are OUT OF CONTROL when they are warm. I always stick mine in the microwave for 10 seconds if they are cool.
Notes
This recipe is written to make a square pan (either 8x8 or 9x9) but it's really easy to double it to make a 9x13 inch pan. See my original Browned Butter Blondies for the 9x13 measurements; just sub the caramels for the chocolate chips.
Nutrition
Serving:
1
blondie
,
Calories:
244
kcal
,
Carbohydrates:
35
g
,
Protein:
2
g
,
Fat:
11
g
,
Saturated Fat:
7
g
,
Polyunsaturated Fat:
1
g
,
Monounsaturated Fat:
3
g
,
Trans Fat:
1
g
,
Cholesterol:
48
mg
,
Sodium:
231
mg
,
Potassium:
59
mg
,
Fiber:
1
g
,
Sugar:
24
g
,
Vitamin A:
345
IU
,
Calcium:
29
mg
,
Iron:
1
mg
The obsession continues:
Nutella Stuffed Browned Butter Blondies: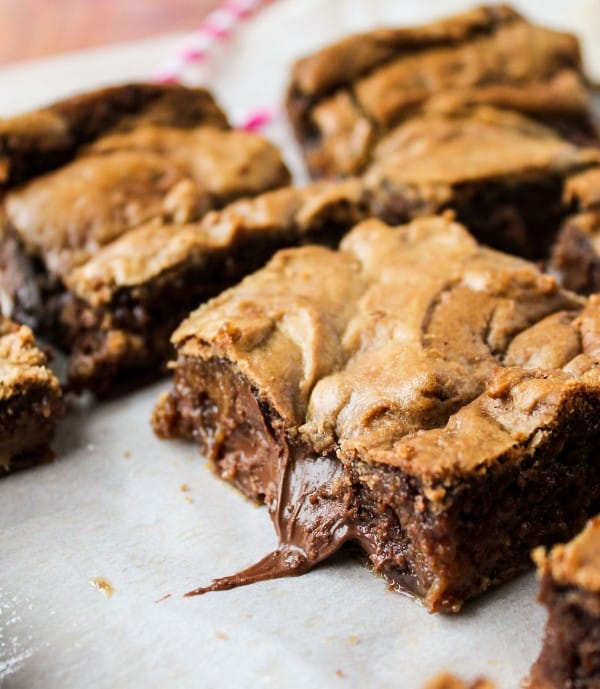 Brown Butter Sea Salt Butterscotch Caramel Cookies: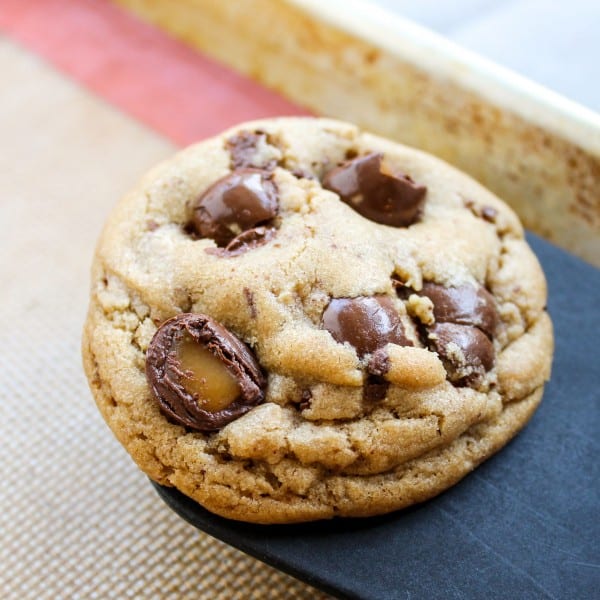 The original Browned Butter Blondies: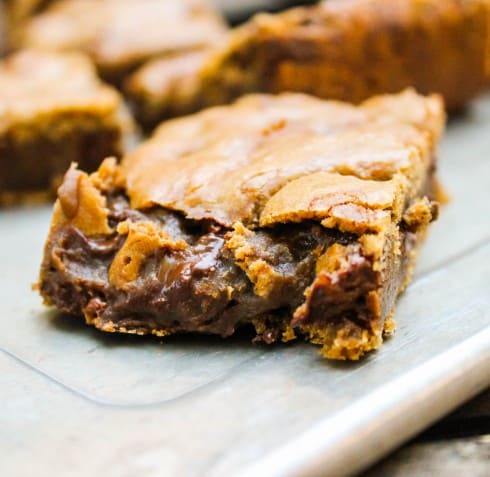 We are a participant in the Amazon Services LLC Associates Program, an affiliate advertising program designed to provide a means for us to earn fees by linking to Amazon.com and affiliated sites.