This is a traditional Lebanese recipe that you are going to LOVE! Slow cooked braised beef and green beans, spiced with cinnamon and cumin. (Do we need to do a trust fall? TRUST ME guys! My whole family loves this dish!)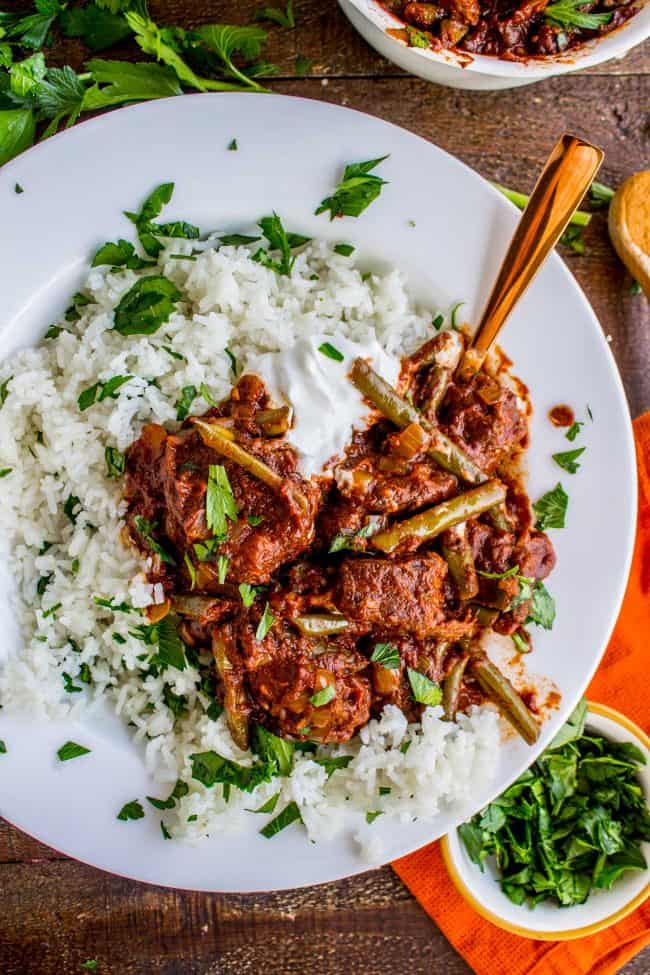 The screen to our front door is on a metal frame, and it has gradually been ripping off for several months. Mostly this is because little kids keep pulling and pushing on it. (Why do I keep these annoying kids around anyway?) Oh, this is why: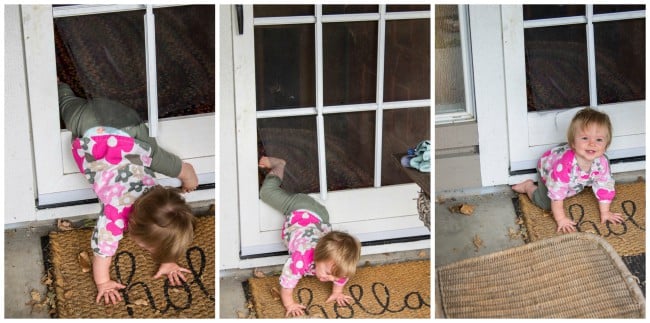 Because they're ADORABLE. Look, she made it! What kind of mom am I that I grabbed my camera instead of helping my screaming baby who's stuck upside down in a broken screen? She made it by herself while I snapped photos. This isn't cruel and unusual parenting, it's allowing my kids to solve their own problems, right? This is good for her independence, right??
(I learned at our summer block party this year that one of my neighbors down the street works at CPS, and I was like MENTAL NOTE, don't let her come over when I'm doing photo shoots. It's like Lord of the Flies over here. Yesterday I found the baby sitting in the freezer. Our freezer is a pullout below the fridge, and she just helped herself to some frozen berries, no problem. See, they can totally fend for themselves.)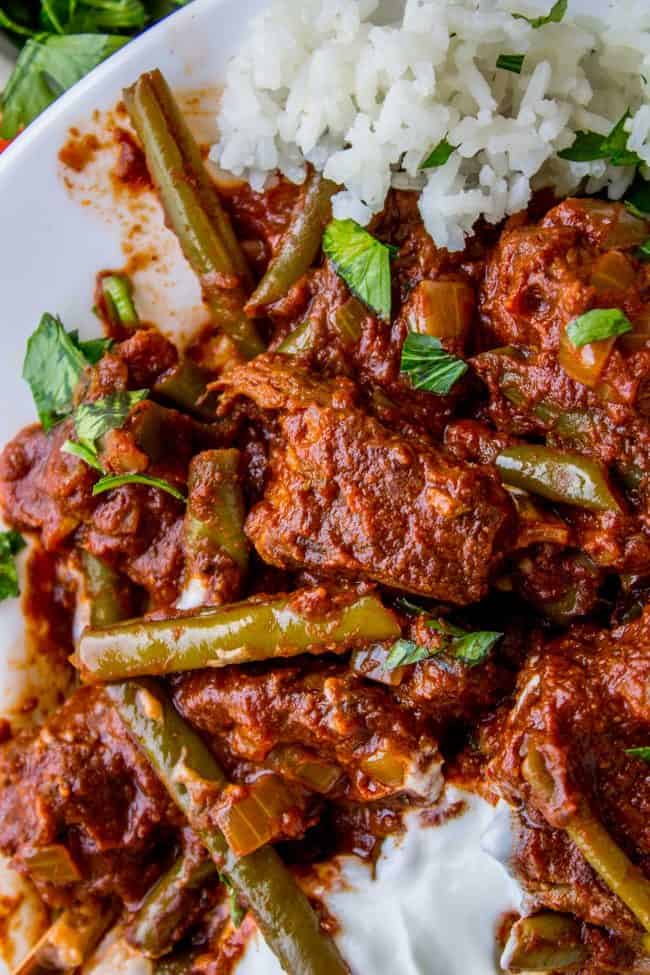 Raise your hand if you've ever tried Lebanese food? Syrian food? Anything Middle Eastern?? For some reason dishes from these regions haven't taken off in recent years, the way that Thai and Indian food has, for example. But mark my words: I think Middle Eastern cuisine will become trendy and much easier to find over the next few decades. It is just so GOOD.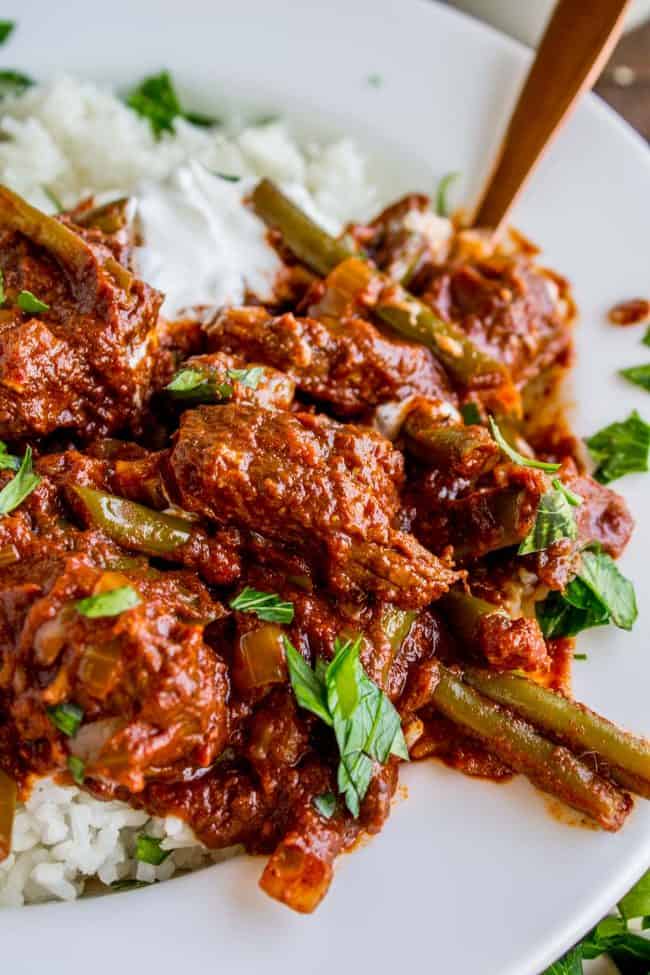 Today's recipe is Lebanese, and it's from my friend Liz's new cookbook, Food From Our Ancestors: The Ultimate Syrian Sunday Dinner. Liz blogs over at The Lemon Bowl, and I've been following her for a long time! She has so many great HEALTHY recipes. Everything is so fresh.
Liz is Syrian, and she gathered up some of her family's favorites and put them all together in an e-Cookbook. (That's like a cookbook that you can access on a device, not an actual book.) You can buy it here for $3.99, or you can buy the ebook bundle here for $12.99, which includes 3 other cookbooks.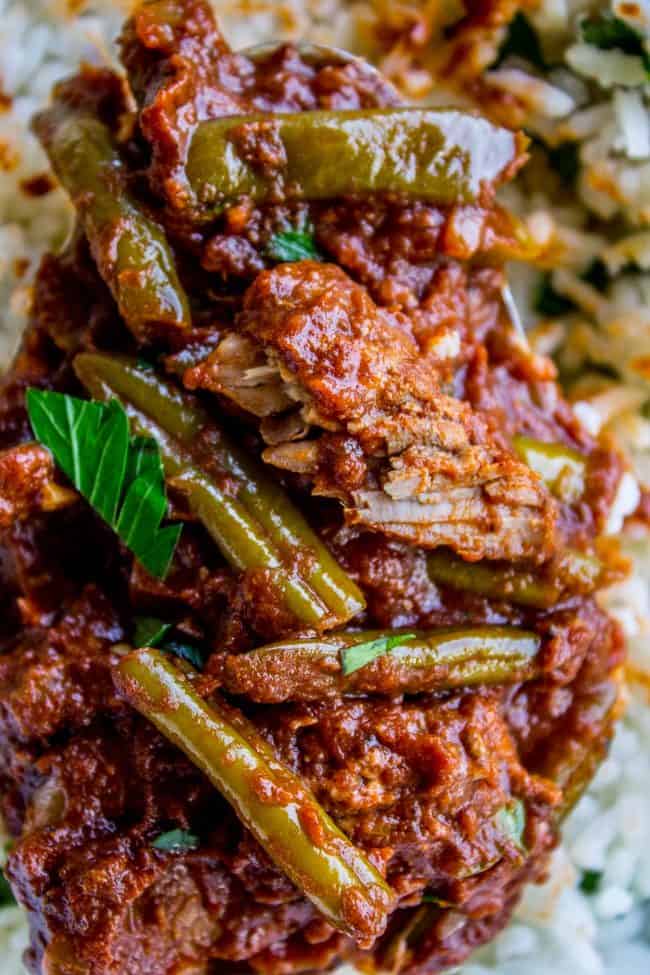 Now about this recipe. Have you ever tried my brother-in-law's family's recipe for Traditional Tejano Carne Guisada? It's braised beef meant for tacos and it's amazing. It's a huge family favorite. I was delighted when I read through Liz's recipe to realize that hers is basically identical, it just uses different spices (Oh and adds green beans, of course). Brown the beef with onion, add spices and tomato sauce, cook on low for a few hours.  The result is the most tender, melt-in-your-mouth, packed-with-flavor beef of your life.



I love these prepped green beans they have in the produce section!
The recipe calls for a full tablespoon of cinnamon, which sounds weird to us Americans. We take our cinnamon in swirly rolls with icing on top, thank you very much. But I'm here to tell you that we've underestimated poor cinnamon. It doesn't have to be sweet; cinnamon has savory notes that we often ignore. There is no sugar in this recipe, and I promise, it doesn't feel like you're eating a Braised Beef Cinnamon Toast. It tastes deliciously earthy, warm, and aromatic.
If you are reading this first thing in the morning, check out my Instagram stories to watch me make it!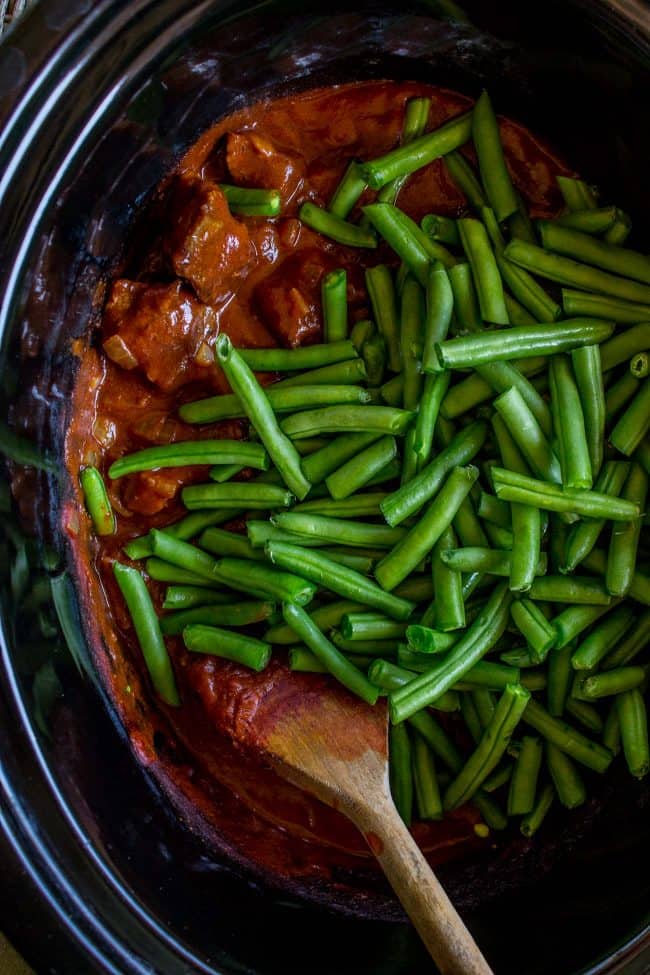 I tested both a stovetop and slow cooker version of this recipe. The slow cooker version would be perfect for Halloween night! Some stick-to-your-ribs type food so that you don't eat as much candy? Maybe??
Facebook | Pinterest | Instagram | Twitter
One Year Ago: Apple Custard Pie with Cinnamon Streusel
Two years ago: Easy Queso Dip Potato Soup
Six years ago: Halloween Cheesecake Parfaits

Braised Beef and Green Bean Stew (Lebanese Lubee)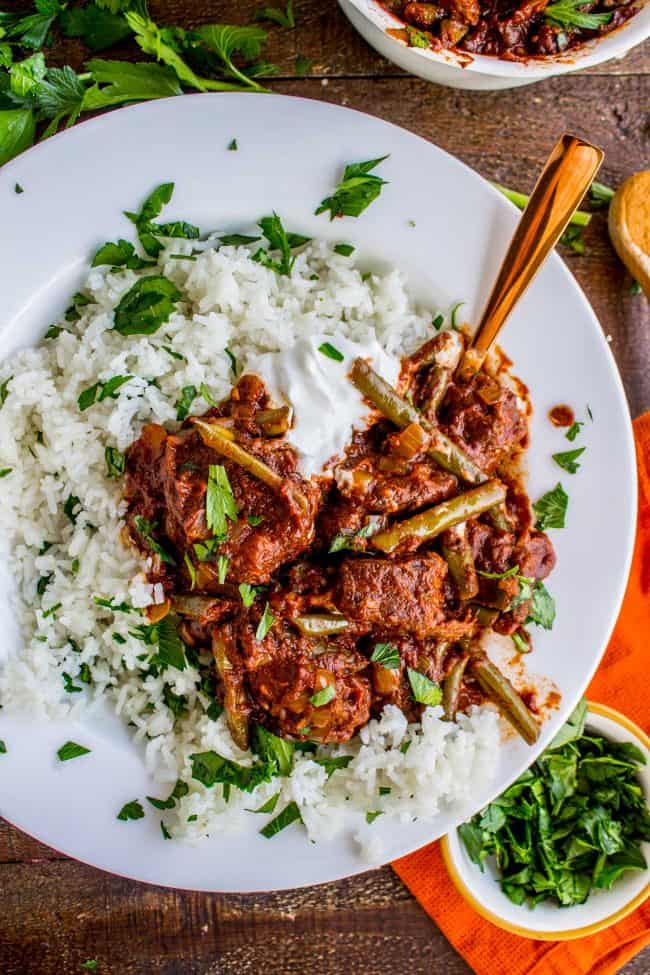 This is a traditional Lebanese recipe that you are going to LOVE! Slow cooked braised beef and green beans, spiced with cinnamon and cumin. (Do we need to do a trust fall? TRUST ME guys! My whole family loves this dish!)
Ingredients
2

tablespoons

clarified butter

,

ghee*

1

pound

chuck roast

,

cut into bite-sized pieces**

salt and pepper

1

large

onion

,

chopped

1

tablespoon

cinnamon

1

teaspoon

cumin

1 & 1/2

teaspoons

minced garlic

32

ounces

tomato sauce

1

pound

green beans

,

trimmed and cut into 2-inch pieces***

chopped parsley

,

to garnish

plain Greek yogurt

,

to garnish

hot rice

,

to serve with
Instructions
Stovetop Instructions:
Heat a large stock pot (with a wide bottom) over medium-high heat. When it is hot, add clarified butter (or a mix of olive oil and butter will do).

Spread the beef chunks out on a plate or cutting board. Sprinkle with a generous amount of salt and pepper (about 1 teaspoon+ salt).

When the oil/butter is hot, add the beef. Separate each piece and make sure it is touching the bottom of the pan. You don't want the pieces to touch each other, ideally.

Cook for about 2 minutes, then use tongs to flip each piece of beef. Brown the other side for 1-2 minutes, then remove the meat to a plate and set aside.

Reduce the heat to medium. Add the chopped onions and saute until softened, about 4-5 minutes.

Add the beef back to the pot. Add cinnamon, cumin, garlic, another 1/2 teaspoon of salt and a few more grinds of pepper. Cook for 1 minute.

Add 32 ounces of tomato sauce and stir, scraping up browned bits.

Turn the heat down to low or medium low. You want it to be at a slight simmer and have some movement, but not some much that you will cook off all the liquid. I usually put the lid on, tilted so that it can vent.

Simmer for 2 hours, stirring every 1/2 hour or so. Adjust the heat setting as necessary.

Add the green beans and stir. Continue simmering for half hour to 45 minutes, until the green beans are tender and the meat is falling apart. You should be able to use a wooden spoon to break a piece of meat in half.

Serve with hot rice, and garnish with plain Greek yogurt and chopped parsley.
Slow Cooker Instructions:
Follow stovetop instructions through Step 6 (adding the spices and garlic).

Add 24 ounces of tomato sauce (3 8-oz cans). Scrape up browned bits.

Transfer to a slow cooker. Add the green beans and stir. Cook on high for 4 hours or on low for 6-7 hours.

(If you accidentally added the full 32 ounces of tomato sauce to the slow cooker, don't stress about it. It will just be a little more liquid-y. You can combat this by turning the heat to high and removing the lid for the last 30 minutes of cook time, in an effort to cook off some of the liquid.)
Notes
*I didn't have any, so I used 1 tablespoon olive oil and one tablespoon butter.
**I actually used the pre-cut stew meat they usually sell in the meat department at the grocery store.
***You can use frozen green beans!
This recipe is adapted from Liz at the Lemon Bowl! It's in her new cookbook Food From Our Ancestors: The Ultimate Syrian Sunday Dinner.
Nutrition
Serving:
1
bowl
|
Calories:
721
kcal
|
Carbohydrates:
100
g
|
Protein:
34
g
|
Fat:
22
g
|
Saturated Fat:
11
g
|
Polyunsaturated Fat:
2
g
|
Monounsaturated Fat:
9
g
|
Trans Fat:
1
g
|
Cholesterol:
97
mg
|
Sodium:
1295
mg
|
Potassium:
1550
mg
|
Fiber:
9
g
|
Sugar:
15
g
|
Vitamin A:
1792
IU
|
Vitamin C:
33
mg
|
Calcium:
152
mg
|
Iron:
7
mg
Here are some other dishes you are guaranteed to love!
Traditional Tejano Carne Guisada (Braised Beef for Tacos) << this is a huge family favorite. It's VERY similar to today's recipe!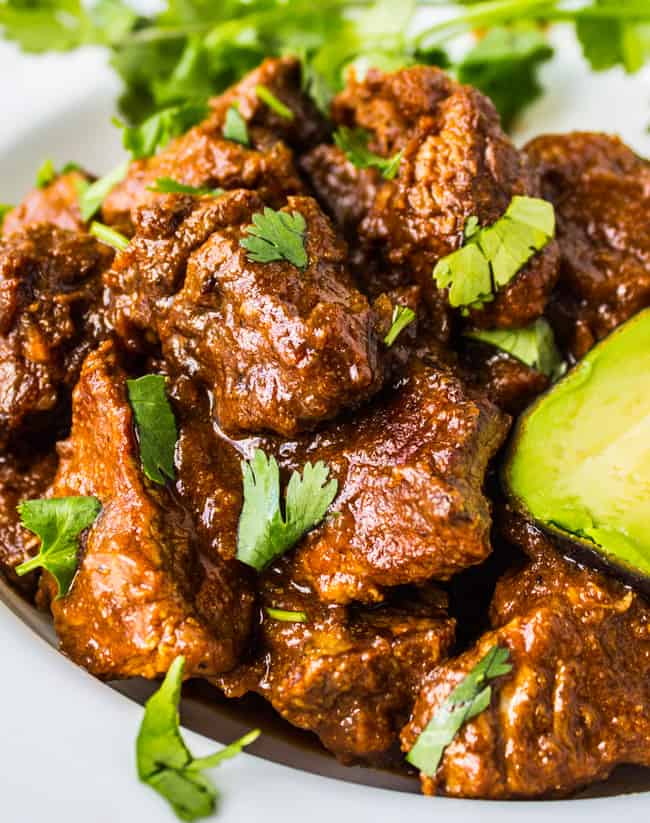 Beef Barley Soup << bring on the braised beef recipes. This one's KILLER.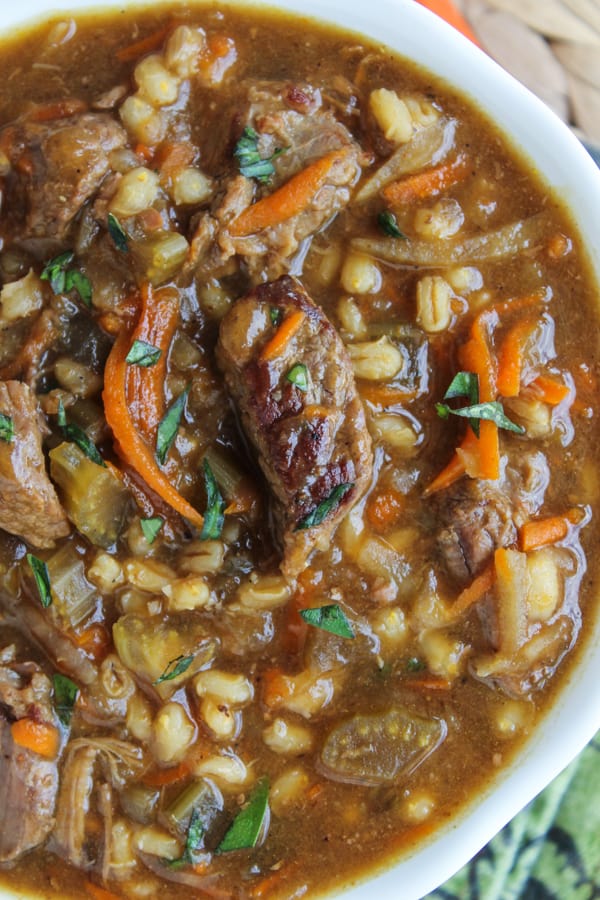 Asian Seared Chicken with Stir-Fried Green Beans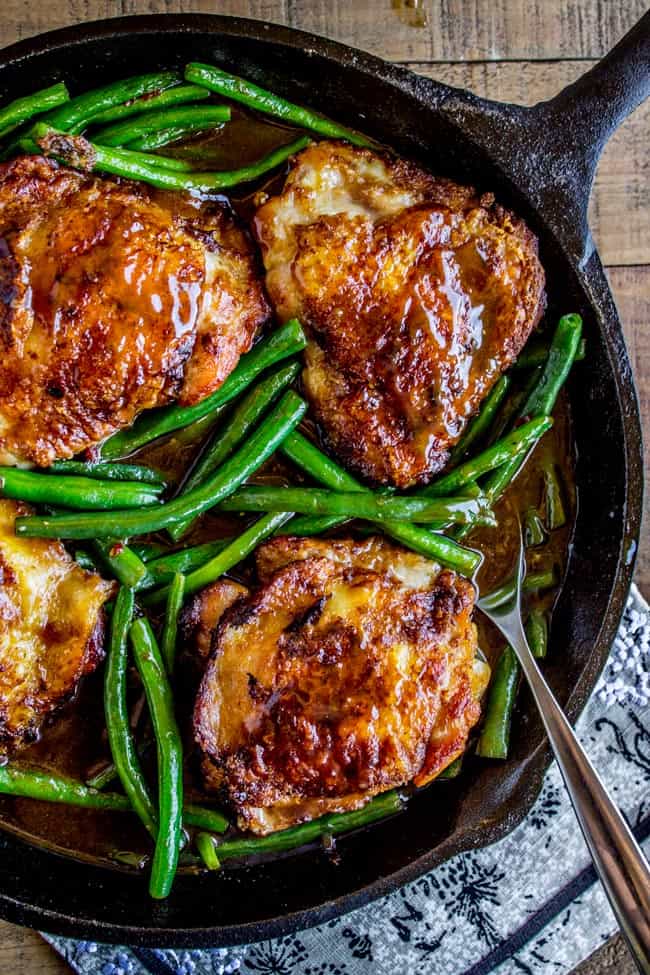 More Lebanese Lubee recipes from other blogs!
Lebanese Green Beans (Lubee) from a Cedar Spoon
Lebanese Green Beans from The Orgasmic Chef
Lebanese Green Beans and Lamb from Genius Kitchen