I've decided to jazz up my blog a little bit. (Don't worry, it will still be all about the food!) I often wish I could tell you about the awesome songs I'm listening to. Merely describing their awesomeness would never do them justice, but I hate those sites that have their own music come on automatically. (It invariably interrupts whatever I already have on. Lame.) So at the end of every post, I'll put a link of what I'm listening to and you can partake at your leisure. Some stuff will be new, some not. Hope you like it!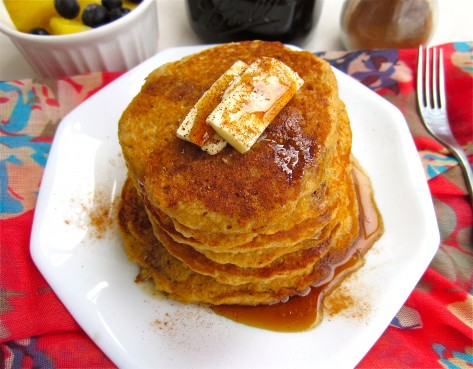 These pancakes are so worth the effort. And by effort, I don't really mean effort; all it takes is remembering to soak the oats overnight. After that, it's as simple as regular pancakes. They are absolutely delicious, plus you get whole grains underneath all that syrup. Yeah! I like them best sprinkled with cinnamon.
One important thing to remember when making these pancakes is to set your heat at a lower temperature so that the oats have time to cook. Cooking food longer at a lower temperature was not a trick I have always had up my sleeve. One time in college I was making dinner with a date. We were cooking a thick chicken breast in a skillet, and for some reason we were in a hurry. So I turned the heat up to high, reasoning that it would cook faster.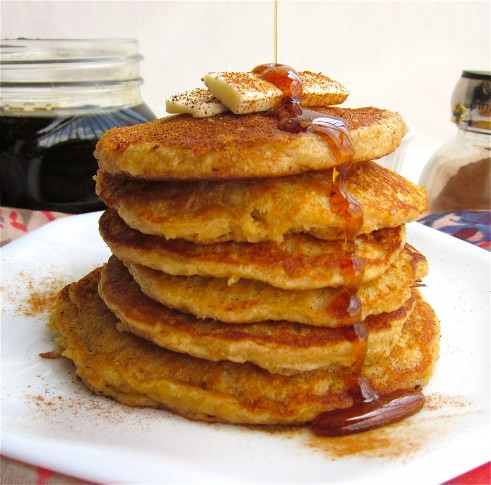 I still remember the look of incredulity on that guy's face. He stared at me like I had 3 eyes, and explained, in small words, that if we did that it would burn the outside and not cook the inside at all. I felt like a complete moron. Our relationship ended soon after, probably because this guys thought I would be making him eat raw meat for the rest of his life.
Enjoy these awesome pancakes! Oh, and today I'm listening to Silent Sigh by Badly Drawn Boy.
Oatmeal Buttermilk Pancakes
Source: Nathan's friend Liz (thanks Liz!)
2 cups old fashioned or quick oats
2 1/2 cups buttermilk
1/2 cup flour
1/2 teaspoon salt
1 teaspoon baking powder
1 teaspoon baking soda
2 tablespoon sugar
1/2 cup firmly packed brown sugar
1/4 cup melted butter
2 eggs
cinnamon (for sprinkling; optional)
Combine oats and buttermilk in a bowl, cover and refrigerate over night.
In another bowl, sift together flour, salt, baking powder, and baking soda. Stir in sugar and brown sugar.
Melt the butter and add it to the buttermilk mixture, stirring quickly so the butter doesn't start to solidify. Beat the eggs in the bowl you melted the butter in. Stir eggs into the buttermilk mixture.
Stir the flour mixture into the buttermilk mixture; make sure you do not over-mix. Just until combined.
Grease a griddle or frying pan, and set to medium or medium low heat. Pour out the pancakes. Flip when they are bubbly on top. These are so yummy.