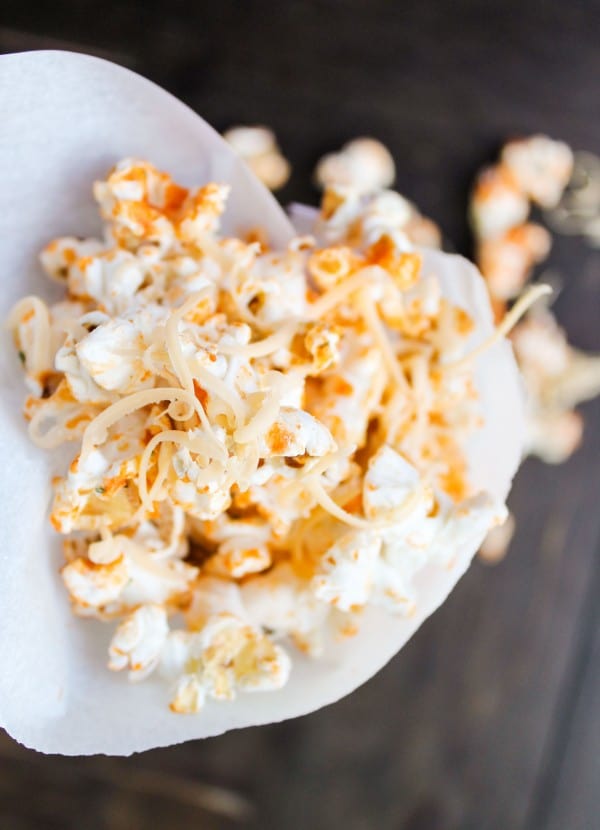 So what was your favorite Christmas gift? Did you guys get anything awesome? I got an iPhone, finally.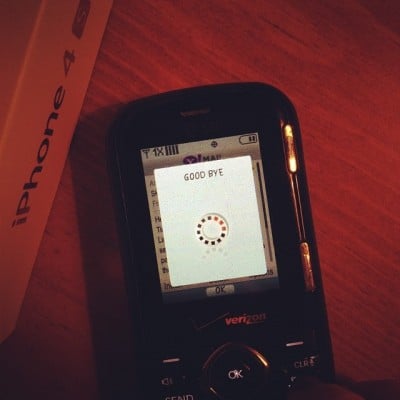 I think my old phone took the blow pretty hard. It was literally spinning on this screen for over an hour as it slowly died for the last time ever. Poor little guy. It's hard to hate you so much when you look so forlorn.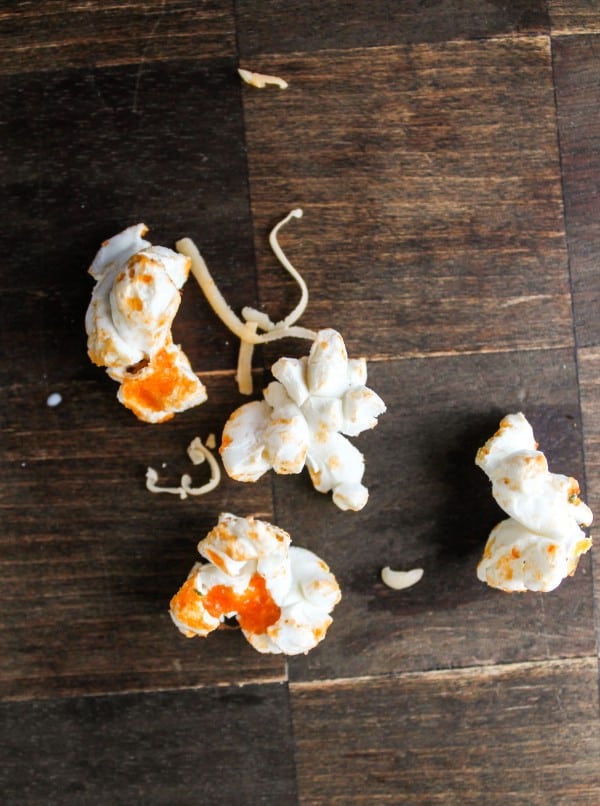 But good news! I'm on Instagram now! You can follow me here, or click the icon on the sidebar. I don't have anything exciting up yet, but just you wait people. Just you wait. We are going to be instagraming it UP over here.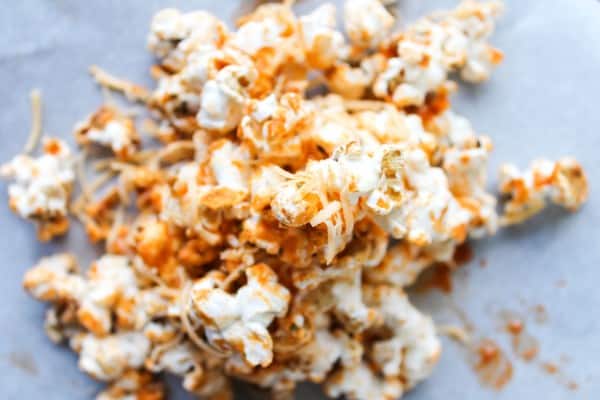 Also, you've probably noticed the bar at the top of the page asking you to sign up for my emails. Facebook used to be a great way for you all to follow me, but ever since the changes that Facebook made to their algorithm several weeks ago, very few of you are receiving my updates in your feed (I know because I get stats on it. I swear I'm not stalking you). Add your email if you want to get every blog post!
Now that I have a big girl phone, I keep waiting for the moment when I turn into that jerk who can't carry on a conversation because they're staring at they're phone constantly. It hasn't happened yet, mostly because there is nothing to do. I'm super lazy about technology set-up. Read the manual? Puh-lease.
I've got the perfect appetizer/snack for you to make on New Year's Eve, whether you will be partying all night or falling asleep on the couch with a warm blanket. Popcorn is the great equalizer.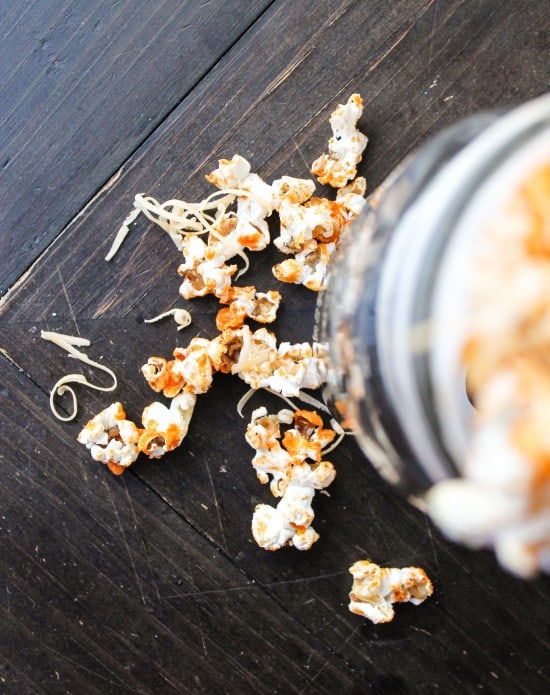 Popcorn is one of those foods that I get bored chewing after like 3 seconds. But instead of muscling through it, I just shove the next handful in, hunched over my bowl, cheeks bulging, looking like a small woodland creature getting prepped for winter.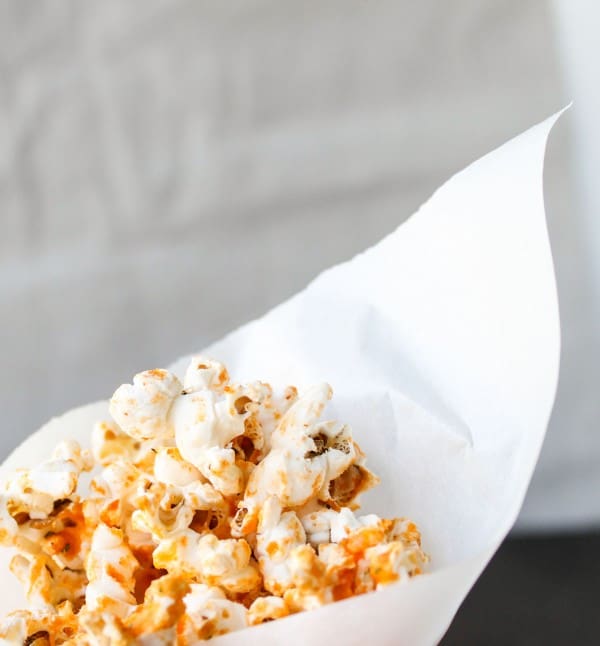 I added Sriracha, of course, that being my trendy-food-item of choice. And cheddar! The cheese is totally optional, but it balances out the heat rather nicely.  This is so easy to throw together. You can use any hot sauce you want, of course. The amount called for doesn't make it overly spicy, but if you are worried, start with less. Happy New Year everybody! Come back on Wednesday to see my personal favorites from 2013.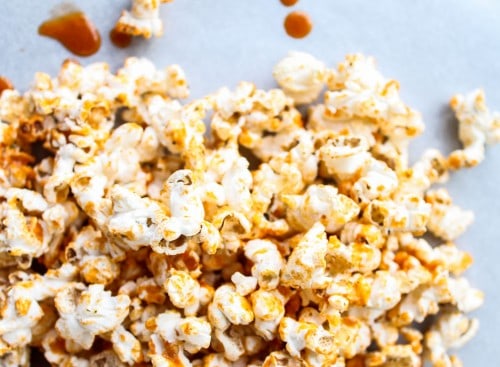 Do you guys give up? Or are you thirsty for more?
Facebook | Pinterest | Instagram | Twitter

Sriracha Cheddar Popcorn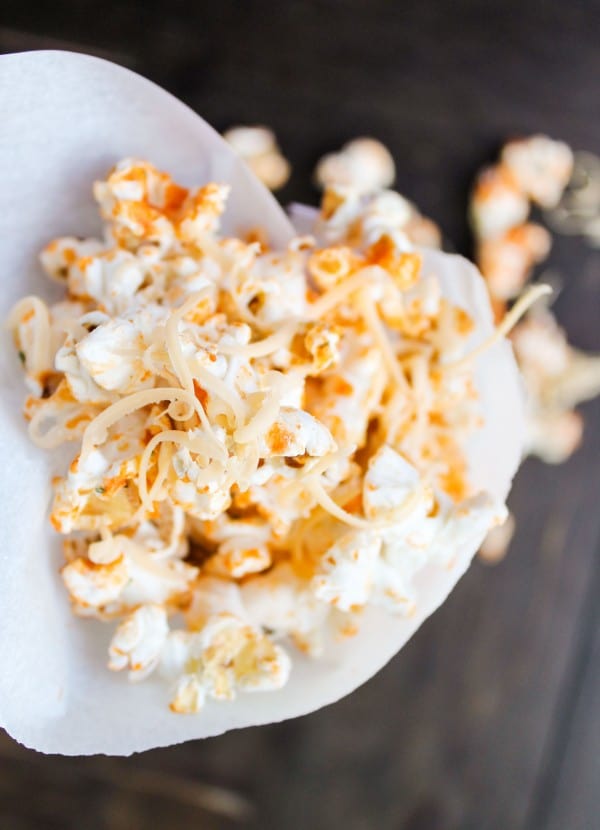 This sriracha cheddar popcorn is easy to throw together. You can use any hot sauce you want.
Ingredients
2

tablespoons

butter

,

melted

2

tablespoons

Sriracha

,

or any hot sauce

8

cups

popcorn

,

popped

salt to taste

1/2

cup

cheddar cheese

,

finely shredded, optional
Instructions
In a small bowl, melt the butter. Add the Sriracha and stir to combine.

Place the popcorn in a large bowl. Slowly drizzle the butter mixture over the popcorn, stirring as you go. Add salt to taste and stir some more.

Sprinkle the finely shredded cheddar over the popcorn and gently stir it in. Serve immediately.
Notes
You can use any kind of hot sauce you want, it doesn't have to be Sriracha. That's just my favorite. Also if the cheddar cheese weirds you out, you can skip it. It's good without it.
Source: adapted from The Curvy Carrot
Nutrition
Serving:
1
cup
|
Calories:
96
kcal
|
Carbohydrates:
9
g
|
Protein:
3
g
|
Fat:
6
g
|
Saturated Fat:
3
g
|
Polyunsaturated Fat:
1
g
|
Monounsaturated Fat:
2
g
|
Trans Fat:
1
g
|
Cholesterol:
15
mg
|
Sodium:
156
mg
|
Potassium:
49
mg
|
Fiber:
2
g
|
Sugar:
1
g
|
Vitamin A:
185
IU
|
Vitamin C:
2
mg
|
Calcium:
53
mg
|
Iron:
1
mg