Deviled Guacamole Eggs
We're combining our two favorite appetizers into one: Deviled Guacamole Eggs! These deviled eggs have all the flavor and pizazz of regular deviled eggs, plus a little guacamole kick. They are mayonnaise free, so healthy to boot!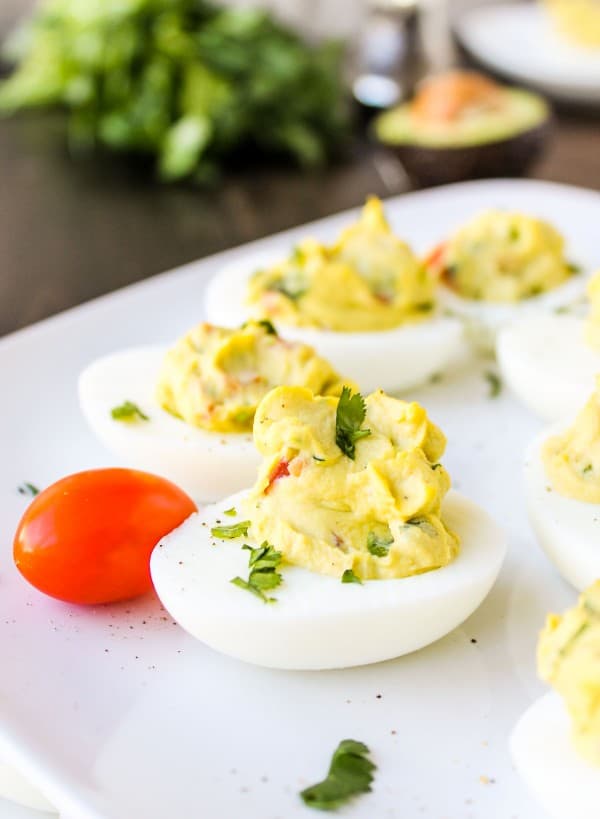 We took down our Christmas decorations yesterday. We threw ourselves another little dance party, it was a good way to cheer me up instead of being sad that Christmas is over. (This dance party was a little more classy: Pink Martini, no N'Sync.)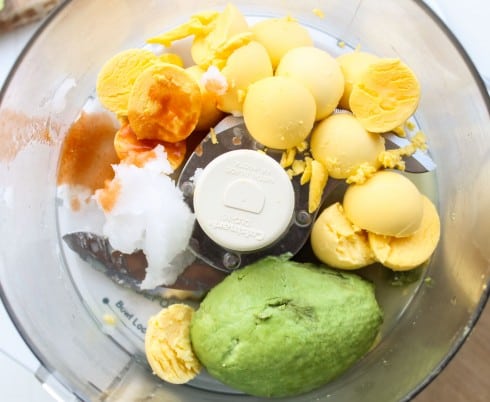 And then we looked around and realized how depressingly barren our house is. We have zero replacements for our Christmas decorations. Anyone have any awesome DIY ideas??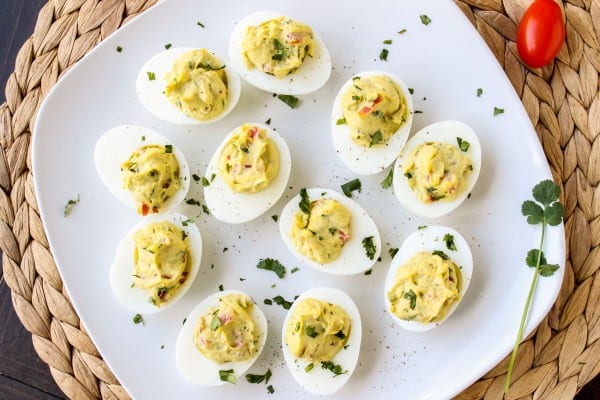 Have you guys tried deviled guacamole eggs? This was the first time I have made them, and I don't know why, because they are amazing. I mean, deviled eggs plus guacamole? How could it get any better than that.
The recipe is from the brand new book Cooking with Coconut Oil by Elizabeth Nyland, who blogs over at Guilty Kitchen. It just came out Monday!
She makes amazing "paleo-ish" recipes, which are mostly gluten and grain free. She is a fabulous photographer and whips up some pretty amazing looking food, you should definitely stop by. Or buy her book! It's only 13 bucks, and there are some really great ideas in it, especially if you eat paleo or have diet restrictions.
Elizabeth is a fellow member of the Culinary Content Network at the Daily Meal, so I thought I would give her a shout out. Want a sneak peak?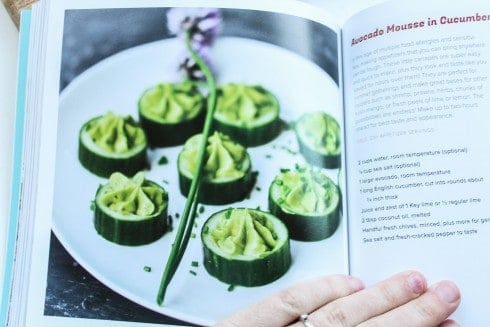 I seriously want to try this Avocado Mousse in Cucumber Cups.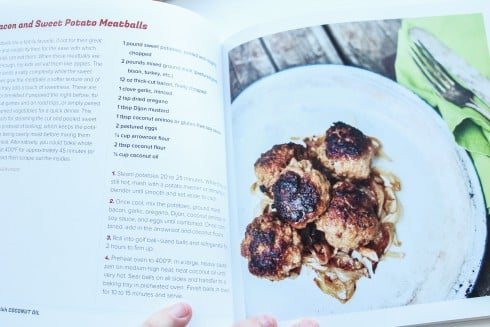 Bacon and Sweet Potato Meatballs!?? I'll take 3…dozen.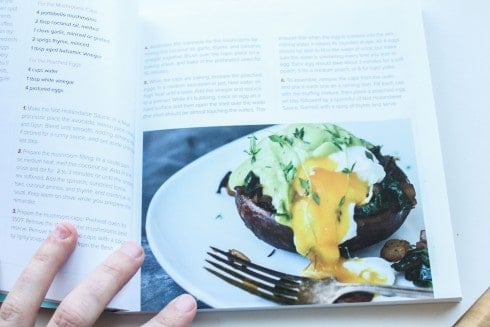 Poached Eggs over Portobello Caps. This is calling my name. Karen…eat me…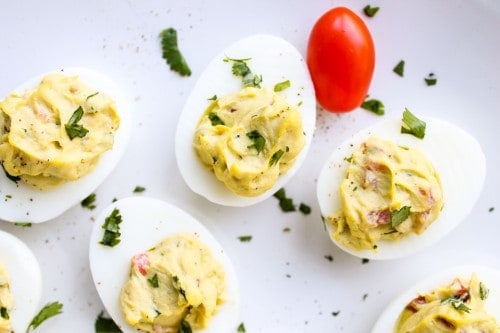 I made these Deviled Guacamole Eggs. Sooooo good! You really don't miss the mayonnaise, the coconut oil and the avocado make it really rich and creamy. If you are still going with your diet 8 days into the new year, this is a great low-carb snack. (And props to you. I just polished off some leftover frozen Chocolate Chunk Gingerbread Cookies, so you are way ahead of me.)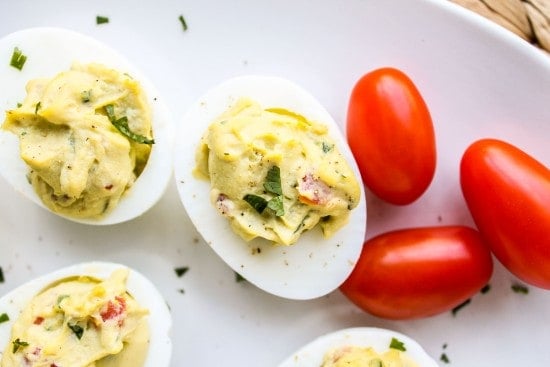 Also, have you guys ever steamed eggs to hard-boil them? AMAZING. I don't know why I've never heard of this before, I've seen people do everything from adding baking soda to the water, to baking them, to adding salt, but I've never heard of steaming them. The most perfectly cooked eggs I have ever had.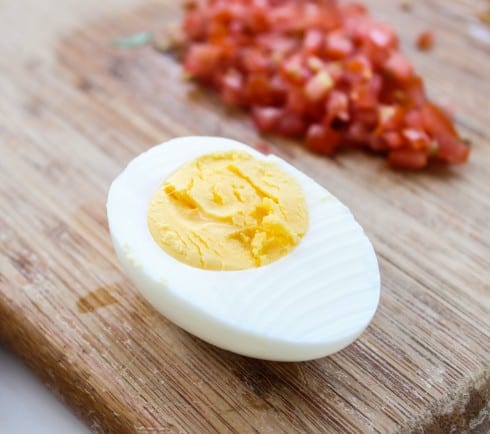 They were so moist; just barely cooked, and just the right shade of yellow. And they were ridiculously easy to peel! I had no casualties, not one. Usually I am the one trying not to tear my eyes out after I shred every last egg white to pieces. I will never cook hard-boiled eggs any other way, ever! There are some how-to shots below.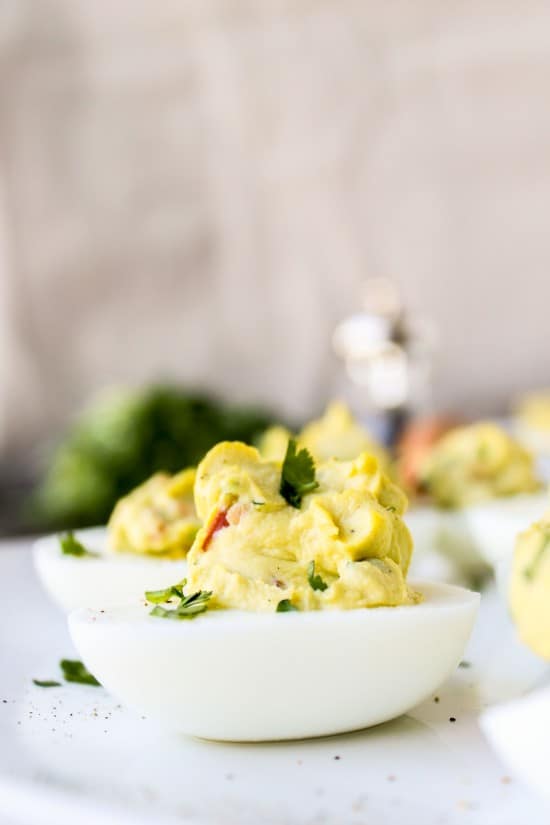 Note: Elizabeth's publisher sent me the book for free, but I received no other compensation for this post. All opinions are my own, of course!
Do you guys give up? Or are you thirsty for more?
Facebook | Pinterest | Instagram | Twitter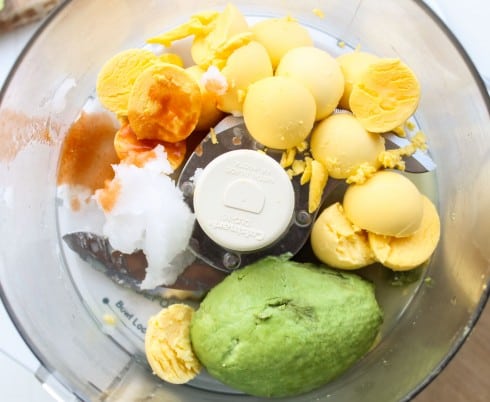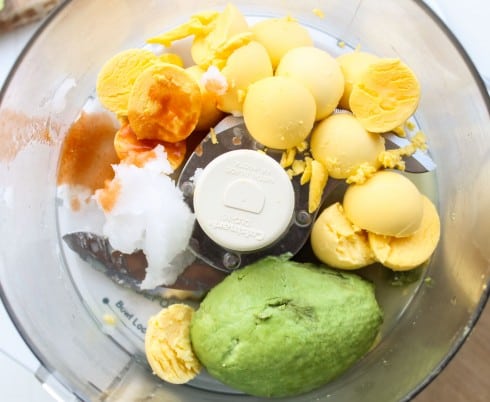 print
Did you make this recipe?
Leave a review »
Deviled Guacamole Eggs
Makes 16 (halves)
adjust servings
We're combining our two favorite appetizers into one: Deviled Guacamole Eggs! These deviled eggs have all the flavor and pizazz of regular deviled eggs, plus a little guacamole kick. They are mayonnaise free, so healthy to boot!
Ingredients
8

eggs

1/2

large avocado

juice of 1/2 lime (about a tablespoon)

1

tablespoon coconut oil, room temperature

dash of hot sauce

1/2

roma tomato or 3 cherry tomatoes, minced

1

tablespoon cilantro, minced, plus more for garnish

salt and pepper to taste
Instructions
Fill a pot with a steamer attachment with about 3 inches of water. Bring water to a boil over high heat. Place the eggs in the steamer and set over the boiling water with a lid for 12 minutes. Immediately plunge eggs into ice water and cool completely. (You can boil them for 12 minutes directly in the water if you don't have a steamer.)
Peel the cooled eggs and cut in half. Put the yolks into the bowl of a food processor, blender, or bowl. Add the avocado, lime juice, coconut oil, and hot sauce. Pulse until smooth, or mash with a fork.
Stir in the tomatoes and cilantro, and season with salt and pepper.
Spoon the filing into the whites and garnish with extra cilantro. Serve immediately. If you are serving them later, store them in the fridge but let come to room temperature for 30 minutes before serving.
by The Food Charlatan

If you make this recipe,
share it on Instagram
 using the hashtag
#TheFoodCharlatan
so I can see it!
Source: Cooking with Coconut Oil by Elizabeth Nyland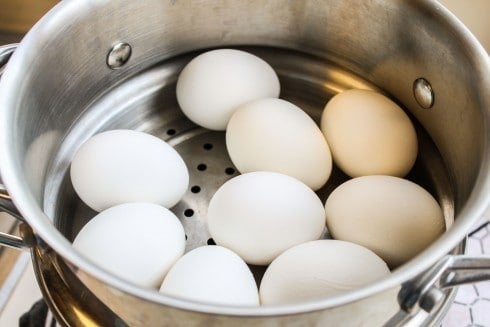 Add your eggs to the steamer and cook for 12 minutes. So easy! Plus the eggs don't bump around, so there's no chance of cracking.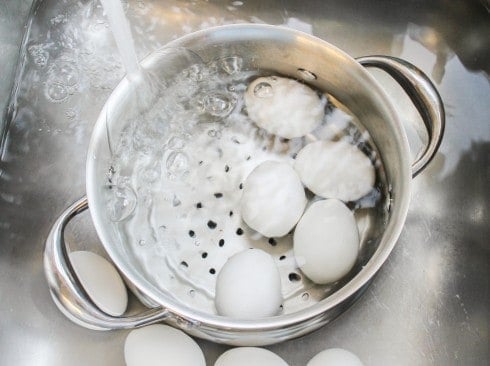 Plunge them into cold water.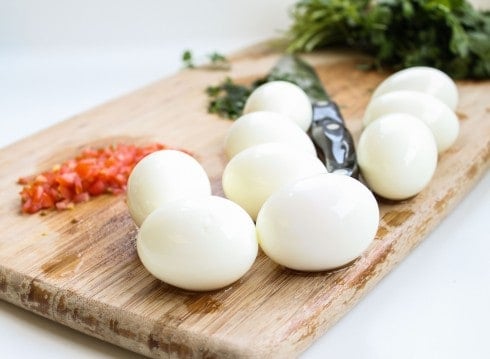 Look at how beautiful they are! No blemishes! Perfectly peel-able!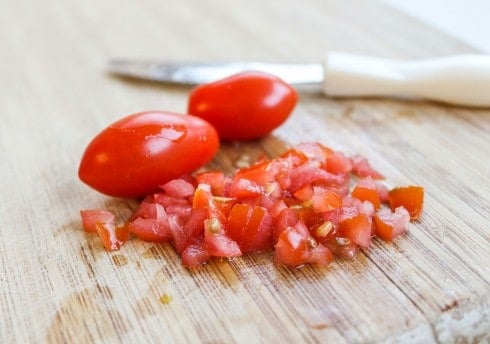 I like my tomatoes minced very small.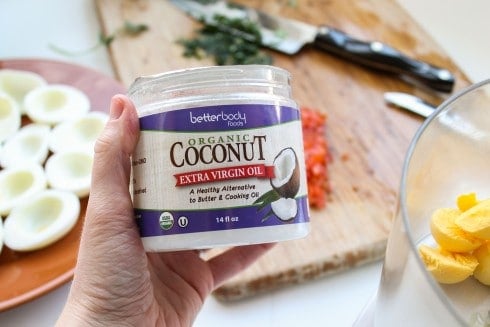 Here's the magic stuff.
We are a participant in the Amazon Services LLC Associates Program, an affiliate advertising program designed to provide a means for us to earn fees by linking to Amazon.com and affiliated sites.