These Overnight Bacon and White Cheddar Scones are packed with flavor! A super tender, flaky scone, studded with tons of bacon. You brush each one with bacon grease before it goes in the oven, ensuring that each bite is bursting with flavor!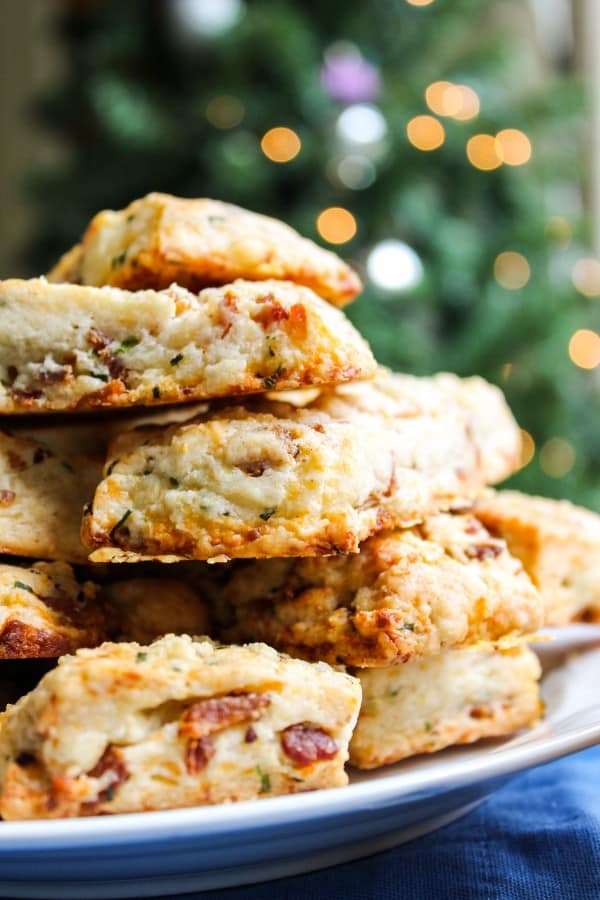 We have the kind of microwave where you yank on the handle to open it. The only problem with this design is that sometimes the handle can't handle it, and it breaks. (Maybe I'm like Peter Parker turning into a superhero, and I just don't know my own strength? Watch out feeble appliances.)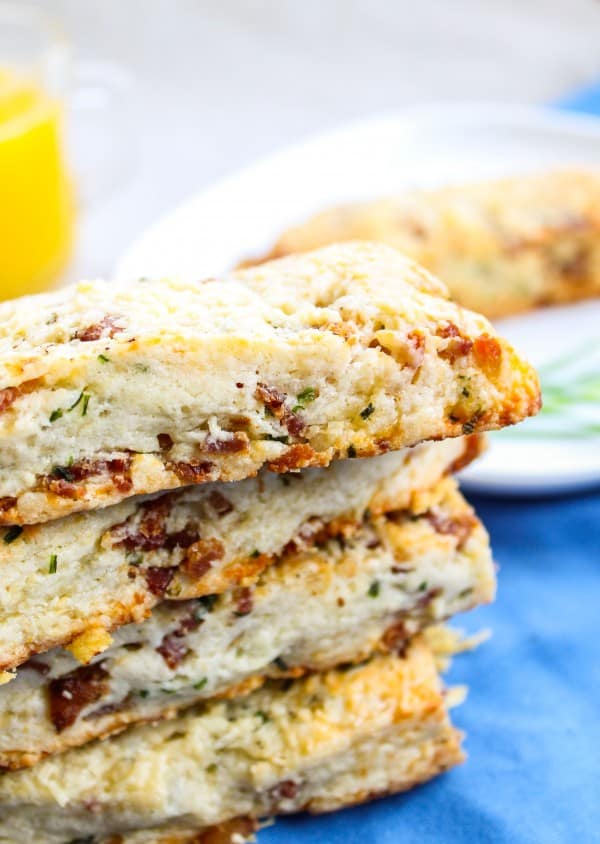 You would think that a microwave without a handle to open it constitutes a broken microwave that needs to be replaced? Not so. You can totally open that sucker. Just wedge your fingers into the gap at the top of the door. You won't get radiation. Probably.
OR if there is no gap at the top, but your handle left a tiny little knob of broken plastic behind, you can pinch that between your thumb and forefinger and pull really hard. As long as your fingers are 100% dry and grease-free. (Do you KNOW how many times a day I need to open the microwave with damp fingertips??)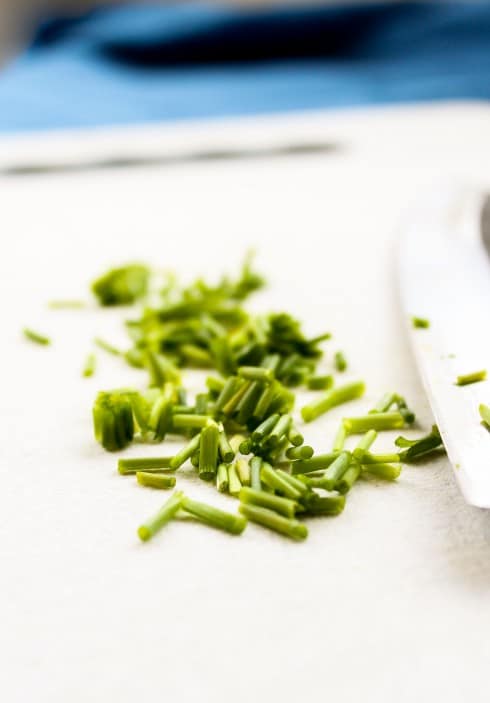 If you're wondering why I have experience opening 2 different kinds of handle-open-microwaves-without-a-handle, it's because our last 2 rentals have had broken-handle microwaves. That's right, I haven't had a handle since 2011. It sure makes for fun conversation when you have guests over. "Um, how do I open…?" "Oh just pull on that little knob thing. Yeah just pull really hard. Here, let me. Oh and I'll start it for you. The Frozen Pizza button is the only one that works."
We finally had a new one installed this morning. It felt like Christmas. I texted my husband, "The handle works great!" Duh. Who brags about the handle when they get a new microwave? I probably opened that door 8 times in a row.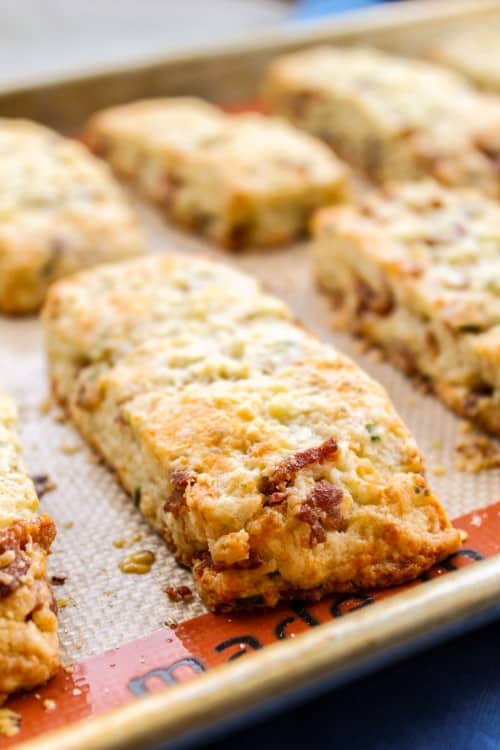 So let me just get this off my chest: I don't find scones the least bit appetizing. When I think of scones, I think of dried out flavorless crumbly bread. It makes me want a glass of water just thinking about it.
So when my brother brought over a scone for me to try the other day, I was dubious to say the least. (He got the scone from his French friend, who delivered it fresh-baked to his house. People do stuff like this for him all the time. My brother could totally have written that How to Make Friends and Influence People book. He owns this stuff.)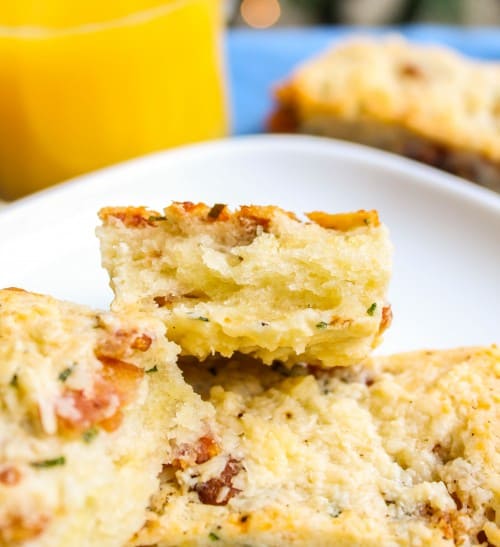 It was by far the best scone I've ever had. So flaky and moist, and it was already a day old. The bacon flavor was just amazing. Super intense. My brother finagled the recipe out of his friend, and when I saw the method it all made sense.
These scones are brushed with liquid bacon.
That's what makes them so amazing, and so bacon-y. You don't have to wait for a piece of bacon to get bacon flavor (although it really isn't a problem, there is PLENTY of actual bacon to go around.) There is sugar in the dough and more sprinkled on top, which sounded kind of weird to me (I am NOT a maple-bacon kind of girl) but I ended up really liking it. It adds interest.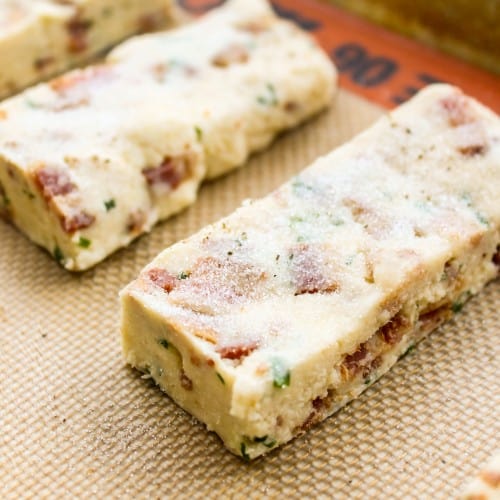 My favorite part about this recipe is that it is a make-ahead. The dough requires overnight freezing, which makes it great for when you have company. I think it would be a fun and different breakfast to serve on Christmas morning. (In fact, these can be frozen for up to a month, so you could get Christmas breakfast done right now if you wanted!) All you have to do the day-of is add the last minute touches (bacon drippings, pepper, sugar, cheese). Eat them with a tall glass of orange juice and some fruit. I also think they would be great paired with a nicely seared steak. Or maybe some potato soup! Bacon, oh bacon, how I love you.
P.S. As usual, I adore any and all comments. I mean, who doesn't have some exclamation to make about bacon?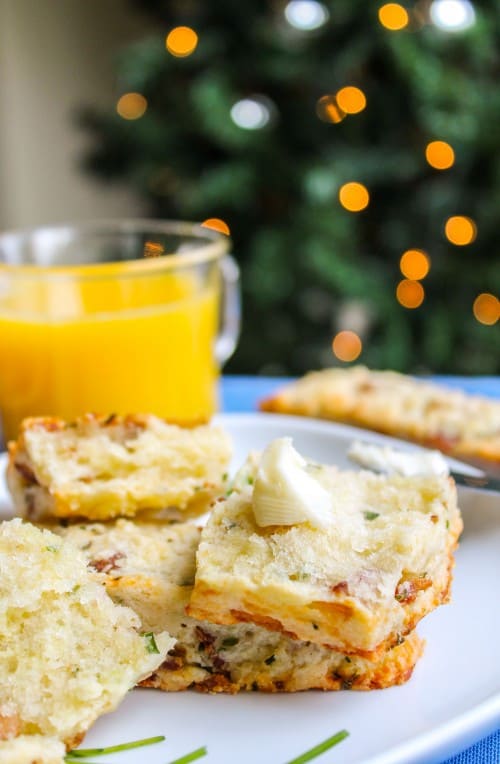 Facebook | Pinterest | Instagram

Overnight Bacon and White Cheddar Scones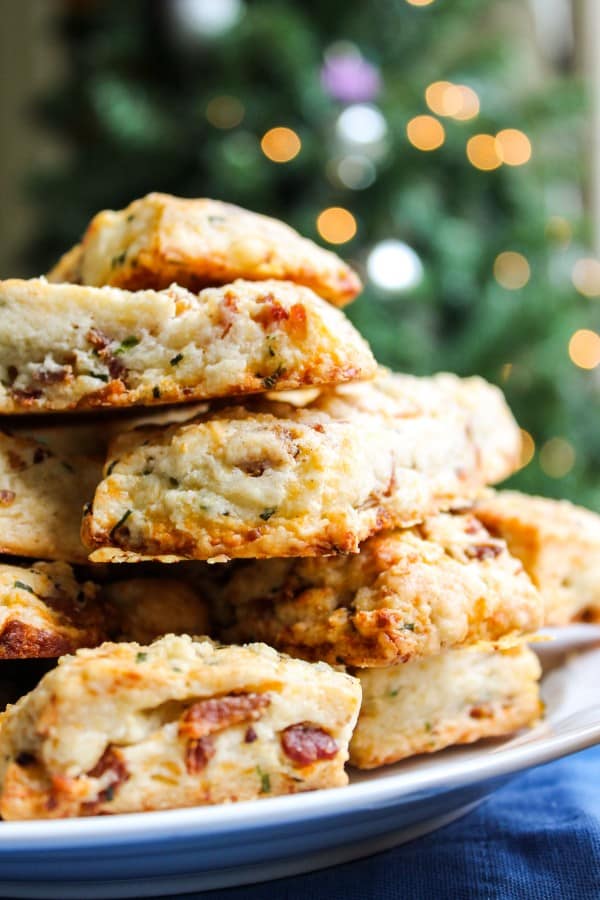 These Overnight Bacon and White Cheddar Scones are packed with flavor! A super tender, flaky scone, studded with tons of bacon. You brush each one with bacon grease before it goes in the oven, ensuring that each bite is bursting with flavor!
Ingredients
12

oz.

applewood smoked bacon

,

cooked, drained and cut into ¼ inch pieces, drippings reserved

¾

cup

all purpose flour

,

+ 1 teaspoon, spooned and leveled

1 & ½

cups

cake flour

,

+ ½ teaspoon, spooned and leveled, and sifted if it is clumpy (you can make your own )

1 & ½

teaspoons

baking powder

,

+ 1/8 teaspoon

1/4

teaspoon

baking soda

,

+ 1/8 teaspoon

2

tablespoons

sugar

,

+ ¾ teaspoon

1

teaspoon

salt

,

+ 1/8 teaspoon

4.7

ounces

cold unsalted butter

,

1 stick plus 1 ½ tablespoons, cut into ¼ inch cubes

¼

cup

heavy cream

,

plus 1 tablespoon

¼

cup

full-fat plain Greek yogurt

,

plus 2 ½ tablespoons

2

cups

white cheddar cheese

,

grated

¼

cup

chives

,

minced
To top scones:
3

tablespoons

bacon drippings

pepper

,

freshly ground

1 & ½

teaspoons

sugar

½

cup

white cheddar cheese

,

grated
Instructions
First make your bacon. In your largest skillet, add all the bacon and turn the heat to medium. Cook until crispy, but don't overdo it. You still want them to be slightly flexible. Remove to a paper-towel lined plate, let cool, and then cut each piece lengthwise. Then chop into small pieces. Reserve the drippings and store in a tupperware in the fridge.

In the bowl of a stand mixer, add the flour, cake flour, baking powder, baking soda, sugar, and salt. Use the paddle to gently stir it together.

Cut the butter into small pieces and add it all at once to the mixer. Turn it on to the lowest setting for about 30 seconds. Continue to mix on low in short increments until the flour has mixed in but there are still butter pieces very visible. Use a knife to cut any large pieces of butter. Do not over mix. You want chunks of butter about the size of peas, give or take.

With the mixer running, add the cream. Add the Greek yogurt and mix on low speed for about 30 seconds, until all of the dry ingredients are moistened and the dough comes together around the paddle. Scrape down the sides and bottom of the bowl and paddle and pulse again to combine. Add the bacon, the 2 cups of cheese, and the chives. Pulse to incorporate.

Lay a large sheet of plastic wrap on the counter. Mound the dough onto the sheet, pushing it together with your hands. Then use your hand to push it into a 7-by-9-inch rectangle. Smooth the top. Press the sides of your hands against the sides of the dough to straighten them.

Wrap the dough in plastic wrap and refrigerate for about 2 hours, until firm.

Line a baking sheet with a Silpat or parchment paper. Cut the block of dough in half lengthwise, and then cut each half crosswise into 6 rectangles (to make 12 scones total). Arrange them on the prepared pan, leaving one inch between them. Cover tightly with plastic wrap and freeze until frozen solid, at least 2 hours, but preferably overnight. (The scones can remain in the freezer for up to 1 month.)

Preheat the oven to 350 degrees.

Put the tupperware of bacon drippings in the microwave and heat until melted. Use a pastry brush to coat the top of each scone with bacon drippings. You don't need to use all of it, a little goes a long way. Sprinkle black pepper over each scone. Sprinkle 1 1/2 teaspoons of sugar over the whole pan. Then add cheese to each scone.

Bake until golden brown, about 27-29 minutes. Let cool on the pan for a few minutes, then transfer to a wire rack and let cool.

The scones are best the day they are baked, but they can be stored in a covered container for 1 day.
Notes
You don't need a stand mixer to make this. Use a bowl and a spoon to mix the dry ingredients, then use a pastry cutter or a fork to cut in the butter. Switch back to a spoon to add in the cream, etc.
Nutrition
Serving:
1
scone
|
Calories:
439
kcal
|
Carbohydrates:
21
g
|
Protein:
13
g
|
Fat:
34
g
|
Saturated Fat:
17
g
|
Polyunsaturated Fat:
3
g
|
Monounsaturated Fat:
12
g
|
Trans Fat:
1
g
|
Cholesterol:
78
mg
|
Sodium:
614
mg
|
Potassium:
118
mg
|
Fiber:
1
g
|
Sugar:
3
g
|
Vitamin A:
633
IU
|
Vitamin C:
1
mg
|
Calcium:
215
mg
|
Iron:
1
mg