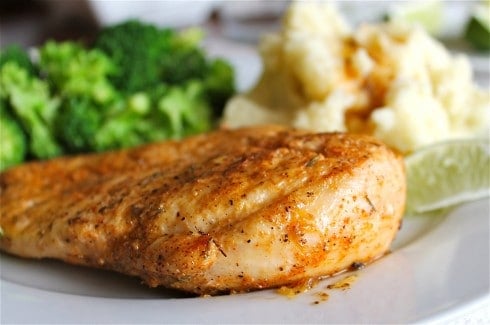 Today I spent more than my average 2 minutes doing Charlotte's hair. Usually it's just a side pony on the top of her head, or pigtails if I'm feeling ambitious. Today I did an awesome triple pony tail thing. It took at least 7 minutes.
Let me explain something delicate. I love my daughter. I think she is more beautiful than any 2-year-old to ever walk the planet. But…sometimes when her hair's not done she looks like a homeless street urchin.
It's my own fault. She inherited her frizz from me, and her hair just isn't thick enough yet to make it lie flat. So when I don't tame her hair, she looks like she has a fuzzy cloud surrounding her head. It's actually kind of awesome.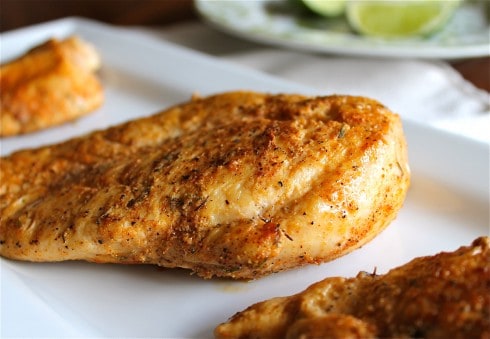 Now time for my true confession: the reason I spent 7 minutes on her hair today is because it's harder to stay mad at her when she looks adorable. So when she asks me for milk 17 times before I even pull her out of her crib, or when she only takes a 30 minute nap and wakes up just as I'm falling asleep, or when she grinds pizza sauce into the carpet…I can just look at my 7 minutes of handiwork and remember that she is too adorable to strangle. Seriously, this is how I stay out of prison.
My sister and I joke that natural selection has caused toddlers to be overwhelmingly adorable as a defense mechanism. All of the ugly toddler genes have been weeded out by parents offing their own kids. Fortunately for Charlotte, thousands of years of this phenomenon have caused her to be overwhelmingly cute. Thus ensuring her survival. Lucky kid.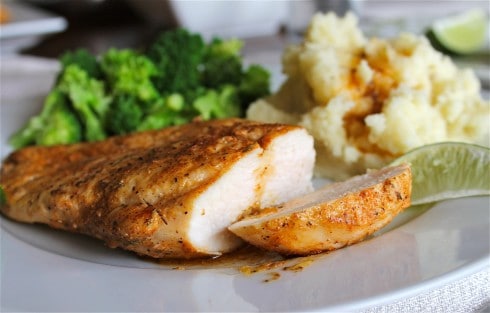 So here's a 30 minute meal for you. Who doesn't love chicken right? This recipe is simple but de-li-cious. I like that it's not fussy. It's called Garlic Lime Chicken and doesn't even call for fresh garlic. Sometimes you just gotta keep it simple. Honestly you won't miss it. Use a meat thermometer to get your chicken just right. I paired this with some broccoli and mashed potatoes (which is great to drizzle the extra sauce over, by the way).

Garlic Lime Chicken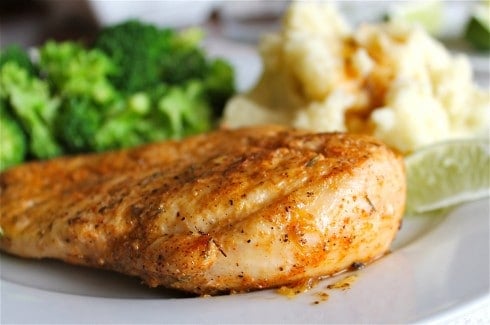 It's called Garlic Lime Chicken and doesn't even call for fresh garlic. Sometimes you just gotta keep it simple. Honestly you won't miss it.
Ingredients
1

teaspoon

salt

3/4

teaspoon

pepper

1/4

teaspoon

cayenne pepper

1/4

teaspoon

paprika

1

teaspoon

garlic powder

1/2

teaspoon

onion powder

1/2

teaspoon

thyme

6

small

boneless skinless chicken breast halves

2

tablespoons

butter

2

tablespoons

olive oil

1/4

cup

fresh lime juice

1/2

cup

chicken broth
Instructions
On a dinner plate, combine all the spices (the first 7 ingredients). Pat chicken breasts dry with a paper towel, then rub spice mixture on both sides of the chicken.

In a large skillet heat butter and olive oil together over medium heat. Saute chicken uncovered for about 5 minutes, then flip and cook another 5 minutes, until both sides are golden brown and a meat thermometer reads 165 degrees. Remove chicken to a plate.

Add lime juice and chicken broth to the pan. Whisk up the browned bits at the bottom of the pan. Keep cooking until the sauce has reduced slightly, about 3 or 4 minutes. Add chicken back to the pan and coat thoroughly.
Notes
This recipe calls for 6 chicken breasts, but sometimes I use 4 without changing any of the other proportions.
Nutrition
Serving:
1
chicken breast
|
Calories:
210
kcal
|
Carbohydrates:
2
g
|
Protein:
24
g
|
Fat:
11
g
|
Saturated Fat:
4
g
|
Polyunsaturated Fat:
1
g
|
Monounsaturated Fat:
5
g
|
Trans Fat:
1
g
|
Cholesterol:
82
mg
|
Sodium:
624
mg
|
Potassium:
461
mg
|
Fiber:
1
g
|
Sugar:
1
g
|
Vitamin A:
206
IU
|
Vitamin C:
6
mg
|
Calcium:
13
mg
|
Iron:
1
mg