These Salted Caramel Brownies are my new favorite dessert! No, for real. Rich, fudgy brownies are topped with a thick layer of gooey homemade caramel, and finished with toasted pecans. They are ultra decadent! I dare you to eat more than one. Nervous about making your own caramel? I'll walk you through it!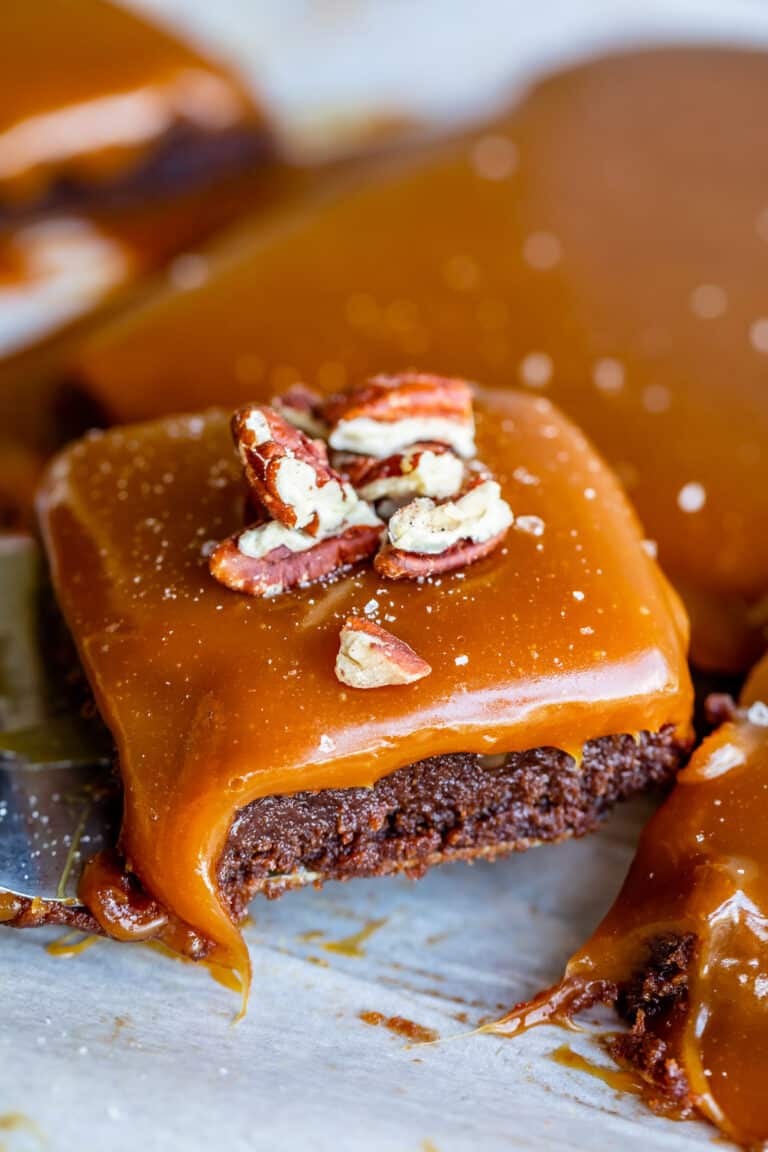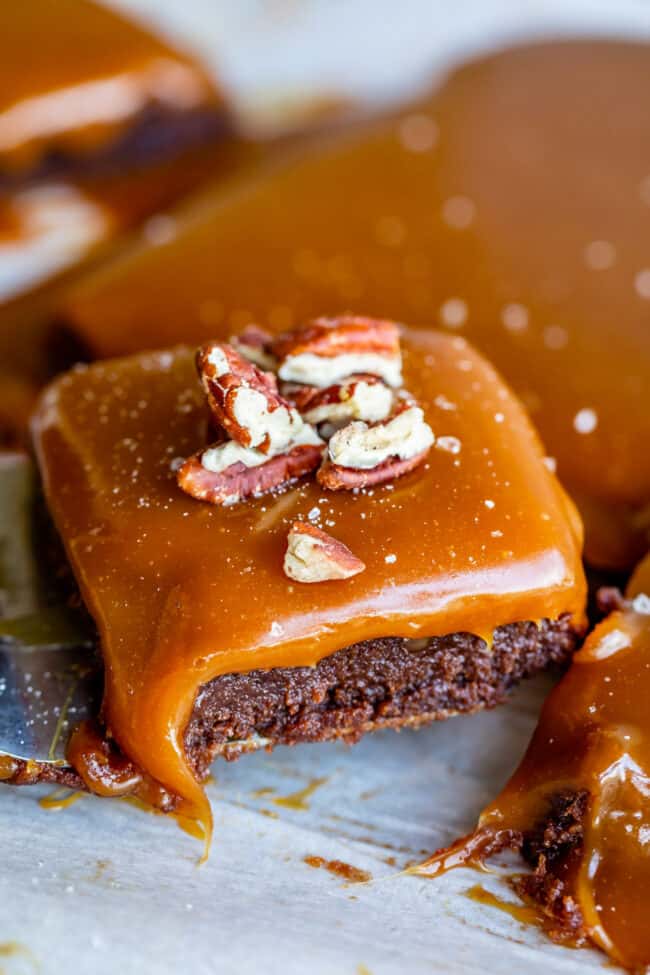 Watching Hercules counts as a mythology lesson for kids, right? So I'm good with just calling that homeschool for the day?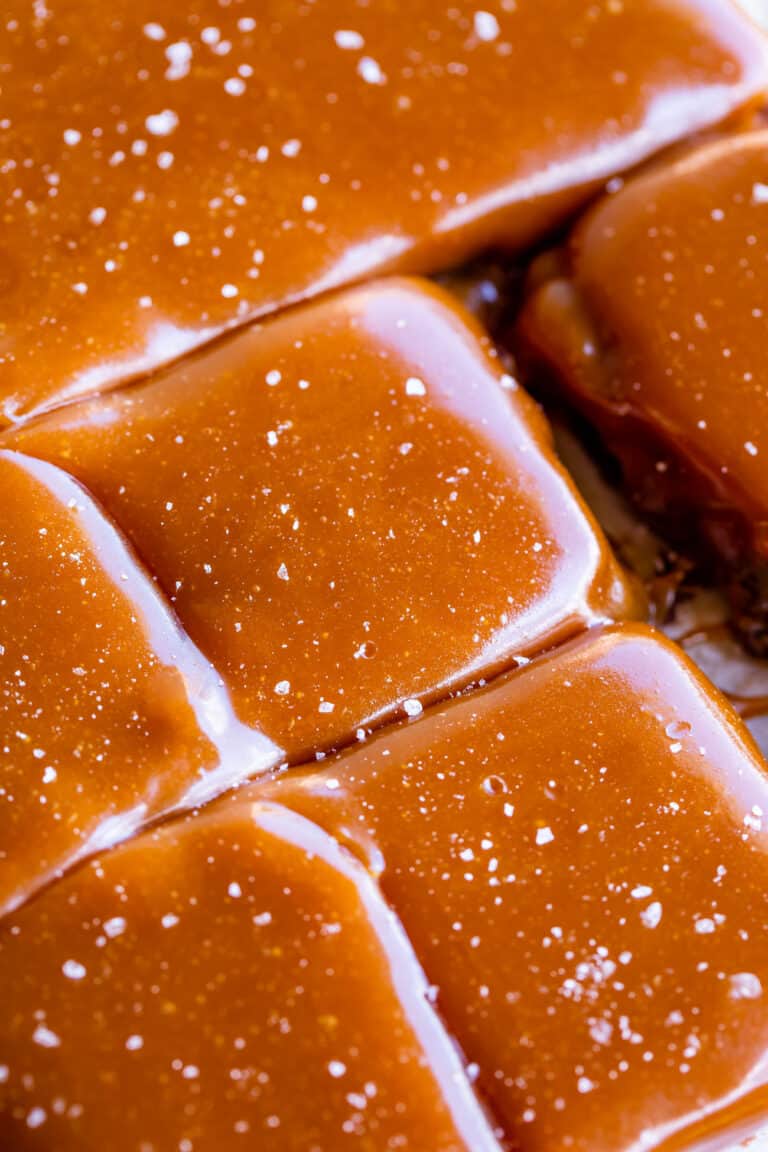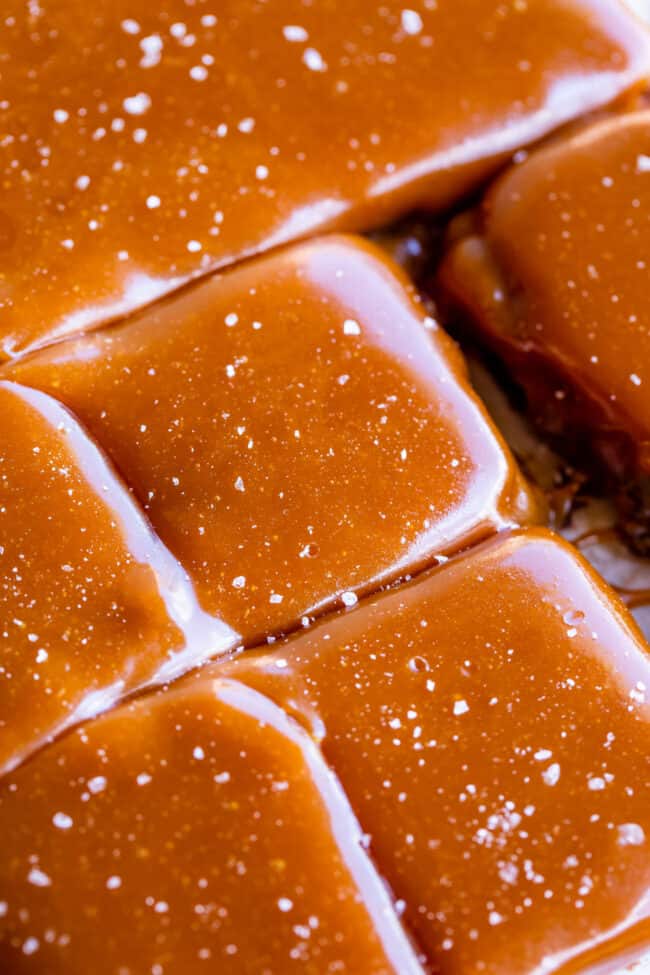 But wait! I actually found this Hercules study guide to follow up our film fest with some brain stimulating Greek culture activities.  The study guide is from some school in Britain and must be from a long time ago, because it references CD-ROMs and other ancient practices, like "going to the library to do research." Ha! Who needs libraries when you have the internet? Everything you read on the internet is truthful, high quality content. Also, going to the library will get you corona'd these days, so we're staying dumber in the name of health, thankyouverymuch.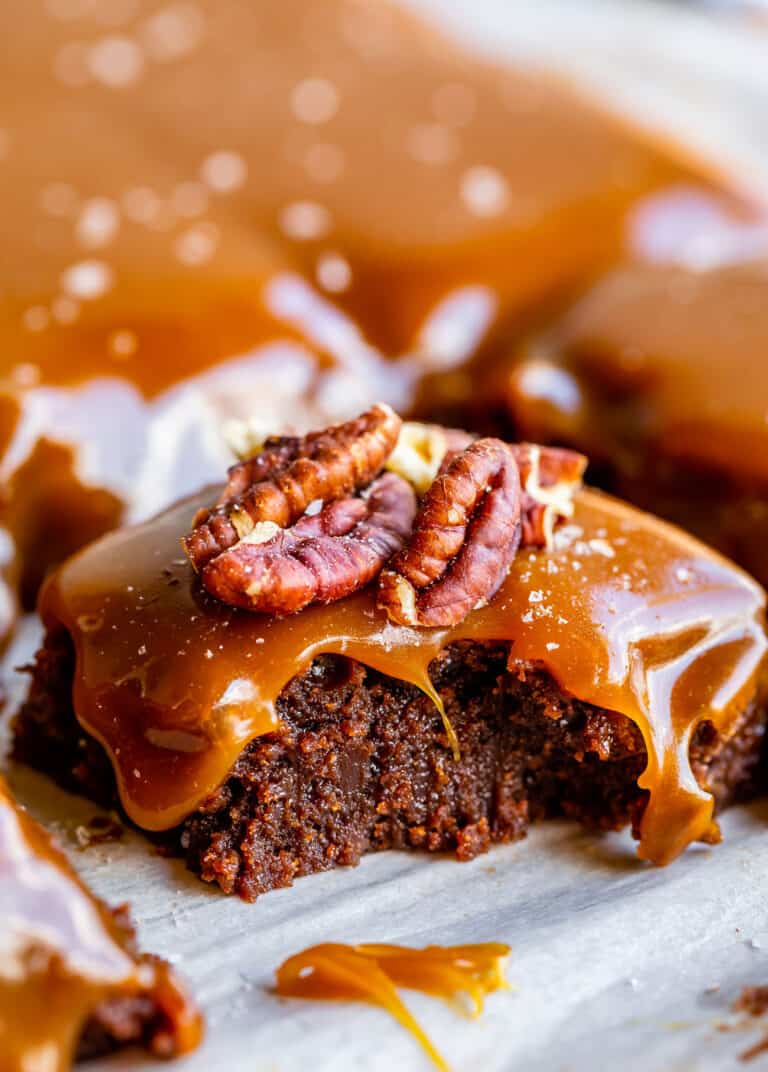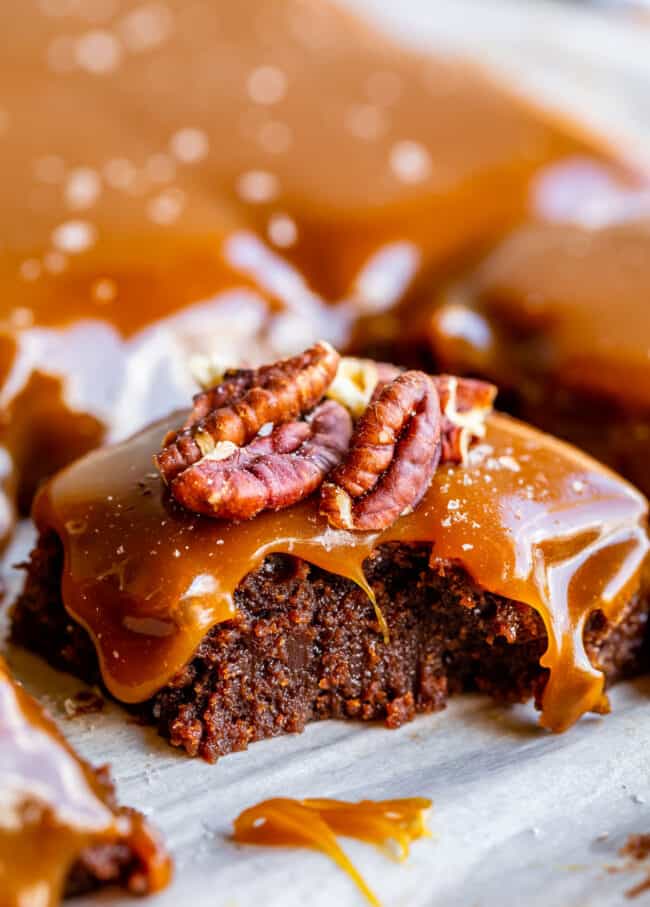 Making the kids do the study guide after watching Hercules was my plan when I turned on the movie. That was like 3 days ago. Yesterday I saw a meme that said "I'm homeschooling like that substitute teacher who rolls in the TV for a movie and eats snacks in the back of the class." Yep, that's me!!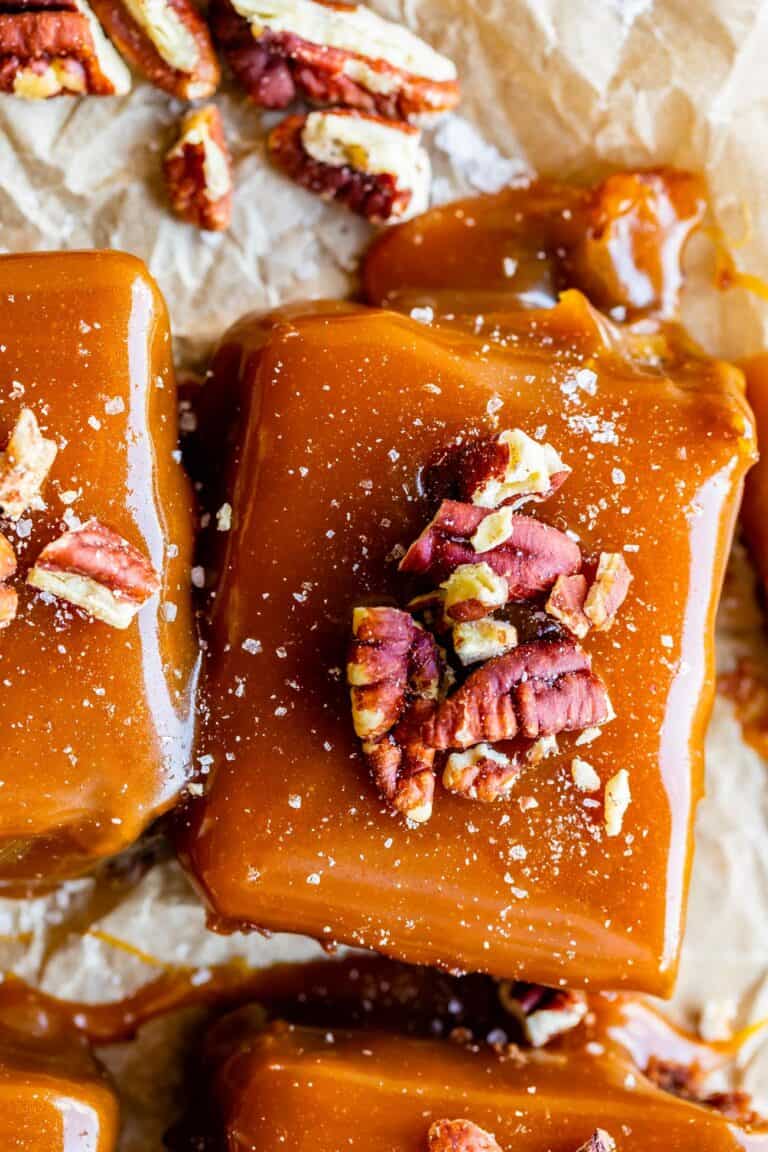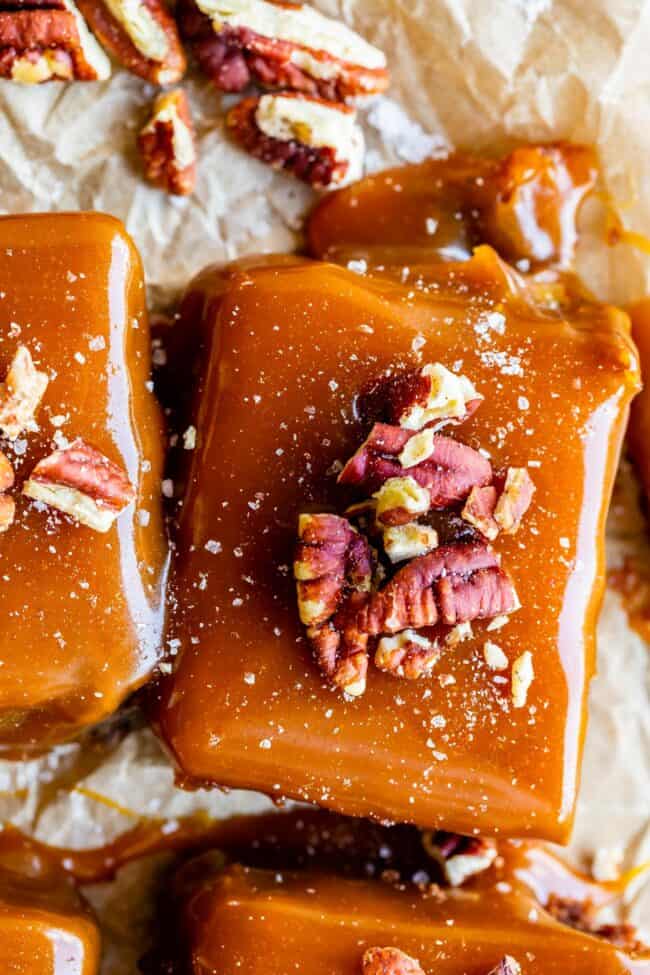 At least I'm eating well in the back of the class. Brownies all day! Have you been able to find all the flour you need?? It seems like things are calming down as far as hoarding goes. At least here in Sacramento everything is back in stock, most days.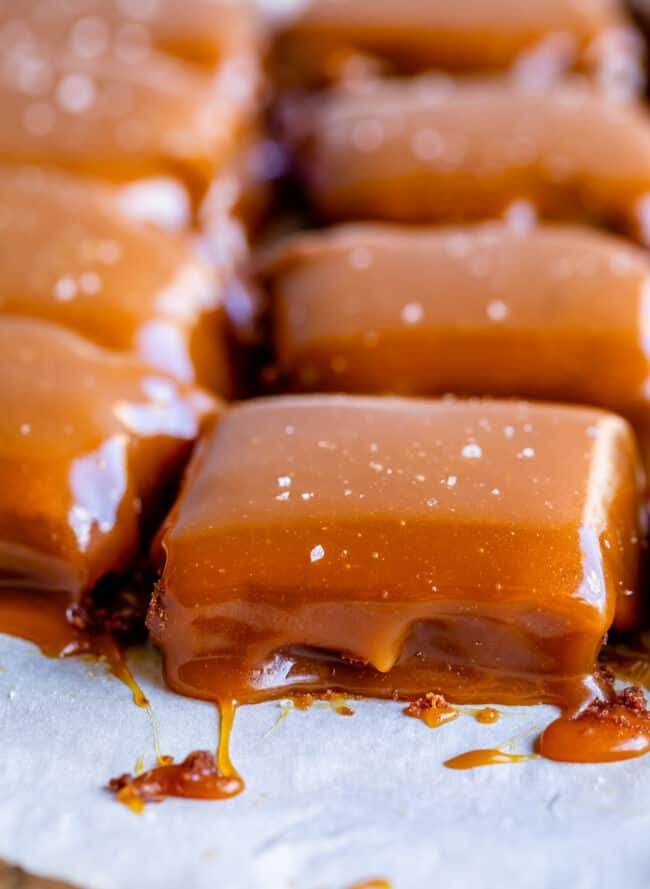 If you have all the baking basics you can totally make these brownies during your corona quarantine! Who needs edumacation when you've got brownies and Disney movies!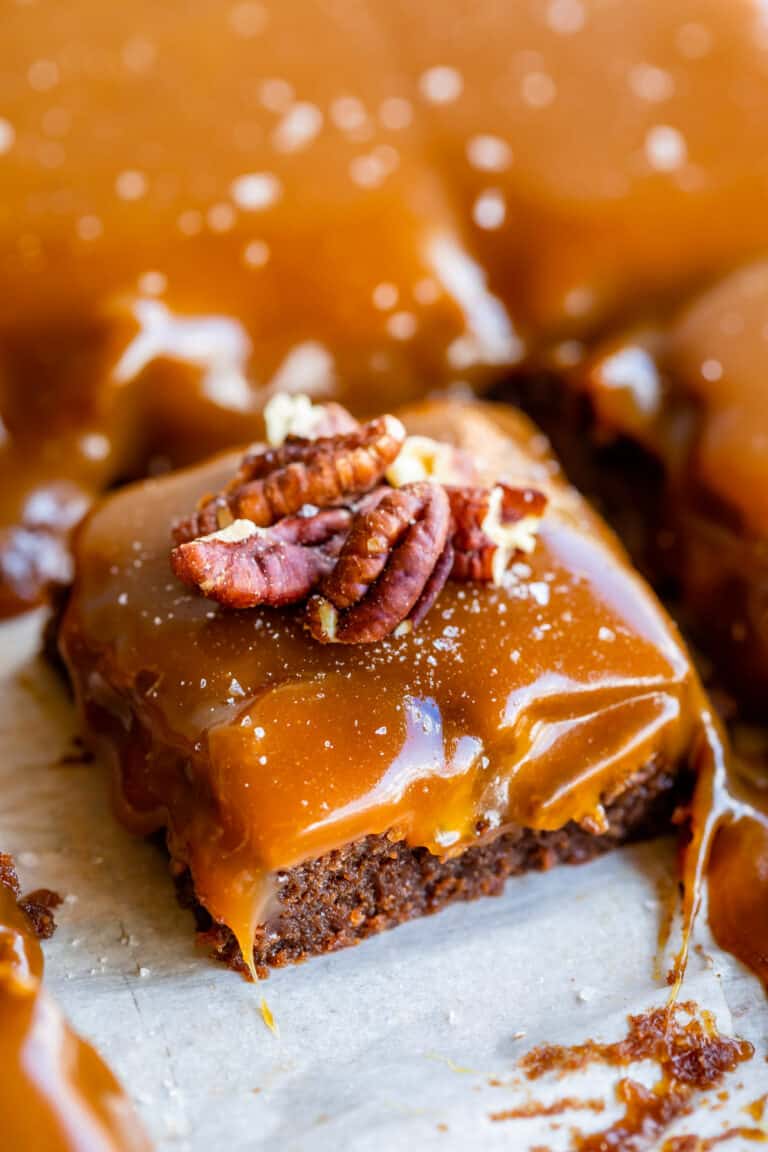 Salted Caramel Brownies ftw
These Salted Caramel Brownies are basically my version of dessert heaven. Brownies are always my go to when I need a quick chocolate fix, and adding a thick gooey layer of salted caramel just takes it over the top. I'm usually not a nuts-in-brownies person, but I love topping these salted caramel brownies with toasted pecans. It provides just the right crunchy relief in each decadent, caramely bite.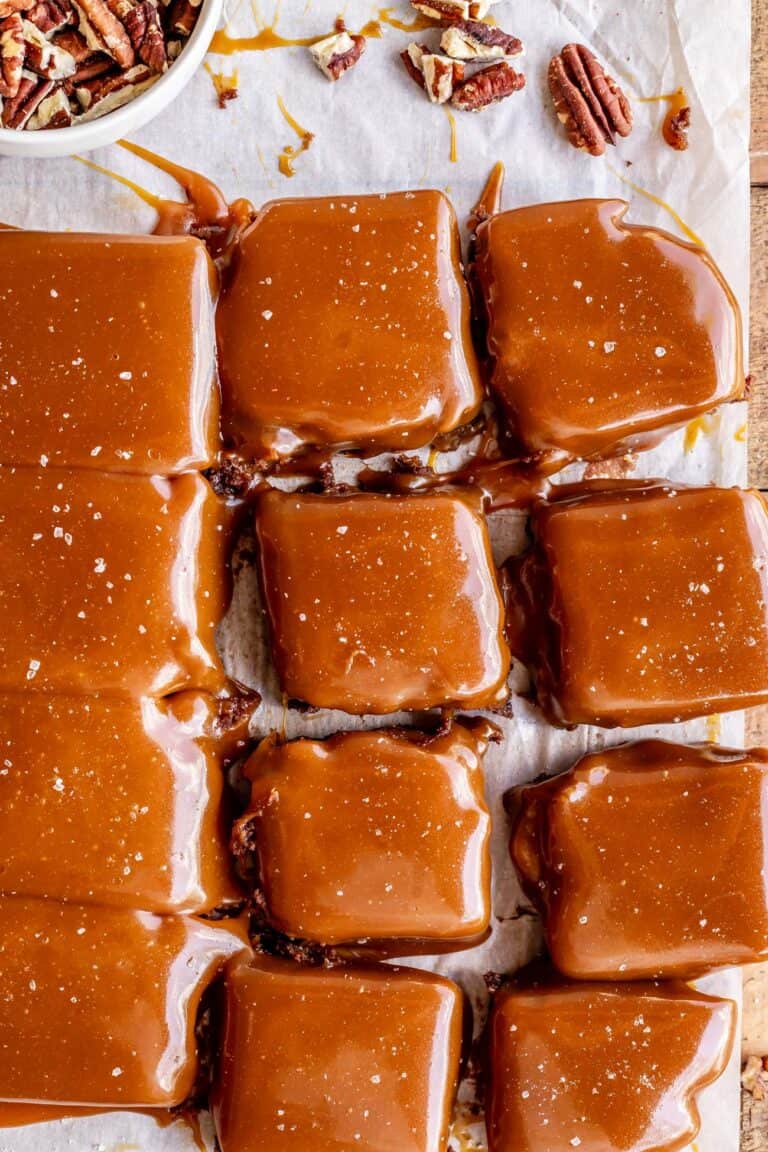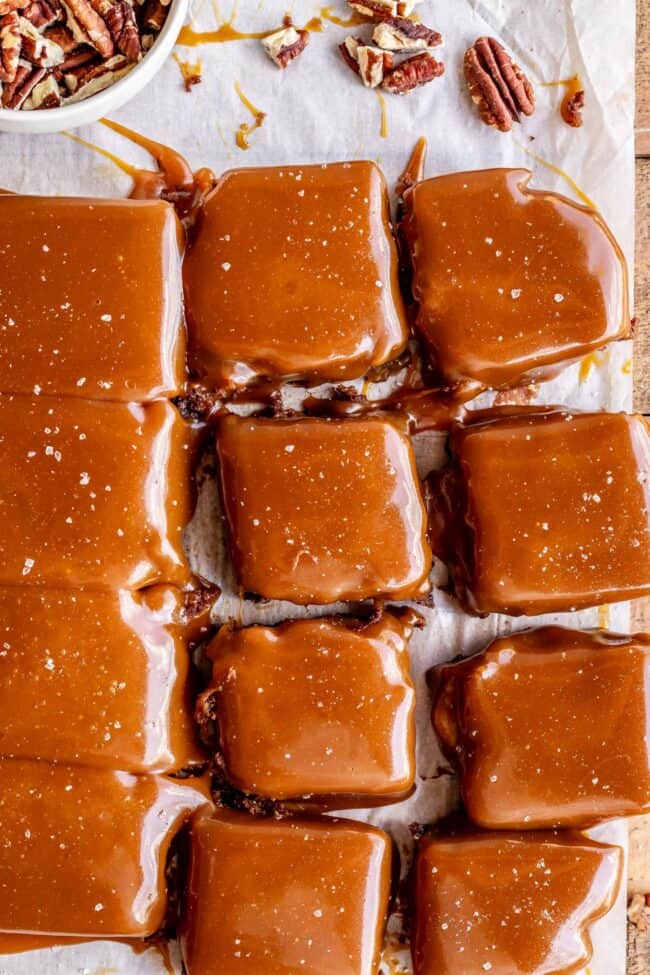 Have you ever made your own caramel? It is really easy, as long as you follow the instructions carefully.
This caramel:
is silky smooth.
has a deep dark caramel flavor (it's not too sweet)
does not stick in your teeth (it literally melts in your mouth)
So basically it's a real-caramel-lover's dream. This caramel is soft enough that when you slice the brownies, the caramel will slowly spill over the edge.
How to Make Salted Caramel Brownies
First we start by making some super fudgy brownies. I based this recipe on my go-to Best Brownie Recipe I Have Ever Made. They are fudgy, thick, and ultra-chocolatey. They are made in one pot on the stovetop.
After the brownies have cooled, it's time to make the caramel. In a heavy bottomed pot, add water and sugar and a little cream of tartar. The cream of tartar is an acid and is added to prevent the sugar from getting back together and crystalizing.


Here are photos of the caramelization process. It takes several minutes of boring clear syrupy liquid boiling to get to the fun part when it starts caramelizing and turning amber, but don't walk away! It goes from caramel to burned pretty quick.


This photo on the right is the final color that you're looking for. But don't worry, I'm not going to make you be the decider on when you've reached "amber color." (I mean, we've got to come up with a better comparison, when was the last time you saw amber in real life??) You are looking for wisps of smoke coming off the caramel. Once you see it, that's when it's done. Works every time.

Carefully add the butter, then the cream. Don't splash yourself. This stuff is hotter than boiling water, basically it's caramel lava, so be careful.
On the left you can see the caramel right after it's finished. On the right is how much it has thickened after about 30 minutes.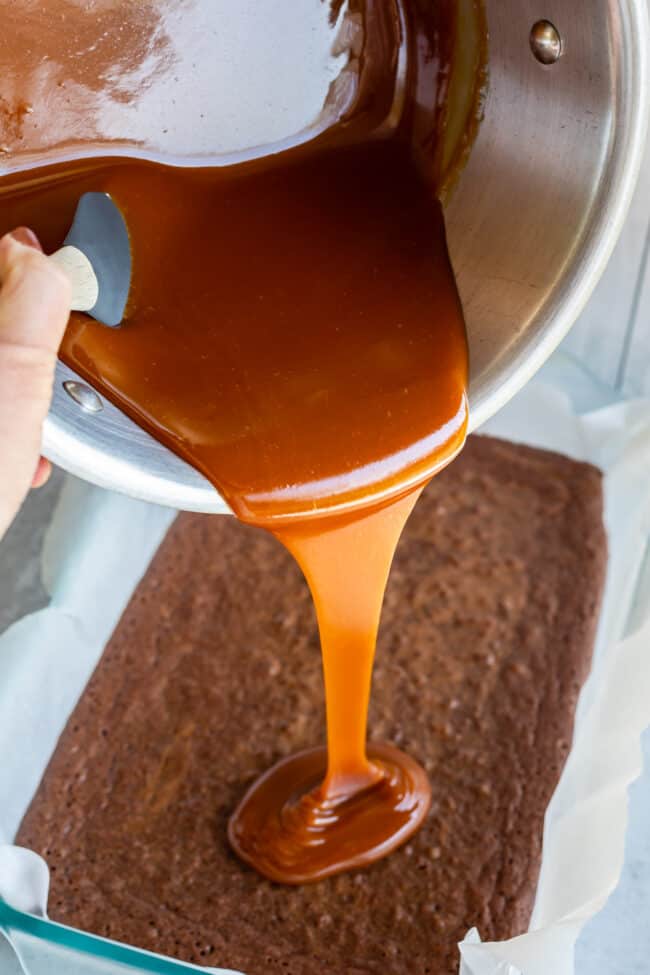 Then pour it over the top of your beautiful brownies.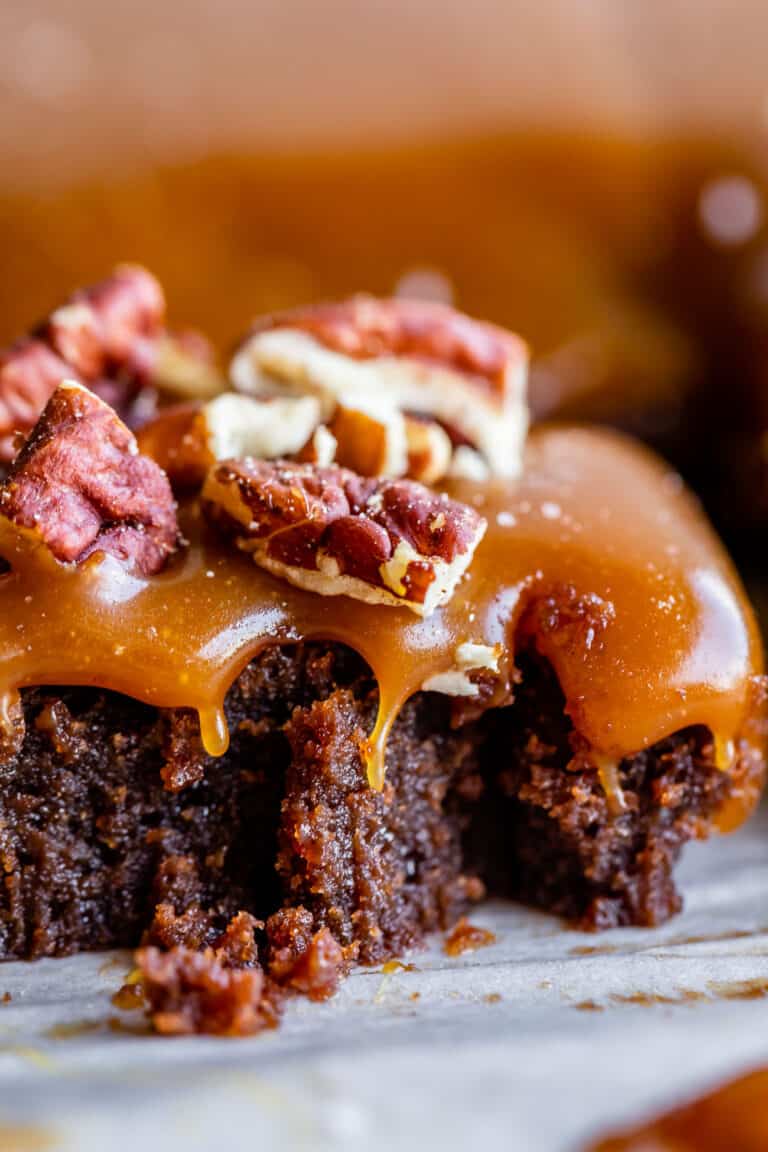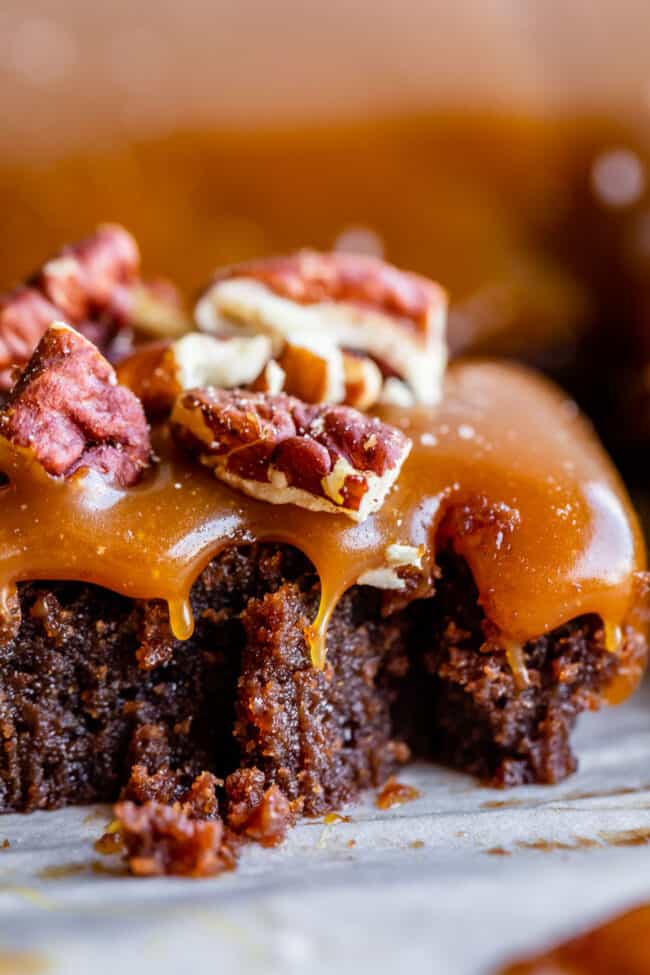 Then top with a handful of toasted pecans. And voila! Dig in! These brownies are so incredibly rich you will need to cut them in smaller slices then normal. I mean, maybe. If you are not chocolate-caramel obsessed like me!
More brownie and caramel recipes you are going to love!
Facebook | Pinterest | Instagram

Homemade Salted Caramel Brownies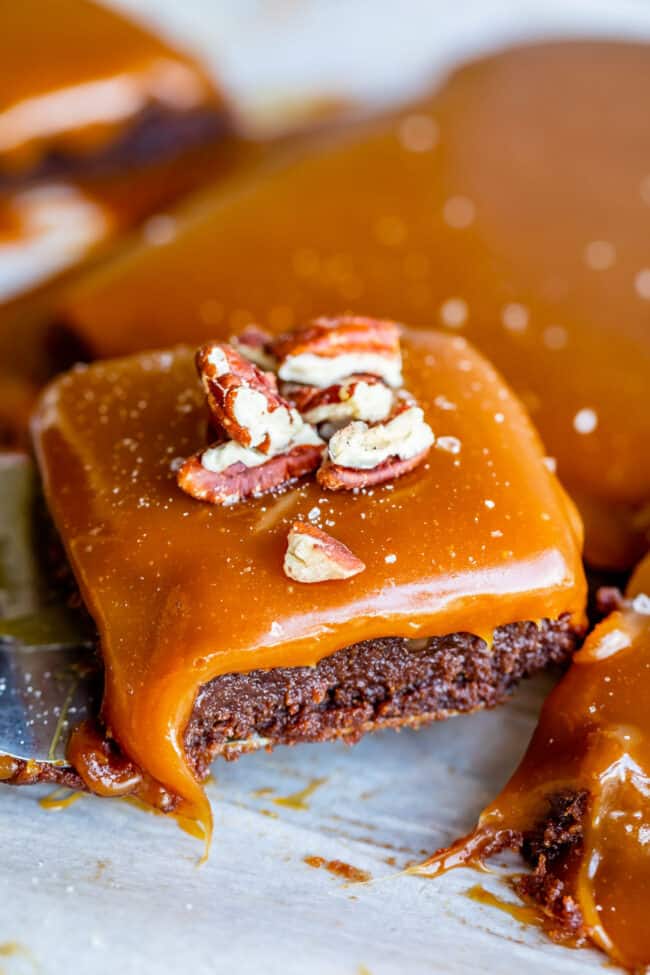 These Salted Caramel Brownies are my new favorite dessert! No, for real. Rich, fudgy brownies are topped with a thick layer of gooey homemade caramel, and finished with toasted pecans. They are ultra decadent! I dare you to eat more than one. Nervous about making your own caramel? I'll walk you through it!
Ingredients
For the brownies
1

cup

butter

,

(2 sticks)

4

ounces

unsweetened baking chocolate*

2

cups

granulated sugar

1/4

teaspoon

kosher salt

2

teaspoons

vanilla extract

1

cup

+ 2 tablespoons all-purpose flour

,

spooned and leveled

4

eggs
For the salted caramel
1/2

cup

water

2 & 1/2

cups

granulated sugar

1/4

teaspoon

cream of tartar

9

tablespoons

butter

,

chopped

1/2

cup

cream

1 & 1/2

teaspoons

kosher salt

flaky sea salt

,

for sprinkling on top

toasted pecans

,

to garnish
Instructions
Make the brownies
Preheat your oven to 350 degrees. Line

a 9x13 inch baking pan

with parchment paper. You can also line it with aluminum foil (be sure to spray the foil with nonstick spray). Or you can just spray the pan.

In a medium pot (

I use a 3 quart saucepan

), melt 1 cup butter and 4 ounces unsweetened baking chocolate over medium heat.

When it has melted, remove from heat and add 2 cups of sugar, 1/4 teaspoon salt, and 2 teaspoons vanilla extract.

Add 1 cup + 2 tablespoons all-purpose flour, spooned and leveled. That means take a large spoon and add flour to your measuring cup, then level off the top. Stir in the flour until just barely incorporated.**

Stir in the eggs one at a time, making sure each egg is fully incorporated before adding the next one.

Do not over mix. Over-mixed batter makes for a tough brownie, which is not what we're going for. You want soft, tender brownies! Once that last egg has been mixed in thoroughly, stop messing with it.

Scrape the batter into the prepared pan and spread to the edges.

Bake at 350 for about 25 minutes. The edges should be set. The center of the pan should not wobble when you shake it. I always do the toothpick test: poke a toothpick in the center of the brownies and if there is no wet batter sticking to it, it's done. (If there is, leave it in for a couple more minutes) Every oven is different, so you are going to have to use your bet judgment here on the bake time! Do NOT over bake, or the brownies will be too dry. Keep in mind that the brownies will firm up as they cool.

Set the pan on a wire rack to let cool completely. Stick them in the fridge or freezer to speed this up.
Make the caramel
Chop up 9 tablespoons of butter and measure out 1/2 cup of cream. Set aside so it is ready to go when you need it later.

In a clean

heavy bottom 3 quart pot

, add 1/2 cup water. Add 2 and 1/2 cups sugar to the center of the pot to avoid getting sugar crystals on the side of the pot. Add 1/4 teaspoon cream of tartar.

Turn the heat on to medium low and stir with a long wooden spoon. Keep the heat on medium low until the sugar has dissolved into the water completely, stirring occasionally. This will take several minutes. Be patient. Do not turn up the heat. You need all the sugar to be dissolved before you start the caramel-making process.

When you see bubbles all across the top and are confident that all the sugar is dissolved, remove the wooden spoon from the pot.

Turn the heat up to medium high. Do no stir, but don't walk away either. The mixture will continue to boil and bubble, rising up the sides of the pot and eliminating any crystals that have formed along the edge. Eventually it will change from clear to a yellow, and then a dark amber color. See photos.

Depending on a variety of factors (the power of the burner, the heaviness of the pot, etc.), it will take anywhere from 8-12 minutes for the sugar to caramelize. Don't worry about the time though: the caramel is ready to be removed from the heat when 1) it has turned a dark amber color, and 2) when you see the first wisps of smoke rising from the pot. Do not remove from heat until you see these wisps of smoke. And don't take it off before you see smoke rising. You may worry that it is getting so dark that it is burning, but if there is no smoke, I promise it's not burning.

Remove the caramel from heat. Use a clean wooden spoon to add the chopped butter. Be careful, the mixture will sputter and this stuff is hot as lava. Once all the butter has melted in, gradually add the cream. It will sputter again.

Stir in 1 and 1/2 teaspoons kosher salt. If you only have table salt, add 1 teaspoon, then more to taste if desired.

Let the caramel cool in the pot for about a half hour to thicken (see photos) before pouring it over the top of the completely cooled brownies. Let the caramel finish cooling completely.

If you don't mind messy brownies, you can serve these room temperature; when the brownies are sliced, the caramel will slow drip over the edge (I prefer them that way.) The photos were shot at room temperature. If you want a neater presentation, keep the brownies chilled in the fridge. Let sit at room temperature for about 15 minutes before slicing and serving.

Just before serving, sprinkle each serving with

flaky sea salt

and top with toasted pecans.***
Notes
*You can use 1 and 1/2 cups unsweetened cocoa powder in place of the unsweetened baking chocolate.
**Most brownie recipes call for adding the eggs first, then the flour. I like to add the flour first so that the batter has a chance to cool down a bit more. I don't want to risk curdling my eggs! And I'm super impatient and don't like to wait. But if this feels weird to you, just wait a few minutes for the batter to cool some more before adding the eggs one at a time, then stir in the flour afterward, until barely incorporated.
***To toast the pecans, spread a layer of pecans on a dry baking sheet and bake at 350 for 5-7 minutes, stirring every 2 minutes. They are done when fragrant.
These brownies freeze well, before or after you have topped with caramel. And the recipe can easily be cut in half.
Nutrition
Serving:
1
g
|
Calories:
485
kcal
|
Carbohydrates:
65
g
|
Protein:
4
g
|
Fat:
25
g
|
Saturated Fat:
16
g
|
Polyunsaturated Fat:
1
g
|
Monounsaturated Fat:
7
g
|
Trans Fat:
1
g
|
Cholesterol:
99
mg
|
Sodium:
433
mg
|
Potassium:
104
mg
|
Fiber:
1
g
|
Sugar:
56
g
|
Vitamin A:
720
IU
|
Vitamin C:
1
mg
|
Calcium:
26
mg
|
Iron:
2
mg