A soft almond-flavored dough studded with Rolos and baked to create the most tender, most buttery, most caramel-y bars I've ever had! These are crazy gooey, guys. Done in 30 minutes!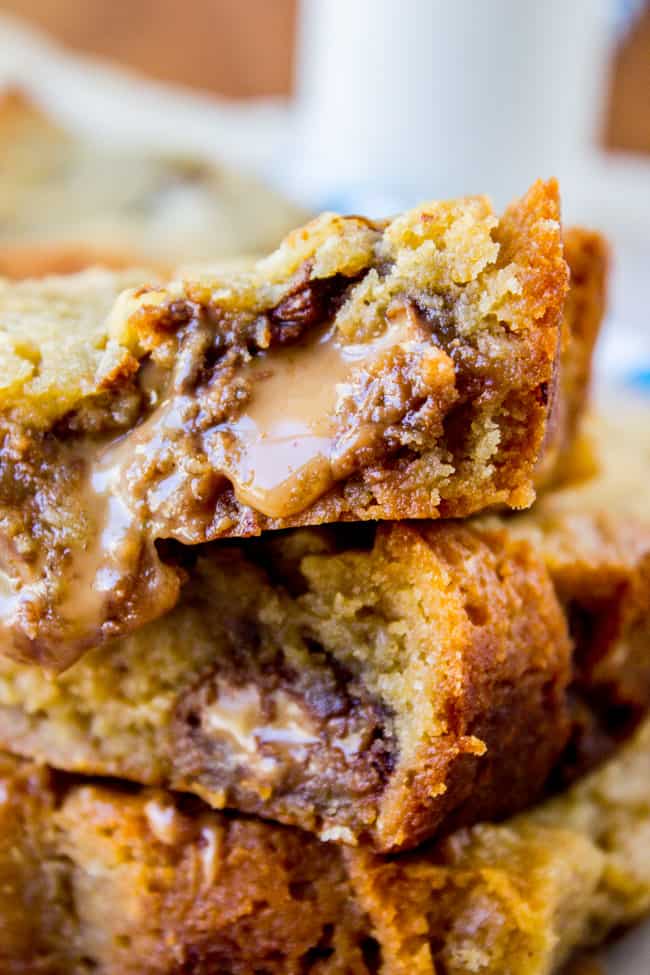 So I don't know if you've heard, but California is in the middle of this huge drought right now.
The main thing about a drought, see, is that it doesn't rain. At all. Like, no moisture. That is, until you get tired halfway through moving your couch from one patio to another, and you decide to take a break…for a day and a half.
And it's sitting out in the middle of your dry yard with no roof over it. THAT is when it rains. I am basically a rainmaker, guys, no dancing needed. Just old couches left outside. You're welcome, farmers.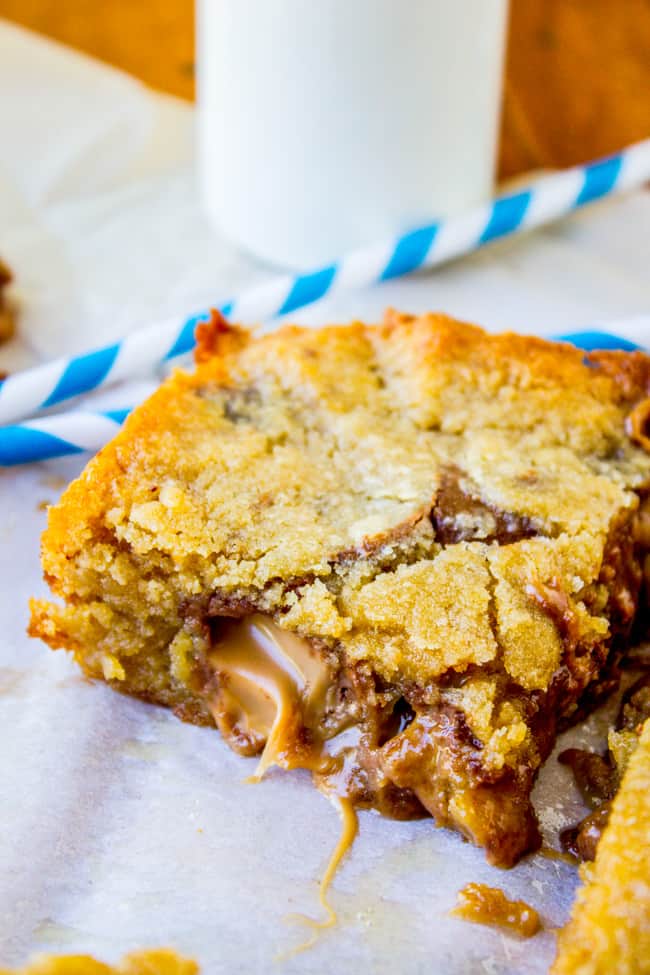 Are you ready for all the caramel?? This recipe is basically a different version of these famous Almond Roca Bars. (I just want you to know that I keep typing bras instead of bars. Classy.) Almond Roca Bars are an absolute legend in my husband's family, and now in ours. They are so, so good, and so, so done in 20 minutes. You really just can't beat that.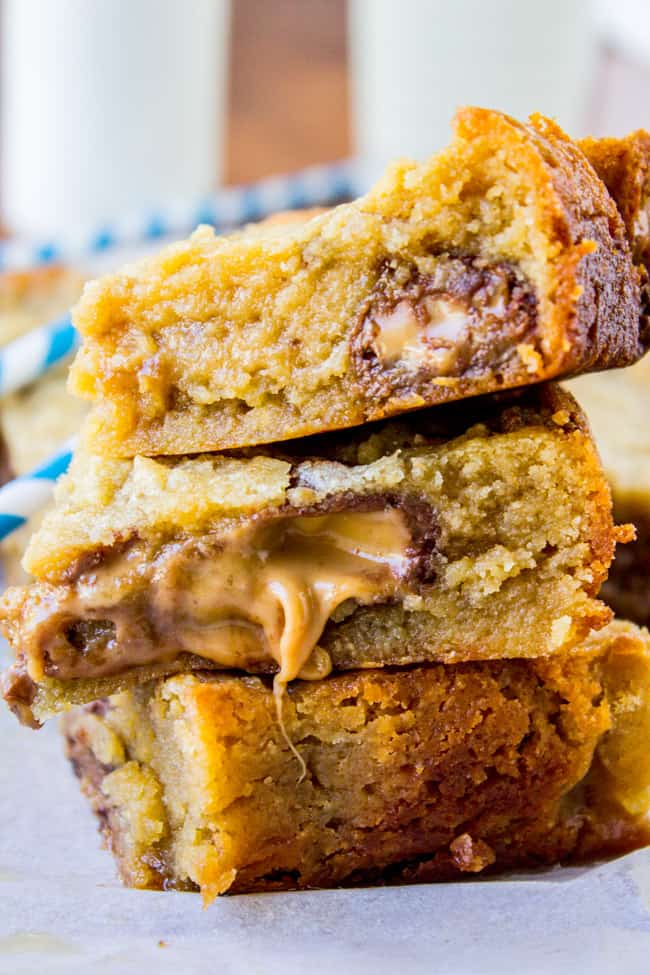 They have all the satisfaction of a soft warm chocolate-y cookie without the inconvenience of have to shape dough. I broke up with Eric once when we were dating, and later that day he delivered me a plate of Almond Roca Bars. (He didn't know we had broken up.) I'm telling you. Legen-(waitforit)-dary.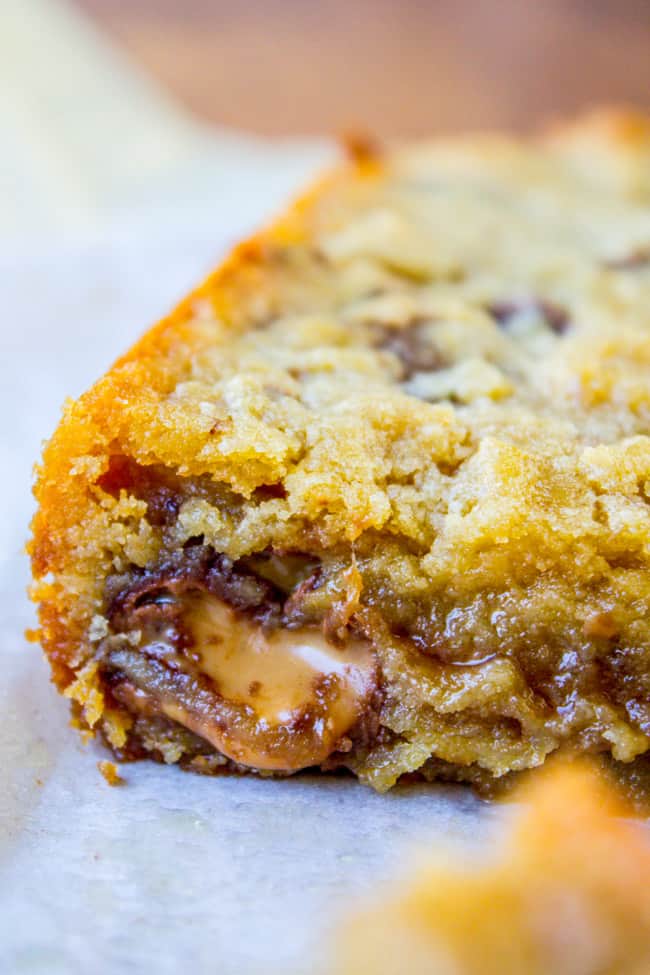 I can never get enough Almond Roca Bars, so I decided to do something fun with the dough, because it is perfect. So I folded some Rolos in, put it in a smaller pan, and huzzah! These bars were born. They are so butter-y, so almond-y, and so caramel-y, it is insane. They did not even last 12 hours. They are giving the classic a serious run for their money.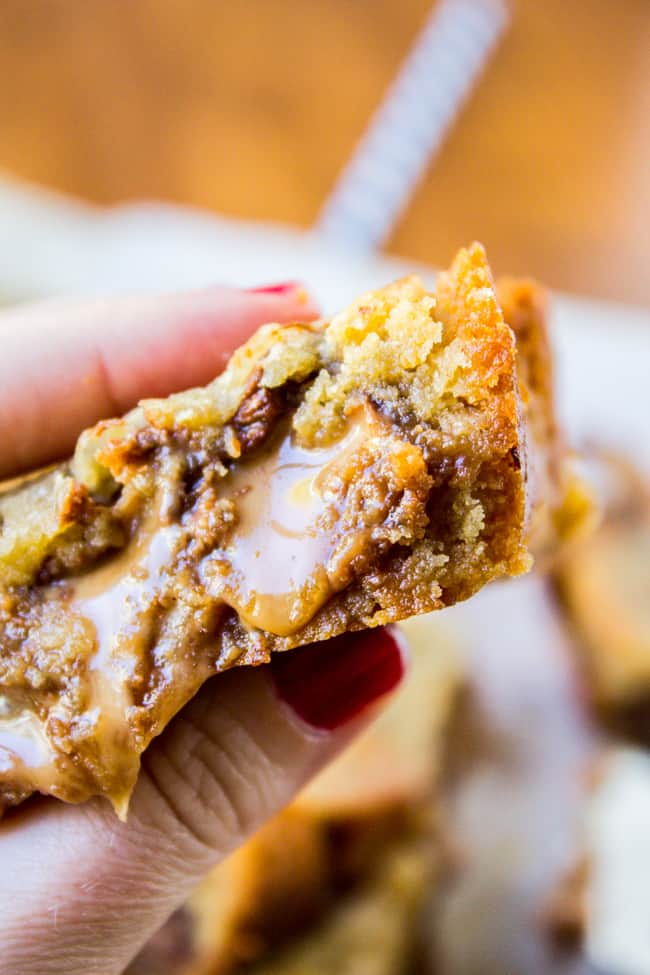 P.S. I added something cool to my blog! At least I think it's cool, because I'm a blogging nerd. Now you can comment on any post on The Food Charlatan without having to add your name and email address. If you are already logged in to Facebook (and you are…all the time…It's not just me, right?), then all you have to do is type in your comment here on the blog and hit enter. Awesome, right? You can still comment the regular way if you want.
Did you guys know I love comments? It's so fun to hear from all of you. It really just makes blogging so much more fun! Say hello anytime :)
Do you guys give up? Or are you thirsty for more?
Facebook | Pinterest | Instagram | Twitter

Caramely Almond Butter Bars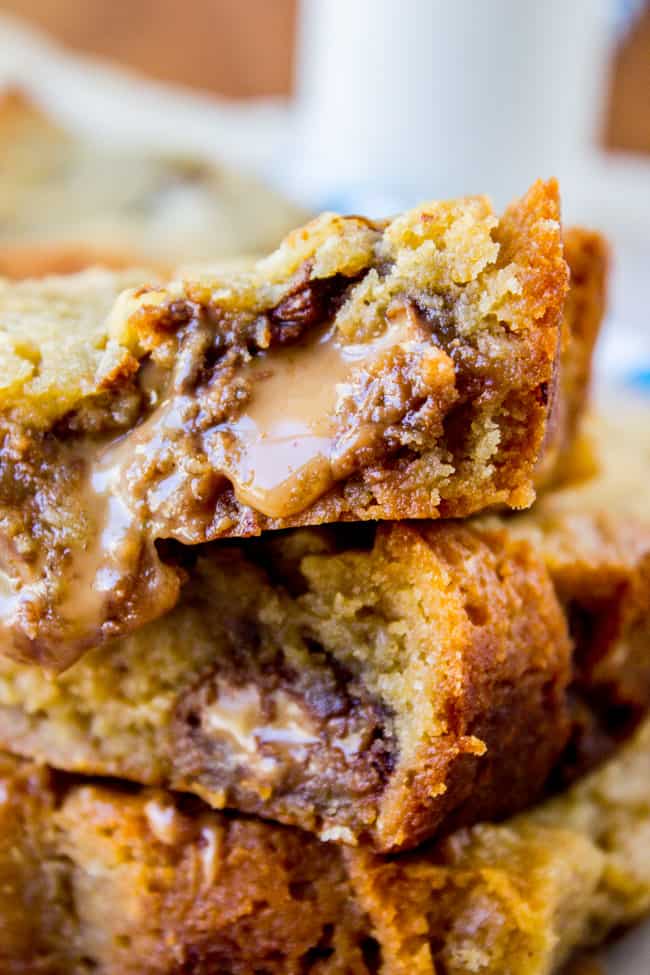 A soft almond-flavored dough studded with Rolos and baked to create the most tender, most buttery, most caramel-y bars I've ever had! These are crazy gooey, guys. Done in 30 minutes!  
Ingredients
1

cup

salted butter

,

2 sticks, softened

1/2

cup

white sugar

1/2

cup

brown sugar

1

egg

1/4

teaspoon

salt

1

teaspoon

almond extract

,

*

2

cups

flour

,

spooned and leveled

1

12-oz package

Rolos

,

unwrapped
Instructions
Preheat your oven to 350. Line an 8x8 inch pan with parchment paper. (Or use foil and spray with nonstick. Or spray the pan itself.)

In a large bowl or stand mixer, beat together the butter and both sugars until light and fluffy, about 2 minutes.

Add the egg, salt, and almond extract and beat well, scraping down the sides.

Add the flour and beat until not quite incorporated.

Add the rolos. I mixed them in for a couple seconds with the beater, but you can fold them in with a wooden spoon if you want. (Some of the rolos in my batch were broken and some were left whole) Don't over mix.

Press into the prepared square pan.

Bake at 350 for about 22-24 minutes, or until the edges are golden brown. They will look soft in the middle but a toothpick should come out clean.

Cut into small squares and serve with lots of milk!
Notes
*If you don't have almond you can sub vanilla.
The original legendary Almond Roca Bars!
Nutrition
Serving:
1
bar
|
Calories:
214
kcal
|
Carbohydrates:
25
g
|
Protein:
2
g
|
Fat:
12
g
|
Saturated Fat:
7
g
|
Polyunsaturated Fat:
1
g
|
Monounsaturated Fat:
3
g
|
Trans Fat:
1
g
|
Cholesterol:
41
mg
|
Sodium:
144
mg
|
Potassium:
34
mg
|
Fiber:
1
g
|
Sugar:
13
g
|
Vitamin A:
369
IU
|
Vitamin C:
1
mg
|
Calcium:
13
mg
|
Iron:
1
mg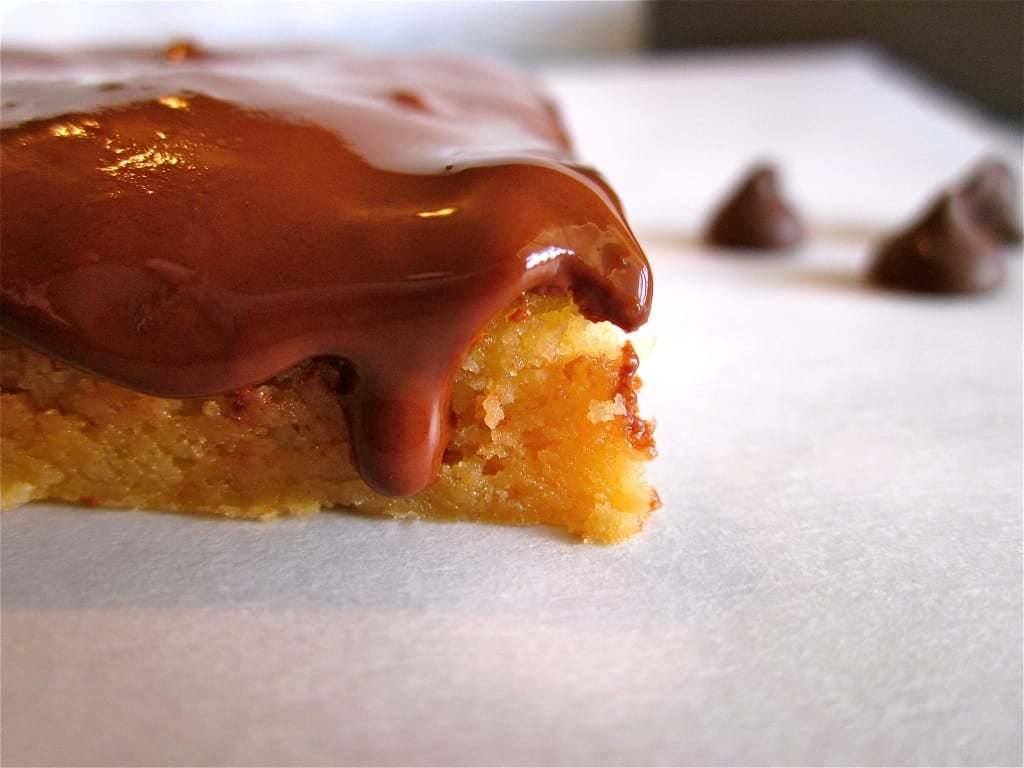 Raspberry Almond Crumb Bars: richest brownie ever. PLUS almond crumble…aw yeah.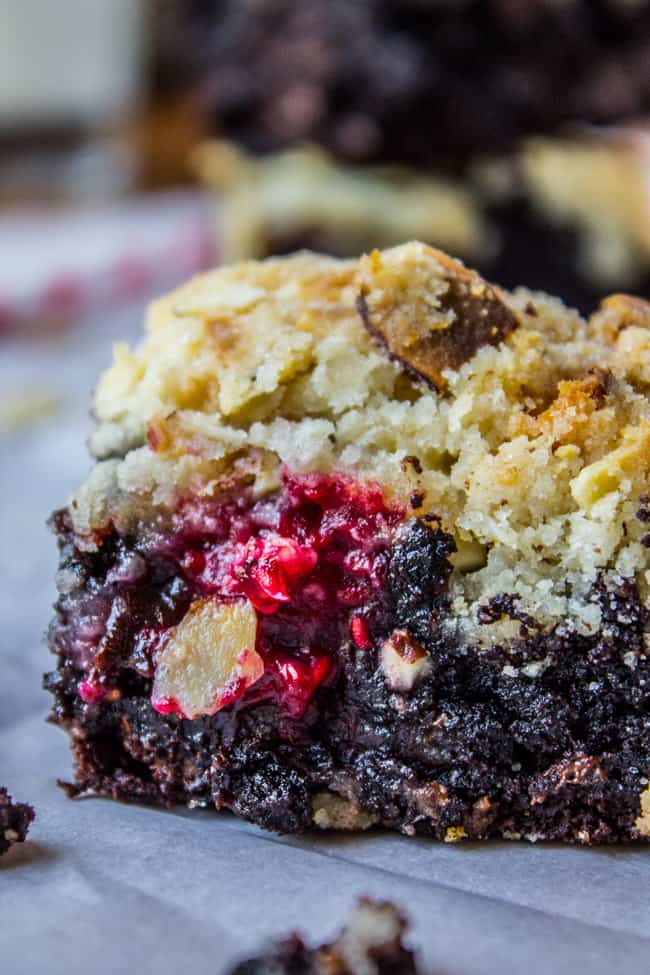 Almond Sheet Cake: (seriously one of my favorite cakes ever!)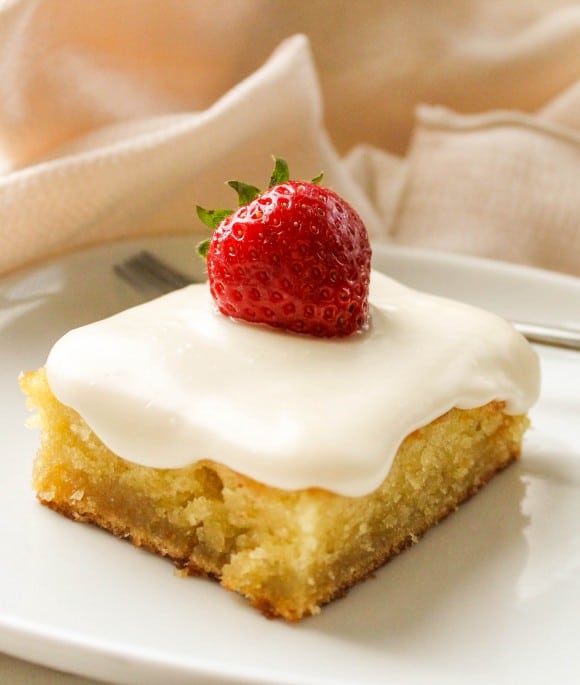 Cinnamon Caramel Swirl Bars: << How's this for a blast from the photography past? Don't be fooled. This recipe is LEGIT. cinnamon + caramel. Why is this not more of a thing?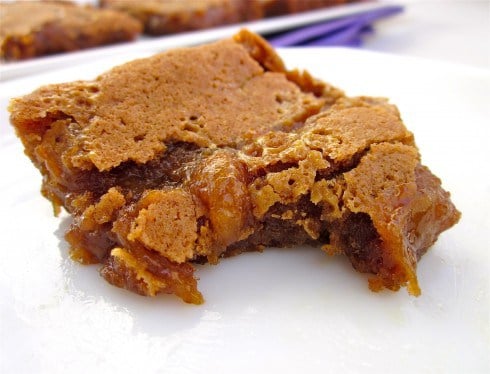 Other almond-y goodness from my bloggy peeps:
Raspberry Almond Crumb Bras (<<SEE??) from Lovely Little Kitchen
Salted Caramel Almond Bars from Bake or Break
Almond Joy Bars from The View From Great Island