A classic and easy Mississippi Mud Cake recipe! It's a moist chocolate sheet cake with marshmallow creme and chocolate frosting on top. An incredibly rich and decadent treat! Originally posted June 4, 2016.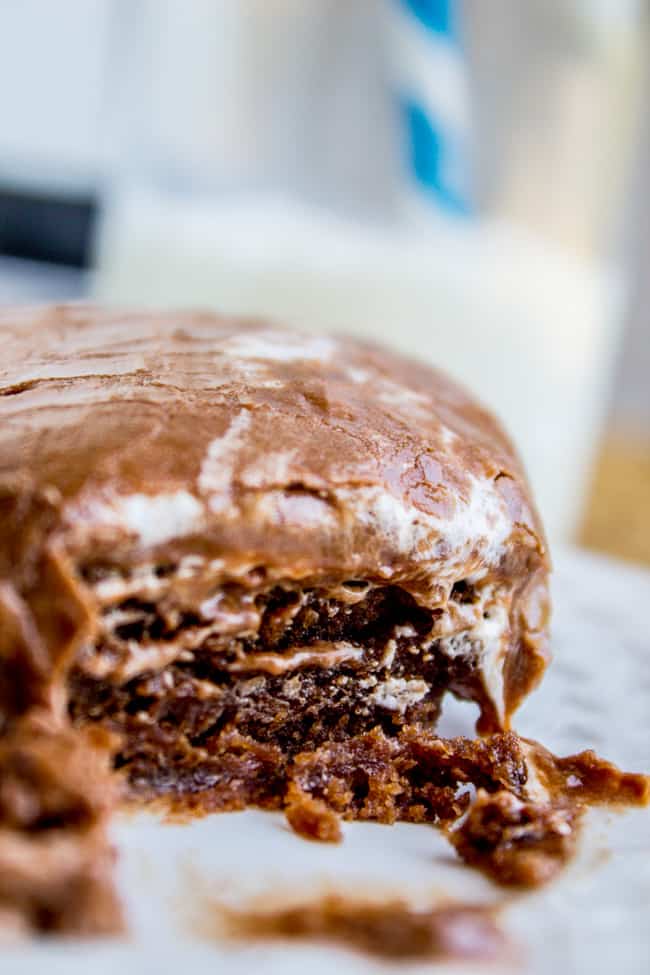 Table of Contents
The other day my sister Laura told me that she was talking with our other sister, Nikki, who has 5 kids. Nikki said that sometimes her older kids ask to make cookies at 4:30 in the afternoon. She always lets them, and then congratulates herself because she knows that by the time they are done eating all the dough and cookies, Nikki is totally off the hook for dinner.
She is my mothering idol.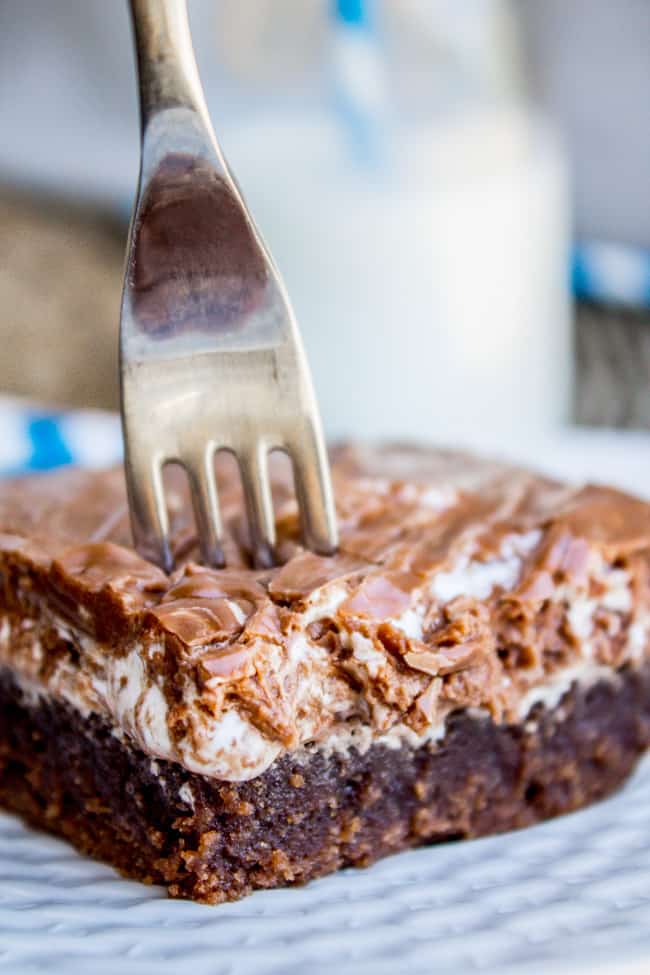 Instead of merely letting my kids make cookies for dinner, I left them for 2 and 1/2 weeks and let grandparents have all the cookie-making decisions. First I went to Philadelphia for my brother's med school graduation, then came home, but turned around a couple days later for an anniversary trip with Eric in Seattle.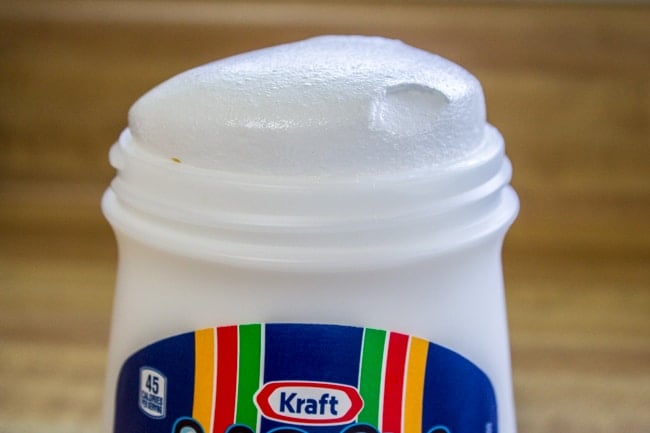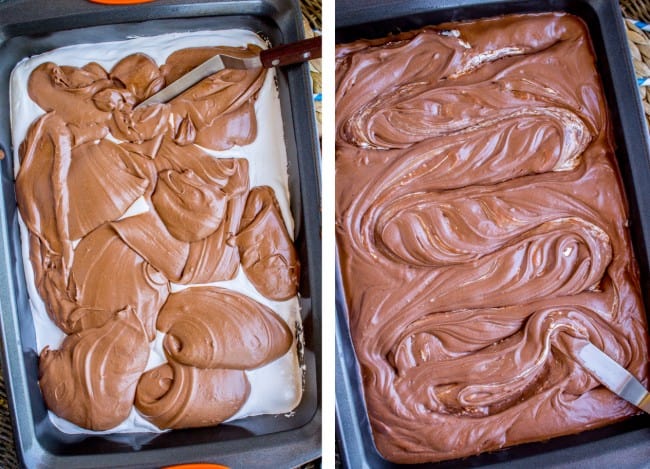 Who's from Seattle?? Who's visited? What a fun city. We stayed for almost a week and had so much fun. Eric is convinced he wants to live there. Every time he brought it up I started shivering in protest. I know it's 105 degrees in Sacramento this week (ugh, gag me) but I would take 105 a couple times a year over drizzly 60 degree temperatures year round.
What is Mississippi Mud Cake?
Mississippi mud cake is a classic southern cake. It starts with a layer of homemade chocolate cake, followed by a layer of marshmallow creme, followed by a layer of soft chocolate frosting. As you spread the chocolate frosting, the marshmallow cream swirls with it a little. The result is a rich, decadent chocolate-marshmallow dessert. Make sure you have plenty of milk in the fridge: you're going to need it.
Mud Cake Ingredients
Here's a quick shopping list to help you gather your ingredients. See the recipe card below for the full ingredients and instructions!
Eggs
White sugar
Butter
Vanilla
Flour
Cocoa powder
Flaked coconut (optional)
Pecans (optional)
Marshmallow creme
Butter
Milk
Powdered sugar
I recently crossed the Mississippi River on my drive out to Philadelphia, and I can attest that this cake looks JUST like the river it's named for. Just kidding. Have you had Mississippi Mud Cake?? It's always been a favorite of mine. Chocolate and marshmallow is one of the best combos.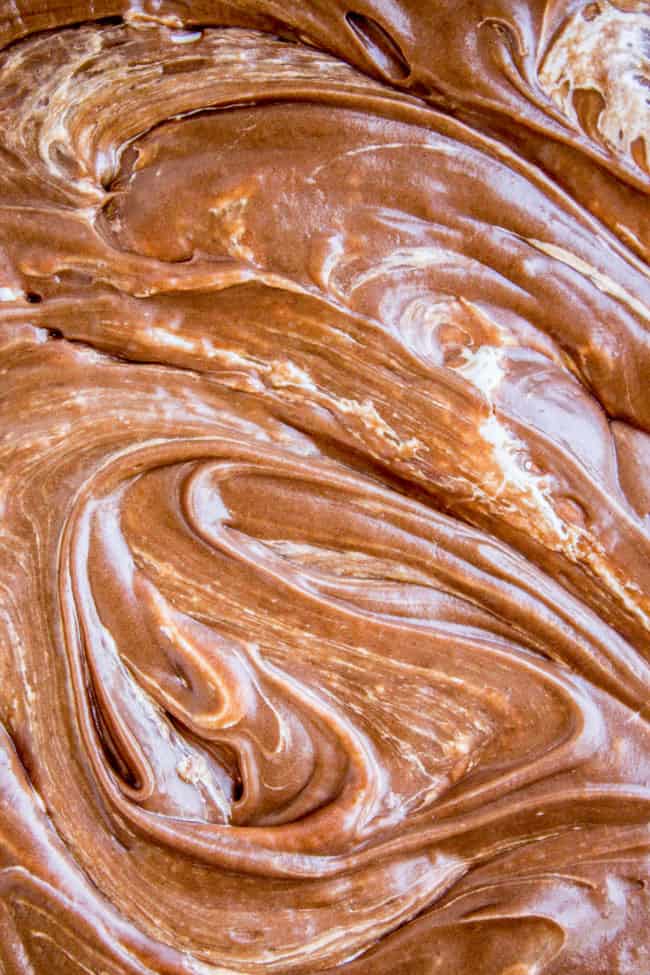 My mother-in-law Kris made this cake for her kids all the time when they were growing up. Eric remembered it and called her up for the recipe. So she emailed him a recipe from Allrecipes.com. He told her that the internet didn't even exist when he was a kid, so how could this be the right recipe. She said, "it's basically the same!"
Uh uh Kris. No way. I pestered her until she got me the recipe from a chocolate cookbook she used to use all the time. Aaaaaand then I changed it. Oops.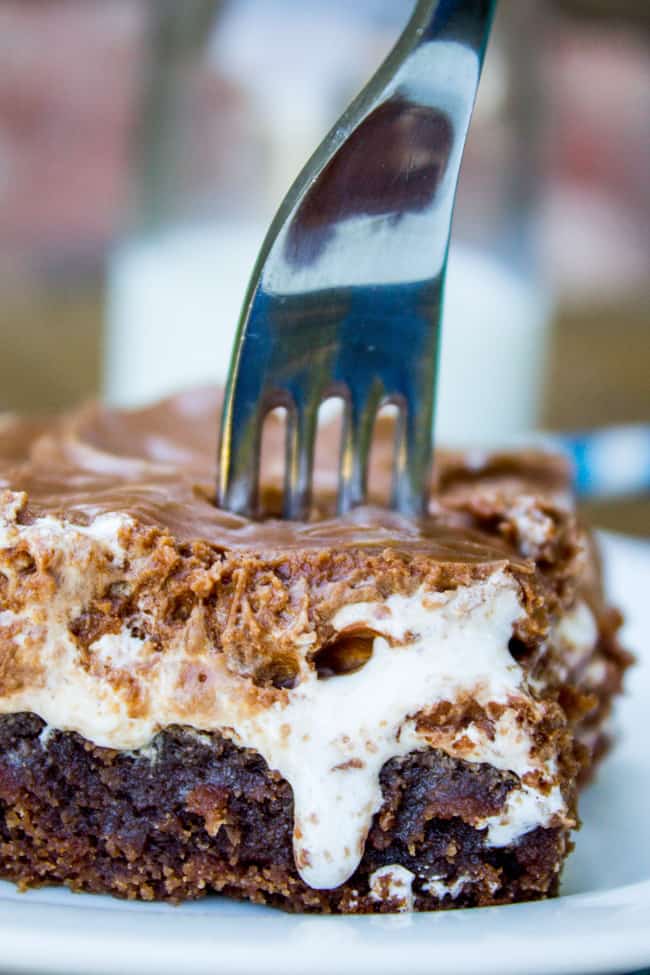 The original recipe calls for both coconut and pecans in the cake. I interrogated Eric until he told me that his mom usually did half the cake with pecans and half without, and he always chose the nut-free side. (Eric said, "I mean, muddy rivers DO have rocks at the bottom…") Feel free to add nuts/rocks if you like! They are a classic ingredient in this cake.
Coconut, however, is not. I looked up a whole bunch of recipes and none called for coconut. I was in a very self serving mood when I made this, and I don't love coconut, so I left it out. Next time I will probably add it though. Coconut often does pretty magical things when added to cake.
Mississippi Mud Cake Frosting
The frosting for Mississippi mud cake is sometimes called "levee frosting." (You may have heard that word before in the song "American Pie"… "drove my Chevy to the levee but the levee was dry"…sound familiar?). The funny thing is that a levee is supposed to protect against floods, and this frosting (fortunately) doesn't really do its job. It lets some of the marshmallow creme through, which gives the top of the cake its muddy, Mississippi river appearance. I'm not complaining! The frosting is soft, rich, and chocolatey. It's the perfect combination with the fluffy, sweet marshmallow creme.
How to make this Mud Cake Recipe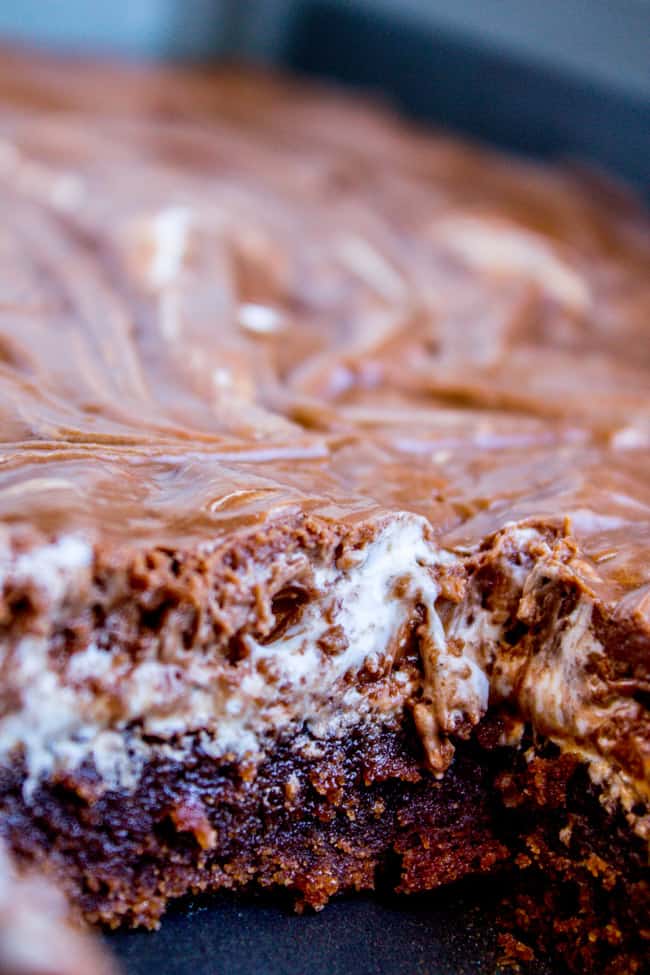 The best part about this cake is the frosting-to-cake-ratio. I am a frosting fanatic; most cakes don't have enough for me. But with an entire jar of marshmallow creme PLUS chocolate frosting, it's like double frosting. Kind of like these double frosted peanut butter cookies my friend Christy over at The Girl Who Ate Everything just posted. A frosted cookie. With TWO frostings. Why do I not always do this, for cakes and cookies??
If you whip up this cake, snap a photo and share on Instagram using #TheFoodCharlatan! I'd love to see it.
Storing your Chocolate Mud Cake
You can keep your cake on the counter for up to a week without refrigerating it. All that sugar acts as a great preservative, so you don't need to worry about it spoiling. If you'd like it to last a little longer, you can keep it in the fridge for up to two weeks. The texture won't be quite the same, but it will still be just fine to eat.
Want to freeze it? Just make sure it's in a tightly sealed container. This cake freezes really well, and you can even cut it into individual portions. Defrost overnight in the fridge or on the counter when you're ready for more.
Mississippi Mud Cake FAQs
What's the difference between mud cake and mud pie?
Mississippi mud cake is a classic, and while some recipes include nuts, coconut, or both, most start with chocolate cake topped with marshmallow creme and chocolate frosting. Mississippi mud pie, on the other hand, is a name used to describe a wide variety of chocolate desserts. They may have 2 layers or 5, include ice cream, have a brownie base, use marshmallows, use meringue, include a whipped topping and cream cheese layer, or any of the above (and more).
Can I substitute real marshmallows for the creme?
While you can substitute real marshmallows for the marshmallow creme, they will definitely have a different texture. The marshmallow creme and chocolate frosting combine and swirl in a way that marshmallows won't. If you don't have marshmallow creme and want to use marshmallows, I recommend using mini marshmallows and putting them on top of the cake for its last 2-3 minutes in the oven. That way, they'll melt a little and combine better with the frosting.
Facebook | Pinterest | Instagram

Recipe for Mississippi Mud Cake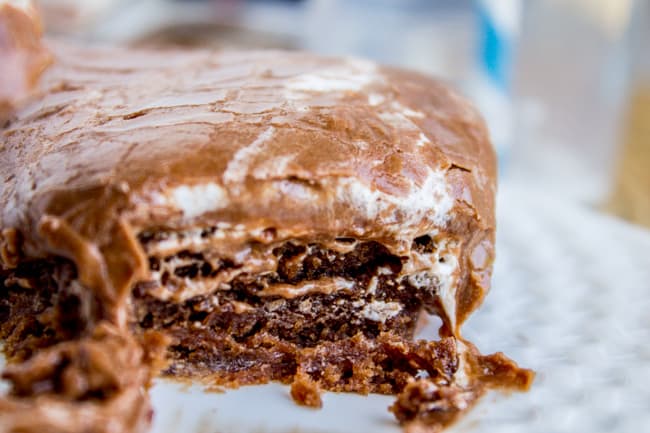 A classic and easy Mississippi Mud Cake recipe! It's a moist chocolate sheet cake with marshmallow crème and chocolate frosting on top. An incredibly rich and decadent treat!
Ingredients
4

eggs

2

cups

white sugar

1

cup

butter

,

melted (2 sticks)

1

teaspoon

vanilla extract

1

cup

flour

1/2 + 1/3

cup

cocoa powder

1/2

teaspoon

kosher salt

1

cup

flaked coconut

,

optional

1/2

cup

chopped pecans

,

optional
For the Levee Frosting:
1 (7-oz)

jar

marshmallow crème

1/2

cup

butter

,

melted (1 stick)

1/2

cup

cocoa powder

1

teaspoon

vanilla extract

6-8

tablespoons

milk

4

cups

powdered sugar

1/4

teaspoon

kosher salt
Instructions
Preheat oven to 350 degrees F. Use butter to grease a 9×13 inch cake pan.

Beat 4 eggs in a large bowl or stand mixer, until thick. Beat in 2 cups sugar and 1 teaspoon vanilla.

In another medium bowl (or large one, if you intend to add pecans and coconut), melt 1 cup of butter.

Whisk in 1 cup flour (spooned and leveled), 1/2 cup + 1/3 cup cocoa, and 1/2 teaspoon kosher salt. (stir in the pecans and coconut as well.)

Add the butter-flour mixture to the egg mixture and beat well until combined.

Pour batter into the prepared pan.

Bake at 350 for 25-28 minutes, or until a toothpick comes out of the center dry.

Meanwhile, prepare the Levee frosting.

Clean the mixing bowl and melt 1/2 cup of butter in it. Beat in 1/2 cup cocoa powder.

Add 1 teaspoon vanilla, 2 cups powdered sugar, and 1/4 teaspoon kosher salt. Beat well.

Add half of the milk, about 3-4 tablespoons. Add the remaining 2 cups of powdered sugar, and beat well. Add more milk as necessary to reach the consistency you like.

When the cake is done, remove from the oven and immediately spread the marshmallow creme over the top. (see note)

Spread the frosting over the warm cake and marshmallow creme. Use a spatula or knife to swirl it.

I like to serve this cake warm, but it is quite messy. It will set up as it reaches room temperature.
Notes
I find it much easier to warm up the marshmallow creme before spreading it on the cake. Remove the lid and all traces of the foil, and microwave for 15-25 seconds until it has started to puff up over the edge of the jar. Then take it out and spread. So much easier!
Nutrition
Serving:
1
serving
|
Calories:
712
kcal
|
Carbohydrates:
105
g
|
Protein:
6
g
|
Fat:
33
g
|
Saturated Fat:
20
g
|
Polyunsaturated Fat:
2
g
|
Monounsaturated Fat:
9
g
|
Trans Fat:
1
g
|
Cholesterol:
116
mg
|
Sodium:
232
mg
|
Potassium:
186
mg
|
Fiber:
4
g
|
Sugar:
84
g
|
Vitamin A:
803
IU
|
Vitamin C:
1
mg
|
Calcium:
38
mg
|
Iron:
2
mg