Mississippi Mud Cake
A classic and easy Mississippi Mud Cake recipe! It's a moist chocolate sheet cake with marshmallow creme and chocolate frosting on top. An incredibly rich and decadent treat! Originally posted June 4, 2016.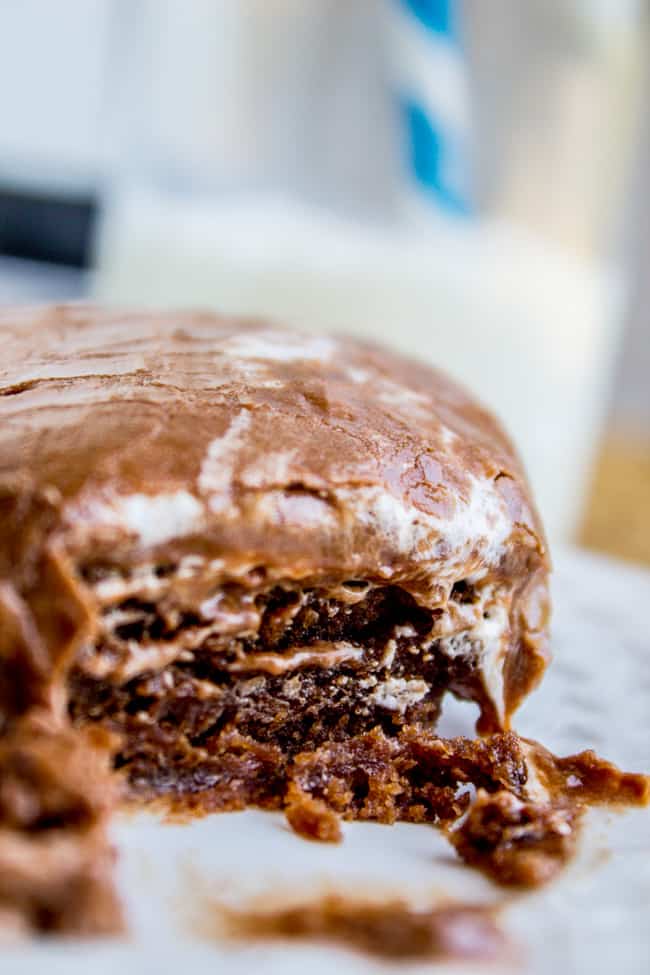 The other day my sister Laura told me that she was talking with our other sister, Nikki, who has 5 kids. Nikki said that sometimes her older kids ask to make cookies at 4:30 in the afternoon. She always lets them, and then congratulates herself because she knows that by the time they are done eating all the dough and cookies, Nikki is totally off the hook for dinner.
She is my mothering idol.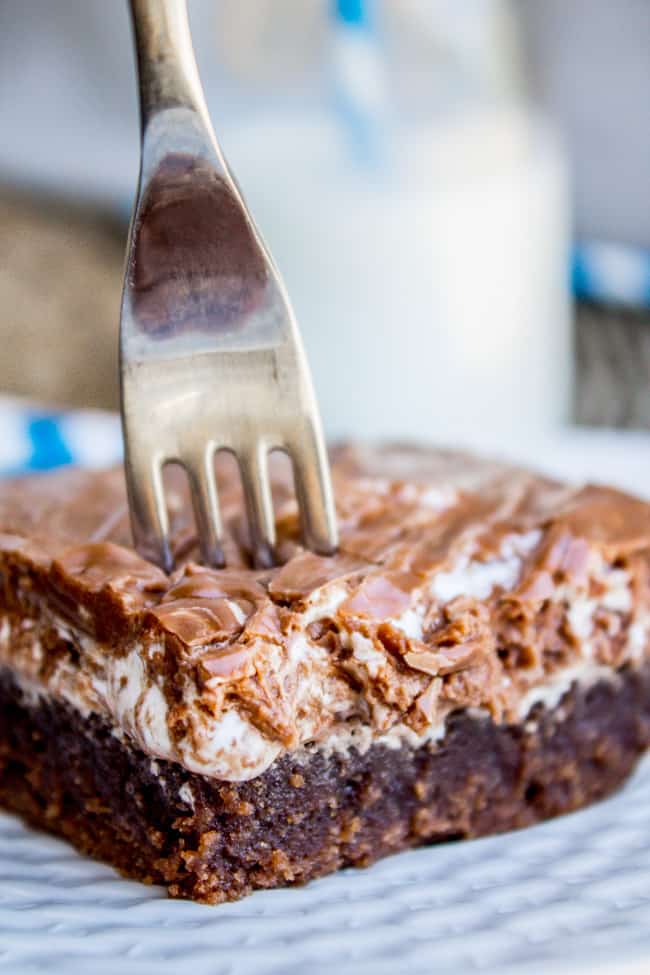 Instead of merely letting my kids make cookies for dinner, I left them for 2 and 1/2 weeks and let grandparents have all the cookie-making decisions. First I went to Philadelphia for my brother's med school graduation, then came home, but turned around a couple days later for an anniversary trip with Eric in Seattle.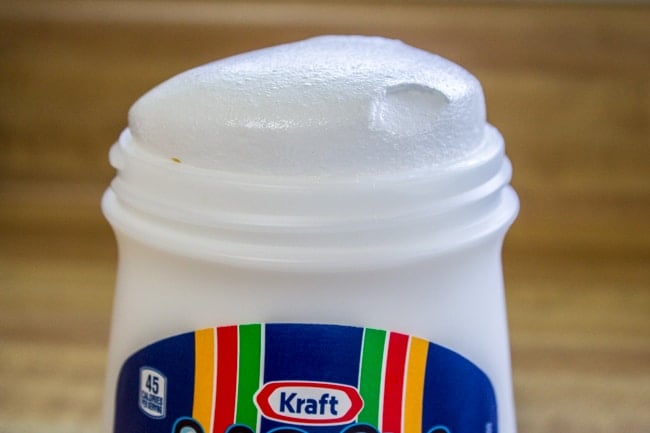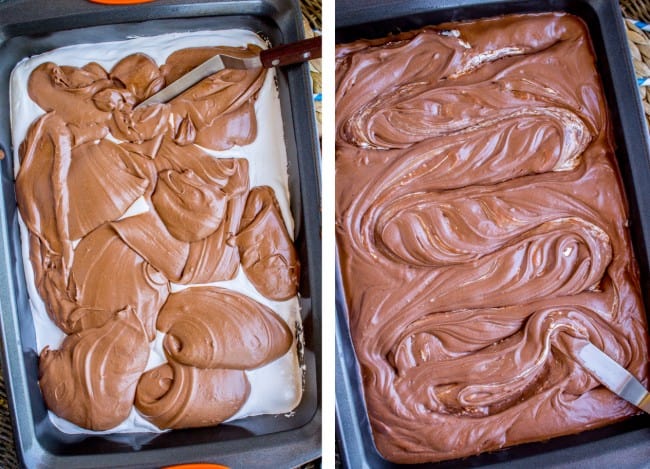 Who's from Seattle?? Who's visited? What a fun city. We stayed for almost a week and had so much fun. Eric is convinced he wants to live there. Every time he brought it up I started shivering in protest. I know it's 105 degrees in Sacramento this week (ugh, gag me) but I would take 105 a couple times a year over drizzly 60 degree temperatures year round.
Mississippi Mud Cake
I recently crossed the Mississippi River on my drive out to Philadelphia, and I can attest that this cake looks JUST like the river it's named for. Just kidding. Have you had Mississippi Mud Cake?? It's always been a favorite of mine. Chocolate and marshmallow is one of the best combos.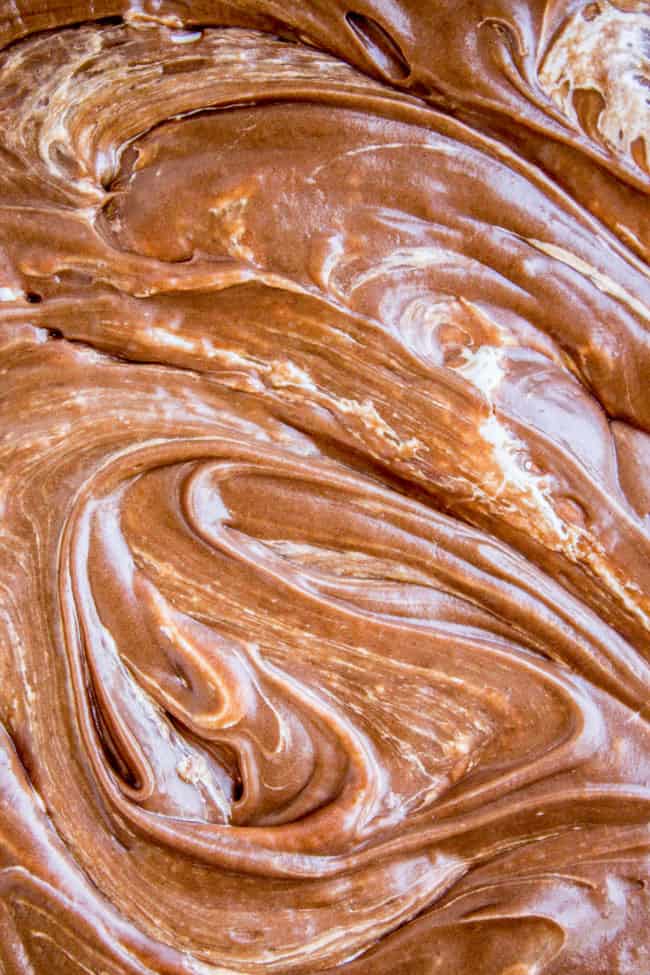 My mother-in-law Kris made this cake for her kids all the time when they were growing up. Eric remembered it and called her up for the recipe. So she emailed him a recipe from Allrecipes.com. He told her that the internet didn't even exist when he was a kid, so how could this be the right recipe. She said, "it's basically the same!"
Uh uh Kris. No way. I pestered her until she got me the recipe from a chocolate cookbook she used to use all the time. Aaaaaand then I changed it. Oops.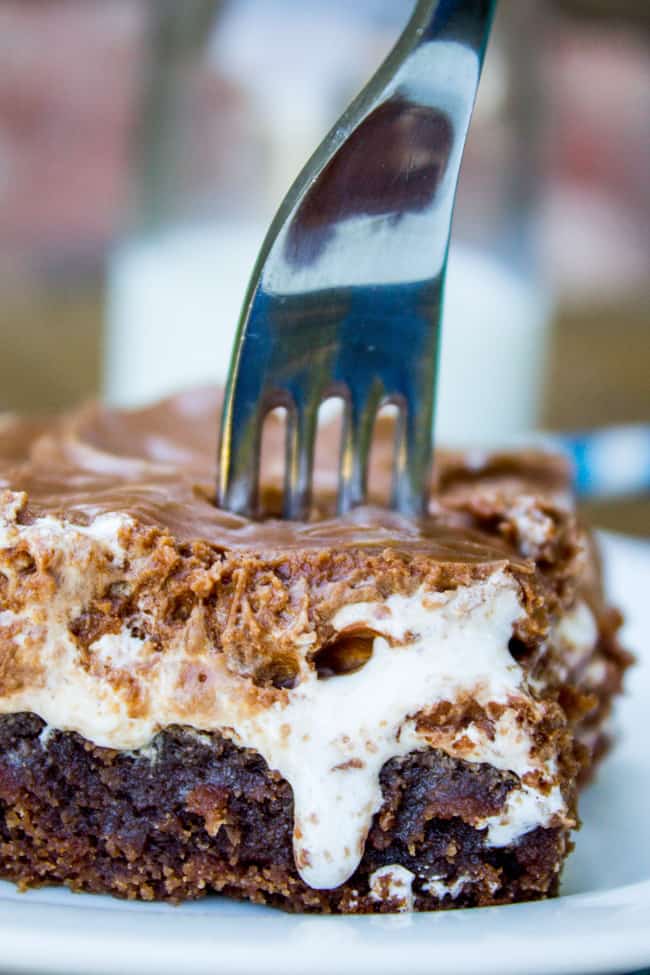 The original recipe calls for both coconut and pecans in the cake. I interrogated Eric until he told me that his mom usually did half the cake with pecans and half without, and he always chose the nut-free side. (Eric said, "I mean, muddy rivers DO have rocks at the bottom…") Feel free to add nuts/rocks if you like! They are a classic ingredient in this cake.
Coconut, however, is not. I looked up a whole bunch of recipes and none called for coconut. I was in a very self serving mood when I made this, and I don't love coconut, so I left it out. Next time I will probably add it though. Coconut often does pretty magical things when added to cake.
Chocolate Frosting + Marshmallow Cream = Mississippi Mud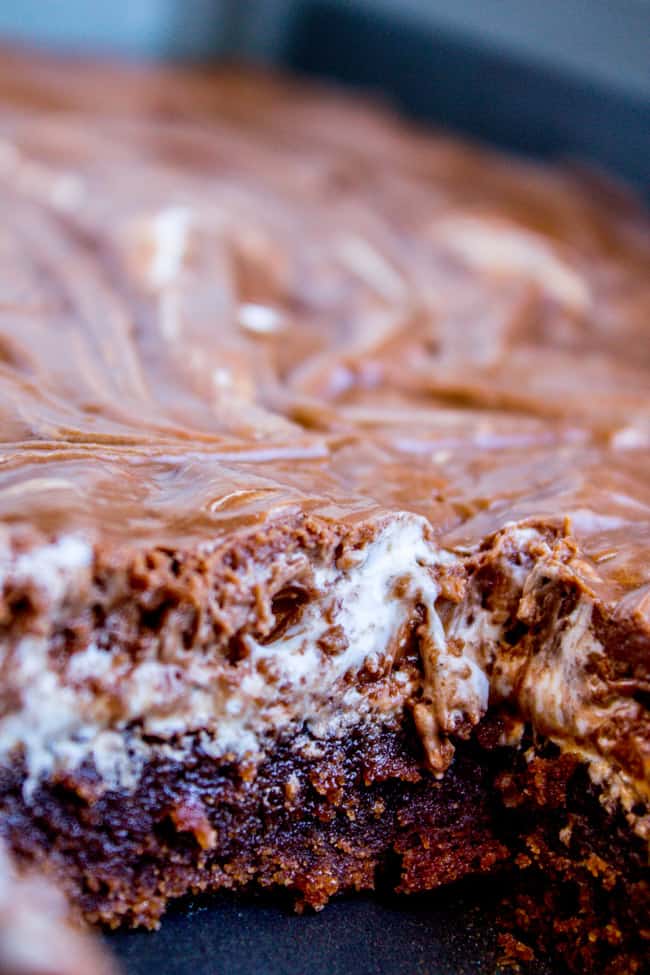 The best part about this cake is the frosting-to-cake-ratio. I am a frosting fanatic; most cakes don't have enough for me. But with an entire jar of marshmallow creme PLUS chocolate frosting, it's like double frosting. Kind of like these double frosted peanut butter cookies my friend Christy over at The Girl Who Ate Everything just posted. A frosted cookie. With TWO frostings. Why do I not always do this, for cakes and cookies??
If you whip up this cake, snap a photo and share on Instagram using #TheFoodCharlatan! I'd love to see it.
2 years ago: Slow Cooker Chicken Tikka Masala
3 years ago: The Best Lemon Bars
4 years ago: Cheesy Buffalo Chicken Dip
Mississippi Mud Cake
A classic and easy Mississippi Mud Cake recipe! It's a moist chocolate sheet cake with marshmallow crème and chocolate frosting on top. An incredibly rich and decadent treat! 
Ingredients
4

eggs

2

cups

white sugar

1

cup

butter

,

melted (2 sticks)

1

teaspoon

vanilla extract

1

cup

flour

1/2 + 1/3

cup

cocoa powder

1/2

teaspoon

kosher salt

1

cup

flaked coconut

,

optional

1/2

cup

chopped pecans

,

optional
For the Levee Frosting:
1 (7-oz)

jar

marshmallow crème

1/2

cup

butter

,

melted (1 stick)

1/2

cup

cocoa powder

1

teaspoon

vanilla extract

6-8

tablespoons

milk

4

cups

powdered sugar

1/4

teaspoon

kosher salt
Instructions
Preheat oven to 350 degrees F. Use butter to grease a 9×13 inch cake pan.

Beat 4 eggs in a large bowl or stand mixer, until thick. Beat in 2 cups sugar and 1 teaspoon vanilla.

In another medium bowl (or large one, if you intend to add pecans and coconut), melt 1 cup of butter.

Whisk in 1 cup flour (spooned and leveled), 1/2 cup + 1/3 cup cocoa, and 1/2 teaspoon kosher salt. (stir in the pecans and coconut as well.)

Add the butter-flour mixture to the egg mixture and beat well until combined.

Pour batter into the prepared pan.

Bake at 350 for 25-28 minutes, or until a toothpick comes out of the center dry.

Meanwhile, prepare the Levee frosting.

Clean the mixing bowl and melt 1/2 cup of butter in it. Beat in 1/2 cup cocoa powder.

Add 1 teaspoon vanilla, 2 cups powdered sugar, and 1/4 teaspoon kosher salt. Beat well.

Add half of the milk, about 3-4 tablespoons. Add the remaining 2 cups of powdered sugar, and beat well. Add more milk as necessary to reach the consistency you like.

When the cake is done, remove from the oven and immediately spread the marshmallow creme over the top. (see note)

Spread the frosting over the warm cake and marshmallow creme. Use a spatula or knife to swirl it.

I like to serve this cake warm, but it is quite messy. It will set up as it reaches room temperature.
Notes
I find it much easier to warm up the marshmallow creme before spreading it on the cake. Remove the lid and all traces of the foil, and microwave for 15-25 seconds until it has started to puff up over the edge of the jar. Then take it out and spread. So much easier!
Nutrition
Serving:
1
g
,
Calories:
712
kcal
,
Carbohydrates:
105
g
,
Protein:
6
g
,
Fat:
33
g
,
Saturated Fat:
20
g
,
Polyunsaturated Fat:
2
g
,
Monounsaturated Fat:
9
g
,
Trans Fat:
1
g
,
Cholesterol:
116
mg
,
Sodium:
232
mg
,
Potassium:
186
mg
,
Fiber:
4
g
,
Sugar:
84
g
,
Vitamin A:
803
IU
,
Vitamin C:
1
mg
,
Calcium:
38
mg
,
Iron:
2
mg
Try these other amazing cakes!
The Best Chocolate Cake I've Ever Had << although this Mississippi Mud cake sure gives it a run for it's money.
Chocolate Cherry Sheet Cake with Fudge Frosting: <<sooooo easy. so good.
Strawberry Truffle Cake << you get to smash a cake when you make this. For real.
Death By Chocolate Bundt Cake << made from a cake mix! No one will believe you.
More cakes from other bloggers:
Mississippi Mud Brookies from Chocolate, Chocolate, and More
Peanut Butter Mississippi Mud Blondies from Oh Sweet Basil
Mississippi Mud Brownies from Bun in my Oven
We are a participant in the Amazon Services LLC Associates Program, an affiliate advertising program designed to provide a means for us to earn fees by linking to Amazon.com and affiliated sites.