Tender butternut squash and bright cranberries top off tangy goat cheese in this perfect holiday appetizer.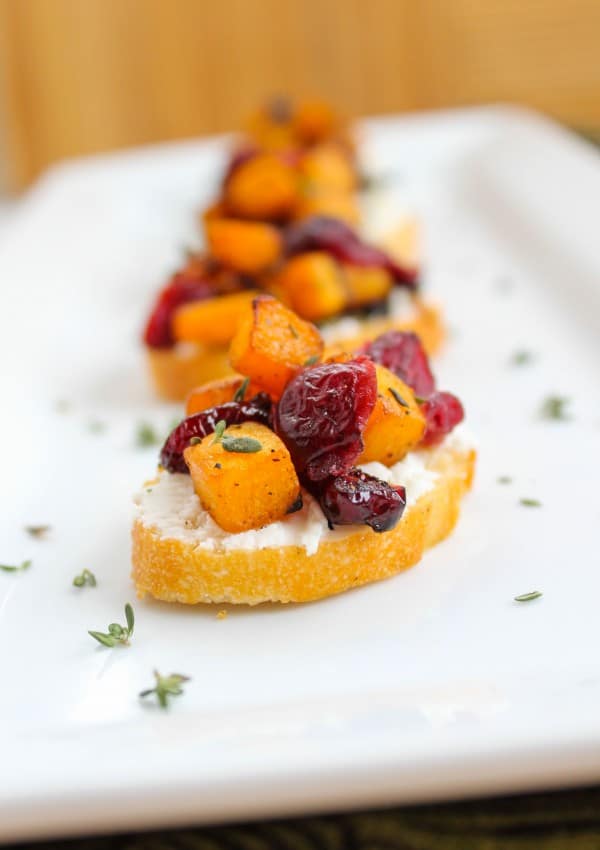 Are you guys getting pumped for eating 9 different kinds of pie turkey and gravy this week?
When I was a kid, Thanksgiving was always at my great Aunt Pauline's house. It was The Event of The Year in my 7-year-old eyes. (Never trust me when I say I was 7 years old. The truth is that I can't remember anything chronologically before roughly the age of 12, so all childhood memories fall under my favorite number, 7.)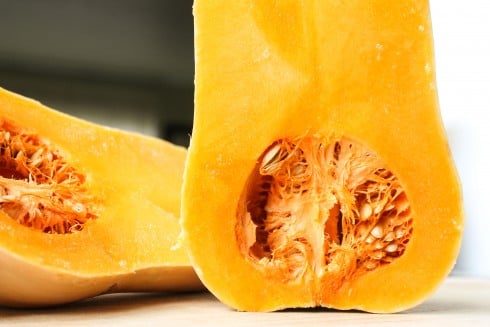 Anyway, Thanksgiving at Pauline's was awesome. Even though all I liked was the mashed potatoes and white turkey meat. I would literally fill my entire plate with white meat, potatoes, gravy, and a roll. Then I would wait around impatiently for all the old people to finish eating their third plates so that we could get on with dessert.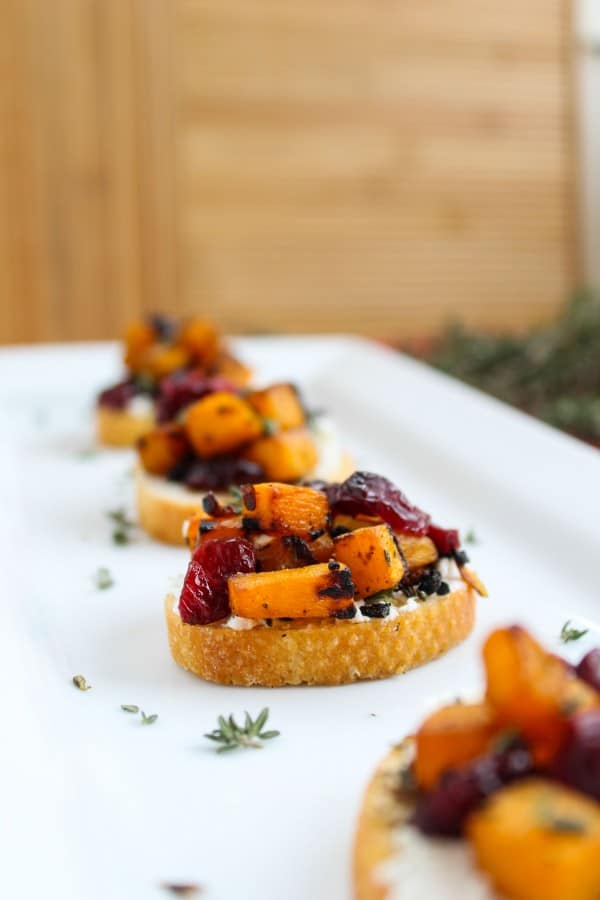 But before dessert we always went on our annual walk. You only have 2 options after eating that much food: Sink into the couch in a turkey-induced coma, or walk it off. We chose the walk. We always brought a football to toss around (and I always avoided it. Footballs and I do not get along. I mean, balls of any kind are horrible, but footballs are painfully pointy. On both ends. It's a sport-phobic's worst nightmare.)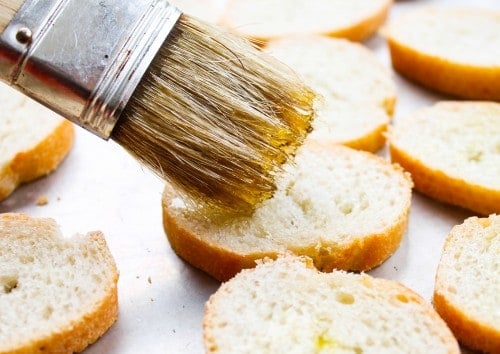 One year we couldn't find a football but couldn't kick the tradition, so we tossed around a roll of toilet paper. (I played that year. I mean, it was Quilted Northern. It's like getting a blanket thrown at you. I can handle that.)
So what did you guys do for Thanksgiving when you were kids? Don't pretend you were the kid eating the salad and token green vegetables. I know you're lying.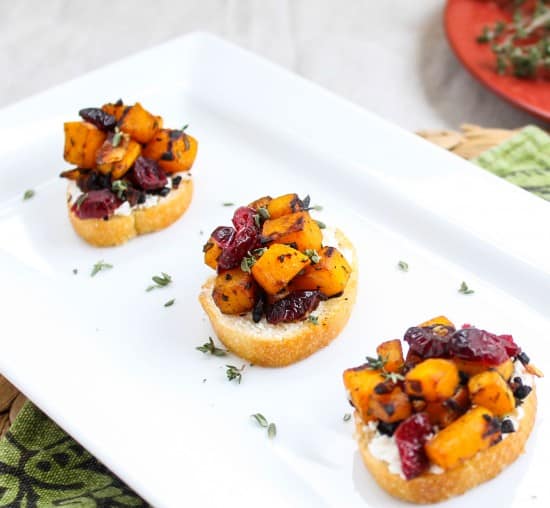 This fun little appetizer would be perfect for all your guests to munch on while you put the finishing touches on your turkey. If you have the butternut squash chopped beforehand, it is really easy to throw together. (There is a tutorial on how to chop butternut squash below the recipe, check it out.) You could even toast the crostini the day before to have even less work to do the day-of. I love butternut squash, but when you combine it with goat cheese something magical happens…magical, I tell you!

Butternut Squash, Cranberry, and Goat Cheese Crostini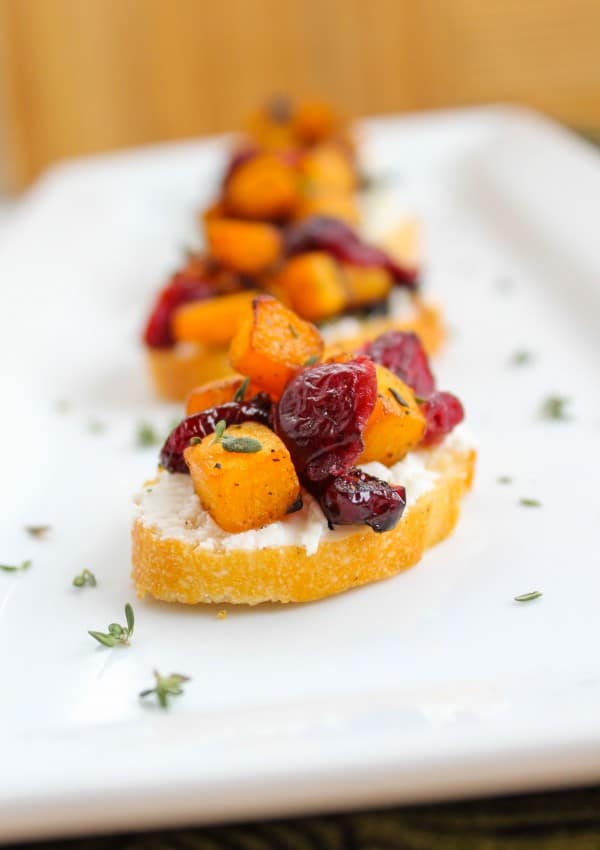 Tender butternut squash and bright cranberries top off tangy goat cheese in this perfect holiday appetizer.
Ingredients
2 & 1/2

tablespoons

extra virgin olive oil

1

12 inch

sourdough baguette

,

thinly sliced (1/4" pieces)

3

ounces

goat cheese

,

softened
For the topping:
1 & 1/2

tablespoons

extra virgin olive oil

1

shallot

,

minced

1 & 1/2

cups

butternut squash

,

3/4 inch cubes, peeled and diced

2

cloves

garlic

,

minced

1/2

cup

dried cranberries

,

roughly chopped

2 & 1/2

tablespoons

thyme

,

minced

salt and pepper to taste
Instructions
Start by chopping the butternut squash. See tutorial below.

Preheat oven to 375 F. Set out the goat cheese to soften. Slice the baguette thinly. (Quick tip: if you're baguette is stale, wrap it in a damp tea towel and microwave for 5-15 seconds. Works like a charm.)

Use a pastry brush to coat each side of the sliced baguette pieces with the 2 1/2 tablespoons of olive oil. Sprinkle with salt and pepper.

Bake in the preheated oven for 5 minutes, flip each sourdough, and continue to bake for an additional 3 to 4 minutes. Don't worry if they have not browned. Remove from oven and set aside.

For topping: Pour 1 1/2 tablespoons oil into a large, heavy bottom skillet, and place over medium-high heat. Add shallots and sauté for 2 minutes, stirring frequently.

Add squash and continue to sauté for 4 minutes. Reduce heat to medium, add garlic and 2 tablespoons of thyme and stir together.

Cook mixture for 5 minutes, then add cranberries. Season to taste with salt and pepper.

Cook for another 4 to 10 minutes, or until squash is fork tender. (If the squash is chopped large, it will take longer.)

To assemble: Spread some goat cheese onto each crostini and top with a spoonful or two of the squash mixture, pressing it in slightly to make it stick. Sprinkle with remaining thyme and serve!
Nutrition
Serving:
1
slice
|
Calories:
131
kcal
|
Carbohydrates:
11
g
|
Protein:
2
g
|
Fat:
9
g
|
Saturated Fat:
3
g
|
Polyunsaturated Fat:
1
g
|
Monounsaturated Fat:
6
g
|
Cholesterol:
5
mg
|
Sodium:
42
mg
|
Potassium:
125
mg
|
Fiber:
1
g
|
Sugar:
6
g
|
Vitamin A:
3004
IU
|
Vitamin C:
10
mg
|
Calcium:
40
mg
|
Iron:
1
mg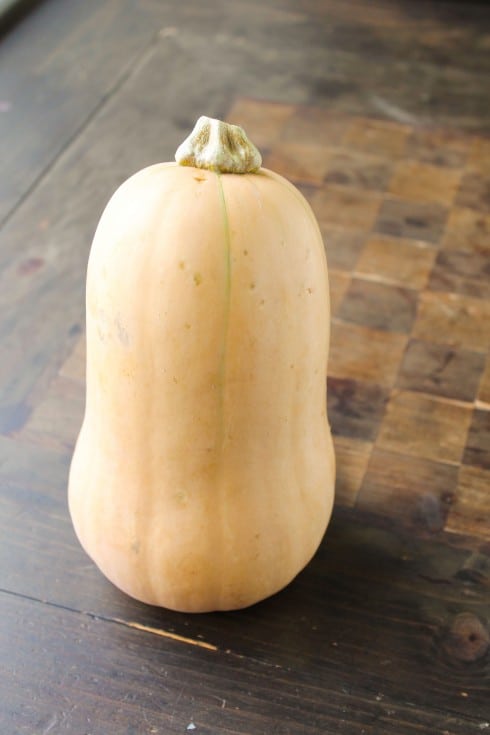 There she is. She's a beaut.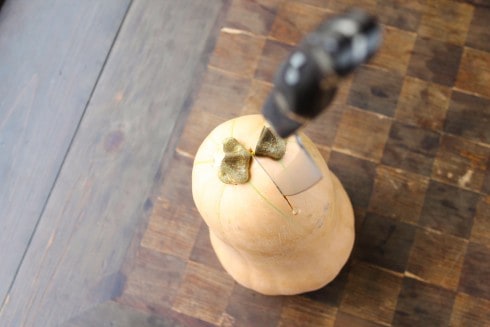 Place a super-sharp chef's knife straight down into the top. Carefully push straight down, then start to move down the side.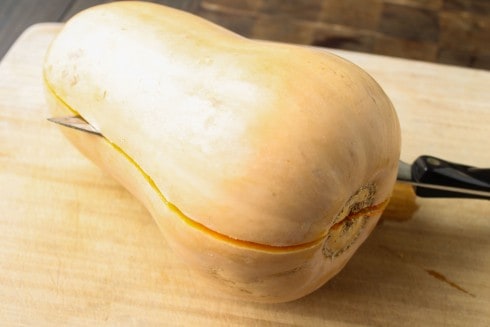 Go all the way down then back up the other side.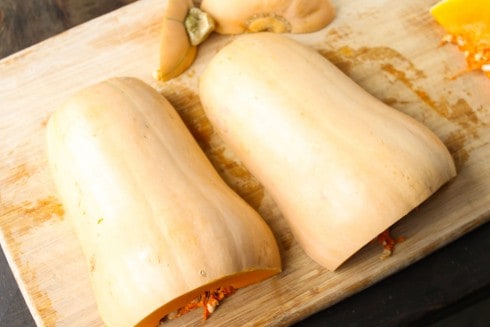 Place both halves down and chop off the tops and bottoms.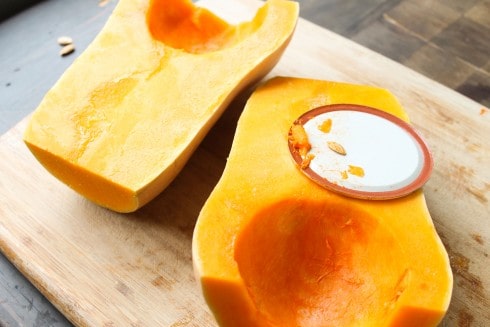 Clean out the gunk. Use the lid of a canning jar, it's sharper than a spoon.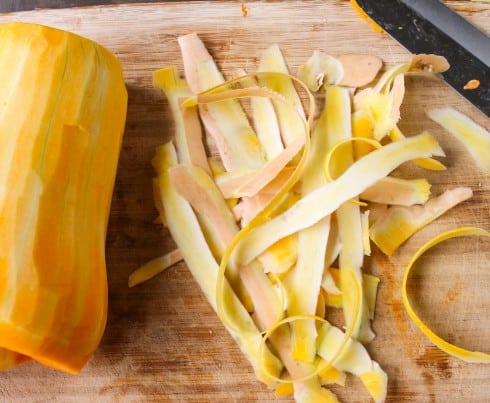 Peel that baby up. Make sure you get off all the tough skin, you want it to be nice and orange.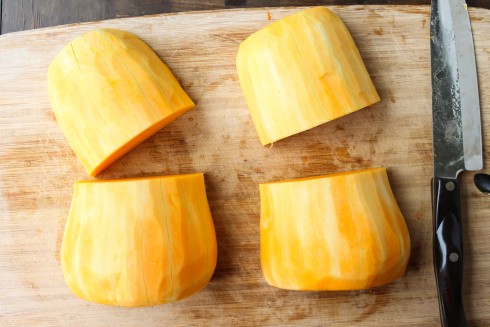 Chop em in half.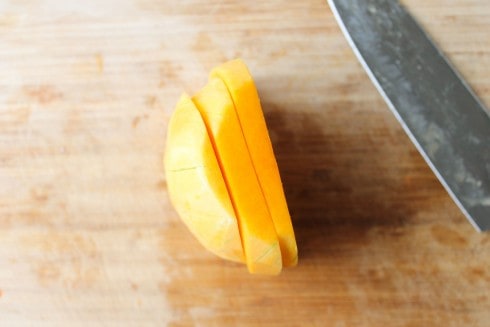 Flip it up vertically and slice.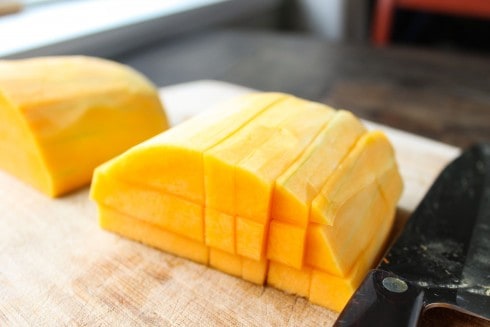 Then slice it…like that.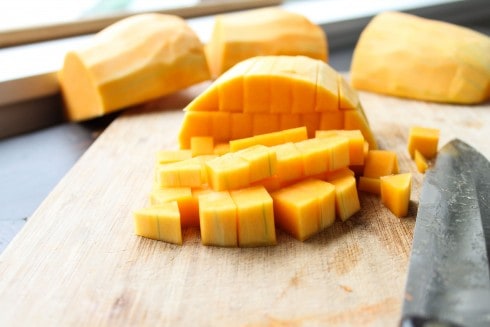 Then dice! Cutting it like this will get you the fine dice that you need for this recipe. I recommend dicing like this for the cup and a half you need, then chopping into one-inch cubes to freeze and/or save for another use, like butternut squash soup.