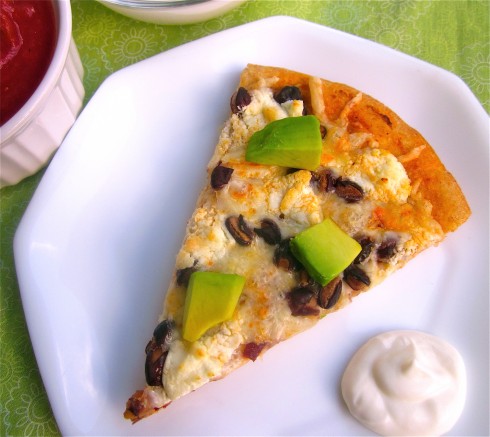 So are you guys having so much fun watching the Olympics? Eric and I are not really TV people (we are movie addicts) but our TV has probably been on more in the last week than it has been in the past year. My sister told me that her husband bought her a TV antennae last week just so that she could watch the Olympics. True love here people.
Speaking of true love, have you guys seen this commercial?** I about died laughing. I've seen it probably 5 times now and I still laugh out loud every single time.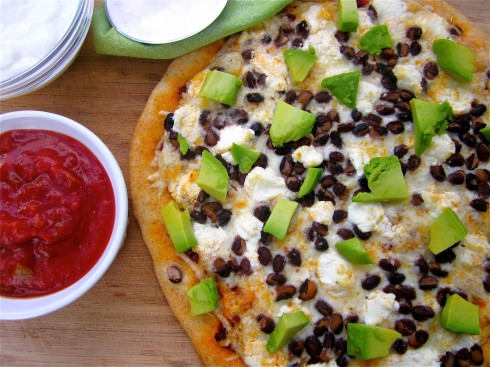 What is your favorite event to watch? I love it all, but I have to say I get a teensy bit bored with gymnastics and swimming over and over. I prefer to watch during the day when I can see the kayaking and the rowing and the trampoline. If you haven't seen those kids on the trampoline yet, go find it, because it is freaking awesome.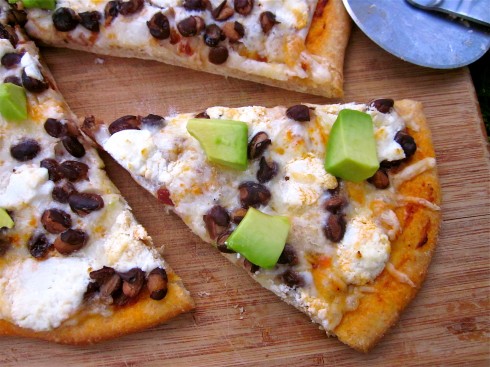 Do not be dubious about this pizza. Love it. It is like a party in your mouth. It is hearty and vegetarian and spicy and amazing all at once. Chipotle and goat cheese is one of those mind-blowing combos that I never would have put together, and it is absolutely incredible. Chipotles are pretty spicy, so consider yourself warned. Just make sure you have plenty of sour cream!
**Sears took down the original youtube video of this commercial, so this is a crappy recorded version. I don't know why they would ever take something that brilliant off the internet.
Chipotle Black Bean Pizza with Goat Cheese and Avocados

Source: In Good Taste
Serves 4 (Makes 2 8-inch pizzas)

1 pound white or whole-wheat pizza dough (store-bought or homemade)
olive oil
sea salt
1/4 cup canned chipotle chilis in adobo sauce, finely chopped*
3 cups mozzarella cheese, shredded
1 cup black beans
4 ounces goat cheese
1 avocado, chopped
salsa, to garnish
sour cream, to garnish
Preheat oven to 475 degrees F. Divide pizza dough into two equal pieces. On a square of parchment paper, roll each crust out into a rough circle about 8″ wide. Drizzle the dough with a little olive oil and spread it over the entire circle, using your fingers or a brush. Get the edges real good so that your pizza crust isn't dry. Sprinkle the whole circle lightly with sea salt. Pull the parchment paper (with the dough) onto a pizza paddle or a flat baking sheet, open your oven, and then slide the paper and dough onto your pizza stone. Bake for 1 minute. Remove the crust using the same technique. Remember, the pizza dough should not leave that paper until you are about to eat it.
Spoon an even amount of chopped chipotles in adobo sauce on each crust and spread evenly. Sprinkle each pizza with about 1 1/2 cups mozzarella cheese. Top with the black beans and goat cheese.
Bake for 8-10 minutes, or until crust is golden brown and cheese is bubbly. (If you are using whole wheat, the baking time may be longer. Check the bottom of the pizza with a spatula to see if it is done.) Remove from the oven and top with chopped avocado. Serve with salsa and sour cream. Serve immediately.
*I used about 4 peppers total for the 2 pizzas; the rest was sauce. If you are worried about this being too spicy, try using just 2. This will make it hard to spread over the whole pizza, so mix in a little bit of olive oil to the chopped peppers.