Peanut butter decadence with a hint of pumpkin spice! These cookies are a twist on the classic blossom. Pumpkin replaces the egg but doesn't overwhelm the flavor. Perfect for Halloween potlucks or Christmas plates! Their wee size also makes it easy to throw down a dozen before you even know what's happened…beware.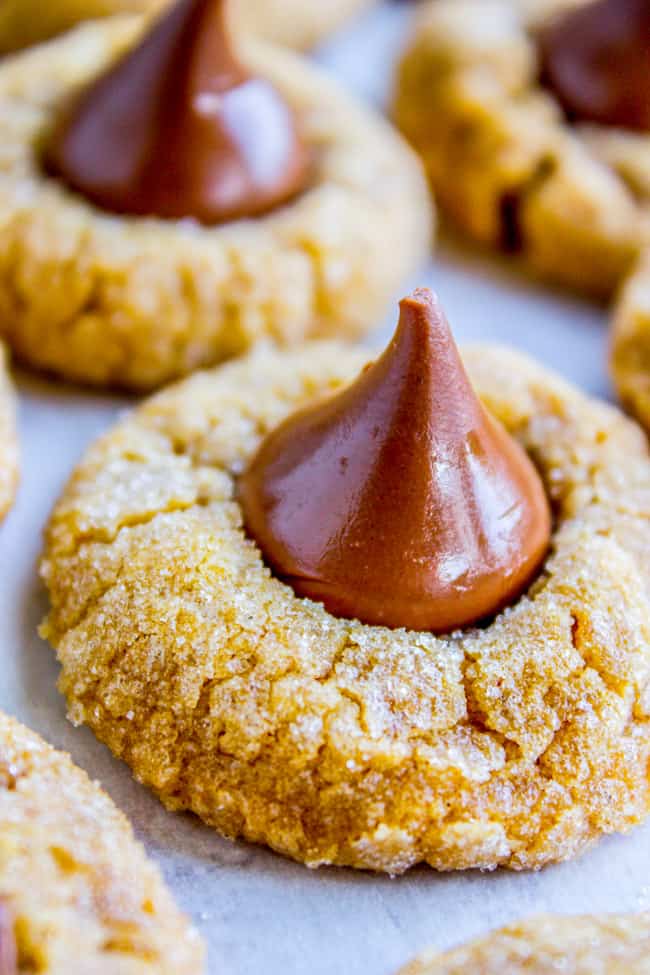 So let me tell you the way to go into labor, if going into labor is on your agenda right now. (I'm sure it is. Right?) All you have to do is have your parents who live nearby go on vacation to Japan (don't be jealous. You can't eat the sushi anyway).
THEN, at the same time, have your husband go on a business trip for work. With mom and husband out of town, the timing is perfect. Kind of like when you are waiting for a guest to arrive at your house but you really need to go to the bathroom, and you keep waiting so that you can answer the door, and then you finally just go and THAT'S when they knock. I'm basically like a magician.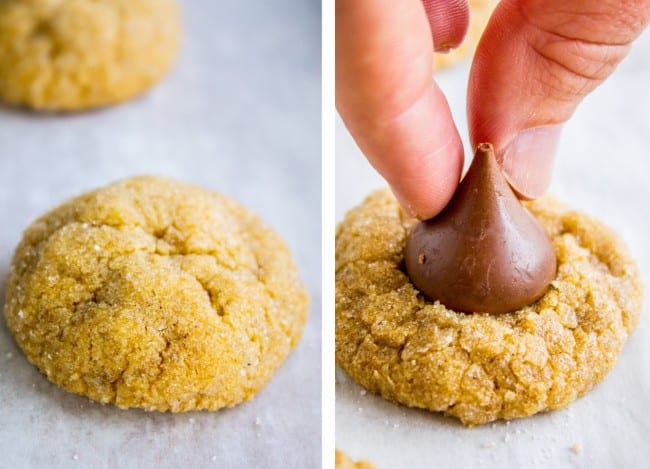 No, I didn't actually go into labor. This baby is still lodged in my frame somehow. But I DID have some painful contractions last night and totally freaked out. Lest you think this is charity for wanting Eric to be present for the birth of his child, let me reassure you that IT'S ALL ABOUT ME. I can't imagine doing labor on my own. (Actually, I can imagine it. It's all I was doing last night.)
Now that it's daytime and the contractions have stopped things look a lot rosier. It helps that Eric is almost home. Even if I started labor right now he would make it. Now that we're in the clear I'm back to praying to have the baby as soon as possible. I'm like a flip flopping politician. I'm sure God understands, right??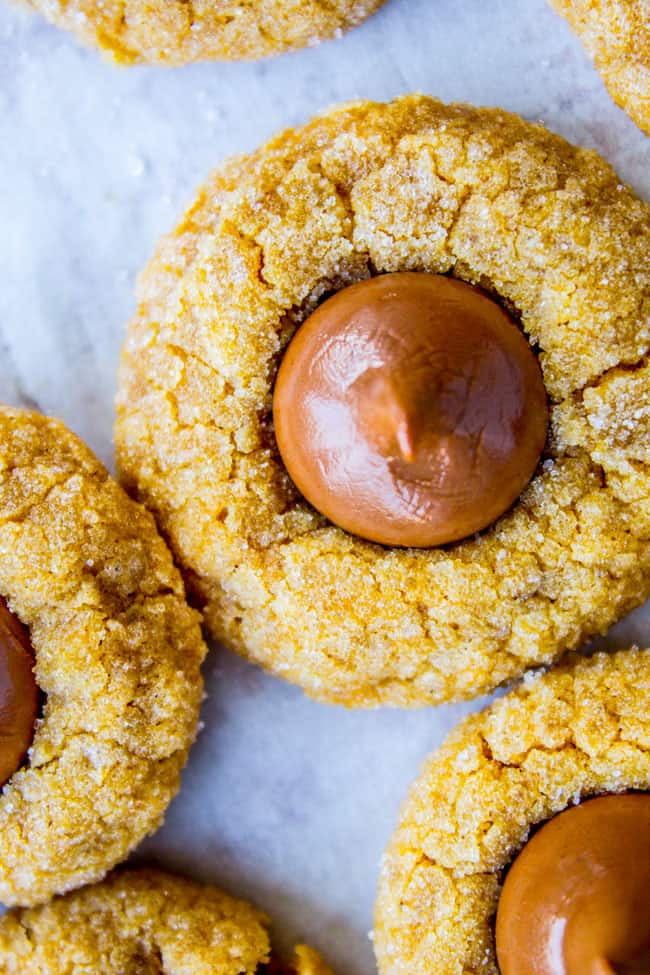 I mentioned last week that my friend Amy over at BellyFull and Trish from Mom on Timeout (who both live here in Sacramento) threw me a little baby shower for us food bloggers in town. They had some games planned but we were all having so much fun chatting that we forgot to even do them. (That's when you know it's a fun party :)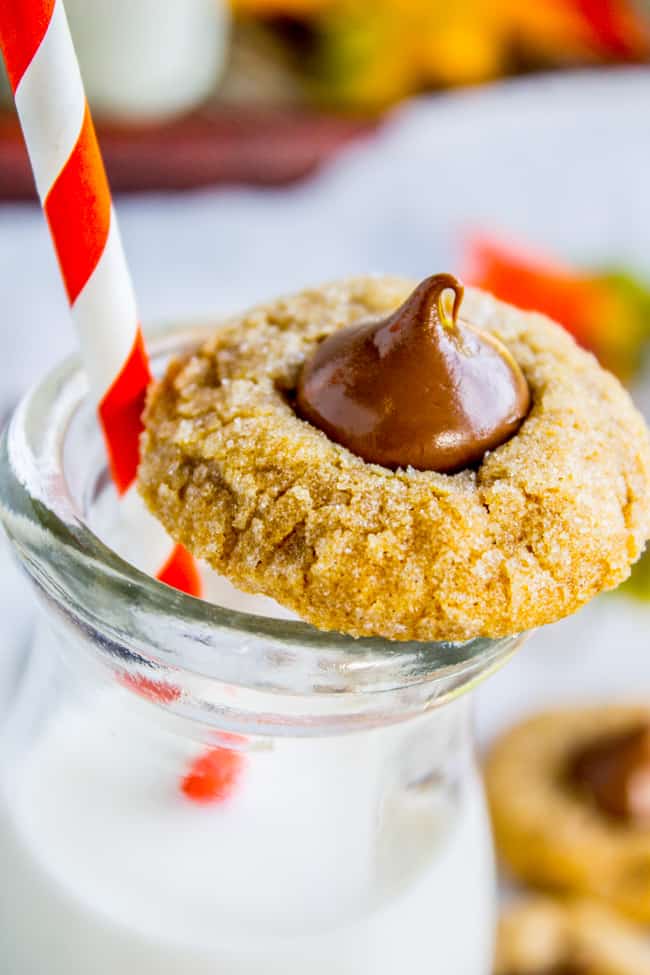 There was a bowl on the table piled high with chocolate kisses. We were supposed to guess how many there were and the closest one would win. But since we didn't play, they sent them home with me. ALL of them. ALL 210 OF THEM. Now tell me, when you have 210 chocolate kisses forced on you, what do you do?
Well I make Peanut Butter Blossoms apparently. But these ones have PUMPKIN in them, because fall.
So I'm not going to lie to you guys, these don't taste overwhelmingly pumpkin-y. I fed them to my neighbors who were outside while I was doing my photo shoot on the porch and they were surprised when I told them there was pumpkin in it.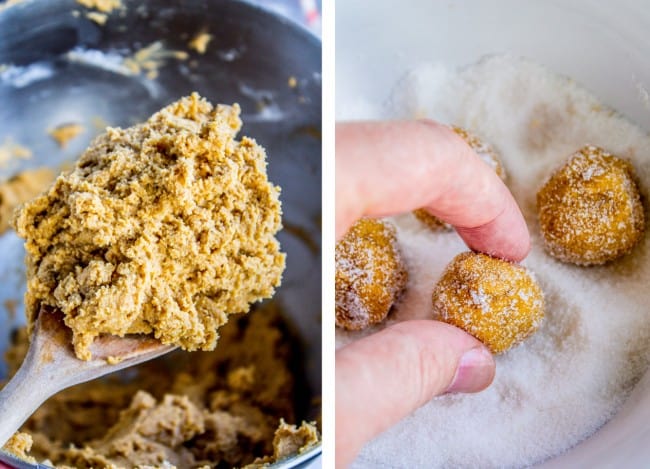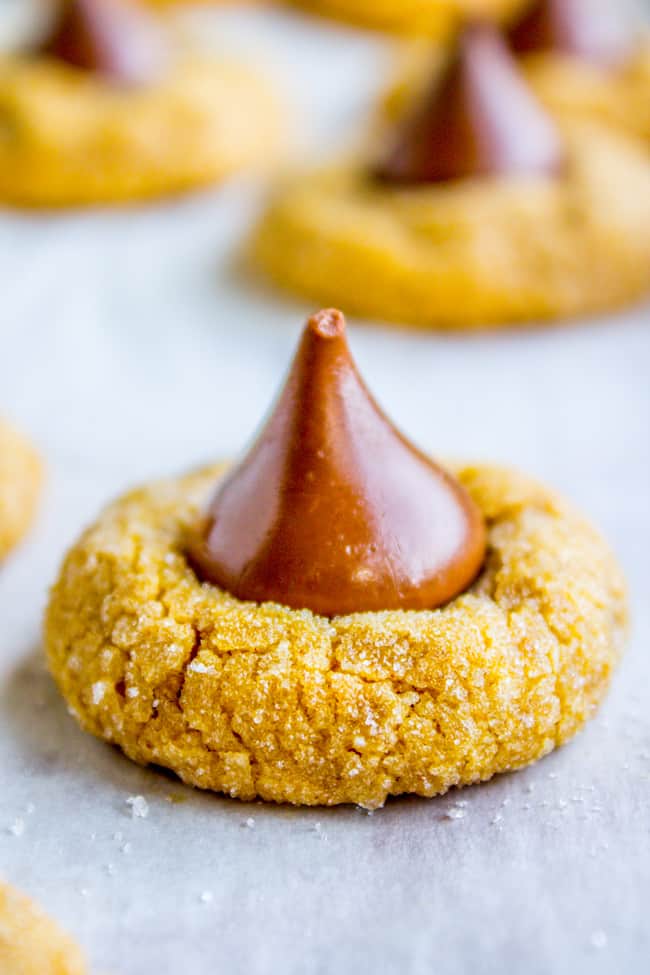 Which just goes to show what a great substitute pumpkin is for eggs in cookies. (A tip I learned from Sally years ago.) Works like a charm (plus it makes them great cookies to have on hand for when you have egg-free guests). If you don't feel like opening a whole can of pumpkin just to use 6 tablespoons of it, then just use 1 egg instead! The original recipe that I adapted these from calls for an egg, and the cookies will turn out just fine without the pumpkin. I would not, however, skip the pumpkin pie spice called for! It's what makes these cookies taste more like fall.
Facebook | Pinterest | Instagram | Twitter

Peanut Butter Pumpkin Blossoms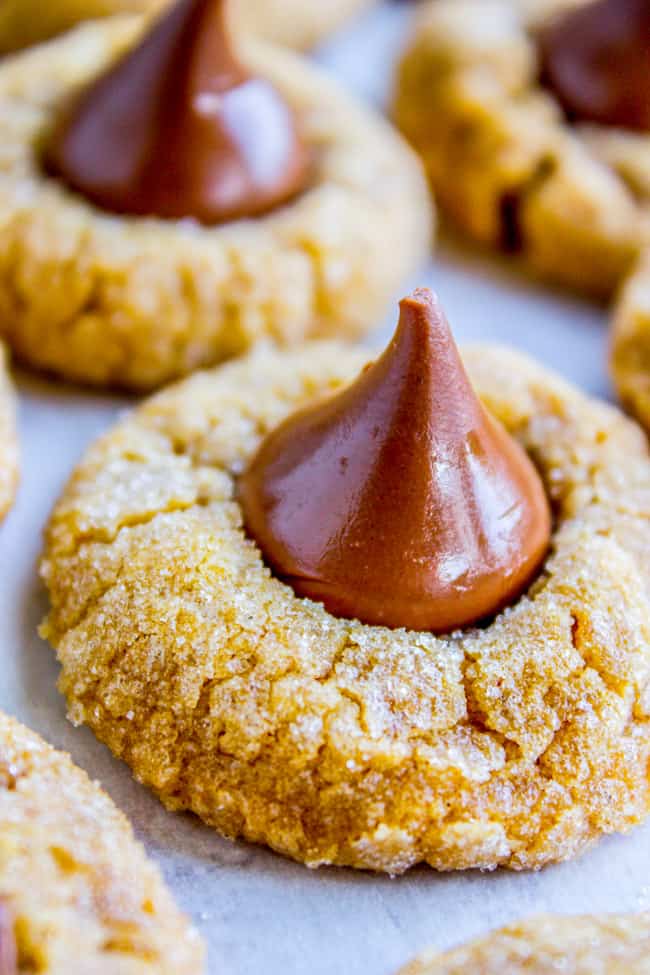 Peanut butter decadence with a hint of pumpkin spice! These cookies are a twist on the classic blossom. Pumpkin replaces the egg but doesn't overwhelm the flavor. Perfect for Halloween potlucks or Christmas plates! Their wee size also makes it easy to throw down a dozen before you even know what's happened...beware.
Ingredients
1/2

cup

butter

,

1 stick, softened

1

cup

+ 2 tablespoons, peanut butter

1/4

cup

white sugar

3/4

cup

brown sugar

,

packed

6

tablespoons

pumpkin

,

canned, not pumpkin pie filling*

1

tablespoon

vanilla extract

1 & 1/3

cups

all-purpose flour

,

spooned and leveled

3/4

teaspoon

baking powder

1/4

teaspoon

salt

1/2

teaspoon

pumpkin pie spice

3/4

cup

white sugar

,

for rolling dough balls, you may need more or less

55-60

chocolate kisses
Instructions
In a stand mixer or large bowl, beat the butter until it is smooth.

Add the peanut butter, 1/4 cup white sugar, and brown sugar. Beat well, scraping sides.

Add the pumpkin and vanilla. Beat.

Add the flour but don't mix it in. Use a small spoon to stir the baking powder, salt, and pumpkin pie spice into the flour.

Beat the flour into the dough until just combined, scraping sides and bottom of bowl.

Cover the bowl and freeze for 15 minutes (or refrigerate for 30 minutes).

Preheat the oven to 350 degrees F. Line baking sheets with parchment paper or silpats.

Shape the dough into 1 inch balls. Remember, 1 inch is not very big! I actually measured my first one so that I could get a feel for it.

Add 3/4 cup sugar to a bowl or plate. Roll the balls in the sugar.

Place the shaped dough onto the prepared baking sheets, about 1 and 1/2 inches apart. If your oven is not ready, stick the pan in the fridge or freezer. (If there is any time lapse at all while you are shaping the dough, try to remember to chill the dough. It's delicate and needs to go into the oven cold.)

Bake at 350 for 8-10 minutes, or until the edge feels set when you touch it. Don't over bake! Unwrap kisses while the cookies bake.

Take the cookies out and immediately push 1 kiss into each cookie. You have to do it right away so that the kiss melts a little bit, that way they will stick to the cookie as they cool. Leave the cookies on the hot pan for at least 5 minutes so they have time to set up.

Let cool on a wire rack.

This recipe makes about 55-60 cookies. Don't eat them all at once!
Notes
*If you don't feel like busting out a can of pumpkin, you can substitute 1 egg. Don't skip the pumpkin pie spice though!
Source: This recipe is only slightly adapted from The Best Peanut Butter Cookies, (believe it guys) which I originally found on The Girl Who Ate Everything, who got it from Boys Ahoy, who got it from Baking Blonde, who spent years testing it, and if I may say so, NAILED IT.
Nutrition
Serving:
1
cookie
|
Calories:
103
kcal
|
Carbohydrates:
13
g
|
Protein:
2
g
|
Fat:
5
g
|
Saturated Fat:
2
g
|
Polyunsaturated Fat:
1
g
|
Monounsaturated Fat:
2
g
|
Trans Fat:
1
g
|
Cholesterol:
6
mg
|
Sodium:
58
mg
|
Potassium:
44
mg
|
Fiber:
1
g
|
Sugar:
10
g
|
Vitamin A:
189
IU
|
Vitamin C:
1
mg
|
Calcium:
18
mg
|
Iron:
1
mg
Try out these other cookies! 
Texas Cowboy Cookies << these have been SO popular over the past few months. Try them out!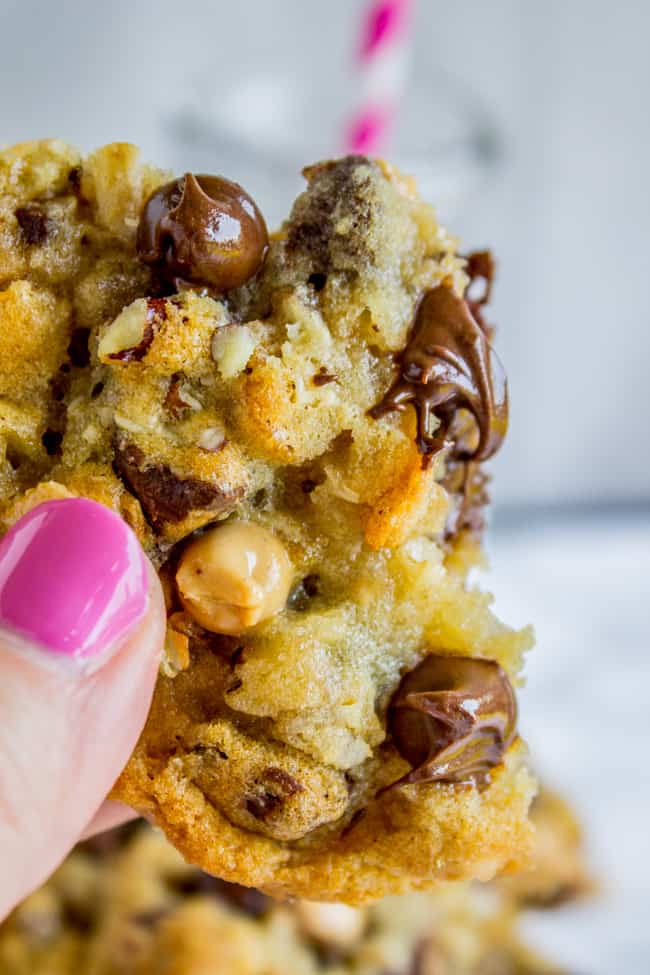 Brownie-Stuffed Chocolate Chip Cookies << I still have a few of these in my freezer. I eat one every time I think I'm in labor. Just kidding:
Reeses Stuffed Brown Butter Brownies << Bring on the Peanut butter! And the post Halloween treats…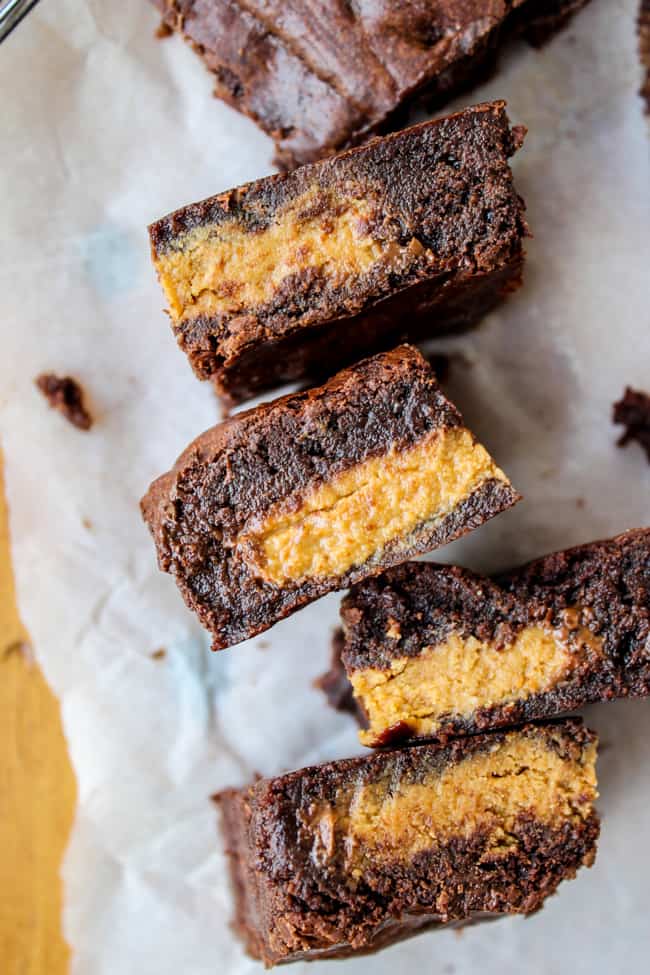 Here's a cookie version: Buried Reeses Cookies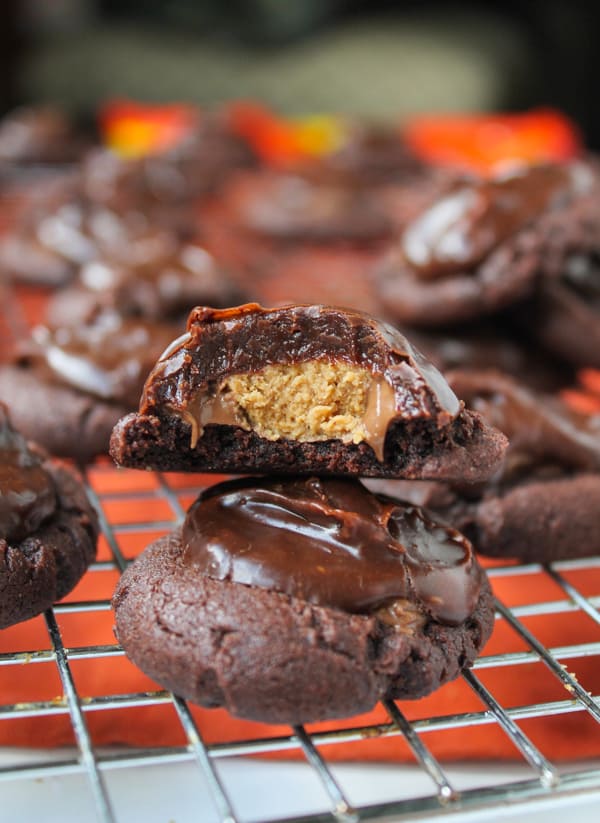 More cookies from blogger friends!
Perfect Peanut Butter Cookies from Sprinkle Some Sugar
Cheesecake Stuffed Chocolate Peanut Butter Cookies from Melanie Makes ^^ whoa!
Apple Peanut Butter Cookie from Julie's Eats and Treats