These Maple Cookies are studded with pecans and topped with an irresistible maple glaze! The cookies are unique because they are more like a scone than a traditional cookie, plus they have raw sugar in them for even more texture. It's the perfect cookie to satisfy all your fall baking needs!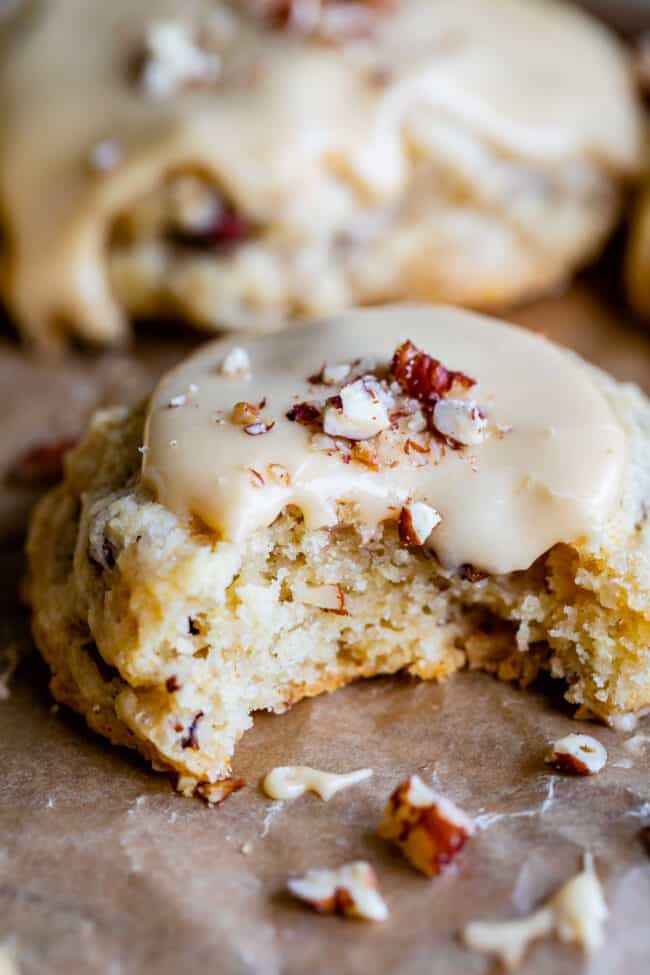 You know what is the cruelest thing in the world? When you put books 2 and 3 from the series you're reading on hold at the library, and they loan you number 3 before number 2. How unfair is that??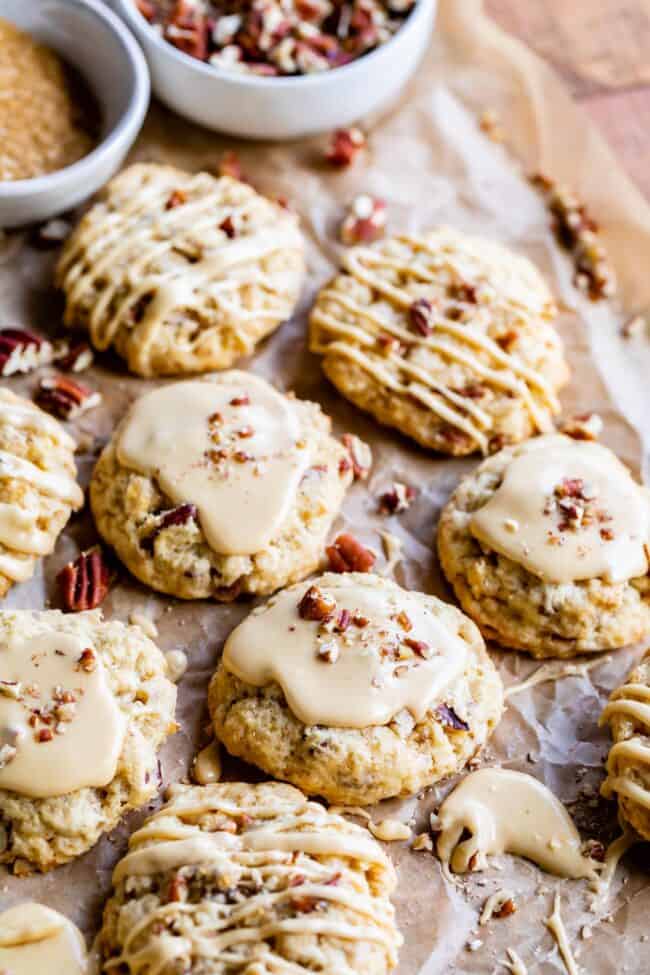 It's the sequel to the book that is now a movie on Netflix, To All the Boys I Loved Before. Have you seen it? It's a cute teenage romance movie, and the books are very similar.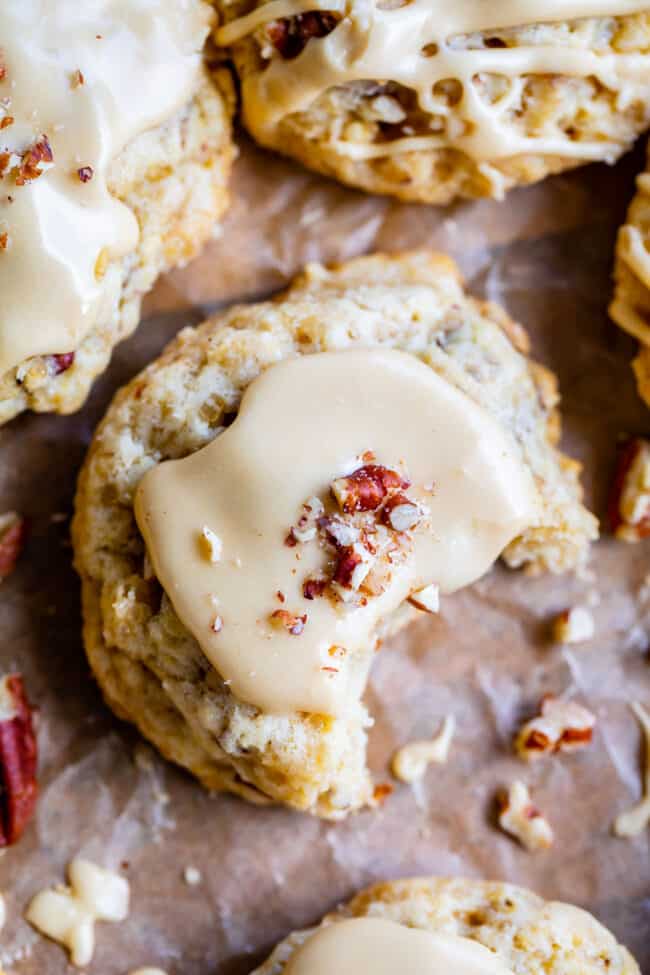 I needed some light reading for our plane ride to Japan, Eric and I just got home! It was so fun. My best friend Sarah and her husband (who is in the Air Force) have been living there for two years, and we've been wanting to visit them. We figured if we're ever going to go to Japan, now is the time to do it, when we have built in tour guides!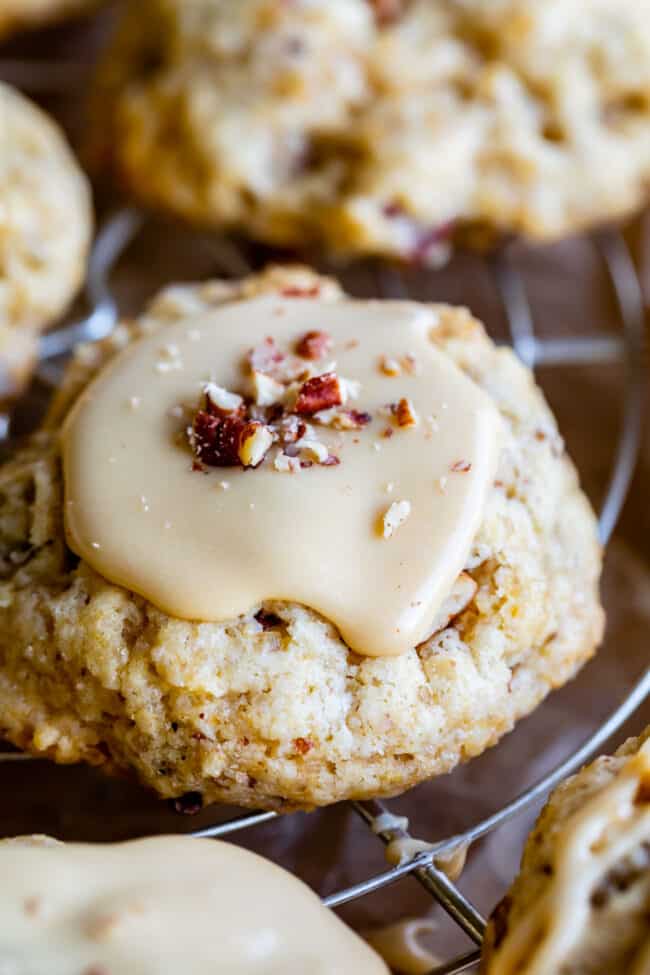 It was so much fun seeing Tokyo and Kyoto. My favorite was seeing all the moss covered shrines. Who am I kidding, my favorite was actually seeing all the street fashion. How do Japanese girls look so cool wearing socks and sandals? I'm not even kidding, it is totally a thing there and it looked awesome on them. Probably because they all have tiny feet. If I tried that people would be completely disgusted my size nines.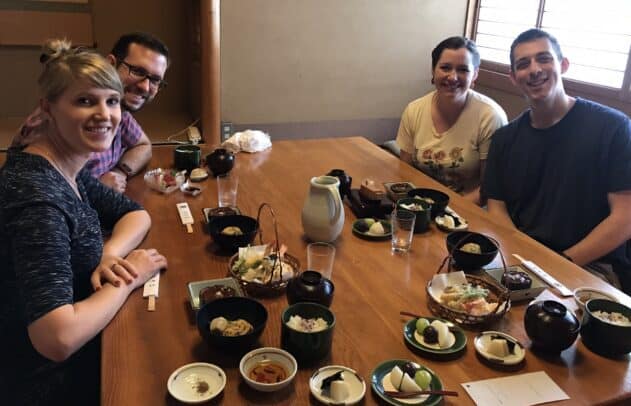 Here's one of my favorite authentic Japanese meals we had. I'm not really into Japanese food (I mean, besides the million flavors of Kit Kats and Hi Chews) and sushi is definitely not my favorite. But I had tempura (which is Deep Fried Things) and we got along just fine.
Maple Cookies for Fall!
Maybe we should have gone to Canada instead of Japan, because I've been obsessed with maple cookies this year. So when my friend Mary over at Barefeet in the Kitchen sent me a copy of her new cookbook, I was immediately drawn to these maple cookies! She calls them Maple Nut Scone Cookies, which is also an accurate title, because these are not really a traditional cookie: they are really a mini scone. Which, it turns out, is one of the most delicious things I've ever had.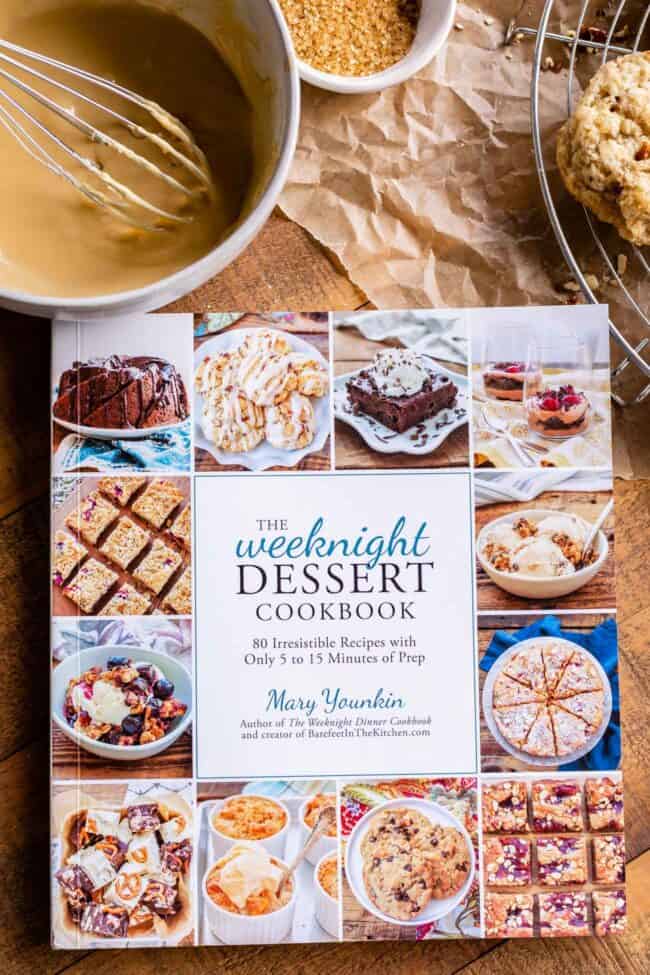 Here's a picture of Mary's new book, The Weeknight Dessert Cookbook. Isn't it so pretty? I love it because it's got tons of amazing recipes, but it also very practical. The whole point is that you don't always want to spend half your weekend on dessert; sometimes you just want to whip up something quick to satisfy that Thursday night craving. Mary is such a talented baker (and cook too; here's a link to her first cookbook, The Weeknight Dinner Cookbook, which is also legit! Check out this Chinese Beef and Broccoli Soup of hers I made. Yum!)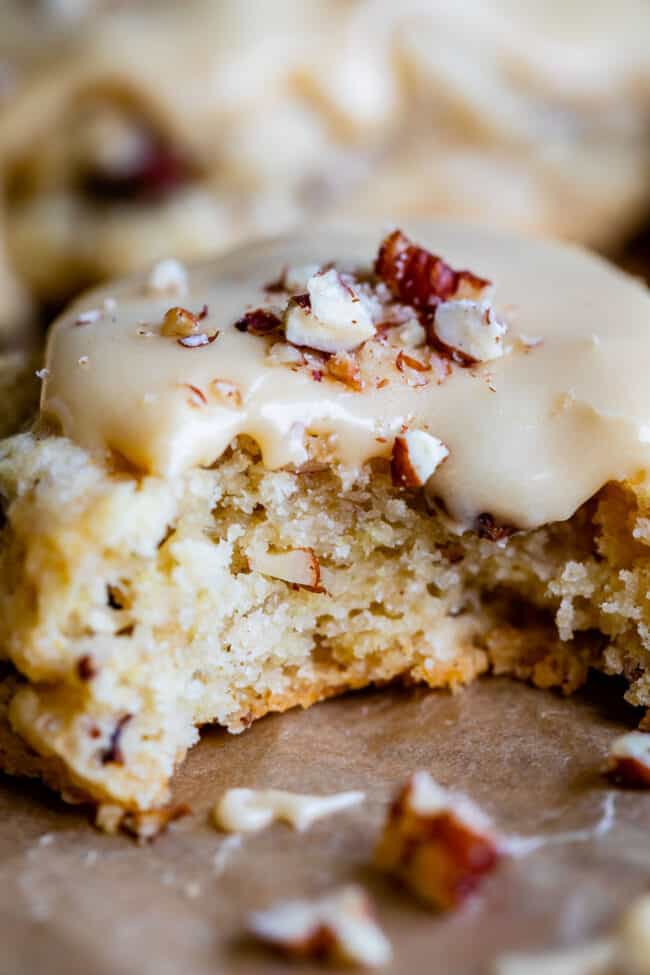 How to Make Pecan Maple Cookies

So these cookies are really mini scones, not cookies. First you mix together all the dry ingredients, then use a pastry cutter (or a fork, or a butter knife) to cut in some cold butter. Then mix in some wet ingredients and voila! Homemade scones! That are mini! And turn out tasting like the most delicious, tender cookie. With maple glaze. They are so good!
This recipe only makes 12-18 cookies, depending on how big you make them, which is a serious problem in my family. We are cookie people. Next time I'm doubling it for sure!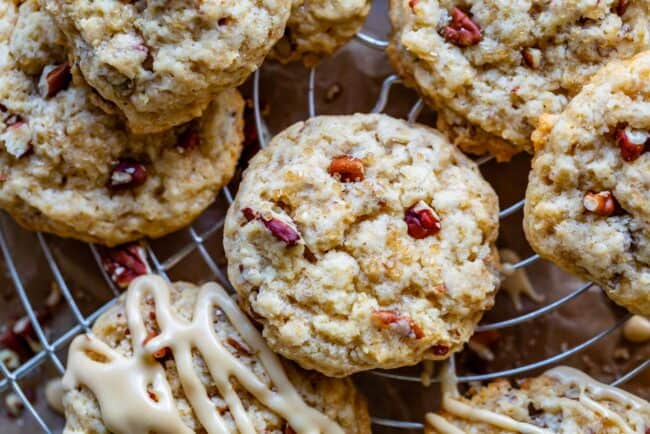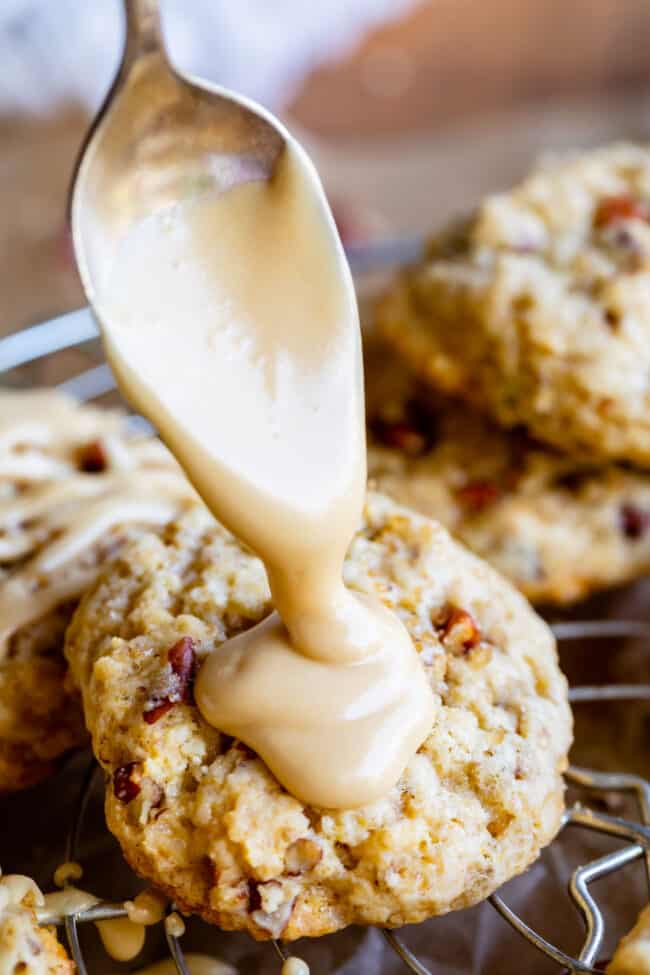 More cookies you are going to want to make this fall!
Butter Pecan Cookies << these are the first Christmas cookie I make every single year!
Soft Cinnamon Cookies with Maple Pecan Frosting << these are so rich. The frosting is insane!
Caramel Pecan Thumbprint Cookies << I need to reshoot these, but they are a huge favorite of mine!
Soft Pumpkin Cookies with Brown Butter Icing << these cookies are a classic, and done in 30 minutes flat.
Soft Peanut Butter Cookies with Maple Glaze << maple and peanut butter were born for each other.
Ginger Molasses Sandwich Cookies with Buttercream Frosting
The Best Chocolate Chip Cookies << these cookies have maple extract in them, and I love it!
Pecan Snowballs from That Skinny Chick Can Bake
Pumpkin Spice Snickerdoodles from Valerie's Kitchen
Marshmallow Toffee Cookies from Oh Sweet Basil
Facebook | Pinterest | Instagram

Pecan Maple Cookies with Maple Glaze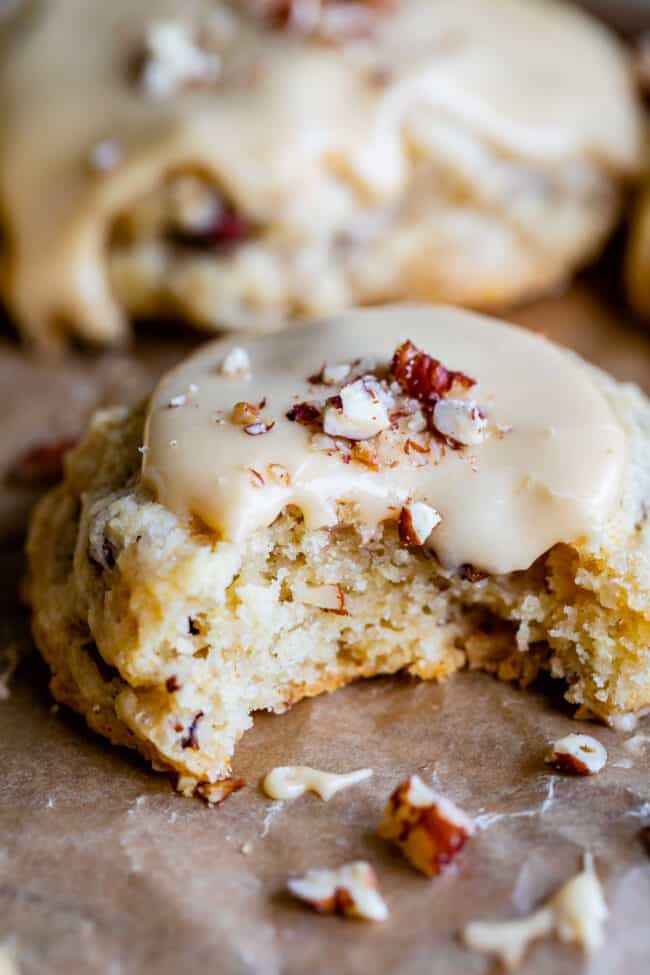 These Maple Cookies are studded with pecans and topped with an irresistible maple glaze! The cookies are unique because they are more like a scone than a traditional cookie, plus they have raw sugar in them for even more texture. It's the perfect cookie to satisfy all your fall baking needs!
Ingredients
For the cookies
1

cup

all purpose flour

1

teaspoon

baking powder

1/2

teaspoon

kosher salt

1/3

cup

raw sugar

,

*sometimes called turbinado or demerara sugar

1/4

cup

butter

,

cold (half stick)

1/3

cup

heavy cream

,

more if necessary

1

tablespoon

maple syrup**

1/2

teaspoon

vanilla extract

1/2

cup

chopped pecans

,

toasted (plus more for garnish)
For the glaze
1

cup

powdered sugar

,

sifted

3

tablespoons

maple syrup

3/4

teaspoon

vanilla extract

1

teaspoon

cream or milk

,

or more to taste
Instructions
Preheat the oven to 350 degrees F. Spread 1/2 cup pecans evenly on a baking sheet and bake for 5-7 minutes, stirring every 2 minutes, until the pecans are toasty and fragrant. Chop them into small pieces if they are not already chopped. Set aside to cool. Leave the oven on at 350.

In a large bowl, add 1 cup flour, 1 teaspoon baking powder, 1/2 teaspoon kosher salt, and 1/3 cup raw sugar. Whisk to combine.

Cut 1/4 cup cold butter into the flour mixture. You can do this with

a pastry cutter

(my preferred method) or using a fork. You can also use a cheese grater to grate the butter, then mix it together with a fork. However you do it, just make sure you are cutting the dough and not mixing it. You want to have individual pieces of flour-coated butter, with chunks up to the size of a pea. See photo.

In a small bowl, combine 1/3 cup heavy cream, 1 tablespoon maple syrup, and 1/2 teaspoon vanilla. Add this mixture to the bowl with the flour and use a fork to combine. It should be a loose, dry dough. (If the dough is really not coming together at all, add more cream but carefully; only 1 teaspoon at a time.

Gently fold in the toasted pecans.

Use a 2 inch cookie scoop to portion 12 to 18 balls of dough onto the prepared baking sheet. Or use a spoon or your hands to shape the dough, make sure they are all about the same size. If the dough is crumbly, press it together with your hands. If you like your cookies to be "cookie shape" flatten the tops a little with your palm (the cookies will barely spread at all, you can fit them all on one pan.)

Sprinkle the top of each cookie with a little more raw sugar.

At this point if you have time, chill the pan of shaped cookies for 10 minutes or so. Just like scones, it's best if these cookies go in the oven cold.

Bake at 350 for about 17-20 minutes. They are done when the bottoms of the cookies have lightly browned (use a spatula to lift one and check) Do not let the tops of the cookies get browned.

Let the cookies set up on the pan for about 5 minutes, then transfer them to a wire rack to cool completely.

Make the glaze: Sift 1 cup of powdered sugar into a small bowl. (If you don't sift, you may end up with lumpy glaze) Add 3 tablespoons maple syrup, 3/4 teaspoons vanilla, and 1 teaspoon cream or milk. Whisk it all together until smooth. If you would like a thinner consistency, add more cream or milk, 1 teaspoon at a time.

Drizzle each cookie with about a teaspoon of glaze. Top immediately with a few chopped pecans, if you want.

Let the glaze set on the cookies and serve right away! These cookies are best on day 1, but are also good on day 2 if they are kept tightly sealed on the counter.
Notes
*Raw sugar is a lot chunkier than regular sugar. Replacing this with white sugar will change the texture of the cookies.
** I used the cheapo regular kind of maple syrup, but you can use the Grade A real deal stuff too! Either way is delicious!
Nutrition
Serving:
1
cookie
|
Calories:
208
kcal
|
Carbohydrates:
29
g
|
Protein:
2
g
|
Fat:
10
g
|
Saturated Fat:
4
g
|
Polyunsaturated Fat:
1
g
|
Monounsaturated Fat:
4
g
|
Trans Fat:
1
g
|
Cholesterol:
20
mg
|
Sodium:
170
mg
|
Potassium:
54
mg
|
Fiber:
1
g
|
Sugar:
20
g
|
Vitamin A:
224
IU
|
Vitamin C:
1
mg
|
Calcium:
38
mg
|
Iron:
1
mg