The BEST Chocolate Chip Cookies I've ever made! These cookies are soft and chewy, very slightly crisp on the outer edges, have TONS of chocolate, and use a couple other special ingredients that make things even more interesting. They are super easy!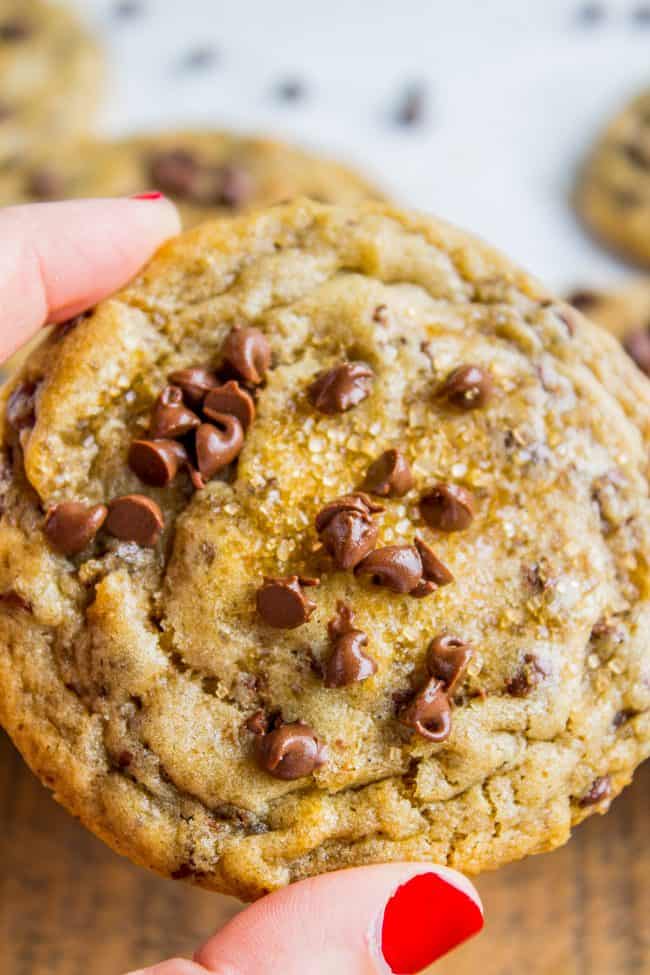 My daughter Valentine is about a year and a half old and has been talking more and more. Her first word was Mama (thankyouverymuch.) Then Dada, then 'thank you.' One day we were talking about Cookie Sunday, and she stood up and screamed "COOKIE???" 4th word of her life. Perfect pronunciation.
Cookie Sunday happens every Sunday at our house. It's not complicated. Every Sunday, we make and eat cookies. The end. I really don't feel like I need to explain this any further. Cookies forever!!!! And today I have a new favorite to share with you.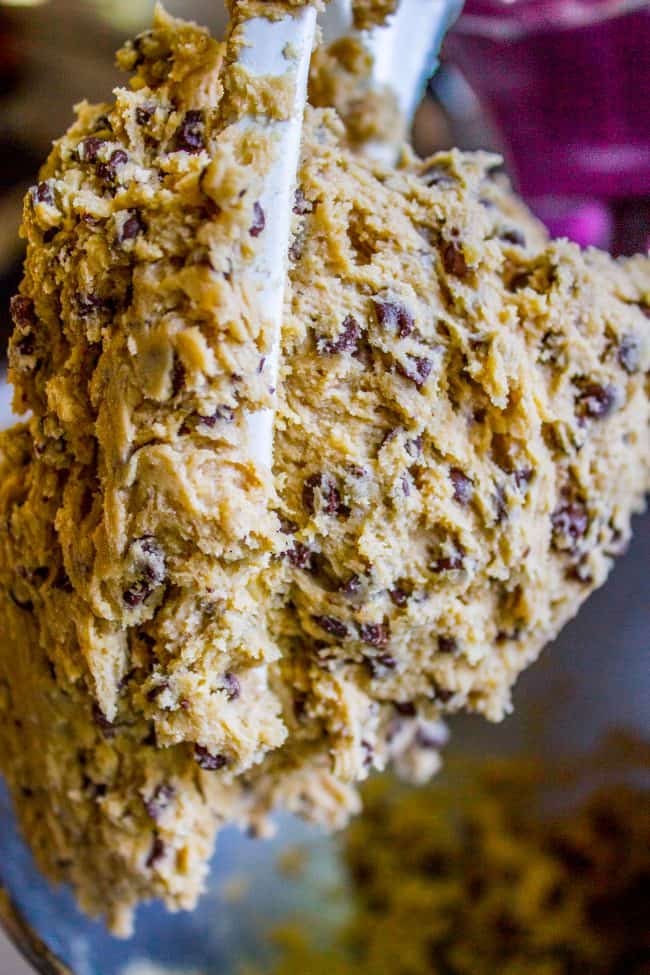 I know, I know. You're thinking to yourself, everyone and their mom claims to have the best chocolate chip cookies recipe, who does this lady think she is?
But guyyyys. Hear me out. I was in Australia for my cousin's wedding a few weeks ago, and my other cousin Alice gave me the recipe for her chocolate chip cookie that she's been working on. I was so excited to try it that I made them within 3 hours of arriving home, jet lag and all. (I was starved for decent baked goods. Sorry, Australia. My cookies are better than yours.)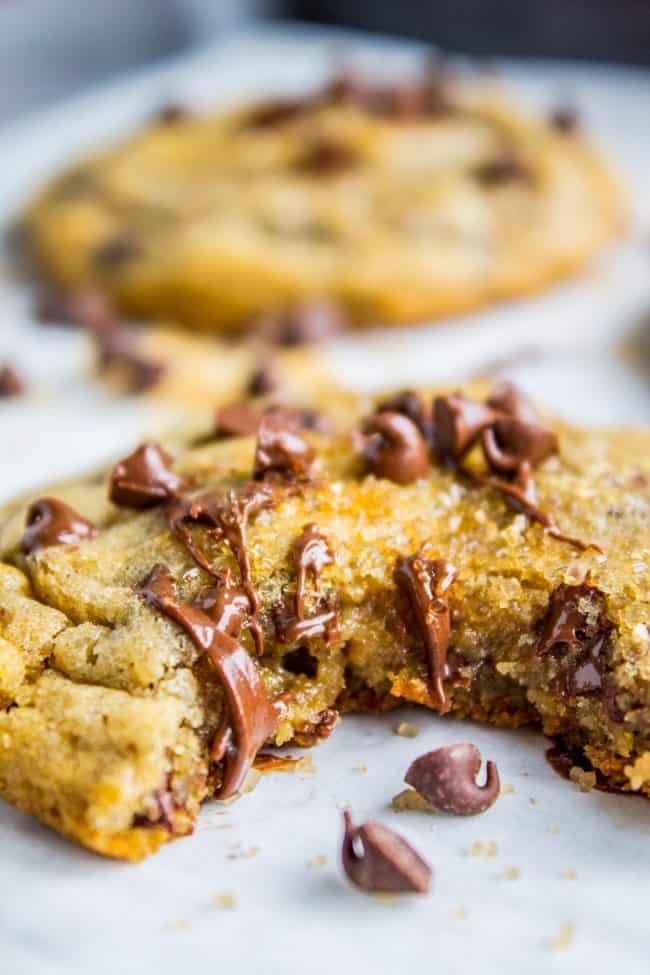 How to make the Best Chocolate Chip Cookies
This recipe completely blew me away. There are 3 special things about it: we swap some of the white sugar for raw sugar to add a bit of crunch, we use MINI chocolate chips (which I never thought I would like but I'm telling you the chocolate distribution in these cookies is PERFECTION), and finally, we add a teensy bit of maple extract.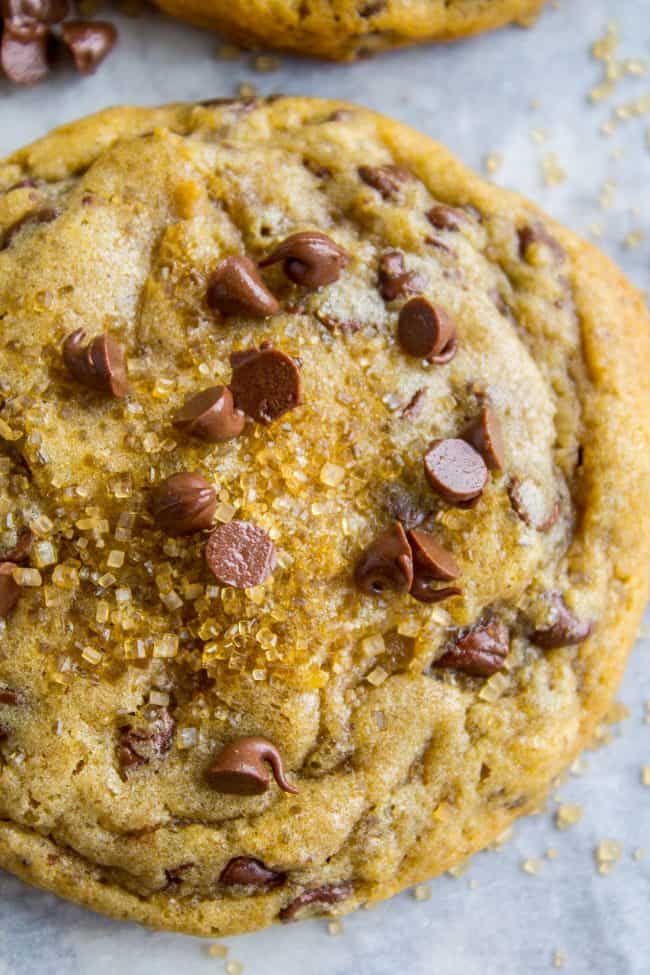 What? Maple?? Do these cookies taste like pancakes?? NO! Stay with me folks. I promise if you feed these cookies to someone who didn't make them, they will not be able to guess there's maple in it. It just adds another level of flavor and makes the sweetness of the cookie a little more interesting. Kind of like the way browned butter enhances the flavor of these Browned Butter Chocolate Chip Cookies without tasting like browned butter. It just tastes like an amazingly flavorful and buttery cookie.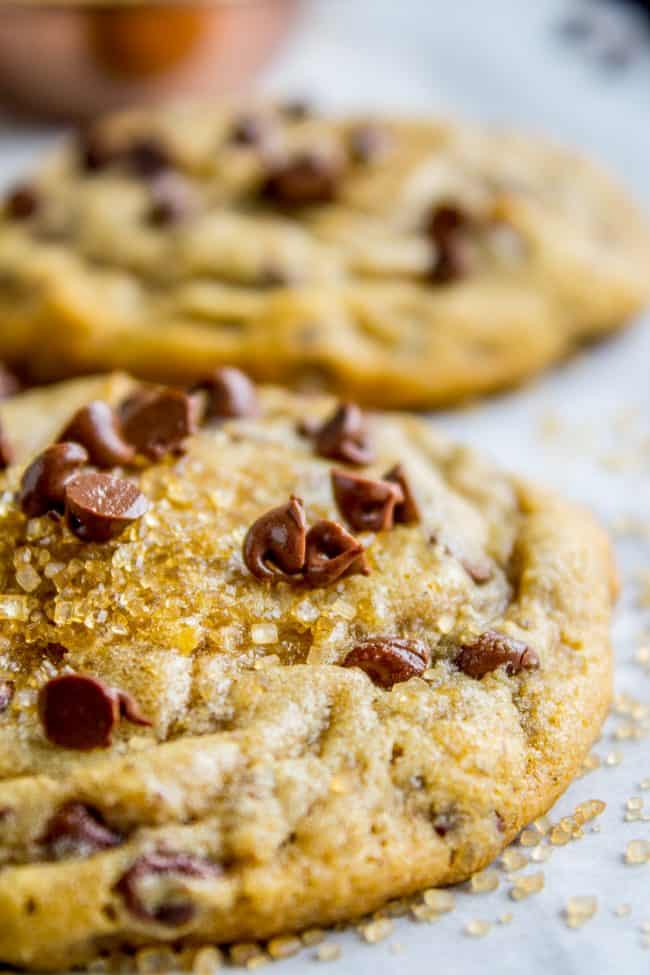 Adding the maple to this recipe has the same effect, but it's a whole lot easier than browning butter. Both recipes are wonderful, but today's version will be my new go-to I think. Here's the recipe for My Favorite Chocolate Chip Cookies, published in 2012, which were my go-to cookies until I made these Browned Butter Chocolate Chip Cookies in 2016, which were my new go to cookies until today's recipe.
I like today's recipe because they are fewer steps, they are a little bit chewier, and they stay even softer for a longer time because there is cornstarch in the dough, which acts as a natural preservative.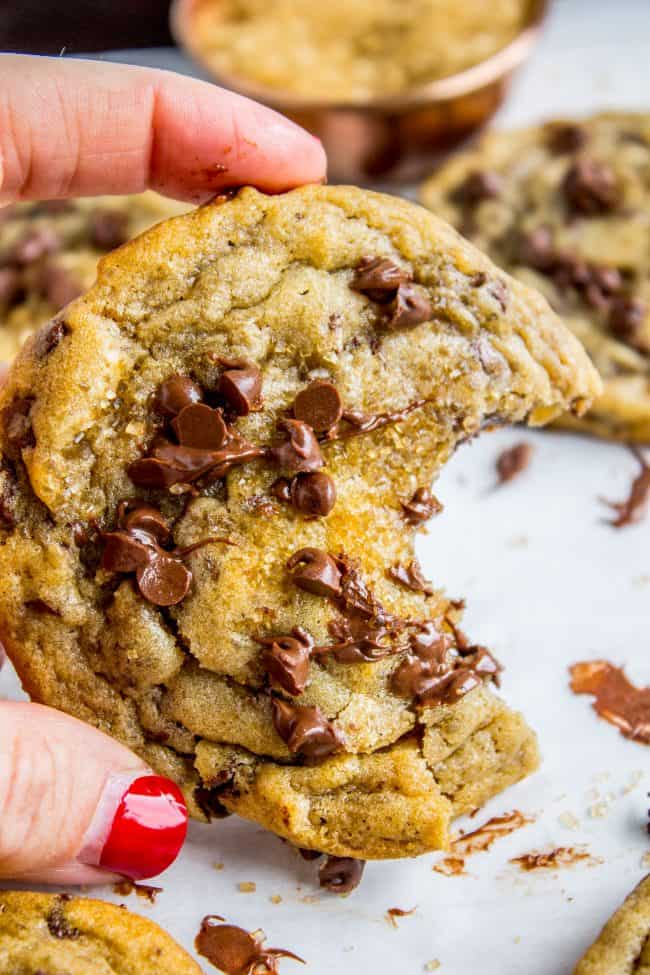 The maple that you can't taste in this recipe reminds me of a famous story in my family about my brother's friend Dave. They were roommates in college, and one day a bunch of them were sitting around eating Cheez-Its. Suddenly Dave said, there's something weird about these Cheez-Its. Something's missing. It's the paprika. These Cheez-Its need more paprika.
Sure enough, they checked the box, paprika was one of the last less-that-2%-ingredients.
I fully expect that if Dave ate one of these cookies he would be able to tell immediately that there was maple extract in it, but that's because he has an animal-like sense of smell. Your average joe will just think, mmmmmmm. These are the best chocolate chip cookies ever!!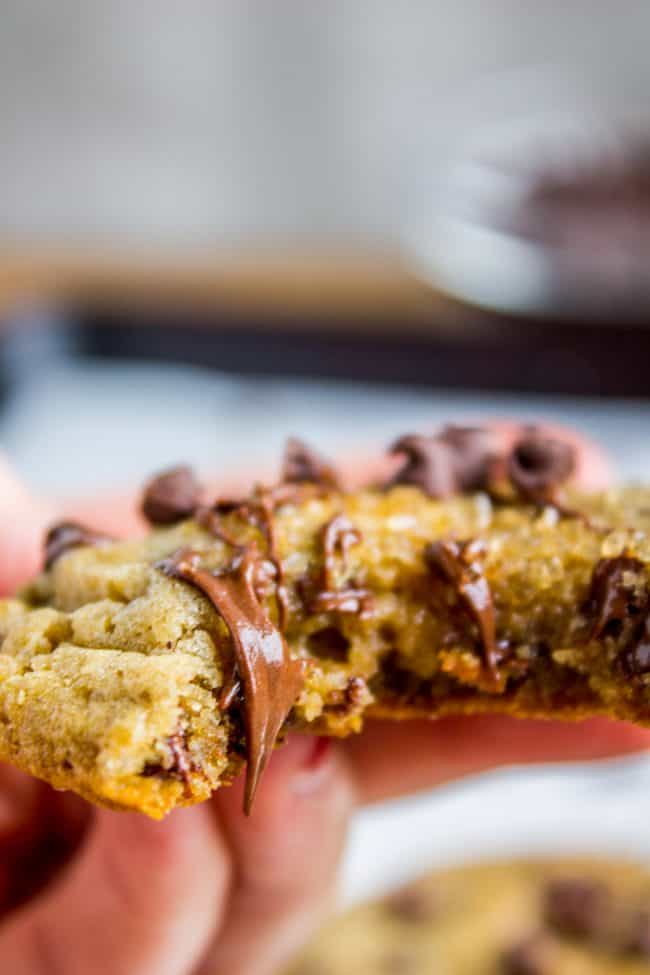 (Side note, I was trying to think of animals that have a good sense of taste and was coming up blank, so I looked it up and do you know what animal has the best tasting ability? Catfish!!?? What? I guess they have tastebuds all over their entire bodies?? And they live in muddy rivers. I'm so glad I'm human and don't have tastebuds on my feet or hands. Can you imagine???)

The holy trifecta of sugars up there. Trust me on this. The CRUUUUNCH. It's amazing and not overwhelming. It's just a little bit. You don't bite into it and think, WHOA. You are a few bites in when you realize, oh, hey, there are delightful little crunchies in here, what is that? If you think you won't be into the added texture, swap the raw sugar for white sugar. But try it at least once!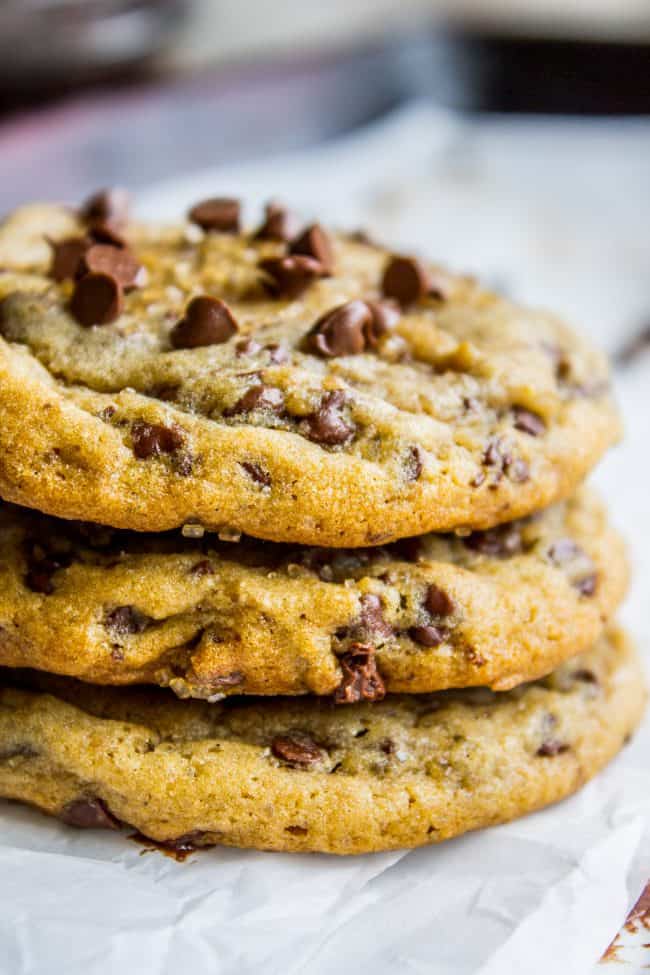 I hope you guys don't start having trust issues with my claim of best chocolate chip cookies! But I do feel entitled to changing flavors and preferences and moods for chocolate chip cookies. Am I wrong here?? Are there ever too many recipes for the best chocolate chip cookies?? I say no. That's what makes cooking and baking so fun, I think. Everyone has different tastes, so it's never over and you're never done! It's so fun! Chocolate chip cookies, forever and ever amen!
Facebook | Pinterest | Instagram | Twitter
One year ago: The Best Grilled Cheese of Your Life
Two years ago: Aunt Shirley's Famous Buttery Dinner Rolls
Three years ago: Tomato Tart with Blue Cheese
Six years ago: Spinach Mushroom Tortellini

The Best Chocolate Chip Cookies I've Ever Made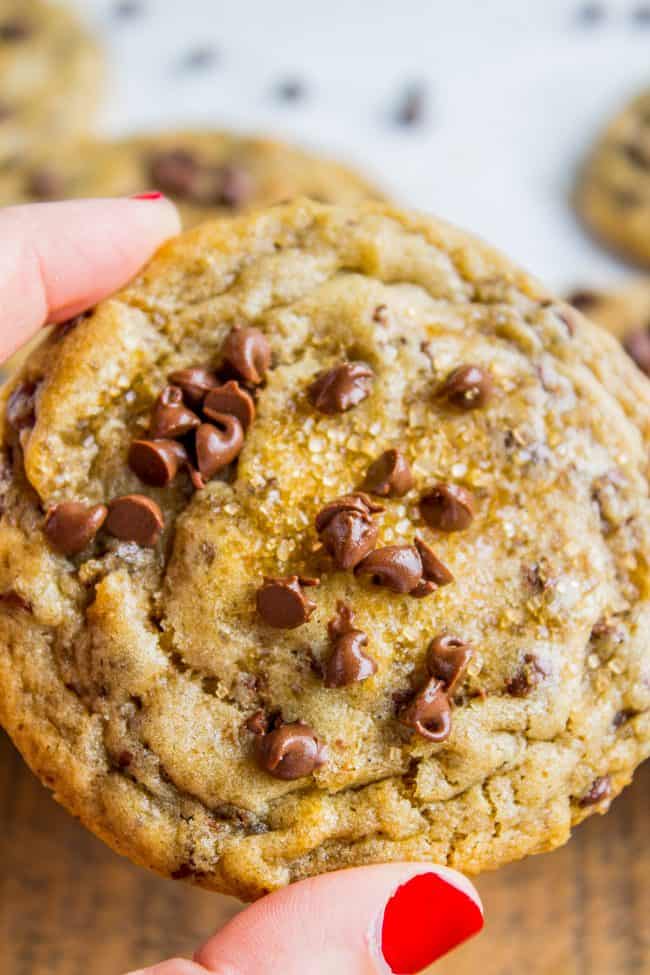 The BEST Chocolate Chip Cookie Recipe I've ever made! These cookies are soft and chewy, very slightly crisp on the outer edges, have TONS of chocolate, and use a couple other special ingredients that make things even more interesting. They are super easy!

Ingredients
1

cup

butter

,

softened (2 sticks)

1

cup

brown sugar

,

packed

1/3

cup

white sugar

1/3

cup

raw sugar

,

also called turbinado or demerara

2

large

eggs

1

tablespoon

vanilla bean paste or vanilla extract

1/2

teaspoon

maple extract

3 & 1/4

cups

all purpose flour

,

spooned and leveled

4

teaspoons

cornstarch

2

teaspoons

baking soda

1/2

teaspoon

salt

1 (10-oz)

bag

MINI semisweet chocolate chips

more mini chocolate chips

,

to top cookies (buy 2 bags)

more raw sugar

,

to top cookies
Instructions
In a large bowl or stand mixer, add the butter and beat until fluffy, about 2 minutes. Remember to scrape the bottom and sides of the bowl.

Add the 3 sugars: brown sugar, white sugar, and raw sugar. Beat until fluffy, 1 minute.

Add the eggs, vanilla bean paste (or extract) and the maple extract. Beat until combined, then stop.

Add the flour but don't mix it in yet. Make sure you spoon and level the flour. That means don't scoop the flour, instead spoon the flour into the measuring cup and then scrape off the top so that it's level.

Add the cornstarch, baking soda, and salt to the top of the flour and use a small spoon to stir it in.

Beat on low speed until the flour is just barely incorporated. When there are still white streaks, stop the mixer. Remember to always scrape the bottom and sides of your bowl with a spatula in between mixes.

Add a 10 ounce bag of mini chocolate chips (that's about 1 and 3/4 cup). Mix until combined and then stop.

Cover the dough and chill in the fridge for 2-3 hours, or up to 24 hours. If you want them to chill faster, shape the dough right away and chill on a plate (or, if you have room in your fridge, directly on a lined sheet pan.) Be sure to cover the dough with plastic wrap.

Preheat your oven to 350 degrees.

(If you have chilled the dough in the bowl, you will want to let it soften on the counter for about 15 minutes) Use a two-inch cookie scoop to shape the dough. Or you can use your hands to form balls of dough about two inches across.

Sprinkle the top of each cookie with a bit of raw sugar.

Bake at 350 for about 11-12 minutes. DO NOT OVER BAKE. They should still be pale and only very slightly golden brown on the edges. They may have a tiny bit of shine on the top, but only a little bit.

Immediately after taking them out of the oven, top each cookie with a sprinkle of mini chocolate chips. They will melt almost on contact, so there's no need to push them in or anything.

Let them cool on the pans for 5 minutes, then transfer to

a cooling rack

.*

Eat right away!! With lots of milk!

You can store the shaped dough in a ziplock bag in the freezer for up to 1 month. I do not thaw before baking, I just put them on a lined pan and bake at 350 for a couple minutes longer than the recipe calls for.
Notes
I got this recipe from my cousin Alice! She's an amazing baker! Thanks girl!
Alice says that even though it goes against every instinct you have, don't cover these cookies on the first day. It makes the raw sugar less crunchy. These cookies are BEST on the first day, but still really good on the second day. Maybe second best :) If you are waiting longer than a few hours to serve them, cover them so they don't dry out.
Nutrition
Serving:
1
cookie
|
Calories:
287
kcal
|
Carbohydrates:
37
g
|
Protein:
3
g
|
Fat:
14
g
|
Saturated Fat:
8
g
|
Polyunsaturated Fat:
1
g
|
Monounsaturated Fat:
4
g
|
Trans Fat:
1
g
|
Cholesterol:
40
mg
|
Sodium:
237
mg
|
Potassium:
117
mg
|
Fiber:
2
g
|
Sugar:
21
g
|
Vitamin A:
289
IU
|
Calcium:
25
mg
|
Iron:
2
mg
More cookies you will love!
Brown Butter Chocolate Chip Cookies << these used to be my favorite. I still love them, but today's recipe has knocked them to second place.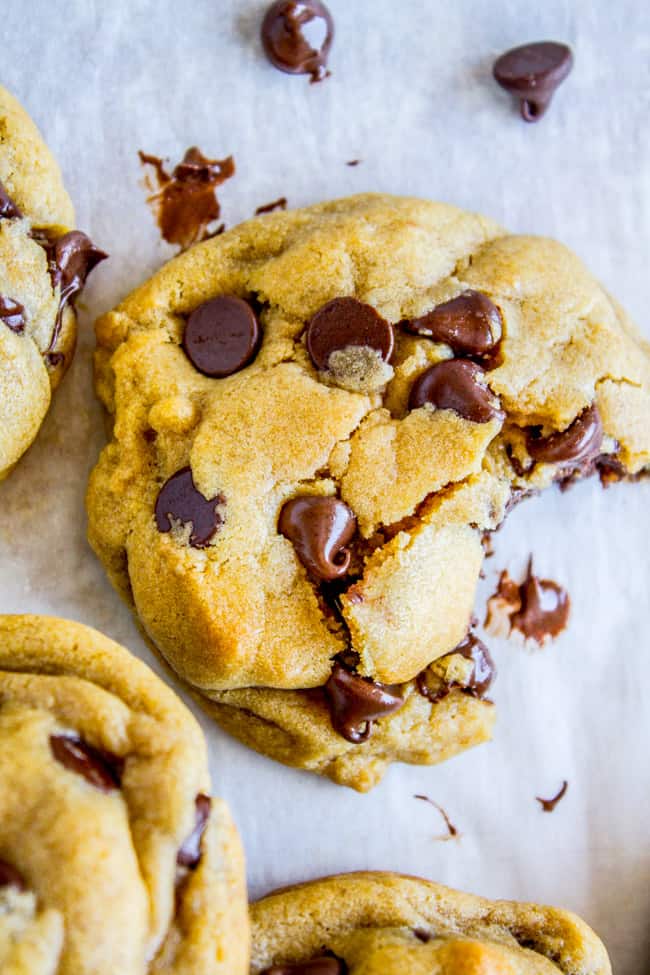 Texas Cowboy Cookies << these are a top visited recipe on The Food Charlatan, with good reason!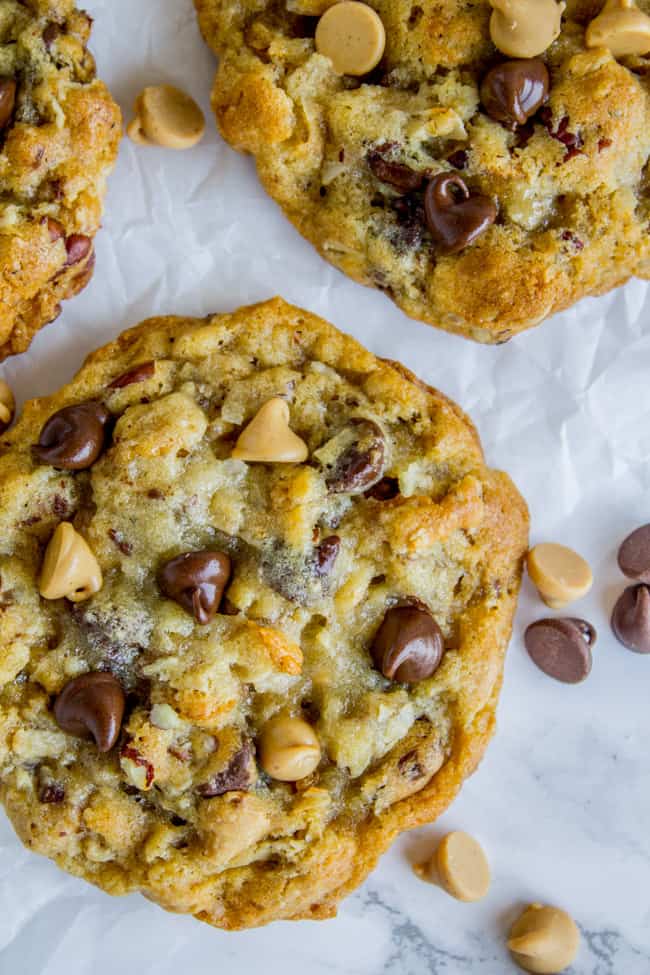 Marshmallow Creme Stuffed Chocolate Chip Cookies << you read that right.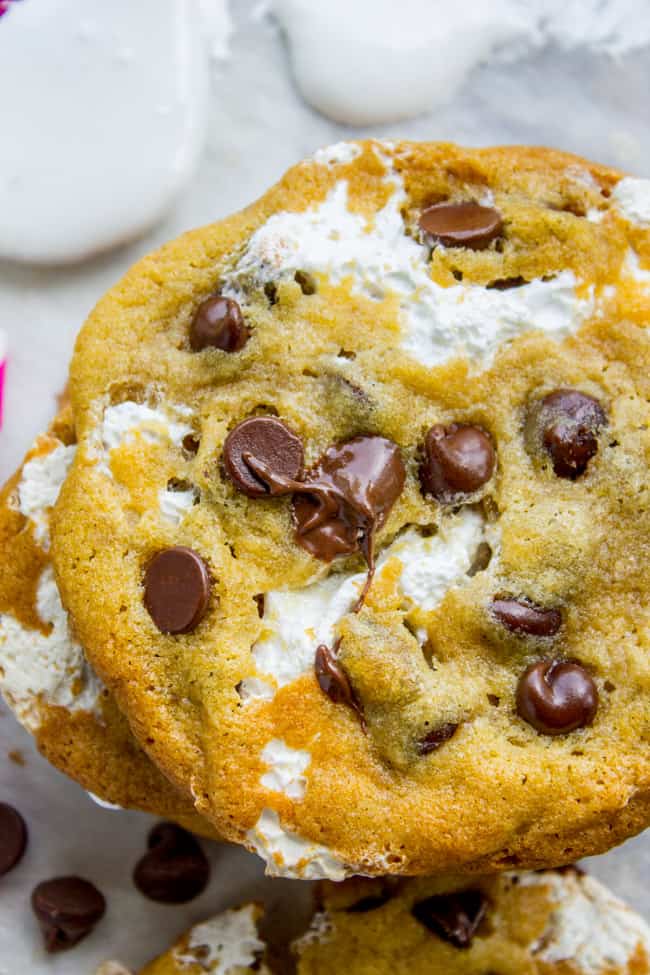 More chocolate chip cookie recipes! There are never enough, right?
Chocolate Chip Cookies from The Vanilla Bean Baking Cookbook from A Farmgirl's Dabbles
Perfect Chocolate Chip Cookies from Dinners, Dishes, and Desserts
Big Chocolate Chip Cookies from Comfortably Domestic
Big Buttery Chocolate Chip Cookies from Love from the Oven